How much does it cost to refinish furniture?
Get free estimates from furniture repair specialists near you
Furniture Refinishing Cost Guide
Every home has various pieces of furnishing. Over time, it starts showing signs of wear, tear, and surface damage. If you don't want to replace it but still want to enjoy the unique piece, the best option is to refinish it. Refinishing is a great option to give the piece its old shine back and remove any surface damage. It can also be used to change the shade of the furniture, preserve its value, and is safe for the environment.
Refinishing is less expensive than buying new pieces with which to furnish your home. The national average price for refinishing is $400 to $1,200, with most people paying $800 to refinish wicker patio furniture with two chairs and a table by using chemical strippers. At the low end of the spectrum, you can spend $100 to refinish a dining chair with a basic design. At the high end, you can pay up to $6,000 to refinish and seal an antique dining set with six chairs and a big table by sanding.
Furniture Refinishing Price
Furniture Refinishing Cost
National average cost
$800
Average range
$400-$1,200
Low-end
$100
High-end
$6,000
What Is Furniture Refinishing?
Refinishing (also known as repolishing) is the process of repairing or reapplying the finish of the piece, which can be a top coat, lacquer, or varnish. The professional will use a sander to remove the current finish, after which they will apply one to four new layers of the chosen finish. The goal of refinishing is to improve and restore the look of the piece and make it look new.
Refinishing is often confused with restoration, but the two are different processes and treatments. Restoration refers to doing small cosmetic repairs, light cleaning, and replacing any damaged parts whenever necessary. In contrast, refinishing is a more profound process that involves stripping the top coat of the fixture with a sander and reapplying a new one.
Cost to Refinish Furniture by Material
The cost of refinishing furniture depends mainly on the material, costing between $100 and $6,000. The exact refinishing cost depends on the type of furnishing, its size, condition, and the quality of the finish. Some contractors may charge an hourly rate based on the type of furniture, with rates ranging between $40 and $100 per hour. Below is how much you can expect to spend to refinish a basic dining chair, depending on the type of material.
| | | |
| --- | --- | --- |
| Material | Cost per Hour (Labor Only) | Cost to Refinish Furniture (Labor Included) |
| Wood | $40 - $65 | $100 - $6,000 |
| Wicker | $50 - $80 | $125 - $2,000 |
| Metal | $75 - $100 | $200 - $3,000 |
Refinish Wood Furniture
The average price to refinish a wood furniture piece ranges between $100 and $6,000 per item. Because most homes have multiple wood pieces, wood is the most common material being refinished. The exact cost to refinish wood furnishings depends on the condition of the piece, its size, and the type of finish. However, the most important factor for the cost is the wood itself. The cost to refinish teak furnishings is different from refinishing mahogany or refinishing pine . This is because the process is different. What you would do to refinish walnut differs from the process to refinish cherry or refinish oak, so the costs vary. The process involves stripping off the old finish first through sanding, fixing the cosmetic flaws, and then applying the new finish.
Refinish Wicker Furniture
Refinishing wicker averages $125 to $2,000 depending on the size of the item and the complexity of the pattern. The process starts by thoroughly cleaning the piece with a mixture of warm water and mild detergent using a soft-bristle brush that won't fray the surface. Once it's cleaned, the contractor repairs any damaged areas before applying two layers of paint. Afterward, the piece will be sealed using a clear varnish or polyurethane topcoat.
Refinish Metal Furniture
The price to refinish a metal furhiture piece is $200 to $3,000, with the main cost factor being the size of the piece. The process is slightly different from refinishing wood and wicker furnishings. It usually requires the piece to be sandblasted to clean off the rust and other blemishes. Once the surface is clean, it will be powder coated with a mixture of polymer resins, pigments, curatives, and flow modifiers. The flour-like powder is sprayed on the surface and then heat-cured to bond it into place.
Cost to Refinish Furniture by Item
Depending on the item you want to refinish, the price can range between $100 and $6,000 per piece. Many pieces can be refinished, from armchairs and coffee tables to china cabinets and other bigger items. The most important factors that affect the cost are the size of the piece and its detail. Smaller items are less expensive to refinish, while bigger pieces will cost more. The more detail and decorative parts the item has, the higher the cost will be. Below is a table with the cost to refinish each piece:
| | |
| --- | --- |
| Furniture Item | Refinishing Cost (Labor Included) |
| Chair | $100 - $400 |
| Rocking Chair | $200 - $450 |
| End Tables | $200 - $700 |
| Coffee Table | $250 - $800 |
| TV Stand | $250 - $800 |
| Closet Doors | $250 - $1,000 |
| Bookcase | $300 - $1,200 |
| Chest of Drawers | $300 - $1,300 |
| Dresser | $300 - $1,800 |
| Bed Frame | $300 - $2,100 |
| Couch | $350 - $1,500 |
| Desk | $350 - $5,000 |
| Hutch | $500 - $2,100 |
| Dining Table | $500 - $2,400 |
| China Cabinet | $700 - $3,500 |
| Armoire | $1,000 - $3,000 |
| Dining Room Set | $1,000 - $6,000 |
Refinish Chair
The price to refinish a single chair ranges between $100 and $400 based on the construction and design. Chairs are one of the most common items that require refinishing, but since there are many different designs, the cost will vary. If the construction is more complex, the contractor would have to be careful around the arms, rails, legs, cross stretcher, apron, and the back splat. They may all have handcrafted parts, which would require special attention, increasing the project cost.
Refinish Rocking Chair
The price of a rocking chair refinishing job is $200 to $450. The cost to refinish a rocking chair is slightly higher than a dining seat chair because the construction is more complex. Similar to normal chairs, when the contractor is refinishing rocking chairs, they would have to be careful around the headrest, flat spindle, armrest, rocker, and back and front legs. The contractor may disassemble the parts joined by screws, but in most cases, this is not needed.
Refinishing End Tables
The price of refinishing end tables ranges between $200 and $700. End tables are small tables that are placed beside a larger piece, typically a sofa. They are usually the height of the arm of a chair and used as laptop tables to place coffee, magazines, and snacks. Refinishing end tables is the same as coffee and dining tables. However, the process is usually less time-consuming due to the simple design of end tables.
Refinish Coffee Table
A basic coffee table costs $250 to refinish, while designer tables or tables with detailing will cost $800 to refinish. The process to refinish any type of table is the same. The difference is the size. Coffee tables are smaller, so they cost less to refinish. The contractor would still apply the same steps to refinish it. They would remove the old finish, sand the surface, do any repairs, and apply a new layer of paint or finish.
Refinish TV Stand
Refinishing a TV stand costs from $250 to $800. TV stands date mostly from several decades ago when TV boxes were bigger, and wall-mounted units were not a thing. This means that most pieces will be older, so you must be careful while refinishing them. Some models can also have handcrafted details and complex woodwork that cost more to refinish.
Refinish Closet Doors
Closet doors cost from $250 to $1,000 to refinish. In most cases, closet doors will be simple to refinish. Basic designs with a flat surface are easier to refinish and less expensive. However, closet doors can have artwork and details that make the refinishing process more complicated. Similarly, antique closet pieces will cost more to refinish due to their value and design that requires a specialized approach.
Refinish Bookcase
Bookcase refinishing costs $300 for small and basic models with a few shelves up to $1,200 for larger ones with multiple shelves. Refinishing a bookcase is often simpler than most other projects due to the basic shape and design. Similar to other wood items, refinishing requires sanding down the current finish, filling in the dents, scratches, or divots, and applying the new finish. Antique models will be more expensive because they often include complex woodwork that requires a lot of attention and experience to refinish.
Refinish Chest of Drawers
A chest of drawers refinishing project can cost $300 to $1,300. The major price factor for refinishing drawers is the size of the piece. The more drawers, the higher the price will be. To refinish the piece, the professional will first remove the drawers, then the handles, knobs, closures, and any other accessories. Once they clean it, they will remove the current finish by sanding it.
Refinish Dresser
A dresser refinishing costs $300 to $1,800. The process and price are similar to refinishing a chest of drawers due to the similar design. However, most drawers were produced several decades ago, so the pieces are mostly antique with detailed woodwork that costs more to refinish. Dressers also have more details, drawers, handles, and knobs, so it will take more time to disassemble the whole piece before refinishing.
Refinish Bed Frame
Refinishing a bed frame averages between $300 and $2,100. If made from high-quality hardwood, the bed frame will cost more to refinish. Depending on the agreement, you or the contractor will first have to remove any linens, the mattress, and the box spring before starting. Although not always, the contractor will disassemble the bed frame to ensure every area is evenly and properly processed. Once the bed frame is disassembled, the contractor will proceed with stripping, sanding, and finally, applying a new coat.
Refinish Couch
Couches come in varying sizes and constructions, so the price to refinish them varies between $350 and $1,500 per piece if the fabric is off. The couch can have minimal wood parts, so the refinishing can be limited only to these areas. However, it can also include the whole wood frame and construction. Refinishing a couch is often done with reupholstering at the same time because the parts are disassembled for the process anyway. By doing both at the same time, the whole design and look of the couch can be changed by using different finishes and upholstery materials.
Refinished Desk
The price to refinish a desk starts at $350 for a small single desk and goes up to $5,000 for a large partner's desk. The wide range of price is not only for the different sizes of desks but also because many desks have intricate details and handcrafted elements that are complicated to refinish. While refinishing the surface is simple, the professional must be very careful around the detailing to avoid damaging the design.
Refinishing a Hutch
If you want to refinish a hutch, expect to spend about $500 to $2,100. There are many different sizes and designs of hutches, so the price of refinishing one may vary depending on the exact model you own. The contractor would have to spend extra time to disassemble the parts of the hutch, sand each one individually, and then apply the new finish, similar to dressers, bookcases, and china cabinets.
Refinish Dining Table
Refinishing a dining table costs $500 to $2,400, depending on the size of the table. Most dining tables can be refinished, although if the piece has severe damage that would require several parts to be replaced, finishing may not be worthwhile. Most tables are made of wood, so the process would involve stripping off the old finish by sanding it, doing repairs whenever needed, and applying a new final coat.
Refinish China Cabinet
China cabinets price $700 to $3,500 to refinish. The quality of materials and the number of cabinets that require refinishing are the main cost factors. China cabinets have one of the most complex constructions and woodwork, so they cost the most to refinish. The contractor will first remove the doors, shelving, detailing, and hardware from the cabinet to ensure every spot will be sanded and refinished.
Refinished Armoire
Armoires are one of the most expensive items to refinish, costing $1,000 to $3,000. Refinishing an armoire is a great option to bring it back to vintage condition for a fraction of the price. The refinishing professional will first disassemble the armoire along with all details and hardware it may have. They will fill any cracks with wood filler and sand down the entire surface using sandpaper with a thicker grid to ensure the whole surface is even and shiny. The contractor will tighten any loose screws or bolts and replace the missing ones from the armoire.
Refinish Dining Room Set
Expect to spend between $1,000 and $6,000 to refinish a whole dining room set. It is less expensive to refinish the whole set rather than refinishing each piece separately. The contractor will give discounts based on the method of refinishing, how many of them can be done at once, and how the items fit together. If you intend on refinishing the whole set, make sure to ask for a quote as a set to get a discount.
Furniture Refinishing Prices by Method
Depending on the method used, you can pay anywhere from $80 for sealing up to $3,500 for reupholstery. Various methods are used to refinish furnishings, with the most common being stripping and refinishing. Some methods are suitable for specific materials and projects. Often, projects require several types of refinishing done together. Here is how much you can expect to pay for each refinishing method.
| | |
| --- | --- |
| Method | Cost (Labor Included) |
| Seal | $80 - $300 |
| Powder Coat | $100 - $350 |
| Stripping | $100 - $400 |
| Staining | $100 - $500 |
| Refacing | $300 - $800 |
| Refinish | $400 - $1,200 |
| Reupholstery | $750 - $3,500 |
Seal Furniture
The price to seal furnishings ranges between $80 and $300. Sealing is usually done before applying the final finish to the surface to ensure the stains and finishes applied afterward are dispensed evenly throughout the whole surface. It prevents the stains and fillers from bleeding, gives a good base for the finish to be applied, and makes the finished surface smoother. Typically, white shellac sealer is used for sealing shellac, lacquer, and natural varnish finishes, but if it cannot be used, a commercial sanding sealer or a thinned mixture of the same finish of the fixture will be used instead.
Powder Coat Furniture
Powder coating averages $100 to $350 depending on the item being processed. It's a flour-like mixture made of polymer resins, pigments, curatives, and flow modifiers. While powder coating is usually associated with metal pieces, it can be done to various materials, including plastic, medium-density fiberboard (MDF), and metals like wrought iron, aluminum, and others. Powder coating finishes are very tough and durable, making it a great long-term investment for pieces. However, as it requires advanced equipment and takes more time to cure than finishing, the starting costs are higher.
Furniture Stripping
Stripping furnishings costs $100 to $400. Also known as dip and strip, this process involves using a chemical stripper that dissolves paint, varnish, lacquer, and rust, wiping and scraping the sludge, and then reapplying the new paint and topcoat over it. Chemical strippers can be liquid, gel, spray, semi-pastes, and pastes. They are most commonly used and very effective for removing varnishes and paint. Stripping can be messy and requires patience until the stripper works through to the wood or metal. If you're stripping paint that is over 40 years old, it may contain lead, which is an added health problem.
Furniture Staining
Staining furnishings costs $100 to $500 on average. To stain a piece, the contractor removes any item that cannot be sanded, such as hinges, knobs, and decorative pieces. Then, they use a sander to strip down the paint or lacquer from the furniture and then a thinner one to flatten the surface. Then, they use a microfiber staining pad or brush and wipe it across the furniture to stain it. They wipe off excess from time to time to avoid blotchy areas from forming and let the item dry before applying a protective coat.
Refacing Furniture
Refacing is far more expensive than refinishing and comes at the price of $300 to $800 per piece or $210 to $750 per linear foot for cabinets. Comparing refacing and refinishing is often complex because the steps are fairly similar, but refacing is a whole different task. The contractor would also strip, sand, stain, and repaint the surface of the piece. However, unlike refinishing, this won't be done to the whole item but rather to the face of the fixture or the outside pieces.
Refinish Furniture
The national average price for refinishing furnishings is $400 to $1,200, depending on the item you're refinishing. It's a cost-effective method of making a piece look new and updated without having to spend a big amount of money on buying a new one. Most materials can be refinished, although some items like glass pieces can only be repaired or replaced. Refinishing can be done in combination with other repairs, reupholstery, and replacements if needed.
Furniture Reupholstery
The average reupholstery cost is $750 to $3,500 for a couch. It is usually done to pieces with padding, springs, webbing, and fabric or leather covers. Typically, the process starts with an inspection of the piece that requires upholstering to determine the most appropriate method. Then, the upholstery is removed, the item repaired, and then the upholstery is applied by stitching and stapling it into place. It is a great way to update the look of couches, chairs, and other pieces of furniture that have upholstery.
Labor Cost to Refinish Furniture
Out of the average price of $800 to refinish, around 85% or $650 is the cost of labor, while the remaining 15% of $150 is the price of materials used in the process. These projects are typically quoted with a flat rate, but if charged hourly, rates go between $40 and $100 per hour. The amount of time needed to refinish depends on the piece being refinished, but you can typically expect the furniture to be given back to you in three to eight weeks. This would include the time needed to strip away the old finish, repair the piece, refinish it, and let it dry.
The first step in refinishing is to clean the surface to remove any dust, debris, and particles on the furnishing. If there are any white stains and paint splatters, the refinishing professional will remove them without damaging the finish. Once the surface is clean, the professional fills the areas with missing veneer, chipped material, or a damaged molding with epoxy putty. After the major damaged areas are fixed, your contractor removes the old finish by sanding it. For flat surfaces, a belt and disk sander will be enough, but areas with decorative details or those that are harder to reach require using sandpaper.
To get the smooth and shiny look back, the contractor also fills any grains and cracks before applying a sealer to the entire surface of the furniture. To complete the process, the professional applies one to four layers of the new finish, lacquer, polyurethane, water-based polyurethane, or oil-based. Once the process is completed, the finish gives the furniture an appealing shine and protects it from moisture.
Furniture Refinishing and Upholstery
Upholstery jobs are done by professionals called upholsterers. When it comes to couches, sofas, and chairs, refinishing and upholstery replacement are usually done together. It may be done by two different professionals or one person if they have the knowledge and experience. This will ensure that the piece is completely updated and doesn't differ between the refinished wood and upholstery.
Refinishing Antique Furniture
If you have an antique piece you want to refinish, it's best to leave it to professionals. Because the piece is old and often with intricate details, it's easy to damage its design or shape if you don't have the experience and knowledge to handle it. The price to refinish an antique piece depends mainly on the piece and its condition, but in general, it costs anywhere between 20% and 50% more than regular refinishing. This is because the professional has to take extra care when refinishing antique pieces to preserve the integrity of the wood.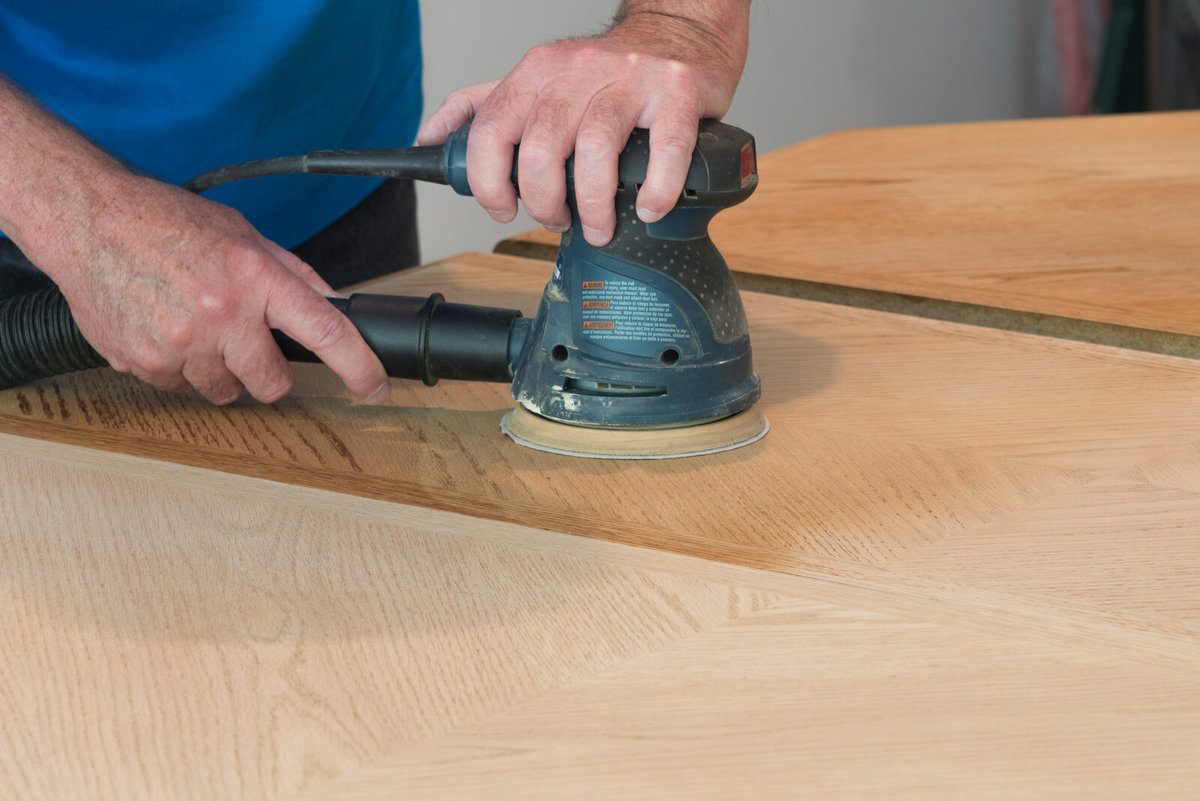 Is It Worth It to Refinish Furniture?
Sometimes refinishing furnishing is a great option, while in other cases, it may just be a waste of time and money. Furniture is commonly refinished to preserve its high-quality construction and value. When the furniture is made of high-quality wood, it's definitely worth refinishing it because it ensures that the piece will last for a long time and look good throughout the years. If your furniture is antique, it's definitely worth refinishing it to emphasize its original beauty. By doing this, the value of the furniture is not only keptm but can also increase.
Although it's commonly done, there are some cases when refinishing the item is not advisable. This would be the case if the furnishing is beyond repair. If it needs too many replacement parts, the restoration might be too expensive and would not be a good idea to refinish it. Refinishing is also not advisable if the furniture piece is new and the same model can be found for an affordable price or a price less than the refinishing.
Furniture Maintenance
Your contractor will most likely provide maintenance tips after completing the refinishing job. Regular maintenance is key to maintaining the updated and shiny look of the item after refinishing it. The basic maintenance you need to do is to clean it gently with dish soap and warm water regularly. Avoid using rough materials to avoid scratching the surface layer or mar the top coat. Don't expose the fixture to direct and strong sunlight, rain, or cold weather.
Fixtures with an oil finish is easier to clean and maintain. You can wipe the surface with a dry piece of cloth or wet it with a mixture of warm water and mild detergent. If there are any cosmetic flaws on the surface, all you need to do is gently sand the spot and apply more oil. You can also apply oil to the entire surface periodically to maintain its shiny and updated look. Waxing the surface provides an additional layer of protection.
Furniture Repair Cost
Based on the material, the price to repair a piece can range between $4 per inch for wicker fixtures and up to $2,000 per glass panel for glass items. Refinishing is often done along with repairing to bring back the fixture's old shine. It will also ensure that the piece will last for longer without requiring additional replacements or repairs. However, some materials like glass and leather cannot be refinished, so if they are damaged, they would have to be repaired or replaced. Below is a table with the most common materials and how much it costs to repair pieces made of each material.
| | |
| --- | --- |
| Furniture Material | Repair Cost (Labor Included) |
| Wicker | $4 - $20/inch |
| Metal | $7 - $32/linear foot |
| Leather | $30 - $750/hide |
| Wood | $100 - $500/minor damage |
| Glass | $200 - $2,000/panel |
Wicker Furniture Repair
The price to repair wicker fixture ranges between $4 per inch for basic reweaving with common materials and $20 per inch for rare and very laborious type of hand-twisted weaving that uses natural materials. The repair usually involves reweaving the material on any damaged areas where the pieces have broken apart. There are various materials used for wicker items, so the price varies depending on the size of the item, the damaged area, and the material and method used to repair it.
Metal Furniture Repair
The price of repairing metal fixtures depends on the type of repair being done, starting at $7 per linear foot for painting and $32 per linear foot to repair twisted or wobbling parts. After years of being left outside, metal furnishings can start looking worn and require repairing. While metal fixtures can be refinished, often, repairs are needed for areas where the metal has lost its shape or is dented. The most common damage types that require repairing are rust, loose or missing parts, holes, twisting, and warping. The contractor will usually blast, mend, and prime the piece before returning it to you.
Leather Furniture Repair
Leather repair costs $30 to $500 per hide, but high-end leather costs can go up to $750 or more. Leather cannot be refinished, so when the fixture looks old and worn out, it would have to be repaired with new parts. It's one of the more expensive materials to repair, but since it lasts 5 to 25 years, it's a long-term investment that pays off. The damaged parts are replaced with pieces of leather of the animal skin, also known as the hide.
Wood Furniture Repair
Repairing wood fixtures costs anywhere between $100 an $500, depending on the extent of the damage. Wood item damage can be anything from a small scratch or dent to a whole piece missing and requiring replacement. It may be possible to do minor repairs like scratches with a wood repair kit yourself, although bigger repairs and antique pieces require a professional approach.
Glass Furniture Repair
Typically, broken glass repairs price $200 to $500. However, if restoration work is involved, your costs can go up to $2,000 or more depending on the item you want to restore. Due to the way it is made, glass fixtures cannot be refinished, only repaired, especially if it cracks or breaks. Typically, the repair involves using UV glue, epoxy resin, or glazing the glass area and replacing any part that cannot be refinished or repaired.
Enhancement and Improvement Costs
Furniture Cleaning
The average price to clean furniture with upholstery is $105 to $215. Items with upholstery often requires professional cleaning to remove all spots, stains, and odors. It helps maintain your pieces in good condition. When it's done at the same time as refinishing, it makes the piece look new. Aside from the aesthetic benefits, upholstery cleaning has health benefits as well. It gets rid of harmful bacteria, allergens, and other harmful particles that may reside in the upholstery material.
Additional Considerations and Costs
DIY. It is possible to do the refinishing project yourself, provided that you have all the necessary equipment and materials needed for it. However, if the piece has a complex construction, detailing, or is antique, it's advisable to go with a professional that knows how to handle these types of pieces. If you do not have any experience using chemicals, it's advisable to avoid DIY chemical stripping.
Estimates. Different contractors have different costs per item or hourly rates for refinishing jobs. Before you settle for a specific company, make sure to get at least three estimates. This way, you will be sure you're getting the best price and service on the market.
Color. If you want to get the same stain color as the current one but don't know the color code or manufacturer of the fixture, you will likely pay extra for the time needed to research the color and shade.
Rush requests. Since the time needed to complete a refinishing job is usually three to eight weeks, rushed requests may not be possible. If they are, they will cost significantly more than regular jobs.
FAQs
Is it cheaper to refinish furniture or buy new?
Refinishing will almost always be cheaper than buying a new item. The only cases where this may not be true are when the piece is severely damaged but still manufactured for an affordable price or when you buy second-hand items.
How much does it cost to refinish tables and chairs?
Refinishing a chair costs between $100 and $400, while refinishing a dining table can cost anywhere between $500 and $2,400. If you intend on refinishing a whole dining set, you may be able to get a discount and pay a price of $1,000 to $6,000, depending on the number of items in the set.
Is it better to sand or strip furniture?
While stripping is done quicker, it's often a messy job, which is why most people opt to sand the fixture. Both take the same time, with sanding being more labor-intensive than stripping. However, if you're refinishing with paint older than 40 years, it's advisable to sand it, as it may contain lead which can cause health issues.
Do I need to remove all stains before restaining?
If you want to apply a darker stain to the fixture, you won't have to remove the current stain completely. However, to ensure the staining is successful, you would have to remove everything that may prevent the new stain from absorbing into the wood.
How can I refinish my furniture without sanding?
The other option to refinish furnishings is using chemical strippers. A thick coat of the chemical stripper is applied to the surface of the fixture and left according to the instructions. The chemical solvent gets rid of all the paint and finish.
The information provided by our cost guides comes from a great variety of sources. For more information, read our Methodology and sources.