How much does it cost to add a home theater room?
Get free estimates from home audio/visual installers near you
Home Theater Room Addition Cost Guide
Adding a home theater gives your family a chance to play games, watch movies, and entertain friends in a dedicated space. While shared spaces set up for home theaters can often mean compromising on things, a dedicated theater can be game-changing. Home movie theaters have dedicated seating, screens, and acoustic materials on the walls and ceilings that make you feel like you are at the cinema.
There are many ways to create a home theater. You can convert an existing room like a basement or build on an addition. The seating type and setup you choose play a big role in your final costs.
The national average range for installing a home movie theater is between $20,000 and $70,000. Most people pay around $50,000 to convert a basement room into a dedicated home theater with carpeting, risers, seats, acoustic materials, and a full sound and visual setup. This project's low cost is around $10,000 for a conversion using basic equipment, no risers, and minimal soundproofing. The high cost is around $90,000 for a full addition finished with carpeting, risers, seating, lighting, soundproofing, and a state-of-the-art audio and visual setup.
Home Movie Theater Cost
Average Home Theater Cost
National average cost
$50,000
Average range
$20,000-$70,000
Low-end
$10,000
High-end
$90,000
Home Cinema Room Cost by Location
The first thing to consider is whether you build an addition or convert an existing space. Converting an existing room or space is cheaper, but you may have fewer options than a new construction build. Code Enforcement may require a new addition to have a door and at least one window. Consider converting a garage or basement into a home theater, as long as it has a power source and ample space for seating and electronics:
| | |
| --- | --- |
| Location | Average Costs (Labor Included) |
| Bedroom | $20,000 - $50,000 |
| Garage | $23,000 - $75,000 |
| Basement | $40,000 - $60,000 |
| New Room Addition | $70,000 - $90,000 |
Convert a Bedroom to a Home Theater
The average cost to convert a bedroom to a home theater is between $20,000 and $50,000. Bedroom conversions must have enough length to project easily so that viewers have enough space to sit comfortably. Not all bedrooms have this space, but this can be a good option when converting a longer bedroom. Bedrooms often have carpeting, which is the ideal flooring material for home theaters. This means you may be able to save on some costs. Other costs are still applicable, including soundproofing, lighting, and audio and visual equipment.
Converting a Garage to a Home Theater
The average cost to convert a garage into a home theater ranges from $23,000 to $75,000. Garage conversions usually lower your home's value unless you plan on adding another garage. Garages can be an ideal space for home theaters because they are separate from living spaces so that sounds and smells from indoors do not impact the experience. Garages can be expensive conversions, depending on what you have for heating, cooling, and electricity. Many garages are minimally wired, so adding these things can add up. Otherwise, this conversion has the same needs: proper flooring, seating, lighting, soundproofing, and audio and visual equipment.
Build a Home Theater in a Basement
The cost to build a home theater in the basement averages $40,000 to $60,000. Basements can make excellent home theater conversions. They do not usually have many windows and are typically far enough away from other living areas. They need to have the right lighting, wiring, and soundproofing added and seating and audio-visual equipment. Keep in mind that some basement ceilings can be on the low side. This makes adding risers and multiple rows of seats difficult, even if you have the length.
Home Theater Room Addition
The average cost to add a theater room addition is between $70,000 and $90,000. Any home addition is subject to many of the same rules, regulations, and concerns, regardless of what you plan to use the space for.
Ideally, any new addition should start with an architect who can blend the new addition with your home. Your addition needs permits and to meet building codes, which may include making sure that it has an egress, such as a door or windows large enough to fit a person. Even if you plan on using the space for a home theater and do not want natural light, you must plan an egress to the space.
Ideally, the exterior matches with your home's exterior. This means matching the space's siding, roofing, and style.
Your addition is framed out onto your home, then the interior opened into it, the exterior finished, and then the interior. All additions must be wired for electricity, and they often need their own heating and cooling systems unless you can extend your current ducts or HVAC. These things need to be done, regardless of what the intended use is for the room.
Like any home theater, ensure it has carpeted floors, soundproof walls and ceiling, and the right amount of space for the projector, risers, and seating.
How Big of a Room Do You Need for a Home Theater?
There are a few ways to determine the room size you need. If you have ample size and do not have a projector and screen in mind, the recommended size is around 20-feet long by 15-feet wide with high ceilings. However, you can also work off the height to determine the correct length and width. For example, when converting a garage or basement and need to know how much space to give the theater, use the following formula:
The room's length should be 2.33 times the height, and the width should be 1.6 times the height. If you do not have this much space, you can work with a room whose length is 1.54 times the height and a width 1.28 times the height.
This ratio is designed for the best sound and acoustics. The space's length and width also ensure that you have adequate space for comfortable viewing and the ability to seat everyone who chooses to use the room at one time.
Home Movie Theater Cost Breakdown
Your home movie theater is made up of many parts. These include the projector and screen, lighting, seating, and flooring and wall coverings. Not all these pieces are necessary for every installation. Whether converting a space or building an addition impacts these costs slightly. It is easier to add extra insulation for soundproofing to a new room than it is to an existing one, but a room that already has carpeting does not necessarily need new flooring.
| | |
| --- | --- |
| Components | Average Costs (Installed) |
| Projector Screen | $20 - $1,000 |
| Wiring/Installation | $200 - $2,000 |
| Lighting | $200 - $2,200 |
| Projector | $300 - $4,000 |
| Walls | $300 - $8,000 |
| Speakers/Surround Sound System | $800 - $4,000 |
| Soundproofing | $1,000 - $5,000 |
| HDTV | $1,500 - $9,000 |
| Flooring | $2,400 - $10,000 |
| Seating | $5,000 - $13,000 |
Home Theater Projector vs TV
You have choices for media presentations. Projectors and TVs are the two most common choices. Of the two, projectors are more common. They take up less space because the screen is easily retracted or removed, while the TV remains fixed. Screens can also be backlit or have other properties to enhance the picture and experience - pairing your screen and projector individually allows you to better customize your experience. Projectors can also give you a much larger view than a TV, and many projectors offer additional features like lenses for a more authentic theater viewing experience. Screens cost between $20 and $1,000, while the projector costs $300 to $2,000. A large screen HDTV, which is smaller than most projector images, costs between $1,500 and $9,000.
Home Theater Lighting Prices
Limit the amount of ambient light in your home theater as much as possible. Too much ambient light detracts from the images on your screen, whether you use a TV or a projector. You may want some ambient lighting in the room so that you can illuminate the space for set up, cleaning, and other purposes. Recessed lighting makes a good option because it is unobtrusive and available with dimmer switches for low light situations.
However, have some accent lighting available that can stay lit at all times, whether along the floors, at the edges of the risers, or on sconces near exits. You have many choices for lighting in placement and material.
| | |
| --- | --- |
| Lighting | Average Costs (Material Only) |
| LED Strip Lighting | $1 - $3/linear foot |
| Sconces | $50 - $200/each |
| Fiber Optic Lighting | $100 - $400/each |
Home Theater LED Strip Lighting
LED strip lighting or rope lighting costs between $1 and $3 a linear foot. This is good lighting for beneath chairs, along the edges of the floors or ceiling, or at the edges of risers. It is a thin strip of lighting that can illuminate exits and safety hazards without interfering with the projection. The lighting is sold in long strips that measure roughly 16 feet. They can be battery-operated or hard-wired into your electrical supply. They install easily in minutes and can be used in many places where you need some illumination.
Home Theater Wall Sconce
Wall sconces range from $50 to $200 each. Sconces are ideal for placing near doors, AV racks, popcorn machines, and other areas you may need to access while the overhead lights are down. Look for lights that focus up rather than down or out. This provides the illumination you need without interfering with the projection or visuals. Sconces come in many sizes and finishes. They also come in a range of styles so that you can find one that complements your theater's decor and style.
Home Theater Fiber Optic Lighting
Home theater fiber optic lighting averages $100 to $400. This is unique lighting that projects an image onto your ceiling. This may be small twinkling stars or diffused light. It is not very common for this purpose but can be used between films. The setup mounts at the back of your theater and plugs into an outlet. The amount of light depends on the unit's size.
Best Wall Finish for Your Home Theater
There are many ways to finish your theater's walls. Many opt for fabric wall systems, which can hide your speakers and give the room a finished look. You can also use acoustic panels as your wall system. These are attractive fabric-covered panels or tiles in your choice of shape, style, and color. They can cover all the walls with a soft felt finish and provide you with better acoustics at the same time. They cost around $1,000 for the room. The more acoustic material you choose or the more designer colors and patterns you use, the higher the costs.
Cost of a Surround Sound System
Every home theater must have a good sound system to be operational. For most, this means a surround sound system, which includes 5 to 7 speakers, a receiver, and a subwoofer. Surround sound systems are sold by the number of speakers, so a 5.1 system is 5 speakers and 1 subwoofer. A 7.2 system is 7 speakers and 2 subwoofers. Unless your home theater is extremely large, you only need a 5.1 system with two speakers in front, two behind, and one in the center with the subwoofer. Each package also includes the receiver, which is how your sound system coordinates and operates.
| | |
| --- | --- |
| System | Average Costs (Material Only) |
| 5.1 Surround Sound | $500 - $2,000 |
| 6.1 Surround Sound | $700 - $2,500 |
| 7.1 Surround Sound | $1,200 - $3,000 |
| Dolby Atmos Surround Sound | $1,200 - $7,000 |
If you choose not to purchase a package, which includes all the components needed for each setup, you can purchase each piece individually and create your own setup. This is not recommended, and most professional sound system installers recommend the right system type and size for your theater and install it for you. If you want to customize the setup, expect to purchase components in the following cost ranges.
| | |
| --- | --- |
| Equipment | Average Costs |
| Subwoofer | $100 - $500 |
| Amplifiers | $200 - $700 |
| Receivers | $200 - $2,500 |
| Speakers | $300 - $3,000 |
Home Theater Soundproofing Cost
Soundproofing for your home theater costs between $1,000 and $5,000 on average but can cost up to $8,000 if you add acoustic paneling to the walls. Soundproofing is important for two reasons. One, it keeps household sounds out of your theater so that they are not distracting. Also, it ensures the sounds of your movies do not intrude on those not in the theater. Soundproofing is sometimes called an acoustic treatment. You want to use materials that absorb excess sound, known as sound-absorbing paneling or acoustic paneling. Ideally, you want this material added to the walls and ceilings, and sometimes you may want it added outside to muffle sounds from outside.
Home Theater Flooring Costs
The average cost of adding flooring to your home theater is between $2,400 and $10,000. The most recommended flooring for a home theater is carpeting. Hard surfaces cause reverberation, which degrades the sound quality. Carpeting softens this and provides additional acoustic control. There are many types of carpeting to choose from, and most work well in this area. Many people opt for a low-pile carpet for easier cleaning and upkeep. If you choose to have risers in the room, you need to carpet them, increasing costs.
Home Theater Seating Price by Type
Home theater seating comes in many forms. You can use standard chairs, reclining chairs, multi-row seats, or loveseats and couches. There is no one right way to arrange seating, so consider how many people use the space, their relationships, and the room's layout and configuration.
| | |
| --- | --- |
| Seating | Average Costs (Material Only) |
| Chairs | $400 - $3,000/seat |
| Recliners | $600 - $3,000/seat |
| Loveseats | $1,000 - $4,000/loveseat |
| Couches | $2,000 - $4,000/couch |
| Multi-Row | $5,000 - $10,000/row |
Home Theater Chairs
Home theater chairs average $400 and $3,000 each. Chairs can be purchased in singles or rows, with costs being factored per seat. There are often discounts for additional seats in a row. You can find static chairs, but most recline, rock, and have other features. It is common for home theater chairs to have LED lights, cup holders, and fold down backs. They come in a range of colors, styles, and materials to choose from. The more options you choose for the seats, the higher the cost per seat.
Home Theater Recliner
The cost of a home theater recliner is between $600 and $3,000 each. Recliners can also be purchased in singles or rows. Costs are charged per seat, but there are often discounts for larger numbers in a row. Recliners may also rock, swivel, and have features like fold-down armrests, cup holders, and LED lights. If purchased in groups or rows, they may have additional features like fold-down backs with extra cup holders. The more options you add to your recliners, the higher the costs.
Home Theater Loveseat
Home theater loveseats range from $1,000 to $4,000 each on average. Loveseats have two seats per section. The seats may be separated by a partition that contains cup holders or side by side. The individual seats in the loveseat may rock, recline, or fold down. They may have additional options like cupholders or LED lights. They come in many styles, materials, widths, and sizes.
Home Theater Couch
Home theater couches cost between $2,000 and $4,000. Couches typically have a minimum of three seats per section. These seats may be side by side or have armrests between them. Each may individually rock, recline, or fold down. The couches may have features like cupholders and LED lights. They can also be found in many colors, styles, and materials. The more options you add to your couch, the higher the overall cost.
Multi-Row Home Theater Seating
Multi-row home theater seating averages $5,000 to $10,000 per row. Each row can contain up to 7 seats. The seats are typically separated by armrests. They can individually rock, recline, or fold down. They usually have added features like cupholders and LED lights. The more seats and options you have, the higher your total costs. Row seating comes in a range of styles, colors, and materials.
Home Theater Seating Price by Material
Home theater seating can be found in many styles and arrangements. It is also available in several materials. Leather is one of the most common because it is easy to care for and durable. But for those who do not want to use real leather, you can also find a full range of seating options in faux leather and fabrics. Each is available in a range of colors and styles with multiple options. Seating is often charged per seat, so you can have a range of costs regardless of the material.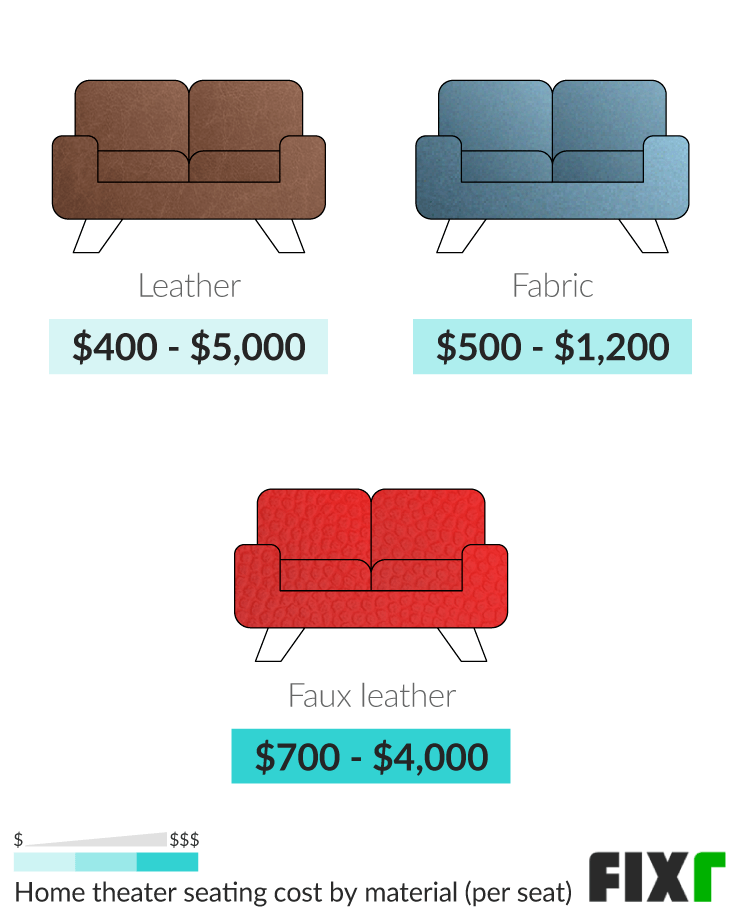 | | |
| --- | --- |
| Seating Material | Average Costs |
| Leather | $400 - $5,000/seat |
| Fabric | $500 - $1,200/seat |
| Faux Leather | $700 - $4,000/seat |
Media Rack for a Home Theater
With the many options available today for streaming and media, including Blu-ray, cable, DVDs, Apple TV, and projectors, you may want to consider adding a media rack or an A/V rack to your theater room. This is a dedicated rack that holds your cable box, media streaming boxes, gaming components, and media players you want to connect. They come in many sizes and can rotate for easier access. Ideally, they should be placed near an electrical outlet and an internet source cable. They have costs ranging from $300 and $1,500, depending on the size and features.
Labor Costs to Build a Home Theater
Labor costs to build a home theater depends on the area where you are building it, whether it is a conversion or an addition, and what components you use in the setup.
In general, labor costs can be broken down by the area you are having installed or finished. If you are having an addition put on, you have additional labor costs for building the room.
| | |
| --- | --- |
| Labor | Average Costs |
| Flooring Installation | $1 - $2/per square foot |
| Projector/Screen Installation | $100 - $500 |
| Architect | $150 - $400/hour |
| Seating and Riser Installation | $200 - $500 |
| Sound System Installation | $300 - $2,000 |
| Wiring, Electrical, and Lighting | $1,000 - $3,000 |
| Wall Finishing/Acoustic Installation | $2,000 - $4,000 |
| General Contractor | $150 - $200/hour |
Home Theater Wiring Cost
Your home theater involves a lot of wiring. This includes running the wires between your various sound system components and their setup. The various wires cost around $200, while professional setup costs about $1,000 to $2,000. This includes concealing the wires behind walls and other areas where they are not noticeable in the finished room.
Movie Theater Room Styles
Match your home theater with your house's general style for aesthetic cohesion. Neutral tones seem best in a home theater, like brown, gray, and tan. The bolder, brighter, or deeper the colors, the more impact it has on the screen and image. Skip glossy paint or surfaces and choose matte to deter light reflection.
If you want to dress up your home theater, consider using acoustic paneling and materials in geometric patterns on the walls. You can also consider adding movie posters, a popcorn machine, and other decor to enhance the feeling of being in a theater. Otherwise, keep the color and style with the rest of your home for the best results. Ensure anything you add does not have a reflective surface and that it is not on the same wall as the projector to avoid interference.
Dolby Atmos vs 5.1
In your choice of surround sound systems, you have options that include Dolby Atmos and typical surround sound like 5.1. Dolby Atmos comes in differently sized setups like 5.1 and 7.1. While an ordinary setup sends the sound or sounds to different speakers, Dolby Atmos projects the sound to the room's center from one or more speakers at a time. This provides a more immersive sound experience than standard 5.1. Dolby Atmos costs around $1,200 to $7,000, while 5.1 costs between $500 to $2,000.
Enhancement and Improvement Costs
Blackout Window Treatments
If there are windows in your home theater, watch out for light because it can impact your viewing experience. Buy inexpensive blackout curtains for $20 to $60 a pair online, or blackout shades for around $100 per window.
Seat Vibration
If you want to add vibration to your seats for a "4D" experience, this can be added to certain chairs. In this setup, your chairs are hooked to the receiver and may vibrate for an immersive experience. These chairs start at $1,000 per seat.
USB Charging Ports
Some chairs are available with USB charging ports built-in. These may be located in the seats' armrests or a fold-down option. When properly installed, they allow you to charge your phone without worrying about cables or wires running across the floor. Chairs with this option start at around $500 a set.
Popcorn Maker
You can get a more authentic experience at home by adding a popcorn machine. Popcorn machines come in many sizes and styles. They work with various kernels, and some can also store popcorn for later. They cost between $50 and $200 each.
Projector Suspension Kit
Many projectors are suspended from the wall or ceiling rather than set on a flat surface. This protects them from knocks and bumps, helping them last longer. The suspension kits cost $20 to $200, depending on the size and material.
Custom-Built Entertainment Center
If you are not using a projector, you can have an entertainment center built to hold your AV equipment and TV. Entertainment centers come in many sizes and contain things like fireplaces, TV mounts, and storage. They have an average cost of $9,000.
Additional Considerations and Costs
In a home theater, few windows are best because they let in light and distort the sound quality. If you are installing new windows, plan on an average price of $300 to $700 each plus installation time and costs, which run around $250 per window.
Property value and homeowners insurance may increase with a home theater addition. You may want to add additional homeowners coverage when investing in home theater electronics, whether you are building an addition or converting an existing space.
It does not hurt to go ahead and purchase warranties for labor, wiring, insulation, TV, speakers, and the projector - anything you invest in for your home theater. The cost varies, but a warranty on electronic items can prove well worth the investment in the long run and typically only cost pennies on the dollar of your original purchase.
Your home theater adds home resale value. It is estimated that a professionally finished home theater addition can offer as much as a 65% ROI.
Keep the number of reflective surfaces in the room to a minimum to avoid distorting the light. Keep surfaces matte rather than glossy and avoid mirrors, too many windows, and glass picture covers.
If you add curios, posters, or other memorabilia, do so behind the viewers to not distract from or reflect light onto the screen.
FAQs
How do you set up a home theater room?
Set up your home theater with attention to acoustics and viewing. Experts suggest that the minimum viewing distance is twice your TV's width. So if your TV is 60", plan seating at least 120", or 10', from the screen. Maximum distance should only be five times the TV size, so in this example, the TV screen should be no farther than 300", or 25', away. Consulting with an architect is a good way to start planning. Expect a rate of $100 to $400 per hour for a consultation.
Does a home theater add value?
Yes, a professionally finished home theater can add value. It is estimated that homeowners can expect around a 65% return on their home theater investment.
Are home theaters worth it?
A home theater increases your home's value while providing hours of entertainment and enjoyment. Home theaters are definitely worth it!
What size room do you need for a projector?
When it comes to a projector versus a TV in your theater space, the best option is contingent on your room's size. Projectors need a lot of space because the image and screen size can be big, which can be problematic in a small room. Keep in mind that in a room less than 300 sq.ft., objects, furnishings, and people can block the viewing screen unintentionally.
What is needed for a home theater system?
Typically, home theater systems contain most of the components needed to watch a movie, including a surround sound receiver, speakers, and a Blu-ray/DVD/CD player. A compact, home-theater-in-a-box system costs $500 to $2,000 to purchase.
How do I choose home theater speakers?
The best way to choose speakers is to get a package that includes the speakers, subwoofer, and receiver. These are sized by the number of speakers, such as 5.1 or 7.2 - with the first number referring to the number of speakers and the second referring to the number of subwoofers. Most home theaters use a 5.1 unless they are exceptionally large.
How much does a movie theater projector cost?
You can buy a movie theater projector online and in stores for $300 to $2,000. You also need a screen, which averages $20 to $1,000.
Can I use my phone as a projector?
Yes, with a few basic implements, you can use your smartphone as a projector. You can also buy an inexpensive smartphone projector online for around $50. The quality of these projections is not very high.
The information provided by our cost guides comes from a great variety of sources. For more information, read our Methodology and sources.