How much does it cost to clean furniture upholstery?
Get free estimates from Carpet Cleaners near you
Furniture Upholstery Cleaning Cost Guide
If your furniture looks stained and has collected dust and debris, it is time to clean it. Cleaning your upholstery is a great way of giving your furniture its old shine back. It removes unwanted spots, stains, and odors on your furniture that may tempt you to purchase a new item. Regular upholstery cleaning ensures that your furniture is bacteria-free, which protects the health and wellbeing of your family. Professional cleaning methods leave your upholstered furniture looking brand new for a fraction of the price of new furniture.
The national average furniture upholstery cleaning cost is between $100 and $250. Most homeowners pay around $180 for professional dry cleaning and stain removal of a microfiber couch. At the low end of the spectrum, you will pay around $50 for having an office chair upholstery professionally steam cleaned. At the high end, you may pay up to $600 for professional cleaning of a large sectional leather sofa that requires minor repair and a protective sealant.
Upholstery Cleaning Prices
Furniture Upholstery Cleaning Cost
National average cost
$180
Average range
$100-$250
Low-end
$50
High-end
$600
Upholstery Cleaning Cost by Method
The type of cleaning method directly influences the cost of the cleaning service, with professional furniture upholstery cleaning ranging between $15 and $400 per item. However, most companies have a minimum service fee between $50 and $100. This means that the price per item is valid only if you bring multiple smaller or one larger piece of upholstery. If you bring only one small piece of upholstery like a dining or office chair, you will have to pay the minimum fee of $50 to $100, depending on the company's rates.
Most cleaning companies charge per piece and apply discounts for having multiple furniture pieces cleaned at once. This price includes a free consultation to choose the proper cleaning method. The price considers the size of the furniture piece and the material. More substantial materials require special cleaning and care. The table below shows the cost of cleaning a single furniture piece with each method.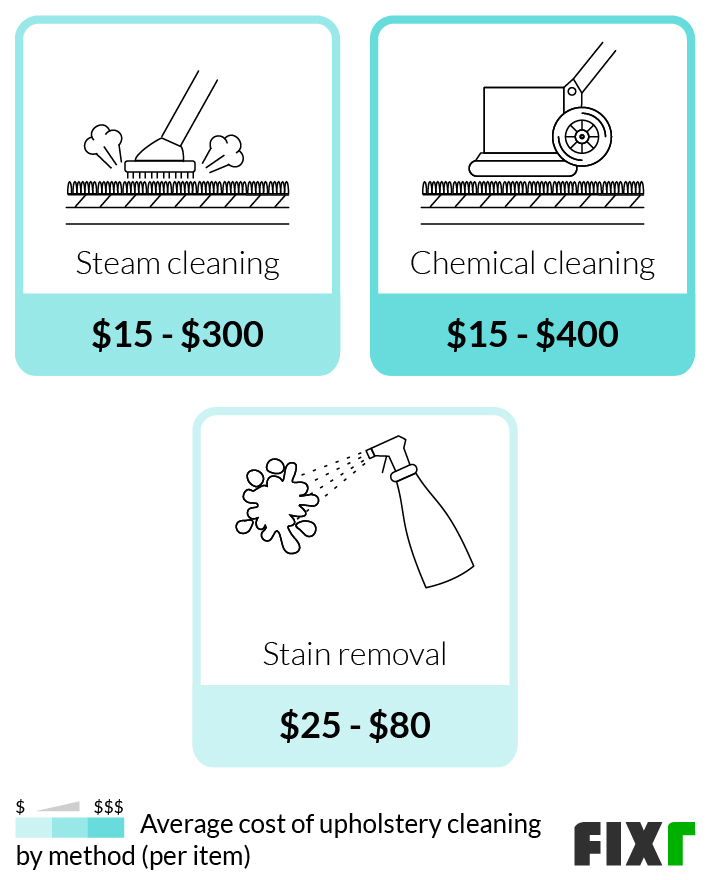 | | |
| --- | --- |
| Cleaning Method | Price per Item |
| Steam Cleaning | $15 - $300 |
| Chemical Cleaning | $15 - $400 |
| Stain Removal | $25 - $80 |
Upholstery Steam Cleaning
Steam cleaning costs $15 to $300 per furniture item. Also known as hot water extraction, it is one of the most popular methods of cleaning upholstery that uses high temperature and pressurized steam instead of chemicals. The professional uses pressure to inject just enough steam and a cleaning agent into the upholstery to release any germs, grease, dust, and grime from the fabric. Once the contaminants have been released, the upholstery will be vacuumed with powerful suction that removes the excess moisture and contaminants without damaging the upholstery. Steam cleaning is mostly used to clean delicate upholstery and fabric furniture like chairs, sofas, and couches and to sanitize a mattress.
Chem-Dry Upholstery Cleaning
Chemical cleaning is another type of upholstered furniture cleaning method that costs $15 to $400. Chemical cleaning is often used for fabrics including rayon, silk, wool, denim, cotton, and velour. It can be difficult to use the chemical cleaning process on older or bulkier furniture pieces. The furniture tag will often indicate the letter "S" on the cleaning instructions to let the cleaning service know how to clean the furniture.
Upholstery Stain Cleaning
Typically, you will pay between $25 and $80 per item for stain cleaning. Heavy stains on furniture from children or pets require a pre-treatment service. This service helps remove those stubborn, unmanageable stains. Professionals will use a specific type of stain cleaner depending on the material of the furniture. The cost of the process will depend on the size and intensity of the stain.
Upholstery Cleaning Prices by Furniture Item
Upholstery furniture can be more difficult to clean than other types of furniture, costing between $15 and $400 per item. It is a popular furniture choice due to its stylish, comfortable, and functional qualities. One of the biggest factors that influence the cost of cleaning is the size of the furniture piece. The larger the item, the larger the surface area. Larger furniture pieces require more time and more cleaning solution. For example, you can expect to pay much less to clean a standard size couch than a large sectional. Although other options and products are on the market to clean the furniture yourself, you should consider hiring a professional to do the job for you. They have expertise in the proper products and cleaning methods to use. This section highlights common upholstery pieces of furniture that require cleaning, the cost to clean them, and an explanation of which method is best for each.
| | |
| --- | --- |
| Furniture Piece | Cost to Clean |
| Dining Chair | $15 - $40 |
| Office Chair | $20 - $50 |
| Ottoman | $25 - $60 |
| Armchair | $40 - $70 |
| Lounge chair | $40 - $80 |
| Recliner | $50 - $100 |
| Mattress | $50 - $150 |
| Loveseat | $60 - $150 |
| Couch | $80 - $200 |
| Sofa | $100 - $300 |
| Sectional Couch | $120 - $400 |
Dining Chair Cleaning
The cost for dining chair cleaning averages between $15 and $40 per piece when cleaning more than one item. Most companies have a minimum service fee between $50 and $100, so it is better to clean multiple pieces at once. Professional cleaning of upholstered dining chairs begins with vacuuming, which can be done on all materials. The cushions are removed, and the surface is cleaned of any crumbs or built-up debris.
Steam cleaning is one of the most popular methods of cleaning dining chairs. The high temperature kills germs without the use of any chemical. The steam soaks the upholstery with water and a cleaning agent, removing dirt, stains, grease, and grime. The chairs are left to completely dry. Chemical cleaning is also an option for cleaning dining room chairs, depending on the type of material. This method involves less water and concentrated chemical treatment.
Office Chair Cleaning
The average cost for professional upholstered office chair cleaning is $20 to $50. Dust, dirt, and other debris can quickly build up on chairs, making them look dirty and unkempt. These contaminants can cause allergies and respiratory infections. There are a few different methods used to clean office chair upholstery. In most cases, the professional uses a vacuum with different attachments to reach in all the hard crevices to remove any dirt and grime. From there, they use steam or chemical cleaning to remove any contaminants in the upholstery.
Ottoman Cleaning
The average cost for ottoman upholstery cleaning is between $25 and $60. Ottomans are a versatile piece of furniture that are often paired with an armchair in a formal or casual setting. Many different kinds of ottomans are available: square, cocktail, rectangular, and circular. Modern ottoman designs are used as a storage solution and are becoming more popular. They are also known for their use as a footrest. Like every other furniture piece on the market, an ottoman gets dirty and requires a good cleaning to restore its look. Depending on its material, ottomans can be professionally cleaned using either a steam or chemical treatment. Both methods work to remove all dirt and grime from deep within and remove any tough stains. Like other pieces of furniture, cleaning begins with a thorough vacuum to remove dust and dirt on the surface.
Armchairs Cleaning
The average cost for armchair upholstery cleaning services is between $40 and $70. Armchair upholstery gives a classy and elegant look to your living room. To keep your armchair looking great, you must keep it clean. Along with dusting and regular vacuuming, hiring a professional to do a steam cleaning every so often is a good idea. The steam kills any germs and removes stains that can accumulate after a while. Depending on the chair's material, there is also the option of a chemical cleaning that uses a special solvent or water-based cleaner to leave the chair looking brand new. Since armchairs are larger than office chairs or dining chairs, you can expect to pay more for cleaning.
Lounge Chair Cleaning
The cost for professional cleaning of a lounge chair ranges between $40 and $80. A lounge chair is an armless recliner that is often paired with an ottoman, designed for relaxing. These chairs come in a permanently reclined position and cannot be reclined by the user, a key differential factor from a recliner. The process of professionally cleaning a lounge chair is identical to that of an armchair and recliner style chair. The process begins with vacuuming any loose dust and debris on the surface, followed by a chemical or steam cleaning depending on the material. You can expect to pay a little more for a lounge chair compared to an armchair, as a lounge chair is often paired with an ottoman that also requires cleaning.
Recliner Cleaning
Professional recliner upholstery cleaning costs between $50 and $100. Recliners can provide a comfortable spot to relax. Over time, pet hair, food and drink spills, dirt, and grime can build up on the upholstery. Along with weekly vacuuming, upholstered recliners require deeper professional cleaning at least twice a year to remove embedded dirt and stains. Depending on the tag recommendations and the material of the recliner, a professional will either use a steam or chemical cleaning method.
Professional Mattress Cleaning
Mattresses require cleaning as often as furniture and should be completed by a professional. Steam cleaning a mattress costs $50 to $150. A mattress is used every night and collects skin cells, pet hair, dust, pollen, and other allergens, making it a very unsanitary place to sleep. Cleaning technicians begin with a pre-vacuum to extract any insoluble dirt, hair, and debris from the surface. A steam cleaning is then used to kill contaminants using hot water extraction. Using hot water and a gentle cleaning agent is necessary for sanitizing the mattress. The chemicals used are harmless to any person or pet that spends time on the mattress surface and the environment.
Loveseat Cleaning
You can expect to pay between $60 and $150 for the professional cleaning of a loveseat. As its name implies, a "loveseat" is a small, comfortable surface for cuddling up with your loved ones. A loveseat often takes the appearance of a sofa but can be differentiated due to its smaller size and number of cushions. A loveseat is meant to seat only one or two people. Loveseats can be great for maximizing small spaces and giving the look and feel of a sofa. The loveseat cleaning process begins with vacuuming all crevices, cracks, and the surface of the piece, followed by a steam cleaning method that soaks the upholstery with water and an agent then scrubs out the dirt and stains. The loveseat is air dried to remove excess water.
Professional Couch Cleaning
If your couch is covered in crumbs and stains, then it is time for a good cleaning. The cost of professional couch cleaning is $80 to $200. A couch provides you with a nice spot to relax, take a break, nap, drink coffee, eat snacks, and so much more. In a busy household, a couch can take a battering. Along with weekly vacuuming, your couch should be cleaned professionally at least once a year. Most couch manufacturers recommend steam cleaning for upholstered furniture as indicated on the couch instructions tag. Professionals begin with a thorough vacuuming of the couch to remove all loose dust and debris using an upholstery vacuum attachment. All loose seat cushions will be removed so that they can get in all crevices and gaps along the sides and back of the couch. The steam cleaning professional applies a high temperature water to the couch surface, eliminating all grime, odors, and stains without chemicals.
Sofa Cleaning
Sofas are a center point in many households for gatherings and events and should be cleaned professionally for $100 to $300. Sofas can be made from various colors, designs, and materials. Most manufacturers recommend steam cleaning for upholstered sofa furniture pieces. The process of sofa cleaning is identical to that of a loveseat and couch. Vacuuming followed by a steam cleaning can leave a sofa looking and feeling extra clean. Since a sofa has a bigger surface and many more crevices than a chair, you can expect to pay more for cleaning services.
Clean Sectional Couch
The average cost to clean a sectional couch through upholstery cleaning is between $120 and $400, depending on the size. This process is typically longer than cleaning other items because it entails removing the cushions and thoroughly vacuuming the couch before shampooing and rinsing the fabric. This removes dirt, dust, and other debris from your couch, along with any stains that may have been caused by spills or pets. It refreshes the appearance of your couch and extends its lifespan.
Cost of Upholstery Cleaning by Type of Material
The materials that make up your furniture item influence the cost of cleaning upholstery, which averages around $15 to $400. Delicate fabric such as silk, rayon, or linen, require extra caution and specific cleaners that are more expensive and therefore increase the cost. Leather materials also require special solvents and cleaning techniques and therefore come at a higher cost than basic cotton or polyester. Hiring a professional to clean your upholstery is extremely important to prevent discoloration, shrinking, or warping from using the wrong products. The table below lists some common materials and their respective cleaning costs and explains what cleaning methods are the best for each type.
| | |
| --- | --- |
| Material Types | Cleaning Cost per Furniture Piece |
| Fabric | $15 - $400 |
| Vinyl | $100 - $300 |
| Leather | $150 - $400 |
Cleaning Fabric Upholstery
The average cost for cleaning fabric upholstery is between $15 and $400, depending on the type of cleaning required, size of the furniture piece, and type. Most fabric furniture pieces come with a coded tag with cleaning instructions. These labels help professionals know how to clean your furniture properly. Cleaning your fabric furniture should be done routinely and start with thoroughly vacuuming the entire piece. Vacuuming keeps dust, dirt, and grime from embedding into the fabric, keeping them in great shape. All pillows and crevices should be done. Covers should be washed regularly. If your furniture piece has any wood detailing, a special wood cleaner should be used on those spots. The chart below highlights these cleaning codes with their respective cost and describes each.
| | | |
| --- | --- | --- |
| Fabric Cleaning Codes | Fabric Material | Cost per Furniture Piece |
| Code W | Nylon, olefin, polyester, acetate, microfiber, chenille, acrylic | $15 - $100 |
| Code WS | Felt, chintz, brocade | $15 - $150 |
| Code S | Cotton, silk, wool, linen, rayon, denim, damask, velour, velvet, mohair | $40 - $300 |
| Code X | Jute, Suede | $70 - $400 |
Cleaning Code W Upholstery
These materials fall at the lower end of the price range and average around $15 to $100 for cleaning one piece of furniture. The cleaning price depends on the exact furniture piece, so cleaning a microfiber couch costs differently from polyester sofa cleaning. This code is for man-made fabrics, including polyester, nylon, olefin, microfiber, chenille, acrylic, and acetate. W stands for "water," meaning it can be cleaned with a water-based cleaner. These types of fabrics are the easiest to clean. It does not mean that these fabrics are machine washable.
Cleaning Code WS Upholstery
The average cost for cleaning furniture with a code WS tag averages between $15 and $150, depending on the type of cleaner required. This code is for furniture pieces with a mixture of organic and man-made fabric such as felt, sunbrella®, chintz, brocade, and materials with woven patterns. These furniture pieces can be cleaned with water-based cleaners and dry solvent mixtures. There is some risk of damaging the products, so they should be cleaned by a professional service.
Upholstery Cleaning Code S
These materials fall in the middle of the price range because the cleaners are more expensive and average around $40 to $300. This code is for organic fabrics, including cotton, silk, wool, linen, rayon, denim, damask, velour, velvet, and mohair. These fabrics should be cleaned with a solvent or water-free cleaner. Using a water-based product can leave a water ring or fade the dye. Prices depend on the exact material, so when you hire a silk upholstery cleaning service or velvet upholstery cleaning service, it costs differently from cleaning linen upholstery or a velvet couch.
Cleaning Code X Upholstery
Code X fabrics average around $70 to $400 for cleaning. This code is for fabrics that must be cleaned only by vacuuming or using a specific non-metallic stifle brush. The most common upholstery materials with a code X are jute and suede. Water or solvent-based cleaners ruin these types of furniture pieces and should be avoided. These fabrics must be professionally cleaned and require special techniques and more time, increasing the cost.
Vinyl Upholstery Cleaning
The average cost for professional vinyl upholstery cleaning ranges between $100 and $300, depending on the type of cleaning required, size of the furniture piece, and type. The most common method to clean vinyl furniture is dry cleaning. Using the proper cleaner simplifies the cleaning process of vinyl furniture pieces. Professionals use a specialized cleaner that is explicitly for use on vinyl material only. For a quick DIY method, a rag with baking soda and a little dishwashing liquid can keep the vinyl clean. Oil should never be used on vinyl because it damages the material, causing it to turn rough and hard.
Leather Furniture Cleaning
The cost for professional cleaning of leather furniture pieces depends on the type of furniture piece and size but typically ranges between $150 and $400. Due to its high purchase price, leather furniture should be cleaned properly to maintain its value. A professional service should be hired to do the job. Specially formulated leather cleaners break down dirt and stains to make your leather furniture look brand new. The special cleaners used are expensive and require specialized techniques making leather one of the most expensive materials to clean.
Upholstery Cleaning Services Prices by Company
The cost of upholstery cleaning is influenced by the cleaning company you choose. Prices range from $15 to $400. While many companies are on the market, it is important to do your research and choose a company with knowledgeable technicians and fair pricing. The last thing you want to worry about is having your sentimental piece of furniture ruined by an unreliable company. The most popular upholstery cleaners in the U.S. are Stanley Steemer and COIT Cleaners.
Stanley Steemer upholstery prices depend on the size of the piece being cleaned. You can expect to pay less for a dining room chair or ottoman than for a large sectional sofa. Their trained technicians inspect the upholstery for any physical defects, staining, colorfastness, and fiber type and determine the best furniture cleaning method to achieve the desired results. COIT is known for their unconditional money-back guarantee. Their professional technicians have equipment that cleans almost every type of upholstery material and household furniture pieces. Before beginning any services, they inspect each piece of furniture to determine a specific cleaning plan. The table below shows their respective costs.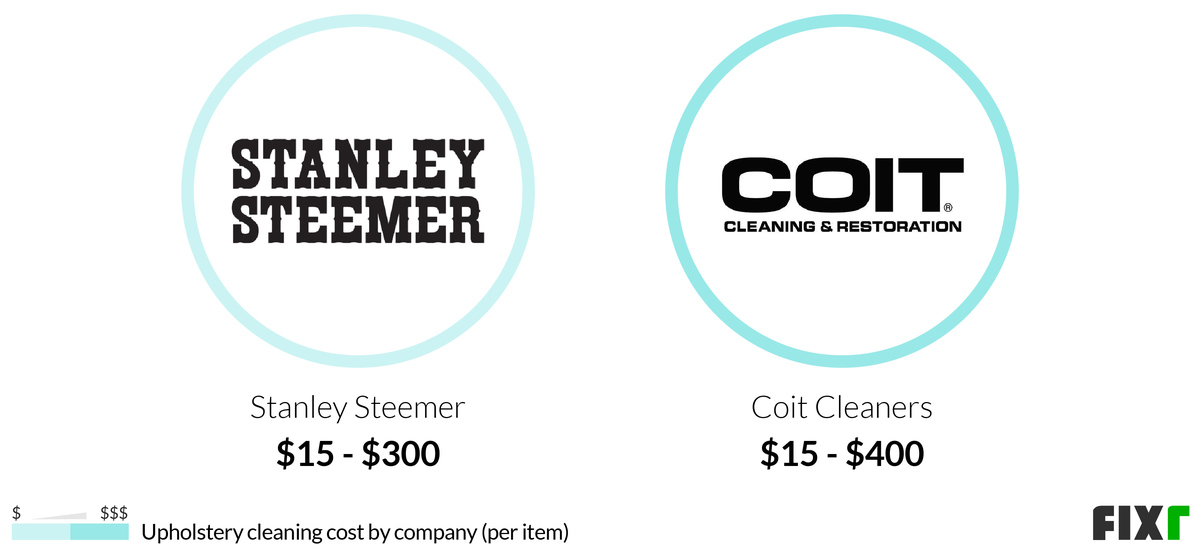 | | |
| --- | --- |
| Company | Cleaning Cost (per Item) |
| Stanley Steemer | $15 - $300 |
| Coit Cleaners | $15 - $400 |
Enhancement and Improvement Costs
Stain Prevention
The average cost for stain preventative sealant services range between $30 and $100. Most professional cleaning service companies offer a post-cleaning upholstery stain preventative sealant against future stains. These sealants help to keep your furniture cleaner longer and looking fresh. The cost to have this done depends on the size of the furniture. The bigger the piece, the more you will pay.
Upholstery Repair
Repairing upholstery is a great way to restore old furniture and bring it back to life. The cost to repair the upholstery depends on the item. Repairing a chair costs $40 to $750, while a sofa averages between $150 and $300. The cost largely depends on the piece of furniture. Some professional companies can repair furniture during the process of cleaning it. Repairing jobs other than a simple repair can be very costly. If the cost is too high, it is worth considering replacement instead of repair. In most cases, repairing furniture is the most cost-effective for antique pieces and those that hold special value
Dry Cleaning Slipcovers
The average cost for dry cleaning slipcovers ranges between $5 and $15 per piece. Removing dirt and grime from your slipcovers can often be done in the washing machine. For high traffic homes, slipcovers should be put in the wash at least one to two times per month. For stubborn stains or some specific fabrics like leather or wool, you may want to consider taking them to a professional for dry cleaning.
Additional Considerations and Costs
Antiques. Furniture pieces that are older or more delicate may require more cleaning work and time, increasing the price by up to 25%.
Frequency. Professionals recommend that cleaning your furniture should be done one to two times a year for single couples with no children, three to four times a year if you have children or pets, and four to five in high traffic homes with pets and children.
DIY. Cleaning upholstery can be DIY with the proper equipment, but a lack of knowledge can actually cause harm to your furniture. It is recommended to hire a professional cleaning company for many reasons, including proper equipment, knowledge of what cleaning methods work best on different pieces and materials, and sufficient time spent cleaning the furniture.
Discounts. Many cleaning service companies offer a discount if you opt into having many pieces of furniture cleaned at the same time.
Reupholstering furniture. It can be a great option for restoring furniture and making it look brand new. The cost of reupholstering can cost more than buying new, so it is good to reupholster furniture that holds special value or is very antique. The cost to reupholster furniture depends on the piece of furniture but the average price ranges between $350 and $3,500.
FAQs
Is upholstery cleaning worth it?
When it comes to keeping your furniture in great condition, having a professional clean your furniture is definitely worth it. Upholstery cleaning may seem unnecessary, but avoiding the cleaning and maintenance can end up costing more money in the long run.
How often should a couch be cleaned?
A couch should be cleaned approximately one to five times a year, depending on the traffic of your home. If you have kids and pets present, then it can be done more often.
Is dry cleaning the same as steam cleaning?
Dry cleaning and steam cleaning work in very different ways. Dry cleaning uses a chemical solvent to break down dirt and stains. Steam cleaning uses high-pressure steam to dislodge dirt and trapped contaminants. Dry cleaning is gentler on delicate fabrics. Steam cleaning is less likely to cause color fading but can be tough on delicate seams.
How long do sofas take to dry after cleaning?
How long the sofa takes to dry depends on the type of fabric, the temperature and humidity of the room, and the airflow in the area. Depending on the sofa's fabric, it takes anywhere from a few hours to a day or more for your sofa to be completely dry.
How do you clean couch cushions that cannot be removed?
Upholstery couch cushions are most susceptible to spills and stains and can be difficult to clean. If the cushions cannot be removed, the professional will vacuum the cushions to remove any surface dirt and debris. They will mix a solution of water and mild detergent and use a soft brush to scrub the fabric gently and let them air dry.
How long does it take to clean a sofa professionally?
When it comes to cleaning a sofa, a few factors must be considered, including the size of the sofa, the type of fabric, and the level of dirt and grime. It usually takes between 30 and 60 minutes. However, if the sofa is large or very dirty, it may take longer.
The information provided by our cost guides comes from a great variety of sources. For more information, read our Methodology and sources.