How much does it cost to install a walk-in tub?
Get free estimates from disability remodeling contractors near you
Walk-In Tub Installation Cost Guide

To provide you with the most accurate and up-to-date cost figures, we gather information from a variety of pricing databases, licensed contractors, and industry experts.
A walk-in bathtub allows users to walk or transfer in with no barrier. Rather than a fixed front wall like a standard tub, a walk-in tub has a door that opens outward. The occupant sits inside the tub on the floor of the tub or in a built-in seat. The tub can be filled when the door is sealed, allowing users with mobility issues the opportunity to safely enter and exit the bathtub. Some walk-in tubs offer therapeutic options, such as airbath or whirlpool jets, while others are strictly for soaking. Therefore, you can customize your installation to fit your needs.
The average cost of a walk-in tub ranges from $5,000 to $8,500, with most homeowners spending around $6,500 on a 60-inch alcove-style walk-in bathtub with hydrotherapy. This project's low cost is $3,500 for a 60-inch alcove-style soaking tub. The high cost is $20,000 for a custom whirlpool and airbath combination tub outfitted with a shower.
Walk-In Tub Prices
Walk-In Tub Installation Costs
National average cost
$6,500
Average range
$5,000-$8,500
Low-end
$3,500
High-end
$20,000
Walk-In Bathtub Prices by Type
Walk-in bathtubs are available in a range of styles and types, from standard alcove-style soaking tubs that can be outfitted with shower options to tubs offering hydrotherapy, airbaths, and other features.
The tub type and features are one of the main cost factors for a walk-in tub installation project. The more high-tech and larger the design, the more you will pay for the tub and installation. For example, a tub with jets or an air bath requires an electrical installation, increasing the total costs. Larger tubs and tubs with more than one feature also have higher costs. Below are the most common walk-in bathtub types and their average costs for the tub and project installed.
| | | |
| --- | --- | --- |
| Type | Average Cost (Materials Only) | Average Cost (Installed) |
| Soaking Tub | $1,500 - $3,500 | $2,500 - $5,000 |
| Air Bath | $5,000 - $7,000 | $7,000 - $10,000 |
| Hydrotherapy (Whirlpool) | $5,000 - $7,000 | $7,000 - $10,000 |
| Bariatric | $5,000 - $10,000 | $6,000 - $13,000 |
| Two-Seater | $7,000 - $10,000 | $8,000 - $13,000 |
| Tub / Shower Combination | $7,000 - $10,000 | $9,000 - $13,000 |
| Combination | $7,000 - $10,000 | $9,000 - $14,000 |
| Luxury Tubs | $10,000 - $15,000 | $12,000 - $20,000 |
Walk-In Soaking Tub
The average cost of a soaking tub ranges from $1,500 to $3,500 for the tub and $2,500 to $5,000 installed. Soaking tubs are deep tubs designed for sitting and bathing comfortably. They do not have jets or other features but are designed to be comfortable to sit and soak for extended periods. They come in many sizes and may be for one or two bathers. Most are designed to be installed in the place of a standard alcove tub and roughly 5 feet or 60 inches in length. Depths, widths, and options vary by manufacturer, such as quick draining for a more comfortable experience.
Air Bath
The average cost of an air bath walk-in tub ranges from $5,000 to $7,000 for the tub and $7,000 to $10,000 installed. An air bath generates streams of bubbles from small holes located on or near the bottom of the tub. This provides a gentle massage and is good for increasing circulation to the body, which may benefit those with diabetes or circulation problems. When the air is not on, the tub can be used as a regular soaking tub. Air baths come in many configurations and sizes. They can fit in standard tub alcoves or larger and designed for two users.
Hydrotherapy Walk-In Tub
The average cost of a hydrotherapy walk-in tub is between $5,000 and $7,000 for the tub and $7,000 to $10,000 installed. This is a jetted tub that vigorously circulates the water. It offers deep tissue massage and is good for relaxing muscle aches. When not in use, it can act as a regular soaking tub. Jetted tubs are not recommended for some people with heart or blood circulation issues. Like air baths, these tubs come in standard sizes to retrofit an area with an existing tub. They can also come in much larger sizes or be designed for two users.
Bariatric Walk-In Tub
The average cost for a bariatric walk-in tub is between $5,000 and $10,000 for the tub and $6,000 to $13,000 installed. This is a wider tub designed for larger users or users who have significant mobility issues and may need assistance entering and exiting the tub. These tubs are not necessarily longer than other tubs, but they are wider, with a wider doorway and sturdier seat. They can still be installed in the space of a standard bathtub, but they may come into the room more than thinner models. These tubs may be soaking, air bath, or whirlpool, as well as combinations.
Two-Person Walk-In Tub
A two-seater walk-in tub costs between $7,000 and $10,000 for the tub and $8,000 to $13,000 installed. A two-seater tub is designed for two users to sit facing each other. It has two backrests with a drain in the center. These tubs may be soaking, air bath, whirlpool, or a combination. They are typically larger, at least 72 inches in length. The faucet filler must be installed on or over the side of the tub rather than on one end because of how the seats are configured, complicating the installation in some settings.
Walk-In Tub With Shower
A tub/shower combo can cost between $7,000 and $10,000 for the tub and $9,000 to $13,000 installed. Tub/shower walk-in tub installations come in a few ways. You can install a standard walk-in tub in an alcove, tile the walls, and create a custom shower. You can also purchase a one-piece unit with shower walls made of the same material and install this as one unit. This can bring versatility to the bathroom in both cases, and users can still enter and exit through the door rather than climbing over the tub to access the shower. Users can also sit on the tub's included seat while showering for even greater versatility.
Combination Tub
A combination tub costs between $7,000 and $10,000 for the tub and $9,000 to $14,000 installed. A combination tub has both air bath and whirlpool features and can also be used as a standard soaking tub. This allows you to customize your experience or allows two users with different needs to use the tub comfortably. Combination tubs are available in many sizes and configurations. They can be designed for larger users or hold two users at once in some cases.
Luxury Walk-In Tub
The cost of a luxury tub generally ranges from $10,000 to $15,000 and costs between $12,000 and $20,000 installed. A luxury tub may have additional features such as curved backrests for comfort, chromotherapy lights, or adjustable water jets. They often include a combination of features. Heated backrests and remote control operation are also common. They are typically larger and deeper, and many are also more contemporary in appearance. These tubs usually require a custom installation and surround that raises total costs considerably.
Walk-In Bathtub Costs by Material
Walk-in tubs can be made from many of the same materials as other bathtubs. This includes acrylic and gelcoat. Most walk-in tubs are made in a mold using a fiberglass reinforced acrylic. This gives your tub the strength and durability of acrylic with the insulating properties of fiberglass. However, for those who want a tub that is easy to clean, gelcoat makes a nice smooth surface that is easy to wipe down. Not every manufacturer makes tubs in both materials, and not all features are available with both materials. You can find the most options with acrylic because it is more common, which also means they often have higher costs, while gelcoat may be more limited. Below are the average costs for both material types.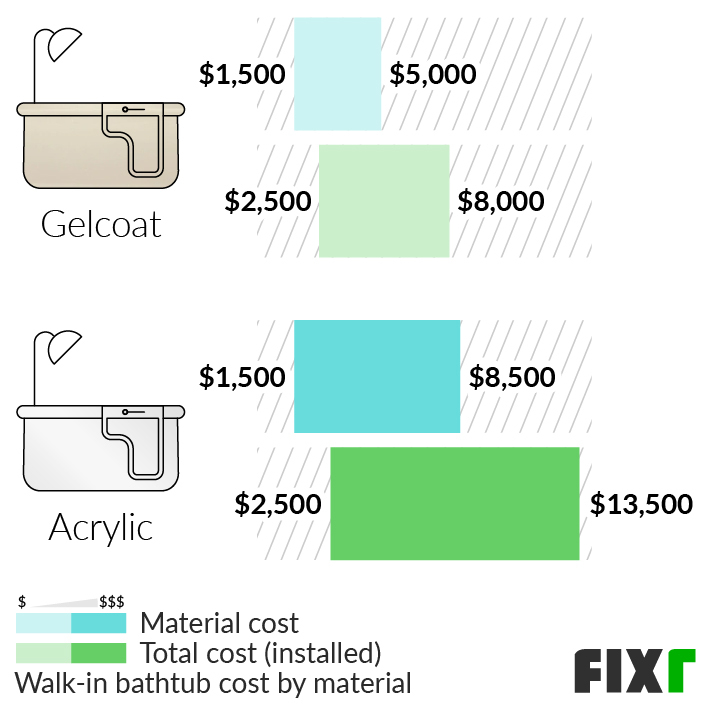 | | | |
| --- | --- | --- |
| Material | Average Costs (Materials Only) | Average Costs (Installed) |
| Gelcoat | $1,500 - $5,000 | $2,500 - $8,000 |
| Acrylic | $1,500 - $8,500 | $2,500 - $13,500 |
Gelcoat Tub
The cost of a gelcoat tub averages $1,500 to $5,000. Installed they cost between $2,500 and $8,000, depending on which features they have. Gelcoat is a multi-coat finish that is applied over a fiberglass tub shell. It has a sleek and soft feel that is easy to clean because most dirt and contaminants do not stick to it easily. Because the tub is fiberglass, it can be a good insulator, holding heat well. Gelcoat tubs are available with features like air baths or jets and come in several sizes. These tubs tend to be lighter than acrylic tubs, and you cannot find as many options for things like bariatric sizing or tub/shower one-piece units.
Acrylic Walk-In Tub
Bathtubs made from acrylic cost between $1,500 and $8,500 on average. Installed, they cost between $2,500 and $13,500. Acrylic tubs are usually reinforced with fiberglass to help make them more insulating, but you can find some cheaper tubs made of acrylic only. This versatile material is highly durable and can be formed inside a mold to produce a range of sizes and shapes. Acrylic tubs come with all available features and can be reinforced to hold more weight. They are not as easy to keep clean as a gelcoat tub and scratch easily, but they come in many colors and styles.
Walk-In Tub Sizes
Like many bathtubs, walk-in tubs are available in many sizes. This includes tubs that can be retrofitted into an existing tub space. These tubs are typically around 60 inches in length and 30 inches in width to fit the space where an alcove bathtub was located.
You can also purchase tubs in lengths of 66, 72, and 84 inches. You can find smaller tubs, but these tubs can be much smaller with lengths of 36 to 48 inches because the user is sitting upright. Most tubs start at 30 inches in width, but some can be as much as 40 or 50 inches in width.
All walk-in tubs are much deeper than normal bathtubs, however. They are designed to have a seat where the user can rest comfortably while the tub fills and drains, and the water can come up as high as your shoulders in some cases. This means many tubs have depths of 36 to 40 inches. You can also find some very deep tubs with depths of up to 46 inches.
The door in a walk-in tub usually measures around 15 inches in width, but doors on bariatric tubs may be larger. These doors seal completely when shut and cannot open when water is in the tub.
Walk-In Tub Installation Cost by Brand
Walk-in tubs are manufactured by many of the same brands that make other bathtubs and fixtures you already have in your home, including Kohler and American Standard. Other brands may focus on creating accessible home equipment, such as Premier Care and Safe Step, and the tubs are one of the features they offer. Each brand generally produces several tubs. These include a basic tub that can be installed as-is to be a soaking tub. Many can also be outfitted with other features, such as jets, airbaths, lights for chromatherapy, and other high-end options. Brands like Jacuzzi, which pioneered many of today's luxury tub styles, offer the most options, while companies like Kohler and American standard offer many of the same features, colors, and styles as their other tubs, allowing you to match your bathroom.
Most brands offer standard materials for their tubs, but some brands like Universal offer stone, and Ella offers stainless steel doors for a more contemporary look. Each brand typically produces a range of sizes and styles, accounting for a wide range of costs. Most brands also offer reputable warranties and service, so you can trust you are purchasing a quality product. Below are the average costs for tubs from some of the more popular brands and their costs installed.
| | | |
| --- | --- | --- |
| Brand | Average Cost (Materials Only) | Average Cost (Installed) |
| Safe Step | $1,200 - $5,000 | $2,200 - $7,000 |
| Universal | $1,800 - $6,500 | $2,800 - $8,500 |
| Ella | $2,000 - $7,000 | $3,000 - $10,000 |
| Kohler | $2,000 - $15,000 | $3,000 - $20,000 |
| American Standard | $2,500 - $10,000 | $3,500 - $15,000 |
| Jacuzzi | $5,000 - $10,000 | $6,000 - $15,000 |
| Premier Care | $5,000 - $10,000 | $6,000 - $15,000 |
Labor Costs to Install a Walk-In Tub
Walk-in tubs may look different from a standard bathtub, but they are installed in similar ways. For a soaking tub installation, expect this to take around 6 to 8 hours for an average cost of $1,000 to $2,000, depending on how much work must be done to the area to fit the tub. If plumbing lines need to be extended or you are removing an old tub to fit the new one, your costs are higher.
Your costs are significantly higher if you are installing a tub with features like an air bath or jets. These installation costs start at $2,000 and go as high as $5,000. This is because you need a plumber and an electrician to wire the tub and set the motor. These tubs often require their own circuit, which may need a circuit upgrade in some older homes, increasing costs.
This motor must remain accessible for future maintenance and repairs. Depending on how you are installing the tub, you may need to create a space for the motor behind a wall or panel where it can be easily accessed. This can also raise the cost of the final project. The more features a tub has, the higher the costs.
| | |
| --- | --- |
| Type of Tub | Average Labor Costs |
| Soaking | $1,000 - $2,000 |
| Two-Seater | $1,000 - $5,000 |
| Bariatric | $1,000 - $5,000 |
| Whirlpool | $2,000 - $5,000 |
| Combination | $2,000 - $5,000 |
| Air Bath | $2,000 - $5,000 |
| Tub / Shower Combination | $2,000 - $6,000 |
Walk-In Tub Door
All walk-in tubs have a door that allows safe entry and exit to the tub. Once the occupant is seated and the door shut and sealed, the tub can be filled with water. The door will not open again until the tub is completely drained. These doors can be found in two options - inward and outward-opening.
Outward-opening doors are becoming more common because they offer the most accessibility. They allow the user to enter and exit the tub comfortably, without the door swinging into the space in the tub the user occupies. This means wheelchair users can transfer more comfortably, and those with limited mobility do not have to navigate the door opening into their legs. However, for many years, inward-opening doors were the standard and are still available from most companies.
Costs for both styles have a wide range and heavy overlap. Many companies offer models with doors operating in both directions and no difference in cost. Other companies only produce one type of door standard and charge a premium for the other.
Inward-Opening Doors
Most companies produce walk-in tubs with an inward opening door. By opening into the tub and swinging inward, this type of door is more practical for smaller bathrooms. In addition to saving space, these doors are watertight as the pressure from a tub full of water keeps the door shut tightly. These doors come with a lock to stop accidental opening. They do not open until all the water has drained out. One thing to keep in mind with inward doors is that it may be slightly more difficult to move around the tub when the door is open, and while it is opening, making it harder for limited-mobility users.
Outward-Opening Doors
Many manufacturers are making outward-opening doors as standard options. It is easier to navigate inside the tub with a door that opens outward. Tubs with these doors are wheelchair-friendly and better for transferring from chair to tub. Outward doors use sensors rather than pressure to determine if there is water still in the tub, so they do not open before the water is gone. Another consideration with outward opening doors is that the door's swing may interfere with the toilet, cabinet, sink, or other parts of the room, but this depends on your bathroom layout.
Walk-In Tub Door Shapes
The door on your walk-in tub is also available in different shapes. Typical door shapes include the U, S, and L configurations. Some of these are aesthetic, with the U shape being the most common because it takes up the least amount of room. S shapes also take up little room and allow more moverability. If you need more room to enter and exit the tub, an L shape can be a good choice because this door is wider. However, this door is typically used on larger tubs. If you need a wider door, you will likely need to increase your tub size.
U-Shape Walk-In Tubs
U-shape walk-in tubs may have inward or outward-opening doors. This is one of the more common door shapes and typically found on alcove-style and smaller tubs. They offer a wide opening that is easy to navigate. This makes them a good choice for wheelchair users and those with limited mobility who want a simple door. Some companies that make stylish doors made of glass or metal use the U shape on most of their tubs.
S-Shape Walk-In Tubs
S-shape tubs are wider at the top than at the bottom, making them a good choice for tub/shower combinations. It is possible to add a shower feature at the wider end to create a more versatile tub and prevent water from spilling out onto the floor. S-shaped tub doors are usually installed on slightly larger tubs, which allows for slightly more room to move around, relax, and stretch out. Many homeowners find the slight curve adds an element of elegance to their bathroom. For that reason, this door can be an aesthetic choice.
L-Shape Walk-In Tubs
Some of the larger walk-in tubs available on the market have a door that comes in a larger L shape. This shape makes the base of the opening wider than the S and allows for more space on top. This is ideal for very large tubs or users who have a caregiver assisting them in and out of the tub. The wider space makes it easier for the caregiver to access the tub for assistance and makes the experience more comfortable. These doors can open inward or outward, depending on the brand model.
Walk-In Tub Location
Like all tubs, walk-in tubs can be installed in several different locations, depending on the bathroom layout and the best position plumbing-wise. If this is a retrofit, the easiest installation is in the same location as your old tub. However, for remodels and new construction, you can have many other options for tub installation, including as an alcove between two walls, in a corner beside two walls, against a single wall, or freestanding in the center.
An alcove tub is the most common, as it fits into a designated space between bathroom walls and is surrounded on three sides. This gives you the most versatility for plumbing and is most common in a retrofit. Left-side and right-side tubs allow you to install plumbing from two sides, which offers some versatility but not as much as an alcove.
Freestanding tubs need to have plumbing come from the floor or ceiling. This can increase the installation cost but makes a more modern statement.
Walk-In Tub Features
You can add several features to the base model to make your tub more comfortable or useful for your circumstances. Many features are considered upgrades, but some tubs may have some standard in luxury models.
They can have a range of costs if you add these features, depending on how many you add at a time and what tub you add them to. Some features increase the tub's safety, such as anti-slip flooring and grab bars. Other things enhance your enjoyment, including chromotherapy lights and aromatherapy diffusers.
You can also add features that increase the tub's quality. For example, while all tubs have an included seat, you can install an ADA-compliant seat. These seats are more durable and make transferring easier. You can also opt for a built-in sanitation system that helps keep the tub clean. This helps minimize the risk of infection by the tub users.
For better customization of the hot water, you can use a thermostatic valve on your tub filler rather than the standard pressure-balancing valve. The thermostatic valve gives you pinpoint temperature control and lets you set the temperature ahead of time so that there is no fiddling with the controls each time.
Each of these features can have a wide range of costs, depending on the company and tub style. Below are the average costs to add them to your tub before installation.
| | |
| --- | --- |
| Feature | Additional Costs |
| Slip-Resistant Floor | $30 - $200 |
| Grab Bars | $50 - $300 |
| Ozone Sterilization | $150 - $300 |
| Chromotherapy | $200 - $350 |
| Aromatherapy | $200 - $350 |
| Thermostatic Control Valve (TCV) | $250 - $400 |
| ADA-Compliant Built-In Seat | $300 - $500 |
Pros and Cons
Walk-in tubs have many benefits for the user. They offer the chance to sit and soak or experience a therapeutic bath in water that is often deeper than a standard tub. It is also much safer to access and use because you do not need to climb over the tub or sit on the side and swing your feet in. The included seat also makes the tub more comfortable and means these tubs can be much smaller than a standard alcove tub while still providing ample room. This means you can include them in more bathrooms.
Walk-in tubs can also be used with the same features as a standard tub. You can add a shower and use the included seat in the tub for showering. Some tubs also make it easier for caregivers to assist users.
Walk-in tubs are not always easy to use unaided. This is particularly true for people with mobility issues. If you cannot stand to transfer, you may need assistance to use the tub.
The user must enter the tub and wait for the water to fill before the bath because the door can only be opened when the tub is empty. They must also sit and wait for the tub to drain completely before exiting. This can be uncomfortable for some users.

Converting From a Shower to a Tub
Walk-in tubs can sometimes be installed in the same alcove where you may currently have a tub/shower combo. Some walk-in tubs may also come in a tub/shower combination themselves, so that you can fit the entire unit into the alcove as a single piece.
Other tubs are designed to be used solely as tubs, so unless you have a separate shower, you will be replacing the shower with the tub. This can take many forms. Walk-in tubs are taller than standard tubs, so you will need to demo at least some of the existing shower walls, as well as removing the old tub or shower floor. You will need to replumb for the tub spout to be higher, and unless your new set up is a tub/shower combination, you will want to remove the showerhead and retile or fill the hole where it was. This isn't necessarily a large job, but if you want to use the tub as a shower as well you may want to invest in a single tub/shower unit, which can make the transition easier.
Are Walk-In Tubs Covered by Medicare?
Most of the time, walk-in tubs are not considered durable medical equipment. This means that while they may assist you in bathing more easily than in a standard tub, they are not designed to treat or support a medical condition. For this reason, Medicare will not cover the cost or installation of a walk-in tub.
However, there are rare instances when Medicare reimburses you for the tub's cost. Your doctor must document why the tub benefits your condition and submit the evidence to Medicare for this to happen. If they approve it, they can reimburse you for partial or total costs.
Are Walk-In Tubs Tax-Deductible?
When purchasing a walk-in tub for medical safety reasons, meaning you did not have such a tub, you could not safely bathe yourself, or someone you are a caregiver for, you can deduct the cost of the tub from your taxes. If you are purchasing the tub for someone in your care, and they are a dependant of yours, who you are claiming on your taxes, you may also be eligible to get a Dependent Care Tax Credit for the cost of the tub.
You need to provide proof to be eligible for these tax deductions and credits. This proof must come in the form of documentation from a medical provider as to the reason for the need and receipts for the purchase and install. Sometimes, you may need additional documentation about the installation from your plumber. If you are unsure, speak with your accountant about which documents may be necessary.
Walk-In Bathtub Maintenance
Walk-in tubs require slightly more maintenance than other tubs but not an excessive amount more. Beyond normal cleaning performed for any tub, the only essential maintenance usually required involves running the jets with special cleaning solutions to keep them free of dirt, debris, and clogs.
RetirementLiving also recommends cleaning the walls and floor of a walk-in tub of soap, oils, shampoo and any other residue. While this is generally good advice, it can help prevent falls or bacteria growth that make the tub less safe.
Most manufacturers offer good warranty policies, but the specifics of each policy can vary from one brand to the next. Be sure to check out the warranty in advance before buying a walk-in tub and try to find one with the longest possible coverage. Ideally, you want to find a manufacturer that offers lifetime coverage for the door seal, as this can degrade and start to leak over time, so may need to be replaced after several years of use.
Always check the seal on the door with every use to ensure it remains intact. If you notice cracks, leaks, or other issues, stop right away and call the manufacturer for advice.
Enhancement and Improvement Costs
Flanges
If you plan on tiling the tub into the surround, ask for a tile flange to be included in the tub. This flange allows for a watertight installation of the tile to the tub. Flanges cost between $100 and $500, depending on the type and placement.
Neck Rests
Neck rests may be available as an add-on item for some tubs, with costs starting at around $100 to $150. Neck rests extend the back of the tub to allow you to comfortably lean back with your head supported. With or without a neck rest, you should not use the tub if you cannot sit up straight to keep your head above the water.
Surround
You can also install a surround on the exterior walls adjacent to your tub. This surround can help protect the walls from splashes and water or allow you to convert the tub to a shower. Surround costs start at $500 and go as high as $5,000, depending on the material.
Additional Considerations and Costs
Tub filling. Before the tub can be filled, the user must enter and sit down with the door closed. This can be cold and uncomfortable for some users.
Tub entry. While these tubs are walk-in, they do not have a zero barrier to entry. Entry to the tub is around 6 inches on average, but some models may offer a lower entry of around 4 inches at no additional cost. Check the manufacturer's specs before ordering to be sure.
Ceiling lift. If you cannot transfer easily into the tub, a ceiling lift may help. They have an average cost of $5,000 to $12,000.
Installation services. Because walk-in tubs are often a specialty item, most people who sell them also offer installation. Not all offer this service, so be sure to check.
Maintenance. Most tubs with a mechanical feature, such as jets or air, require some maintenance, such as running the jets with specialty cleaners that cost around $10.
Warranty. Most tubs have a good warranty of up to 10 years. However, different features, such as the door or a whirlpool motor, may have different warranties. Check with the manufacturer to find out what may be offered.
Financial assistance. The US Department of Agriculture has a program that may offer financial assistance to elderly homeowners looking to make upgrades in their homes, such as a walk-in tub. Call the number on the site to see if you are eligible.
Certification. Always look for a tub that has a CSL/UL Certification, which helps guarantee safe products.
FAQs
How much does it cost to install a walk-in tub?
The average cost to install a walk-in tub varies, depending on the tub, its size, location, and features. The national average cost range is $5,000 to $8,500.
How long does it take for a walk-in tub to drain?
The draining time varies by tub; tubs equipped with a fast drain can drain in as little as 2 to 3 minutes. Check with the manufacturer to find their drain time on the tub you are interested in.
How many gallons does a walk-in tub hold?
The number of gallons a walk-in tub holds depends on its size, but on average a tub will hold around 50 gallons. Some may hold more, so check with the manufacturer to be sure.
What size water heater do I need for a walk-in tub?
Your water heater is sized to the capacity of the tub. In many cases, you may need to upgrade your water heater to 80 gallons or higher to fill the tub and still have access to hot water in other areas.
How long does it take to have a new walk-in tub installed?​
Tub installation can be done in 1 to 3 days, depending on the installation type and how you finish the walls/area around it.​ If this is a retrofit, it may take slightly longer to remove the old tub.
References