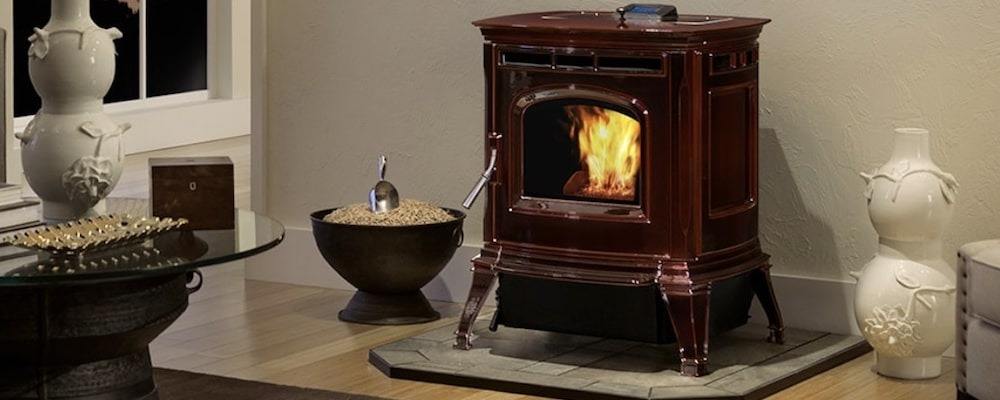 Image source: Harman Stoves
If you have a smaller home or are looking to heat small spaces, pellet stoves are a cheap, eco-friendly alternative to standard fuel, gas, and electric heaters. Pellet heaters are similar to regular wood-burning stoves, but instead, burn small wood pellets made from sawdust and wood scraps.
A pellet stove's key components include a hopper that holds the pellets, an auger that transports the pellets to the combustion chamber, and a convection blower that pulls in cool air to the stove and blows heated air into the room.
If you're interested in purchasing a pellet stove for your home, you may be wondering about the best available brands. Our comprehensive list of the best small pellet stoves for 2023 has you covered.
On This Page
The 5 Best Pellet Stoves
Comfortbilt HP22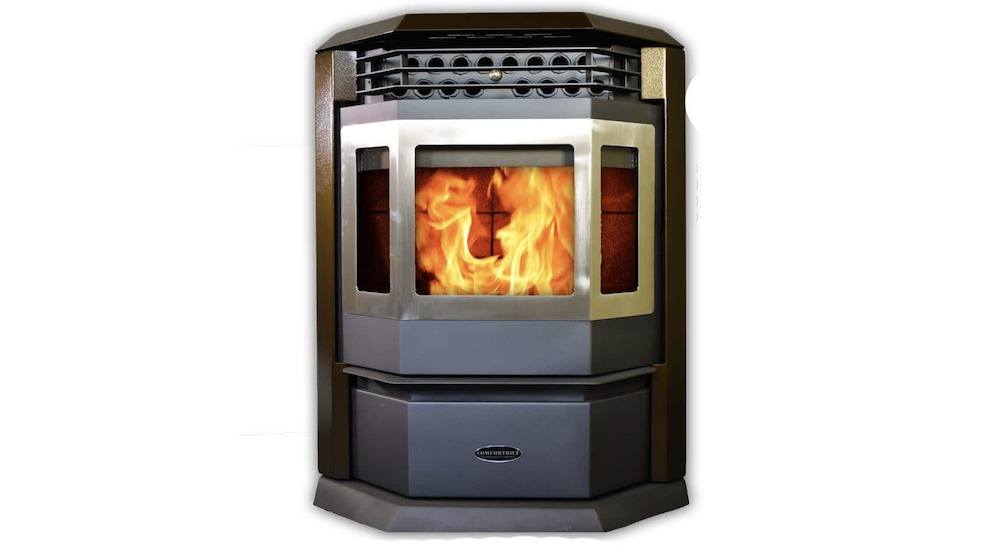 Image source: Home Depot
ComfortBilt's top-selling pellet stove is EPA certified, meeting all emissions requirements. This stove features a 7-day internal thermostat and a 50,000 BTU heat output per hour which can heat up to 2,800 square feet. While the HP22 is slightly larger than other pellet stoves, its hopper capacity and heat output are among the best available. ComfortBilt's entire HP22 series features bay windows, with the HP22-SS including a stainless steel trim around the window viewing area. The wood pellet stove includes a one-year warranty on parts and service.
Comfortbilt HP22 key features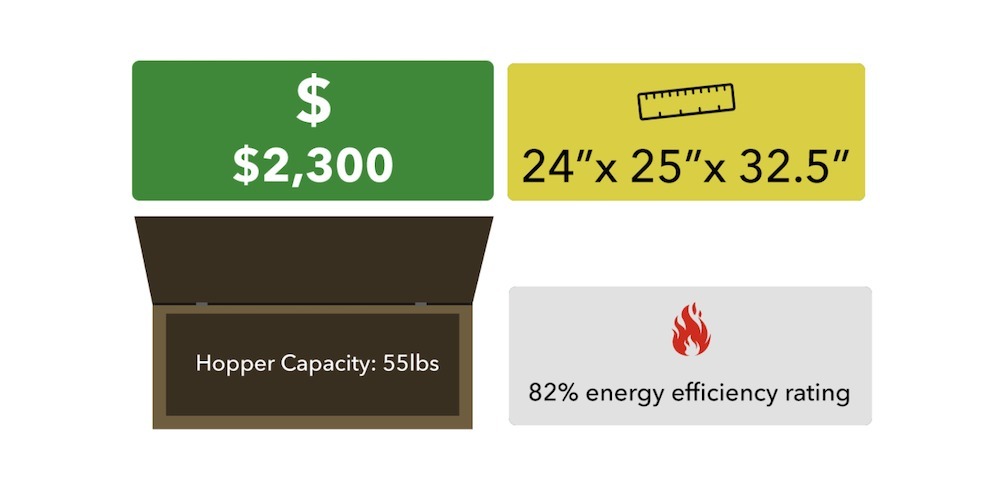 What we like
BTU output - With its 50,000 BTU rating, this pellet stove can heat up to 2,800 sq. ft, covering a significant amount of space. BTU (British Thermal Units) is the amount of energy being used to heat a specific space.
Easy to use - Though we recommend you hire someone to install it for you, the HP22 is easy to set up and use with a remote control. It also features a removable ash pan and an air wash system that automatically cleans the glass window.
Heating capacity - With a 55-pound hopper, this ComfortBilt pellet stove can continuously burn for up to 24 hours.
What we don't like
Size - While the HP22 is designed for smaller spaces and is approved for mobile homes, it's a little clunky and could be a little too big for certain areas of your home.
Cost - With an average price of $2,300, the HP22 is one of the more expensive pellet stove models available.
Castle Serenity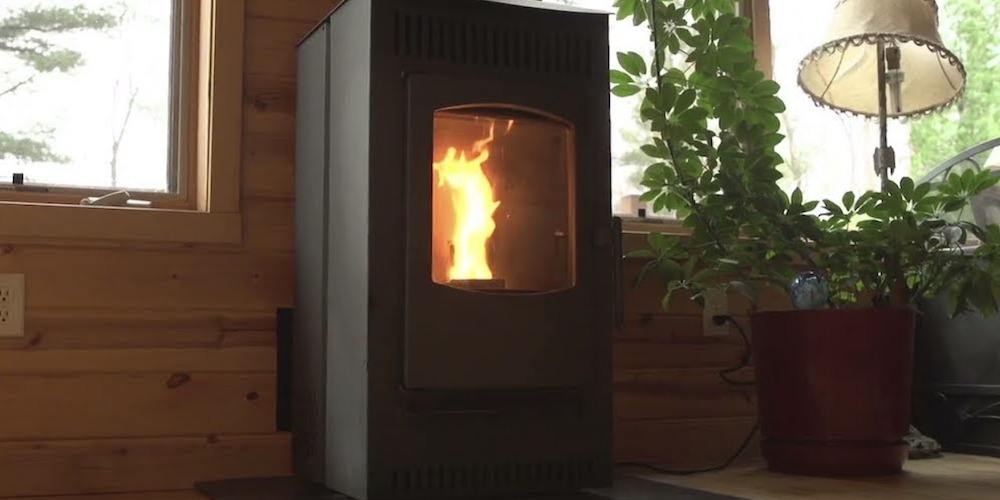 Image source: Castle Stoves
The Castle 12327 Serenity mini pellet stove has a lower heat output and smaller pellet fuel storage than the ComfortBilt stove, but the Castle Serenity is a sleeker and more cost-effective option. Even with 31,000 BTUs, the Castle Serenity can still heat up to 1,500 square feet and gives you the ability to automatically or manually set the temperature with its smart controller. This stove is also EPA approved and it includes a one-year warranty for parts and service.
Castle Serenity's key features: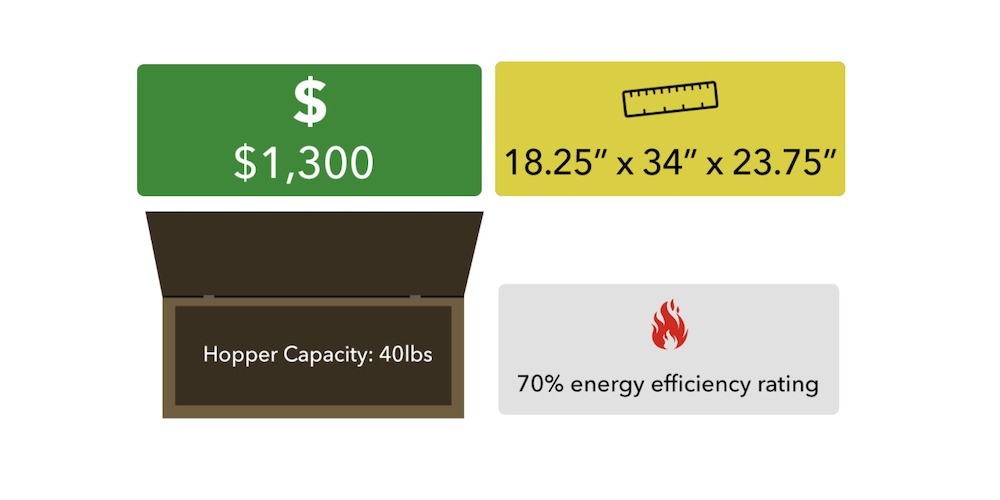 What we like
Cost - The Castle Serenity may not have the same heating capacity and output as the ComfortBilt HP22, but for almost half the price, it's an incredible value.
Design - This freestanding stove has a sleeker design with round edges and smaller dimensions, fitting into tighter spaces more easily.
Easy to use - A programmable thermostat and digital control board make it easy to control and adjust Castle Serenity's heat settings as the temperature fluctuates throughout the day.
What we don't like
Fire hazard - The Castle Serenity includes a blower that helps distribute warm air evenly throughout your space, but can be a fire hazard if the combustion system isn't correctly installed.
Pleasant Hearth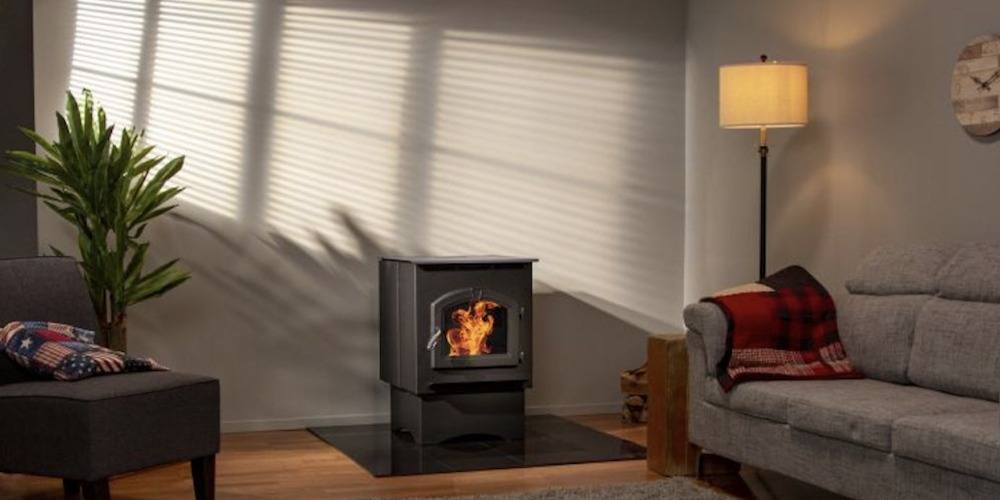 Image source: Pleasant Heart
Pleasant Hearth makes three different types of pellet stoves, with one medium-sized stove and two larger ones. While all three are solid choices, we recommend the medium-sized stove. The medium-sized pellet stove has a smaller 40-lb hopper and 35,000 BTU output, but it's a great value at $1,400. This EPA-certified stove also includes a five-year warranty, an automatic ignition, and a Comfort Control system that allows you to choose between maximum, minimum, or continuous heating.
Pleasant Hearth's key features: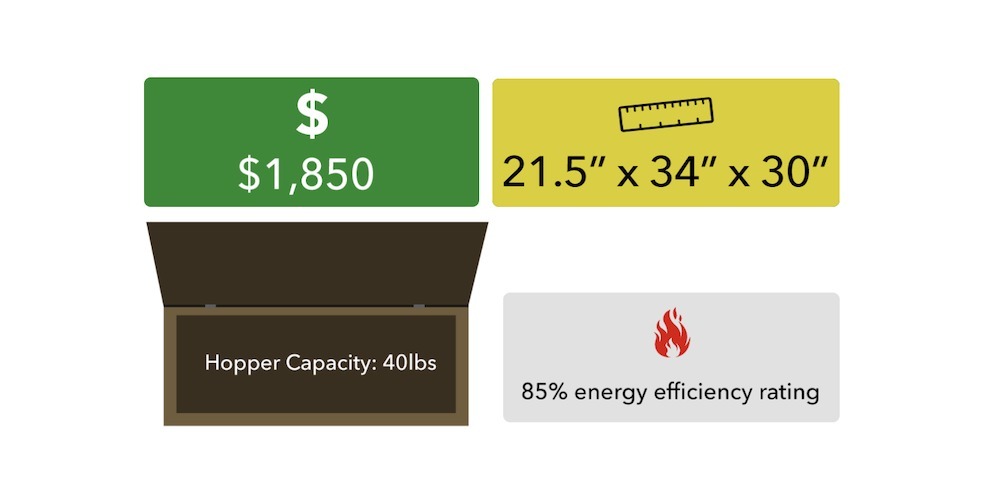 What we like
Cost - With an average price tag of $1,400, this Pleasant Hearth pellet stove is a great value, and one of the cheapest options available.
High-efficiency - Although it may only have 30,000 BTUs, this stove is highly efficient and boasts a higher rating than many other brands.
Convenience - This stove is packed with a variety of features such as auto-ignition, which will light the wood pellets automatically. An outdoor air kit, which helps to generate warm air through the chimney, is also included.
What we don't like
Ash buildup - Some customers have complained about haze and black soot covering the window and vent pipe after igniting the fire. This problem is sometimes caused by the exhaust fan which can take some time to start up.
US Stove Company GW1949 Wiseway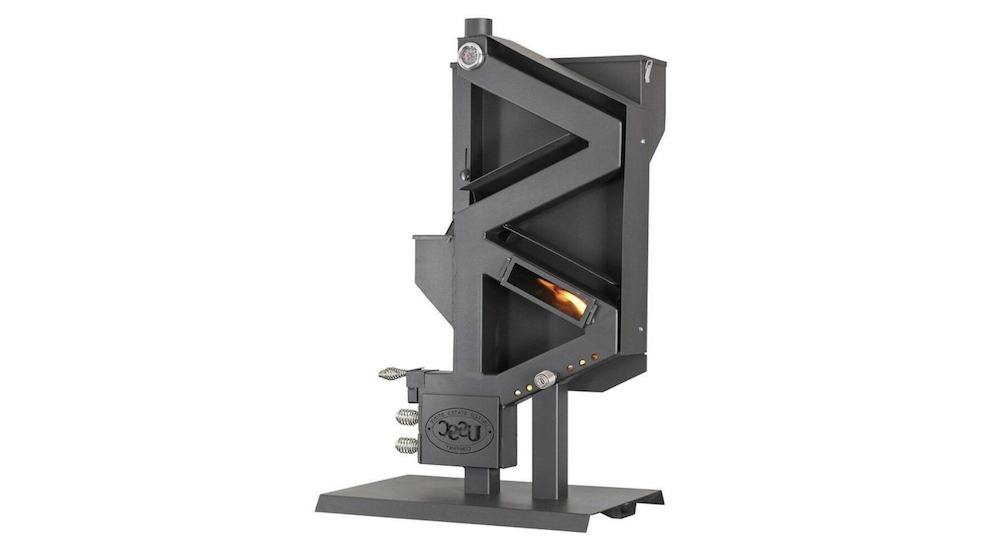 Image source: Pleasantstoves
The US Stove Company Wiseway is a non-electric pellet stove with a unique design and heating system, which makes it easy to place anywhere in your home with a vent. The Wiseway uses gravity as its pellet feed system, with up to 30 hours of burn time, and an adjustable fresh air intake, making it easier to manage the heat. This stove also heats up to 2,000 square feet with 40,000 BTUs, and costs less than other popular brands.
Wiseway's key features: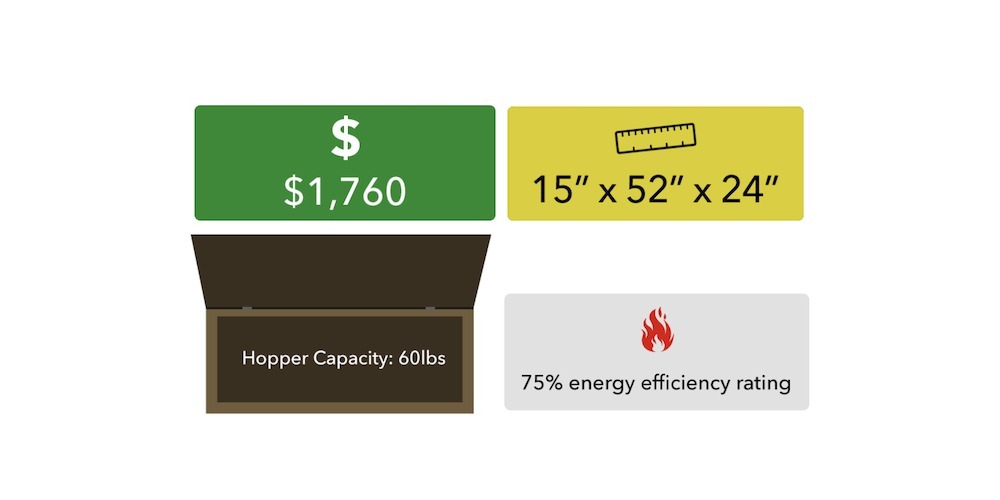 What we like
Hopper capacity - The Wiseway has one of the largest hopper capacities available, holding up to 60 lbs of pellets.
Simplicity - This pellet stove is simple and easy to use. You won't have to worry about your electric bill, reloading the hopper too often, or about any viewing windows to clean.
No electricity - This stove uses gravity to pull in the pellets and an automatic ignition to light the fire. There's also no auger or blower fan, so this stove's generally pretty quiet. Without using any electricity, the Wiseway stove can save you money on your utility bills.
What we don't like
No controls - Perhaps the biggest downside of the Wiseway is the lack of a control panel, which makes it a little more difficult to manage the temperature.
Long heating time - Without any electricity, fans, or auger, it could take longer to heat your home.
PelPro PP130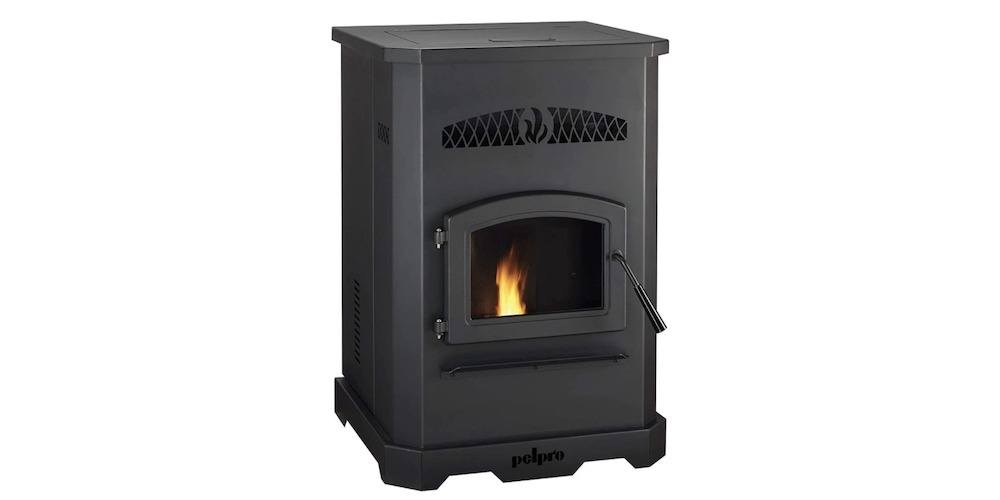 Image source: Amazon
While the PelPro PP130 is one of the most expensive types of pellet stoves available, it's also one of the most efficient available and its 130-pound hopper is the biggest in its class. The PP130 can heat up to 2,500 square feet with up to 50,000 BTUs. This stove is EPA certified and has an efficiency rating of 87.5%, the highest rating on this list. If budget isn't an issue, the PP130 is a powerful pellet stove that can burn up to 96 hours or four days.
PP130 key features: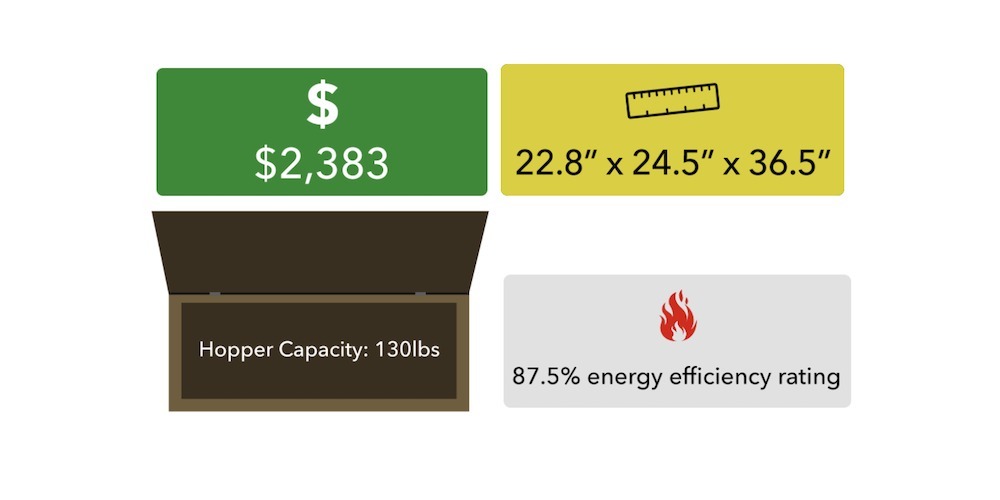 What we like
High efficiency - With an 87.5% efficiency rating, the PP130 is one of the most efficient pellet stoves available.
Hopper capacity - This stove has the largest hopper available at 130 pounds and can burn up to four days before changing it out.
Coverage - PelPro includes a 5-year warranty on the firebox and heat exchanger and a 1-year electrical warranty for the PP130.
What we don't like
Cost - The main downside to the PP130 is its high price point. Though it's definitely worth the money if budget isn't a concern, it's one of the most expensive stoves available.
What to Keep in Mind About Small Pellet Stoves
Permits
Before you order a pellet stove, make sure to check with your local building code enforcement to see if you need a permit to install it. Depending on where you live, permits may be required and some pellet stoves may be prohibited.
Research
Be sure to do your research before buying a pellet stove and make sure it suits your needs. It's best to choose a stove that's EPA certified and preferably with a label from Underwriters Laboratories, showing that the stove has met safety standards.
Maintenance
Pellet stoves require a little bit of simple maintenance. You should have your stove inspected at least once a year by a professional and make sure to follow your stove's manual. You should also regularly clean out the ash pans, viewing glass, and burn chamber each time the hopper is empty.
Pellet Stoves Turn Up the Heat This Winter
Whether you have a small home or looking to heat specific areas of your home, pellet stoves are a great energy-efficient and eco-friendly option. With the help of our buying guide, finding the right pellet stove for your home just became easier.