Image source: Jacuzzi.com
A bathroom should serve as a private oasis that caters to your every need. Walk-in bathtubs are designed to do just that by providing seniors, wheelchair users, and others with mobility issues with a safe, easy way to enjoy a nice soak in the tub.
There are several different models of walk-in tubs to choose from, and the cost of the tub itself and its installation can vary. In this guide to walk-in tubs, we'll fill you in on the different types of tubs you can choose from, their costs, what warranties may come with your tub, and whether insurance can help offset the cost.
Let's jump in.
On this page
What is a walk-in bathtub?
A walk-in bathtub is exactly what it sounds like: a tub that's designed to be walked into. These tubs make enjoying a bath easier for people who may have trouble climbing in and out of traditional bathtubs, hopefully reducing the risk of slipping and falling. To keep its users in an upright position, walk-in tubs are designed with vertical elements rather than horizontal ones. They may be fitted with footholes, handlebars, and even seats to reduce pressure on the legs while bathing.
Cost of a walk-in tub
Walk-in bathtubs can cost anywhere from $3,500 for a basic, small alcove-style model to $20,000 for a custom combination bathtub. The cost of a walk-in tub is largely contingent on the features and materials it's equipped with. For example, if you're interested in a more spa-like experience, a tub outfitted with jets will cost more than a typical soaker tub.
Cost of a walk-in tub installation
The installation of a walk-in tub can cost anywhere from $1,000 to $6,000. While this price may seem steep, there are many factors to consider when choosing to install a walk-in tub.
Most walk-in bathtubs have a 60-gallon water capacity, while most traditional water heaters cap at 50 gallons. This means you may have to ditch your old water heater and upgrade to a tankless water heater.
When labor is factored in, the price can rise.
Types of walk-in tubs
There are many different types of walk-in tubs to choose from and each offers different features for a session of ultimate relaxation.
Soaker tubs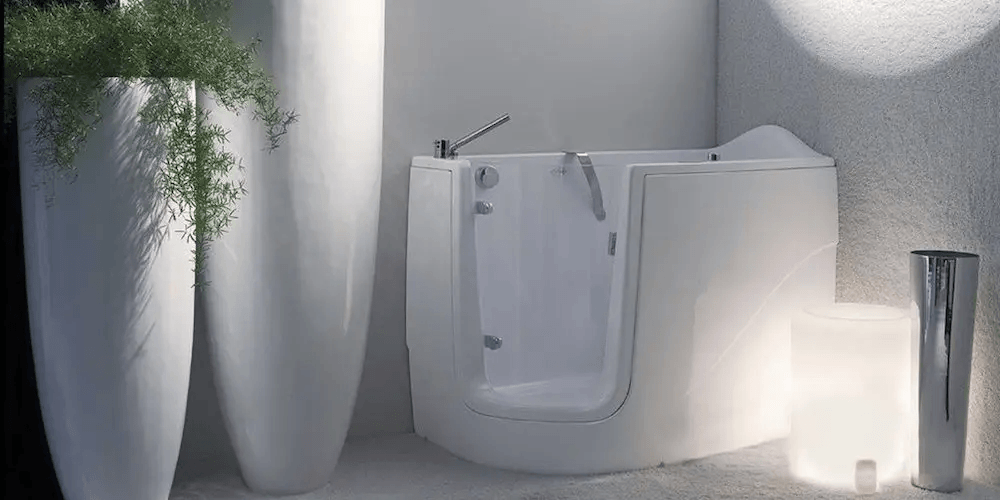 Image source: Aquatica USA
Price: $2,500-$5,000
A soaker tub is as basic as a walk-in tub can get. As an entry-level unit, there are no hydrotherapy jets and it's typically less expensive than other tubs with an abundance of features. These tubs typically have a leak-proof door as well as handlebars to aid in standing or sitting.
Hydrotherapy tubs
Price: $7,000-$10,000
Akin to a jacuzzi, a hydrotherapy tub is equipped with both water and air jets. The jets circulate the water and aid in loosening up stiff joints and muscles.
Walk-in shower
Image source: Kohler
Price: $9,000-$13,000
While not a tub, a walk-in shower is an excellent choice for those who prefer showering. Some manufacturers make walk-in showers with seats, so resting while bathing is always an option.
Bariatric walk-in tubs
Image source: Bliss Tubs
Price: $6,000-$13,000
A bariatric walk-in tub is made for larger individuals. These tubs can be used as soaker tubs or can be purchased with all the bells and whistles for ultimate relaxation.
Wheelchair-accessible walk-in tubs
Image source: Menards
Price: Depends on design as well as features
A wheelchair-accessible walk-in tub features an outward-opening doorframe and allows for easy transfer from wheelchair to tub. Wheelchair-accessible showers are an available option as well.
Pros and cons of walk-in tubs
There are both advantages and disadvantages to walk-in tubs, and it's important to be educated before making a decision.
Pros of walk-in tubs
Water depth – Walk-in tubs provide deeper water depth than a standard bathtub. A traditional tub can fill to about 13 or 14 inches while a walk-in tub can fill with about four feet of water for optimal soaking.
Safety – The main advantage of a walk-in tub is its safety features. From seats to handlebars to footholes, walk-in tubs are specifically designed to reduce the risk of falling.
Abundance of features – Walk-in tubs offer an array of comfort features that traditional tubs don't. If you're a fan of the spa experience, walk-in tubs offer soothing jets, reclining seats, and water circulation.
Cons of walk-in tubs
Cost – Walk-in tubs are expensive, there's no doubt about it. Factor in the cost of installation and you're looking at a hefty price tag.
Potential for flooding – While most doors on walk-in tubs are airtight and swing inward, some swing outward. If the door is not secured properly, you could end up flooding your bathroom.
Fill and drain time – Since walk-in tubs are fairly large, they take a significant amount of time to fill with water and, later, drain. Because the bather needs to enter the tub before it fills, they could be confined to the tub for a fair amount of time.
Walk-in tubs: warranties and Insurance
Walk-In Tub Warranty
While it varies by retailer, most walk-in tubs come with a warranty. Some companies will offer a warranty on your tub's door seal and others may offer a warranty on the tub itself but not the plumbing. There are a lot of moving parts in a walk-in tub, and you'll want to read the warranty carefully to ensure peace of mind.
Is a walk-in tub covered by Medicare or Medicaid?
Unfortunately, Medicare will not pay for or contribute to the cost of a walk-in tub. They may, however, reimburse you for the cost or part of the cost of a walk-in tub.
Medicaid, however, might pay for specialized medical equipment to help individuals remain in their homes when medically necessary. Therefore, Medicaid will cover the cost of a walk-in tub in some instances.
Is a walk-in tub right for you?
For anyone with mobility issues, a walk-in tub is an excellent option. While the cost is steep, it's difficult to compare it to the peace of mind you and your family members will feel when your walk-in tub is installed.
With all of its features, a walk-in tub could make a significant improvement in the day-to-day lives of you or your loved one.