Your home is your castle, and the place you return to each day. So it makes sense that you want your home to reflect how you feel about it, and this may mean needing to remodel or renovate from time to time. Along with kitchens, bathrooms have remained one of the most popular spaces of the home to remodel over the last few years. Bathrooms get a lot of use and need to be highly functional spaces to meet the user's needs, therefore when a bathroom isn't at its best, it gets moved to the top of the list for remodeling quickly.
Bathrooms also have one of the highest returns on investment of most remodeling projects, coming in at 58.9% in 2022 on the national level. Because of this high ROI, and for homes to have functional, clean, and attractive bathrooms, it makes a lot of sense to remodel your bathroom prior to selling your home. An attractive bathroom that has been recently updated can appeal to potential buyers, which can help a home sell more quickly. Below, we'll break down what makes a good ROI for bathrooms, as well as which states are best for getting the maximum ROI from this project.
ROI on Bathroom Remodel by State
Return on investment (ROI) is the percentage of money you will get back from a project at time of resale. If you invest $5,000 into your home with a remodel, and the value of your home goes up by $3,000, then this project has an ROI of 60%. The higher the return on investment, the more money you'll receive back from the project at the time you sell your home. Keep in mind, though, that ROI for some projects drops over time, so it's not a good idea to update your bathroom with resale or ROI in mind if you aren't planning on selling your home in the near future.
Most bathroom remodels get the biggest ROI from mid-range remodels, rather than small cosmetic remodels or very high-end remodels. However, ROI can also depend on where you live, with different states having different percentages.
Top 10 States With Highest Bathroom Remodel Return on Investment
| | |
| --- | --- |
| State | ROI (mid-range remodel) |
| 1. ME | 88.50% |
| 2. HI | 77.70% |
| 3. IN | 69.75% |
| 4. GA | 69.47% |
| 5. WA | 65.75% |
| 6. CA | 64.87% |
| 7. NH | 63.60% |
| 8. MA | 63.23% |
| 9. WI | 62.97% |
| 10. CO | 62.35% |
While the national average ROI for a bathroom remodel is 58.9%, many states have ROIs that are higher than that. If you live in one of the states that gets a higher percentage at time of resale, you may want to consider remodeling your bathroom before you sell your home, particularly if your bathroom hasn't been updated in the last 10 years. The map above shows the 10 states that get the highest ROI for bathroom remodels, as well as their percentages.
Maine gets the biggest return with more than 88% ROI. For anyone living in Maine with an older bathroom, this ROI can make an update or remodel a very attractive project for homeowners to undertake. Hawaii takes second place with an ROI of 77.7%. This is also a very good percentage, particularly because the cost of living in Hawaii is so high; getting an ROI this high on a bathroom remodel means that people may be putting an emphasis on seeing updated bathrooms when buying homes, so homeowners should definitely consider remodeling if the bathroom is older.
Indiana and Georgia are in third and fourth place respectively with 69.75% and 69.47% ROI. These numbers are still well above the national average, and definitely show an interest from buyers in homes with updated bathrooms. The older the existing bathrooms are, the more important that update may be to a timely sale.
Washington state comes in fifth place with an ROI of 65.75% and is followed by California at 64.87% and New Hampshire at 63.60%. California and New Hampshire both have experienced a lot of drought in recent years; including water saving appliances in a bathroom update could make it an even more attractive feature to potential buyers. Washington state is not currently in a drought, but parts of the state were impacted recently, which could indicate that water saving features may be popular there as well.
Massachusetts takes 8th place with 63.23% ROI and is followed by Wisconsin at 62.97%, and Colorado at 62.35%. While these percentages are lower than other states in the top 10, they are still well above the national average, which can make it more worthwhile to update an older bathroom prior to resale if you live in one of these states.
Top 10 States With Lowest Bathroom Remodel Return on Investment
| | |
| --- | --- |
| State | ROI (mid-range remodel) |
| 1. MD | 42.25% |
| 2. KS | 42.60% |
| 3. UT | 45.37% |
| 4. IL | 46.40% |
| 5. NJ | 48.10% |
| 6. MI | 48.22% |
| 7. IA | 48.25% |
| 8. PA | 49.31% |
| 9. NM | 49.60% |
| 10. MO | 50.87% |
23 states have bathroom remodel ROIs that are lower than the national average (58.9%). In the table above you can see the top 10 states with the lowest bathroom mid-range remodel ROIs. 9 out of top 10 states have ROIs below 50%. Maryland ranks as the state with the lowest ROI at 42.25%, showing the vast difference a bathroom remodel can make depending on the state when compared to Maine's ROI of 88.5%.
If you live in a state with lower ROI on bathroom remodel, you may want to focus on individual bathroom remodeling projects that have a good return, as opposed to a whole remodel.
High ROI Bathroom Remodel Projects
Not all bathroom remodels are created equally. If you want to maximize your ROI no matter what state you live in, you may want to focus on specific projects, materials, and parts of the bathroom when updating. Mid-range remodels tend to replace all of the fixtures and surfaces in the room, but don't change the layout or size of the space. They use materials that are of moderate to good quality, rather than builder-grade or luxury. These remodels may fix minor plumbing issues, leaks, or mold problems, so they can improve the function of the room as well as its appearance.
Fixr.com estimates that the average bathroom remodel costs between $4,500 and $9,000. Keep in mind that larger, master bathroom updates may have higher costs, while small powder room updates can be lower. Below, we've listed some projects that can help you get a good ROI for your project, as well as the national average cost range for each one, so you can choose the projects that will match your needs the best to maximize that return.
Update Flooring
Updating the flooring of your bathroom is a good way to increase your ROI. The floor of any bathroom can take a beating, seeing not only foot traffic, but also a lot of water, moisture, and potential spills of things that can be abrasive or acidic including peroxide and toothpaste. This means that older floors can bring the whole room down, with stained and discolored grout, stained and etched tiles, or even mold and mildew growth beneath the floor from leaks and high humidity. Replacing the floor addresses these issues, so the bathroom is healthier and more attractive. Updating to an easy to clean and non-skid flooring can also make it more functional and safer as well.
The cost to replace a basic ceramic floor in a 50 sq.ft. bathroom is around $500, but costs for most bathroom floor replacements will range from $250 to $2,500. Keep in mind that if there is mold beneath the flooring or issues with the subfloor's structure that this could increase costs. Good materials for the bathroom include things like porcelain tile and vinyl, which are both easy to care for and not impacted by moisture. If opting for a non-skid design, consider retro mosaic tiles for the floor, which are both non-skid and very affordable at less than $6 a square foot installed.
Modifications for Accessibility / Universal Design
Another good project that can give you both a high ROI and increase the number of potential buyers for the home is to include elements of universal design in the bathroom. Universal design means maximizing the number of people who can safely and independently use the bathroom. This includes seniors, young children, and people with disabilities. Some basic adaptations include using universal height toilets and sinks, which are slightly taller at 34", rather than the standard of 32" and therefore lead to less stooping and bending, and including lever handles on all faucets and doors, as these don't require grip strength in the hands to use. In addition, wheelchair accessible sinks are available, which are mounted at standard height, but which slope backwards to allow the user to position themselves beneath the sink for easier use. In rare instances, an adjustable-height sink may be necessary, although this is a difficult and expensive installation, with limited use, so it's best for households with very specific needs, rather than something that could be used by anyone.
Other good improvements in an accessible or universal bathroom include non-skid flooring, grab bars beside the toilet and in the shower, shower benches or fold-down shower seats, handshowers, and high contrast at curbs or curbless designs. It's not possible to update a bathroom that can meet the needs of any user, as disabilities can vary. However, by trying to meet universal design standards, you do make the bathroom more functional for everyone, and can make the space more attractive to a wider range of buyers. Believe it or not, the average cost to update your bathroom to include these features is right around the same cost to update a bathroom without them - $4,500 to $9,000. This is because many universal design features such as universal height fixtures and lever handles are around the same cost as those without those features. Adding in grab bars costs around $85 to $300, and many can double as toilet tissue holders and towel rails to save money on accessory costs. However, if you are remodeling a larger bathroom, you can add a walk-in shower for between $8,000 and $15,000 or a walk-in tub for $5,000 to $8,500 as well.
Tub / Shower Update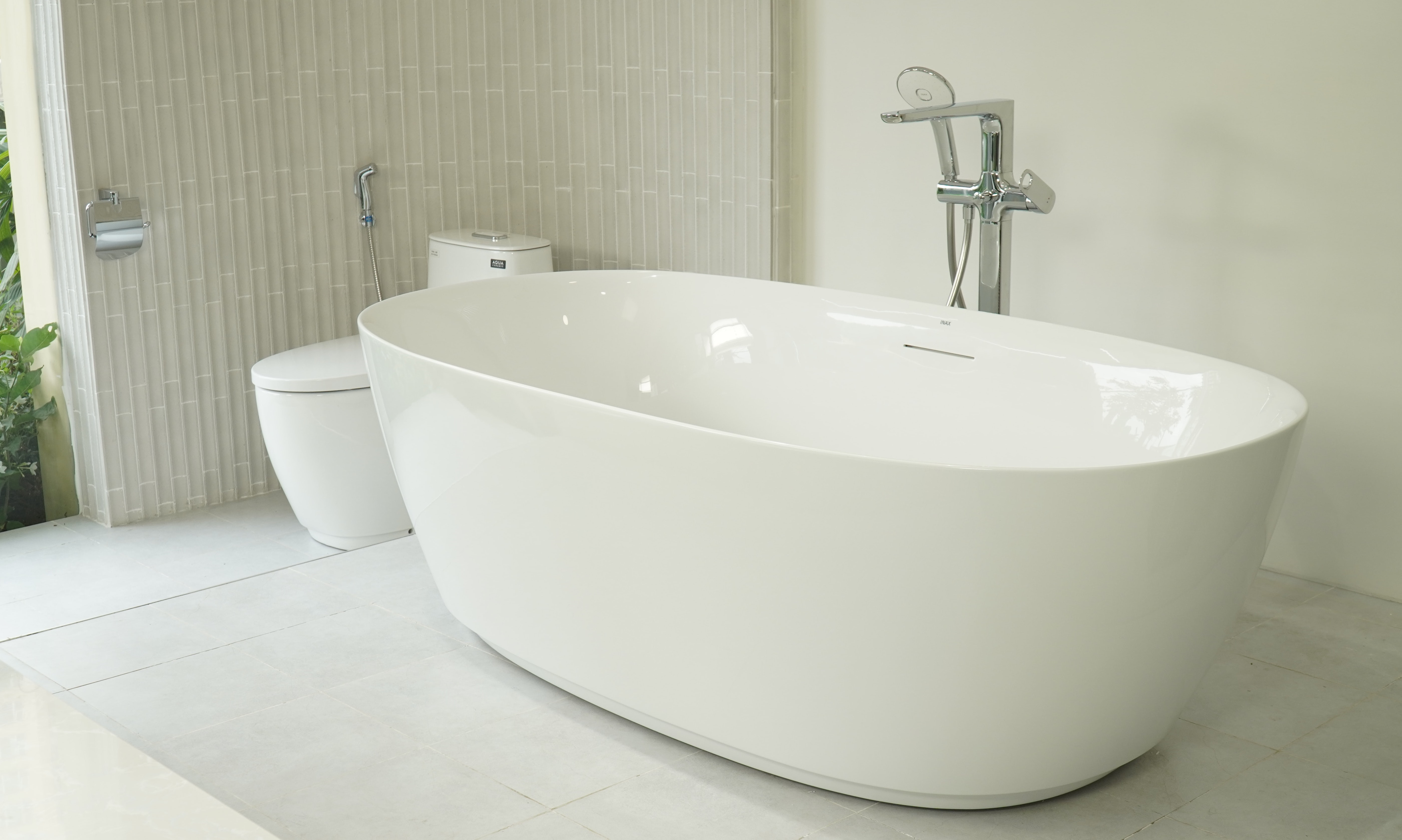 Updating your tub or shower all by itself can have a big impact on many bathrooms, including both their appearance and their ROI. Keep in mind that your home should have at least one bathtub in order to help maximize resale value. While shower stalls and walk-in showers are increasingly popular, keep in mind that most homes do need at least one tub in order to get the most value. If your tub is older, has mildew, or is really discolored, it could be bringing down the whole room. Replacing the tub and its surrounding area can solve these issues and make the bathroom look cleaner and more up to date.
A new tub and surround can range from $1,500 to $10,000, depending on the type and style. If you're updating a bathroom that does not have a tub and you do have a tub elsewhere in the home, a new shower stall can run around $7,000 to $12,000. For bathrooms that have the space, separate tubs and showers can be very appealing, as it makes the bathroom very usable for a wider range of people. However, even smaller bathrooms can benefit from a tub/shower combo, provided that the tub and surround are clean, easy to care for, and in a style and color that matches the rest of the space.
Vanity
There are many ways to update the bathroom sink area, and a vanity is often a preferred choice with homebuyers. Vanities offer you a way to store things out of sight. They also hide the sink plumbing, give you more options for organization, and give you counter space around the sink as well. Vanities come in all shapes and sizes from small 18-inch vanities to massive cabinet sets that can include two runs of 6-foot long cabinets with upper cabinets, linen towers, and separate sinks.
Vanities do need to have some type of countertop, which can impact the cost of the project. Some readymade vanities can come with a top and sink bowl included in the cost; you only need a new faucet to complete the setup. Others need you to choose a countertop and have it templated and made to order for the vanity itself. This offers the most choices for material and style - glass, marble, onyx, and other materials are all possibilities if you go this route. Standard vanity tops may include ceramic sink tops, granite tops with an undermount sink, or cultured marble or solid surface tops with integral sinks. This can make the cost of a vanity range from $500 with top and sink bowl included to more than $20,000 for a double vanity with included organizational accessories and a custom top.
Lighting
Lighting is an important part of any room's design, and even more so in the bathroom. Most bathrooms do not get natural light, and those that do don't tend to get a lot of it. So good lighting is crucial to the room's appearance and function. Every bathroom ideally needs some layered lighting. This includes the ambient light that goes on overhead, task lighting such as lights at the vanity or in the shower, and accent lights that can help light up specific areas. Lights don't need to be expensive to enhance the room, so they're a good choice for any bathroom update. Most lighting comes in around $500 or 2.5% of the total cost to remodel the room. If the bathroom is small or dark, lighting becomes even more important to the space, and can help make it much more visually appealing, increasing not only the ROI of the whole project, but also the number of interested parties.
How to Get the Best ROI on a Bathroom Remodel
Not all bathroom remodels are the same; some things are going to get you a better ROI than others, regardless of whether you update the entire space or just parts of it. To enhance the ROI, make sure that you correct anything that is broken, not working, or that may be moldy or water damaged first. These things can lower the value of your home, so fixing them is crucial to any good resale cost.
Next, make sure you choose a functional design, and opt for items that are easy to use as well as attractive. Keep the design neutral and cohesive; make sure all the fixtures are the same shade of white or biscuit and that all the faucets and accessories are the same finish - don't mix and match.
Shop around and get the best price on everything from the materials to the professionals you hire for the job. Whenever possible, do things like the tear outs or minor repairs yourself to save money. Don't skimp on quality, but avoid very high end features and materials, as these don't tend to get as high of a return on investment.
Finally, ask around the area and find out what other homeowners have in their bathrooms. Speak to a real estate agent about what people are looking for as well. You want your bathroom to be in line with what other homes are offering and what people expect to see. Going too high end or too low end both can hurt your investment.
Author
Irena is an industry analyst at Fixr.com. She analyzes and looks for visual ways to simplify data. She researches and writes about home improvement and personal finance. For this article she gathered the ROI data for mid-range bathroom remodels by city from the Remodeling Cost vs Value Report 2022, and calculated the average of those cities in each state to get the estimated average bathroom mid-range remodel ROI by state.