The living room is the hub of the home. Whether you use it as a place to relax, entertain, study or work, the design has to be as flexible as the room itself. A major feature of any room is the paint color on the walls, which can majorly impact the overall feel. Besides, painting your living room is a great way to give a new look to the space without spending too much. Deciding what you want and getting it right can be tough.
Therefore we have uncovered the hottest living room paint color trends in 2022 by asking top industry experts to weigh in. We surveyed interior design professionals for Fixr.com's Paint and Color Trends 2022 report to tell us which paint colors they believed would be the most popular. Below we list the top 7 colors for living rooms, and the percentage of experts who chose it as the top trend.
1. Sage Green
More than half of interior design pros choose sage green as the most popular living room paint color in 2022
Sage green will be the most popular living room paint color this year according to 53% of experts surveyed. Sage green is a soft shade of green that balances yellows and blues evenly. This makes it a very versatile shade that can work well in many living rooms. It's a warm, inviting color that can be energizing or relaxing depending on how you accent it. This can let you create a backdrop that will let your living room be the main attraction of your home. It's also a good choice for those that have seen the many shades of green that are dominating colors of the year in 2022, but don't want to commit to something too dark or bold.
Sage green can easily be a background color for wood furniture and floors, as well as many different shades including yellow, gold, or blue. It works well with both white and cream colored trim as well, so you can use it with many different living rooms styles and furnishings.
2. Cool Off-White
Cool off-white remains a popular living room paint color again this year
Another popular color for living rooms this year will be cool off-white according to 48% of experts. Cool off-white is a fantastic color for small or dark living rooms. This color can instantly brighten up a dim room and help maximize any natural light that you have in the space. At the same time, cool shades and colors recede from the eye when you look at them. This can help make a small or cramped space appear to be larger than it is.
Cool off-white is also a neutral shade that can work in many situations. Neutrals are often recommended for resale as they have nearly universal appeal. Cool off-white can be a nice, crisp color to use as a background if your living room already has a lot of color or pattern going on. It's a good choice for formal spaces as well as smaller and darker rooms, and can help to create an energetic mood for the room.
3. Cream
Cream is experts' favorite warm neutral to dominate living rooms in 2022
46% of experts agree that cream will be the most popular living room paint color in 2022. Cream, like cool off-white, is a neutral color that can work in dark spaces. Cream is a warmer shade of off-white, though with a hint of yellow or gold in the undertones. This makes cream a better choice for larger spaces, as warm colors contract visually and can make spaces feel more cozy. Cream is also neutral, so it will have appeal at time of resale, and works well in both formal living rooms as well as more family oriented spaces.
Cream works well with other warm colors including shades of green, brown, tan, and yellow, which means it also works well with natural wood tones.
4. Taupe
44% of experts predict this neutral to be one of the most sought after living room paint colors
44% of experts believe that taupe will be the biggest trend in living room paint colors in 2022. Taupe is a neutral like cream and cool off-white, but it's closer to gray in tone without actually tipping into grayscale. Taupe is considered a cool neutral, but has more color and depth to it. Taupe is a little darker as well, doesn't brighten spaces quite the way off-white and cream do. This makes it a good choice for small living rooms that have some natural light.
Taupe works well with many shades of blue, green, and gray. It also works well with bright white, which can stand out as a crisp trim color against taupe walls. If you want to include a lot of colors in your living room, but want a soft, cool, neutral backdrop taupe is a good option.
5. Khaki Green
Another green shade which will be on-trend in 2022 is khaki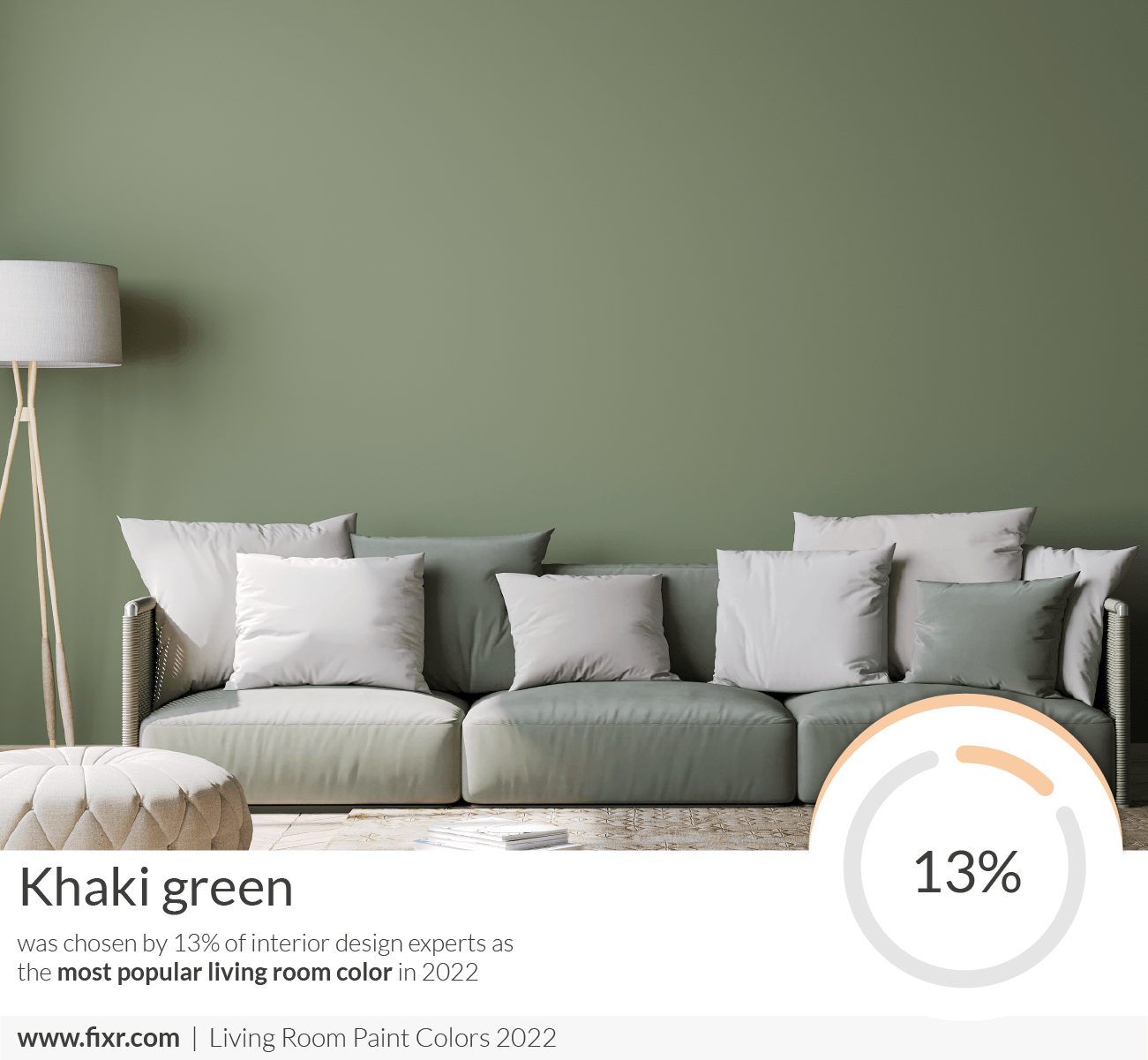 Khaki green will also be on-trend in 2022 according to 13% of experts. Khaki green falls in well with the other trends of green and natural colors for use in the home in 2022. Khaki is a darker, muddier green than sage. It might make a good accent wall in an otherwise light colored living room, or it can be a good backdrop if most of your furnishings are light, warm neutrals and other colors. Like sage green, khaki goes well with most natural wood tones, as well as shades of yellow and gold.
It would pair well with a cream-colored trim on the walls or as an accent. Khaki can get dark, so be sure to use this color in a living room that has a lot of light - natural or artificial. This is also a warmer shade of green, so it will work better in large spaces rather than smaller ones.
6. Navy
12% of design interior experts predict navy will be a top living room paint color
12% of experts feel that navy will be a popular color for living rooms in 2022. Navy is a rich, deep blue color. Different brands have different shades of navy, which can change the undertone of the paint. True navy has an almost gray undertone to it, and is a very cool shade. However, it's possible to find some brighter shades of navy that have an almost purple undertone to them as well.
Depending on the shade of navy that you choose, this color can work well for small spaces that have a lot of natural light. It pairs well with both bright white and cream for trims, and can work with a lot of different accent colors. Go with a green, gray, or purple for a subtle design, or pair it with bold reds and yellows to get a more dramatic look for your living room.
7. Terracotta
Terracotta is thought to be one of the most desired living room paint colors 2022 by 10% of design professionals
Terracotta will be a popular color for living rooms in 2022 according to 10% of experts. Terracotta is a unique shade that blends reds, oranges, and browns together. It gets its name from the color of the clay used to make terracotta tiles - an iron-rich red-brown. In fact, it is also a top bathroom tile trend in 2022.
Terracotta is a beautiful shade for larger living rooms that have a lot of natural light. It can pair well with many shades of green as well as many different wood tones. This can allow you to combine it with different furnishings to get a warm, natural look for your living room. Terracotta looks best with cream trim, and can be used to create Tuscan and southwestern styles.
Living Room Paint Colors to Suit Your Home in 2022
Giving your living room a fresh coat of paint can help liven up its appearance and make the whole room look new. If your living room is looking tired or outdated, a coat of paint can help create an entirely new look for the space.
If you've been wondering what colors to paint your living room this year, be sure to check out what the experts are saying to help make the most of your home.