2022 was a huge year for home improvement projects and the trend is expected to continue in 2023, with more homeowners looking to update and modernize their homes. But, while every home remodeling project will have its benefits, it can be difficult to decide which room you should conquer first.
Looking at this year's renovation trends, the kitchen and bathroom remain the most popular spaces to renovate while other areas such as master bedrooms and external upgrades have gained a large increase in homeowners' attention.
To help you decide what room you should tend to first, let's take a look at the most popular rooms to renovate among homeowners.
On this page
Trending spaces to renovate
Kitchens
The kitchen is often seen as the most important room in the home and the central hub for the family to communicate and share. This is why the kitchen has long been the most popular space for home renovations.
One of the reasons that kitchens are the most popular room for home renovations is because they are the most used space in the home. With so much time being spent in the kitchen, homeowners want to put effort and expense into these spaces to make them more functional, visually appealing, and enjoyable.
The financial incentives for kitchen renovations are also a key factor in their popularity. Kitchen renovations hold one of the highest returns on investments (ROI) of any home improvement project, with an expected ROI of between 50-80%.
What does a kitchen renovation cost?
The cost of a kitchen renovation will depend on the size and extent of the project. Smaller projects could include replacing the kitchen countertop or backsplash, while a larger project would be replacing the cabinetry or adding a kitchen island.
A full kitchen renovation requires one of the biggest investments out of any home improvement project. The national average cost range for a kitchen remodel is $15,000 to $50,000, with most homeowners spending around $30,000.
Bathrooms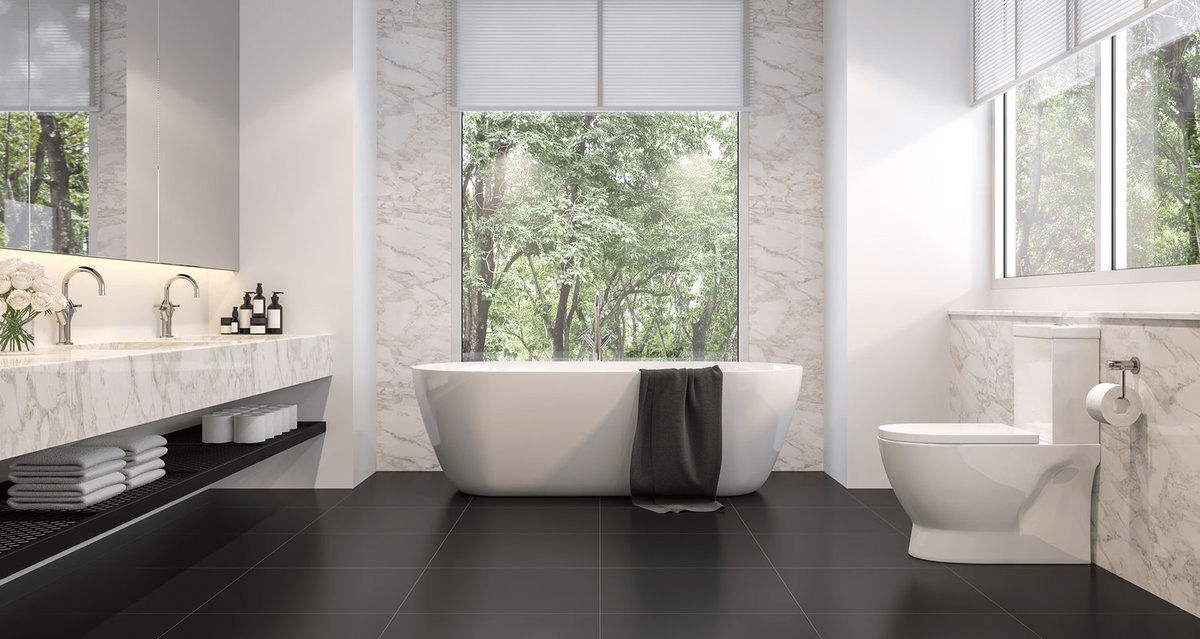 Similar to kitchen renovations, bathroom remodels have long been extremely popular among homeowners all across the country.
Homeowners are often undertaking bathroom projects to personalize a recently purchased home and change the interior design. While there may not be anything wrong with their current bathroom, many homeowners will opt for a bathroom reno to reflect their own style and improve functionality. Unlike other spaces, the bathroom offers you an endless number of options to customize, whether it be cabinets, wall and flooring material, or finishes.
Another prominent reason for bathroom makeovers being so popular is the ongoing need to keep up with changing design trends. If you look at bathrooms from five years ago, there are clear differences from the modern bathrooms we see today. The main faults that homeowners find in old bathrooms include small showers, insufficient storage, insufficient natural light, and limited counter space.
What does a bathroom renovation cost?
The cost of a bathroom renovation is dependent on the size, style, and material variations of the space. With that being said, you should expect to pay anywhere between $4,500 and $9,000 for a bathroom renovation.
Exterior upgrades
With more homeowners understanding the importance of your home's outdoor spaces, exterior upgrades and renovations have become more popular than ever. With outdoor areas now being seen as an additional family room, they have overtaken laundry room and dining room remodels in popularity.
Whether it be a large budget project such as building a patio or installing an awning or something smaller like repairing a deck or landscaping, improving your home's exterior is an excellent way to revitalize your home.
The reasons for upgrading your exterior are plentiful. However, some motivations have made a bigger difference than others. Reasons such as boosting your home's curb appeal and creating more attractive and comfortable entertaining areas have been large contributors to the spike in exterior upgrades.
What does an exterior upgrade cost?
The cost of an exterior upgrade will depend on the type and scale of the project you are undertaking. Some low-budget projects could be done within a day and cost under $500, while others may take weeks and cost thousands.
Here are some of the most popular exterior upgrades and their price range.
Building a patio: $3,000 - $8,000
Painting exterior: $3,750 - $9,750
Window replacement: $3,500 - $10,500
Deck repair: $500 - $3,000
New fence: $3,000 - $7,000
Master bedroom
While kitchens and bathrooms are commonly the first areas that homeowners look to renovate, the focus on master bedrooms has rapidly increased over the past five years. This is mainly due to the master bedroom no longer being seen as just a place where homeowners go to sleep.
Homeowners are now looking for a more luxurious and spacious master bedroom where they can go to relax and recuperate. Some of the ways this is being achieved are by updating lighting, extending the room, adding storage options, or new paint colors.
Another reason for master bedroom remodels becoming a new trend is the financial incentives. An updated and refreshed main bedroom will not only make the home more appealing to potential buyers but it can provide an ROI of between 40-80%.
What does a master bedroom renovation cost?
Like a kitchen renovation, remodeling a master bedroom is a more expensive home improvement project. The national cost range to remodel a master bedroom is $20,000 to $40,000 depending on the size and extent of the renovation. This cost can go as high as $70,000 if the master bathroom is included in the home remodel.
Should you go DIY with a home renovation?
Deciding whether or not to get a professional involved will depend on each individual job and its requirements.
In most cases, you should save going DIY for the smaller, less complex projects such as painting a bedroom or installing open shelving. These types of projects are easy to learn and the consequences of making a mistake are far less severe.
However, with larger more complex projects simply watching a YouTube video and learning on the go might not cut it. Projects such as renovating a kitchen, bathroom, or living room should always be left to the professionals as you may end up doing more harm than good.
What home renovation is right for you?
The right home renovation for you will be dependent on a number of factors including location, your particular house, your motivations for doing the renovation, and many other considerations. However, in most cases, you'll want to renovate the room that has the biggest impact on your home's value and overall appeal.
With many experts saying that the kitchen and bathroom are the most important rooms in your house, they're a great place to start. But, as we have discussed these remodels can be pricey, so if you don't quite have the budget then your master bedroom or external spaces could be more financially viable.