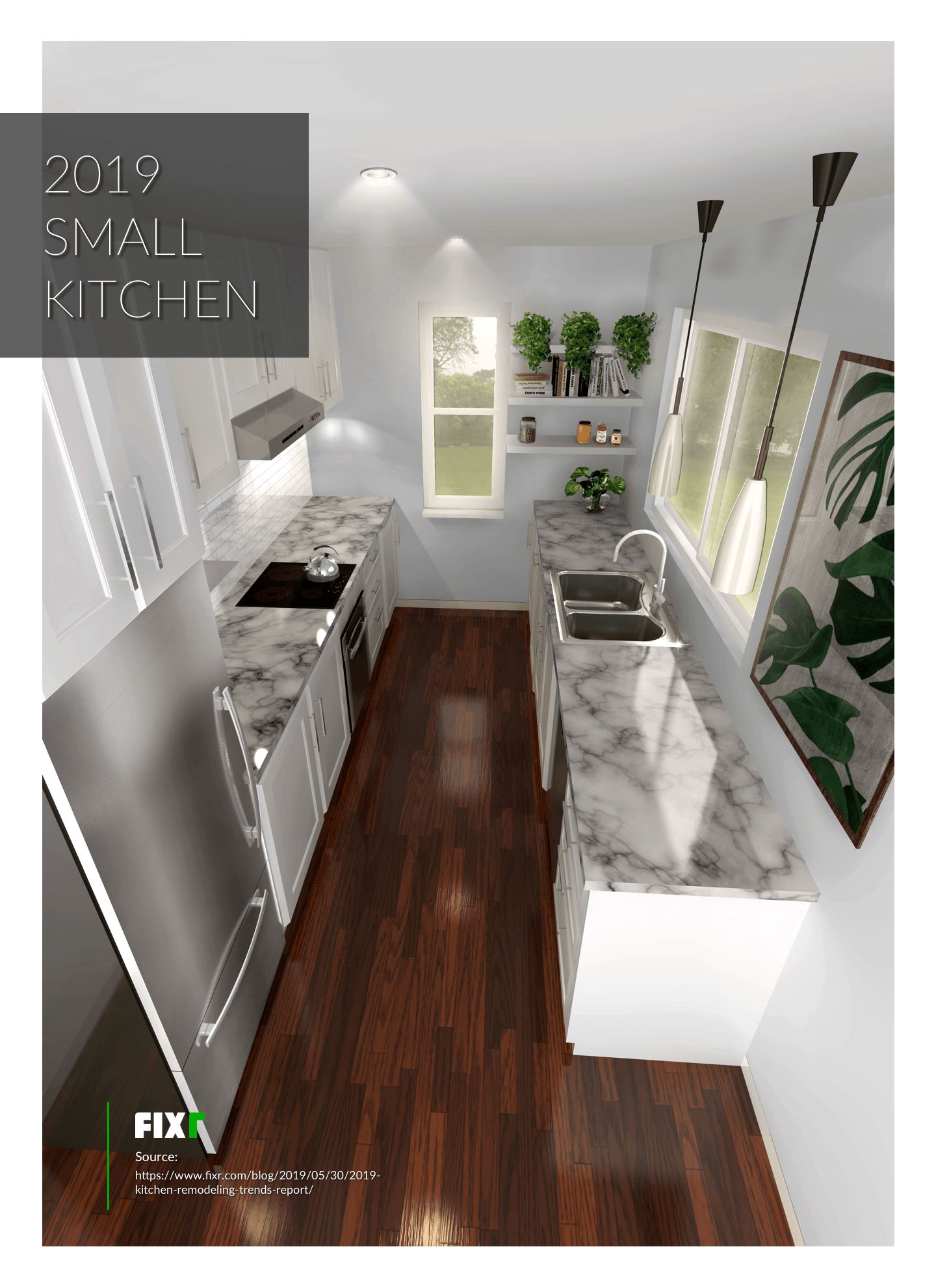 While many people may dream of having a large kitchen, the reality is that small kitchens can be found in a large number of homes. And while small kitchens may lack floor space, when properly planned and laid out, they don't need to lack style or function.
Fixr conducted a survey of the top design professionals in the industry to find out what the hottest trends are for kitchens in 2019. Among those trends uncovered were a variety that had to do with small kitchens. The information from these experts is ideal for anyone building or remodeling a small kitchen, whether to make it a more functional space or to update it for sale. If you have a small kitchen, take a look at these features to help ensure that your kitchen lives up to its highest potential.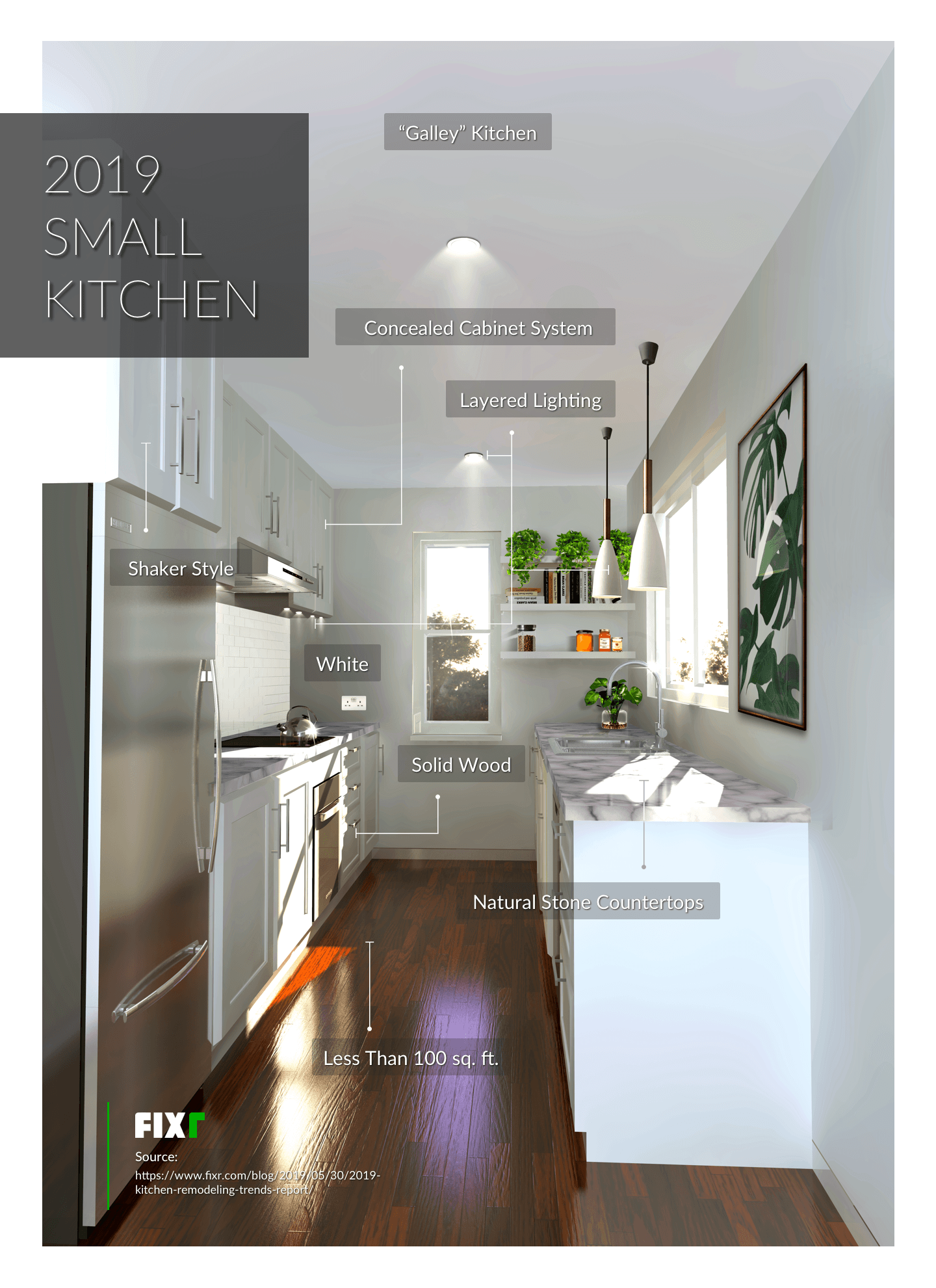 Top 4 Most Popular Characteristics of a 2019 Small Kitchen
White is the most popular color for a small kitchen, making it look bright and open
"Galley" style kitchens are the preferred layout to optimize small spaces
Shaker cabinets are the most popular option for a clean and minimal appearance that still has character
A combination of ambient, task, and accent lighting is the preferred option, with pendant lights especially popular in 2019
Examining the 2019 Small Kitchen
To be considered a small kitchen, the space has to utilize around 100 square feet or less. According to the National Kitchen and Bath Association, starting at around 161 square feet is where a kitchen is considered to be average in size, so these trends are best focused on kitchens smaller than 100 square feet.
A Layout That Maximises Function
Because the kitchen needs to incorporate a working triangle, or plan that's conducive to function within the kitchen, the layout needs to be focused for the space. While island kitchens are the most popular layout for bigger spaces, experts feel that the galley kitchen is the best use of space for smaller rooms.
A galley kitchen involves a straight run of cabinetry, often with appliances all in a row. It may be matched by a second run just opposite, or it may take up only one wall in the room. In either case, this layout maximizes the space in a small kitchen.
Clean Design to Make the Space Feel Larger
Experts agree that a concealed cabinet system, rather than open shelving is the best way to go in a small space. This could be due to the fact that it's easy for small kitchens to get overcrowded.
For all kitchens, small or otherwise, experts felt that solid wood cabinets with Shaker style doors were the most popular look. Since small spaces tend to do better with plainer designs that won't overwhelm the room, wood, Shaker doors can convey style and quality without appearing busy.
Experts also agreed that small kitchens look best when featuring white cabinets. Additionally, they felt that natural stone countertops were the ideal addition to the space as well. Stone comes in a wide range of colors for the kitchen, including light tones that would mesh well with the white palette.
Adding Details To Set The Perfect Ambient
Space planning helps the function of the space, but it's the details that help the style. For small spaces, experts feel that layered lighting is the key to success, with the inclusion of ambient, task, and accent lighting. But when it came to lighting for all kitchens, pendant lights were seen as the most popular option. This may be due to the fact that pendants can be used in all three capacities, depending on their placement and how many are installed.
Optimize Your Small Kitchen
Every detail that experts recommend for a small kitchen is designed to help you get the most from the space in both function and style. Light, cool colors like white are ideal for making a kitchen seem larger than it is, while solid wood, concealed cabinets with Shaker doors can help create a clean, minimal appearance without clutter. The galley kitchen style, emphasized with long, stone counters and lots of light can ensure that you'll be able to do the most in the small space.
Whether you intend to update prior to sale, or you simply want your kitchen to look and function at its best, be sure to consider adding any or all of these trends to your space. The end result is sure to be a kitchen that functions and looks as if it's much larger than it is.