How much does it cost to add a new space?
Get free estimates from remodeling contractors near you
New Space Addition Cost Guide
If you feel like you do not have enough space in your current home but love everything else about it, adding an addition makes your property exactly what you want. Additions come in many shapes and sizes, from tiny bump-outs to full second stories. Adding an addition to your home can improve its livability and value. But there can be many costs associated with building an addition, including different costs for how you plan on finishing the new space and where it is located.
The national range is $30,000 to $100,000. Most homeowners spend around $65,000 on a 300 sq.ft. family room addition on the first floor. On the low end, this project can cost $4,000 for a first-floor laundry room bump out of around 35 sq.ft. The costs for a new addition can go up to $300,000 for a 1,000 sq.ft. second-floor addition of a master bedroom and bathroom with a new roof.
Price to Add a Room
Home Addition Cost
National average cost
$65,000
Average range
$30,000-$100,000
Low-end
$4,000
High-end
$300,000
2023 Notice on the Construction Industry
As the global economy continues to recover from the pandemic, raw materials prices are expected to keep fluctuating. Looking ahead to 2023, construction materials prices are expected to rise modestly. This is due to increased demand from the manufacturing and construction industries and a limited supply of certain key materials. The cost of lumber and plywood is forecast to increase by 3% to 4%. Gypsum product prices are projected to rise by 1% to 2%. Cement and concrete are predicted to see price increases in the 2% to 3% range. Overall, these moderate price hikes are in line with expected inflation rates. However, it is important to note that raw materials prices are highly volatile and fluctuate rapidly in response to changes in global demand and supply conditions. Homeowners should also consider that these increases may seem modest, but they can add up quickly, particularly for large projects. As a result, they should carefully monitor materials markets to minimize exposure to price risk.
House Addition Cost per Square Foot
Total costs range from $100 to $300 per sq.ft. for a finished addition. There is a range of associated costs per square foot for a home addition, depending on the room's use, how much existing space is used, and where the addition is built. Some complex projects cost more because they require more materials, attention, and time to complete. Very simple ones may be completed quickly and generally cost less. The table below shows the most common sizes and the average cost to add that home addition.
| | |
| --- | --- |
| Size | Addition Cost |
| 200 sq.ft. (10' x 20') | $20,000 - $60,000 |
| 300 sq.ft. (15' x 20') | $30,000 - $90,000 |
| 400 sq.ft. (20' x 20') | $40,000 - $120,000 |
| 500 sq.ft. (25' x 20') | $50,000 - $150,000 |
| 600 sq.ft. (30 x 20') | $60,000 - $180,000 |
| 800 sq.ft. (40' x 20') | $80,000 - $240,000 |
| 1,000 sq.ft. (25' x 40') | $100,000 - $300,000 |
Add 200 Square Feet to a House
The average cost of a 200 sq.ft. addition is $20,000 to $60,000. An addition of this size is large enough to house a kitchen, master bedroom, or larger living or family room. Your exact costs for this addition can change depending on what you do with the space, with kitchens costing more than living rooms. The more elaborate the addition, the higher the total costs. Things like crown molding and heavier window and door trim can contribute to higher total costs.
Add 300 Square Feet to a House
The average cost of a 300 sq.ft. addition is approximately $30,000 to $90,000. Additions of this size are large enough for a kitchen with an eat-in breakfast nook or a large family room. You could also use an addition of this size for a combination of mudroom and laundry room. Keep in mind that as with any size addition, what you do with the space ultimately dictates your final price. Additions with plumbing fixtures cost more than those without, and additions with a lot of decorative detail also cost more.
Add 400 Square Feet to a House
The cost for a 400 sq.ft. addition averages $40,000 to $120,000. Additions of this size are large enough for multi-use spaces. This could mean a kitchen and dining room or a master bedroom with an attached bathroom. At this size, you may also be considering a two-story addition, with 200 sq.ft. on each floor. All these variables can mean a slightly wider fluctuation in final costs. If you add plumbing for a kitchen or bathroom or it is a two-story addition, your costs can be higher.
Add 500 Square Feet to a House
The average cost of a 500 sq.ft. addition is around $50,000 to $150,000. An addition of this size offers many possibilities. You can add a single large space for expanding open floor plans. You can also add multifunctional rooms. This could be a large kitchen with a breakfast bar and dining room. Or it could be two bedrooms with a Jack-and-Jill bathroom between them. As with other additions, things like plumbing can mean a higher final cost.
Add 600 Square Feet to a House
The cost of a 600 sq.ft. addition averages $60,000 to $180,000. 600 sq.ft. is large enough to offer numerous possibilities. At this size, you can add a full-sized master suite to the home. This could contain not only a master bedroom and bathroom but also walk-in closets, changing areas, and conversation areas. An addition of this size can also add a family room with a home office or two large bedrooms with a Jack-and-Jill bath between them. You could also choose to add a 2-story addition at this size, although this can raise costs.
Add an 800 Square Foot Addition
The average cost of an 800 sq.ft. addition is about $80,000 to $240,000. An addition of this size is large enough to create many possibilities as well. This size addition could be a partial second floor addition. This could mean adding a second floor above a large garage, with a connecting hallway to the main home, for example. You could also create a two-story addition with one large room on each level. As with any addition, adding plumbing or roofing to the equation, can raise your final costs.
Add 1,00 Sq.Ft. to a House
A 1,000 sq.ft. addition costs around $100,000 to $300,000 to complete. This is a sizable addition to any home. In some cases, it can double the square footage of a smaller home. Additions of this size are usually full or partial second-story modifications. They can also be a garage addition with a finished living space above it. With an addition this large, ensure you have the space and zoning in order to complete the project.
Home Extension Cost by Type of Room
The room type you add impacts the total project cost, with prices ranging between $4,000 and $300,000 for a room addition. Different types of rooms can be expanded, with the most common being living rooms, bedrooms, kitchens, and study rooms. Closets, cabinets, plumbing, flooring, and other details make the space more or less expensive than the average cost. Below are some of the average prices for building different rooms based on the most common sizes for each space.
| | |
| --- | --- |
| Room Type | Addition Cost |
| Laundry Room | $4,000 - $10,000 |
| Mudroom | $12,000 - $18,000 |
| Bathroom | $18,000 - $70,000 |
| Home Theater | $20,000 - $70,000 |
| Living Room | $20,000 - $100,000 |
| Family Room | $25,000 - $110,000 |
| Kitchen | $30,000 - $100,000 |
| Bedroom | $30,000 - $100,000 |
| Sunroom | $35,000 - $70,000 |
| Attic | $70,000 - $300,000 |
Laundry Room Addition
Laundry rooms cost between $4,000 and $10,000 on average for an addition. The average laundry room is only around 35 square feet, making this more of a bump out than a full addition. Laundry rooms need to be waterproof and usually include cabinetry or storage along with the appliances. Insulation can also be added to laundry rooms to help reduce noise pollution in other areas of the house.
Mudroom Addition
Mudroom additions range from $12,000 to $18,000. These rooms do not require much space, so a mudroom addition is usually around 50 sq.ft. Mudroom additions increase the overall value of your home and give you more space for storing coats, shoes, and other outdoor essentials. The average mudroom includes cabinets, storage, and a durable flooring, such as porcelain or slate, in the price.
Bathroom Addition
A bathroom addition in a new space costs between $18,000 for a half bathroom and goes up to $70,000. It is important to consider how much space is available in the area and how accessible it would be when turned into a bathroom. While this is a small space, it has additional needs for plumbing and electrical installations, significantly increasing the costs. The price for a bathroom addition includes everything from the shower to the sink and toilet, along with tile and accessories.
Home Theater Addition
Home theater additions can range in cost from $20,000 to $70,000. Adding a home theater brings fun and entertainment to your home. The ideal space for a home theater is 20 feet long by 13 feet wide and should be relatively isolated from the rest of the house. They may be added to basements or existing spaces or built onto your home if you do not have the space. Because of the need for acoustic materials and equipment costs, they can have a wide range of costs.
Living Room Addition
Living room additions cost between $20,000 and $100,000 on average. There are some important factors to keep in mind before undertaking such a major project, mainly the design constraints in your existing home. The living room is typically the central room of the house, so it should match its design and layout. The living room is often smaller but more formal than the family room. While there is less space in it, it is more likely to have higher-end materials like exotic hardwood or marble floors and nicer features and moldings.
Family Room Addition
Family room additions average $25,000 to $110,000. The family room comes in many shapes and sizes and is finished in numerous ways. This addition provides space for entertaining guests, relaxing with family, or even working from home. It can also help improve your quality of life by giving you a dedicated area for the things you enjoy the most. While many use it interchangeably with the term "living room," a family room is usually informal and made for the family. It includes storage, entertainment areas, and space to spread out.
Kitchen Addition
Most kitchen additions range from $30,000 to $100,000. Kitchen additions provide more space for cooking, preparing food, and entertaining guests, but they can also expand your living area for other purposes. Many recommend adding a kitchen to maximize the square footage of your home and increase its potential resale value. Kitchen additions often have added costs for cabinetry and plumbing. The average size of the kitchen falls between 150 and 200 sq.ft. The additional installation requirements increase the average cost. The average kitchen addition includes flooring, cabinets, counters, appliances, and framing and finishing, driving most of the total cost.
Bedroom Addition
Bedroom additions range from $21,600 to $200,000, depending on the type of bedroom you want to add. Bedroom sizes can range from 144 sq.ft. as a smaller bedroom for children to a master suite addition of around 400 sq.ft. Bedroom additions can also have other elements like a closet, shelves, radiant flooring, a fireplace, a TV, or air conditioning, all of which drive up the project costs.
Sunroom Addition
Sunroom additions range in cost from $35,000 to $70,000. Adding a sunroom to your home can be a great way to extend your living space, take advantage of the beautiful weather, and improve the energy efficiency of your home. Sunrooms typically feature large windows or glass panels that draw in sunlight, creating a bright, cheery atmosphere. They often come equipped with comfortable seating areas, making them ideal for relaxing or entertaining guests.
Attic Addition
Attic additions typically cost between $70,000 and $300,000. Though it can be complicated, adding an attic to your home creates valuable storage space or even additional living quarters for family members or guests. Framing will be required before you can add insulation, drywall, electric wiring, flooring, and other finishing. You should also make sure there is an egress, like stairs or a window, to ensure the space is comfortable for its users.
Home Extension Cost by Type
Depending on the extension type, costs can range from $4,000 to $300,000. There are many other ways to add to your home to expand your living space, and not all create complete rooms. Extensions can be a way for you to gain valuable square footage and living space, without all the expense of a full addition. You can create an extension in many ways, from simple bump outs, balconies, and dormers to in-law apartments. An extension can come in a wide range of sizes and costs and have a variety of appearances. Below are the most common ones along with their average costs.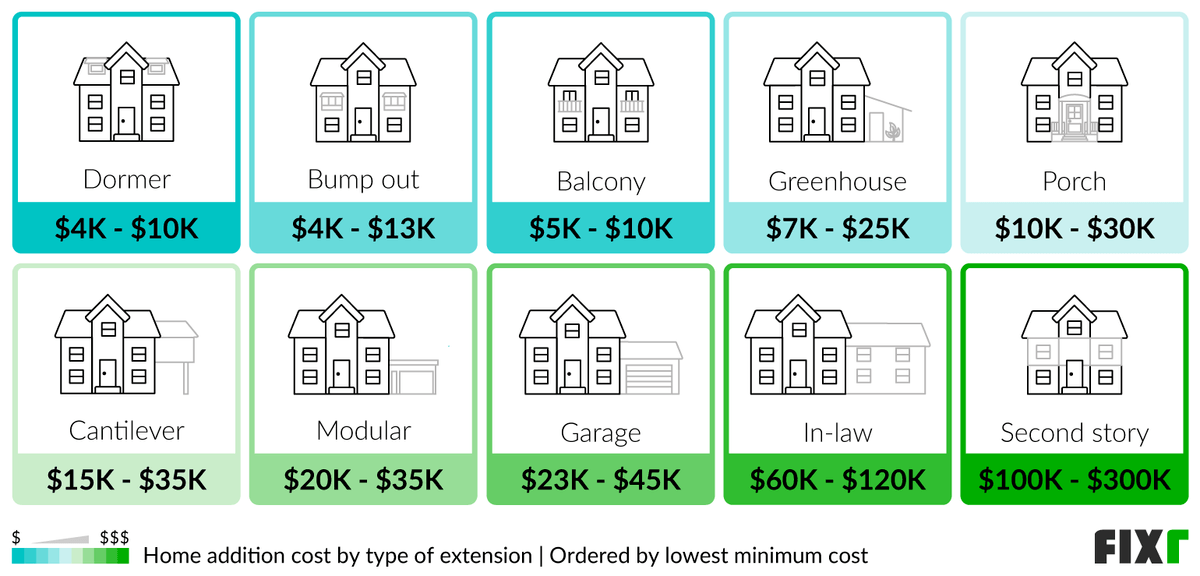 | | |
| --- | --- |
| Extension Type | Addition Cost |
| Dormer | $4,000 - $10,000 |
| Bump Out | $4,000 - $13,000 |
| Balcony | $5,000 - $10,000 |
| Greenhouse | $7,000 - $25,000 |
| Porch | $10,000 - $30,000 |
| Cantilever | $15,000 - $35,000 |
| Modular | $20,000 - $35,000 |
| Garage | $23,000 - $45,000 |
| In-Law | $60,000 - $120,000 |
| Second Story | $100,000 - $300,000 |
Dormer Addition
Dormer additions range from $4,000 to $10,000. A dormer is a roof extension with a window. It adds extra space to a low-ceilinged room like an attic space. On the inside, the dormer can create a window seat with added storage. If your ceilings are high enough, it can also create additional standing room. Dormers are also attractive additions on the exterior. They change the profile of your home and make it look more attractive.
Bump Out Addition
Bump out additions typically cost between $4,000 and $13,000. This type of addition involves increasing the footprint of a house by extending it outwards, typically creating more exterior or interior space in the process. It adds square footage but at a much lower cost. Because this is not a full room, the costs are considerably lower. As you will need no foundation work, you can save about 15 percent compared with a conventional addition. Bump outs are most common on the first floor, but they can be done on the second floor as well. They are good for adding small spaces like laundry rooms and adding storage to a room. Additionally, since the existing exterior structure of your house does not need to be altered, bump outs are often less disruptive than other renovation projects.
Balcony Addition
Balcony additions average $5,000 to $10,000. A balcony is a small deck suspended off the side of the home and is usually a short and simple project. It is a nice way of updating your home's exterior, while gaining usable outdoor space. If you do not have the room for a full deck or porch but want somewhere to sit outdoors, a balcony makes a lot of sense. They can come in many sizes and styles to complement all homes.
Greenhouse Addition
Greenhouses typically cost between $7,000 and $25,000 on average. If you do a lot of gardening, add a greenhouse to your property. There are several different ways you can do this. You can add the greenhouse directly onto your existing home, creating a lean-to style structure. You can also make the greenhouse a completely separate structure of many different shapes and sizes elsewhere on your property. Each style has its own costs as well as pros and cons to consider.
Porch Addition
Porch additions range from $10,000 to $30,000. Adding a porch boosts your home's curb appeal and value while adding outdoor living space. Porches come in a wide range of sizes and styles. They can be small porticos at your entrance or enormous verandahs that wrap around the house. A porch can give you a lot of space for recreation and entertaining, while at the same time improving the appearance of your home.
Cantilever Addition
Cantilevering an addition onto your home averages $15,000 to $35,000. If you want to add a room to the second floor of a home, extend the space by cantilevering it out over the lower floor. These spaces are not big, but the added support increases costs. The space below can be supported on posts, similar to a deck, or it can be supported by having the posts angle back to the house. They brace themselves against the house itself, so no actual ground space is taken.
Modular Room Addition
Modular room additions cost between $20,000 and $35,000 on average. Modular building is less expensive than traditional because the room is factory-built, delivered, and added onto your existing home. The cost per square foot is lower, and the timeline is faster. Best of all, modular additions can be made in nearly any style, size, or configuration. So you can easily get one that seamlessly matches up with the rest of your home.
Garage Addition
The cost of a garage addition ranges from $23,000 to $45,000 on average. Having an attached garage improves your home's value and improves overall function as well. With an attached garage, your car is more secure and protected from the elements. Garages also offer a lot of storage and can also be used for a variety of other purposes. You can use your garage as a workshop, gym, or any number of other uses.
In-Law Addition
An in-law addition has a cost range of $60,000 to $120,000, depending on the size. An in-law is a fully fitted small building or apartment that is either attached or detached from the rest of your home. Because they often contain kitchens and baths, their costs are higher than additions of a similar size without these features. In-laws can be a great way to have multi-generational families living together under one roof. They require a separate entrance from the main home, as well as other features that make them a stand-alone apartment.
Add a Second Story 700
Second story additions have much higher costs than adding a room on the ground level of your home, with prices for the total addition reaching $100,000 to $300,000 for homes that are 1,000 sq.ft. or larger. They involve removing your roof and attic and adding a new floor, walls, and roof for several rooms. However, you could save some money by lifting off the existing roof with a crane and reinstalling it on the new second story.
Home Addition Cost Breakdown
While every project is different, most have several factors in common that give an idea of where your costs are going during an addition. Additions need specific materials both inside and out that match with the rest of your home. In addition to the materials, the professionals you contact with will not vary much from project to project. The following cost breakdown can give you a good idea of what the various parts of your project will cost.
| | |
| --- | --- |
| Project | Cost |
| Insulation | $0.65 - $7.50/sq.ft. |
| Drywall | $1.50 - $3.50/sq.ft. |
| HVAC | $2 - $6/sq.ft. |
| Siding | $2 - $20/sq.ft. |
| Painting and Finishing | $3 - $4/sq.ft. |
| Electrical | $3 - $10/sq.ft. |
| Flooring | $3 - $26/sq.ft. |
| Roofing | $4 - $30/sq.ft. |
| Framing | $15 - $25/sq.ft. |
| Windows | $250 - $1,500/each |
| Doors | $350 - $2,200/each |
Labor Costs to Build an Addition
Home additions can have a wide range of labor costs. These can be influenced by the addition type and the needed professionals. For example, a kitchen addition needs a plumber, kitchen designer, carpenter, electrician, flooring installer, cabinet installer, and more. However, a bedroom addition does not require a plumber and may not need the same level of design professional. The project scope can also play a role. Most home additions need siding, roofing, and exterior work, but not all require the same amount of labor. For example, a second-story addition needs more labor than a bump-out addition. The labor portion of your project is dictated largely by which professionals you use and in what capacities. In many cases, you hire a builder or general contractor. They subcontract out the various specialties, so you are not paying each professional directly.
Designing is an important part of the process because it ensures you will make the most of the space. The general rule of thumb when it comes to the cost to design a home addition is for the designs to cost between 10% and 17% of the final costs. Most home additions also need a set of blueprints, which include details for the job, such as light plans, plumbing layouts, and material choices. Your addition also requires framing to provide structure for the space. It can be made of wood or metal and usually matches the framing material for the rest of the home. Insulation, drywall, and siding may also be required, along with HVAC, electrical, and plumbing systems. Adequate professional help for finishing touches like flooring, painting, and carpenter work will also be needed. The following table shows the labor rates by profession who may work on a home addition.
Should You Build an Addition or Buy a New Home?
Purchasing a new home and building an addition onto your existing home can have appeal. They can also have several downsides and many associated costs. Building an addition is generally a good idea if you want to stay in your home but lack the space for your needs. It can also be good if you have the land to build out and property values in your area are high. If your home is smaller than those around you, building an addition could increase your home's value and make it more attractive.
Buying a new home can be a good choice if your current home is not fitting your needs in several ways. An addition could make it difficult to sell later if you do not have the space to build out or your home is already one of your area's more expensive or larger houses. Keep in mind that buying can be difficult and expensive in the current housing market. There is a housing shortage, and prices are increasing. Staying in your current home, at least for the time being, and enlarging may help you ride out the current situation while raising your home's value. There is no one answer, and you need to look at several factors, including what housing is like in your area and your home's condition compared to those in its vicinity.
Enhancement and Improvement Costs
Post-Construction Cleaning
Post-construction cleaning has an average cost of around $500 to $800. Post-construction cleaning involves a thorough and detailed process to remove all buildup from the space that was added to the home. Typically, this pertains to construction debris, dust, paint splatters, and other remnants of building work. There are a variety of tools and techniques that can be used for post-construction cleaning to ensure that every area is properly addressed. These include vacuums, blowers, brooms, sponges, and specialized solutions designed to remove hard-to-clean substances like cured concrete or drywall dust.
Additional Considerations and Costs
Value. Additions add value to your home. Remember that this value is likely not equal to the cost. Additions add the most value when they keep the design of the rest of the home and match the home types in your neighborhood.
Contracts. Make sure you get your contract in writing, including the total amount and the breakdown of materials and details. Include a lien release in the contract for protection.
Remodeling. Sometimes, remodeling instead of adding on gains space. For example, you may remodel a basement or convert a garage or attic to gain extra space, often for less.
Permits. Have your contractor obtain the permits needed for the addition. They know what is needed to cover the process.
Access. Make sure the area you are building onto is accessible inside and out for easy access for the workers. This means removing landscaping and moving furniture and window coverings in most cases.
Demo. You may do your own demolition, tearing down the walls and hauling away the debris, to save money. Turn off electricity and water to the area before you begin.
Timeline. The average timeline to build a new home addition is between 2 and 3 months from start to finish. The exact timing depends on the project scope and availability of labor and supplies.
Materials. Before ordering new material, check with your contractor to see if they have any leftover material used. This may save you money. Using stock sizes instead of custom also helps reduce costs.
Budgets. Be prepared to stick to your budget for the project. You will likely need to compromise on this project in some way, whether on the size, materials, or timeline to meet your budget. It is fine to start with your ideal project but then try to cut back.
Appeal. Keep resale in mind when you add to your home. Make sure the addition fits the rest of your home and neighborhood to ensure it appeals to buyers. Do not make the home significantly larger than those around it to avoid pricing it out of the area.
FAQs
How much does it cost to add another bedroom to your house?
The average cost to add a bedroom addition is around $57,000.
Are architects or draftsmen needed for additions?
You do not necessarily need an architect or draftsman. Use a design/build firm to handle the initial drawings or start with a designer or architect. It is a good idea to have blueprints made.
How much does an addition cost on a ranch house?
This depends on the addition's size, with most costing roughly $100 to $300 per sq.ft.
Is it worth it to add on to your house?
The answer depends on a variety of individual factors. If you have an older home with lots of space and relatively low property values, adding on may be the better option financially. However, if your existing house is small with limited property values and you need more space for a growing family, it may make sense to add up instead.
Is it cheaper to add on or add up?
The answer depends on a variety of individual factors. If you have an older home with lots of space and relatively low property values, adding on may be the better option financially. However, if your existing house is small with limited property values and you need more space for a growing family, it may make sense to add up instead.
References
The information provided by our cost guides comes from a great variety of sources. For more information, read our Methodology and sources.