How much does it cost to install an electric gate?
Get free estimates from fence contractors near you
Electric Gate Installation Cost Guide
Updated: September 20, 2022

To provide you with the most accurate and up-to-date cost figures, we gather information from a variety of pricing databases, licensed contractors, and industry experts.
Electric gates offer numerous benefits to homeowners ready to increase their property value and sense of security. The classic or modern designs available instantly improve curb appeal, which just feels nice when you drive up to your home after a long day at work. Those wanting to deter thieves can do so by keeping them closed. Electric and automatic gates are the same, so please note both terms will be used throughout this cost guide.
The size, material, and type of power used to operate the electric gate affect the final costs. The average cost falls between $2,500 and $5,500 to install. The average homeowner pays $4,000 for a 12' wood electric driveway double gate. Costs can be as low as $730 for a small 5' fence gate made of chain link or as high as $11,000 for a 16' aluminum electric gate with a double swing opening.
Automatic Gate Cost
Cost to Install Electric Gate
National average cost
$4,000
Average range
$2,500-$5,000
Low-end
$730
High-end
$11,000
What Is an Automatic Gate?
Automatic driveway gates make your home more functional and more secure. They can also make it easier for you to come and go without exiting your car. When the time comes to purchase one, remember that any gate can be turned into an automatic one.
The gate itself does not change when moving from manual to automatic. Instead, it's the motor and opening mechanism that changes. Therefore, when purchasing and installing an automatic driveway gate, you will be doing so in two parts. While a few companies package their gates and openers, most sell them separately. Your gate alone may cost between $200 and $4,000. Your opener may cost $400 to $5,000, depending on the weight and size of your gate and how it opens. The costs below are for both the gate and the opener, necessary for creating an automatic gate.
Automatic Driveway Gate Cost by Size
It costs $600 to $9,000 for a driveway gate, based on its size. Automatic gates are available in many sizes to meet various residential needs. From small entryways to double wide driveways, an automatic security gate can be used to create a stunning and secure entrance to your property. The size of it depends entirely on your needs. The average driveway in the U.S. varies from 10' to 12'. Those who have a separate parking pad for their RV (which averages 8') will want to opt for a 10' gate to ensure there is enough space to maneuver. The following prices do not include installation costs.

| | |
| --- | --- |
| Size | Average Cost (Materials Only) |
| 10' | $600 - $7,000 |
| 12' | $700 - $8,400 |
| 14' | $900 - $8,600 |
| 16' | $1,100 - $9,000 |
Electric Driveway Gate Cost by Material
The cost of electric driveway gates by material ranges from $750 to $8,600. The material of an electric gate is a large factor in the total cost. Metal, wood, and vinyl are the most popular materials. They can be customized to fit your exact tastes and aesthetics. Since they vary in installation procedures and weight, it is normal to see a wide price range. If you prefer intricate details, metal gates are a popular choice. For a classic look, opt for a heavy wooden gate. Vinyl is increasing in popularity for its sleek, modern look.
Vinyl is durable and lasts more than a decade but limits the colors and designs you can choose. Electric wooden gates cost somewhere in the middle of the price range. They add a rich touch and blend well with wooden fences but require more maintenance and upkeep to protect them from the elements over the years. Metal gates, including wrought iron, aluminum, and stainless steel, allow for more security. Aluminum also offers a lightweight option. The table below shows the average costs of each type of gate, not including installation.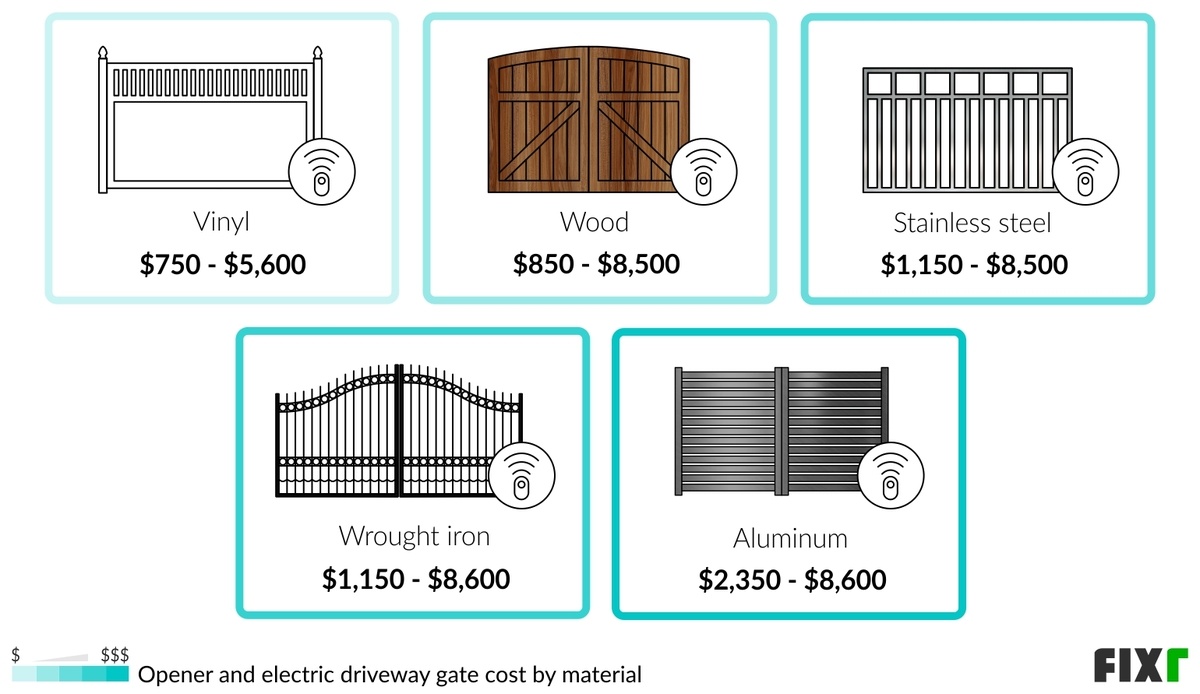 | | |
| --- | --- |
| Material | Average Cost (Materials Only) |
| Vinyl | $750 - $5,600 |
| Wood | $850 - $8,500 |
| Stainless Steel | $1,150 - $8,500 |
| Wrought Iron | $1,150 - $8,600 |
| Aluminum | $2,350 - $8,600 |
Residential Electric Gate Cost by Opening Mechanism
It costs between $1,050 and $9,000 for an electric gate, depending on its opening mechanism. The opening mechanism determines the direction an automatic gate opens. For many homes in the United States, a gate can open in several directions. This allows homeowners to choose the mechanism that is most suitable for their needs and budgets. However, some homes are limited in the way a gate can open. From property lines to space limitations, choosing the right mechanism that allows it to operate properly in these situations is important. The following prices do not include installation.
| | | |
| --- | --- | --- |
| Opening Mechanism | Single Gate Cost (Materials Only) | Double Gate Cost (Materials Only) |
| Sliding | $1,050 - $3,350 | $2,150 - $5,150 |
| Overhead | $1,050 - $9,000 | N/A |
| Swing | $1,350 - $5,300 | $1,900 - $8,500 |
Electric Sliding Gate
The sliding automatic gate installation cost ranges from $1,050 to $5,150. The price depends on whether a single or double gate will be installed. Additionally, the price can be affected by the size of the gate itself. Sliding options remain popular because they simply roll to one side. The amount of clearance they need to operate is minimal compared to those that must swing open to allow vehicles or individuals inside. Furthermore, the type of material (such as wood or vinyl) improves the amount of privacy one has on their property.
Automatic Overhead Gate
An automatic overhead gate ranges in price from $1,050 to $9,000. This gate works in the same fashion as a home's garage door. The gate runs from a ceiling operator, swings, and tracks that raise the gate overhead. It is relatively lightweight to ensure none of the moving parts are overwhelmed by the weight. Just like a garage door, the gate can remain open for an extended period. However, depending on the opening cycles and how often the gate is left in the open position, the moving components of the gate may be replaced to ensure consistent normal operation.
Automatic Swing Gate
Automatic swing gates cost $1,350 to $8,500. The wide range accounts for the size and installation requirements. These operate in the same manner as any bedroom door. They swing on hinges to allow entrance to the property. To ensure they do not go beyond the property line, swing gates are usually installed to open inward. For those with larger entrances where property lines are not an issue, the gates can be installed to open outward.
Labor Cost to Install Electric Gate
Labor for gate installation costs $750 to $4,800. Heavier ones, gates with two swinging or sliding sections, and those with additional features such as sensors and cameras take longer and cost more to install than simple, smaller ones. Installing an electric gate should not take longer than a day, with smaller ones only taking a few hours. The exact cost to install an electric gate depends on several factors, including its size, the type of material, and the type of automated system.
Electric gates and openers are usually installed by garage door companies, fence and gate specialists, or even electricians and handymen. The labor cost ranges from $30 to $80 per hour, depending on who is doing the work and how complex the installation process is. If you have a gate installed by the company that sells the system, discounted rates may be available for installation or additional services. If you live in a remote area, there may be an additional charge for travel, but that varies from one provider to the next.
Gate Automation Cost for Existing Gates
An opener must be added to automate an existing gate. Openers range in price from $400 to $5,000, as mentioned at the beginning of the guide. You can find plenty of low-budget openers and many high-end openers that include smart features, Wi-Fi, apps, and more. The price for automating the gate depends entirely on the type of opener that is installed and how long it takes to complete the installation process. Homeowners pay a labor cost of $30 to $80 per hour plus the cost of the opener.
Opener kits usually include a motor, arm, and wiring. The type of motor and arm you choose depends on the type of gate that you want to automate and your budget for the project. Most swing and slide manual ones can be automated if they are in good shape. They must be able to open freely without any dragging or resistance. Additionally, the pillars that hold it up must be in good condition. If it is a wooden one, the type and weight of the wood must also be considered before moving forward with automating it. For example, a heavy wooden gate needs a much more powerful motor than a light aluminum electric gate.
Gate Opener Cost by Power Source
The average cost to install an electric gate opener that is battery-operated, hardwired, or solar-powered averages between $200 and $5,000. When it comes to electric gates, the power source is important. Some homeowners combine multiple sources to ensure they are never left with an electric gate without power. Although the most common power sources are hardwiring and solar energy, batteries are also used as a complementary method or as a backup in case of a power interruption. If you have a battery installed on your opener, you need to replace it every few years, which costs $20 to $85. Usually, medium- and heavy-duty openers need to be hardwired or have a bigger power source. Light-duty openers may be powered by solar power or even batteries only. Although operating an electric gate with batteries only is rare, it is an option. The table below shows a comparison of costs for each type of gate.
| | |
| --- | --- |
| Power Source | Average Cost (Materials Only) |
| Battery Powered | $200 - $600 |
| Hardwired | $400 - $5,000 |
| Solar Powered | $500 - $2,000 |
Gate Opener Price by Power
The average cost of an electric gate opener is between $200 to $5,000 depending on its power. For the opening mechanism to operate, an automatic security gate needs a motor. Depending on the weight and size of the gate, homeowners need to have a light duty, medium duty, or heavy duty motor installed. When it comes to the power and motor required to operate, there is minimal (if any) room for negotiation. Using a motor that is too weak results in the gate breaking or not operating at all. Conversely, an overpowered motor costs more than necessary to operate. Talk to your installer to ensure that you get the right power capacity for your opener. The table below shows a glimpse of the three types of openers, their voltage, and the average costs.
| | | |
| --- | --- | --- |
| Type of Opening | Voltage | Average Cost (Materials Only) |
| Light Duty | 115V (1 Phase) | $200 - $1,000 |
| Medium Duty | 230V (1 Phase) | $350 - $2,000 |
| Heavy Duty | 208V - 460V (3 Phase) | $450 - $5,000 |
Electric Gate Opener Cost by Company
The cost of electric gate openers by brand ranges from $150 to $3,000. In electric gates and associated openers, numerous manufacturers are well known for their quality products. Several of these companies also produce garage door openers. Each of these brands stands behind its products and offers various models to meet each homeowner's unique needs. Whether trying to operate a small 5' fence gate or a larger bi-fold one, one of these manufacturers has an opening system suited for you.
| | |
| --- | --- |
| Company | Average Cost (Materials Only) |
| Mighty Mule | $150 - $1,200 |
| Aleko | $200 - $1,100 |
| Ghost Controls | $470 - $1,000 |
| Apollo | $980 - $3,000 |
| Liftmaster | $1,000 - $2,100 |
Automatic Fence Gate Cost
A motorized fence gate cost ranges from $730 to $8,500, depending on the material and type of opening system used. A fence gate is like an electric gate, but it is smaller in size and is designed to allow easy access to the yard. Also called man gates or walk-through gates, these are not large enough for cars but may accommodate yard machines, wheelbarrows, bikes, strollers, and so forth. These offer similar features to driveway gates, including the ability to be automated. You can match your gate to your fence to ensure it creates the right curb appeal. Automatic gates are more common with chain link, picket, and privacy fences. Below you will find prices to install an automatic gate in each type of fence.
| | |
| --- | --- |
| Type of Fence Gate | Cost (Materials Only) |
| Chain Link | $730 - $5,500 |
| Picket Fence | $800 - $6,500 |
| Privacy Fence | $950 - $8,500 |
Add-On Costs
You will spend $75 to $7,000 on various add-ons for your electric gate. In addition to the automated gate, opening mechanism, power source, and maintenance, homeowners should also consider the available add-ons. Add-ons increase the security, privacy, and convenience that electric gates offer. Fortunately, add-ons can be installed at any time. Some homeowners install them right away, and others wait to see if they are necessary for their particular lifestyle.
| | |
| --- | --- |
| Add-On | Unit Cost (Installed) |
| Remote | $75 - $300 |
| Camera | $125 - $2,000 |
| Automatic Closer | $200 - $600 |
| Sensor | $200 - $2,000 |
| Keypad | $400 - $800 |
| Intercom | $1,000 - $7,000 |
Gate Remote
You will spend $75 to $300 purchasing and installing a gate remote system. If a remote opener is an addition to the gate itself, it could be an inexpensive purchase with no real "installation" costs because the remote is meant to be carried with you or kept in the car or house. Some gate remote systems offer enhanced access and smart features. You will find these at the higher end of the price range. In some cases, basic remotes may be included with your electric opener, but you can always upgrade to ones with better features.
Gate Camera
A home security gate camera runs from $125 to $2,000. With a camera, homeowners are alerted about who is attempting to enter their property. Being able to see who is driving up to your gate creates a better sense of security. It also ensures your home is not disturbed by those who are not welcome, such as solicitors. Some cameras link to smartphones, and others simply display to a screen within the home. Smart camera systems cost more for their advanced features.
Automatic Self-Closing Gate Closer
The automatic self-closing gate costs between $200 and $600. This add-on works by automatically closing a gate after a certain time. This is beneficial for homeowners who do not want to worry about whether or not it has been closed. The closer will need to be complementary to the opener system that is used. It is often recommended to use the same manufacturer whenever possible. This ensures the most reliable operation and fewer issues.
Automatic Gate Sensor
A sensor gate price ranges from $200 to $2,000. Currently, five types of sensors can be installed on an automatic gate to ensure they open and close when necessary: radar, pressure sensors, optical/motion sensors, and active and passive infrared sensors. Each has its own mechanism of operation and features to consider, so talk to your installer. Optical/motion sensors are the most popular. These sensors detect motion and open the gate automatically.
Keypad
A keypad gate averages between $400 and $800. A gate keypad installation is a relatively simple process that can be completed within one afternoon. Depending on how your gate opens, you may be able to have the keypad closer to the gate. With the keypad opener, you will need to open your window in all weather conditions to access your property. However, this allows you to share the code with any visitors.
Gate Intercom
A gate intercom system ranges between $1,000 and $7,000. This system allows homeowners to speak to their visitors when they arrive at the gate. The increased security helps homeowners feel more at ease about who they are letting into their property. Additionally, an intercom allows homeowners to provide remote open access for the gate at the push of a button. Some intercom systems will require a monthly service fee to operate.
Electric Gate Repair Cost
Damage is always a possibility when it comes to having an electric system exposed to the elements. An electric gate can be damaged by vehicles, thieves attempting to break in, debris from a storm, or simple wear and tear. Regardless of the reason it is damaged, only a professional should take on the repairs. This ensures it continues to operate safely for the remainder of its lifespan. The average cost to make repairs to your electric gate range from $500 to $4,000, depending on the type of repair. Replacing parts can cost as little as $25 or as much as $1,000.
Pros and Cons
Before a homeowner decides to install an electric gate, it is important to weigh the pros and cons. Otherwise, the homeowner may make an investment they are not quite ready or financially prepared to maintain over the years. Electric gates offer a better sense of security than manual gates, allowing you to protect your property and the people who live there. Plus, you can track and monitor who is coming and going and enjoy easy access with automatic openers, remotes, and code entry options.
Electric gates are also quite durable and are made to withstand the elements. They offer an enhancement to your curb appeal and home value, too. Of course, these gates have a higher upfront cost and require routine maintenance and care. If a part fails, you may need to pay for an emergency repair so that you can enter your home. Then, there is the risk of power outages. Although most gates have a backup system, it has limited functions. Then, there is the risk of danger, including crushing people or vehicles when opening or closing and the risk of electric shock with DIY repairs. Overall, as long as they are properly installed and maintained, they can be a great addition to your home.
Electric Gate Emergency Release
All electric gates in North America are subject to the UL 325 Standard for Safety. This standard is in place to ensure tenants on a property can be accessed in case of an emergency. Installers are required to place two entrapment protection systems in each direction of the gate. Should the entrapment fail, it will not operate, which means it may not open or close. If the entrapment fails in the middle of operation, the gate will remain ajar.
This standard allows emergency personnel to override an entrapment device to access the property during an emergency. Fire, police, EMS, and other authorized personnel have standardized methods to override each type of opener. From specialized keys (similar to those firefighters would use in an elevator) to override codes, emergency personnel can only use these methods in the case of an emergency.
Aside from the required entrapment devices, homeowners may opt to install their own lock boxes or control panels. These are not required and range from $25 to more than $500 to install.
Maintenance
Every six months, an electric gate should be lubricated to ensure it opens properly. If it is used more than average (for example, opened and closed over 15 times a day), homeowners should lube it every three months instead. Aside from lubrication, there is nothing else a homeowner needs to do to maintain their gate. Should they have a slide gate, keeping the area clean of debris is recommended.
Since electric gates are used nearly daily, it is recommended they receive an annual inspection. The original installation company often provides this, but any electric gate installer can perform this inspection. These annual checkups typically last one hour and incur the same hourly rate of $30 to $80. If the gate has not experienced any damage during the year, no further steps will be required.
Additional Considerations and Costs
Permits. Across the United States, a building or gate permit may be required to install your electric gate. The type of permit and its cost vary greatly from state to state and even between counties. Your contractor may also take care of this for you, but be sure to ask.
DIY. DIY is not recommended. While it is not recommended to complete an electric gate installation on your own, it is possible. Only homeowners that have experience working with electrical systems should even attempt a DIY installation. Acquiring the gate and related parts can typically be completed by contacting the manufacturer. It is better to hire a subcontractor to handle the electrical system set up than risk danger to yourself or others. If you do not install it correctly, you are unlikely to receive any warranty from the manufacturer.
Home value. It's no secret that installing an electric gate can be expensive. When you sell your home, this makes your home more desirable and improves your home value. The added curb appeal and improved aesthetics are highly desirable.
Insurance. Since your new electric gate improves the security of your home and reduces the risk of burglary, it is possible to receive a discounted rate for your homeowner's insurance policy. In the event of damage, many homeowner's insurance policies will help cover the costs of repairs. However, it is important to have all required permits for your electric gate to be available. Unpermitted work is not covered by insurance.
Wind resistance. If you live in a windy area or regularly experience storms (including hurricanes and tornadoes), it is important to choose an electric gate that can withstand damage. Typically, metal gates are best in these areas. However, you must also consider how your opening system will remain protected during the storm. Underground openers are popular because they are not exposed. Should you opt for an above ground motor, make sure it is covered to prevent any issues.
Energy bill increases. If you do not have a solar opener, your regular electric bill will cover the increased energy usage to open and close your gate. On average, it only uses 100 Watts a day if it is not being opened or closed. In many regions, this is only a few pennies per day. Each time your gate motor operates, the wattage increases to about 700 Watts for anywhere from 20 to 60 seconds. While electric gates do not affect your electricity usage that much, it is something to keep in mind.
Lifespan. Electric gates are designed to have a long lifespan. When maintained properly, they can last several decades. Aside from annual inspections, you may need to replace highly active parts every few years to extend the lifespan of your electric gate. Like any other system in your house, the better you take care of it, the longer you can expect it to last.
Automatic bollards. As an alternative to a driveway gate, you could also install automatic bollards, which cost between $800 and $1,500, depending on the type and how it functions. Stationary bollards can provide a permanent barrier, while automatic bollards can provide protection in high-traffic areas while still providing access by lowering into the ground when activated. This can deter thieves, help prevent damage from accidents, and more.
Underground gate automation. If you want your gate to look even sleeker, you could choose to install an underground actuator and a separate control box. These openers are available in hydraulic or mechanical styles and can offer function without ruining the look of the gate.
FAQs
Can electric gates be opened manually?
In the event of an emergency, electric gates can be opened manually. Under UL 325 Standard for Safety, at least two devices must be installed on an electric gate that allow law enforcement and emergency personnel to bypass the electric entry. Otherwise, homeowners may install their own access system, which can cost between $25 and $500.
Why does my electric gate open by itself?
Any number of issues can cause an electric gate to open on its own. However, it is most often opening for one of these common reasons. Either your limit switches, DIP switches, radio frequency, or loop detector are not operating correctly. It can be difficult to pinpoint which reason is causing the issue. It is best to call a gate repair company to come out for an inspection. They can let you know the exact resolution that is required.
How much electricity does a gate motor use?
When an electric gate is not in use, the electric motor will only use 100 Watts per day. However, when it is being opened or closed, the amount of electricity used increases to 700 Watts. It's important to remember that a gate should open or close within 20 to 60 seconds. This means the increased electricity usage is minimal.
How much does it cost to install an automatic gate opener?
An automatic gate system price ranges from $150 to $3,000 for popular brands. Several factors influence the installation cost. From the contractor's hourly rate to the cost of the model itself, the type of opener determines how much a homeowner can expect to pay.
How to increase gate remote control range?
The simplest way to increase your gate remote control signal is to change the batteries in your remote. As your batteries run low on power, they affect your remote's range. If you still have limited range after changing the batteries, make sure nothing is interfering with the signal. Branches, light bulbs, and even dirt can affect the signal. If these two solutions do not work, it may be time to install an extender, which will help you gain a greater range.