How much does it cost to build a gravel driveway?
Get free estimates from paving contractors near you
Build a Gravel Driveway Cost Guide

Driveways are integral to every property and are built and finished in various ways. Using gravel is an inexpensive method to create one. They are made up of layers of stone, designed to drain and withstand cars driving on it. There are several options for creating a gravel driveway, from the method to the materials used.
This means that there is a wide range of stone costs. The national average to build a gravel driveway is $1,000 to $3,000, with most people spending around $1,750 on a 24' x 24' two-car gravel driveway topped with decomposed granite. On the low end, it costs $300 for a 12' x 24' single-car driveway topped with crushed stone. On the high end, it costs $5,000 for a 24' x 36' three-car driveway topped with marble chips and bordered with river rocks.
Cost to Build a Gravel Driveway
Gravel Driveway Costs
National average cost
$1,750
Average range
$1,000-$3,000
Low-end
$300
High-end
$5,000
Gravel Driveway Cost per Square Foot
Gravel driveways are among the least expensive types to build. Because they go down in layers, the only real labor is dumping and spreading the stone, so they have a fairly low overall cost. The average cost per sq.ft. for materials only ranges from $1 to $3, depending on the stone used.
If your driveway needs significant grading or uses premium materials, the cost is considerably higher. In addition, if you choose to create a stabilized one, your costs also include the structure beneath the stone, which adds $3 to $7 to your total costs. This makes the average price between $4 and $10 a sq.ft.
Driveway Gravel Cost per Cubic Yard
The average cost range for driveway gravel per cubic yard is around $50 to $100 delivered and spread. Keep in mind that the price per cubic foot is from $3 to $10, but that's reserved for smaller quantities. Most homeowners and contractors purchase according to the cost of gravel per cubic yard, which varies depending on the type of stone used. This measurement is helpful when considering the depth of the driveway and making sure you have enough materials to complete the project. Costs for materials start at $15 to $25 a cubic yard for base materials and go as high as $75 to $100 a cubic yard for some premium materials.
Gravel Driveway Cost by Size
Another way to budget for this type of project is by the size of the driveway and how much space it has for cars. Some households only have one or two cars, which keeps the costs down. However, a large, spacious one that accommodates three or more cars costs more. Although each one is different in terms of scale, depth, and the cost of the gravel used, there are some average sizes for one-, two-, and three-car driveways, which give you an estimate of the total cost.
| | |
| --- | --- |
| Size | Cost (Labor Included) |
| Single Stall (10' x 20') | $250 - $700 |
| Single (12' x 24') | $300 - $900 |
| Double Stall (20' x 20') | $800 - $1,200 |
| Double (24' x 24') | $1,000 - $2,200 |
| Triple (24' x 36') | $1,500 - $5,000 |
Small Gravel Driveway
Small single stall or single gravel driveways costs between $250 and $900. This small space fits one car and measures between 10' and 24'. This is a functional size that suits busy neighborhoods and homes that are close to the street. If you have a small sedan or SUV, a single one should work just fine. If you have multiple cars or oversized vehicles, you will need more space.
Medium-Sized Gravel Driveway
If you have two vehicles, a medium-sized driveway is your best bet with an average price of $800 to $2,200. You could get a double stall driveway measuring 20' x 20' or a double that is slightly larger at 24' x 24' in size. You can fit two cars in one of these, especially if they are normal size. If you have two large vehicles or an RV, you may need additional space. A medium-sized is most common for U.S. suburban homes, giving families plenty of room to work with when getting in or out of the car.
Long Gravel Driveway
When it comes to long driveways, you can expect to pay around $1,500 to $5,000 for one that is spacious enough to fit three cars. This size is great for growing families or households where everyone has a car. If you have an oversized truck, RV, or boat, a long driveway also helps. Most triple car garages measure 24' x 36' in size and offer an estate-like appearance that boosts curb appeal. Of course, the longer it is, the more materials and maintenance are necessary, but the extra space and privacy are well worth it.
Driveway Gravel Prices by Type of Gravel
Driveways prices vary by type of gravel. Your driveway needs to be made of at least three layers of stone, which start about the size of baseballs and gradually shrink to small gravel. From there, you choose what kind of material to use, particularly when it comes to the most visible top layer.
Some of the materials sold are only used for edging and should not be used to cover the entire top layer of the driveway. Below we have added a table comparing the average cost per sq.ft., one ton, and cubic yard for each type of gravel, with prices for materials only. Keep in mind that some of these types have more variety, so the price range is larger for some than others. Also, due to the amount needed, cost per ton is the most common way to budget, but per sq.ft. and per cubic yard are also options.
| | | | |
| --- | --- | --- | --- |
| Type | Per Sq.Ft. | Per Ton | Per Cu. Yd. |
| Item #4 | $0.70 - $3 | $10 - $25 | $20 - $40 |
| Base Gravel #3 | $1 - $3 | $15 - $30 | $20 - $45 |
| Crushed Stone #411 | $1 - $3 | $20 - $40 | $25 - $45 |
| Pea Gravel | $1 - $3 | $20 - $80 | $30 - $90 |
| Crushed Shell | $1 - $5 | $20 - $90 | $30 - $90 |
| Quarry Process/Crusher Run | $1 - $5 | $25 - $35 | $30 - $40 |
| Crushed Granite | $1 - $5 | $25 - $50 | $35 - $40 |
| Crushed Limestone | $2 - $5 | $30 - $40 | $35 - $50 |
| Caliche | $2 - $7 | $30 - $100 | $35 - $120 |
| River Rocks | $3 - $7 | $45 - $100 | $50 - $110 |
| Blue Stone | $3 - $8 | $50 - $100 | $75 - $150 |
| White Gravel | $3 - $9 | $50 - $150 | $75 - $160 |
| Crushed Stone #57 | $4 - $9 | $65 - $75 | $70 - $90 |
| Jersey Shore Gravel | $4 - $9 | $85 - $100 | $90 - $110 |
| Marble Chips | $4 - $10 | $85 - $400 | $90 - $400 |
Item #4 Gravel
Item #4 is one of the options used as a base for these driveways, costing between $10 and $25 a ton. That's $0.70 to $3 per sq.ft. or $20 to $40 per cubic yard of this base layer. Driveways are built up in three layers, with the first measuring roughly 3 to 4 inches deep. Item #4 is made of a mixture of crushed gravel with sand and dirt mixed in. It may also contain recycled material like asphalt or made of limestone or bluestone. Item #4 is also a versatile material used for other purposes, such as heavy drainage, erosion control, and landscape stabilization.
Base Gravel #3
This is the most common base for this type of driveway, costing $15 to $30 a ton. You may also buy it at $1 to $3 per sq.ft. or $20 to $45 per cubic yard. It is made up of stone measuring 1 to 2 inches in diameter. This mixture of crushed stone with irregular edges supports the surface and ensures this area can withstand constant vehicle activity and bad weather. It is often referred to as "clean stone." The irregular rock fragments help with proper drainage, too.
Crushed Stone #411
Crushed limestone #411 costs $20 to $40 per ton. This affordable material may also cost $1 to $3 per sq.ft. or $25 to $45 per cubic yard. It has an angular shape and a white-grey color, so it looks good and blends in nicely with trees and grass. It's made of small stone bits and coarse rock dust, with crushed stone #57 mixed in too, so it can handle big trucks and SUVs. While it makes a solid surface for heavy traffic, #411 should be used as a top layer only because its drainage is not ideal.
Pea Stone Gravel
The average pea stone cost is $20 to $80 a ton, $1 to $3 per sq.ft., or $30 to $90 per cubic yard. It gets its name from its shape, size, and surface texture. This stone comes in a range of colors and consists of small, smooth pebbles rather than a rough crushed stone. It makes beautiful driveways but has the same problems as the Jersey Shore type. It migrates easily and requires very high maintenance. You spend more time raking it back and adding extra material every one to two years.
Crushed Shell Driveway
Plan to pay $20 to $90 per ton to cover the average crushed shell driveway cost. You will pay $1 to $5 per sq.ft. and $30 to $90 per cubic yard for it. Not only is the crushed shell cost affordable, but this material has a beautiful, charming style with a decorative touch. It is popular in warm locations by the water, but you can get this material elsewhere too. Just keep in mind that the costs may be higher and quantities more limited if you do not live in a region where seashells are readily available.
Crush and Run
The average price of crusher run, also know as 'Crush and Run' is $25 to $35 a ton. Sometimes people buy it at $1 to $5 per sq.ft. or $30 to $40 per cubic yard instead. This material is a fine mixture of crushed stone and stone dust. The dust packs and settles between the larger fragments to form a smoother surface. Using the quarry process increases your total costs because you need to "crown" your driveway or make the center higher than the sides so that it drains properly without damaging the surface.
Crushed Granite Driveway
The price of crushed granite is between $25 and $50 a ton, $1 and $5 per sq.ft., or $35 and $40 per cubic yard. Crushed granite or decomposed granite is a material most commonly used on the top of gravel driveways. It is a fine mixture of crushed granite material combined with some rock dust. This finer texture means that it packs tightly on the top, forming a longer-lasting layer. Crushed granite comes in a few colors, depending on its origin.
Crushed Limestone Driveway
The crushed limestone cost per ton is $30 to $40. Other common prices include $2 to $5 per sq.ft. and $35 to $50 per cubic yard. Limestone is frequently used for crushed stone #57 and sometimes crushed stone #3. It comes in many sizes and colors, depending on its composition. The limestone price per ton fluctuates slightly based on its grain and appearance. This material is a budget-friendly way to boost a home's exterior, with a lovely gray-white color speckled with dark tones that complement the landscaping.
Caliche Driveway
Caliche or Arizona gravel costs $30 to $100 per ton, $2 to $7 per sq.ft., or $35 to $120 per cubic yard. This sedimentary rock gets its name from the southwest region, where it is commonly found. This material is best suited for homes in dry, arid climates like Arizona or New Mexico because the hardened calcium carbonate rock holds up for a long time in the desert heat. Many rural or farm roads in this region are also made out of this kind, so it is a very common choice in warm climates but less common in places with a lot of moisture because the depth is sensitive to rainfall.
River Rock Gravel
River rock costs approximately $45 to $100 a ton, $3 to $7 per sq.ft., or $50 to $110 per cubic yard. River rocks are smooth stones measuring ¾ inch to 2 inches in size. They make a beautiful surface but not a good surface. If you want to use them, they should be a border because they do not hold up well to car tires. Used as a border, they contain gravel, so you do not need to work as hard to maintain your driveway.
Blue Stone Driveway
As the name suggests, blue stone has a beautiful blue-grey color and costs $50 to $100 per ton. Sometimes you can buy blue stone at $3 to $8 per sq.ft. or $75 to $150 per cubic yard, too. If you want a driveway that stands out and improves curb appeal, then blue stone is a great option. Although the blue stone cost per ton is slightly on the pricier side, it is durable and naturally non-skid, so it works in many environments. This medium-sized crushed stone usually measures ⅜" or about the size of a pea.
White Gravel Driveway
You can expect to pay $50 to $150 per ton of white gravel, although you could also buy it at $3 to $9 per sq.ft. or $75 to $160 per cubic yard. This popular material has a light, attractive color that many homeowners splurge on to add to their home's aesthetics. If you're looking for a luxury, estate-style, then this material is a good choice. Despite the higher price, it is very durable with angular stones that provide a high level of support, especially when used as a top layer over a more affordable base layer.
#57 Stone
Expect crushed stone driveways cost between $65 and $75 a ton, $4 and $9 per sq.ft., or $70 and $90per cubic yard. This middle-of-the-range limestone price per ton makes crushed stone #57 a good choice for the second layer of your driveway. It goes on top of item #4 or #3. This is an irregular stone roughly the size of a golf ball. It is also a machine-crushed stone but rougher than the others. You want at least 3 to 4 inches of this material to facilitate drainage beneath your final layer.
Jersey Shore Gravel Stone
Jersey shore material makes an excellent border stone and costs $85 to $100 a ton or $4 to $9 per sq.ft. You can also get this at $90 to $110 per cubic yard. It is a pretty, yellow stone with a smooth texture and rounded surface. It is a very beautiful material but is not usually recommended for this use because the smooth stones frequently move, falling off your driveway and onto the sides. Using this material requires very high maintenance and replenishing the stones every one to two years.
Marble Chips
The average marble chips price is $85 to $400 a ton. You may also pay $4 to $10 per sq.ft. or $90 to $400 per cubic yard for marble chips, which are another material that makes a stunning top to gravel driveways, but it is not always recommended. This is normally a white marble with a fairly smooth texture, so it does not interlock well and may migrate.
However, if you live in Virginia, you may be able to get mixed marble chips made from mosaics. These are often smaller chips that are perfect for driveways and come in a rainbow of colors. This depends on the area and is not always available.
Cost to Build a Gravel Driveway
Labor costs vary, mostly due to the condition of the area before you begin. It is common to excavate the area down about 12 inches because it will be built up with gravel. Depending on your property and the existing driveway, you may need land clearing or tree stump removal, which is more common for new developments and custom builds rather than older homes. If you need tree removal, expect to pay $400 to $900 and $200 to $700 for stump removal on top of the final project costs, although it varies by contractor and their pricing plans. The driveway also needs to be graded to ensure proper drainage and easier maintenance, costing $1.10 per sq.ft. It is then compacted before the first layer goes down.
From there, the labor is fairly easy, involving the dumping and spreading of the three gravel types. Contractors charge between $60 and $100 an hour for this work. This makes up the bulk of the cost of the project. For the average two-car size costing $1,750, you can assume 6 tons of stone, two tons per layer. The average material cost works out to $400 to $500, plus $100 for delivery for a two-car driveway. The remaining $1,150 to $1,250 is for labor costs.
If you have boulders, trees, an oddly shaped driveway, or a more than a moderate slope, your labor costs will be closer to $2,000 in labor, plus the material costs.
Gravel Driveway Repair Cost
Most driveways are easy to repair by adding additional gravel and grading, costing $50 to $450. There are a few reasons why you may need repairs, such as serious potholes or unlevel sections. These issues are more common in colder climates where rain and snow are frequent, although they could happen anywhere. Filling potholes should take a few hours at least, but it depends on if you just have one uneven spot or if it is riddled in potholes. The earlier you spot issues and get it taken care of, the less likely you will need a full replacement. Most times, it can be repaired by laying a new layer, which is included in the average price range. The amount of new material you need depends on the extent of the damage. Most homeowners only opt for a full replacement when they want a different type of rock or another surface altogether.
Resurfacing and regrading are the most common types of repairs designed to fix these problems. Below are the average costs for these repairs, which are similar but focus on fixing different aspects of the driveway. Also, keep in mind your contractor may recommend both repairs if needed.
| | |
| --- | --- |
| Type of Repair | Average Cost (Labor Included) |
| Resurface | $50 - $450 |
| Regrade | $60 - $400 |
Resurface Gravel Driveway
The average resurfacing cost is $50 to $450, depending on the size. It can take a few hours, priced around $50 to $100 per hour, depending on the size of the driveway and materials. Resurfacing is replacing the top layer, which improves the appearance of worn driveways. If yours is decades old or if you just want it to look refreshed and feel smoother, resurfacing is a good option that improves the look and feel without requiring an entire replacement. Unlike asphalt that needs time to dry, resurfacing of this material can be done in just a couple of hours. You can choose the same top layer you already have or try a different kind if you want a fresh color or style.
Regrade Gravel Driveway
Sometimes, these driveways may need regrading or crowning. The average cost to do it is $60 to $100 an hour, and it usually takes one to four hours, meaning it could cost anywhere from $60 to $400. Regrading involves using tractors and grading blades to change the steepness and improve drainage. This method is used to fix potholes and uneven surfaces, so if you notice that it is extremely bumpy, especially after a bad winter, then regrading could be the way to go. While resurfacing adds a fresh layer to the top, regrading fixes the base to ensure the land is level and pitched appropriately for water. When these driveways are not draining properly, it's worthwhile to consider professional regrading.
Stabilized Gravel Driveway Cost
Most of these driveways need to have new gravel added every two to four years. It usually migrates off the top due to car tires, snowplows, shovels, and simple wear and tear. With a stabilized driveway, more gravel stays where it belongs, so it requires less maintenance and does not need to be replenished as often.
Stabilized driveways consist of a set of honeycombs set into the ground filled with gravel. The honeycombs hold it in one spot so that it does not migrate. They are made of a few different materials and have varying depths and sizes, depending on your needs. They add $3 to $7 a sq.ft. to your total costs, making the total cost $4 to $10 a sq.ft.
Permeable Gravel Driveway
A permeable gravel driveway costs $2 to $10 per sq.ft. for materials only. It is environmentally friendly because it brings water back to the soil. It is easy to install and heat-resistant, plus it also makes the driveway more stable, which is great in areas prone to erosion. Also, a it is easy to repair because you just need to spread the gravel around to achieve the same look. Keep in mind that there are more surface maintenance requirements with these types of driveways compared to other permeable types like asphalt and concrete. Weeds can pop through over time, and you need to rake leaves and debris from the surface, particularly to prevent blocked drainage paths.
​
Other Materials for Gravel Driveway
While it's great that there are so many options for this type of driveways, it can also be difficult to decide which one works best for your home. That is what your installation company is for, as these professionals can give you a few recommendations based on the size, shape, and location of your driveway. In addition to the most popular materials, there are plenty of other alternatives, including budget-friendly steel slag and Gravel-Lok. Just keep in mind that these crushed shale driveways and other materials are less common and may be harder to find depending on where you live. You also want to think about the hardpack driveway cost and which options match your project budget.
Lava rock is a great example because this affordable material acts like a sponge, soaking up the water with its lightweight, porous composition. Other similar alternatives include sand and gravel, stone dust, and SB2. Whichever you choose, you can look forward to competitive prices in line with some of the more in-demand materials. For example, pebble stone driveways costs $60 to $90 per ton. Many of these alternatives, such as a shingle driveway, have costs within the $40 to $100 per ton range. Even for luxurious materials, the quartz gravel or decomposed granite driveways are still reasonable and worthwhile for the smooth, safe surface it provides.
Cost Factors to Install a Gravel Driveway
Many factors affect the total cost of gravel driveways. These include its shape, size, type, depth, slope, location, and condition the area was in before you began. For example, a straight, square surface is typically easier and less expensive to install than one with a curved turnaround. If you're building a new one on a development lot, you may need excavation, adding to the total project cost. The more excavating that needs to be done, the higher the costs. Driveway excavation prices range from $200 to $5,600 depending on the size and type of land that needs to be cleared.
Likewise, adding edging or stabilizing it to help prevent migration also increases your total costs. Using a premium material or doing a chip seal driveway where the gravel is added to a bitumen layer increases the total project costs.
Other considerations for the cost include the soil composition and the additional costs if you want premium porous driveways. Finally, the distance the material needs to travel is a key factor too. Most companies have a delivery fee of $50 to $100. If you live further from the stone yard, this has a higher cost.
How Much Gravel Do I Need for My Driveway?
This depends on the size, its slope, and the material used. For some larger sizes, you need fewer materials, while others require more.
Get a very basic estimate by measuring the length and width and multiplying these numbers together to get the square feet. Next, multiply this by the depth, which varies by material. Most driveways are 8 to 12-inches deep. This gives you cubic feet. Divide this by 27 to get the total number of cubic yards. One ton is roughly equal to 1.13 cubic yards, but this number changes depending on the gravel size. Multiply the number of cubic yards by 1.13 to get a very rough estimate of how many tons you need.
Remember that you need three different types to complete your driveway, and each has a different recommended depth. For this reason, it is advised that you speak to your landscaper or contractor to find out how much gravel you need.
How Deep Should a Gravel Driveway Be?
These driveways should ideally measure 12-inches deep, made up of 3 layers of material, which are 4-inches deep each. For some materials, however, 3 inches may be adequate. This includes your base layer of #3 gravel or item #4, followed by a layer of #57 gravel, and topped with the finish material of your choice. Just keep in mind it's extremely important to have the correct depth to ensure safe, long-lasting use. It needs to be deep enough to support the weight of cars and absorb rain and snow, so the rock does not wash away, and the driveway stays clear of potholes.
Gravel Driveway Pros and Cons
The biggest advantage of installing this type of driveway is the cost. This is less expensive than concrete or asphalt, so it is a good choice for a very long one. It is very attractive if it has a good depth and a nice color to the stone, plus it compacts and drains well. For areas prone to potholes, such as places with a lot of rain or snow, it works well because you can just add more material to fix potholes.
Some of them are hard to clean and more difficult to maintain than others because they require a lot of raking and stone replacement. It can be difficult to snowplow and may not be plowed down to the stone either because it removes the stone. You also need to add new layers every two to four years to help it look its best. Also, although there are many varieties to choose from, it doesn't have the same smoothness as asphalt or concrete, which may be important for families with young kids. You may even find weeds growing out of these driveways if they are not maintained properly.
Maintenance
These driveways take a lot of maintenance to keep them at their best. This includes raking the gravel back from the edges to redistribute it a few times a year. You need to add more every two to four years, and occasionally, you may also need to have it crowned or built up in the middle to help water run off more easily. One helpful tip is to drive slowly on this surface because that reduces damage and maintenance.
They still form potholes, particularly in rainy climates, and you need to fill these regularly. In addition, it sometimes has weeds or grass growing through it, which needs to be dealt with to keep your driveway at its best. Also, keep in mind that most of these maintenance tasks can be performed by hand if you have a short driveway. However, a small tractor can make a big difference if you have a long one, especially with a grader blade attached.
Cost of Gravel Driveway vs Asphalt
Gravel and asphalt driveways are both very common, although asphalt is seen as the more premium option with a price tag to match. Gravel is one of the least expensive methods of creating permanent driveways. For a two-car size one, they cost around $1,750 for medium-grade stone. In contrast, the same size asphalt driveway costs nearly double at $3,600 for a mid-grade bitumen, making this latter option less affordable.
Many homeowners feel the higher price is worth it, thanks to the smooth asphalt surface that is easier for walking and driving. For families with young kids who want to ride a bike or play in the driveway and front yard, an asphalt driveway usually makes more sense. Although asphalt has less regular maintenance, if you live somewhere warm, gravel is the better choice. Asphalt gets really hot and soft in the heat, making it uncomfortable. It is also more likely to crack or crumble in cold climates with poor drainage.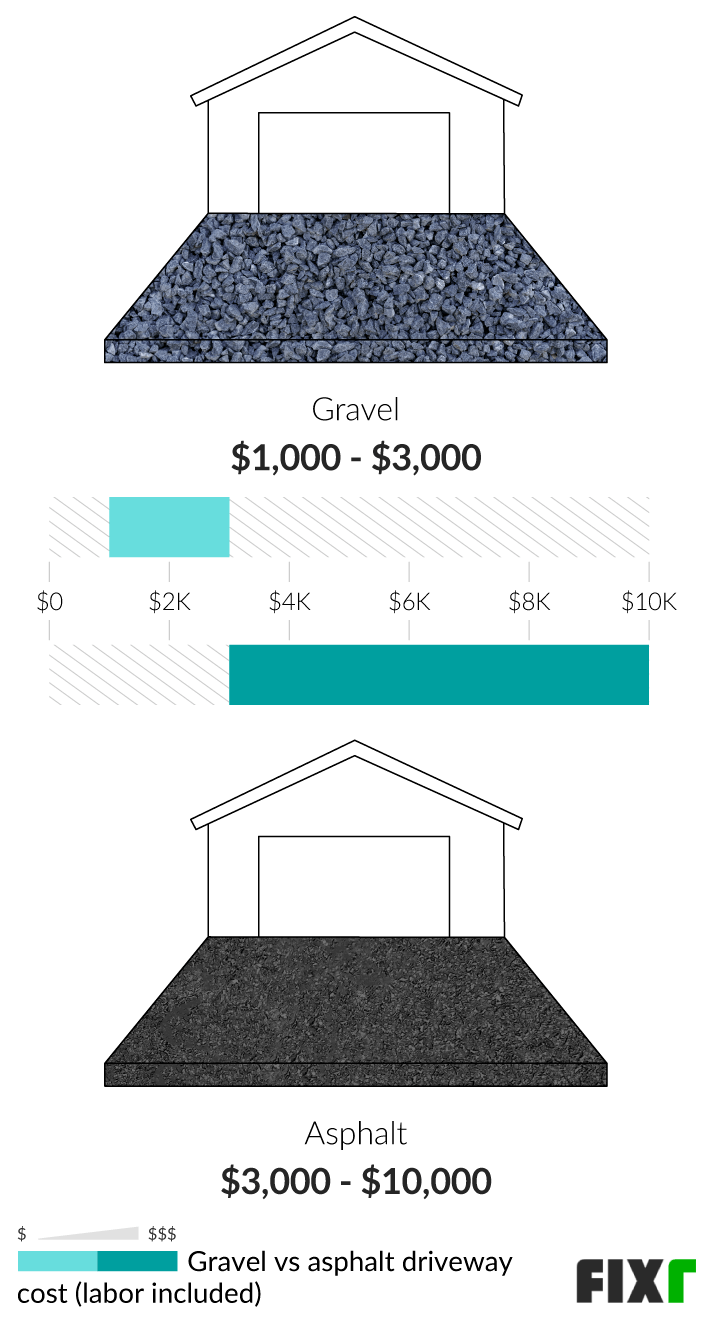 | | |
| --- | --- |
| Material | Average Cost (Labor Included) |
| Gravel | $1,000 - $3,000 |
| Asphalt | $3,000 - $10,000 |
Gravel vs Concrete Driveway
As two of the most popular options for driveways, concrete has a lot to offer, but it is more expensive than gravel. While a new gravel one will cost around $1,000 to $3,000, you're looking at $3,460 to $6,910 for concrete driveways. In comparison, concrete is more low maintenance and comes in a wide variety of finishes to give you a similar look to premium materials like brick or stone.
There are plenty of color and size options with gravel, but the additional maintenance requirements to rake and resurface periodically are not always ideal. However, it is better for cold, wet environments. Unfortunately, concrete performs better in hot climates compared to cold ones. Concrete driveways can crack and break from freezing and thawing, so gravel is often preferred throughout colder states.
| | |
| --- | --- |
| Material | Average Cost (Labor Included) |
| Gravel | $1,000 - $3,000 |
| Concrete | $3,460 - $6,910 |
Enhancement and Improvement Costs
Road Construction
While the cost range to build gravel driveways is $1 to $3 a sq.ft., the cost range to build a road is completely different and varies from road to road. The construction costs of this type of road start closer to $4 a sq.ft. and go as high as $10 a sq.ft. The road base cost depends on the type, grading, slope, size, and shape of the road.
Every road has different variables that impact its cost, so it is best to consult your contractor about the total costs. They may also offer gravel road costs per linear foot or road costs per mile, depending on how long the road needs to be.
Parking Lot
Gravel parking lots have similar costs to driveways with the same material but often need additional drainage if the parking lot becomes big enough. Some types drain through to the ground, but most allow the water to run off like asphalt or concrete. For driveways, crowning is usually sufficient, but for a parking lot, you have the same parking pad costs to add and spread the gravel at $1 to $3 a sq.ft. Keep in mind you may need to cover added costs for drainage.
Painting Your Gravel Driveway
These driveways are painted using either acrylic or oil-based paint. Any movement of the stones brings unpainted stone up to the top, so painting may need to be done several times. Painting costs $1 to $2 a sq.ft. You can choose the colors you would like, although natural and neutral tones are the most common. You may want to check with your city to ensure there are no restrictions on gravel paint, especially if you live in a neighborhood where they want all properties to look similar.
Pave a Gravel Driveway
The cost to pave a gravel driveway varies depending on the paving material. Asphalt is $1 to $5 per sq.ft., while concrete paving is $4 to $7 per sq.ft. This includes grading and removal of the stone. If you want a smoother surface that's ideal for young kids, then paving is a worthwhile choice that protects it for decades to come.
Drainage
Most of these types of driveways need to be crowned to drain properly. This has an added cost of around $100 for the labor. You must consider drainage for all driveways, even if they are in a location without a lot of wind or rain. When wet weather hits, they need to have adequate drainage to prevent potholes and unsafe conditions. If you want it to last for as long as possible, then make sure drainage is considered.
Driveway Garden
If desired, create a driveway garden with a gravel driveway. This includes adding plants to the center or sides. Typical landscaping costs apply, depending on the type of plants being added. Many homeowners choose to invest in front yard landscaping at the same time as their driveway project, with front yard landscaping averaging $4,000 to $6,000.
Driveway Apron
A gravel driveway apron adds $3 to $10 per sq.ft. onto the project, with prices varying based on the selected material. An apron is a transitional area separating the driveway from the street pavement. If you do not want to worry about the curb and you would prefer a smooth transition up and down your driveway, then an apron is worth it. Just keep in mind that many communities have regulations for the apron to ensure it matches with the street and neighboring homes.
Heated Gravel Driveway
If you live somewhere cooler, heated driveways are a smart investment at $6 to $10 per sq.ft. for labor and materials. Many people who live in places with snow and ice prefer it as it melts these slippery surfaces. You could have a metal coil system or a hot water system connected to a heater or boiler. Either way, you can expect a heated gravel driveway to melt about one inch of snow every hour.
Gravel Walkway
A walkway made up of this material costs $1 to $3 per sq.ft. Its smaller size and length means you could complete this project for $300 to $1,000. It leads from the driveway to the front entry of your home or another area on your property. These walkways have the same advantages as driveways, as this affordable material comes in lots of attractive colors and designs.
Gravel Patio
Gravel is a good material for building a patio, with average costs ranging from $5 to $10 per sq.ft. installed. It is an affordable patio material. However, the patio area needs to be cleared and leveled to complete this project. Then you can use it as both a base and top layer. You may need to rake the stone and add more to the top layer every year to maintain the best look and functionality.
Additional Considerations and Costs
Maintenance. These driveways last up to 100 years if properly cared for and maintained, including adding additional layers every few years as needed.
Replacement. Most of the time, you can just replace the top layer to improve the look and functionality of your driveway. This costs $50 to $450. Resurfacing helps you avoid a full replacement, but if you decide to completely start from scratch with new base and top gravel layers, it will cost $1,000 to $3,000.
Delivery. Delivery costs range from $50 to $100 per driveway, depending on the amount and distance. Some suppliers do not deliver less than 10 cubic yards, roughly 9 tons. Others do not deliver less than 20 tons.
Gravel purchase. If you purchase your own gravel, keep in mind that delivery does not include spreading or installation.
Permits. While some rural areas do not require permits, many major cities and suburban areas do. Check with your local city to confirm any permit requirements for installation. If you need a permit, it is likely to cost between $500 and $2,000. Many contractors cover the permit cost and add it to your final project bill, but sometimes you may pay for the permit directly. It just depends on the permit and your city.
Number of layers. You need three types of gravel for your driveway. The least expensive includes Item #4, gravel #57, and some kind of crushed granite or crushed rock.
DIY. While some homeowners are tempted to buy gravel and lay their driveway themselves, this is not a great idea because they require special installation. Professionals make sure it is set up to drain properly and has the right mix of base and top layers.
Home value. A premium gravel driveway can boost home value by improving curb appeal, especially with a nice color and style. It is important to have them professionally installed and maintained for the best home value results.
Old driveway removal. If there is an existing gravel driveway, it is easy enough for professionals to work around and replace the old materials. However, if you have an old concrete or asphalt one, expect to pay around $2 per sq.ft. for removal. This is usually on top of the standard project costs but check with your contractor to confirm.
Retaining walls. Occasionally you may need a retaining wall for this type of project. This is only necessary if it is on a hill or leads to a walkout basement level. Retaining walls stop soil erosion, driveway damage, and collapse.
FAQs
How much does a dump truck load of gravel cost?
A dump truck load of gravel costs $1,350, although it could be as low as $400 or even higher, around $2,000, depending on the type. Always check with your driveway company to confirm if you need a full truck load or if you could use less.
How much does a ton of gravel cost?
The average cost of a load ranges from $10 to $400, depending on which type you choose. Base layers like gravel #3 and #4 are much more affordable than premium top layers like marble chips or Jersey shore gravel.
How much does a ton of gravel cover?
One ton covers 100 sq.ft. with a depth of around 2 inches. Most projects need at least 4 to 6 tons, but it depends on the size and design of the driveway.
How much is driveway gravel per yard?
The average cost is around $50 to $100 per cubic yard installed and spread. These are one of the more affordable options compared to asphalt and cement, so it is a good choice if you are looking to save money but still have a safe, long-lasting driveway.
Is gravel good for driveways?
Gravel makes an attractive and inexpensive driveway but requires a lot of maintenance. While it may not be quite as smooth or luxurious as asphalt or cement, it works well in many different environments. Also, it supports vehicle traffic for decades when taken care of properly. Stones are affordably priced compared to other types of driveways, so you can keep costs down while still protecting your vehicle and property.
How much does pea gravel cost per cubic yard?
Pea gravel is primarily sold per ton, but it is also available at $30 to $90 per cubic yard. It comes in different colors, making these smooth stones popular for enhancing curb appeal, although it requires raking and resurfacing. Costs for materials start at $15 to $25 a cubic yard for base materials and go as high as $75 to $100 a cubic yard for some premium materials.
How much is a truckload of pea gravel?
A ton of pea gravel is sold at $20 to $80 per ton. Trucks hold varying amounts, but it is sold by the ton. With pea gravel, you get small, smooth pebbles for a beautiful driveway.
How long will a gravel driveway last?
When properly maintained, it lasts up to 100 years. Maintenance includes resurfacing by replacing the top layer and regrading to ensure its level and drains properly, which helps with bumps and potholes.
The information provided by our cost guides comes from a great variety of sources. For more information, read our Methodology and sources.