How much does it cost to hire a junk removal service?
Get free estimates from junk removal specialists near you
Junk Removal Service Cost Guide

Junk removal services are typically a one-time service that people choose rather than traditional trash removal or renting a dumpster. It can be helpful for remodeling projects, cleanouts, estates, landscaping, and event clean-up. These services are ideal for disposing of old household items, appliances, and equipment. Some companies also collect construction debris and yard waste to help with those areas, but many do not handle hazardous materials. Junk removal can be a quick-and-easy way to clean up a project or property.
The national average cost for a junk removal service ranges from $150 to $600, with the average person spending about $300 for a full load of junk removal with a single trip or service call. This project's low cost is $75 to remove a piece of furniture. The high cost is $800 for two full truckloads of heavy junk with extra labor.
Junk Removal Cost
Average Cost of Junk Removal Service
National average cost
$300
Average range
$150-$600
Low-end
$75
High-end
$800
Average Cost of Junk Removal by Truckload
It is common for most companies to charge for their service by the truckload. The measurement of "a truckload" varies depending on the truck size, but the industry has fairly standard options for determining rates. The minimum load is about 60 cubic feet, which costs $75 to $125 or between $1.25 and $2.08 a cubic foot, depending on the location and service provider. Many services take single items under this size, but you still pay the minimum truckload fee. The table below shows a list of the common load sizes and their corresponding average costs to understand your project's budget.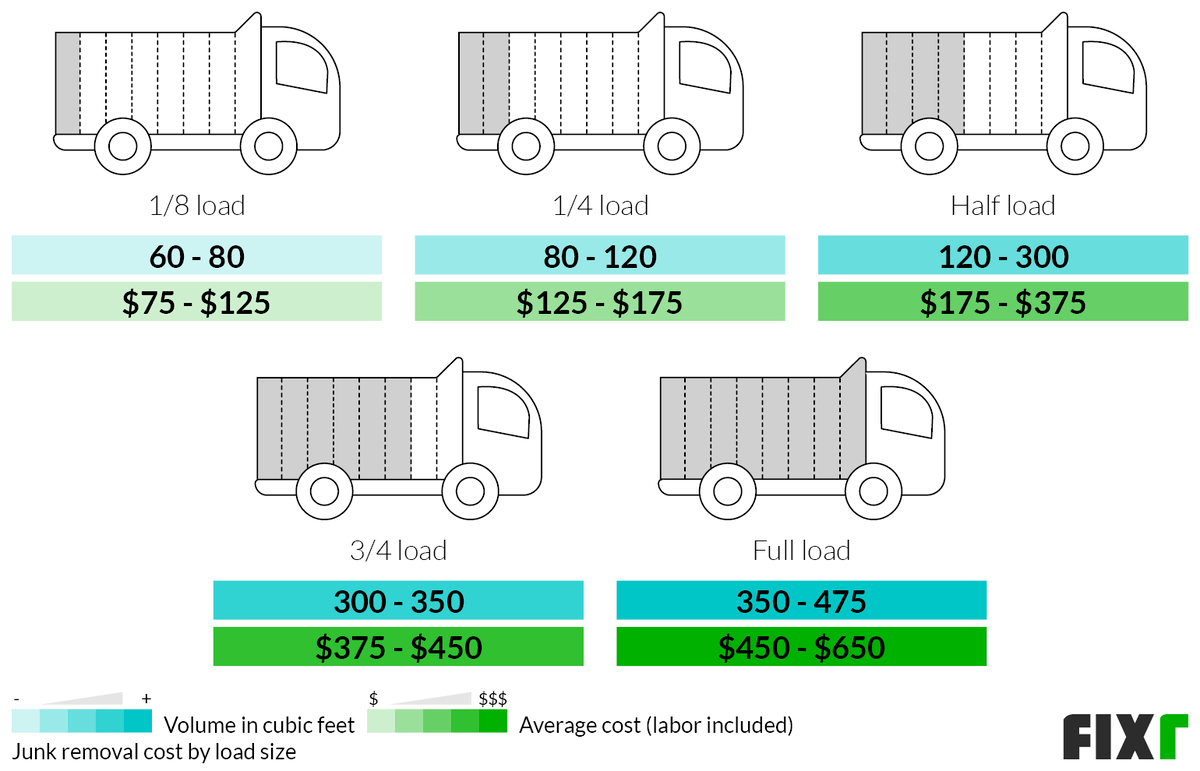 | | | |
| --- | --- | --- |
| Load Size | Volume in Cubic Feet | Average Cost (Labor Included) |
| ⅛ Load | 60 - 80 | $75 - $125 |
| ¼ Load | 80 - 120 | $125 - $175 |
| Half Load | 120 - 300 | $175 - $375 |
| ¾ Load | 300 - 350 | $375 - $450 |
| Full Load | 350 - 475 | $450 - $650 |
Junk Removal Prices by Item
The cost of junk removal varies by the item(s) being picked up, with an average junk removal cost range of $60 to $600. While the company usually charges by the truckload, they often have flat fees for single items. These have minimums that typically conform to the minimum truckload fees and may have special disposal fees. For example, e-waste may have higher rates than furniture of the same size. For quotes, you can email or text pictures of the item(s) that need to be removed, and they tell you the cost or provide an estimate. At other times, the estimate must be given in person. Below are the average costs for items if you are not having multiple pieces picked up at once.
| | |
| --- | --- |
| Category | Average Removal Cost (Labor Included) |
| Tires | $60 - $90 |
| Electronic Waste | $60 - $200 |
| Household Items | $75 - $600 |
| Appliances | $75 - $600 |
Tire Disposal
Typically, junk removal services that come to your home charge an average of $60 to $90 for tire removal as a minimum. This could increase depending on how many tires need to be removed and their condition. Tires also require special disposal considerations. Some areas may require them to be recycled, raising costs. Check with a local junkyard or junk removal service to see the average rates for tire removal if you can drop them off.
Electronic Waste Disposal
The average cost for electronics disposal is $60 to $200. Disposing of electronic waste often comes with costs and considerations. Electronics cannot be thrown in the garbage or tossed out like trash. They must be recycled or disposed of properly, which can incur additional costs. Most junk removal services take e-waste alone or with other junk removal. If you have e-waste as part of your other waste removal, expect higher costs because these rates are more variable. Alternatively, you can check with your city or town to see if they offer free recycling drop-off services for electronics and other hazardous materials. Many do these drop-offs to help residents dispose of dangerous items.
| | |
| --- | --- |
| Item | Average Removal Cost (Labor Included) |
| Printer | $60 - $75 |
| Computer | $70 - $100 |
| TV | $75 - $200 |
Household Items Removal
Household items and furniture removal costs $75 to $600, depending on what you remove. Items can include mattresses and rolled carpeting - provided both are free from mold, bodily fluids, and other hazardous material - and larger items like bookshelves, couches, and pianos. Furniture removal is one of the most common types of junk removal because most trash pickup does not take large items. If you have multiple pieces of furniture picked up, the rate is often lower per piece than if you have a single item picked up at once. Heavy items that require additional labor to lift and move also have higher costs.
| | |
| --- | --- |
| Item | Average Removal Cost (Labor Included) |
| Carpet | $75 - $150 |
| Table | $75 - $150 |
| Mattress | $75 - $150 |
| Bookcase | $75 - $200 |
| Couch | $100 - $200 |
| Entertainment Center | $100 - $300 |
| Piano | $200 - $400 |
| Pool Table | $400 - $600 |
Appliance Removal
The average cost of appliance removal ranges from $75 to $600, depending on the item. Many appliances have higher disposal rates than other items. They often require recycling, special disposal, or a combination, increasing costs. Many appliances can also be large, bulky, or unwieldy, making them harder to remove. Some items like hot tubs may need to be broken down for removal, increasing the service cost. Other items may require additional labor, particularly if they are removed from a second floor or difficult area to maneuver from. For this reason, there can be a wide range of costs associated with some items.
| | |
| --- | --- |
| Item | Average Removal Cost (Labor Included) |
| AC Unit | $75 - $90 |
| Dishwasher | $75 - $150 |
| Washing Machine | $75 - $150 |
| Dryer | $80 - $200 |
| Oven | $80 - $200 |
| Water Heater | $90 - $200 |
| Freezer | $100 - $200 |
| Refrigerator | $100 - $200 |
| Hot Tub | $150 - $600 |
Waste Removal Cost by Type
Most junk removal companies remove waste as part of their services. The only materials they do not remove are hazardous waste, so you need to call a separate company. The costs of other types of waste are based on the amount, how much space it uses in the truck, and local disposal fees. For example, some transfer stations charge additional fees for construction debris disposal. So, while your junk removal service removes and disposes of it for you, this may have a higher rate than yard debris. Below are the average costs to dispose of different waste types.
| | |
| --- | --- |
| Type of Waste | Cost |
| Tree Debris | $75 - $200 |
| Yard Waste | $75 - $500 |
| Construction Debris | $200 - $600 |
Tree Debris Removal
The cost of tree debris removal averages $75 to $200. Most junk removal services remove tree debris. In most cases, they require it to be bagged if the debris is loose. This can include small branches, wood chips from a ground stump, and leaves. Larger branches may not require bagging for removal, but this depends on the company and its services. In many instances, tree debris is grouped with yard debris in what the company takes. However, you need to contact a company that deals with tree removal for large logs or fallen trees rather than junk removal.
Yard Waste Removal
The cost of yard waste removal ranges from $75 to $500. Many junk removal services take bagged yard waste. This includes leaves, branches, and other debris. Junk removal does not take unbagged waste, however. You may need to contract with a yard clean-up service to bag and remove yard waste. Costs for this service range depending on the yard size. Expect fees of between $200 and $500.
Construction Debris Removal
The cost to remove construction debris averages $200 to $600. Most junk removal companies can remove construction debris from your home. This includes leftover construction materials, such as siding, tile, carpet, lumber, and cabinetry. It can also include material from a demolition. The material cannot contain hazardous materials, such as asbestos. Construction debris removal often has higher costs because disposal rates for these materials can be high. Even including construction debris in a larger load of junk removal can increase the rate of the total pickup.
Junk Removal Cost by Company
There are many reputable junk removal companies to choose from. Many areas have small local companies that perform junk removal for specific towns or states. However, there are also much larger companies with services in most states and areas through franchises or national infrastructure. Each service may have different rates, depending on the location. Urban areas typically have higher rates than rural areas, even for the same company. This can lead to a wide range of costs. Contact the company directly for the most accurate pricing. Below are the average costs associated with junk removal from four companies with services in most areas.
| | |
| --- | --- |
| Company | Average Cost |
| College Hunks | $110 - $590 |
| Bagster | $120 - $200 |
| Junk King | $125 - $650 |
| 1-800-Got-Junk? | $129 - $600 |
College Hunks Junk Removal
The cost of College Hunks Junk Removal ranges from $110 to $590. College Hunks is a franchise operation that can be found in most areas. Their costs vary depending on the state or area and labor costs. Costs also vary depending on the type and amount of junk you remove. This company offers many services in addition to junk removal. They also handle moving and labor with the junk removal, such as moving heavy items. These services have different costs.
Bagster
The cost of a Bagster pickup averages $120 to $200. Bagster is a different junk removal service that is more similar to a dumpster than a junk removal company. You purchase a large bag, often at your local home improvement store, fill the bag, and call for a pickup. You are responsible for getting the junk into the bag and making sure the bag is positioned where it can be removed. The truck uses hydraulics to lift the bag, so plenty of space is required.
Junk King
The average cost of having Junk King dispose of your junk ranges from $125 to $650. Junk King is a well-known national brand for junk removal. They offer a wide range of disposal services and truck sizes. Their trucks range from mini to oversized, and you are charged based on the load size. You can have a range of costs depending on how much junk you remove. Their costs include pickup, labor, and disposal fees.
1-800-Got-Junk? Average
The cost of services from 1-800-Got-Junk? ranges from $129 to $600. This is another well-known national junk removal service. They have several truck sizes that can allow you to remove differently sized loads at once. Their trucks may be larger than other companies in many cases so that you can remove more items for a similar cost. Their costs vary by region, removed items, and truck size. They offer several ways to provide estimates to get a detailed cost breakdown before hiring them.
Junk vs Waste vs Trash Removal Cost
There is an overlap between what is considered junk, waste, and trash and what your junk removal service is willing to remove from your home. Trash services refer to garbage and can include recyclables, food waste, and non-recyclable trash. Junk services do not remove these items, but the town can remove them for you in many areas. You may need to hire a trash removal service for weekly pickup in other areas. Some trash pickup services take large items at no cost, some take them at an additional cost, and some do not take them at all.
Junk removal services generally take everything else except hazardous waste. This means they take old appliances, furniture, clutter, e-waste, non-recyclable waste that is not garbage, and construction debris. They do not take old paint, chemicals, or items containing mold or asbestos. These items must be disposed of at your town transfer station on designated days and times. The disposal cost of hazardous waste materials varies depending on the type of hazardous waste you need removed and the amount.
Trash, junk removal, and hazardous waste are handled by three separate entities, so you need to contact three companies if you need to remove all three. Below are the average cost breakdowns for each.
| | |
| --- | --- |
| Service | Average Costs |
| Trash Removal | $0 - $50 |
| Hazardous Waste Removal | $0 - $200 |
| Junk Removal | $150 - $600 |
Junk Removal vs Dumpster Rental Cost
If you have a lot of junk, debris, or other items to remove from your home, you have a few options. In addition to junk removal services, you can also rent a dumpster for a specific time. Both services help clear your home, but they function differently. The service removes the items from your home in junk removal, provided they are bagged or otherwise ready for removal. You do not need to do the heavy lifting, but you need to ensure everything is organized, ready to go, and accessible for the workers.
With a dumpster, you do the work yourself, but you have time to sort through things and remove them. If you are doing a demo or clearing out an old storage room, a dumpster can be a good option for removing everything without stopping and packing it up. However, dumpsters cannot take certain items nor be filled beyond capacity. If you do not follow these rules, you can have higher costs in the end. You are also responsible for hauling heavy items, and you need to make room for the dumpster for up to a week at a time on your property. The two services have overlapping costs, depending on how much you are removing. Below are the average costs for both services.
Additional Considerations and Costs
DIY. While you can physically handle junk removal in some cases, hauling away the debris could present a challenge. Unless you have a proper truck and access to the landfill or other disposal locations, it could be difficult, time-consuming, and expensive. You can consider donations, free junk hauling services, and other options to cut down on the cost of junk removal by having less that needs to be hauled away by a pro.
Permitting. Some cities and areas require permits for those who are having a dumpster dropped off or junk removal service performed. Although most junk removal services are familiar with local laws, check with your city before choosing dumpster rental or junk removal to ensure you get the appropriate permits and pay the necessary fees.
Landfill fees. Junk removal services typically include landfill fees in their service costs. If you are considering getting rid of your junk, remember to call your local landfill and find out how much it costs to drop off your junk. It is often more affordable and easier to let the pros do the work.
Hiring the pros. Consider the costs charged per load and the company's reputation and services. You can choose a company that removes the junk for you or one that may charge less for letting you do the physical labor. Choose the company that offers the disposal you need with a reliable service.
Recycling waste. Many junk removal services can pick up and properly dispose of recyclable materials, including some electronics that can be recycled and repurposed. If this is a service you need, check with your junk removal provider to ensure they offer it.
Insurance. Your junk removal service should have motor vehicle and liability insurance. Make sure their insurance is up to date before hiring them.
FAQs
How much does junk removal usually cost?
Junk removal costs about $150 to $600. The exact amount varies depending on the junk you are removing, the area you live in, and the job size.
What do junk removal companies do with the junk?
This depends on what the material is. Junk removal companies may sell some items for scrap, recycle some items, and take some items to the local transfer station for disposal.
What items can't junk removal companies dispose of?
Junk removal companies do not handle hazardous waste. This includes paint, chemicals, mold, asbestos, and similar items.
The information provided by our cost guides comes from a great variety of sources. For more information, read our Methodology and sources.