How much does it cost to rent a dumpster?
Get free estimates from container and dumpster professionals near you
Dumpster Rental Cost Guide
Updated: December 16, 2022
To provide you with the most accurate and up-to-date cost figures, we gather information from a variety of pricing databases, licensed contractors, and industry experts.
Whether you're doing a home renovation or a full commercial tear down, dumpster rentals are extremely helpful. Companies deliver a dumpster to your location for a weekly fee and pick it up again once you've filled it. It's the most convenient, cost-effective, and safe way to dispose of roofing material, common household items, commercial materials, and large, heavy items. The cost to rent a dumpster depends on the size of the project, whether you need more than one disposal during the project, and if it is for commercial or residential use. Rising gas costs and increasing disposal fees and landfill costs will likely cause dumpster rental services to increase in price through 2023 at a rate of around 1% to 4%, as they have for the past few years. This will be relevant to any trash removal or dumpster service, including residential dumpster rentals.
The national average cost to rent a residential dumpster ranges from $200 to $550 per week. Most homeowners pay around $380 per week for a dumpster rental that holds 10 cubic yards. At the lower end of the spectrum, some people pay as little as $75 per week for a small, 2-cubic-yard dumpster for residential trash use. At the high end, you can pay as much as $900 per week for a residential rental of a 40-cubic-yard roll-off dumpster.
Dumpster Rental Prices
Dumpster Rental Cost
National average cost
$380
Average range
$200-$550
Low-end
$75
High-end
$900
Residential vs Commercial Dumpsters
Most rental companies offer residential and commercial dumpsters. While both types can carry all types of trash, the cost and amount you use may differ based on what you are hauling away. Residential dumpster rentals usually consist of smaller units with lower capacities. For example, while a residential rental may have a weight capacity of 6,000 lbs., a commercial dumpster of the same size could possibly hold up to 20,000 lbs. because it is better constructed for commercial use. If you rent the dumpster yourself, it will typically be a residential rental.
Commercial dumpsters, on the other hand, may be used by companies with higher-than-average trash needs. However, construction companies can also rent them to hold demolition trash, wood, siding, drywall, and other leftover construction items. These items often have higher costs to dispose of than other trash, increasing the price of a commercial dumpster. Commercial dumpsters are more costly but often come with long-term plans or rental periods. The table below shows the average costs of renting a dumpster that measures 10 cubic yards for a single week for residential and commercial use.
| | |
| --- | --- |
| Type | Average Cost |
| Residential | $200 - $550 |
| Commercial | $300 - $1,100 |
Dumpster Rental Prices by Rental Period
Temporary dumpster rental costs depend on the type of project and the amount of time that you'll need the dumpster on location, with costs ranging from $25 per day to $1,000 per month. Even though a dumpster rental cost per day is not usually discounted, your monthly dumpster rental cost typically is. After the cost to rent a dumpster for an initial week, many companies give you a discount on every additional day. This means you may pay $250 for the initial weekly dumpster rental cost but only $5 per day for each day after that initial week.
Weekly rentals are the most common period for renting a dumpster, but most companies offer daily and monthly options. While you might get discounts for longer rentals, renting one for a day is not usually discounted because the drop-off and pick-up process for the company is the same. There are costs associated with it that the company must cover. If you are unsure how long a project will take or prefer to take your time, a weekly or monthly dumpster service might make more sense than a one-day rental. In the table below, you will see a breakdown of each rental period and its related costs.
| | |
| --- | --- |
| Rental Period for 10-Yard Dumpster | Cost |
| Daily | $25 - $80 |
| Weekly | $250 - $400 |
| Monthly | $500 - $1,000 |
Average Cost of Dumpster Rental by Size
You can expect to spend $75 to $900 per week for a dumpster rental based on its size. Smaller dumpsters that hold two yards are generally the least expensive, while 3-yard or 5-yard dumpster rental prices will be a bit higher. The average dumpster rental size for residential use is 10 yards. However, you may need something larger or smaller depending on your project. These price ranges are for roll-off dumpsters, the most commonly used in residential situations. Front-loaders may be at the lower end of these price ranges, but they are not as popular for residential rentals. Specialty dumpsters in these sizes will be at the higher end of the price range when they are needed. The table below shows the most common dumpster rental sizes for residential use and their average costs for a weekly rental.
| | | |
| --- | --- | --- |
| Size | Weight Capacity | Cost per Week |
| 2 Yards | 400 lbs | $75 - $125 |
| 3 Yards | 600 lbs | $100 - $175 |
| 4 Yards | 800 lbs | $125 - $200 |
| 5 Yards | 1,000 lbs | $150 - $225 |
| 6 Yards | 1,200 lbs | $200 - $275 |
| 8 Yards | 1,600 lbs | $225 - $300 |
| 10 Yards | 2,000 lbs | $250 - $400 |
| 20 Yards | 3,000 lbs | $275 - $450 |
| 30 Yards | 4,300 lbs | $300 - $750 |
| 40 Yards | 5,500 lbs | $350 - $900 |
Cost of Dumpster Rental by Type of Dumpster
Different types of dumpsters are available for rental, ranging in price from $75 to $300, based on features, size, and other factors. When choosing dumpster rental for various projects, roll-off dumpsters are the most common type. They are also commonly seen at houses undergoing renovation or major construction. Front-loading dumpsters are the ones you see behind stores and in parking lots that can be locked and have easy access to load the trash. However, they are typically smaller and less common for residential use. Some specialty dumpster options, like bag dumpsters, can be purchased at your local home improvement store. Once you fill the bag, you call for a pickup and pay for that separately. Other specialty dumpsters may include compactors or other features that incur a premium rental rate compared to similarly-sized or larger standard dumpsters. Some specialty dumpsters also have specialty disposal processes and fees, which impact the dumpster rental price. A standard dumpster rental typically goes to the landfill, so it comes at a minimum cost comparatively. The table below shows the most common types of dumpsters for residential rental and their average costs.
| | | |
| --- | --- | --- |
| Type | Common Sizes | Cost per Week |
| Roll-Off | 10 - 20 cubic yards | $75 - $300 |
| Front-Load | 3 - 10 cubic yards | $90 - $300 |
| Specialty | 3 - 15 cubic yards | $180 - $300 |
Dumpster Rental Cost by Brand
Several companies offer dumpster rentals for $200 to $800 per week. Advantages and disadvantages may be noted for using a national rental dumpster company versus a local business. In many cases, you save money by renting with a local brand, but you might experience dumpster shortages during the peak summer season. Using a national brand offers more assurances that your desired dumpster is available, but you might end up paying a little more. We recommend that you shop around national and local businesses before deciding based on convenience, price, and availability. The brands below are examples of larger companies that offer something unique in their services to give homeowners an idea of what to expect in their research.
| | |
| --- | --- |
| Brand | Cost per Week |
| Burrtec | $200 - $400 |
| Recology | $250 - $400 |
| Granger | $250 - $500 |
| Redbox | $300 - $800 |
| Bin There Dump That | $350 - $600 |
| Republic Services | $400 - $550 |
| Waste Management | $450 - $650 |
Burrtec Dumpster Rental
Burrtec offers a few dumpster weekly rental options, ranging in price from about $200 to $400, depending on the size of the container. They have standard commercial dumpsters and plenty of residential roll-off dumpster sizes. The company offers combined services and a host of other waste solutions, including recycling, hazardous waste and electronics disposal, and more. They operate in California and are part of the largest privately-held solid waste provider in the state.
Recology Dumpster Rental
Recology dumpster rental services range from $250 to $400, depending on the container size chosen. Instead of traditional dumpsters, Recology sends recycled debris boxes that come in varying sizes from 2 to 40 cubic yards. The smaller sizes are all-inclusive with pricing. Larger containers may have an additional charge for landfill fees. This company operates in California, Oregon, and across the Pacific Northwest, offering an eco-friendly alternative to a standard dumpster rental.
Granger Dumpster Rental
Granger is another affordable dumpster rental provider that offers a host of different solutions, ranging in price from $250 to $500 per week, depending on the container size, application, and more. They have different rates for commercial and residential services depending on the services requested. There may also be additional landfill fees in some areas, so inquire about that when getting your quote with this company.
Redbox Dumpster Rental
You can expect to pay between $300 and $800 for Redbox services, depending on if you rent the dumpster alone or with the portable toilet. If you need a longer-term solution for larger renovation or construction jobs, Redbox rentals offer a unique solution. Their signature product bundles a 20 or 30 cubic foot dumpster with a portable toilet. The company also has various types you can rent with sizes ranging from 8 cubic yards to 19 cubic yards. Most containers can be delivered and picked up on the same day of contact. Redbox's services are available in a few states. If you are located outside of them, you would need to contact them for a quote.
Bin There Dump That
Bin There Dump That prices range between $350 and $600. It offers dumpster rentals from 4 to 20 cubic feet. They're a good overall solution for most residential projects, even significant, multi-room remodels. Their fees require a minimum commitment of seven days. Their pricing includes delivery within 24 hours of the order, driveway protection service, and driveway sweep-up upon pick up.
Republic Services Dumpster Rental
On average, homeowners pay between $400 and $550 for dumpster rental. Republic Services specializes in traditional dumpster rentals. They offer both residential and commercial services with dumpsters ranging from 10 to 40 cubic feet. Their scheduling process is easy. Homeowners place their orders online by specifying the size they require. Republic Services delivers it within three days unless a later date is specified. Containers are dropped off at any location on the owner's property and can stay until the project is done. Once the dumpster is ready to be picked up, homeowners call Republic Services for pick up within 24 hours.
Waste Management Dumpster Rental
Construction dumpster rental costs and residential prices for Waste Management services range between $450 and $650. The rental cost through Waste Management depends on the size of the container you want to rent and the weight it can carry. The company offers Bagster bags, which are less expensive dumpsters made of fabric. They offer two other solutions for businesses and homes: roll-off construction dumpsters for large-scale job sites and temporary residential roll-off containers for home projects. Scheduling, payment, and customer service all happen online via your Waste Management account, where you schedule delivery and pick-up 24/7.
Variable Rate vs Flat Rate Dumpster Rental
They might sound like completely different methods for renting a dumpster, but variable vs flat-rate dumpster rentals cost you about the same in the long run. However, a few things are different between the two, with the most significant distinction between the two types being predictability.
Flat-rate rentals include a pre-agreed upon weight range, delivery, pick-up, taxes, dump fees, and mileage. All fees are bundled into one flat fee that you know up front. As long as you don't go over the weight limit and adhere to the permitted trash types (i.e., don't include items that are prohibited by landfills such as large, undrained appliances, tires, or large amounts of e-waste), then the price you pay at the end is the same price you were initially quoted.
Variable rates are calculated on a per-item basis (delivery, pick-up, dump fee, mileage, etc.), with the final cost determined by the weight of your filled dumpster. Depending on how much your debris weighs, you could end up paying less or more than with a flat fee. The major difference is that you'll have no idea what your final bill is until you're done with your project and are stuck with paying whatever you're quoted.
Most companies charge a flat rate for their services. However, you can find providers who rent a dumpster for a variable rate or ask a flat rate company to quote a variable price for the container. Typically, flat rate options are more affordable for homeowners, but if you're disposing of items that take up a lot of cubic space, you may be better off with a variable rate.
Indeed, there are multiple costs that have an impact on the final quote, such as the hauling fee, retrieval fee, "exchange" fee, disposal fee, and/or the rental fee. Oftentimes, these multiple fees are attempted to be included in one bulk flat price, however, the variables, such as fuel surcharges and varying disposal weights, will increase these "flat" rates shown throughout the guide.
Dumpster Rental Cost by Location
Depending on where you live, the average dumpster rental cost can vary from $200 to $600 per week for a standard 10-cubic-yard dumpster. Some states have more companies available, which increases competition and usually drives down prices. Other states or those with more rural areas may not have as many services available. Therefore, dumpster rental may be harder to come by and more expensive as a result. The table below shows the average cost to rent a 10-yard dumpster for a week in each state throughout the U.S.
| | |
| --- | --- |
| State | Weekly Rental Cost for a 10-Yard Dumpster |
| Alabama | $300 - $400 |
| Alaska | $300 - $450 |
| Arizona | $250 - $350 |
| Arkansas | $250 - $350 |
| California | $400 - $600 |
| Colorado | $300 - $400 |
| Connecticut | $350 - $550 |
| Delaware | $350 - $450 |
| Florida | $250 - $350 |
| Georgia | $250 - $400 |
| Hawaii | $450 - $600 |
| Idaho | $400 - $500 |
| Illinois | $300 - $450 |
| Indiana | $250 - $500 |
| Iowa | $200 - $450 |
| Kansas | $250 - $400 |
| Kentucky | $300 - $500 |
| Louisiana | $350 - $600 |
| Maine | $350 - $600 |
| Maryland | $400 - $550 |
| Massachusetts | $300 - $400 |
| Michigan | $250 - $450 |
| Minnesota | $300 - $500 |
| Mississippi | $350 - $500 |
| Missouri | $300 - $450 |
| Montana | $350 - $600 |
| Nebraska | $250 - $350 |
| Nevada | $300 - $450 |
| New Hampshire | $450 - $600 |
| New Jersey | $400 - $600 |
| New Mexico | $300 - $500 |
| New York | $250 - $600 |
| North Carolina | $250 - $400 |
| North Dakota | $250 - $400 |
| Ohio | $300 - $600 |
| Oklahoma | $300 - $500 |
| Oregon | $300 - $500 |
| Pennsylvania | $250 - $500 |
| Rhode Island | $400 - $500 |
| South Carolina | $350 - $500 |
| South Dakota | $200 - $400 |
| Tennessee | $300 - $450 |
| Texas | $300 - $450 |
| Utah | $300 - $400 |
| Vermont | $350 - $600 |
| Virginia | $250 - $350 |
| Washington | $300 - $550 |
| West Virginia | $300 - $450 |
| Wisconsin | $350 - $500 |
| Wyoming | $350 - $450 |
Recycling Dumpster Cost by Size
The cost of a recycling dumpster ranges between $150 and $550 per week, depending on the size of the unit. No physical difference exists between recycling and mixed-use (general) dumpsters. Both types come in the same general sizes, and most rental companies offer both recycling and landfill services. The distinguishing difference between the two types is their contents. Recycling dumpsters at the larger end (30- and 40-yard) are generally designed for construction waste that can be recycled (asphalt, concrete, etc.). Common materials deemed appropriate for recyclable dumpster rentals include yard waste, asphalt, recyclable construction waste, and cardboard.
When placing an order, make sure to tell the rental company that you need a recycling dumpster because they cost a little less than mixed-use. To capitalize on these savings, you need to "clean fill" the dumpster, which means you fill it with only one type of recyclable material. When you have clean fill, then the container can be unloaded at the recycling processing plant, which typically charges a cheaper "tipping fee" than landfills. A tipping fee (aka dump fee) is based on the weight difference between an empty dumpster and a filled one. The less expensive tipping fee means that the rental cost to you will be less.
| | |
| --- | --- |
| Size | Cost per Week |
| 5 Cubic Yards | $150 - $200 |
| 10 Cubic Yards | $250 - $400 |
| 20 Cubic Yards | $300 - $420 |
| 30 Cubic Yards | $350 - $500 |
| 40 Cubic Yards | $450 - $550 |
What Size Dumpster Do I Need?
Depending on the size of the roll-off dumpster, you can expect to pay different rental prices, ranging from $150 to $900 per week. As mentioned, roll-off dumpsters are the most common, but you will also find front-load and specialty dumpsters in this price range. At the low end, you can get a 5-yard roll-off dumpster that can hold about a ton of debris. For the high-end cost, you can rent a 40-yard one that can hold 5 to 6 tons of debris for one week. Of course, you have to know how to determine the size dumpster that you need. While many dumpster rental services list their container options, including their sizes and load capacities, that might not mean much if you are not in the trash industry.
A great way to visualize dumpster sizes is to consider a smaller space- a pickup truck load. For example, a 10-yard dumpster can handle about four truckloads of trash. A 20-yard dumpster will take up to eight truckloads. Some companies also help you choose the rental size based on the size of your project. For example, a 10-cubic-yard dumpster can handle small renovations and light cleanup, as well as minor excavation projects. A 20-cubic-yard dumpster is better for furniture removal, waste removal or cleanouts of a house, and moderate land excavation. If you're doing a large-scale cleanup or demolition, you may need a 30- to 40-cubic yard dumpster to handle all of the waste.
Rental companies usually allow a bigger weight limit for each dumpster size so you can throw different content, including household items, yard waste, trash, and construction material. Rates are a flat fee depending on the size of the container. You won't be charged extra unless you exceed the weight limit. Weight limits are location and landfill-specific. Every city/county has its road safety restrictions and landfill weight fees. The best way to ensure that you get the right size roll-off container is to describe your project to the rental company. They can advise you on the ideal dimensions and weight capacity and what that would cost per week. In the table below, you will see the most common sizes, their capacity, and their cost per week.
Dumpster Restrictions
Dumpsters usually have a set weight limit, especially units designed for specific types of debris (like concrete, for instance). If you exceed this weight limit, the company may not be able to haul away the dumpster, and you may have to pay a fine. Municipal road safety policies prohibit vehicles of a certain size from traveling with more than a certain amount of weight. If you fill your 20 cubic yard container with exclusively heavy materials like bricks and rocks, you will be charged fees over $200 because the driver will be unable to transport it to the landfill.
Restrictions are in place regarding the types of debris that can be thrown into dumpsters. For instance, you're not allowed to throw items that are prohibited, such as hazardous material, tires, paint cans, refrigerants, batteries, and other specific items. Acting against this results in a fine for the dumpster provider, running as high as $500. These additional fines and fees will also vary in price depending on where you live. If your state has higher dumpster rental prices, they probably also charge more for overloading and prohibited item fines.
Hazardous Waste Dumpster
Most rental services ban items like lead, asbestos, pesticide, propane tanks, refrigerants, and other hazardous waste. If you want to dispose of these materials, don't throw them in a rented container or you may face fines up to $500, and the materials will be returned to you.
The Environmental Protection Agency (EPA) distinguishes four types of hazardous waste that cannot be disposed of at traditional landfills. The EPA defines these materials as ignitable (flammable), corrosive (eat through their containers), reactive (dangerously react to water or common chemicals), and toxic (poisonous especially if leaked into the groundwater). For the safe disposal of these types of materials, contact your municipal or private waste management company.
Additional Dumpster Fees by Type
Depending on where you live, you will have additional costs and fees for the dumpster rental. These costs include $0.50 for each extra mile and $550 per week for a heavy debris dumpster. Your municipality has different restrictions for transporting large quantities of debris and the types of waste accepted by landfills. When you rent a dumpster, your flat (or variable) fee includes most dumpster fees shown below. Contact your local waste management company for more information on specific fee structures in your area.
It is best to hire a nearby dumpster service, or you could pay remote delivery location fees. These are usually charged by the mile to cover the fuel expenses and truck wear caused by the extra driving. You may also be able to add extra days to your weekly rental for a lower per-day fee than renewing the full rental. Permits, landfill fees, and other charges should be disclosed by the dumpster provider before you agree to use their service. And if you overload a dumpster or need a heavy debris dumpster, you can incur additional charges. In the table below, you will see all these additional fees and their related costs.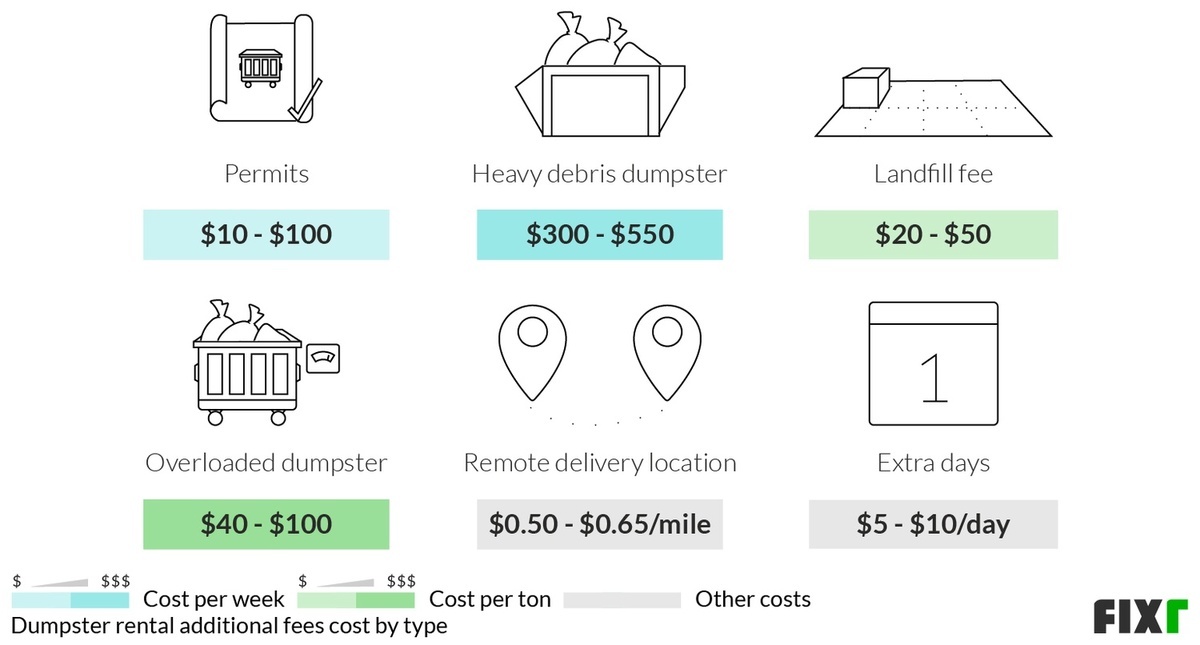 | | |
| --- | --- |
| Fee | Cost |
| Permits | $10 - $100/week |
| Heavy Debris Dumpster | $300 - $550/week |
| Landfill Fee | $20 - $50/ton |
| Overloaded Dumpster | $40 - $100/ton |
| Remote Delivery Location | $0.50 - $0.65/mile |
| Extra Days | $5 - $10/day |
Bagster vs Dumpster Cost
If you want cheap dumpster rental prices, Bagster is an alternative to dumpster rentals that costs about $30 for the bag and $125 to $200 for collection. The Bagster bag is a product offered by Waste Management. The Bagster is portable enough to fold and store but has a weight capacity of 3,300 lbs. It can hold various materials, such as one cubic yard of heavy materials like asphalt and brick or 47 sheets of drywall. The differences between Bagster and dumpster rentals have to do with convenience and the size of the project. Homeowners purchase a Bagster at local home improvement stores, fill it on their own schedule, and reserve a collection date with Waste Management. With a standard dumpster rental, a large metal dumpster will be delivered to the property and removed when it is full or when the homeowner calls for pickup. In the table below, you will see a breakdown of Bagster vs dumpster costs.
| | |
| --- | --- |
| Type | Cost |
| Bagster | $155 - $230 |
| Dumpster | $200 - $550 |
Dumpster Rental vs Junk Removal
Both dumpster rental and junk removal can be a good way to empty your home of debris, old furnishings, and other unwanted items. The primary difference between a dumpster rental and junk removal is the amount of time and energy required by the homeowner. When you rent a dumpster, you (or someone you hire) loads it before collection. On the other hand, junk removal services come to your home or place of business and give you an estimate on the debris you want to be hauled away.
In addition, a dumpster sits at your home in your yard. It gives you time to sort through things and remove them as you see fit. Junk removal tends to happen in one trip, meaning you need your items grouped and ready for removal. A dumpster may make more sense if you need to sort through things, while junk removal is a good way to unload large amounts with little effort quickly. The two services can have overlapping costs, depending on how much you need to remove. Below are the average costs of both services.
| | |
| --- | --- |
| Service | Average Costs |
| Junk Removal | $150 - $600 |
| Dumpster Rental | $200 - $550 |
Enhancement and Improvement Costs
Appliance Disposal
Expect to pay between $15 for a small unit and up to $100 to throw a large household appliance in a dumpster or settle for a variable rate with the company. You can throw most appliances in a dumpster: ovens, washers, and dryers. However, make sure they don't contain hazardous fluids that must be removed before disposal. Electronic appliances and bigger units like refrigerators can't be thrown in the dumpster. You have to pay a refrigerator disposal cost of around $50 to $100 if you want to get rid of it. This is in addition to the dumpster rental cost you are already paying because some appliances require special disposal methods.
Mattress Removal
You can get rid of a mattress for a cost of $40 to $120. There are several options for mattress removal. Some dumpster rental companies will not take mattresses as part of their loads, so you may need to get them removed separately. You can recycle it, hire junk removers, or even schedule a local pickup in some cities. Check with your municipality regarding the regulations of mattress disposal so that you can dispose of it properly and avoid fines or other issues.
Dumpster Enclosure
Dumpster enclosure gate costs range between $1,000 and $3,000. If you are storing your dumpster rental on your property long-term, having a dumpster enclosure gate is a great idea to keep your debris secure from pests and people. Enclosures can keep animals and weather from making a mess of your trash and ensure that anyone looking to "dumpster dive" is deterred from doing so. Depending on where you live, there may be requirements in place for hidden or enclosed dumpsters, so check with your municipality. These enclosures are more common in commercial projects, but they are also available for residential needs. The gates are heavy-duty and made of steel or wood. They open by swinging outwards, allowing easy access for garbage trucks and other vehicles. Different models lock in different ways, but most lock with a padlock and key.
Dumpster and Porta Potty Rental
Renting a dumpster and porta potty together typically costs between $300 and $800 per week. The dumpster and porta potty rental option is considered most suitable for multi-day job sites. This saves you money in the long run because companies generally offer a discounted rate for renting both units at the same time. Dumpster plus portable toilet delivery is guaranteed within 24 hours of your order and stays as long as needed. Your final cost will be impacted by the number of days they remain on-site. On construction sites without working plumbing, this can be an easy way to get both units at a lower cost.
Additional Considerations and Costs
Fees. The fees associated with dumpster rental are ultimately determined by where you live. While most companies charge around the same price for renting, the landfills fees are based on municipal policies about the type of waste that can be accepted (for example mattresses and TV) and the amount that it can accept at one time. Only the rental company that you choose will know how those fees impact your final rental cost.
Availability. The time of the year plays a major role. Fewer dumpsters are available in spring. In winter, you have a greater chance of getting the dumpster sooner and for the dates when you want it.
Alternatives. Many alternatives are available to dumpster rental for disposing of unwanted items. Before you reserve a dumpster, consider if any items can be given to family members, friends, or neighbors to reuse. Household goods, including clothes and small appliances, can be donated to the Salvation Army, Goodwill, or a local thrift shop. Habitat for Humanity accepts exterior building materials, large home appliances, and cabinetry. These options will be less expensive than renting a dumpster.
Estimates. To ensure that you will be able to rent a dumpster on the dates when you need and for the best cost, contact at least three dumpster rental companies.
Permits. Some municipalities require permits before you can have a dumpster delivered to your property. Be sure to ask your dumpster rental provider or call your local regulatory office to check on this, so you do not get fined for violating permit laws.
FAQs
How much does a 10-yard dumpster hold?
A 10-yard dumpster holds around 2 to 3 tons of waste and is enough to throw out junk from an apartment or a small- to medium-sized house. However, if you're throwing materials like brick and concrete, you would need to rent a heavy debris dumpster with a 10-ton weight limit.
How does dumpster pricing work?
The cost of the dumpster depends on its size and type, the type of debris you plan on throwing away, and the length of the rental time.
How big is a 20-yard dumpster?
A 20-yard dumpster is big enough to clean out a medium-sized home and has a load capacity of 3 tons.
What is a roll-off dumpster?
A roll-off dumpster is any dumpster that is literally rolled off a flatbed truck when delivered. Many kinds of roll-off dumpsters are available for residential and commercial use.
How long can you keep a rented dumpster?
You can keep a rented dumpster for as long as you need to finish a job. Most companies rent per week with discounts placed on daily rates once the minimum commitment has been met.
What is the smallest dumpster you can rent?
The smallest metal dumpster you can rent is two cubic feet. However, you can rent a Bagster bag and have it collected by Waste Management for smaller jobs.