How much does it cost to install wainscoting?
Get free estimates from Carpenters near you
Wainscoting Installation Cost Guide
Wainscoting is a type of wall paneling dating back to the 18th century, and it is still popular today. It was used as an extra layer of insulation for the home, but it is more commonly chosen for decorative purposes. It offers a range of benefits, from protection to beauty, and comes in many different materials and styles.
The costs of wainscoting projects average between $3,000 and $4,500. For example, to install wainscoting in a 12 x 12 foot room in a flat-panel material made of solid mahogany, primed, and painted on-site, the average homeowner pays around $3,600 for the finished project. Prices can be much lower or higher. Some simple vinyl beadboard without any decorative molding can be installed for around $1,000. Bamboo raised-panel wainscoting with decorative molding made custom to cover 300 sq.ft. costs around $15,000.
Cost to Add Wainscoting
Price to Install Wainscoting
National Average Cost
$3,600
Average Range
$3,000-$4,500
Low-end
$1,000
High-end
$15,000
What Is Wainscoting?
Wainscoting is a type of wall covering dating back several centuries. It was particularly popular during the Victorian times in Britain. The term "wainscot" derives from an old German word, wagenschot, which translates to "wallboard." In the 18th century, wainscoting was constructed with high-quality oak. Panels made from this oak would be installed to the lower sections of interior walls, designed to insulate the room and make the space appear more ornate and decorative.
Today, homeowners choose wainscoting for decorative appeal, but it has other advantages, such as keeping plaster walls safe from marks and damage. It gives homeowners options in material, style, and color and can be fitted in many rooms.
Wainscoting Cost per Square Foot
The room size and paneling amount you install are the main factors affecting the cost of any wainscoting project. Larger rooms need more paneling, resulting in higher costs. Other factors affect the price, such as materials and panel types. The average price per square foot is around $15 to $20 per square foot installed. The table below shows estimates for wainscoting costs for different room sizes, but the exact costs may differ based on the type you choose:
| | |
| --- | --- |
| Room Size | Average Cost (Installed) |
| 100 sq.ft. | $1,500 - $2,000 |
| 200 sq.ft. | $3,000 - $4,000 |
| 300 sq.ft. | $4,500 - $6,000 |
| 400 sq.ft. | $6,000 - $8,000 |
| 500 sq.ft. | $7,500 - $10,000 |
Wainscoting Cost by Type of Panel
While wainscoting refers to any panel or board applied to the wall, many types are available. Each provides a unique look to a room. Some are better suited to country style and rustic homes, while others offer a more modern and minimalistic aesthetic for contemporary spaces. Depending on the panel type chosen, costs range from $9 to $43. The panel type affects the project's cost. The table below shows some common types, along with average costs.
| | |
| --- | --- |
| Type of Panel | Average Cost per Sq.Ft. (Installed) |
| Flat-Panel | $9 - $12 |
| Beadboard | $9 - $23 |
| Board and Batten | $9 - $23 |
| Shiplap | $9 - $23 |
| Raised-Panel | $12 - $33 |
| Overlay | $12 - $43 |
Flat-Panel
Flat-panel is one of the better options for contemporary homes, costing between $9 and $12 per sq.ft. It is the simplest option. It offers a minimalistic design, with flat panels fitted behind the styles and rails without beveled edges or fancy trim. This type covers up unfinished, damaged, or textured walls. It is similar to raised panel wainscot other than having no raised or shaped panel.
Install Beadboard
Beadboard wainscoting ranges from $9 to $23 per sq.ft. It is more decorative than the basic styles. It is made of tongue-and-groove panels, arranged side by side, with trim along the bottom. It has a rustic, country feel and brings warmth to the home. It is a versatile type made from thin, raised strips of wood that join into a panel. It is commonly used under a chair rail to avoid wall chipping.
Board-and-Batten
Expect to pay between $9 and $23 per sq.ft. of paneling. Board-and-batten paneling, also known as Shaker, is similar to flat-panel, with vertical boards covering seams. These vertical boards are called battens and allow it to be installed in squares or rectangles. This type is often used in churches, country homes, and other informal areas. The boards vary in size to add additional visual appeal.
Shiplap
Shiplap wainscot paneling ranges from $9 to $23 per sq.ft. Shiplap wainscot paneling is made up of rows of horizontally stacked boards, offering a rustic or cabin-like feel to the home. It is commonly used outside of cabins and cottages, but adding it inside makes for an interesting feature. Shiplap wainscoting has a simple style but can easily brighten up a room. It adds depth and dimension to any room in a home to create a unique space that shows off a homeowner's personality.
Install Raised Panel Wainscoting
The cost for raised panel wainscoting is about $12 to $33 per sq.ft. It is one of the most traditional variants. For this type, backboards are installed first, and then the panels are applied on top, giving them a raised, 3D look, enhanced by the addition of decorative baseboard trim. Most will be about 30 to 40 inches high but can also be adapted for higher ceilings by adding a center rail between two distinct rows of panels.
Overlay
Overlay wainscoting is also one of the most expensive types, costing between $12 and $43 per sq.ft. It is quite similar to raised-panel wainscoting. Overlay comes with an additional board across the center, adding more decoration and detail to the design. A solid wood overlay sits between the stiles and rails of the panel for a recessed area. With more depth and detail, this type works for all sorts of styles.
Wainscoting Price by Material
Wainscoting is available in many materials and styles. These materials offer different looks and finishes for your wall, and the prices vary greatly. Some materials like plywood are relatively cheap, while solid wood offerings cost more. Prices, depending on the material, range from $6 to $66 per sq.ft. The table below shows common materials, complete with average costs for each.
| | |
| --- | --- |
| Type of Material | Average Cost per Sq.Ft. (Installed) |
| Vinyl | $6 - $10 |
| Plastic | $6 - $10 |
| Wood | $8 - $66 |
| Plywood | $9 - $20 |
| MDF | $9 - $20 |
| Stone Veneer | $12 - $28 |
| Ceramic Tile | $12 - $28 |
Vinyl
Vinyl appeals to small budgets because it is the cheapest option, costing $6 to $10 per sq.ft. Vinyl can be found in various styles, colors, and finishes, designed to imitate other materials. Vinyl is a good choice in areas with a large amount of moisture, which can cause damage to wood. It is commonly used in areas like kitchens and bathrooms.
Plastic
The average price range for plastic wainscoting is $6 to $10 per sq.ft. This material is cheap and simple. Plastic wainscoting kits can be purchased easily. Plastic is a relatively lightweight material, fitting on your walls around the home. This type adds style and texture to any room and can be purchased in many colors. You can choose from beveled or straight edges, depending on your preference.
Wood
Wood wainscoting is a popular traditional option available in many styles. Depending on the type of wood, the cost to wainscot a room ranges from $8 to $66 per sq.ft. Wood offers a warm, welcoming feel and fits with other textures in a space. This material is durable, hard to damage, and even offers some noise insulation.
| | |
| --- | --- |
| Type of Wood | Average Cost per Sq.Ft. (Installed) |
| Cedar | $8 - $16 |
| Fir | $10 - $18 |
| Pine | $10 - $18 |
| Redwood | $10 - $18 |
| Reclaimed Wood | $10 - $66 |
| Oak | $12 - $20 |
| Maple | $12 - $20 |
| Cherry | $12 - $20 |
| Bamboo | $24 - $36 |
| Walnut | $25 - $33 |
| Mahogany | $25 - $35 |
| Teak | $25 - $35 |
| Ipe | $26 - $40 |
Cedar
For cedar wainscoting, prices start at $8 to $16 per sq.ft. As wainscoting, cedar is durable, resistant, and aesthetically pleasing. It has an oil that repels pests which offers a sweet and woody scent. Since several types of cedar exist, homeowners can choose a color and style of this wood that perfectly fits their home. It is best known for resisting decay and avoiding rot for 40 years or longer.
Fir
Another inexpensive material is fir, which is $10 to $18 per sq.ft. Fir paneling has a warm and rustic look that fits well in contemporary homes. It is tightly knotted with a fine grain and a reddish-brown hue, making it a favorite for many homeowners. It's highly durable compared to many other types.
Pine
Pine wainscoting runs from $10 to $18 per sq.ft. This wood is one of the most commonly used around the globe. It is a softwood that grows densely and quickly with a light color. This is another of the most inexpensive types of wood and will often be used for painted or stained wainscoting in various rooms in a home.
Redwood
Basic redwood wainscoting ranges from $10 to $18 per sq.ft. While it is often used for trim outside, it is also a popular choice for interior wainscoting in foyers and mudrooms. Redwood comes in a vibrant hue that becomes darker as time passes. This wood is relatively resistant to moisture but should be protected through the use of a stain, paint, or redwood oil.
Reclaimed Wood
Reclaimed wood wainscoting is about $10 to $66 per sq.ft. This gorgeous material can be quite inexpensive depending on the wood chosen. It can offer a touch of rustic charm to a space that highlights the age of the wood. Since the wood is older, it is typically strong and long-lasting. It will have a more developed color that is brought out over time.
Oak
Oak is a hard, durable wood that looks striking and costs between $12 and $20 per sq.ft. Oak was one of the most popular materials in the 18th century when wainscoting first became popular around the United Kingdom and Europe. It is a durable and long-lasting wood with an attractive grain that is fairly water-resistant. It stains and polishes well but can be heavier than other types of wood.
Maple
Maple wood wainscoting costs between $12 and $20 per sq.ft. Maple is another beautiful solid wood option you can choose for your project, popular for its intricate grain patterns. Maple can be stained in different shades and colors to blend in with the aesthetics of your home. In its natural form, it is light and has a smooth grain with high durability. It darkens over time due to exposure to oxygen and light.
Cherry
Cherry is slightly more expensive than some woods, ranging from $12 to $20 per sq.ft. Cherry is one of the most popular woods for wainscoting. Dark and rich in color, it works well in elegant, refined spaces and lends an air of sophistication and style to living rooms, offices, and bedrooms. It is considered strong, timeless, and elegant with abstract patterns in the grain. It is one of the softer versions of hardwood, similar to walnut.
Bamboo
Ranging from $24 to $36 per sq.ft., bamboo is an excellent choice for wainscoting. Bamboo is a highly durable wood that offers a polished, finished look in a home. It is available in various styles that look like maple or more exotic like tigerwood. It is known for its strength and provides the appearance of more expensive hardwoods for a less expensive price. While bamboo is categorized as wood, it is actually grass. Many locations will label it as a hardwood.
Walnut
Walnut wood for wainscoting ranges from $25 to $33 per sq.ft. Most of the wood from walnut trees ranges from light to dark brown with a bold hue. It has an open grain with interesting patterns, making it popular for use in wainscoting. In addition to use with panels and trim, walnut is also used for cabinetry, gunstocks, flooring, and furniture.
Mahogany
Mahogany costs about $25 to $35 per sq.ft. One of the characteristics that makes mahogany so popular is its color, which blends browns and reds. It has a consistent grain and color and is strong, with fewer knots than most other types of wood used for wainscoting. This is a valuable species of wood that is considered vulnerable by the Union of Conservation of Nature.
Teak
Another of the most expensive woods is teak, which is $25 to $35 per sq.ft. This is a hardwood from the tropics that comes from a deciduous tree. It is often considered one of the best woods for wainscoting and other building purposes. It resists moisture and has a unique look that adds to the list of reasons that people choose it for their homes. Authentic teak wood comes from Southeast Asia.
Ipe
Ipe is priced at about $26 to $40 per sq.ft. This wood is grown in Brazilian rainforests and is known for being strong and hard. It is commonly used for indoor and outdoor applications, including wainscoting and various types of trim. Ipe is very long-lasting and resists fire, mold, moisture, and pests. It can be left natural or stained and offers a rich and luxurious color.
Plywood
The costs for plywood range from $9 to $20 per sq.ft. Plywood is another popular material. It looks and feels like wood without costing as much as true solid wood alternatives like maple or oak. This type is environmentally friendly as a biodegradable, renewable resource. It is a great alternative to other types of wood for those on a budget.
MDF
MDF is strong and durable, easy to install, and costs between $9 and $20 per sq.ft. Like plywood, MDF is a relatively affordable option for those who like the idea of having wooden wainscoting but do not want to pay the higher prices. The wainscoting will not expand and contract as much as solid wood and remains tight at the joints with proper glue. The stiles and rails can be joined to create a better hold that lasts.
Stone Veneer
Stone veneer wainscoting typically costs between $12 and $28 per sq.ft. Stone veneer is one of the more unique options for wainscoting projects. It is a special type of veneer designed to imitate the look of stone and can be purchased in many colors and styles, bringing a little bit of the outdoors inside. Compared to natural stone, it is easier to find, simpler to cut, and is more lightweight. It is available in various styles, colors, and types of stone.
Ceramic Tile
The costs for ceramic tile wainscoting range between $12 and $28 per sq.ft. You can even make wainscoting with ceramic tiles. This can be a beautiful option, especially in rooms like the bathroom. But the installation process can be a little longer and more costly because each tile needs to be positioned correctly, one by one. This type can be used to cover dated bathroom tiles. It has a modern yet elegant look that fits well in many rooms.
Labor Cost to Install Wainscoting
Many contractors charge an hourly rate of $80 to $100 to install the material. Others install wainscoting for $2 to $3 per sq.ft. A solid wood wainscot with many moldings takes longer and costs more to install than the same amount of a flat-panel wainscot with no moldings. More difficult material may take longer or have a higher hourly rate. Materials that are easier to work with may take less time or command a lower hourly rate. The type and material impacts the cost and method of installation. Carpenters or handymen can install wainscoting, and it normally costs about $90 per hour.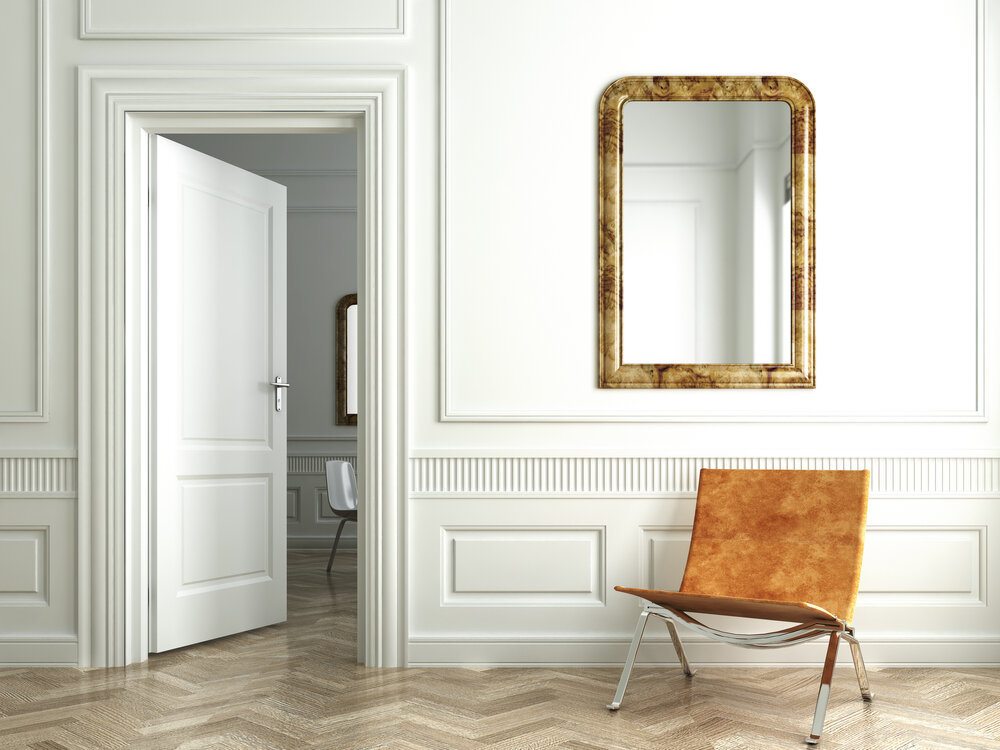 Cost to Install Custom Wainscoting
Some homeowners are happy with the prefabricated wainscoting available on the market, but others want to make their homes more unique. If there's no traditional wainscoting available that fits your needs, there is an option of bringing in a carpenter to make custom wainscoting. This will be more expensive and take several days to create. Usually, custom options are made to fit an odd-shaped room or angle. The cost to install custom wainscoting varies based on the material used and the intricacy of the design. However, usually, the cost of the wainscoting itself doubles the cost of a prefab one. For example, if you choose to install beadboard wainscoting, which costs around $9 to $23 per linear foot, you will pay $18 to $46 per sq.ft. if you need to make it custom. The cost of creating the wainscoting adds $1,000 to $3,000 to the labor cost.
Wainscoting Dining Room Cost
Wainscoting is common in several rooms of the home, including the dining room. It creates a more elegant and luxurious feel than standard plan walls. It brings out a lot of detail in the walls and makes the room feel warmer while retaining a formal style. The price to install wainscoting in a dining room depends on the size of the room and the material used for the paneling. For a 200 sq.ft. room, the price for installation of prefabricated wainscoting ranges from about $3,000 to $4,000.
Pros and Cons
Wainscoting has been around for decades and has many positive reasons to install it. It is, first and foremost, a way to protect your walls. While today's drywall is less fragile than old plaster was, wainscot is usually easier to clean and maintain. Fingerprints, scuffs, and children's drawings are easier to get off of wainscot than walls.
With the many styles available, wainscot can also enhance a room's appearance and determine the interior design. Raised panels give a room a formal style, while beadboard creates a cottage look.
Wainscot is an expensive way to cover your walls, making it difficult to change the décor over time. If the wainscot is installed at the wrong height, it can throw off the room's proportions. Some materials may also not be durable in high-traffic areas, such as bathrooms and mudrooms, leading to frequent repair.
How to Clean Wainscoting
Over time, it is easy for dust and dirt to build up on wainscot panels and wall surfaces, especially when those panels have little crevices and nooks. Wainscoting needs to be cleaned regularly.
Fortunately, wainscot is considered fairly low-maintenance. When properly primed and painted or stained, it is usually easier to clean than the walls themselves. Wainscots are often given a high-gloss finish designed to wipe clean easily, protecting the walls from scuffs and other issues.
Wainscot with ample moldings may need to be dusted more frequently than flat wainscoting. Otherwise, most wainscot is easy to clean with a soft cloth, soap, and water, but the precise way you clean it depends on your materials.
Plastic and vinyl can be wiped clean easily with a cloth, while wooden panels may require the use of specialized wood-cleaning products. Typically, a microfiber cloth should be enough to gather up most dust and debris. You can even run your vacuum over the panels with a brush attachment on the hose.
For tougher stains, use a damp cloth with warm soapy water, or try out a simple homemade cleaning solution by blending two parts vinegar with one part water. Only use these liquid cleaners on sealed or painted woods because unsealed and unfinished woods may absorb the liquids and become even dirtier.
One-Piece vs Panel Wainscoting
While most wainscoting is created as a series of panels, one-piece wainscoting also exists. The benefit of a one-piece configuration is that there is no need for inner panel components, rails, and stiles. This can prevent the contraction and expansion of traditional panels, leading to cracking paint. One-piece wainscoting comes in all the iterations as traditional wainscoting, such as overlay, beadboard, raised panel, and board and batten. However, panel wainscoting is more common, and homeowners will have additional choices when selecting it. It can be found in many home improvement stores for convenience.
Wainscoting vs Paneling Cost
When working to protect an area of the home or add visual appeal to a wall, wainscoting and paneling are two popular options. Wainscoting is one type of decorative paneling available for homes. Paneling can be placed from the ceiling to the floor or on the ceiling itself. Wainscoting is usually relegated to the bottom half or two-thirds of the space. Wainscoting will often include molding at the top to stand out from the wall. Paneling costs about $10 to $15 per sq.ft. Wainscoting ranges from $15 to $20 on average per sq.ft.
| | |
| --- | --- |
| Type | Cost per Sq.Ft. (Installed) |
| Paneling | $10 - $15 |
| Wainscoting | $15 - $20 |
Enhancement and Improvement Costs
Paint Wainscoting
Wainscot panels are available primed and ready to be painted or already painted and ready for installation. If you choose to purchase primed panels, you can paint them yourself or have them professionally painted at $2 to $5 per sq.ft. Staining wainscoting is slightly more expensive at around $3 to $6 per sq.ft.
Install Beadboard Ceiling
You can also consider applying wood panels to your ceilings. Beadboard paneling can look especially attractive on ceilings, providing a country cabin or seaside cottage feel while preserving heat in the room. This does not count as wainscoting since that term only applies to walls, but it is the same principle and is installed similarly. Expect to pay at least $1,000 to $2,000 for beadboard paneling installed on your ceiling.
Install Tongue and Groove Ceiling
Another option for your ceiling is tongue and groove. This is when single planks of wood are placed along the ceiling, one after another, resulting in a clean look that works equally well in traditional and contemporary homes. This technique provides a similar final look to a beadboard ceiling, but the installation process is different. It can also be a little cheaper, with minimum costs of around $288 to $432 when using basic materials like MDF in a room that measures 12 feet by 12 feet. The price can rise substantially if you use solid woods.​
Additional Considerations and Costs
Wainscot paneling colors. In most cases, it is best to contrast your wainscoting with the wall. For a bold wall, choose a white panel. For white or cream walls, choose a bright color or wood stain for the paneling.
Location. Many homeowners choose to install wainscoting in high-use areas to help keep them clean, such as mudrooms, children's rooms, hallways, and dens.
Home value. While wainscoting itself does not add much to the home's value, it increases the appeal and may make homes easier to sell.
FAQs
How much does it cost to put up wainscoting?
The average cost to install wainscoting in a 12 x 12 foot room is around $3,600.
What is the proper height for wainscoting?
Wainscoting should take up roughly ⅔ of the wall.
Can you install wainscoting over drywall?
Yes, it is possible to install wainscoting on drywall. Adding it increases visual interest in any room of the home. In addition to being aesthetically pleasing, it also adds an extra level of protection to the bottom half of the walls.
Does wainscoting make a room look bigger or smaller?
In most cases, adding wainscoting makes a room appear slightly smaller. However, that varies based on the color and height of the wainscoting. The higher it is, the smaller the room may appear. Darker wainscoting also has more effect on making a room appear small. To make a room appear larger, the best option is to use short wainscoting in light hues.
Does wainscoting have to match trim?
It can, but it does not have to. For example, you could paint the baseboards and wainscot panels but add a stain to the door and window trim. But you can also choose to make everything match. It all comes down to the feelings you want to evoke from the room.
When should you not use wainscoting?
Wainscoting is meant to create a decorative flair to the walls and prevent the walls from being damaged. As such, it may not be needed in all rooms. However, it all comes down to personal taste. Some of the most common places for wainscoting include foyers, dining rooms, and mudrooms. Putting it in every room can be overwhelming if the space is not meant to be formal.
Can you use wainscoting on a ceiling?
While ceilings are often overlooked, wainscoting can be used on them. It can add more depth and dimension to a room. Any wainscoting that would otherwise be used on a wall can be used on a ceiling. However, it is most common to use panels in a repeating panel to cover the entire ceiling, such as with beadboard.
The information provided by our cost guides comes from a great variety of sources. For more information, read our Methodology and sources.