How much does it cost to remove wallpaper?
Get free estimates from wallpaper specialists near you
Wallpaper Removal Cost Guide

Sure, the wallpaper in your home may have been super stylish 20 years ago, but it is time for it to go. Whether you just purchased a new home that has wallpaper, are redecorating, or if it is in bad shape, removing wallpaper can help you update your home.
There are several methods for removing wallpaper. The cost will depend on the amount of wallpaper, the method used, type of wall that is underneath, and what the plans are for the wall after the wallpaper is removed. The average cost to remove wallpaper ranges between $650-$950, with the average homeowner paying $740 for removing wallpaper from a 10x8x8-foot room, including some repair work. This is done on plaster walls that only need a few holes filled after removal.
Wallpaper Removal Prices
Wallpaper Removal Cost
National Average Cost
$740
Average Range
$650-$950
Minimum Cost
$250
Maximum Cost
$1,518
Wallpaper Removal Cost per Square Foot
There are many factors that go into the price of removing wallpaper. If it is traditional wallpaper applied to plaster walls, it will be less expensive than vinyl coated wallpaper applied over drywall. Vaulted ceilings and difficult to reach places will land on the higher end of the cost or even go beyond. On average, the price to remove wallpaper ranges from $0.75 to $2 or more per square foot. Expect an additional equipment/material fee of about $50 to $75 to be added to that cost.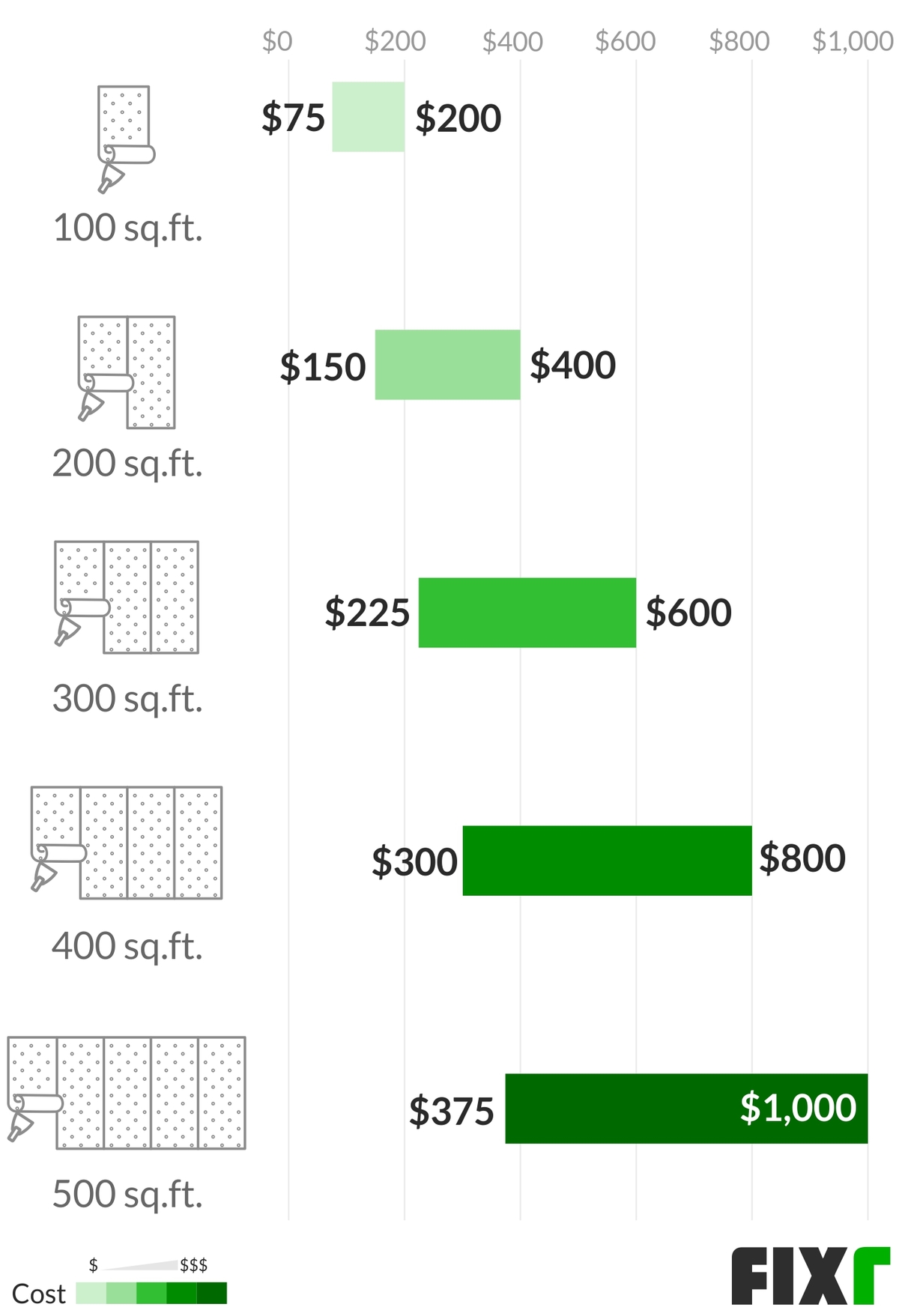 | | |
| --- | --- |
| Square Foot Measurement | Cost |
| 100 sq.ft. | $75-$200 |
| 200 sq.ft. | $150-$400 |
| 300 sq.ft. | $225-$600 |
| 400 sq.ft. | $300-$800 |
| 500 sq.ft. | $375-$1,000 |
Wallpaper Removal Cost per Room
Rooms in a house come in different shapes and sizes. There could also be other conditions present that affect the cost to remove outdated wallpaper. These can include vaulted ceilings, appliances, built-in furniture, etc. Also, keep in mind that some rooms may only have wallpaper on one or two walls. Doorways, windows, tub surrounds, and closet openings can be subtracted to get actual wall square footage. Prices will vary accordingly:

| | | |
| --- | --- | --- |
| Type of Room | Wall Square Footage | Price to Remove Wallpaper |
| Foyer | 117 sq.ft. | $90-$235 |
| Bathroom | 170 sq.ft. | $130-$340 |
| Attic | 249 sq.ft. | $190-$500 |
| Bedroom | 303 sq.ft. | $230-$610 |
| Kitchen | 385 sq.ft. | $290-$770 |
| Living Room | 451 sq.ft. | $340-$900 |
| Basement | 643 sq.ft. | $485-$1,290 |
Foyer
The foyer used to be a popular place for wallpaper. If there are built in shoe or coat racks, doors, and windows, there could be less square footage, but difficult items to work around can also increase the cost. Vaulted ceilings or staircases can also increase the cost. Expect to pay between $90 and $235 for wallpaper removal for a 6' by 6' entryway with door square footage subtracted.
Bathroom
A bathroom is full of moisture, so it is important to check for mold behind wallpaper. If mold is found, remediation will need to occur. Bathtubs and toilets may also need to be removed, increasing the cost. The cost of wallpaper removal in a 7' by 9' bathroom with door and tub surround square footage subtracted should be between $130 and $340.
Attic
An attic may be difficult to reach and have a variety of angles to work around. This can affect the cost. Expect wallpaper removal in a 7' by 10' attic with two windows subtracted to be between $190 and $500.
Bedroom
A bedroom is normally pretty straightforward as long as all furniture can be moved away from the walls. The cost of wallpaper removal in a 12' by 12' bedroom with one door, two windows, and closet opening subtracted should be between $230 and $610.
Kitchen
A kitchen can turn out to be another tricky area for wallpaper removal. Appliances can get in the way and mold is a possibility. Expect the cost for a 12' by 14' kitchen with one door and one window subtracted to be between $290 and $770. Keep in mind that if wallpaper runs behind cabinetry, there will be an extra cost to remove and reinstall cabinetry.
Living Room
The living room is another relatively straightforward room, unless furniture cannot be moved or if there are vaulted ceilings. The cost for wallpaper removal of a 14'x18' living room with one door and two large windows subtracted should run between $340 and $900.
Basement
The size of a basement can vary widely, as can the amount of doors, windows, and other features. Expect the cost for removing wallpaper in a 24'x24' basement with two doorways and four small windows subtracted to be between $485 and $1,290.
Wallpaper Removal Prices by Removal Method
There are different techniques used to remove wallpaper. The wallpaper removal technique may be chosen based on the type of wallpaper or wall, or simply be a favorite method of the company hired to do the job. Different supplies and equipment are needed for each method and prices differ as well.
| | |
| --- | --- |
| Wallpaper Removal Method | Price per sq.ft. |
| Stripping | $0.75-$1.50 |
| Scraping | $1-$2 |
| Steaming | $1-$2 |
Stripping Wallpaper
Stripping wallpaper is the most inexpensive option. This method uses a chemical stripper to loosen the wallpaper. The wallpaper can then be scraped off. Wallpaper stripper is inexpensive, costing about $9 for a 12'x24' area. The cost to strip wallpaper should be between $0.75 and $1.50 per square foot.
Scraping Wallpaper
Soaking and scraping wallpaper is more labor intensive. This method involves scoring the wallpaper, or making small holes so that the liquid can penetrate the wallpaper to loosen it. Once the wallpaper is loose, it can be scraped off. Expect to pay between $1 and $2 per square foot for this method.
Steaming Wallpaper
The process to steam wallpaper is similar to soaking and scraping, but instead of using a liquid agent, a steamer is used to heat the glue. Expect to pay between $1 and $2 to steam wallpaper, with an additional equipment charge of $30 to $50.
Average Cost to Remove Wallpaper by Type of Wallpaper
There are several different types of wallpaper that could be installed in a home. Strippable wallpaper refers to the new style of peel and stick wallpaper, porous wallpaper is traditional wallpaper, and nonporous refers to vinyl coated wallpaper. The more porous the wallpaper, the easier to remove.
| | |
| --- | --- |
| Type of Wallpaper | Cost per sq.ft. to Remove |
| Strippable | $0.75-$1.50 |
| Porous | $1-$2 |
| Nonporous | $1.50-$2.50 |
Strippable Wallpaper Removal
The easiest type of wallpaper to remove is strippable. This refers to the newer peel-and-stick wallpaper. In many instances, heat can be applied to loosen the glue and the paper can be peeled or scraped away. In tougher cases, wallpaper strippers may be needed. The cost for removal should be between $0.75 and $1.50 per sq. ft.
Porous Wallpaper Removal
The second easiest is porous wallpaper. This is the traditional type of wallpaper and absorbs liquids easily. Cost for removal should be around $1-$2 per sq. ft.
Nonporous Wallpaper Removal
The toughest type of wallpaper to remove is nonporous. This refers to a wallpaper that has been vinyl coated. It needs to be scored to allow the moisture to penetrate the wallpaper. Cost for removal will be between $1.50 and $2.50 per sq.ft.
Price to Remove Wallpaper by Type of Wall
Plaster walls are more common in older homes and they actually make wallpaper removal easier. Drywall and sheetrock are more common in modern homes and can make wallpaper removal more difficult and more costly. Prices to remove wallpaper indicated below include labor costs.
| | |
| --- | --- |
| Type of Wall | Cost per sq.ft. |
| Plaster | $0.75-$2 |
| Drywall (sheetrock) | $1-$2 |
Wallpaper Removal from Plaster
Stripping wallpaper from plaster walls, which are more common in older homes, is easier than drywall. Strippable or porous wallpaper should only cost about $0.75 to $1.00 per square foot for removal. Nonporous wallpaper will cost more like $1.50 to $2 per square foot for removing wallpaper from plasterboard walls.
Wallpaper Removal from Drywall
Removing old wallpaper from drywall is more difficult because the wallpaper can become bonded to the top layer of drywall. Removing wallpaper from sheetrock, which is simply a brand of drywall, is more costly and is likely to require more wall repair. Expect costs to range from $1 to $2 or more for stripping wallpaper from sheetrock.
Labor Cost to Remove Wallpaper
Removing wallpaper can be difficult and can take a long time. Professionals have the knowledge, experience, and proper equipment to remove wallpaper quickly and do a thorough job. There are several ways that professionals may charge for labor.
The professional wallpaper removal cost may be rolled into a simple square foot price, some may base it on how many rolls of wallpaper cover the area, or by the expected number of hours. Keep in mind that working in difficult areas, such as on ladders because of vaulted ceilings, or cramped spaces like an attic, may add to the cost.
Conditions such as multiple layers of wallpaper, very strong adhesive, or working on an unfavorable wall material such as drywall may also add to the cost. It is best to get an upfront quote instead of agreeing to pay by the hour, as this will make it difficult to budget. It normally takes one to two days to remove wallpaper. An hourly rate is generally between $40 to $55. This may fluctuate from state to state, with the cost being higher in areas with a higher cost of living.
Wallpaper Replacement Cost
Removing wallpaper and installing new is also an option instead of painting. The cost to install new wallpaper is very similar to removing wallpaper, usually ranging from $1 to $2 per square foot plus supplies and materials. Expect the project to remove wallpaper and replace it to range from $1.75 to $5 per square foot plus supplies and materials. A roll of wallpaper usually sells for $25 to $50 per roll. A common roll of wallpaper covers 22 feet.
Cost to Remove Wallpaper and Paint a Room
Once wallpaper is removed, the walls will be bare and need a new covering. The choice to remove wallpaper then paint is the most common. Hiring the same professional for stripping wallpaper and painting can save money by wrapping everything into one project. On average, the cost to hire someone to paint a room runs between $2 and $4 per square foot. Since removing wallpaper runs from $0.75 to $2 per square foot, this makes the total cost between $2.75 and $6 per sq.ft. If the wall needs to be repaired and texture applied, expect to add another $1.50 to $3 per square foot. The need to add texture is more likely when hiring someone to remove wallpaper and paint drywall. Below are expected costs for both removing wallpaper and painting a room.
Foyer (6'x6') $320 to $700
Bathroom (7'x9') $430 to $1,020
Attic (7'x10') $760 to $1,810
Bedroom (12'x12') $834 to $1,820
Kitchen (12'x14') $1,060 to $2,310
Living Room (14'x18') $1,24 to $2,710
Basement (24'x24') $1,770 and $4,250
Cost Factors to Have Wallpaper Removed
Type. The easier the wallpaper is to remove, the less expensive the project. Strippable and porous are the easiest to remove and should be more in the $0.75 to $1 per square foot range. Non porous, including vinyl, acrylic, and woodchip wallpaper are all more difficult to remove and will likely cost $1.50 to $2.50 per square foot to remove.
Age. Older wallpaper does not always have stronger adhesive, but it can be very strongly adhered to the wall. The more strongly adhered the wallpaper is, the more costly to remove.
Layers of wallpaper. If there are several layers of wallpaper present, it will take more work to remove. Oftentimes, multiple layers require both steaming and soaking to remove.
Height of walls or presence of stairwells. Vaulted ceilings and working in stairwells will add an extra cost. This is because ladders or scaffolding will need to be used, adding extra time. The unique angles in these spaces could also cause the need for extra scraping.
Type of walls. Wallpaper can be removed more easily from plaster walls than drywall. This is because wallpaper bonds firmly with the outer surface of drywall, making damage more prevalent. Plaster is less likely to become damaged because it has not bonded as firmly.
Damage to underlying walls/wall condition. The project will cost more if there is damage to the walls when removing wallpaper. This damage will need to be fixed by filling holes, sanding, and possibly texturing. This is more likely to occur with drywall.
Paint on wallpaper. If wallpaper has been painted over, especially with an oil based paint, it will be more difficult and time consuming to remove. This will make the project more costly.
Moving furniture, appliances, and other objects. If the wallpaper runs behind bathtubs, cabinets, appliances, or large pieces of furniture, they will need to be moved to remove it. This will incur an extra cost, likely by the hour at $40 to $55 per hour.
Enhancement and Improvement Costs
Skimming Walls after Removing Wallpaper
If the walls are very pitted and damaged after wallpaper removal, it may not be practical to fill each individual hole. Instead, a skim coat, made of a thinned joint compound, can be applied to the entire wall to make it smooth. The cost to apply a skim coat should range from $0.75 to $1.50 per square foot, including labor and materials.
Additional Considerations and Costs
Permits and licenses. Permits should not be needed for this project, however it is important to ask your chosen contractor for credentials, including a business license, liability insurance, and a contractor's licence if applicable in your state.
DIY. This project can be done DIY at the cost of materials only. Keep in mind that removing wallpaper is a time consuming, and often frustrating process. Professionals have the proper experience and equipment to make the process faster and smoother.
FAQs
How to remove wallpaper that has been painted over?
Wallpaper that has been painted over will need to be scored, treated with wallpaper stripper, and then preferably steamed. After it is steamed, the wallpaper can be scraped off.
Do painters remove wallpaper?
Yes, most painting companies offer wallpaper removal, with the cost ranging from $.75 to $2 per sq.ft.
Is it easy to take off wallpaper?
Some types of wallpaper are easier to remove than others. For instance, strippable and porous wallpaper are the easiest and nonporous varieties are the most difficult.
What is best for removing wallpaper?
Wallpaper stripper and steamers are the most common methods. For hard to remove wallpaper, both may be used after scoring the wallpaper.
What is the easiest way to remove old wallpaper?
The easiest way to ensure success in removing old wallpaper is first scoring the wallpaper, then applying stripper, and finally using a steamer.
Is it easier to remove wallpaper or replace drywall?
In some cases, it is easier to remove and replace drywall instead of removing wallpaper. This is decided on a case by case basis and is worth chatting with your contractor about. The cost to remove and replace drywall is generally between $4 and $5 per sq.ft.
The information provided by our cost guides comes from a great variety of sources. For more information, read our Methodology and sources.