Living rooms are functional spaces frequently used to entertain friends and family. With more people beginning to receive guests again after the last few years, now is a good time to update living room designs with a fresh new color. Painting a living room is a quick and affordable way to update the space without any invasive renovations or furniture replacements.
While last year's popular living room colors were primarily green and other earth-tones, this year's colors are going in other directions. While green is still popular, it's bolder, more vibrant colors that people are reaching for, as well as more neutral shades. With the pandemic winding down and the economy feeling more uncertain, many people may be choosing to brighten up their homes to bring a little positivity into their lives and welcome guests once again.
We've listed below the top 7 color trends for living rooms in 2023. Take a look to see what fresh new shades may be the future of forthcoming living rooms.
1. Peacock Blue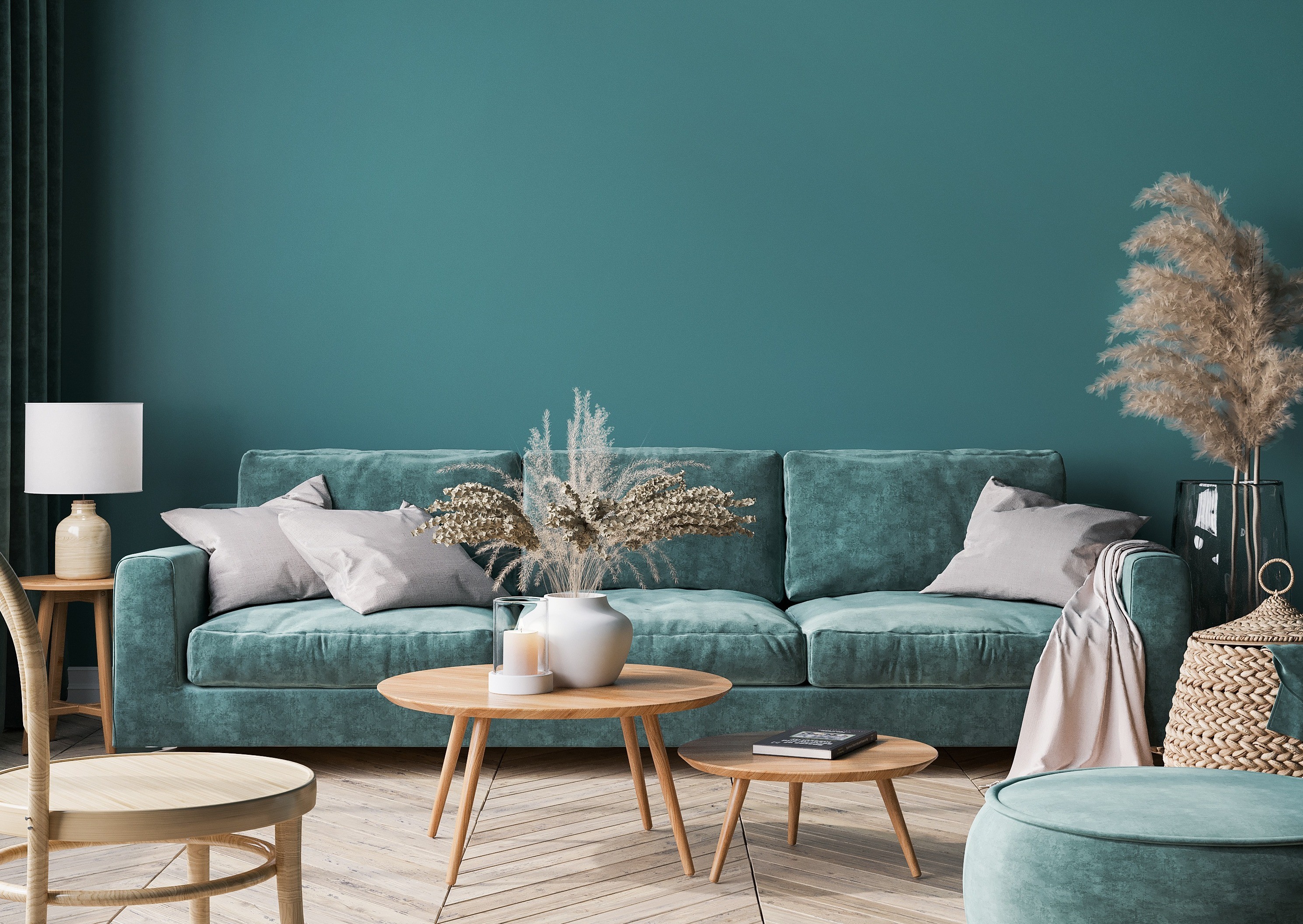 Both green and blue shades will be popular this year, and peacock blue is the perfect balance between the two shades. This vibrant color is being seen in both light and dark hues, and is versatile enough to work with many different decors. Use it as an accent wall with a crisp white room to add some color, or use it all over for a bold, yet sophisticated update. This color is being hailed as the 'new navy', and a similar shade - Vining Ivy - has already been selected as one of the colors of the year for 2023 by influential color brands such as PPG and Glidden.
Colors like this can be used in a variety of ways. The color itself is cool-toned and can help create a calming effect, but in darker hues it's also bold and a little energizing - perfect for creating a living room designed for entertaining.
2. Green Tones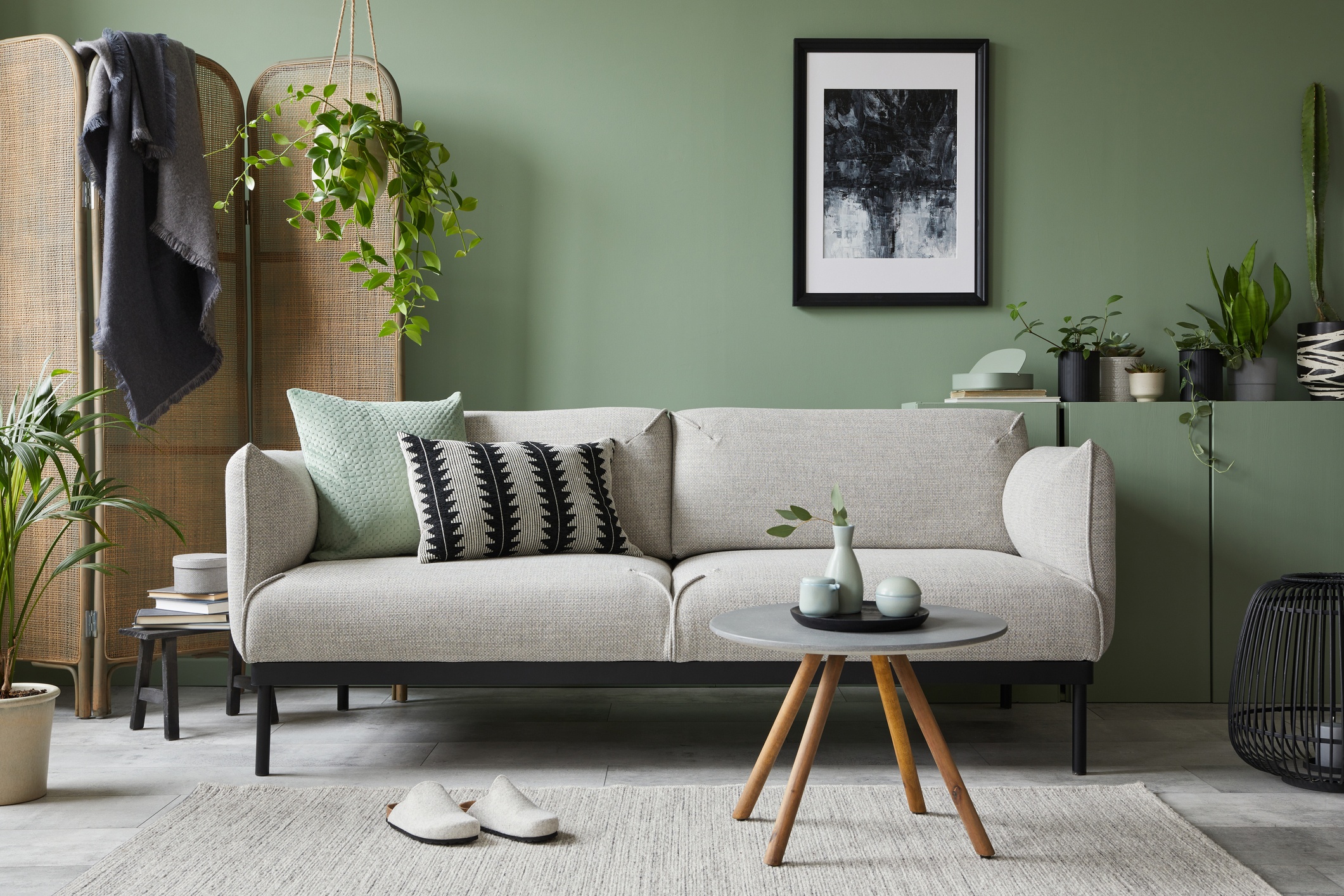 Several shades of green were selected last year as colors of the year, and "green tones will continue from 2022 into 2023" according to Megan Pisano from Megan Pisano Design. However, the greens being introduced for 2023 are a little brighter and bolder in hue. While softer greens are still popular, deep, bold and vibrant greens are associated with growth and renewal - something that a lot of people may be resonating with right now.

If committing to painting the whole living room bold green is too much, consider a crisp white or soft neutral for most walls, and indulge in a bold green accent wall. Nevertheless, it's hard to go wrong by sticking to some softer shades as well; green is one of those colors that can work beautifully in most spaces, and according to creative director Reya Duenas from Reya Duenas Design, "light green tones feel soothing and relaxing in the living room". So if bold hues aren't the right fit, a lighter shade may still do the trick, while inspiring many of the same feelings.
3. Light Taupe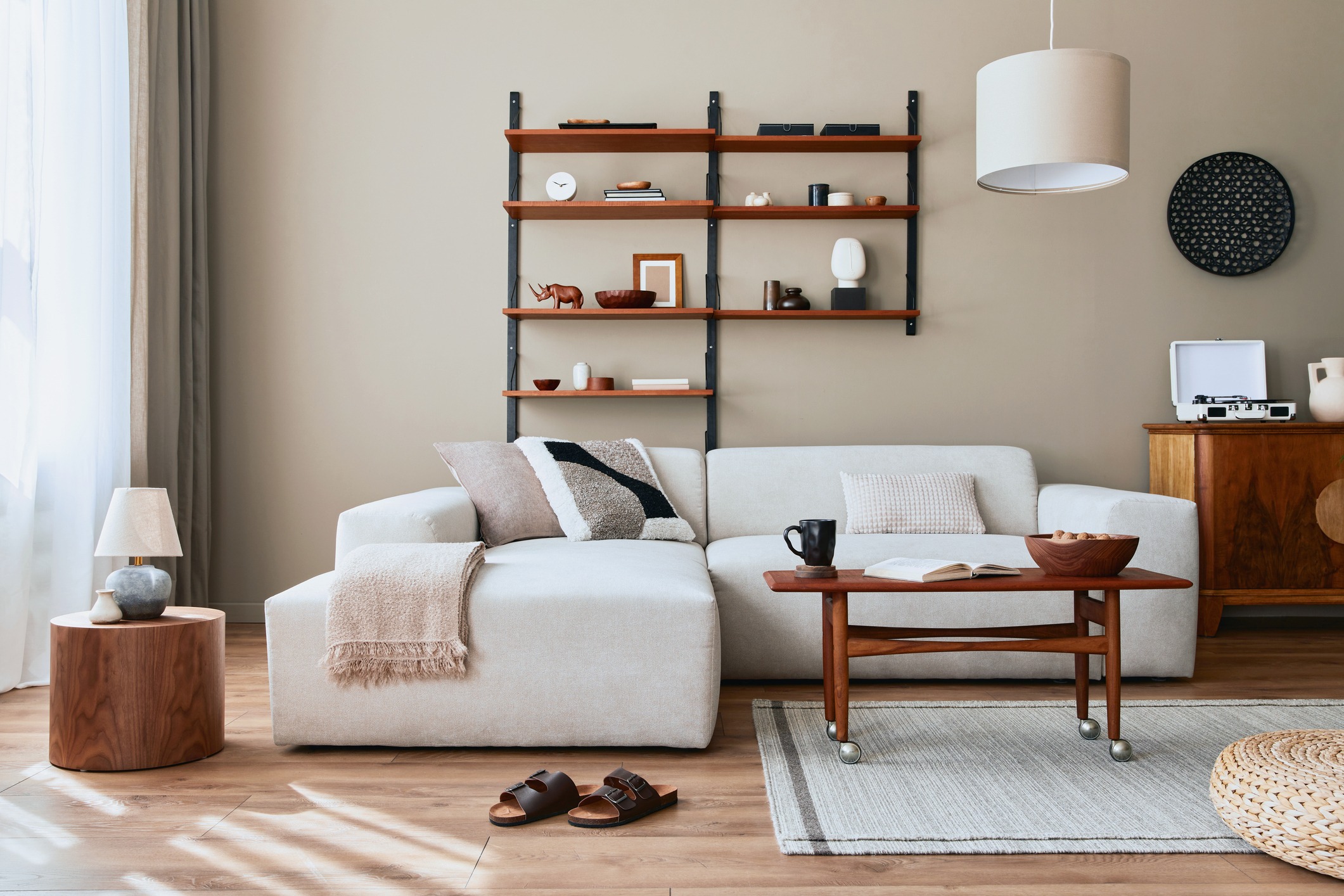 Neutral colors of all kinds are popular for home interiors in general, and living rooms are no exception. For those that are tired of beige and white, though, taupe may be a nice change of pace. This is a warmer color than beige, with more depth to it. It works well with other popular colors including plum, many shades of green, and peacock blue. If neutrals are preferred for the living room, light shades of taupe will capture a fresher, more on trend look for the space.
What's more, Duenas states that light taupe is a "neutral color that lends itself to layering with additional colors and textures. It can go bold with strong, dark accessories or be kept light and airy when paired with natural fabrics like cottons, jute and sisal". The warmth of this color can help create a more inviting atmosphere for the living room, while matching with other color trends such as soft pastels or darker wood-toned hues. Use it over the entirety of the room, or splash out on a small accent wall in a brighter hue.
4. Yellow Ochre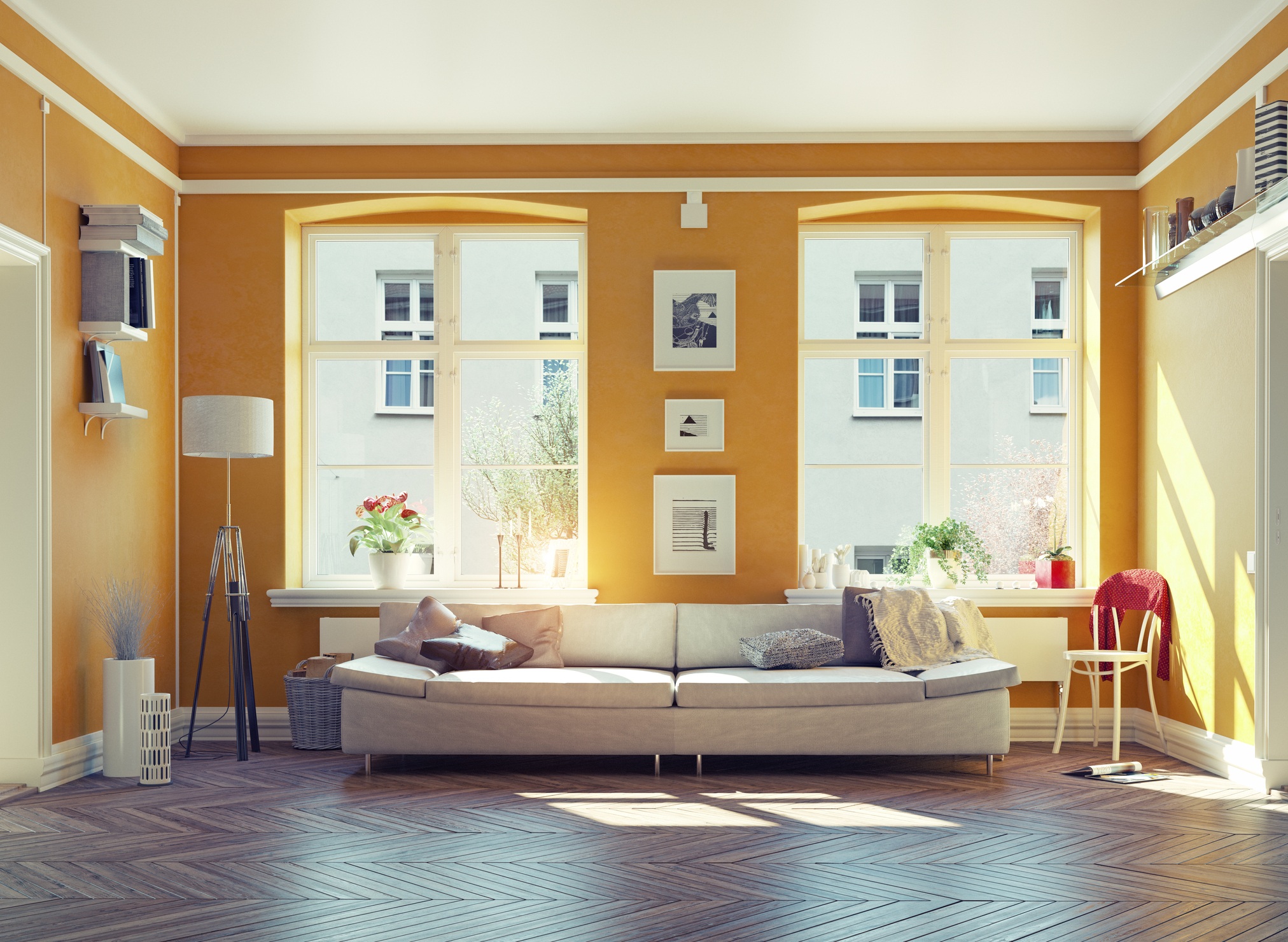 Shades of rich, golden yellow like ochre are also predicted to be found in many living rooms this coming year. This shade is deep, rich, warm, and inviting. The key is to make sure the shades are more golden than yellow, so the color does not overpower the room.
Cream in particular is also a very popular color for 2023; it pairs beautifully with ochre, lightening the space so it doesn't feel too overwhelming. Consider either an accent wall of ocher, or use it on the ceiling to create a soft, warm glow throughout the entire room.
5. Plum and Maroon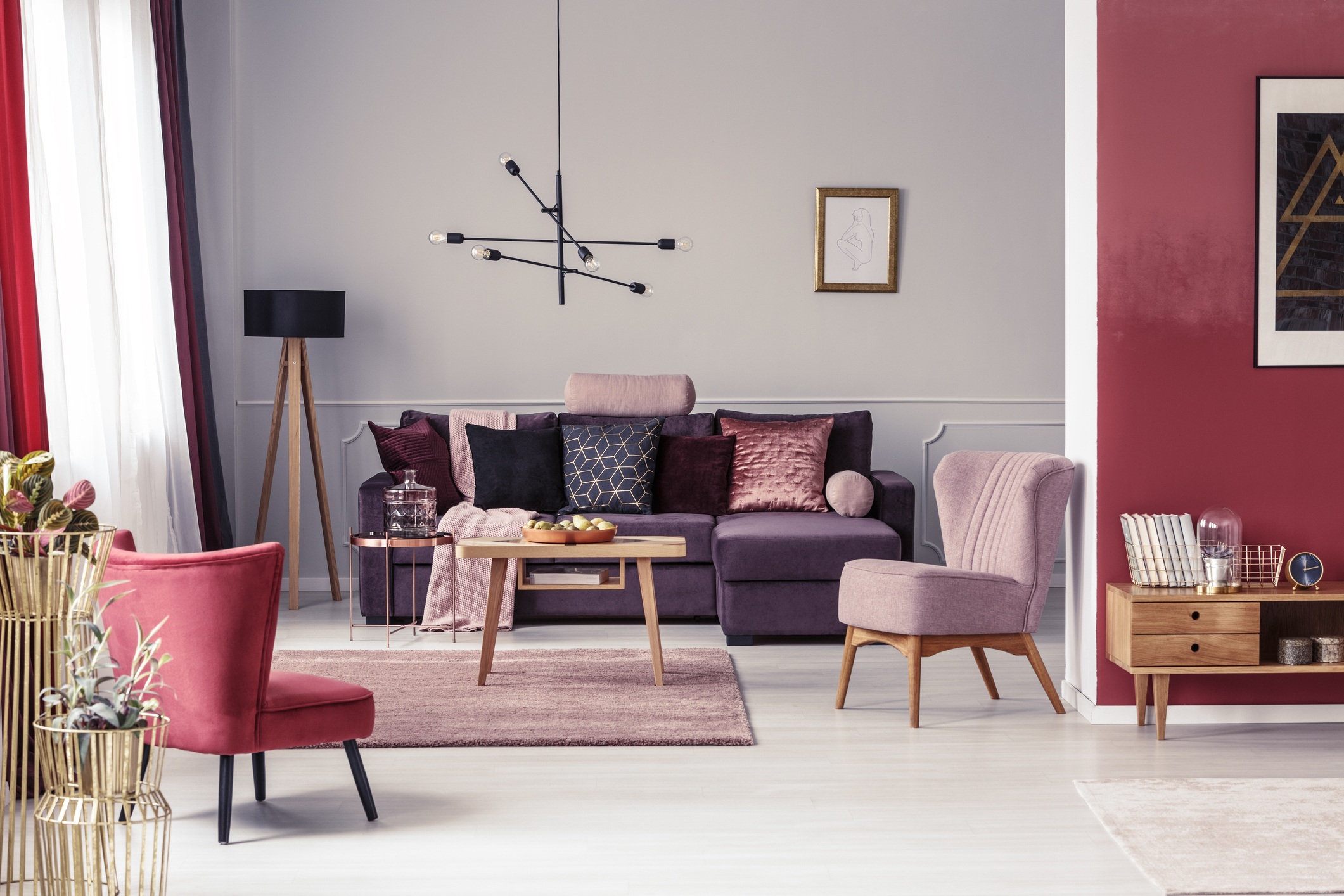 Another deep, rich color that is showing up in living rooms in 2023 is plum. This dark, red/purple shade brings a sense of elegance to any room. Dark shades and jewel-toned hues are making a lot of headway right now, as Pisano states: "I can see these colors slowly coming into 2023, maybe even further into 2024. They may seem 'scary' but I believe they will be very popular in the years to come." People want warmth and depth in their rooms, as well as something a little deeper and bolder. Plum and hues such as maroon or dark mauve can really hit this mark.
To keep these darker colors from really overpowering the space, it's best to keep them to accent walls unless the living room is very large or has very high ceilings. In larger spaces, a dark tone like this could help balance the room out and make it feel cozier, but it could feel oppressive in small rooms. These deep tones can also pair beautifully with dusty pinks - another popular color this year. Just make sure that the undertone of both colors matches to avoid clashing within the space.
6. Cream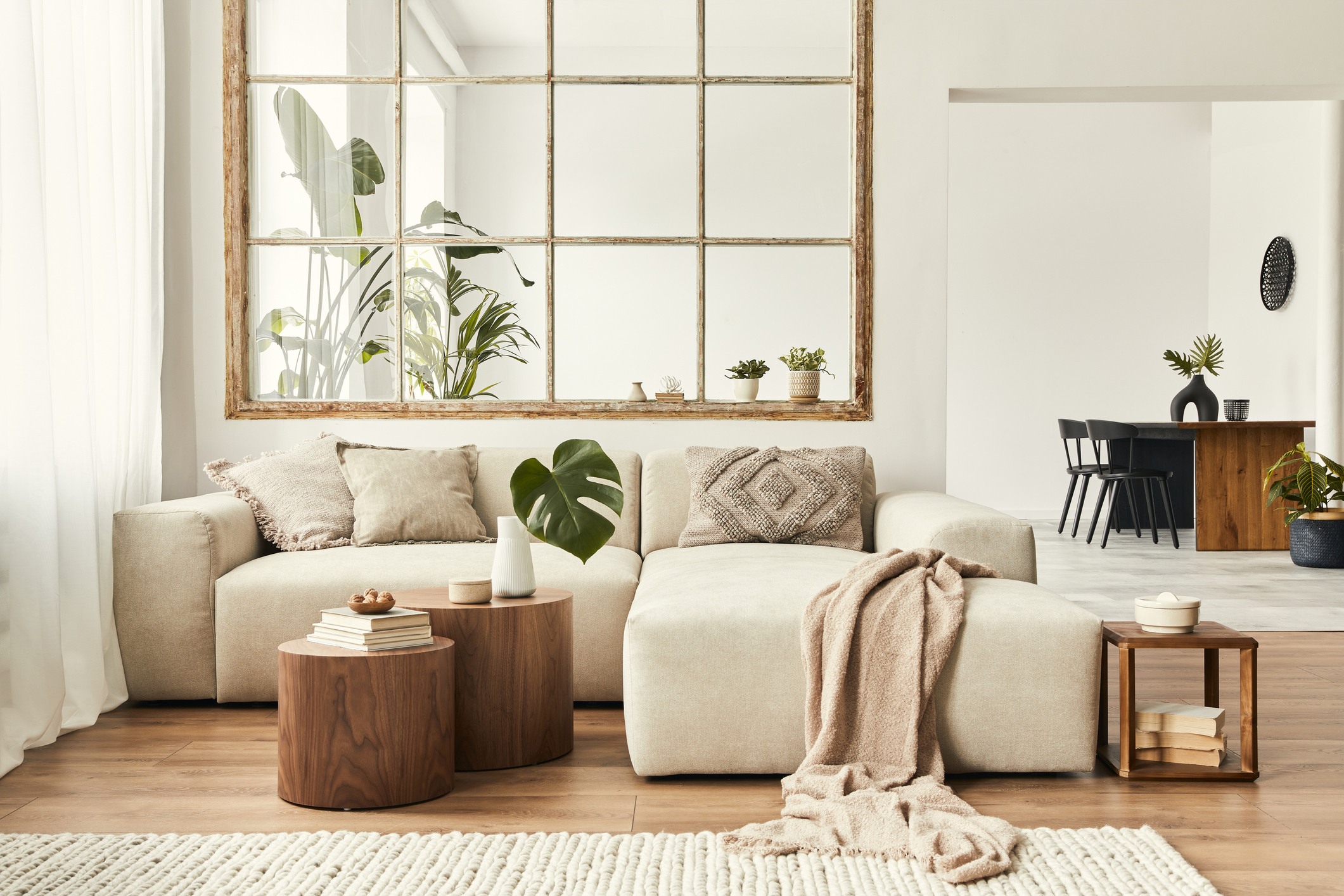 Cream is a light, classic selection for any living room. It's fresh, clean, and has a little more warmth to it than white. Cream can pair beautifully with several popular bold hues this year as well, including shades of green, taupe and ochre. The key to using cream is to keep it very light and airy - just slightly warmer than white for a soothing mood. If what's desired is a calm, and peaceful living room, cream makes an excellent choice.
While it's different from the bolder hues that many people are choosing, there is also a case to make for these lighter shades as well. With a background of cream, it's possible to add accent colors throughout the room in many other hues. If committing to a bold accent wall is too much, a cream living room will still allow for the introduction of colors through throw pillows, furniture and other accessories.
7. Dusty Pinks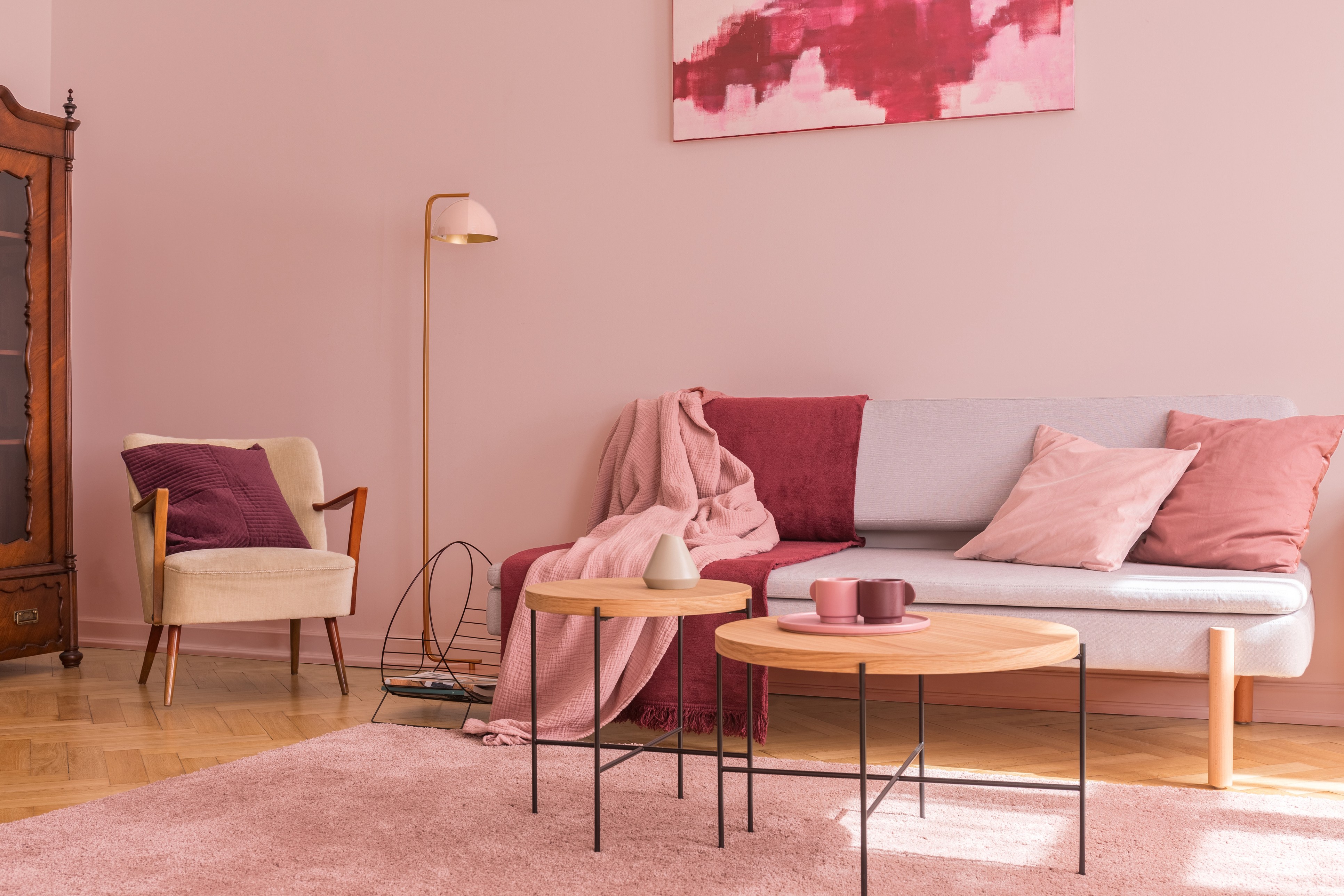 Light, sophisticated, and very soft pinks are also showing up in more living rooms today. These tones have a slightly whimsical feel to them, that can lift the mood of anyone in the room. They're also very flattering to the complexion. Look for shades of pale, dusty pink, pastel salmon, and very light mauve.
Some of these colors can be easily paired with bolder hues of maroon or plum to create a rich, two-toned look for the room. Or, for just hinting at color, go with the very palest blush pink on the walls or ceiling to add warmth and interest to the living room. This color can also be paired with some lighter shades of pink with cream for a very soft and rich ambiance that works beautifully well with darker floors or furnishings.
Liven Up Your Living Room in 2023
While the color trends for living rooms in 2023 can range from bold and deep hues to light and warm ones, one thing they have in common is a sense of invitation and energy. Whether the intent is going bold with color, or just creating a soft welcoming space, these hues can help meet those goals with ease. Warmth, depth, and sophistication are definitely trends to watch out for in the next year.