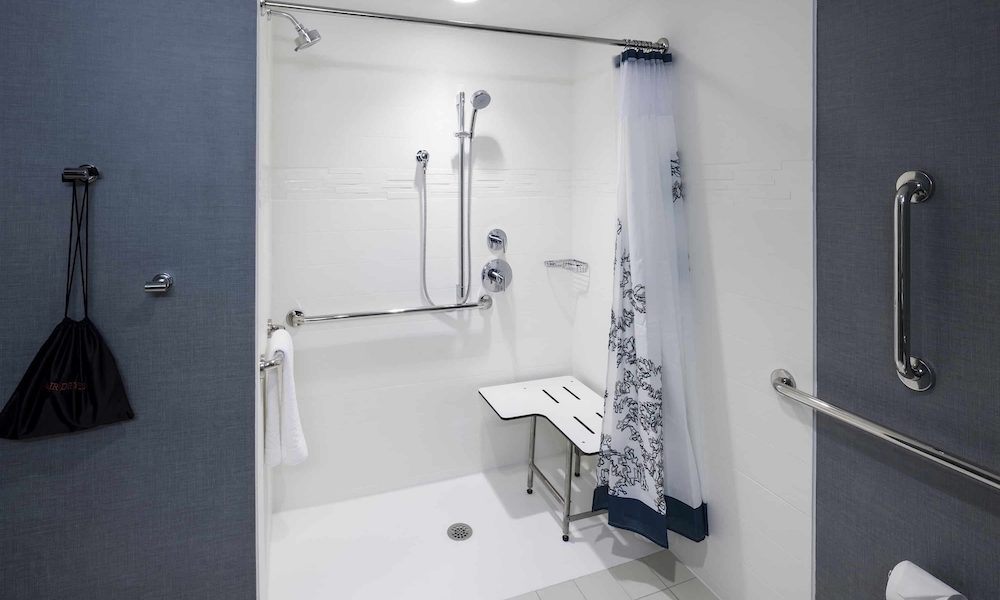 Image source: Sunrise Specialty
Primarily designed for seniors and people with limited mobility, roll-in showers look like ordinary shower stalls but typically feature several grab bars and a barrier-free design. This curbless universal design is wheelchair accessible and usually includes amenities like a shower chair or foldable bench seat, soap dishes, handheld shower heads, and a trench drain which helps with any excess water due to the open shower area.
If you're interested in installing a roll-in shower, we've rounded up everything you need to know.
On this page
Benefits of roll-in showers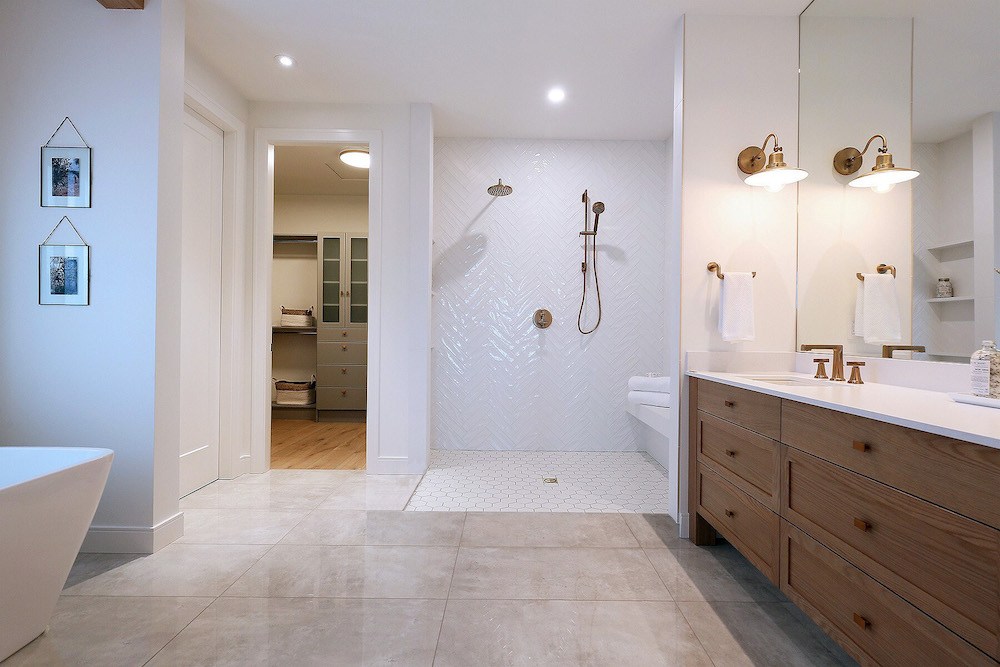 Image source: Gambrick
Roll-in showers offer plenty of benefits while remaining a stylish addition to your bathroom. Let's take a look at some of the top reasons a roll-in shower might be right for you.
Accessibility
The biggest advantage of roll-in showers is their handicap accessibility. Thanks to their barrier-free shower design with no curbs to walk over, this handicap-accessible shower provides safe and easy access, grab bars, seats, and space.
Less maintenance
Since most roll-in showers are made with fiberglass or acrylic materials, they won't retain as much water as typical shower tiles do, lowering the risk of mold. This makes it easier to clean as well as a healthier, low-maintenance option for your family.
Space
Thanks to its open bathroom design, these accessible roll-in showers feature more space than traditional shower enclosures. The extra space allows for features like grab bars and a shower seat.
ADA requirements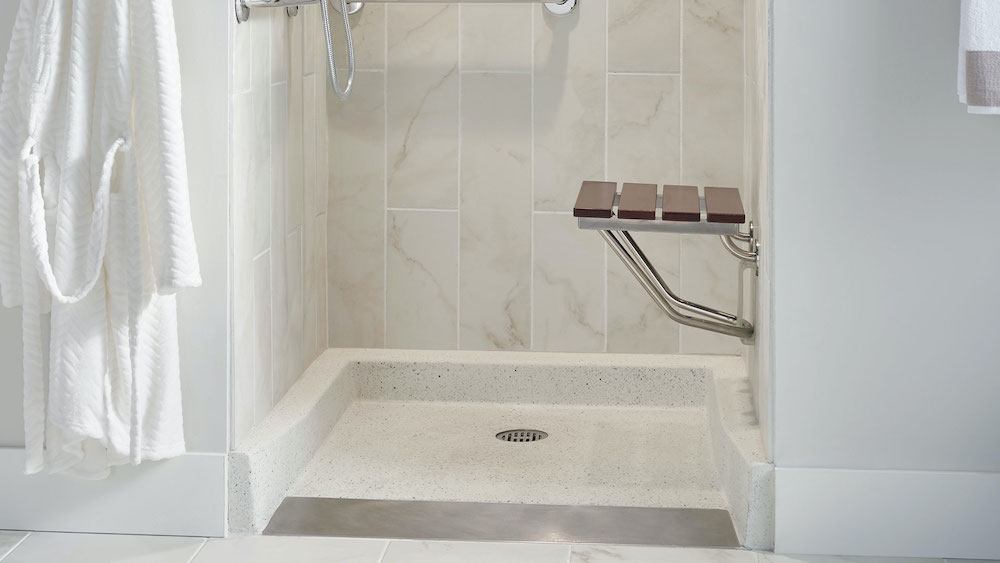 Image source: Fiat Products
An ADA-compliant shower meets the minimum requirements set by the Americans with Disabilities Act. Since it's a federal civil rights statute and not a building code, failure to comply can result in legal action. ADA showers require minimum dimensions of 60" x 30", horizontal grab bars installed no lower than 33" and no higher than 36" from the shower floor, and a ½" low threshold, helping it keep water out.
Roll-in showers vs. walk-in tubs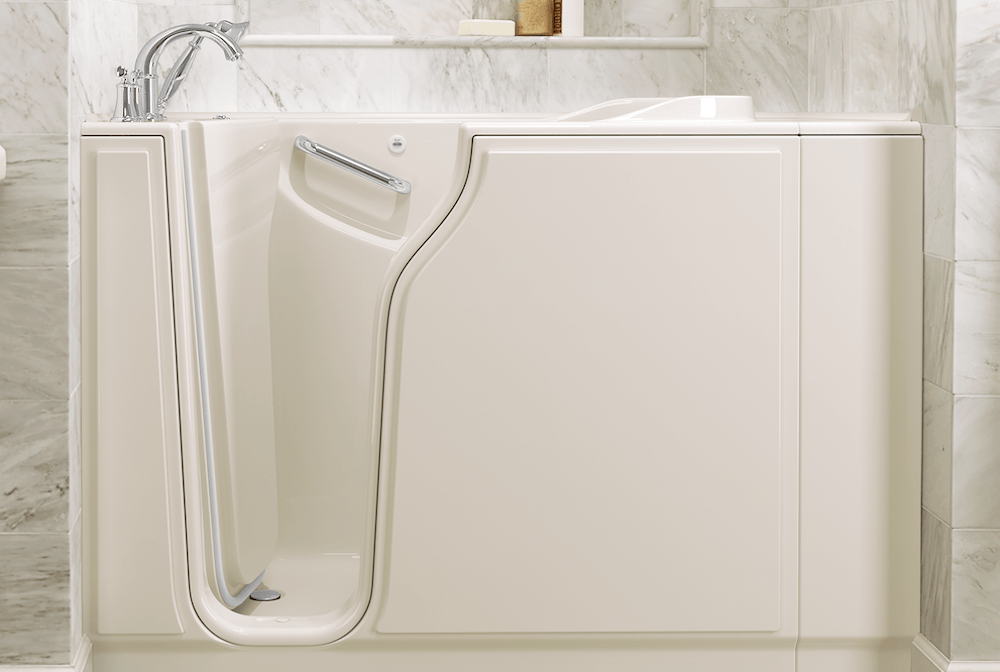 Image source: American Standard
An alternative to wheelchair-accessible showers is walk-in bathtubs or walk-in shower and tub combos. These tubs are built with a side door, allowing people with limited mobility to easily get in and out. Though they typically feature grab bars, seating, and non-slip flooring, walk-in tubs can have their limitations. Some walk-in tubs do feature larger doors, which make them wheelchair accessible, but most are not curbless.
Should you install a roll-in shower?
For homeowners with limited mobility, installing an accessible bathroom with a roll-in shower system or walk-in tub is essential. This shower installation gives you or your family members the independence, privacy, and safety they need. Roll-in showers typically feature accommodations like a shower bench, a curbless shower pan/shower base, and grab bars. Whether you're looking to replace an existing shower or do a complete bathroom remodel, roll-in showers are crucial.