A new bedroom floor could go a long way in helping you love your space, make your space look fresh and complement your lifestyle. Wood and carpet have been the most popular options for years, with tons of different styles, materials, and colors available. However, there are various ways to achieve the look, many times without the need of a big investment.
We asked 49 experts to choose what they believe were the most popular bedroom trends in 2022. Below, we take a look at their choices, along with how much it would cost you to achieve the look.
Dark Wood Flooring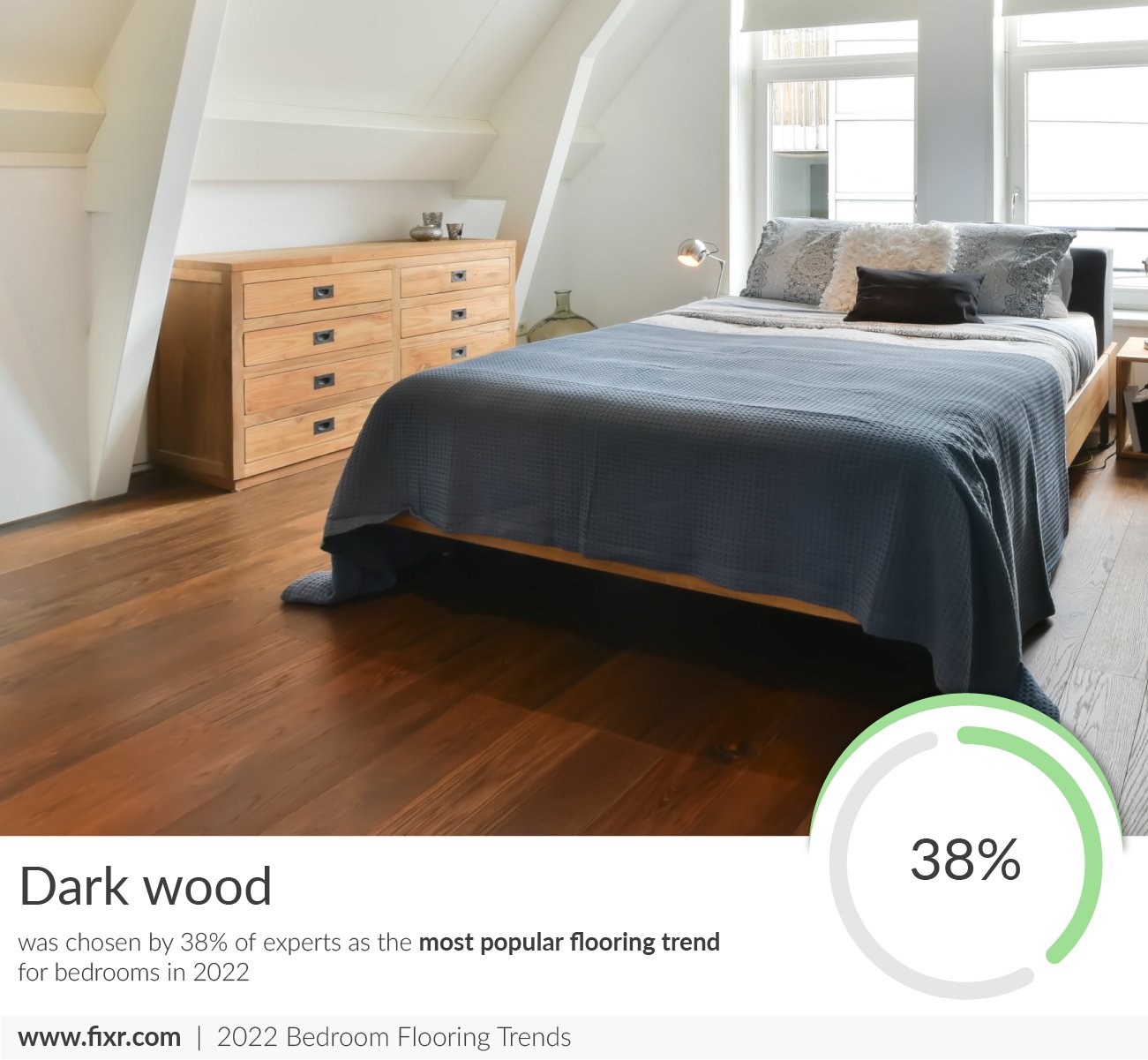 38% of experts say dark wood is the most popular bedroom flooring trend this year. It can be an actual hardwood or other materials with a wood-like finish, such as vinyl, laminate, composite flooring, among others. In bedrooms, you want flooring that is warm and inviting, but that is also easy to clean. Wood offers a lot of benefits, and it can still be affordable when you choose the right materials. You'll want to match the dark flooring with lighter wood finishes or even white for dressers, end tables, and other furniture to keep a balanced light in the space.
Dark wood flooring will cost anywhere between $2 to $32 per sq.ft. installed, depending on the material. Hardwood can cost you between $14 and $32 per sq.ft. including both labor and materials. The finish, installation, and style will also affect the final cost. You can also get the look of dark wood flooring at a fraction of the cost if you choose laminate flooring (which averages $6 and $14 per sq.ft.) or vinyl, which is around $2 and $14 per sq.ft.
Wall-to-Wall Carpeting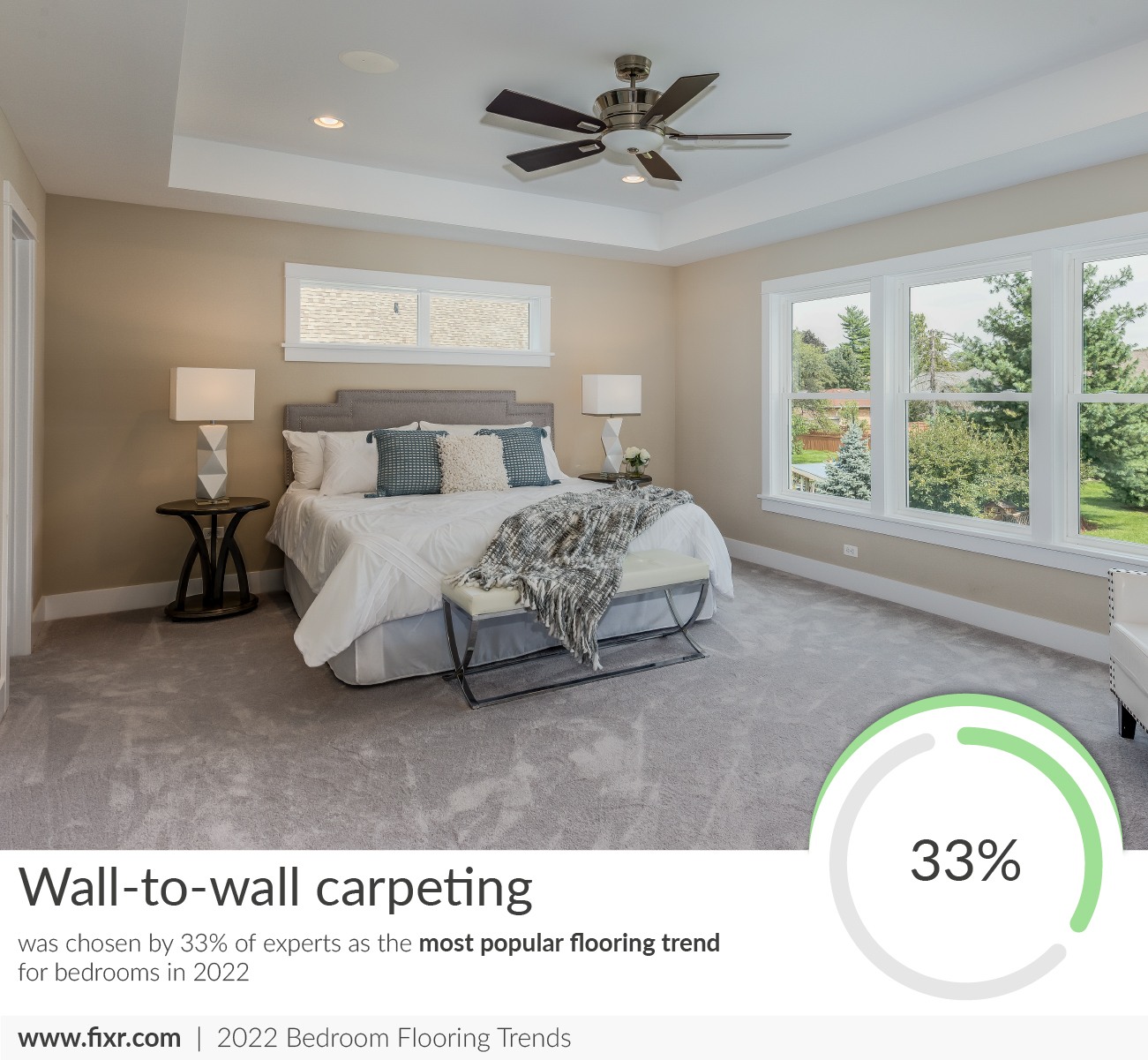 Not far behind dark woods, wall-to-wall carpeting is one of the preferred choices for bedrooms, according to 33% of experts. Carpet is great because it offers warmth and style, but it can sometimes be more difficult than other materials to keep clean. Carpet also allows the room to feel quieter as it absorbs sound. It's available in tons of styles, colors, and patterns, and can usually fit with just about any decor scheme and color of furniture or fixtures that you choose.
Wall-to-wall carpeting costs between $7 and $12 per sq.ft. installed on average, depending on the type, the material or the color. For example, you will spend less on a carpet made out of polyester while acrylic and wool carpeting will be the most expensive options.
Easy-to-Clean Carpeting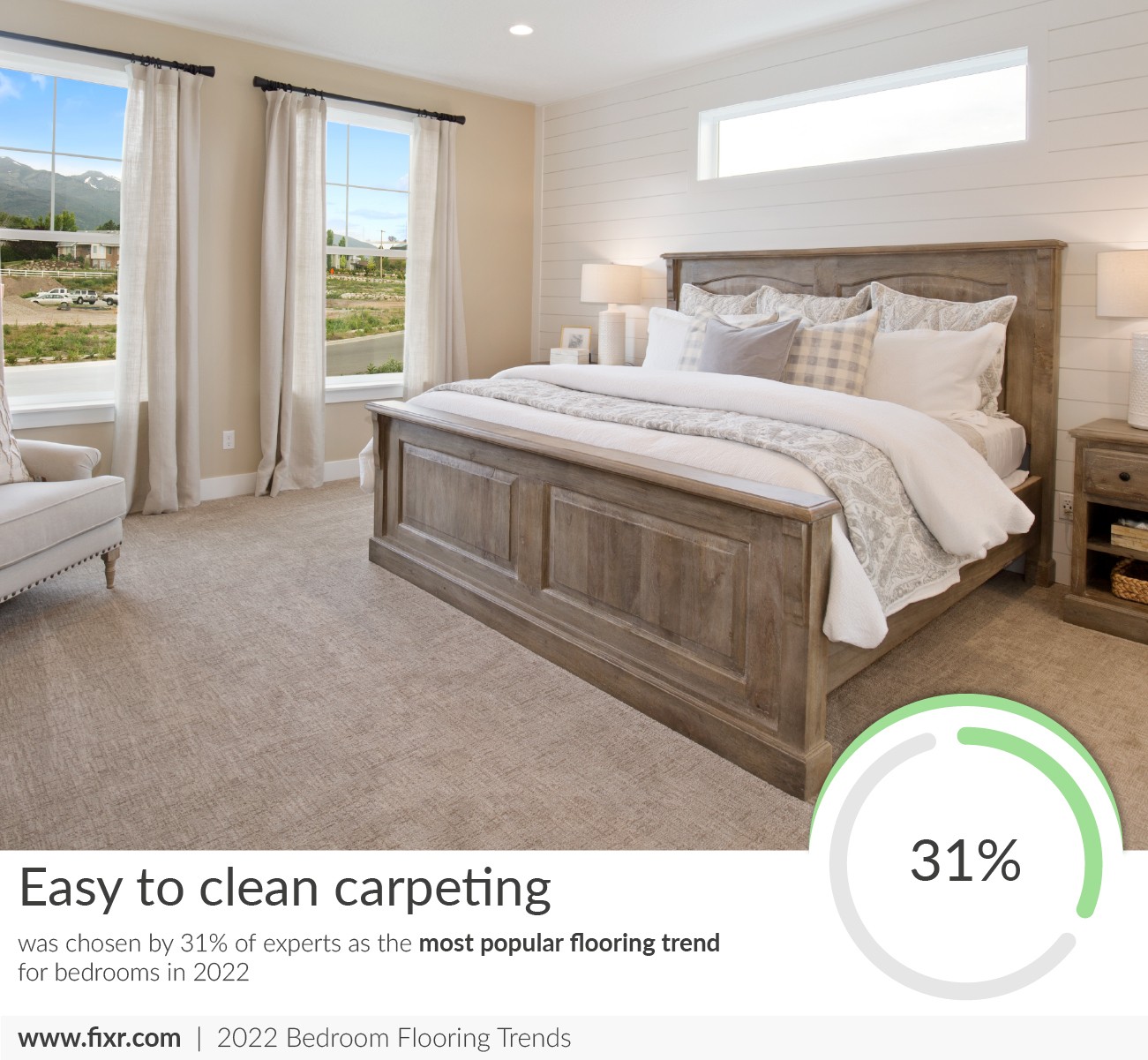 Like wall-to-wall carpeting, easy-to-clean carpets still offer a desirable choice for people who are putting new flooring in the bedroom. 31% of experts say that easy-to-clean carpeting is one of the top bedroom flooring choices for this year. This carpet is more stain-resistant and easier to clean, as the name suggests, which makes it easier to keep in a good condition longer. Typically, it's the cheaper carpet materials that are easiest to clean. You may also find that you can add products like stain repellents and protective finishes for an additional cost. When it comes to the carpet itself, berber and saxony are the easiest to clean, while cotton and wool carpeting are among the most difficult to keep clean.
Installing easy-to-clean carpeting generally costs between $2.5 and $5 per sq.ft.
Distressed Wood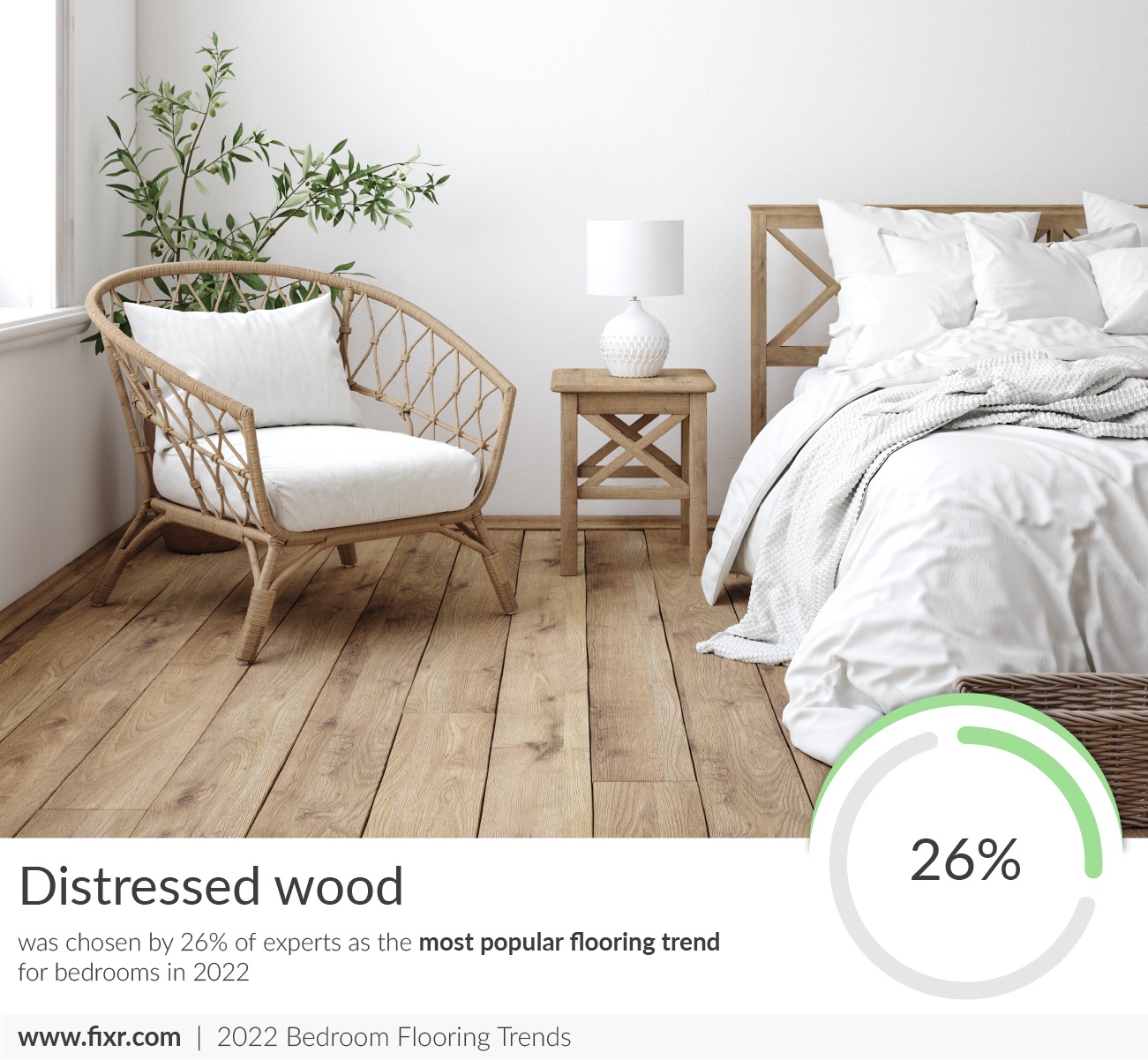 Distressed wood is another popular flooring option for bedrooms, with about 26% of experts saying it's the most desired style this year. Distressed wood is a nice choice for people looking to get the rustic and homey farmhouse look in the bedroom as it is all about making your wood floor look time-worn. You can opt for reclaimed wood, although it is rather difficult to find. The cost of this wood depends entirely upon the condition of it, the labor required to acquire it, and how much of it is available. Only the material can cost anywhere between $8 and $20 per sq.ft.
This look can be created for less by choosing a standard hardwood and applying certain techniques to make it look distressed. You can also achieve this look with your current hardwood floor.
Carpet Tiles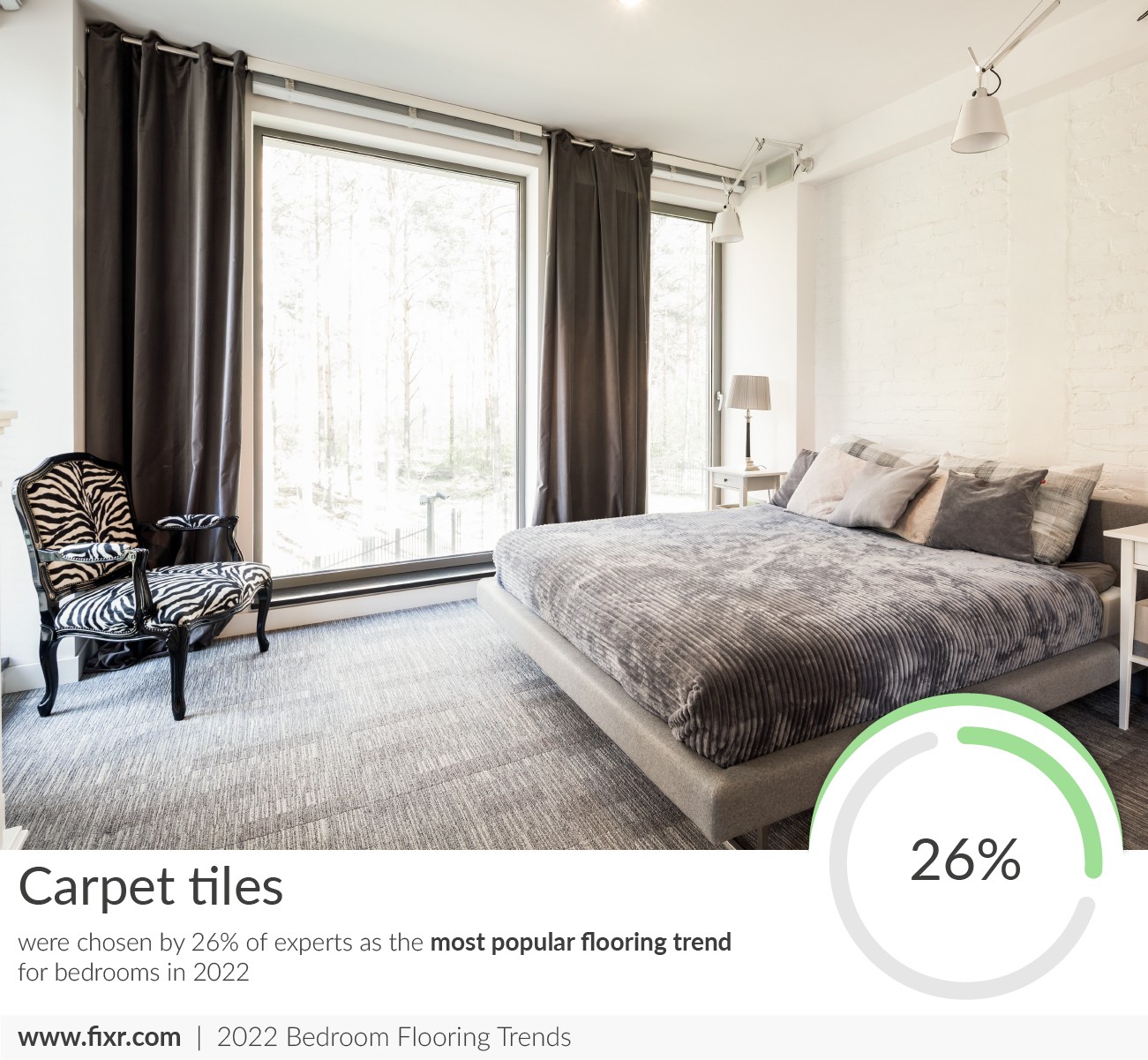 Carpet tiles are a good option for people who are looking for a unique design in their bedrooms. 26% of experts say this is one of the bedroom trends we'll be seeing a lot of in 2022, with plenty of colors and designs to choose from. Carpet tiles are easy to install compared to rolled out wall-to-wall carpeting. They also make it easy to replace a small area or make minor repairs once the flooring is installed.
Carpet tiles cost around $1 - $2 per sq.ft. approximately, depending on their application and installation method.
High Pile Plush Carpet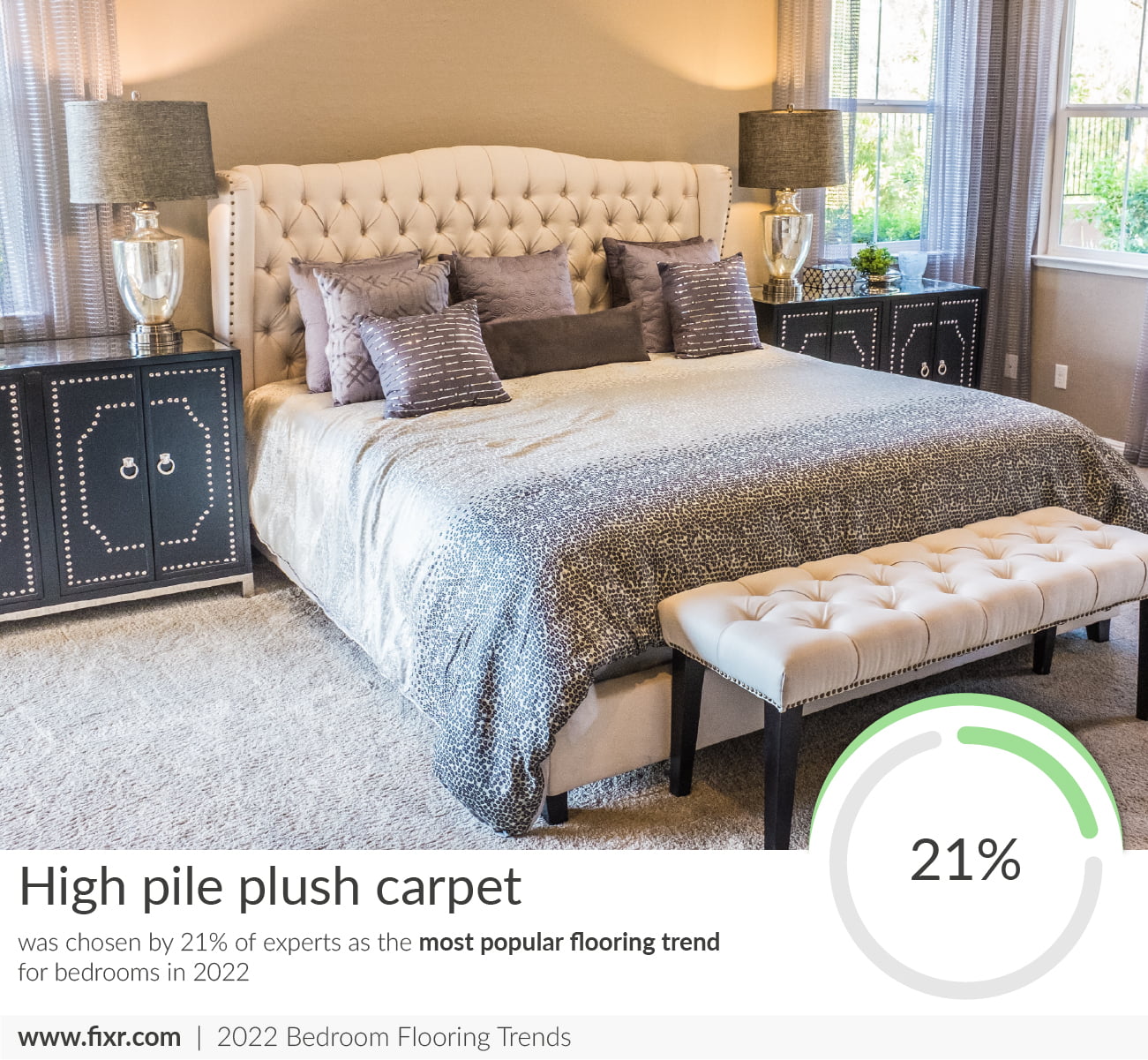 High pile plush carpets offer a more luxurious, comfortable feel than other types of carpet, and are one of the most popular options for bedroom flooring, according to 21% of the experts we surveyed. You will find an array of colors to choose from that can accentuate the rest of your bedroom design, and they're fairly low-maintenance with regular vacuuming. These carpets can be more expensive to install, but the look they create is often worth it.
High-pile carpet comes in several forms, and generally costs between $4 and 17 per sq.ft. installed.
Geometric Patterns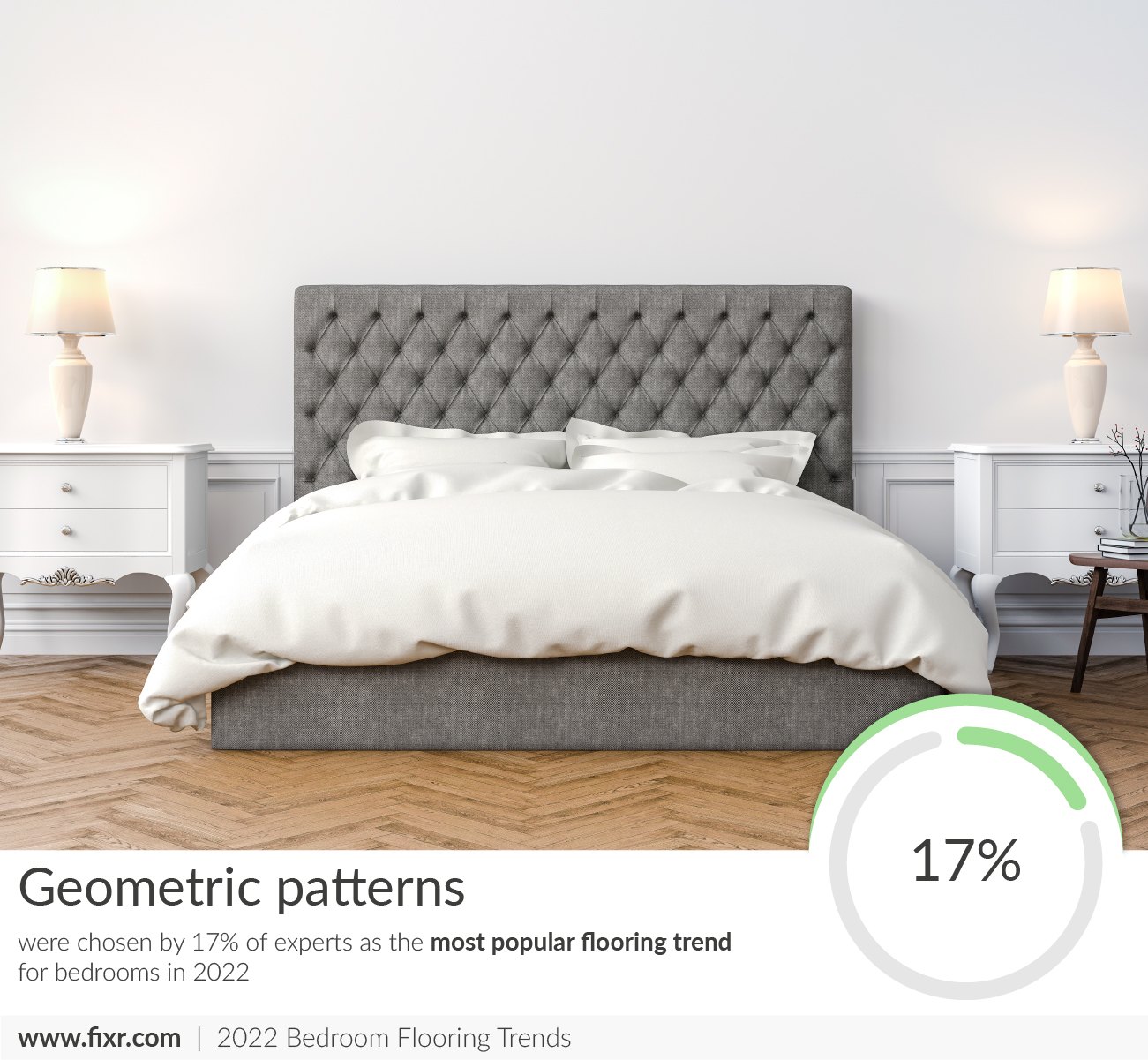 17% of experts say geometric patterns are one of the top bedroom flooring trends in 2022—usually found in tile, engineered hardwoods or carpet. These floors are stylish and create a modern look, they can create a more custom look for your space and there are plenty of different options to choose from. Small rooms can benefit from larger patterns on the floor that can open up the space. If you want to make the floor the focal point, consider choosing unique, eye-catching patterns that tie the room together. Less-busy patterns are best for small spaces.
You can expect to pay around $16 - $22 per sq.ft. for herringbone pattern hardwood installed. For patterned vinyl flooring, costs can run from $5 to $8 per sq.ft.
Wool Carpet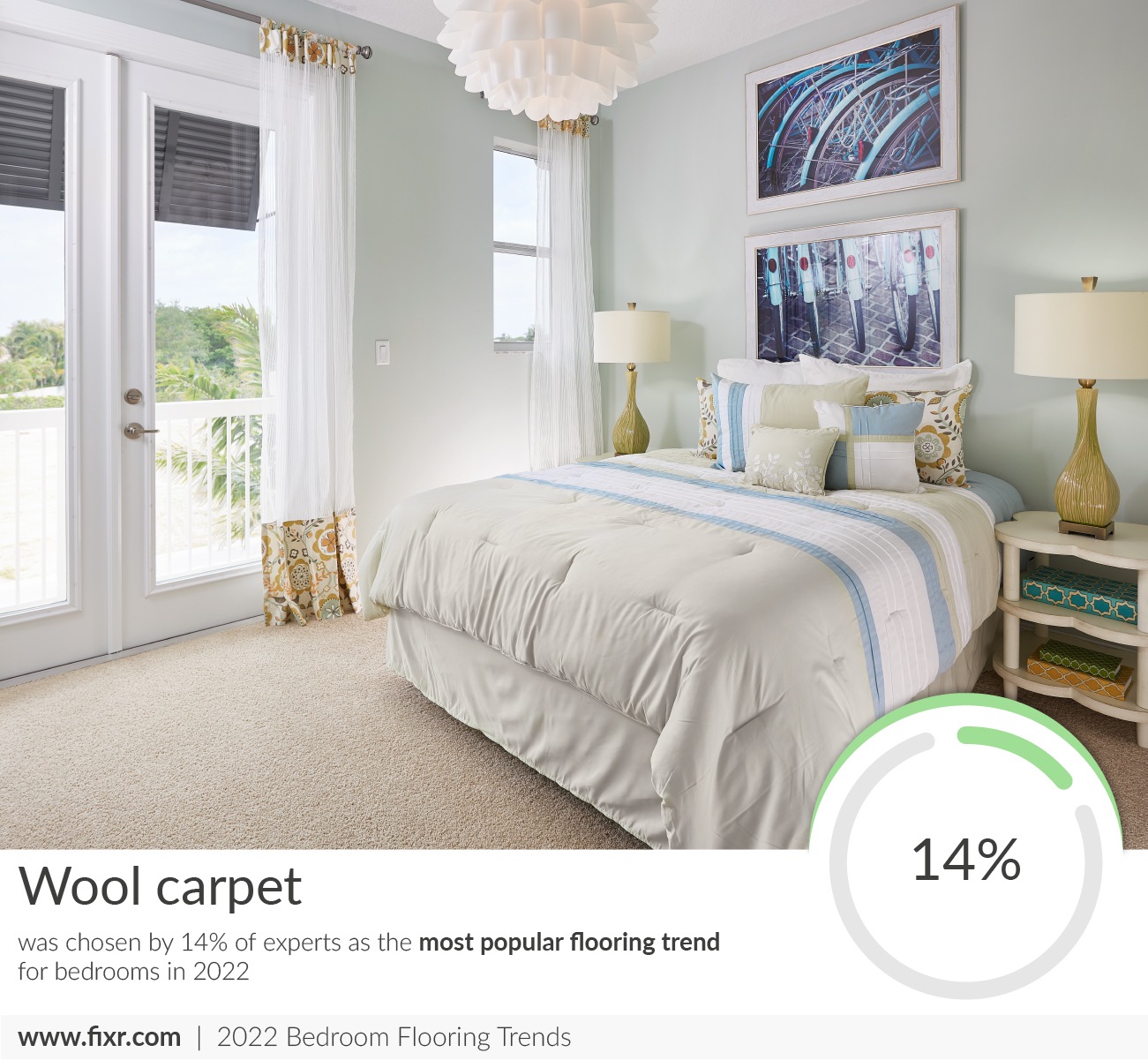 Wool carpet is one of the most expensive options, but it's also a great material for bedroom floors because it's soft, lush, and dense. The 14% of experts agreed that wool carpet is one of the preferred choices for bedrooms this year. It requires little maintenance and lasts longer than many other materials. This carpet is available in dyed and undyed shades, along with chemical-free options. Wool is a premium insulator and it offers durability that is unmatched, offering easy maintenance and cleaning. This flooring needs to be kept dry, but when it is properly cared for, wool can be one of the longest lasting flooring options for any space. In a bedroom, it will definitely warm things up and create an inviting space.
You'll spend $7 to $28 per sq.ft. to install wool carpet, depending on the exact style that you choose.
Stick With the Trends to Elevate Your Bedroom Space
Now that you know the trends, consider how they complement your design ideas for your new bedroom. Think about how flooring will work within your design, as well as what features are important to you (the ease of cleaning, durability, warmth of the look, etc.). While taking into consideration what the experts say will be the biggest flooring trends this year, don't forget to also compare these elements along with the costs involved to decide on your perfect new bedroom flooring.
Author
Irena is industry analyst at Fixr.com. She analyzes and looks for visual ways to simplify data. She is researching and writing about home improvement and personal finance. For this mini report she analyzed Fixr.com 2022 flooring trends survey data to present you the homeowner's top flooring choices for bedrooms, according to the opinions of the experts surveyed.