How much does it cost to install hardwood flooring?
Get free estimates from flooring contractors near you
Hardwood Floor Installation Cost Guide
Hardwood floors add instant character and beauty to any room of the house. In fact, most realtors say that adding hardwood floors to a home make it sell more quickly while raising value at the same time. Many different types of hardwood floors are available, each with its own appeal, color, durability, and character. Regardless of which you choose, a professional should install these floors. Their expertise ensures the floors are installed properly and last for the maximum amount of time.
The average homeowner spends between $14 and $32 a square foot for hardwood floors, installed. This translates to a cost of between $2,800 and $6,400 for a 200 square foot installation of solid or engineered prefinished flooring in your home. For example, 200 square feet of hardwood flooring, along with a new plywood subfloor, will cost about $4,017 to install. Costs can be as low as $2,203 for 200 square feet of Northwood's Oak Toffee hardwood flooring or as high as $8,496 for 300 square feet of premium Rosewood flooring installed.
Hardwood Flooring Prices
Hardwood Installation Costs
National average cost
$4,017
Average range
$2,800-$6,400
Low-end
$2,203
High-end
$8,496
Hardwood Floor Cost by Thickness
Hardwood flooring prices change based on the thickness of the planks. Hardwood pieces vary in thickness because only so much lumber can be harvested from a single tree. Solid hardwood flooring comes in various sizes, with the thickest measuring around ⅞." However, the most common sized flooring for hardwood is ¾" thick. Installers can recommend the best size, but typically the placement of the floor determines ideal thickness. For instance, thinner pieces of wood can't be used on sub-floors like the basement but can be used above or at ground level. The following are the most common widths in hardwood flooring and average pricing for 300 square feet without installation.
| | | |
| --- | --- | --- |
| Hardwood Flooring Thickness | Cost Per Square Footage (Only Materials) | Average Cost for 300 Square Feet (Only Materials) |
| 5/16" | $2 - $5 | $600 - $1,500 |
| 3/4" | $3 - $6 | $900 - $1,800 |
| 7/8" | $3 - $7 | $900 - $2,100 |
Average Cost of Hardwood Floor by Length
The length of hardwood flooring varies by manufacturer. Typically, the length you select is based solely on aesthetics. If you like the traditional hardwood floor appearance, you should choose planks around 3 feet. Hardwood flooring sizes for modern styles could be shorter length planks or longer pieces that give the space a conformed appearance. The following is the average cost of hardwood flooring by length for 300 square feet.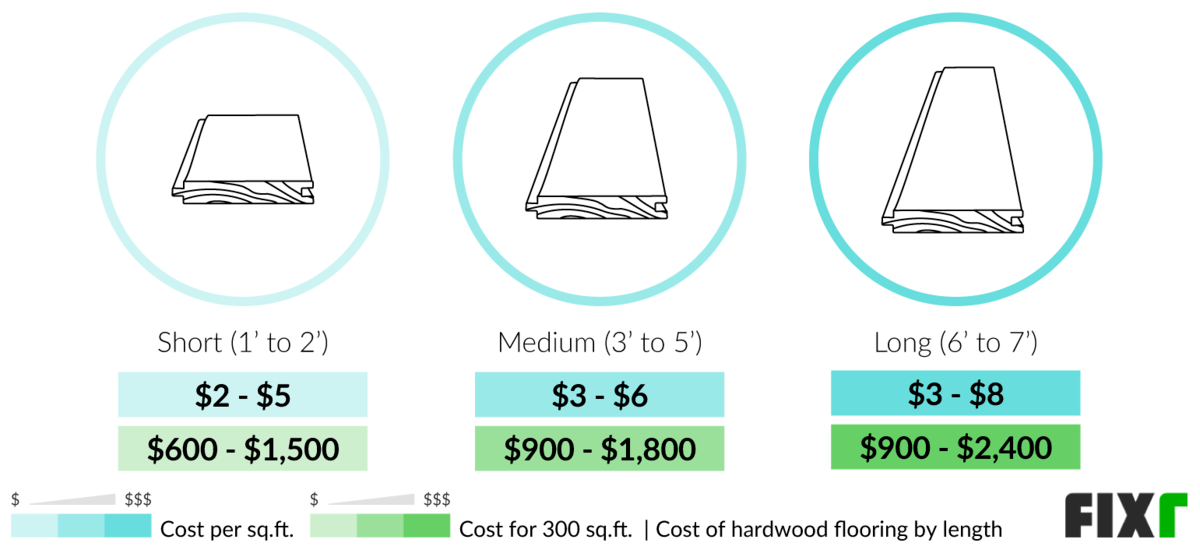 | | | |
| --- | --- | --- |
| Hardwood Flooring Length | Average Cost Per Square Foot (Only Materials) | Average Cost for 300 Square Feet (Only Materials) |
| Short (1' to 2') | $2 - $5 | $600 - $1,500 |
| Medium (3' to 5') | $3 - $6 | $900 - $1,800 |
| Long (6' to 7') | $3 - $8 | $900 - $2,400 |
Hardwood Floor Prices per Inch
The width of the hardwood floor could affect the overall project cost, especially if you're looking for a non-standard measurement. Most standard pieces measure between 2 and 3 inches wide. However, wider pieces are preferred for a more uniform appearance in the space. The following is the average cost by the width of materials only for a 300 square foot room.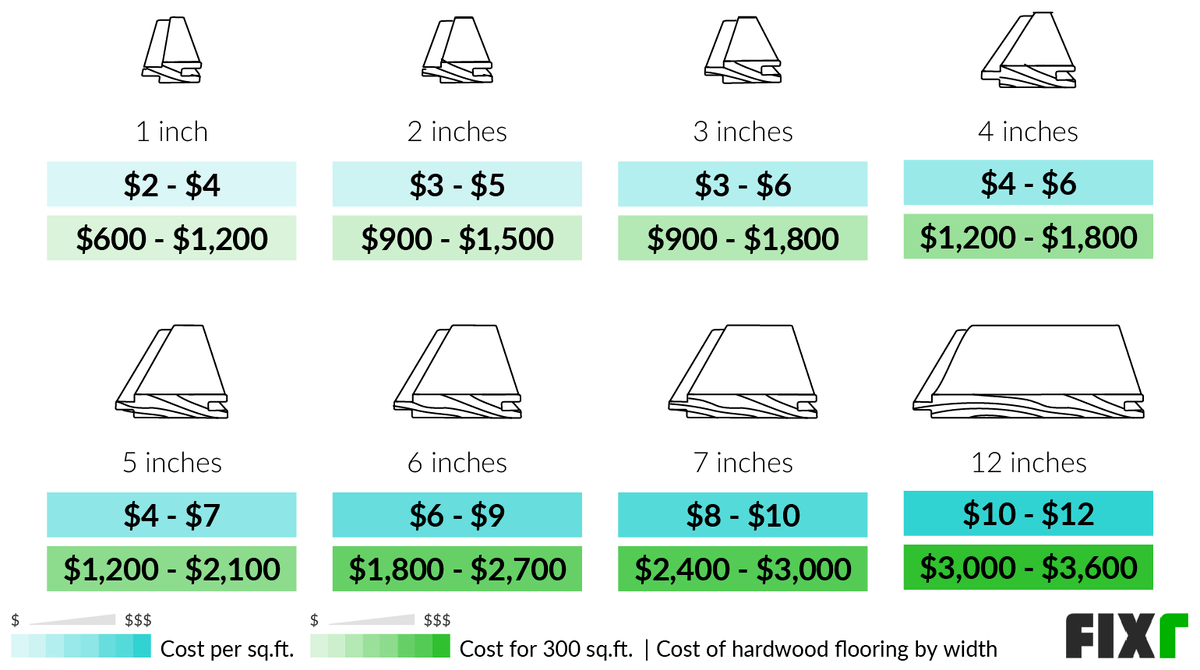 | | | |
| --- | --- | --- |
| Width | Cost Per Square Foot (Only Materials) | Costs for 300 Square Feet (Only Materials) |
| 1 Inch | $2 - $4 | $600 - $1,200 |
| 2 Inches | $3 - $5 | $900 - $1,500 |
| 3 Inches | $3 - $6 | $900 - $1,800 |
| 4 Inches | $4 - $6 | $1,200 - $1,800 |
| 5 Inches | $4 - $7 | $1,200 - $2,100 |
| 6 Inches | $6 - $9 | $1,800 - $2,700 |
| 7 Inches | $8 - $10 | $2,400 - $3,000 |
| 12 Inches | $10 - $12 | $3,000 - $3,600 |
Hardwood Flooring Cost per Square Foot
Square footage is the largest determinant for hardwood flooring cost. The larger the coverage area, the more planks you'll need to buy for the project. Most rooms with a square shape are easy to measure for the project. Measure the length and the width of the area and then multiply the two sums to calculate square footage. If your room is not a perfect square, separate the room into square sections to take the measurements. The following are common room sizes and the average cost without installation for hardwood flooring.
| | |
| --- | --- |
| Square Footage | Average Hardwood Flooring Cost (Only Materials) |
| 100 sq.ft. | $300 - $450 |
| 150 sq.ft. | $450 - $600 |
| 200 sq.ft. | $600 - $900 |
| 300 sq.ft. | $900 - $1,125 |
| 375 sq.ft. | $1,125 - $1,500 |
Cost of Hardwood Flooring by Type of Wood
While any floor can be finished or stained to resemble the base color of another, several wood species are considered "traditional" and give a set amount of accepted color and style to a home. These woods can be found in both engineered and solid planks and several finishes and colors. The table below shows some common hardwood flooring types and average costs for each.
| | |
| --- | --- |
| Wood | Average Cost Per Square Foot (Only Materials) |
| Pine | $1.25 - $2.10 |
| Acacia | $2.90 - $5.25 |
| Red Oak | $3 - $5.75 |
| White Oak | $3.75 - $7 |
| Cypress | $3.85 - $5.75 |
| Hickory | $4.15 - $7.15 |
| Cherry | $4.30 - $7.25 |
| Bamboo | $4.50 - $6.50 |
| Tigerwood | $5 - $7 |
| Birch | $5 - $8 |
| Ash | $5.75 - $8.25 |
| Maple | $6.25 - $10 |
| Mahogany | $6.45 - $7.50 |
| Kempas | $8 - $13 |
| Reclaimed | $8 - $20 |
| Walnut | $8.25 - $10.50 |
| Teak | $8.75 - $12.50 |
Pine Hardwood Flooring
Expect to pay an average of $1.25 to $2.10 per square foot of pine hardwood flooring. Pine is one of the softest types of hardwood available for flooring. Pine will likely end up having dings and scratches, especially in high-traffic areas of the home. Also, pine hardwood flooring is one of the most challenging to refinish. However, an advantage is the low cost of pine flooring.
Acacia Hardwood Flooring
Expect to pay around $2.90 to $5.25 per square foot of acacia hardwood flooring. Acacia is considered one of the most eco-conscious hardwood flooring options. Acacia is an extremely fast-growing tree and has a very low carbon footprint. With a medium to dark coloring, the wood works well for most classic and contemporary style homes.
Red Oak Hardwood Flooring
Oak hardwood flooring cost per square foot is between $3 and $5.75 per square foot. Red oak flooring is considered the gold standard in the industry. The option is extremely popular with its very consistent finish. The wood has a high durability ranking with a beautiful grain finish. Red oak flooring cost is modestly priced and costs less than other types of oak flooring, including white oak.
White Oak Hardwood Flooring
White oak flooring cost is slightly more than red oak with an average between $3.75 and $7. White oak hardwood flooring has a few key advantages over red oak, most notably that it is more water-resistant. White oak has high durability and can be used in wet, high-traffic areas such as bathrooms and kitchens.
Cypress Hardwood Flooring
Cypress could be used in most rooms of the house and costs around $3.85 to $5.75 per square foot. Cypress is a good all-around choice for hardwood flooring. One of the major perks of cypress hardwood floors is that it is termite-resistant. Cypress has a good level of durability and stability.
Hickory Hardwood Flooring
Hickory floor cost averages $4.15 to $7.15 per square foot. Hickory hardwood flooring is the hardest of all flooring options, with a Janka rating of 1820. Due to the high durability, it's perfect for rooms and homes that see a lot of floor traffic like stairways. Distressed finishes are popular for hickory to diminish the different looks between planks since it's hard to find uniform flooring.
Brazilian Cherry Hardwood Flooring
Expect to pay around $4.30 to $7.25 per square foot for your total cherry hardwood flooring. Brazilian cherry hardwood flooring is a popular choice due to its rich, gorgeous coloring. Cherry flooring is soft with a Janka rating of just 950, so it usually doesn't work well for family rooms and kitchens. However, add elegance by choosing cherry hardwood flooring for bedrooms.
Bamboo Flooring
The average cost of bamboo flooring is $4.50 to $6.50 per square foot. Bamboo flooring has seen a resurgence in popularity over the last decade. Bamboo is highly durable and prone to show fewer scratches and imperfections than other types of hardwoods. Also, bamboo planks are termite-resistant.
Tigerwood Flooring
Tigerwood flooring costs around $5 to $7 per square foot. Tigerwood is considered one of the more exotic hardwood flooring options available. Tigerwood's name comes from the black stripes that make up the wood's grain with the hardwood called Brazilian koa. The wood is durable and creates a statement look in living rooms, formal dining rooms, and bedrooms.
Birch Hardwood Flooring
Most homeowners pay $5 to $8 per square foot of birch hardwood flooring. Known for its aesthetic appeal with yellow-reddish tones and hints of brown, birch floors are dramatic and durable. Typically made with wood from yellow birch trees, these floors are a bit harder than white oak but softer than red oak. The fine texture and straight grain make birch a preferred option for long planks in living rooms and kitchens.
Ash Flooring
Average ash hardwood flooring cost ranges from $5.75 to $8.25 per square foot. Ash hardwood flooring is a mid-grade option for households. Ash hardwood flooring has a Janka rating of 1320—which provides a good level of stability. Contemporary decorated homes usually choose white ash hardwood flooring due to the bold grain in the design.
Maple Hardwood Flooring
Maple flooring cost averages between $6.25 and $10 per square foot. Maple flooring has been a popular contemporary choice for its light natural coloring and very clean, polished surface. Maple has a medium-density and is considered harder than oak and pine. Furthermore, the flooring is often seen in large open rooms such as gyms and studios.
Mahogany Hardwood Flooring
This durable floor costs an average of $6.45 to $7.50 per square foot. Mahogany hardwood flooring has a very rich, reddish-brown coloring. The flooring is a popular option for formal living rooms and dining rooms due to the elegance of its color and grain.
Kempas Hardwood Flooring
The average Kempas wood price per square foot is $8 to $13. Kempas is an exotic high-grade option that's relatively rare but gaining popularity for luxurious home upgrades. The deep red-brown color and coarse, medium grain offer a rich, eye-catching look. This wood is highly durable and may be treated with preservatives, so it lasts even longer.
Reclaimed Hardwood Flooring
When quality reclaimed wood can be found, the price ranges from $8 to $20 per sq.ft. Reclaimed hardwood is hardwood flooring that has been reclaimed from another building's floor. What makes owning this type of flooring in your home exciting is that every reclaimed wood floor is unique and has a history of its own.
However, it isn't easy to acquire. There is no regulation for reclaimed hardwood flooring cost. The amount you pay depends entirely upon the condition of the reclaimed wood, labor required to acquire the reclaimed wood, and how much of it is available. These floors have already lived an entire lifetime before entering your home. So, they need to be regularly maintained and sealed to retain their aesthetic and protect against any scratches or damage.
Walnut Hardwood Flooring
Walnut flooring cost runs from $8.25 to $10.50 per square foot. The appeal of walnut flooring is that the hardwood is very aesthetically pleasing with beautiful grains. Walnut has a deeper, richer stain than most other hardwood options. Hardwood options for walnut include American walnut and Brazilian walnut, with both having similar pricing and durability.
Teak Hardwood Flooring
Teak flooring cost runs between $8.75 and $12.50 per square foot—making it one of the more expensive options. When you choose teak, you are choosing a floor with a timeless, elegant style. Teak is one of the harder wood options and resists scratches and discoloration.
Hardwood Floor Cost by Finish
Any hardwood floor requires a finish to protect it from moisture, scuffs, and scrapes. Many different finishes are available, from aluminum to wax and the more modern and popular acrylic resin. If you purchase your floor with a manufacturer's finish, it will likely be aluminum or resin and designed to last ten or more years without refinishing.
However, if you choose an unfinished floor, it requires a finishing treatment after installation and likely every few years after that. Despite the many materials that can be used to create them, there are essentially two types of finishes: surface and penetrating. The following are all options you have when deciding what type of finish to use for your project.
| | |
| --- | --- |
| Finish | Average Cost per Square Foot (Materials Only) |
| Polyurethane | $2 - $3 |
| Unfinished Hardwood | $2 - $6 |
| Oil Wood | $3 - $5 |
| Factory | $3 - $10 |
| Surface | $5 - $10 |
| Penetrating | $10 - $12 |
Polyurethane Wood Finish
Polyurethane is a resin applied to hardwoods to protect the flooring against moisture and mold damage. The finish improves the durability of any type of softer wood flooring options like pine. You can buy polyurethane wood finish for $2 to $3 per square foot.
Unfinished Hardwood Floor
Unfinished hardwood floor is raw wood that has not received any treatment before installation. When the unfinished hardwood is installed, any surface finish or penetrating finish can be applied to the wood. Expect to pay around $2 to $6 per square foot for unfinished hardwood flooring planks.
Oil Wood Finish
Oil wood finish products have been used for years to make flooring more moisture resistant with improved durability. Finishing oils are applied by using a cloth to rub the product into the wood grain. Oil wood finish products cost between $3 and $5 per square foot.
Factory Finished Hardwood Floors
Factory finished hardwood floors are treated during the manufacturing process. The floors are sanded with the surface finish applied before installation. Prefinished hardwood floors start at $3 per square foot for standard types and $10 per square foot for more exotic types.
Surface Finish
A surface finish, like wax, is fast and easy to apply. It's also inexpensive ($5 to $10 per square foot). Your hardwood floor can be ready to be walked on faster. However, it doesn't last as long and requires frequent reapplications.
Penetrating Finish
A penetrating finish, like resin, goes deep into the wood and seals it from the inside out. Penetrating finishes cost more ($10 to $12 per square foot) and are more difficult to apply but last longer. However, if you use a penetrating finish, you cannot use a surface finish later. You must stick with penetrating finishes of the same type in the future.
Average Labor Cost for Installing Hardwood Floors
Typical labor costs for hardwood floors range from $3 to $6 per square foot, although some costs could go much higher for difficult installations. Some laborers charge per hour, and the average cost of a carpenter to install a hardwood floor is between $60 and $80 per hour. On average, it takes between one and three days for an installation crew made up of two people to put in hardwood flooring for areas less than 1,500 square feet.
Cost Factors to Install Hardwood Flooring
Several factors go into determining the ultimate cost of your hardwood floor. The first is size; as the floors are sold and installed by the foot, the total cost goes up as the size of the project goes up. The location also plays a role. If your floors have a lot of tight angles, closets, and small spaces, this could increase the cost as installation may become more difficult.
The final factor is the type of flooring that you purchase. Hardwood floors are available in several different species and several finishes and styles.
Domestic hardwoods tend to be less expensive than exotics, due in part to their availability and the cost of transporting the wood. Unfinished hardwoods are less expensive to purchase but may cost more to install. The installer must sand and finish the floors on site. Prefinished floors are more expensive to purchase but are faster and easier to install, affecting costs on this side of the equation.
The finish of the material may also affect cost. Handscraped floors cost more than polished floors, as they are more labor-intensive to create.
Engineered Hardwood Costs
Hardwood floors are sold in essentially two types: solid and engineered. Engineered wood floors are made up of several layers of plywood, each running in a different direction, topped with a hardwood veneer. The different layers of plywood make the floors extremely stable. They are unlikely to swell, buckle, or warp with moisture and can be installed below grade or over concrete.
Engineered wood floors are more durable than solid hardwood. They are always factory finished, so their surface durability is more consistent. This is especially true for types like white ash engineered wood flooring. However, because the top layer is a veneer, they can only be refinished five to six times. However, new finishing techniques mean that frequent resurfacing may not be necessary. These floors can last 50 or more years when treated properly.
There is little to no difference between the two floors after installation. Solid wood floors may be less expensive but cost more to install. Engineered wood floors are more costly to purchase but less expensive to install. These factors make the two fairly equal in price at the end of the project. However, certain engineered types like engineered heart pine are more affordable than real heart pine. This price difference is because heart pine is a scarce type of wood and very difficult to find from newer sources. Style options are also improved in certain types, like in engineered hardwood maple. Real maple doesn't absorb a stain in the same manner as engineered varieties.
The different grades of hardwood flooring refer to the appearance of the wood. Imperfections decrease the value of the materials. Low-grade or rustic flooring has more discoloration and may have visible knots or differences in appearance between the planks. Mid-grade has some slight variations in light and dark pieces, while builder's or high-grade has very few imperfections.
Installing engineered hardwood costs anywhere from $8 to $14 per square foot, including parts and labor. The cost depends on the grade of wood. There are various types of engineered wood, including popular options like oak and maple, and different finishes, such as glossy and matte. The table below shows some price ranges.
| | |
| --- | --- |
| Grade of Wood | Average Cost per Square Foot (Labor Included) |
| Low-Grade | $8 - $15 |
| Mid-Grade | $10 - $20 |
| High-Grade | $12 - $25 |
Solid Hardwood Flooring Cost
Solid hardwood floors are made from full pieces of solid wood, without any layers. They are different from engineered wood and can be trickier to install, but the material costs are slightly cheaper than engineered wood. Both solid and engineered woods are very durable and strong, so it is really just a matter of personal preference when choosing between them.
For a solid wood floor, expect to pay anywhere from $9 to $23 per square foot, including material and installation costs. The price depends on the type and grade of wood you choose, with higher-grade woods, like walnut or ash, costing more due to their appearance and increased durability. The table below shows some examples.
| | |
| --- | --- |
| Grade of Wood | Average Cost per Square Foot (Labor Included) |
| Low-Grade | $9 - $13 |
| Mid-Grade | $11 - $18 |
| High-Grade | $15 - $25 |
Floating Hardwood Floor Cost per Square Foot
Floating hardwood flooring refers to the way that planks are installed. Instead of being nailed and glued down, the hardwood floor "floats" on top of the subflooring. To install a floating wood floor, a professional snaps the planks together. Installation costs are typically less expensive due to the ease of installation. Furthermore, floating flooring is considered an environmentally-friendly alternative to toxic wood glues used often to install traditional hardwood flooring.
The drawback of floating hardwood flooring is that they are more prone to wear and tear due to the use of thinner wood. High-traffic areas such as kitchens and living rooms may not be the best areas to install floating wood flooring.
The average cost of floating hardwood installed is between $7 and $12 per square foot. To install a floating hardwood floor for a 300 square foot room, expect to pay around $2,100 to $3,600.
| | |
| --- | --- |
| Room Square Footage | Average Floating Flooring Cost (Labor Included) |
| 100 sq.ft. | $700 - $1,200 |
| 150 sq.ft. | $1,050 - $1,800 |
| 200 sq.ft. | $1,400 - $2,400 |
| 300 sq.ft. | $2,100 - $3,600 |
| 375 sq.ft. | $2,625 - $4,500 |
Hardwood Flooring Cost by Style
No matter what type of hardwood flooring you select, you will likely have several choices to contend with even beyond color and surface finish. One of these is the type of installation. Wood floors can be installed in several styles and methods. The cost of your floor will not be affected as much by what type of installation you choose, as the wood species and whether it needs to be finished on site.
| | | |
| --- | --- | --- |
| Installation Type | Cost Per Square Foot (Labor Included) | Cost Per 300 Square Foot (Labor Included) |
| Click and Lock | $10 - $14 | $3,000 - $4,200 |
| Parquet | $11 - $15 | $3,300 - $4,500 |
| Plank | $15 - $20 | $4,500 - $6,000 |
| Herringbone | $16 - $22 | $4,800 - $6,600 |
Click and Lock Flooring
Since no glue or nails are needed for installation, costs are modest, with an average of $3,000 to $4,200 for 300 square feet installations. Click and lock engineered hardwood flooring is considered one of the easiest to install. Most click and lock styles can be placed over various types of underlayment.
Parquet Flooring
Expect to pay around $3,300 to $4,500 for 300 square feet installed. Parquet flooring features the use of small wood shorts of hardwood to create geometric patterns. Short plank hardwood flooring can also be used for standard installs. However, parquet installation allows for a high-end contemporary look. Wood shorts are a type of material used in parquet and standard plank installations. An experienced contractor should install parquet flooring due to the intricate detail of the job.
Plank Wood Flooring
Expect to pay around $4,500 to $6,000 for standard 300 square feet installations. Plank wood flooring has been the standard used for installations of traditional hardwood flooring. Pieces are typically uniform in thickness but can be installed in various lengths. Short wider planks and longer planks require less labor and can be used in spaces where conformity is preferred. Long strip and wide plank hardwood flooring cost for installations may increase pricing due to extra material costs.
Herringbone Pattern Hardwood
The average cost for Herringbone flooring jobs is $4,800 to $6,600 for a 300 square foot room. With Herringbone pattern hardwood installations, the flooring is placed in a contemporary zigzag pattern. Hardwood is secured using wood glue and nails. Herringbone pattern hardwood jobs normally require extra material just in case mishaps occur during installation.
Cost to Replace Hardwood Floors
If you need to remove hardwood floors to make way for new ones, the cost to remove a hardwood floor should be between $250 and $900 for a large living space of about 250 to 300 square feet or between $1 to $3 per square foot. The costs can be higher in certain cases, depending on the amount of labor involved. If the flooring contains asbestos, abatement may be necessary before continuing with costs starting at $200 to $400 per hour.
Remove hardwood floors if the cost of replacement is less than refinishing the area. You may also remove hardwood flooring if you want to change up the look of the space. Hardwood replacement cost includes initial charges for old floor removal.
Remember that some floor removal projects may be more expensive, depending on how many layers need to be removed. For instance, if the hardwood was on top of concrete, three layers of flooring may have to be removed. In this case, expect to pay closer to $6 per square foot. Labor and haul away may take an average of one to two days for a 300 square foot room. These charges are separate from any other hardwood replacement cost.
Hardwood Floor Cost by Brand
Many popular hardwood flooring brands are available to consider for your installation. Some are more budget-friendly than others. A few companies are known for their luxurious, high-end hardwood flooring. The table below highlights the top hardwood flooring brands you can choose from for quality installation and long-lasting results.
| | |
| --- | --- |
| Brand | Cost per Square Foot (Materials Only) |
| Armstrong | $3 - $5 |
| Shaw | $3 - $6 |
| Bruce | $4 - $6 |
| Mohawk | $5 - $8 |
| Kahrs | $5 - $14 |
| Mercier | $6 - $9 |
| Mirage | $6 - $9 |
| Lauzon | $6 - $10 |
Cost to Install Hardwood Over Existing Floor
While it's not nearly as common as standard hardwood floor installations, sometimes homeowners choose to put hardwood flooring over existing floors. Professionals usually don't recommend this process because of the extra labor costs to secure and prepare the existing floor, which typically even out with the costs you would pay to remove it. If the floor is not in great condition and you need to fix it, installing a new floor over it won't be worth it. Instead, you should just remove the old floor before installing the new hardwood.
The contractor will determine the project possibilities by checking if the existing floor pairs well with the new hardwood floor type, weight, and thickness. Your contractor can help you understand the best options for your house, whether it's possible to cover your carpet or concrete floors with fresh hardwood or if a full replacement is a better choice.
The cost to install hardwood floors over existing floors is about the same as a typical new installation, around $3 to $6 per square foot. Complicated projects will have higher labor costs, including preparation, the actual installation, and regular maintenance. The most common of these projects involve hardwood floor over concrete or installing new hardwood floor over existing hardwood floor. These upgrades are only recommended if the existing subfloor is in good condition and free of cracks and bumps.
Installing hardwood floor over vinyl is another possibility, but the vinyl subfloor must be strong enough to support the hardwood. The increased elevation of hardwood floor over tile is something else to keep in mind, as it could impact appliances and doorways. Hardwood floor over carpet can be tough because of the carpet height and soft texture. Your contractor can confirm if it works for your home or not.
Hardwood flooring on concrete is a more complex job than on other materials. Certain extra materials may be needed to ensure that the hardwood floor can handle temperature changes and increased moisture exposure. Failing to install hardwood floors on concrete properly could end up costing you more in the long run due to decreased lifespans.
Concrete slabs must be dry before hardwood installations can be scheduled. The slab also needs to be even to make the floor level. A vapor retarder and subfloor are required before installing hardwood to prevent moisture from reaching the hardwood floor. According to the American Hardwood Information Center, subfloor over concrete can either be plywood on slab or sleeper.
Hardwood Flooring Installation Process
The installation process for your wood floor depends on several factors, such as the type of flooring, how accessible the room is, whether the flooring is already finished, and what type of subfloor you have installed.
However, there is a basic installation process that most floors follow. Your installer removes the existing floor and inspects the substrate. If necessary, a new substrate of ¾-inch plywood will be screwed down. A dry fit installation of the boards follows to blend the different wood colors from various boxes and ensure an even installation. The different lengths of boards will also be mixed.
The installation begins in the center of one wall and works its way across the room evenly out to each side. If the flooring is prefinished, it can be walked on immediately, and the baseboards installed. If not, the floor will be sanded, and a finishing material applied. This may mean that the floor cannot be walked on for two or three more days. Good ventilation may be required to air out the rooms.
Hardwood Janka Scale
The Janka scale is used to determine the hardness of different wood types. It measures how much force is needed to push a small steel ball into the wood. Woods with a higher rating are stronger and more durable than those with lower ratings. The table below shows the Janka scores for each type of wood. This does not impact the floor's cost but can help you determine if a wood is right for certain areas of your home.
| | |
| --- | --- |
| Wood | Janka Rating |
| Walnut | 3,680 |
| Tigerwood | 2,160 |
| Hickory | 1,820 |
| Acacia | 1,700 |
| Pine | 1,570 |
| Maple | 1,450 |
| Cypress | 1,375 |
| White Oak | 1,360 |
| Ash | 1,320 |
| Bamboo | 1,300 |
| Red Oak | 1,290 |
| Teak | 1,155 |
| Cherry | 950 |
| Mahogany | 800 |
How to Measure for Hardwood Flooring
Measuring your floor to determine how much hardwood material you need is simple. Divide the room into squares or rectangles if it contains bump outs, closets, or angles. Measure the length and width of each section in inches. Multiply the two measurements together to get the total number of square inches in that section.
Divide this by 144 to get the total number of square feet in that section. Then, add the sections together and round up to the nearest whole number. To account for waste, add 10% to your total to determine the amount of hardwood you'll need for your floor.
Hardwood Flooring Grades
No universal hardwood grading system exists to aid you in determining the quality of the floor you purchase. However, most manufacturers grade their floors with several designations that mean the same thing from one to the other. Using their system, you can determine what type of floor you want. There are several ways that you can grade a hardwood floor. The first refers to the floor's Janka score or its durability.
The second method of grading a floor is found more often in unfinished, solid hardwood flooring than in prefinished or engineered woods. This is because most manufacturers who finish their floors themselves want the floors to be consistent and fall within a narrow margin. Floors that are sold unfinished are graded in part based upon appearance. This type of grading varies from wood species to wood species. For example, Character is a new grade recently assigned to some woods. A Character grade means that the wood features many knots, sap lines, and other streaks. Woods like hickory, which are well known for being highly varied, may receive a "Character" grade.
Grades refer to the color and texture of the boards and in no way indicate the quality of the floor. For durability, always refer to the Janka score. Grades help you determine what style of floor you want, rather than how well it will perform.
Most floors are also given grades of Clear, Common #1, and Common #2. Clear floors are very consistent and are made primarily of heartwood (taken from the interior of the tree). They have little to no variation between planks and little streaking or sap marks. Common #1 floors are less consistent. They have some degree of color variation between planks and may have more sap marks and some knots. Common #2 floors are inconsistent. They have a moderate degree of color variation between planks and often have sap lines and several knots.
Other Hardwood Grades
Some floors also have additional grades such as select, first, second and better, third and better, and cabin grade.
A select floor has more variation than a clear floor, but less than common #1. This grade is given to floors like red oak and maple that have a very clear heartwood. A first floor is similar to a clear floor; it has little to no variation in its coloration.
A second and better designation is similar to a common #1 designation. The floor is more inconsistent with its coloration. A third and better designation is similar to a common #2 designation. The floor is inconsistent with lots of variation and several knots.
Cabin grade is given to rustic floors for homeowners that want knots, holes, and an uneven surface texture.
Thresholds
Most hardwood floors are designed to be installed wall to wall. However, if you are installing hardwood in a room adjacent to a room with another flooring material, you will need either a transition strip or a threshold. Hardwood floor doorway transition is especially important to create a seamless look between rooms.
Thresholds are normally made of the same material as one of the two adjoining floors. It may be made of a third material, such as marble if butting against a tile floor. It's very common to use some type of threshold or reducer when installing hardwood adjacent to another material. You may need a piece for a wood-to-wood threshold. This type of transition conceals expansion spaces between the rooms or around appliances or a fireplace. A hardwood threshold costs between $10 and $35 depending on the width of the planks and the wood species. Reducers cost around $25 to $40. A double reducer or threshold between two materials meant to make the transition easier costs around $40.
You can install a hardwood floor with a metal transition strip, or Schluter strip, for around $10 or more. This creates a contemporary look. A metal transition strip is a common option for tile to wood transition spaces. Remember that not all transition and threshold pieces are appropriate. For example, an external hardwood threshold is needed on areas that lead to an exterior door. And hardwood carpet transition pieces need t-molding for installation.
Cost of Hardwood Stairs
A common home project is to convert carpeted stairs to hardwood stairs. This is an especially simple job if hardwood exists under the carpet and simply needs refinishing. However, contractors can rebuild stairs using any type of mid-grade hardwood at an average price between $350 and $900. Never use softwoods due to the frequent foot traffic on the stairs. Hardwood stairs can be installed by a carpenter.
Installing a set of hardwood stairs adds a new dimension to your home; however, the costs are relatively high, ranging from $100 to $200 for each step. A standard set of stairs has around 12 or 13 steps, so the overall hardwood stairs installation cost is between $1,200 and $2,600. The price varies depending on the number of steps and type of wood used.
Pros and Cons
The main advantage of hardwood floors is that it has a classic style that can be enjoyed within a home for years to come. Hardwood floors have high durability and can withstand busy households. With hardwood floors, there's also a proven return on investment when selling a home.
The downside of hardwood flooring is that a lot of upkeep is involved. You may have to stain the floor every three to five years. There are also costs associated with refinishing hardwood floors. The biggest drawback of hardwood flooring is the expense since you're likely to spend thousands of dollars to outfit your home with the option.
Engineered wood flooring pros and cons are slightly different. For one, a major advantage is the reduced cost compared to hardwood. Engineered wood floors cost around half the price of real hardwood flooring. Engineered wood also has a more uniform appearance. The downside of engineered wood is that the material normally isn't as durable or as elegant as real hardwood.
How Long Do Hardwood Floors Last?
One of the biggest advantages of hardwood flooring is durability and longevity. If they are cared for properly, hardwood floors last for decades. This applies to both solid and engineered hardwood floors, with both types able to last 50 years or more. Even when hardwood floors are damaged, scratched, or start to fade, it is very easy to refinish them to extend their lives without replacing the entire floor.
Cost to Replace Carpet with Hardwood
If you already have carpet in place that needs to be removed and replaced with hardwood, the costs are not too high, about $0.25 to $0.75 per square foot. For example, the cost of removing the carpet from a 300-square-foot living space is between $75 and $225. Some laborers have a minimum removal charge of around $150. So, you may pay between $150 to $200 to remove the carpet from a single large room in addition to the cost of installing your new hardwood floor.
Cost to Replace Tile with Hardwood
The one downside of replacing tile with hardwood is that you can't leave the tile in place. Unlike engineered wood installations, the tile must be removed completely before laying down a new hardwood floor. Hardwood must be nailed to a solid wood subfloor, so tile must be hauled away before subfloor installations. The average cost for tile removal is between $1.50 and $3.25 per square foot, while the cost to install hardwood is around $6 to $12 per square foot.
Cost factors can be impacted by the room location and the type of equipment needed for the job. Tile removal takes several hours using power tools and days with the use of only manual tools.
Short vs Long Hardwood Planks
Hardwood length matters more than most homeowners initially realize. You need to choose between wood shorts and long planks for installation, along with selecting the color and wood type for your hardwood floors. Long planks appeal to those looking for continuity in a room, while short plank hardwood flooring has a choppier style. Longer planks have fewer joints than wood shorts—meaning that seams can be reduced or eliminated.
However, some consumers don't like the clean lines of long hardwood planks. Instead, they want to use short hardwood plank flooring to create appealing geometric patterns in a room. The wood in the short planks may be better quality since it's easier to harvest.
Cost of Prefinished Hardwood Flooring vs Unfinished
The cost of prefinished hardwood flooring and unfinished flooring options tend to be close. On average, 300 square feet will be between $2,200 to $4,000 for prefinished and finished on site hardwood flooring, including materials and labor. Although you may pay more upfront for prefinished hardwood flooring, the cost is almost the same after contractors finish the flooring on site.
Prefinished hardwood is preferred for remodels. If your family is already living in the residence, then prefinished hardwood should be used to limit exposure to compounds like VOCs. Unfinished hardwood is an option for new construction or home flips. Prefinished hardwood is less labor intensive for contractors because unfinished types must be sanded and stained on the job site. Besides the extra work on site, unfinished hardwood flooring may not be as uniform as prefinished since the final product is determined by the contractor's skill level.
Carpet vs Hardwood Cost
Carpet is less expensive than hardwood at $5 to $12 per square foot. There are several different materials that you may consider installing on your floors instead of hardwood. Each has attributes that make it more appealing than wood flooring. Carpet is usually considered when a softer material is desired underfoot, such as bedrooms or playrooms. Carpet is warmer and quieter than wood but has a shorter lifespan and requires more maintenance.
The cost difference between carpet and hardwood floors can be reduced if you use less expensive hardwoods such as pine, cypress, and oak. Exotic hardwoods like teak and tigerwood increase the price significantly. Carpets don't last as long as hardwood flooring, so you may end up investing more in the long run.
Bamboo vs Hardwood
Bamboo is also less expensive than hardwood at $10 to $11 per square foot. Bamboo is frequently considered. Bamboo is installed like hardwood and raises the home's value like hardwood. However, bamboo doesn't last as long and cannot be refinished in the event of surface scrapes or scuffs.
Bamboo is considered a very green building material. The material is long-lasting and highly durable. Bamboo grows exceptionally fast and can be harvested quickly for floors. Janka rates bamboo at 1380, making it harder than many other types of wood, including oak and white ash.
Vinyl Flooring vs Hardwood Cost
When comparing hardwood vs. vinyl, it's important to consider the home's value. Vinyl does not add value like hardwood, although it's much easier to install, lower maintenance, insulating, and costs less at $4 to $8 per square foot.
If you choose vinyl flooring, consider luxury brands like Lifeproof. Luxury vinyl planks are scratch-resistant and waterproof. You can install vinyl in almost any room of the home, including kitchens, bathrooms, and basements. Also, vinyl flooring can be installed over other types of floors like tile without removal.
Hardwood vs Laminate Cost
Laminate is probably the most frequently used material on the market today. Although hardwood flooring can last for decades, laminate is much easier to install. It is also less expensive at $3 to $7 per square foot but only lasts about 15 years, while hardwood can last up to 100 years with proper care.
Laminate has a more uniform appearance than hardwood flooring. However, laminate lacks the durability of hardwood flooring. Within each laminate plank, the core layer is made up of wood byproducts.
Hardwood vs Tile Cost
Like many other flooring options, a ceramic tile floor is usually less expensive than hardwood flooring. Ceramic floor tile has an average cost of $2.50 to $5 per square foot.
Tile flooring is a cost-effective option for certain home projects. Ceramic tile is commonplace in rooms such as entryways, kitchens, and bathrooms. Many homeowners prefer the look of tile in these areas of the home over hardwood floors.
The drawbacks of tile flooring are that there's more maintenance involved with tile floors. Tile shows imperfections easily and must be swept, mopped, and scrubbed frequently. Hardwood floors are low-maintenance and have a very warm appearance.
Maintenance
For most hardwoods, the maintenance is the same regardless of size, finish, or wood species. The floor should be swept or vacuumed without a beater bar as needed and damp mopped with a cleanser made for wood floors. If necessary, throw rugs can be used to prevent scratches or scuffs. If a surface finish is used, reapplication and buffing may be required every five to ten years.
Clean spills immediately to avoid moisture damage. Don't use steam mops on hardwood floors since they can cause irreversible damage. Protect the floor by using furniture pads on the legs of any movable furniture pieces like couches.
Enhancement and Improvement Costs
Hardwood Trim
When pricing a hardwood floor project, it isn't uncommon to forget the cost of new trim. Many homeowners choose to replace floor trim at the same time as floor installation. Solid trim without any specialty designs costs around $1.74 to $2.50 per linear foot. Hardwood trim price using exotic woods or intricate designs have a price of $4 or more per linear foot.
Hardwood Molding
When redoing a room, consider doing the crown molding. Hardwood molding will be the most expensive option. Vinyl and MDF costs less than $2 per foot. In comparison, you'll pay at least $4 to $10 per linear foot for hardwood.
Refinish Hardwood Floors
Over time, hardwood floors develop marks, scratches, and stains, or their color starts to fade. Fortunately, it is possible to keep your existing floor and revitalize it with refinishing. This involves sanding, staining, and applying a new finish to the wood to refresh its look. It can be used to make scratches, stains, and water damage marks disappear.
Solid and engineered wood can be refinished, although some engineered wood can only be refinished a few times before needing replacement. The cost to redo a hardwood floor by refinishing ranges from $750 to $2,060.
Additional Considerations and Costs
Scratch protection. Pet claws can scratch and wear away at hardwood floors. Choosing a wood with a high Janka score or a material with a resin-infused finish helps prevent this. Look at the material's warranty to find out what may be covered.
Climate control. Unless otherwise specified by the manufacturer, wood flooring must be acclimated to the temperature and humidity levels of your home before installation. This prevents expansion or contraction after installation, which may cause warping.
Professional recommendations. Follow the recommendations of The National Wood Flooring Association (NWFA) for handling, storing and acclimatizing, and installing hardwood flooring.
Contractors. When selecting a contractor to work on your home, be diligent in checking their references and ensuring they have all the required licenses and insurances. Be sure to discuss the scope of work in detail and ask for a detailed budget. Once a budget has been worked out, and all parties agree, get it in writing in a contract form. Both parties should execute the contract, which needs to include payment terms.
Lookalike or natural wood. Wood-look tile and parquet wood effect tiles could be two considerations when shopping for new floor options. Real hardwood will be the costliest and have limited design selections. Wood-look tiles start at $2.50 per square foot for ceramic and $4.15 per square foot for porcelain.
Warranties. Hardwood flooring companies attract clients by including a warranty with purchase. Hardwood warranties typically range from 20 to 30 years and include protection for the structural integrity of the floor.
Floor joists. Sometimes hardwood floors suffer from extensive rotting and moisture damage. Reinforcing the floor joists improves the quality and durability of the floor plus reduces squeaking noises. If the floor feels bouncy, then reinforcing the joints is a good idea. Expect to pay $30 to $60 per square foot to fix floor joists through reinforcement or replacement.
Hardwood flooring over radiant heat. Engineered hardwood is a good material to put over radiant heating, but solid hardwood may be susceptible to slightly more wear. Homeowners in colder regions may choose radiant heating for their hardwood floors, creating a warm, welcoming feeling for bedrooms, living rooms, kitchens, and other entertaining spaces. Radiant floor heating costs $10 to $25 per square foot.
FAQs
How long does it take to install hardwood floors?
The timeframe to install hardwood floors depends on the square footage of the area. However, for less than 1,500 square feet, the project is usually done in less than three days.
How much do hardwood floors increase the value of a home?
Hardwood flooring increases a home's value between three and five percent.
Are hardwood floors worth it?
Yes, many homeowners find hardwood floor installation to be a worthwhile home upgrade due to the long-lasting quality, stylish look, versatility, and impact on home value.
How much does it cost to install hardwood floors per square foot?
The average cost of installing hardwood floors per foot is $3 to $6 for a total of $6 to $12 installed.
How much does it cost to install 1,000 square feet of hardwood floors?
The average cost per square foot installed is $6 to $12, making 1,000 sq. ft. around $6,000 to $12,000.
How much does it cost to install hardwood floors?
The cost of installation for hardwood floors is around $3 to $6 per square foot for a total of $6 to $12 installed.
How much does it cost to install flooring?
The cost of flooring installation changes based on the material but may range from $3 to $12 per square foot.
How much is engineered wood flooring?
Engineered wood flooring ranges from $8 to $14 per square foot based on species and finish.
nb
The information provided by our cost guides comes from a great variety of sources. For more information, read our Methodology and sources.