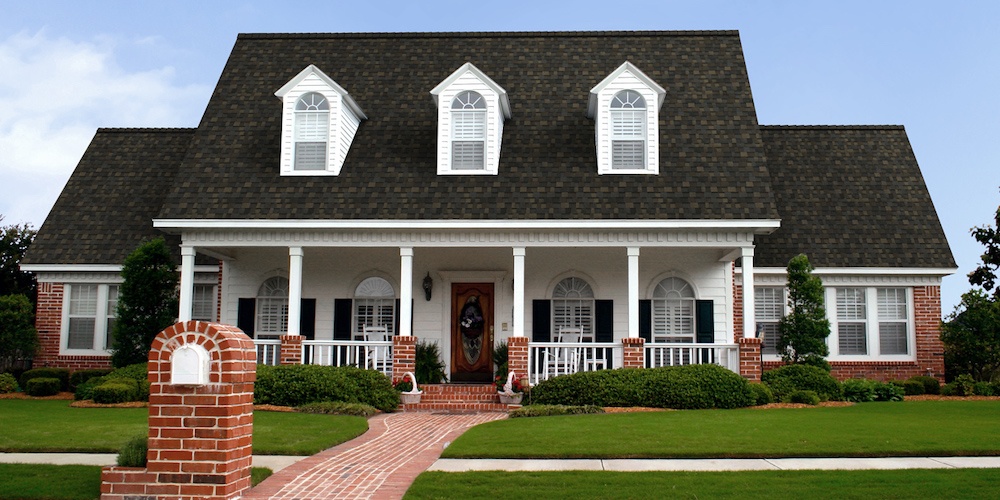 Image source: Owens Corning
The main function of your roof is to protect your home from a wide range of damage stemming from hail impact, strong winds, storms, and falling branches.
Shingles help your roofing system do its job of protecting yourself and your family from dangerous conditions. Therefore, it makes sense for you to consider installing the best Class 4 shingles on the market.
Let's find out whether Class 4 shingles are right for your home.
On this page
What are Class 4 shingles?
Class 4 shingles are equipped with impact-resistant features, which allow them to withstand rugged conditions. If you have shingles on your roof, you want them to be as durable as possible because they serve as the first line of defense against rain, debris, strong winds, snow, and other forms of rough weather.
Class 4 refers to a specific category of testing conditions that the shingles are put through in order to ensure their durability against impacts. There are four classifications of impact resistance for shingles: Class 1, Class 2, Class 3, and Class 4. The impact resistance tests are based on the Underwriter Laboratories (UL) 2218 standards. According to UL 2218, the shingle must be able to withstand the impact of a two-inch steel ball dropped from a height of 20 feet, two times in the same area.
The shingle is issued a Class 4 impact resistance rating if there are no signs of dents, fracturing, or cracks on the backside.
For comparison, below are the testing requirements for Class 1 to Class 4 roofing shingles:
Class 1: 1.25-inch steel ball from a height of 12 feet
Class 2: 1.5-inch steel ball from a height of 14 feet
Class 3: 1.75-inch steel ball from a height of 17 feet
Class 4: 2-inch steel ball from a height of 20 feet
Considering that a large hailstone is roughly the size of a quarter, which has a one-inch diameter, a Class 4-rated shingle should be able to avoid hail damage without any major issues.
How much do Class 4 shingles cost?
The average cost of Class 4 shingles is between $4,960-$8,950 depending on the specific brand and the size of your home. This cost projection includes both materials and labor by a roofing company. Class 4 shingles cost up to 20 percent more than regular asphalt shingles. Most Class 4 shingles come with a 50-year warranty, while regular shingles usually have a 30-year warranty. This means that the higher-class shingles have a longer lifespan.
Insurance companies don't usually cover upgrades to Class 4 shingles. However, you may be eligible for discounts on premiums in the future if you do decide to upgrade your shingles. Availability for this type of insurance discount depends on your insurance provider.
What are the best Class 4 shingles available?
While there are plenty of brands to choose from, it's important to know which Class 4 shingles are best for your home. Here are some of the top types:
CeDUR roofing shakes
CeDUR roofing shakes are very durable and carry a Class 4 rating. This type of shingle is made out of synthetic cedar shakes resulting in a very natural, organic appearance. The specific type of synthetic material may vary but typically consist of metal, cement, rubber, asphalt, or plastic. Synthetic materials ensure there are no risks of rotting. CeDUR roofing shakes are not only impact-resistant but also fire-rated for extra safety. These shingles come with a 50-year warranty.
Owens Corning TruDefinition Duration FLEX shingles
Owens Corning TruDefinition Duration FLEX shingles have a less natural look compared to CeDUR roofing shakes. They look like standard asphalt shingles. This type of Class 4 shingle utilizes a mixture of styrene-butadiene-styrene (SBS) polymer-modified asphalt. The rubber-like roofing material is exceptionally durable and can withstand impacts and rough conditions. Interestingly, this type of shingle is resistant to ultraviolet (UV) light, so you should consider installing the product on your roof if you live in areas with sunny weather. A limited lifetime warranty ensures coverage from manufacturing defects during the entire lifespan of the product, for owners of a single-family home, as long as they own the home.
CertainTeed NorthGate IR shingles
CertainTeed NorthGate IR shingles are another type of product made out of SBS-modified asphalt. The roofing products offer protection from impacts, cold weather, and algae growth. This product is also resistant to strong winds up to 110 miles per hour. These benefits apply to rugged locations that experience unpredictable weather or outdoor conditions, such as rural areas. The shingles come with a transferable lifetime limited warranty for manufacturing defects.
When to install Class 4 shingles on your home
You live in a hail-prone area
The main reason to consider shelling out extra money for Class 4 shingles is for hail protection. This is only necessary if you live in a hail-prone area. In the US, the Midwest region is known to experience hailstorms at a higher rate than coastal regions. As for extreme hailstorms, Texas, Oklahoma, Kansas, and Nebraska are prone to experiencing hailstorms with two-inch stones.
If you don't live in states prone to severe hailstorms, there's really no need to install impact-resistant shingles. You can go with a lower classification as the risk of a heavy hailstorm destroying your roof is very low.
You have trees around your home
If you have a lot of trees on your property, it could be a good idea to install Class 4 shingles on your roof. This is because low-hanging branches can easily fall on your roof and damage the surface due to their hard impact. Even if you keep your trees trimmed at all times, strong winds or storms can cause nearby tree branches to fall on your roof. Class 4 shingles offer some protection from these types of hazards.
Extreme weather is common in your state
Extreme storms, such as hurricanes, tornadoes, blizzards, and torrential rain can damage your roof. The storms can indirectly ruin your roof if it causes nearby objects to persistently hit your shingles. This is especially true if you live in an area that frequently experiences high winds. In these situations, Class 4 shingles can provide the protection your home needs against unforeseen impacts.
Are Class 4 shingles worth it for your roof?
| | |
| --- | --- |
| Pros | Cons |
| Roof is less prone to hail and impact-related damage | Cost 20+ percent more than regular, non-class shingles |
| Reduces the need for roof repair over the long term | Upgrades to class 4 shingles aren't covered by homeowners insurance |
| May help you qualify for discounts on insurance premiums | Only applicable to locations prone to extreme weather or hail |
| Uses very durable materials | Looks like regular standard shingles |
Class 4 shingles are only worth it for your roof if you live in a hail-prone area or are expecting impact-related damage to cause problems for your home. Other than these concerns, there's no urgency to install this type of shingle on your roof.
However, there are a handful of unique reasons why homeowners install Class 4 shingles for impact-resistant roofing. This type of shingle requires less maintenance because it is less prone to damage. You're less likely to need to make repairs on Class 4 shingles after exposure to heavy storms as they are very durable. Additionally, the long lifespan of Class 4 shingles is very attractive for homeowners who don't want to worry about dealing with roof repairs or a roof replacement – even if they don't live in an area prone to experiencing hailstorms.