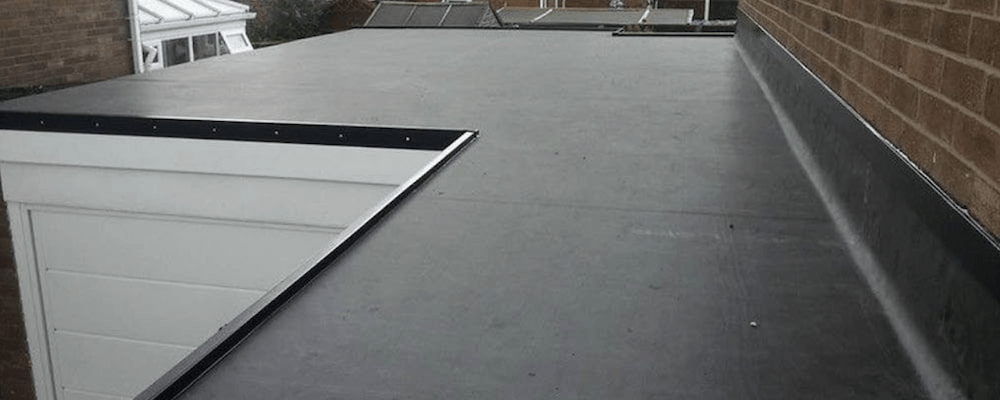 Source: Huddersfield
Whether you're on the hunt for trusted flat roofing material, a more durable alternative to asphalt shingles, or even a protective layer over your existing roof, rubber very well might be your answer.
Rubber roofing can refer to any of three compounds of single-ply, membrane roofing materials suited for low-slope roofs – EPDM, TPO, and PVC – as well as rubber shingles. Each of these types of roofing comes with distinct benefits, drawbacks, and costs.
Fortunately, we know a thing or two about rubber roofs, and as it just so happens, we've already highlighted the costs, pros, and cons of EPDM, TPO, and PVC in our review of the best flat roofing materials.
In this article, we'll dig deeper into the positives and negatives of these rubber roofing materials. Then, we'll explore the ins and outs of rubber shingles and whether they suit your new roof project.
On This Page:
How Much Does a Rubber Roof Cost?
Single-ply rubber roofing costs anywhere from $5.50 to $10 per square foot.
The final cost largely depends on the specific material. The thickness of said material and whether the installer fully adheres (glues, more expensive), mechanically fastens (screws, more affordable), or uses ballast (layers of stone, the most affordable), also plays a role in pricing.
Additionally, project costs will increase if you need to tear off existing materials and add decking or insulation during the roof replacement. Penetrations such as skylights, HVAC units, and chimneys will also add to costs as they introduce more roof installation complications.
Types of Rubber Roofing
Rolls of rubber sheets are mainly used on flat roofs. Even so, they can also work in pitched settings as a primary material or atop an existing structure, particularly metal roofs. Rubber shingles, on the other hand, should only be used on pitched roofs.
Single-Ply Roofing
EPDM Roofing Costs, Pros, and Cons
Installation cost per square foot: $4.50-$10.50.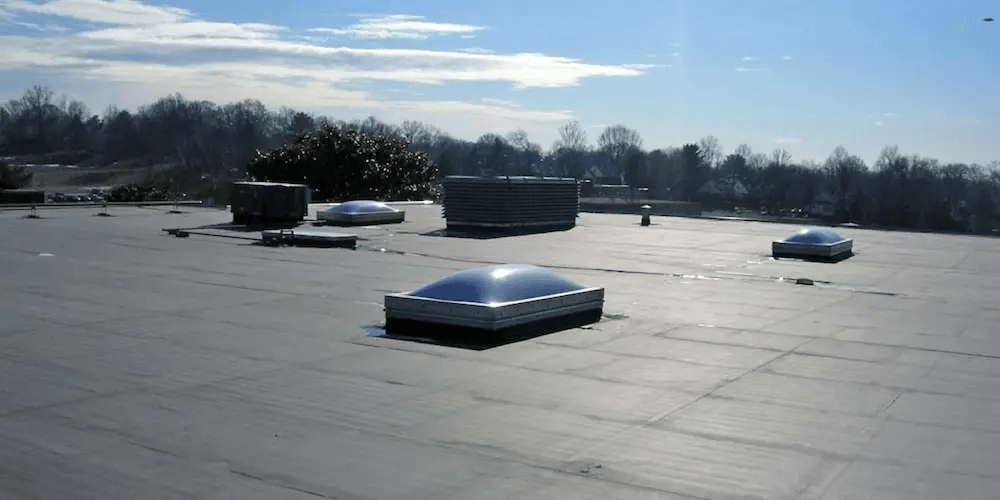 Image source: Heidler Roofing
| | |
| --- | --- |
| What We Like | What We Don't Like |
| 60 year lifespan | Black color absorbs heat |
| Easy-to-install | Not the prettiest in some cases |
| Fire and hail resistant | Potential for shrinkage |
| Affordable | |
Ethylene Propylene Diene Terpolymer, a synthetic rubber that everyone calls EPDM even though it's a Terpolymer, not a Monomer, is technically the only roofing system among the three single-ply options we compare in this article chiefly made of rubber.
Polymers and definitions aside, EPDM rubber roofing is tried and true.
Many roofers prefer EPDM because it can be installed using a singular, seamless sheet for many projects as opposed to multiple, layered rolls.
Many building owners prefer EPDM because it's fire-resistant and holds up well to hail. Of course, there's also EPDM's persuasive track record. A 2010 study by the EPDM Roofing Association showed that 30-year-old EPDM membrane samples could last another 20-plus years through aging tests.
With pricing between $4.50 and $10.50 per square foot, EPDM roofs are also the most affordable of the bunch.
So, what's not to like?
For starters, EPDM roofs can shrink under the right conditions. This exposes the layers underneath the rubber roofing membrane and potentially allows water to creep into the structure.
Secondly, EPDM usually comes in black, which means buildings baking in the beating sun will only get hotter with an EPDM roof. A black roof also might not suit every building aesthetically.
TPO Roofing Costs, Pros, and Cons
Installation cost per square foot: $5.50-$13.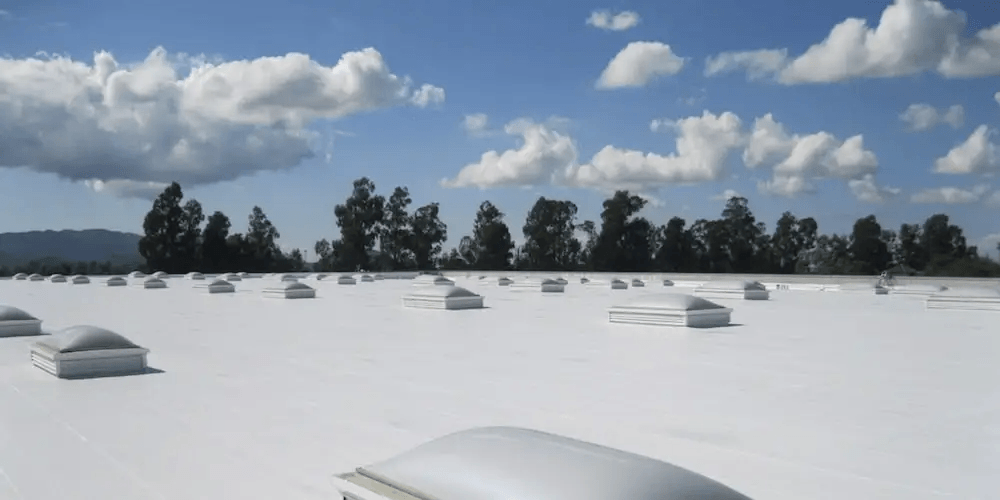 Image source: Central Homes Roofing
| | |
| --- | --- |
| What We Like | What We Don't Like |
| Affordability | Uncertain track record |
| Color options | Lifespan TBD |
| Energy efficiency | Lengthy installation |
| Heat-welded seams | Installation requires experience |
First introduced to the United States in the 1980s, TPO, or Thermoplastic Polyolefin, is relatively new in the membrane roofing space.
Unlike EPDM, TPO has color options. A white TPO roof system can improve energy efficiency in hot climates.
Installing TPO typically involves the use of a hot air gun to weld any seams along the surface. These heat-welded seams are low maintenance and last longer than the tape or adhesive sealants used to protect EPDM roof seams.
On the downside, heat-welding requires more skill and time compared to EPDM roof installations, thus increasing labor costs. Should those seams need repairs, you will need the specialized hot air gun once again. In turn, TPO is not a DIY-friendly roofing material to install and care for.
Apart from the challenges created by heat-welding, most qualms regarding TPO start with reliability. TPO did not gain widespread use until the late 1990s, and TPO quality standards only began taking shape in the last two decades.
During that time, contractors and the Midwest Roofing Contractors Association pointed out numerous problems with TPO membranes ranging from splitting along fasteners to deterioration following UV exposure.
However, as performance data of TPO roofing continually come to light, we can say with a greater degree of certainty whether this roof material is legit. One such study published in 2020 showed that 15-year-old TPO roofs meet the 2019 quality requirements of brand new TPO membranes in most instances.
Promising? Yes.
Proven? It's too early to tell.
We will say the following regarding most roofing materials, but we want to emphasize that you should choose both a warranty-backed TPO product and installer for your peace of mind.
At the end of the day, building owners and contractors will keep TPO on their radar because of the attractive price between $5.50 and $13 per square foot.
PVC Roofing Costs, Pros, and Cons
Installation cost per square foot: $6.50 - $13.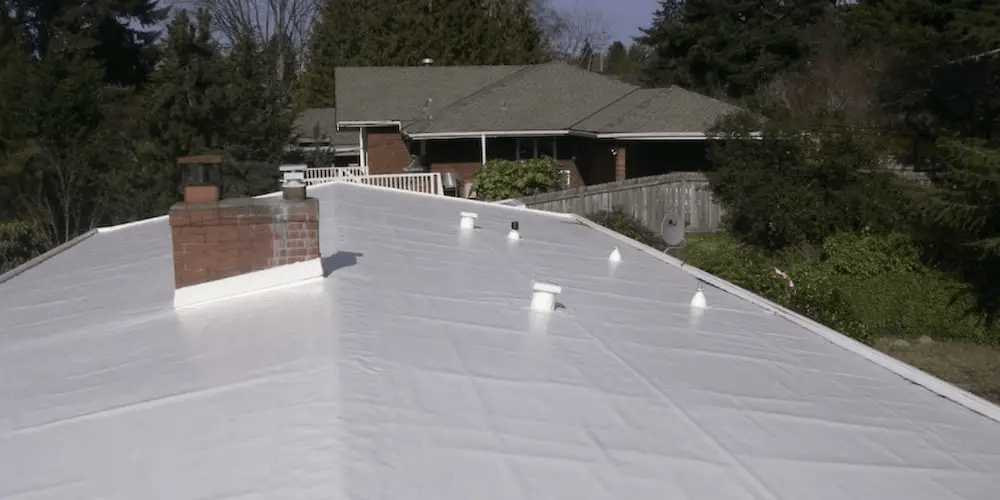 Image source: TSpark Enterprises
| | |
| --- | --- |
| What We Like | What We Don't Like |
| Durability, resistance to elements | Higher cost |
| 20 year lifespan | Potential health and environmental concerns |
| Waterproofing | |
| Recyclable | |
| Color options | |
Before TPO hit the scene, PVC, or polyvinyl chloride, was the thermoplastic roofing material of choice.
It arguably still is the premier material when taking its exceptional resistance to fire, wind, and hail into account. Similar to TPO, it comes in energy-efficient white, among other colors, and installers heat weld the seams to create a smooth, waterproof seal.
Restaurant owners opt for PVC because it resists harmful grease escaping to the roof that would otherwise deteriorate EPDM.
PVC roofs last an attractive 20 to 30 years. Adding to its sustainable value proposition, PVC roofing can be recycled.
The main point of contention with PVC stems from costs. For instance, you could pay as much as 12 times more for a PVC roof than you wood for an EPDM one.
There is also much debate on whether PVC poses significant health and environmental risks during its life cycle.
Environmental organizations stress that PVC emits dioxins during its lifecycle, a known toxic pollutant. In roofing applications specifically, manufacturers often use hazardous chemical phthalates to increase flexibility.
To counter these claims, PVC proponents say PVC roofs reduce energy needs, require fewer fossil fuels during production, and outlast other flat roofing materials to a significant enough degree to outweigh the potential environmental costs.
Either way, PVC persists among the most popular flat roofing materials. Market reports from 2018 show PVC occupies around 20 percent of the single-ply roofing market.
What About Rubber Shingles?
If you seek the inherently durable and sustainable quality of rubber but without the drab, one-dimensional style of single-ply sheets, might we suggest rubber shingles?
How Much Do Rubber Shingles Cost?
At $3 to $9 per square foot to install, rubber shingles offer a not unreasonable price point, especially considering their benefits.
This price range aligns closely with wooden shakes and metal roofing, for reference.
Pros of Rubber Shingles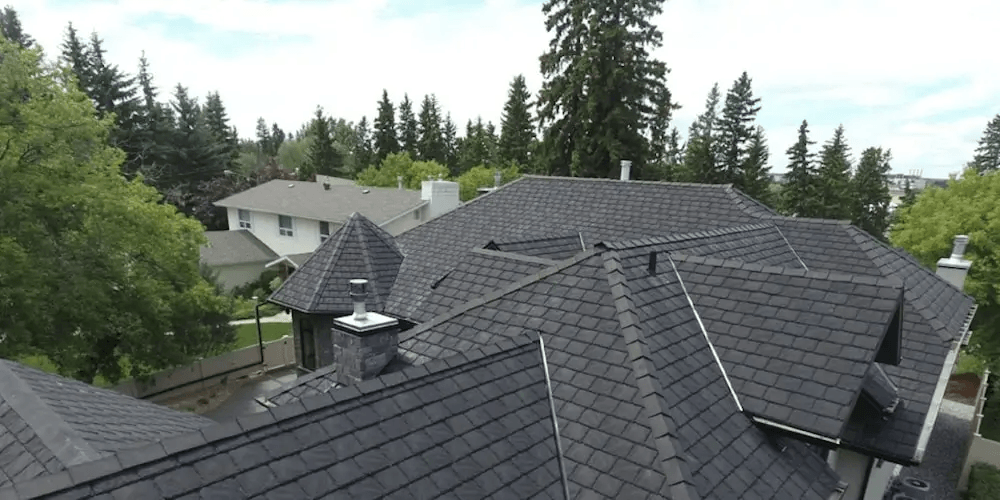 Image source: TSpark Enterprises
Style
Rubber shingles can look indistinguishable from sought-after materials like stone slate or wood shake. The former is notoriously expensive and difficult to work with, so rubber shingles offer a budget-friendly alternative while maintaining their highly regarded look.
Rubber Shake vs. Real Shake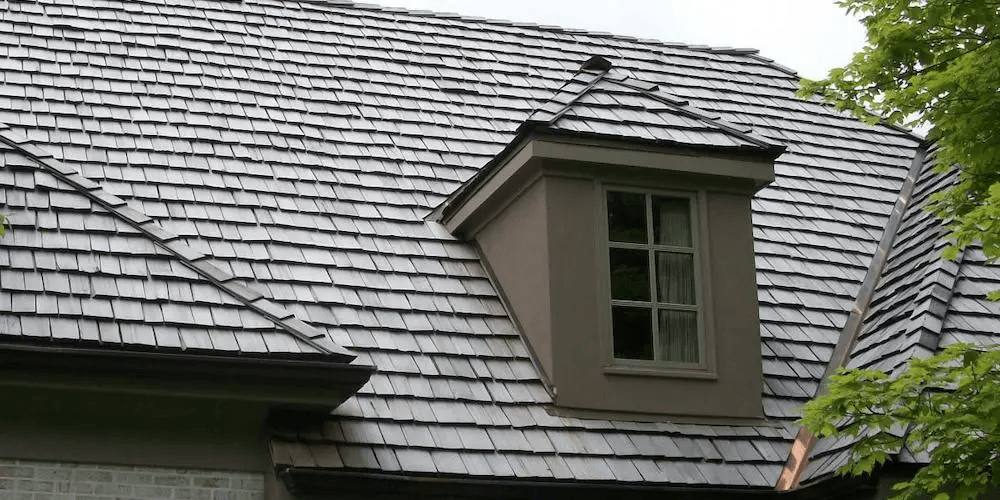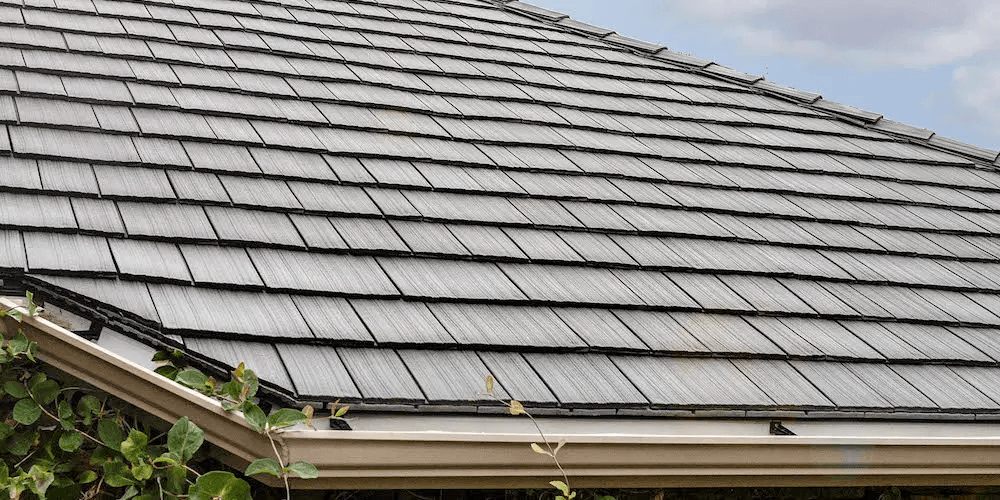 Image source: Enviroshake & Hanson Roofing
Rubber Slate vs. Real Slate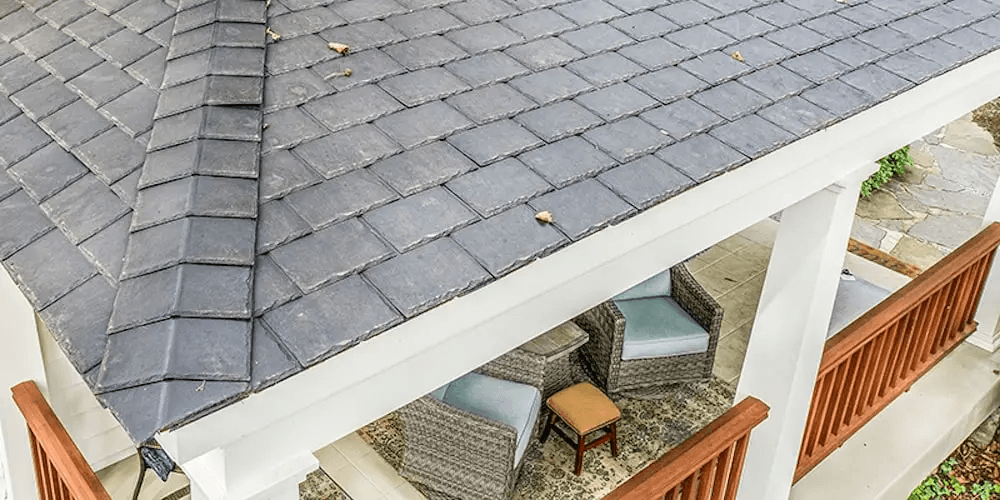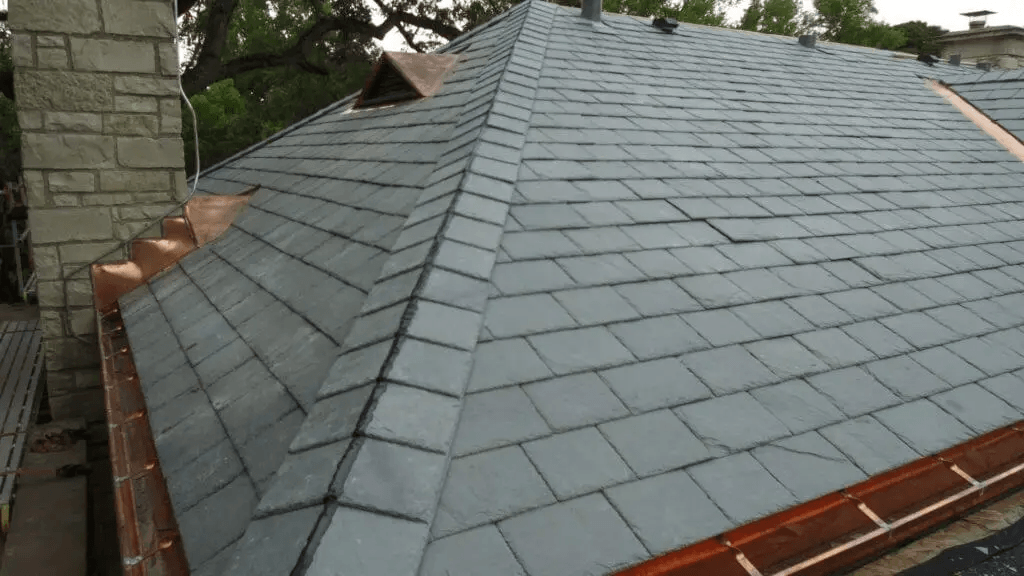 Image source: EcoStar & Ryan Restorations
Sustainability
Rubber shingles help reduce waste in two ways. First, they're manufactured from recycled plastic and tires that would otherwise contribute to landfill waste or fuel recovery from combustion.
Second, rubber shingles are recyclable themselves, which further diverts more waste away from landfills.
All-Around Durability
Generally, rubber is fire, impact, and wind-resistant – key attributes homeowners and insurance providers look for in roofing material.
A 2018 study on roofing tiles made from recycled tires and plastics in Argentina showed that they boasted better insulation, as well as higher resistance to freezing, hail, bending, and water absorption than their ceramic tile counterparts.
Water resistance, in particular, is key for any roofing material. This essentially means no rotting and mildew.
Cons of Rubber Shingles
Smell After Installation
Some say there can be a lingering rubber odor after installation. Euroshield, one such manufacturer of recycled rubber shingles, says this smell "goes away over time after exposure to the elements."
Cost
Rubber shingles certainly beat stone slate in terms of pricing, but asphalt shingles will almost always run you the least amount of money. If you have a tight budget, rubber shingles might be too much of a stretch.
Rubber Roofing: in Summary
If you're looking for a single-ply roofing membrane suited for flat roofs, EPDM, TPO, and PVC are among the most popular and worthwhile options. The optimal choice will rely on your budget and specific roofing needs.
On the other hand, rubber shingles should primarily appeal to those seeking an eco-friendly and reasonably affordable alternative to a more traditional type of roof like stone slate.