Vinyl flooring has been around for decades, but in recent years it's had a resurgence of interest to become one of the most popular flooring materials around. This is with good reason; gone are the days when your only options for vinyl were asbestos-filled colored squares or sheet vinyl printed to look like tile. Today's vinyl flooring comes in planks and interlocking tiles that can realistically mimic the appearance of wood, stone, and other popular materials. It's affordable, easy to install and remove, as well as durable and easy to maintain.
In general, vinyl flooring will cost you between $1 and $10 a square foot, only the material. LVP (Luxury Vinyl Plank) and LVT (Luxury Vinyl Tile) averages between $1.50 and $10 a square foot depending on the tickness, brand, color, and finish. If you hire a pro to install it, you can expect to pay a total of $5 - $12 per square foot.
It's so widely available now that you can find it in colors, sizes, and patterns that can rival nearly any other material on the market. This can make it harder for some homeowners to narrow down their choices and find the right flooring option for them. We asked 49 experts in the construction and flooring industry what they thought were the most popular types of vinyl flooring today. Each expert was given the chance to select multiple answers, as some of these categories have broad overlap.
Below you'll find the most popular choices for vinyl flooring, as well as options for how you may use them in your own home.
1. Wood-Look Vinyl Flooring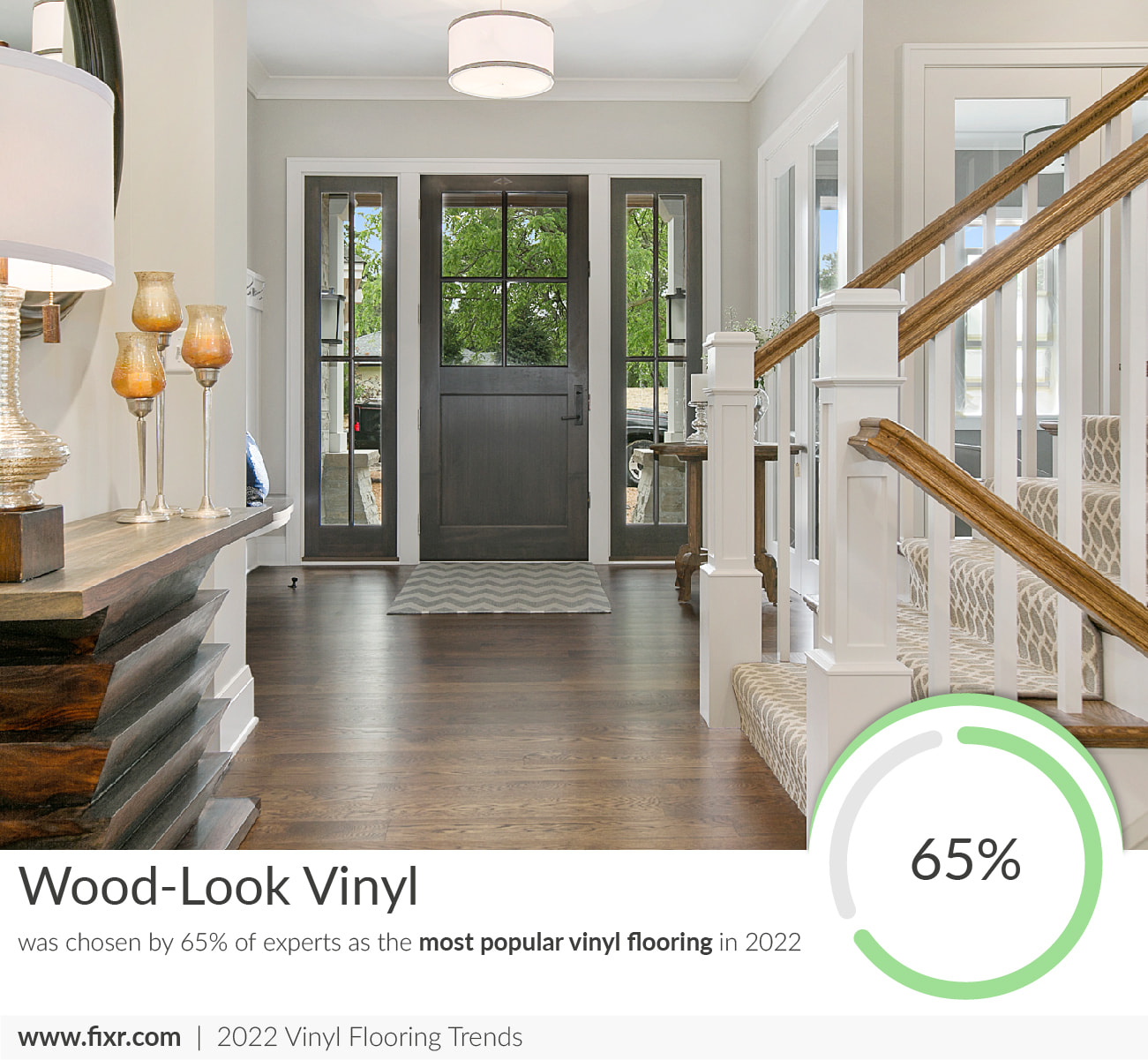 The most popular option for vinyl flooring is wood-look according to 65% of experts surveyed. Wood-look vinyl comes in an incredible range of colors, textures, widths, and styles. It has a realistic looking wood grain, while being much less expensive than real wood. It's also easy to install with interlocking planks, as well as moisture resistant and suitable for use in wet areas. Wood-look vinyl comes in both dark and light wood tones, hand-scraped-look planks, and even whitewashed. This means that you can use it in nearly every interior design from rustic to contemporary.
Keep in mind that vinyl planks are much thinner than real wood. The thickness of the wood-look planks can also vary, with costs going higher for the thicker planks than for the thinner versions.
2. Luxury Vinyl Planks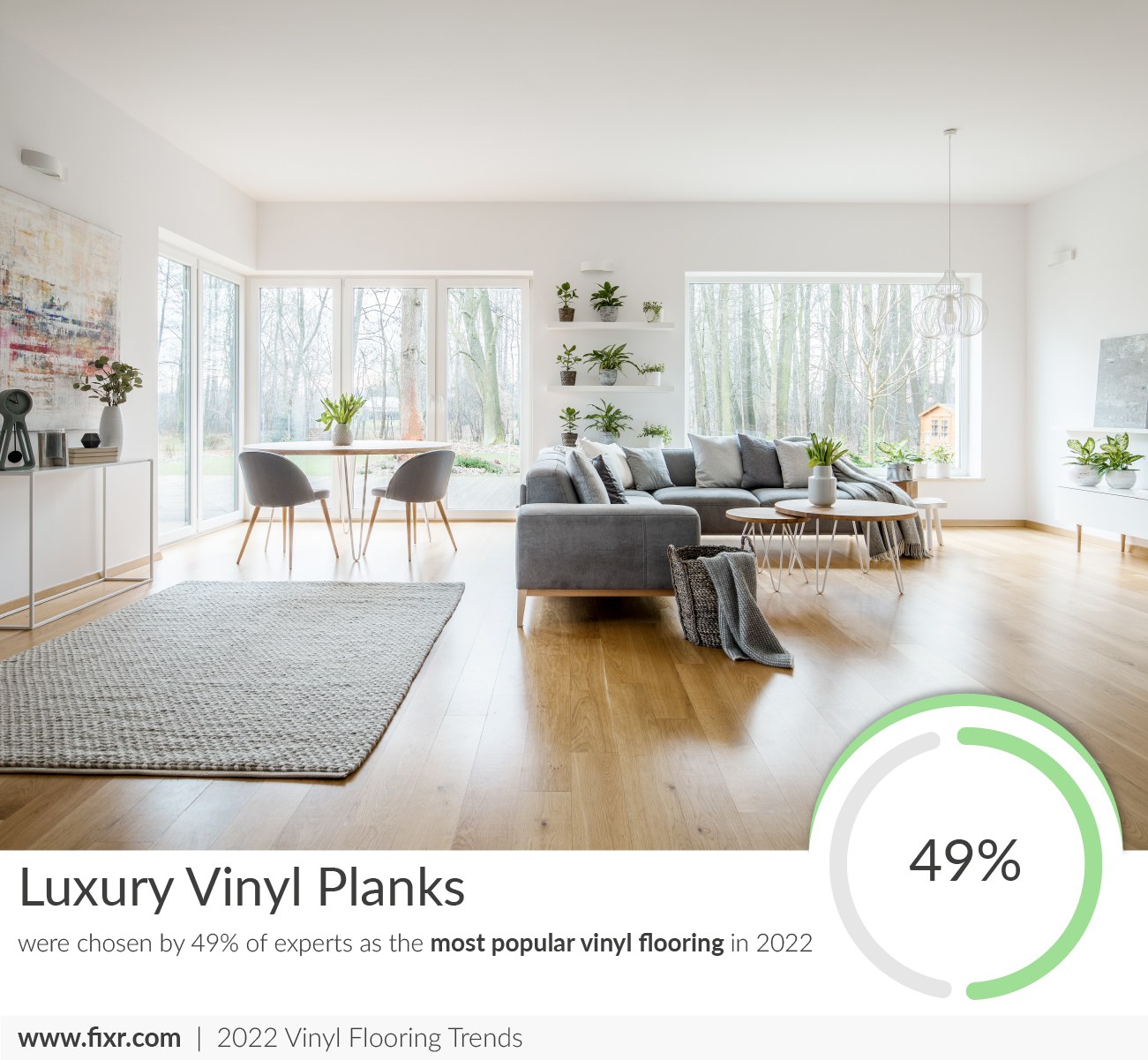 Luxury vinyl planks (LVP) were selected as being a popular vinyl flooring trend by 49% of experts. These planks are made up of multiple layers of material with a long-wearing urethane top coat. LVP is considered to be a top-quality vinyl product and it can come in a wide range of colors, textures, and thicknesses. Most of these have a hard, solid vinyl core, but some types may have a wood or stone core as well, which can change the way they feel and perform. Typically, if the material has a wood-plastic core, it's more comfortable under foot, while a stone-plastic core can give the material greater durability.
LVP is generally a floating material, made to click together, which makes it an attractive option for DIY homeowners who want to save even more.
3. Textured Wood-Look Vinyl Flooring
Textured wood-look vinyl will be a popular trend this year according to 37% of experts surveyed. Textured wood-look vinyl is a sub-type of wood-look planks or LVP. Rather than being given a smooth finish with a light simulated wood grain, these planks have a deeper texture. They can resemble wood floors that have been wire brushed, hand scraped, or otherwise distressed. If you're considering creating a rustic style for your home, or if your interior design has a cottage chic look, this type of flooring will fit right in.
These floors tend to be a little darker in color, with the grain more pronounced by the texture. Keep in mind that this texture can make them a little harder to maintain than other vinyl floors, as the grooves and creases in the floor can trap dirt and debris, making them a little harder to keep clean.
This style of vinyl flooring costs on the high end of most LVP, because it needs to be thicker to accommodate the texture.
4. Luxury Vinyl Tiles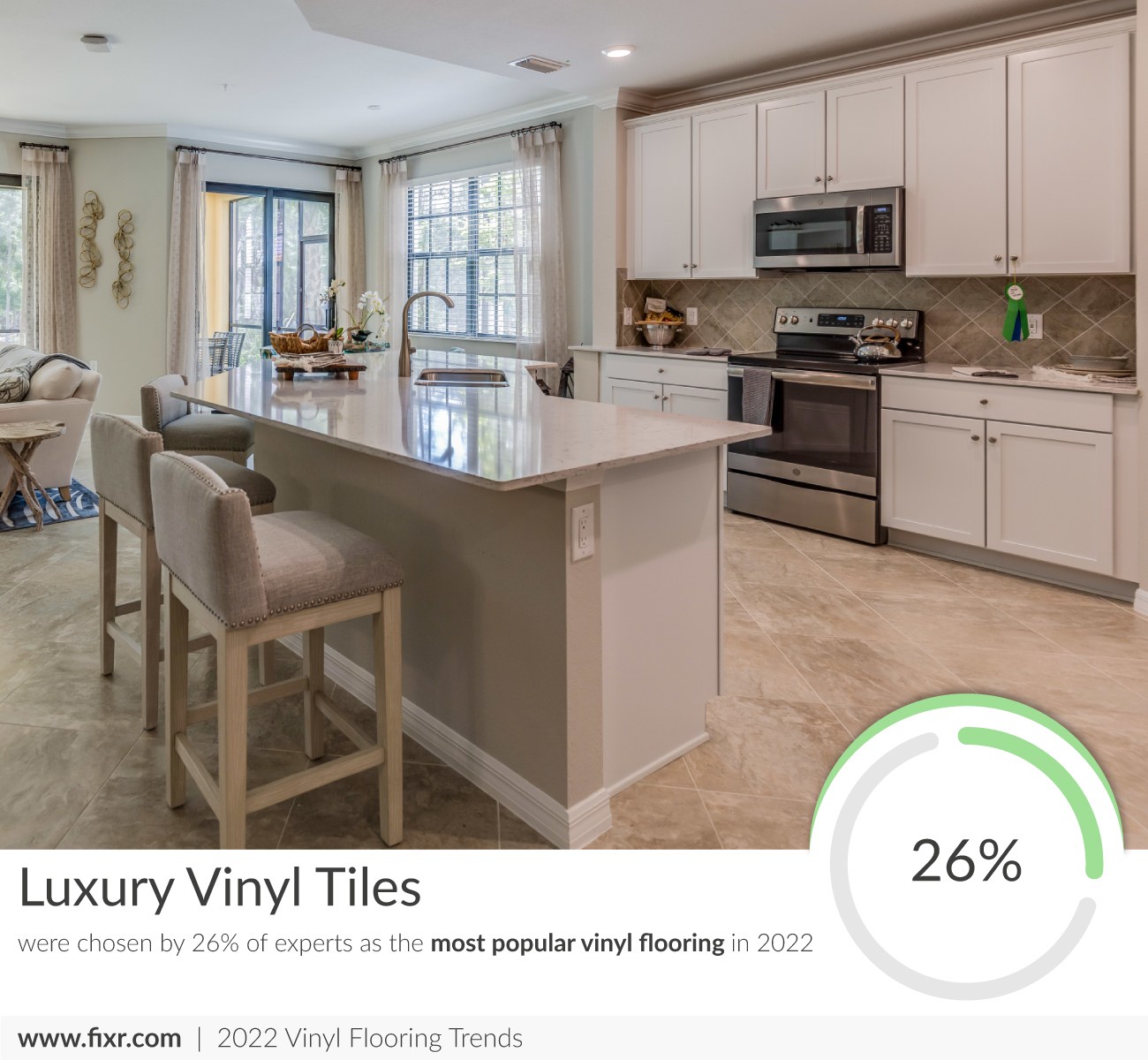 Luxury vinyl tile (LVT) is another popular material for vinyl flooring according to 26% of experts. LVT is the cousin of LVP. It's made of the same materials, but fashioned into square or rectangular tiles, rather than planks. It also gives the appearance of stone, concrete, and other types of tile.
Like LVP, LVT can come in several thicknesses and colors, with thickness being the biggest indicator for cost. This is a great material for bathrooms, kitchens, foyers, and mudrooms, as it's easy to maintain. It's not impacted by moisture, and the interlocking tiles can be installed by anyone, including DIY homeowners.
5. Concrete-Look Vinyl Flooring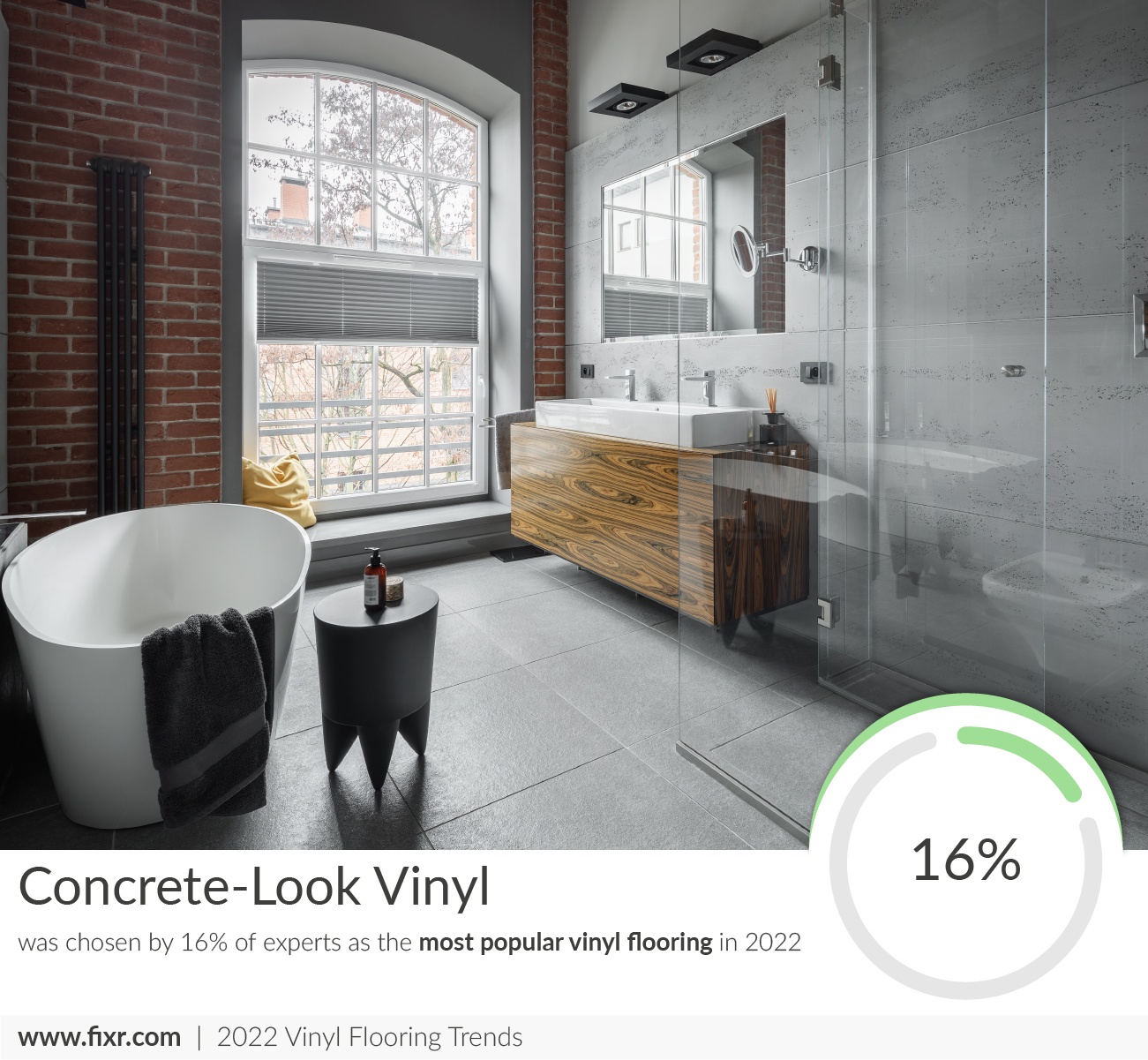 16% of experts think that concrete-look vinyl will be a popular style this year. Concrete-look vinyl is a subtype or color of LVT. These tiles have a light texture, along with the color and appearance of concrete. Unlike true concrete, they don't require sealing and they are stain and crack resistant. This makes them easier to maintain than a true concrete floor, while still giving you the look and texture.
They work well in contemporary spaces, and can be more comfortable underfoot than true concrete. For the best results, consider larger tiles, which will have fewer joints between them. Like all LVT, these tiles are easy to install, and can be put in by most homeowners.
6. Blonde Wood-Look Vinyl Flooring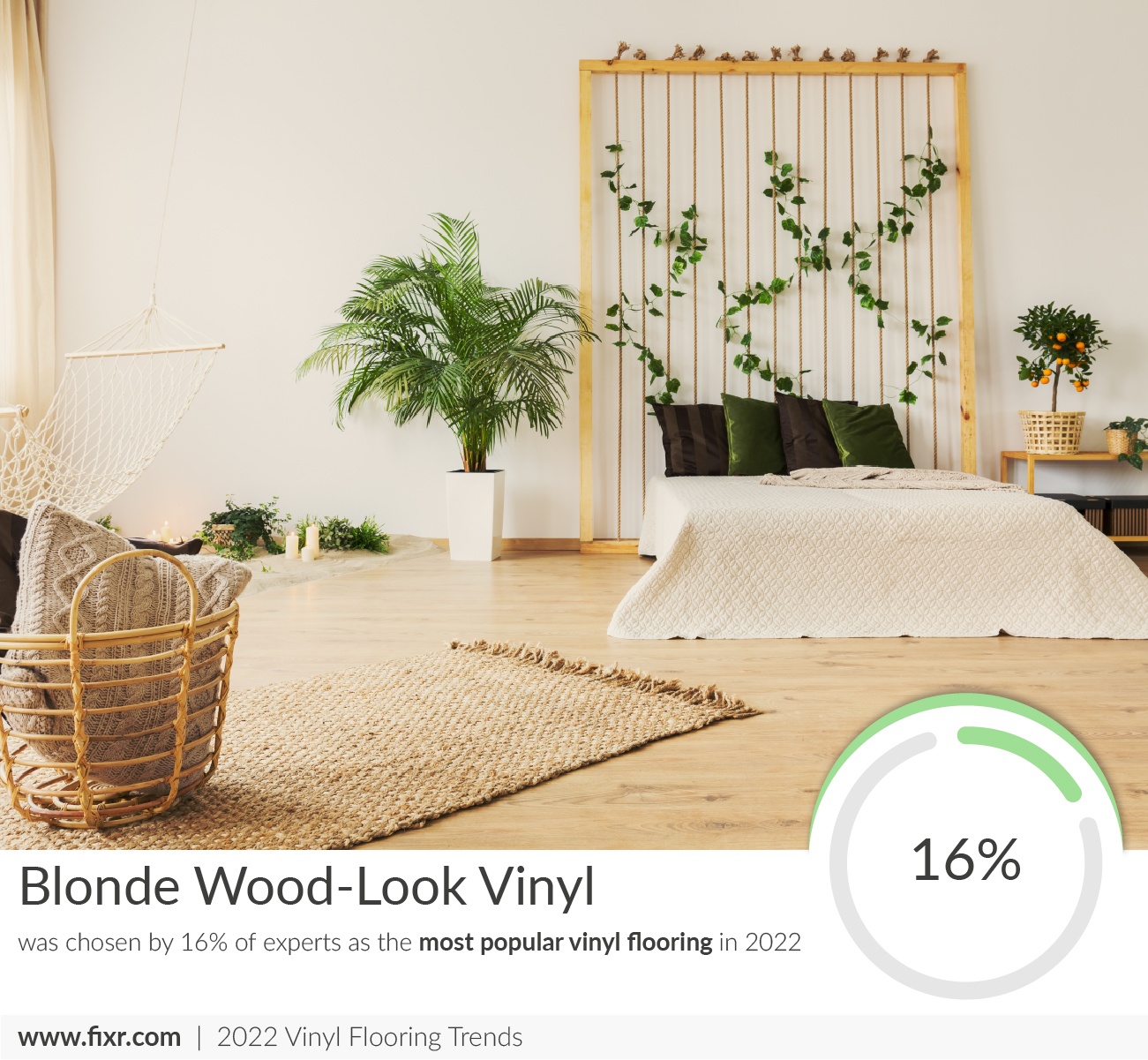 16% of experts think that blonde-wood look vinyl will also be a popular style. Blonde is a popular color option for wooden floors in 2022 in general as more people begin to move away from darker wood floors in order to create brighter spaces in their homes.
Blonde wood or wood-look flooring can describe many different shades, but most often includes the lightest colors of wood tone available such as clear maple. The shade is warm in color with yellow undertones. It can work well in nearly any setting, and will pair well with many shades of green for wall colors, as well as shades of blue, gray, tan, and muted shades of orange.
7. Rigid Core Vinyl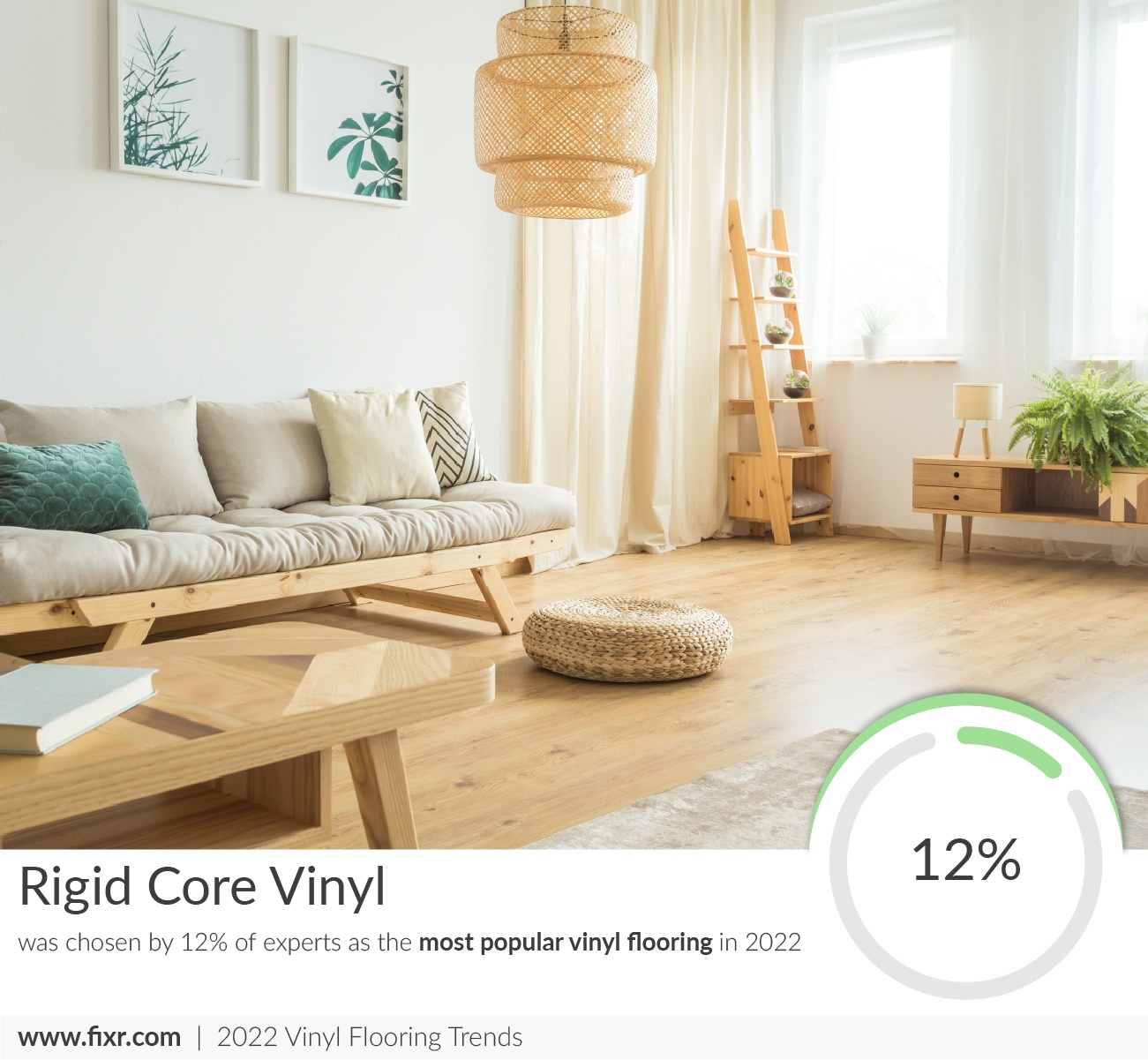 12% of experts feel that rigid core vinyl will be a popular material for 2022. Both LVP and LVT fall into this category. Rigid core simply means that the material is vinyl straight through, rather than having a wood or stone composite core. This makes the material strong and inflexible, so it can last for years. It comes in all the popular colors and finishes of LVP and LVT including textured and blond-wood look planks and concrete-look tiles. This can enable you to meet several trends at once when you use this material.
Rigid core vinyl comes in several thicknesses as well, with the thicker materials costing more than the thinner materials. It is installed as a floating floor, and can be installed by DIY homeowners.
8. Travertine-Look Vinyl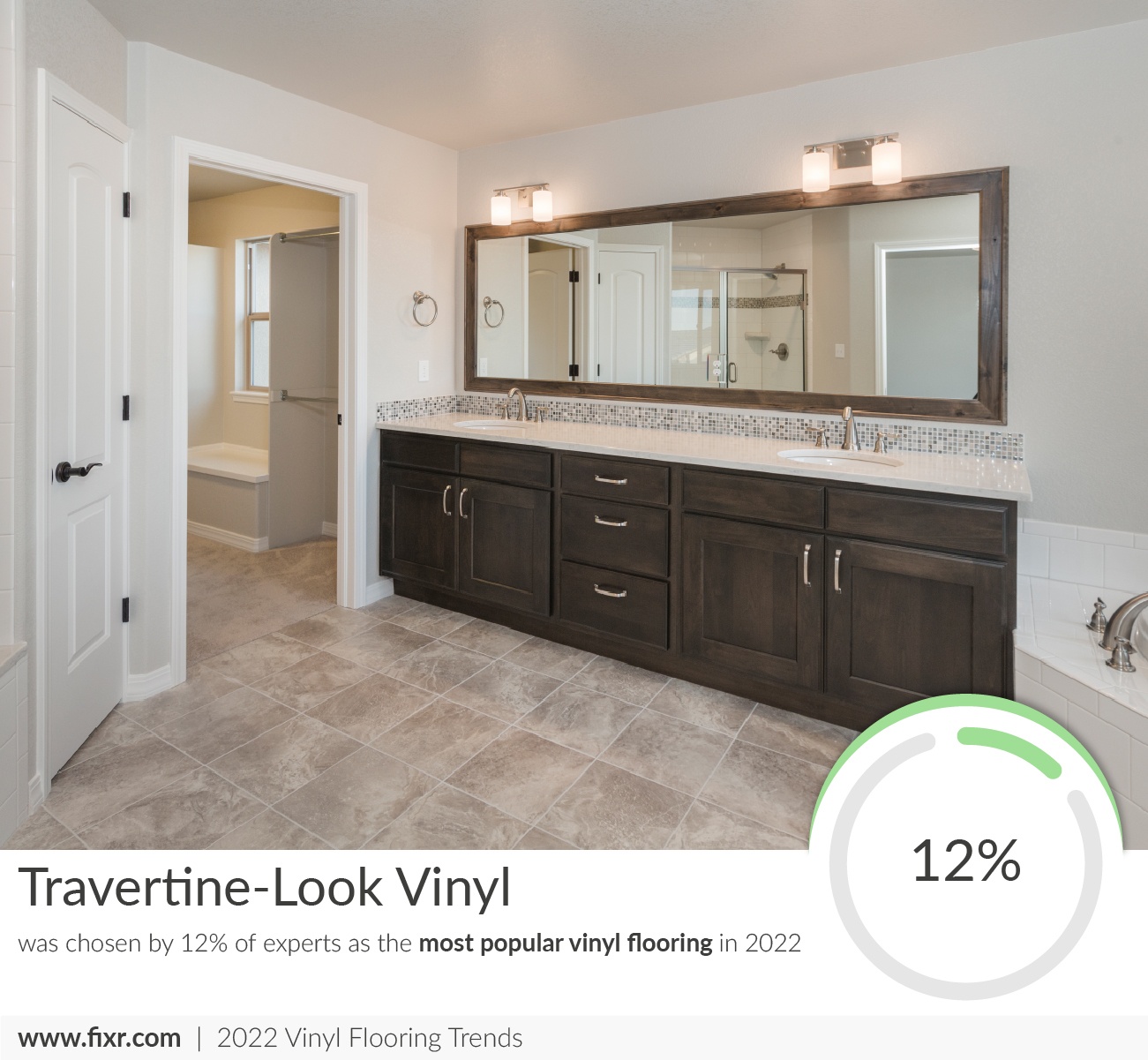 12% of experts also agree that travertine-look vinyl will be popular this year. Travertine-look vinyl is a subtype of LVT. Travertine is a type of limestone formed deep inside hot springs. Escaping water vapor in the cooling stone creates tunnels through the material. When cut into tile, these appear as holes, which are usually filled with epoxy.
Travertine-look vinyl has the same appearance as honed-and-filled travertine floor tiles. Unlike real travertine, this material does not need to be sealed. It's also not going to chip or loose the filing material over time, exposing holes that can fill with dirt. This makes it easier to maintain than real travertine, as well as much less expensive. Like all LVT, it's installed as a floating floor, and comes in several thicknesses.
Author
Irena is an industry analyst at Fixr.com. She analyzes and looks for visual ways to simplify data. She is researching and writing about home improvement and personal finance. For this report she analyzed Fixr.com 2022 flooring trends survey data to present the homeowner's top vinyl floor style choices, according to the opinions of the experts surveyed.