Wood is the most timeless flooring material available, and it's constantly evolving. This year, as people seek out more earthy colors as a way of expressing nature themes in their homes, wood and wood-like floors made from different materials are taking the cake with their various color options.
Wood floors can be found in many shades from wood species that have natural hues to lighter woods that can be stained or painted in other colors. Because wood is so long lasting, you'll want to ensure that you choose a color that will complement your home's style now and in the coming years.
Below, you'll find the top wood floor colors for 2022, according to 49 experts we surveyed.
Gray Wood Floors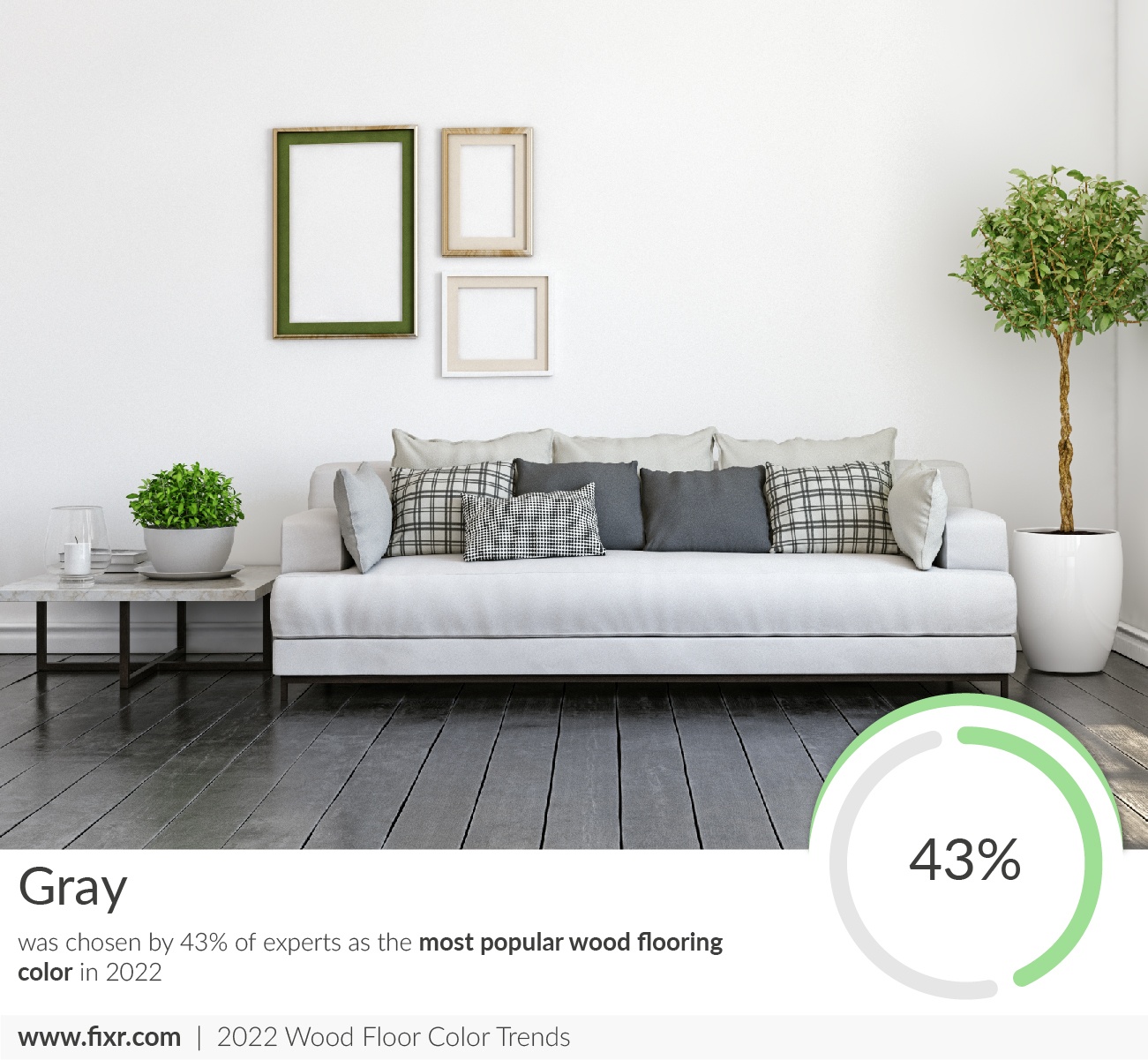 Gray has been hot in home design in general, and 43% of our experts say it's the wood flooring color of the year. It has been a popular color for the last several years, and still has staying power for flooring, as it's a cool neutral that can work with many home styles. Gray floors are perfect for cool, modern homes, with darker hues adding some moody and interesting notes to your home design and lighter ones acting as the perfect canvas that can be accented with lighter-colored fixtures and furnishings. Gray floors look great anywhere, but you'll want to be mindful of the shade that you use and the size of the space so you don't create the illusion of less space.
Honey Wood Floors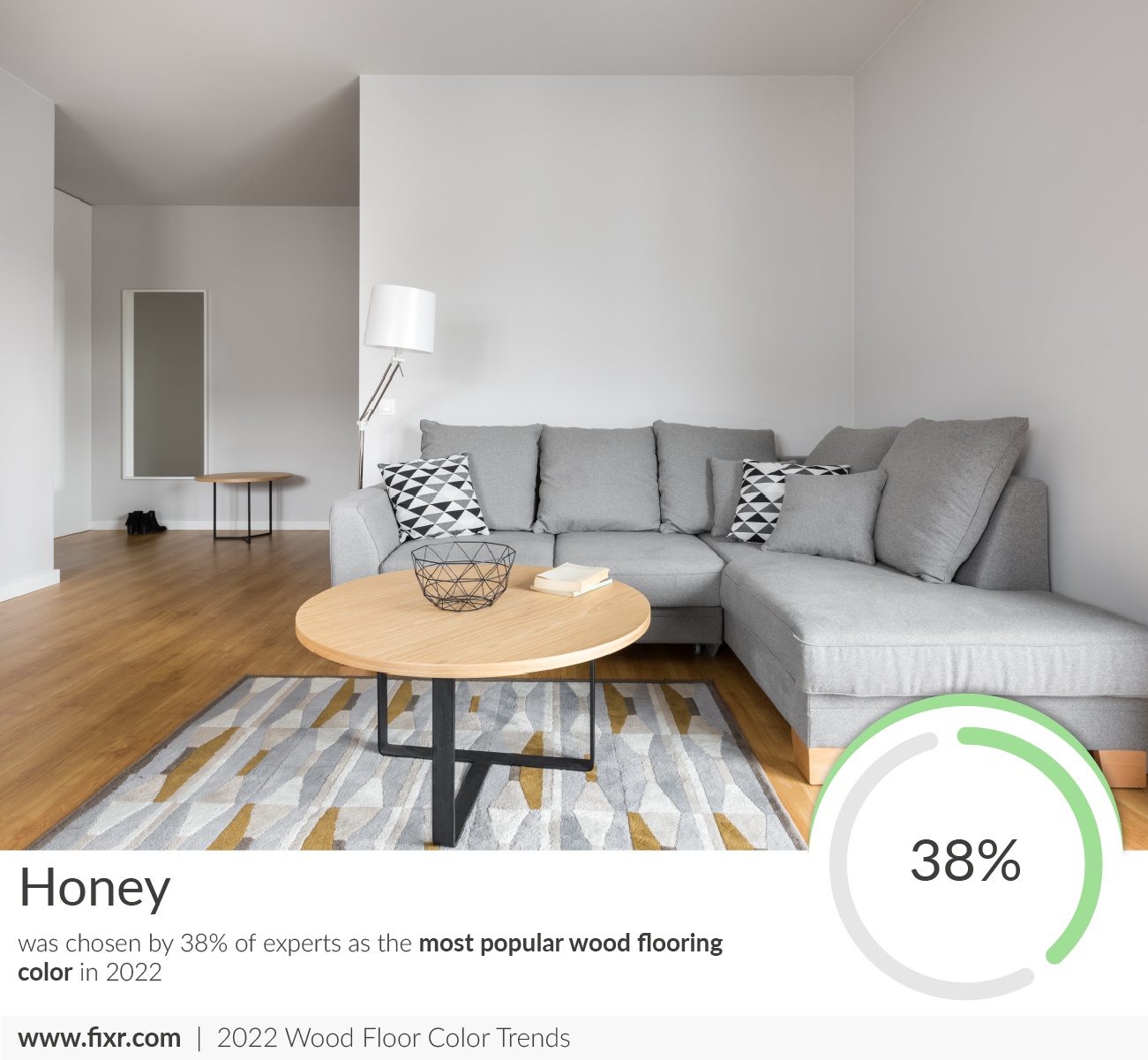 Honey is one of the warm tones that is popular this year because it adds that touch of cheerful lightness. 38% of our experts say it's the most popular choice, and for several reasons. Honey-colored wood floors go great with just about any look - you can add cool colors to the walls or stick with light walls to really open up the space. Perhaps you'll choose darker or colored furniture for the space or even a colorful area rug to accent the beautiful honey-colored floors. One benefit of honey-colored flooring is that you can opt for a hardwood material like pine. Pine is relatively cheaper than some other hardwood materials, but it does tend to wear faster.
Dark Wood Floors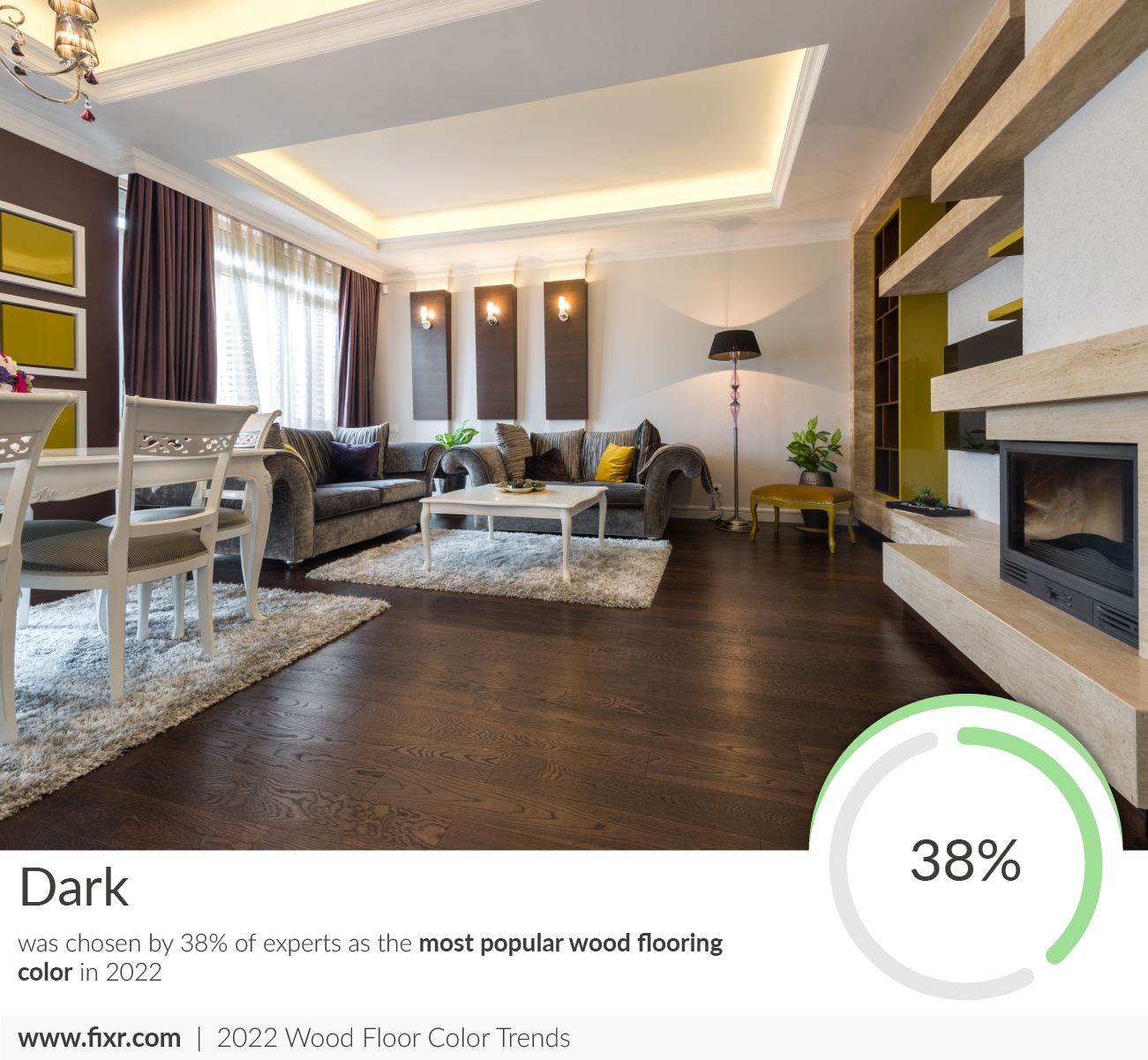 Dark woods are popular in bedrooms and the leading choice of 38% of our experts. In bedrooms, they allow people to create a warmer, more calming space that reflects nature. These floors also work well in kitchens with contrasting colors like bright white cabinets and appliances, which creates some depth. Generally, woods with a naturally dark tone, like walnut, will be a bit more expensive than a naturally lighter wood that is stained to be dark. Using a naturally dark wood, can also result in a more durable floor in the end because of their unique properties when compared to lighter woods. Dark wood tones are great choices for farmhouse and rustic homes. However, you should note that they can make the whole room feel darker as a result.
Blonde Wood Floors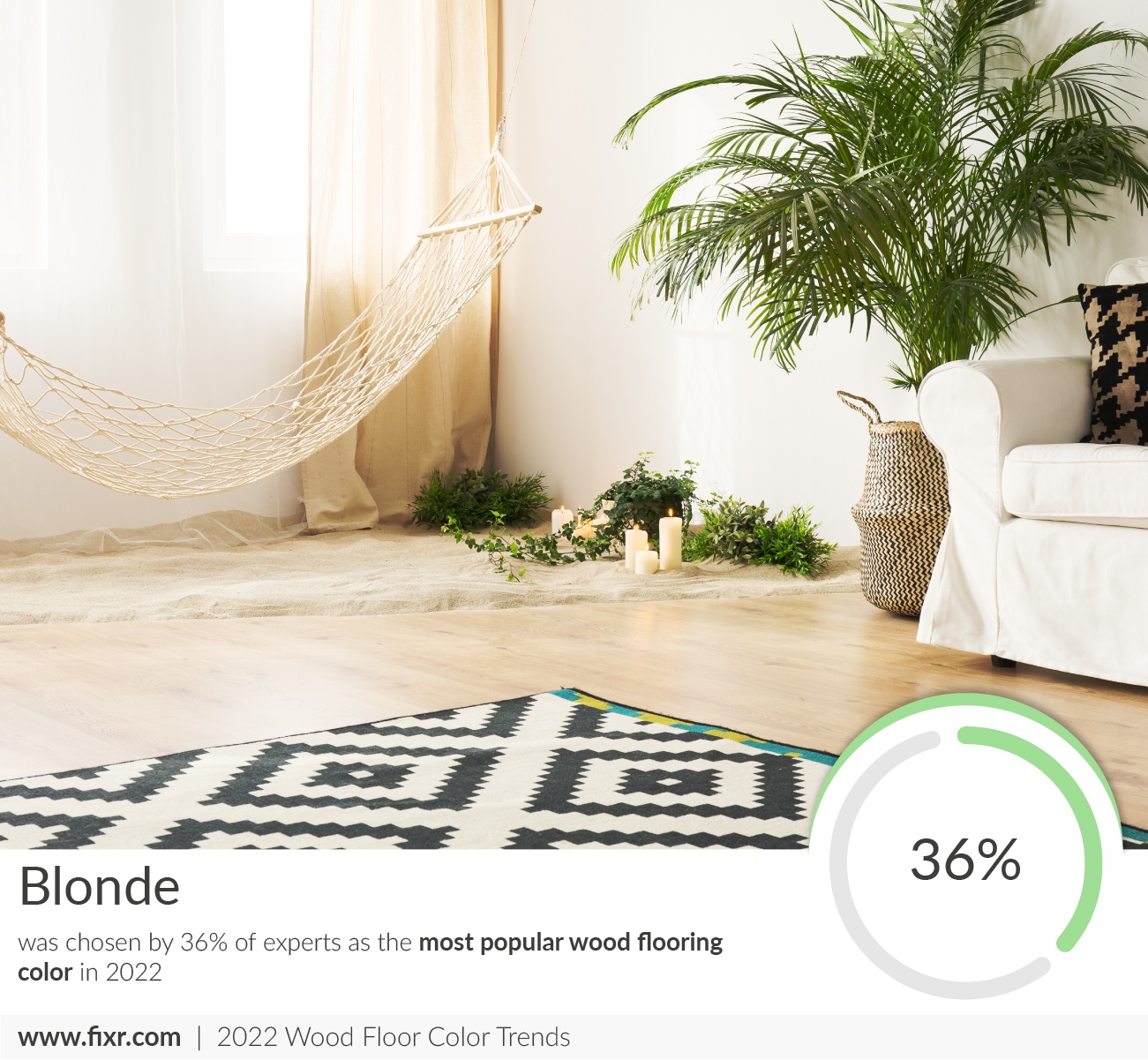 Blonde wood flooring is a very versatile hue that complements almost any design style. This hue was extremely popular in mid-century home design, and nowadays you can find a great variety of new options that can work great with your home style. 36% of our experts agreed that blonde will be one of the top wood flooring color trends this year. The main perk of choosing blonde wood floors for your home is that it will add brightness to any room, making even small and dark rooms seem larger.
Greige Wood Floor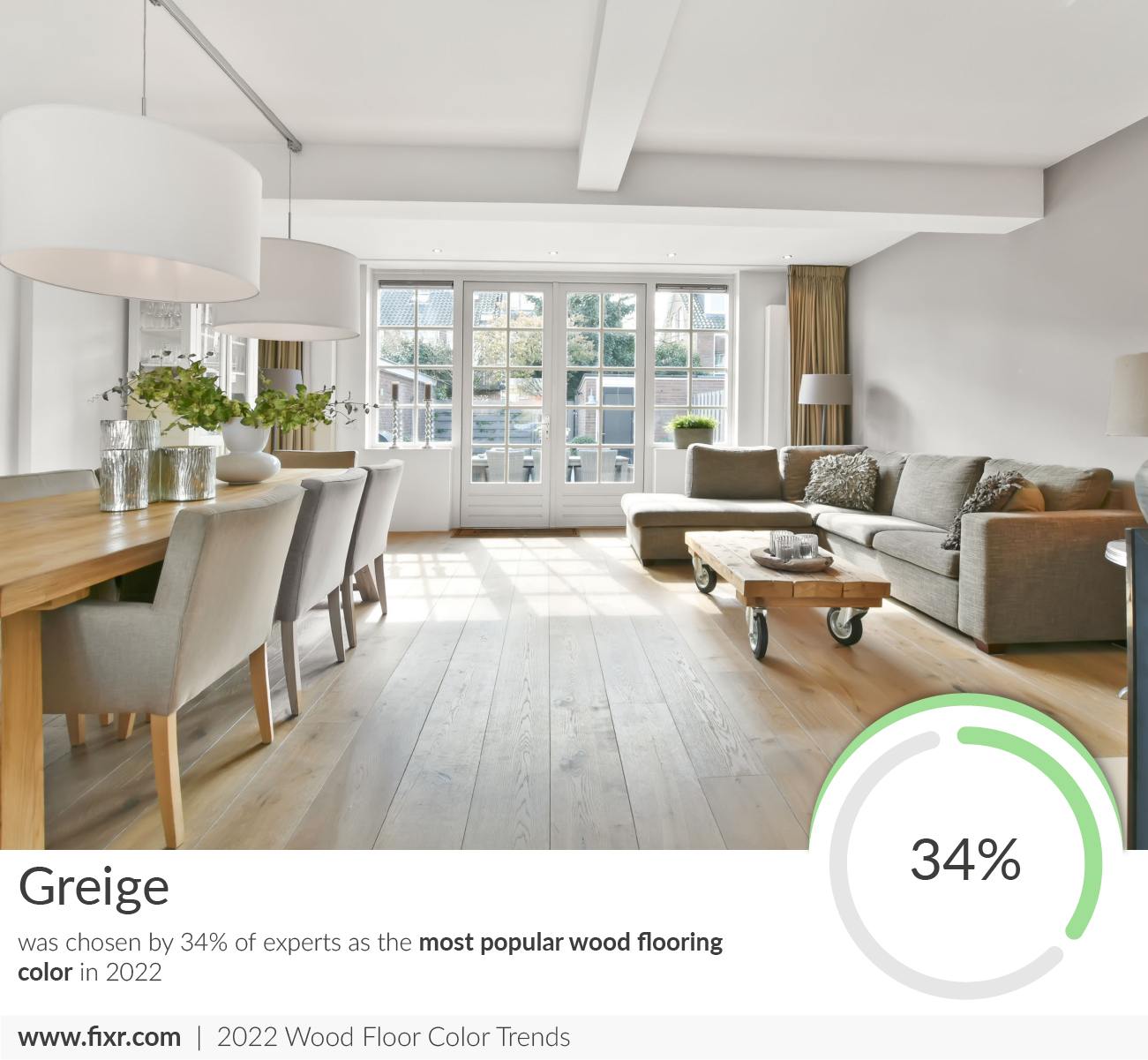 34% of the experts we surveyed believe greige will be one of the most popular wood flooring colors in 2022. Greige is a mixture of gray and beige, it is available in tons of shades, and offers another earthy appeal for those who like a natural look. Just like blonde wood, greige goes well in almost any room and as it is a neutral color, it is easy to combine with many wall colors and furniture.
Whitewashed Wood Floors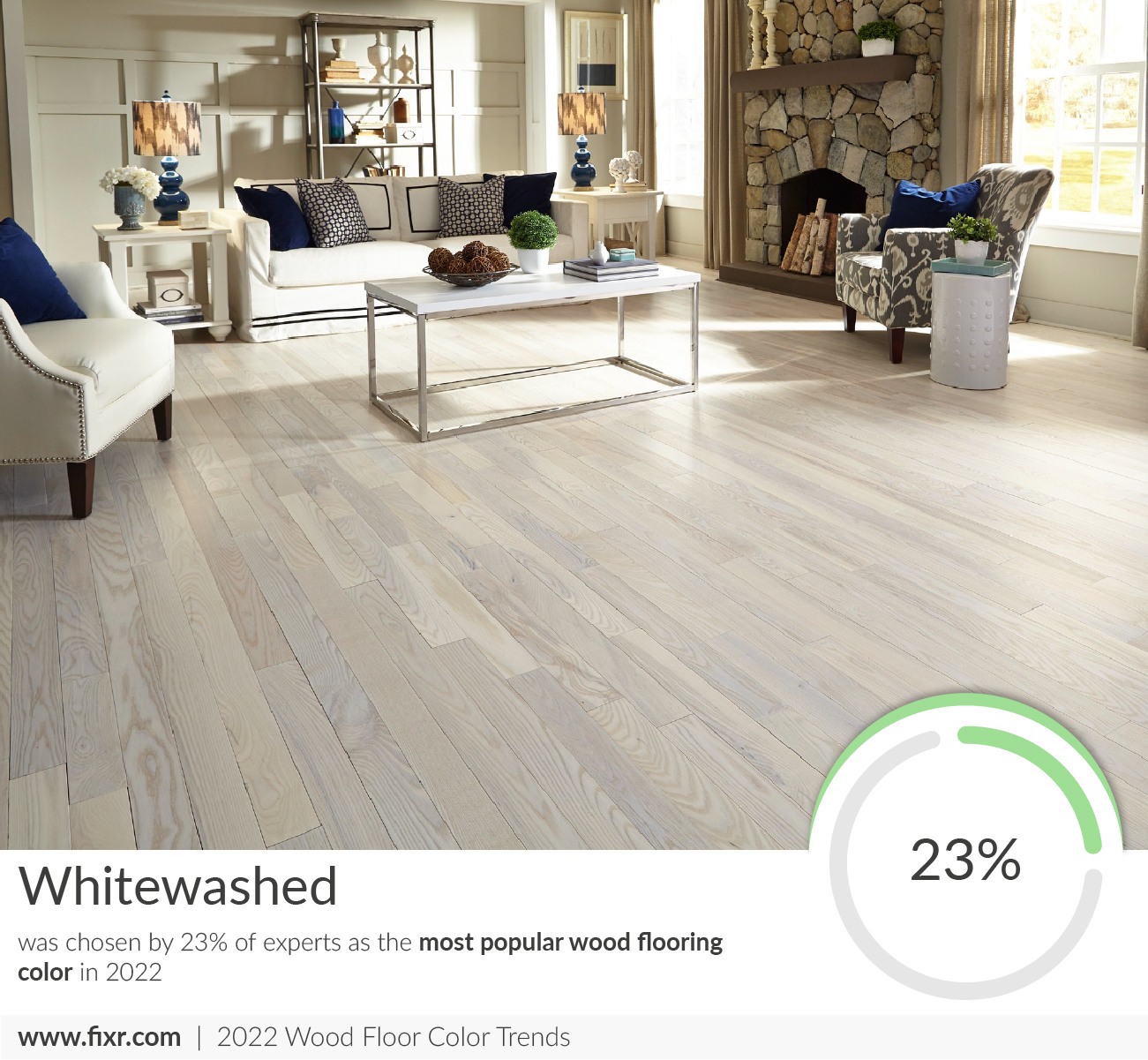 Whitewashed wood is another popular trend. Although only 23% of our experts believe this will be the popular wood flooring color trend this year, homeowners going for the rustic or cottage-style look love this finish. Flooring isn't the only thing getting whitewashed—fixtures and furnishings in distressed finishes are popular, too. Whitewashed floors go great with light fixtures, beach themes, and the rustic farmhouse design that's popular right now.
Existing wood floors can be whitewashed, which can make this a more affordable trend than installing new floors. If you do this, however, keep in mind that the finish can scuff and chip over time. Otherwise, you may want to invest in an engineered hardwood with a whitewashed finish for durability.
Wood Flooring on Any Budget
You can get a great wood look on any budget, thanks to the low prices of wood-like materials. Laminate costs just $6 to $14 per square foot, LVP cost can vary between $1.50 and $10 per square foot, while real hardwood floors cost between $14 and $32 per square foot, depending on the exact material and type of wood (engineered, solid hardwood, etc.). You'll also spend more for darker woods and hardwoods like cherry, mahogany, and walnut than you might on a softer, lighter wood like pine. If you are choosing a paint or stain to finish the floor, that won't impact the cost as much as the material itself, but it should be something to keep in mind.
Author
Irena is industry analyst at Fixr.com. She analyzes and looks for visual ways to simplify data. She is researching and writing about home improvement and personal finance. For this mini report she analyzed Fixr.com 2022 flooring trends survey data to present you the homeowner's top wood flooring color choices, according to the opinions of the experts surveyed.