How much does it cost to install laminate flooring?
Get free estimates from flooring contractors near you
Laminate Flooring Installation Cost Guide
Updated: December 16, 2022

Laminate flooring is a manufactured multi-layered synthetic floor fused in a lamination process, simulating wood, stone, or tile with a photographic layer under a clear protective layer. There are many benefits of installing laminate flooring because of its durability (up to 30 years), lower price, and ability to withstand debris and water exposure. The cost of laminates has remained steady for the last several years as competition and newer manufacturing processes have kept costs down. This is expected to continue into 2023, except for laminates made overseas. The cost of freight to import non-domestic laminates could drive those costs up slightly over the next year, but freight costs remain too volatile to predict how costs may rise.
The average cost to install a laminate floor ranges from $1,500 and $3,500. The average homeowner spends around $2,207 on a 12 mm thick laminate floor for a 200 sq.ft. room with a sound-reduction underlayment. This project's low cost is $1,217 for 200 sq.ft. of 7 mm thick laminate floor installed with no underlayment. The high cost is $4,616 for 300 sq.ft. of 12 mm thick laminate with a 3-in-1 underlayment, fully installed.
Cost to Install Laminate Flooring
Laminate Flooring Cost
National average cost
$2,207
Average range
$1,500-$3,500
Low-end
$1,217
High-end
$4,616
Laminate Flooring Installation Cost per Square Foot
The average cost to install laminate flooring is between $6 and $14 per sq.ft., including labor and material costs. If you buy the flooring and install it yourself, expect to pay $1.50 to $6 per sq.ft. Other aspects can increase the cost, such as if the subfloor needs prepping or the project involves removing old flooring. Additionally, the room size has a big impact on the project price. Larger rooms require more flooring, resulting in higher material costs. So, the cost to install 300 sq.ft. of laminate flooring will be significantly less than the cost of laminate flooring for 2,000 sq.ft. Below are the average costs to install laminate flooring in some of the most commonly sized installations.
| | |
| --- | --- |
| Room Size | Average Cost (Installed) |
| 100 sq.ft. | $600 - $1,400 |
| 200 sq.ft. | $1,200 - $2,800 |
| 300 sq.ft. | $1,800 - $4,200 |
| 500 sq.ft. | $3,000 - $7,000 |
| 600 sq.ft. | $3,600 - $8,400 |
| 1,000 sq.ft. | $6,000 - $14,000 |
| 1,500 sq.ft. | $9,000 - $21,000 |
| 2,000 sq.ft. | $12,000 - $28,000 |
Price of Laminate Floor by Thickness
Laminate flooring is offered in different thickness levels. Typically, it is available from 6 to 12 mm in thickness. All options are dent-resistant, but the thicker the material, the less resistant it is to bending caused by an uneven subfloor. Thicker materials also offer more noise reduction when walking on the floor. It is recommended that laminates used in the home be no thinner than 8 mm for durability and to help prevent warping and cracking over time. However, when installing the material in a very low-traffic area like a guest bedroom, it is possible to use a thinner material without consequence. Very thick laminate floors are mostly recommended for very high-traffic areas and areas without even substrates. Thin materials require either an underlayment or a very smooth subfloor, which can increase the installation cost, negating any savings from the material. 8 and 10-mm laminates are available in the most colors, styles, and choices because these are the most commonly used materials. Thinner and thicker laminates may not be as widely available in popular styles. Below are the costs per square foot for various thicknesses of laminate flooring.
| | |
| --- | --- |
| Thickness | Cost per Sq.Ft. (Materials Only) |
| 6 mm | $0.69 - $0.99 |
| 7 mm | $0.89 - $0.99 |
| 8 mm | $0.99 - $1.79 |
| 10 mm | $1.99 - $3.99 |
| 12 mm | $2.29 - $5.99 |
Laminate Flooring Cost by Style
While some picture a material similar to wood when thinking about laminate flooring, this material comes in numerous styles. It can easily imitate tile or stone and many colors and shades of wood because the top layer can be printed in any pattern before laminating. So, this flooring comes in hundreds of colors, patterns, and styles. Despite their different appearances, they all perform equally and install similarly. All of them should be used in dry above-grade areas only to avoid swelling and warping. Costs vary by the type and material color, style, and size. Below are the average costs for the different laminate styles per square foot.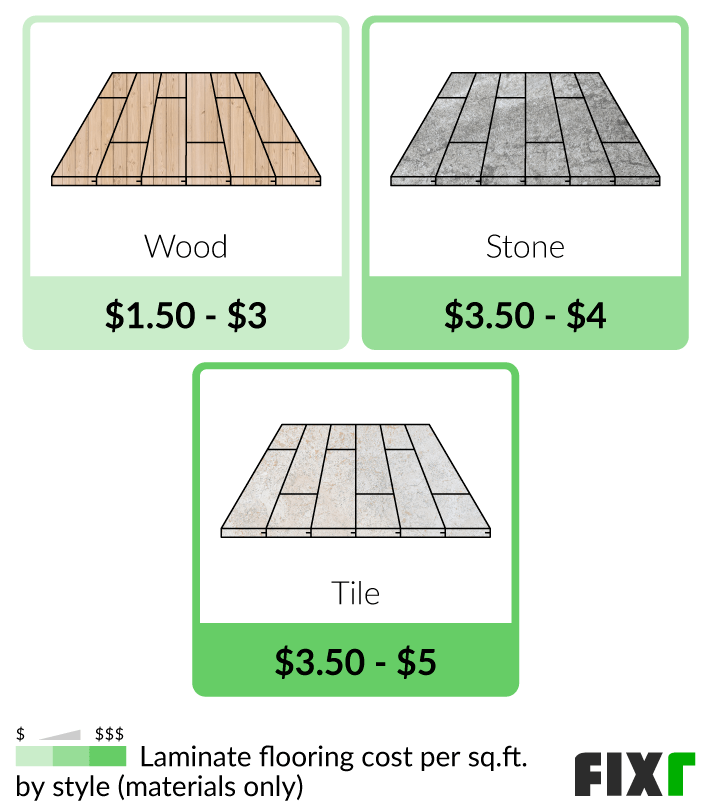 | | |
| --- | --- |
| Type | Cost per Sq.Ft. (Materials Only) |
| Wood | $1.50 - $3 |
| Stone | $3.50 - $4 |
| Tile | $3.50 - $5 |
Wood Laminate Flooring
Wood laminate flooring costs between $1.50 and $3 a square foot. Wood-look is the most common type. It is much more available than the other types. You can find wood-look flooring in a range of colors, sizes, and floor thicknesses. Most are click-lock, meaning they can be installed as a "floating" floor. Some older types may be nail or glue-down, but they are not nearly as common.
Stone-Look Laminate Flooring
Stone-look laminate flooring ranges from $3.50 to $4 a square foot. It is much less common than the wood-look variety. It is available in a range of different colors but with few styles. Most give you the appearance of a tumbled or antiqued stone floor. The material is sold in click-lock tiles rather than planks. The tiles are usually larger and may have several "sizes" of "stone" on one tile. When clicked together, it imitates a stone tile floor in a repeating pattern.
Tile Laminate Flooring
Tile laminate flooring averages $3.50 to $5 a square foot. It is more widely available than stone-look but not as available as wood-look. The tile can appear like stone, concrete, or "terrazzo." The tiles are designed to click-lock together like the wood-look planks. So while these are tiles, they are not grouted or sealed on the edges. This means they are not suitable for wet areas because water could get between the joints and cause the flooring to swell. When this happens, the tiles could warp.
Laminate Wood Flooring Cost by Wood Look
Buyers have many options when purchasing wood laminate flooring. There are many types and styles of wood, including acacia, beech, hickory, oak, and walnut. Each has a different color and pattern, offering a wide range of aesthetics. The better-looking and more desirable woods, such as elm and hickory, are more expensive, mostly because they have more dramatic graining, making them more difficult to replicate. Like natural wood, wood-look laminate comes in several shades and grain patterns for each wood type. For example, walnut, which is a dark wood, comes in varying shades of depth like the natural material because heartwood is often darker than sapwood. Popular woods like maple may be very light with little grain or have a curly maple grain, depending on the brand and color, impacting the final cost. Below are the average costs per square foot for the different wood-look styles laminate planks are available in.
| | |
| --- | --- |
| Type | Cost per Sq.Ft. (Materials Only) |
| Acacia | $0.99 - $2.20 |
| Beech | $0.99 - $2.89 |
| Oak | $0.99 - $3.69 |
| Elm | $1.40 - $3.70 |
| Maple | $1.50 - $3.80 |
| Hickory | $1.50 - $4.50 |
| Cherry | $1.70 - $2.80 |
| Walnut | $1.99 - $2.80 |
Laminate Wood Flooring Cost by Type of Texture
Laminate comes in various textures to produce the look of real hardwood, stone, or concrete flooring. And like these other materials, it can be finished in various ways. The finished floor may be perfectly smooth or have a mild-to-moderate texture, depending on the type. Like all floors, the deeper the texture, the harder the floor may be to keep clean. However, some textures make the floor look more realistic and increase slip resistance. For example, embossed and embossed in register patterns give you a more realistic texture, with EIR giving you a very natural feel to the planks. Brushed and handscraped have much deeper texture, producing a rustic look, while oiled has a richer color and finish, creating a subtle sheen. Below are the average costs per square foot for the various textures found on the floors.
| | |
| --- | --- |
| Texture | Cost per Sq.Ft. (Materials Only) |
| Smooth | $1.69 - $2.59 |
| Embossed | $1.79 - $2.99 |
| Embossed in Register (EIR) | $1.89 - $3.99 |
| Brushed | $1.99 - $3.99 |
| Oiled | $2.59 - $5.59 |
| Handscraped | $2.99 - $5.99 |
Laminate Flooring Cost by Finish
Laminate is offered in different finishes. A finish is different from a texture, but the two go hand-in-hand. Some textures like oil-finished are naturally glossy, while others like handscraped are more likely matte. Sometimes, you can choose between different finishes and textures to find a unique style for your home. In general, most people choose a semi-matte - or satin - finish because this helps disguise some imperfections, scrapes, and dirt in the flooring without being highly reflective. Matte finishes are popular in some rustic and country-style homes, but matte finishes tend to show everything because they absorb all light. Glossy textures reflect a lot of light, so they do not show scratches and dirt as easily. However, the finish itself can be scraped or etched, becoming a more visible imperfection over time, which is why the satin or semi-matte finish is more popular. Below are the average costs for the different finishes available.
| | |
| --- | --- |
| Finish | Cost per Sq.Ft. (Materials Only) |
| Semi-Matte | $0.99 - $3.79 |
| Matte | $0.99 - $4.40 |
| Gloss | $1.69 - $5.60 |
Cost of Laminate Flooring by Feature
Laminate flooring comes with a range of desirable features. Some are scratch-resistant, making them longer-lasting and less likely to degrade. Other forms are water-resistant, noise-resistant, approved for underfloor warming, or installable over a cork underlayment. If you want to install radiant heating, ensure your laminate is approved for it so that it does not dry out and shrink. Busy households may benefit from scratch-resistant, noise-resistant, and easier-to-care-for floors that do not need waxing or polishing. To install the material in your foyer or kitchen, opt for water resistant. This does not mean waterproof, and this material should never be used in wet areas. However, water-resistant laminate can mean a spill or small puddle will not ruin your floor.
Laminates are usually installed with underlayments to cushion them. Many people like cork because it is natural and very resilient, but ensure the laminate can be installed with it. Or, you can choose a laminate that already has an underlayment, making it easier to install and reducing labor costs. Below are the average costs for the different laminate types with special features.
| | |
| --- | --- |
| Feature | Cost per Sq.Ft. (Materials Only) |
| Approved for Underfloor Warming | $0.99 - $4.99 |
| Scratch-Resistant | $0.99 - $4.99 |
| Approved for Cork Underlayment | $0.99 - $4.99 |
| Low Maintenance | $0.99 - $5.99 |
| Noise-Resistant | $1.40 - $5.60 |
| Water-Resistant | $1.70 - $5.80 |
| Fitted With Underlayment | $1.90 - $5.90 |
Cost for Laminate Flooring by Brand
There are many reputable brands of laminate flooring manufacturers. Each one typically makes a wide range of styles, finishes, and attributes. Some like TrafficMaster and Mannington offer a range of products at very affordable costs. Others like Mohawk offer very high-end options. This can mean Mohawk laminate flooring prices can be higher than some other popular brands. Other materials may require more specialty installation, such as Pergo, which may need an installer certified by the brand. Therefore, the cost to install Pergo flooring may be higher than average. Most materials tend to be more middle-of-the-road both in terms of the material and installation. This can make Quick-Step laminate flooring prices and Armstrong laminate flooring prices fairly competitive with one another. All these brands make good, durable products. Your choice may ultimately be decided by which features you need or want for your floor. Below are the average costs per square foot for some of the most popular brands.
| | |
| --- | --- |
| Company | Cost per Sq.Ft. (Materials Only) |
| TrafficMaster | $0.99 - $2.19 |
| Mannington | $0.99 - $2.99 |
| Lifeproof | $2.29 - $3.49 |
| Quick-Step | $2.39 - $2.98 |
| Mohawk | $2.69 - $5 |
| Pergo | $2.99 - $3.49 |
| Armstrong | $2.99 - $3.70 |
Labor Cost to Install Laminate Flooring
The average cost to install laminate flooring is $4 to $8 a sq.ft. This price includes the cost of installing the underlayment and laminate. Laminate is almost always installed by the square foot in terms of labor cost. However, if you need to remove old flooring, this may be charged by the hour, at around $50 to $70, depending on how difficult the old material is to remove. Laminate flooring is not difficult to install and can usually be done in a few hours. The underlayment is rolled out and taped down first, and then the laminate is locked over it. Thinner options cost more to install than thicker ones, closer to $8 a sq.ft. Thicker options are faster and easier to install and may be less expensive. While most laminate floors are floating floors, meaning they click-lock into one another, they can be installed in other ways. If your subfloor is not perfectly level or unsuited for a floating installation, your laminate can be glued or nailed down, increasing labor costs. Your labor costs are between $1,000 and $2,000 out of the $1,500 to $3,500 total range, with the remaining costs being the materials.
| | |
| --- | --- |
| Installation Type | Labor Costs per Sq.Ft. |
| Floating | $4 - $7 |
| Glue-Down | $5 - $8 |
| Nail-Down | $6 - $8 |
Cost of Underlayment for Laminate Flooring
Underlayments are essential for laminate floor installations. This is a separate material rolled out over your subfloor for the installation. The thinner the material, the thicker your underlayment must be. Underlayments act as a layer of support between the floor and subfloor, allowing the laminate to float while providing stability, support, and noise reduction. A separate moisture barrier ($35 per roll) is required for below-grade installations or moisture-prone areas. Underlayment starts at $30 to $50 a roll. The thicker the underlayment, the more expensive and harder it is to roll out and install.
Cost of Replacing Laminate Flooring
Laminate flooring is attractive and inexpensive when compared to wood flooring. However, it is easily damaged. It can warp if it gets wet, swell, buckle, or dent, crack, and scratch if you use a thinner plank. When these issues occur, you may want to replace it. The cost to remove laminate flooring varies depending on how it was installed. If it is floated or click-locked, this is an easy removal, but if it is glued or nailed down, this can be expensive. Costs start at $2 a sq.ft. for removing click-lock flooring but can go much higher, with hourly costs ranging from $50 to $70 an hour for the removal of nailed or glued-down flooring. For the average laminate floor in a 200 sq.ft. room, expect to pay $1,600 to $4,800 to replace the flooring, depending on the type, style, and removal.
Cost to Remove Carpet and Install Laminate Flooring
If you have old carpet in your home, you may want to replace it with laminate. While laminate is harder under the feet than carpet, it is easier to maintain. It is also allergen friendly and can give a room an entirely new look. The cost to remove carpeting before installation is around $0.11 to $0.22 a sq.ft., plus disposal fees of around $50 to $100. This includes the new laminate installation costs of between $6 and $14 a sq.ft., making the total costs between $6.11 and $14.22 plus disposal fees. If your installer finds the subfloor needs repair or other work must be done when removing the old carpeting, your costs can be higher.
Pros and Cons
As with all flooring, there are pros and cons to laminate. Depending on your lifestyle, living situation, and personal preferences, it may be the ideal solution for your home's floors. Laminate is very affordable, less expensive than genuine hardwood floors. Unlike carpet, it is easy to maintain and does not harbor potential allergens. It is also widely available, easily accessible, and comes in a range of looks and finishes. It is fairly easy to install. In many cases, even if you have an issue with a few planks, you can generally replace them without tearing up the entire floor like you might with another material. However, it is not as durable as hardwood, lasting about 30 years, and is also more vulnerable to scratches and tears. It can also be regarded as less attractive than real hardwood because of its synthetic nature, so it does not improve resale value.
Maintenance
Laminate is designed to be fairly easy to maintain. Sweep it regularly to remove surface debris. If you use a vacuum, do not run the beater bar because this could scratch the floor surface. Put down mats near the entrances to the home so that any salt or sand from outdoors is not tracked in. Wipe up spills as soon as you notice them to help prevent the floors from swelling or buckling because of moisture. Damp mop the floor as needed to clean it. Some laminates require wax, but these are generally used in commercial settings. Most residential laminate floors can be cleaned with your favorite floor cleaner and a soft, non-abrasive mop or cloth. Some small scratches in the laminate can be hidden or filled with a colored wax pencil. Find the closest color match to your floor to help fill in any extremely deep or large scratches.
Laminate vs Vinyl Flooring Cost
Laminate and vinyl floorings are both synthetic alternatives to natural wood flooring. Both material types are available in plank styles that can mimic the look of wood floors and tiles that can mimic the appearance of stone. Vinyl also comes in a range of other styles, including sheets and adhesive-back tiles.
Laminate flooring is made up of multiple layers that have been laminated together. They have a long-wearing top coat with a printed layer just below it. Vinyl flooring can also be made of layers, most with a solid vinyl core, but some have a stone and polymer core or wood and polymer core. Vinyl is a type of plastic, so vinyl flooring is impervious to things like moisture and staining. In contrast, many of the materials that make up laminate are fiber-based. This means that while vinyl can be installed in damp areas, laminate should not be. If laminate is exposed to moisture, it can swell or warp.
Of the two materials, laminate often has a more realistic-looking appearance than vinyl. However, vinyl comes in many different qualities and types. Luxury vinyl tends to have a better appearance than standard, rivaling the look of laminate. Laminate also lasts longer than vinyl - 30 years on average as opposed to vinyl's 20 years. Vinyl is the lower-cost material, both to install and purchase. Below are the average costs to install 200 sq.ft. of each material.
| | |
| --- | --- |
| Flooring | Average Costs (Installed) |
| Vinyl | $600 - $2,000 |
| Laminate | $1,500 - $3,500 |
Laminate Flooring vs Hardwood Cost
Laminate is frequently seen as a less expensive alternative to hardwood flooring. Hardwood costs between $14 and $32 a square foot installed, making it more expensive than laminate. Laminate is faster and easier to install and has lower costs for the material. This includes the underlayment, which is not often necessary for a hardwood installation. Like laminate, there are many hardwoods. Some, like prefinished engineered hardwood, are less expensive to install than others. This accounts for some of the larger cost range for hardwood. Laminate can also be installed DIY if you desire, while hardwood must be installed professionally for the best results.
While some hardwoods should not be used in damp areas, other types like engineered hardwood can. No laminate should be used in damp areas because it is more likely to swell and warp if exposed to moisture. Of the two types, hardwood lasts considerably longer than laminate. Hardwood can last for 100 years or more with proper care, while laminate lasts 30 years. However, laminate is the less-expensive option to purchase and install. Below are the average costs of both materials in a 200 sq.ft. installation.
| | |
| --- | --- |
| Flooring | Average Costs (Installed) |
| Laminate | $1,500 - $3,500 |
| Hardwood | $2,800 - $6,400 |
Laminate Flooring vs Carpet Cost
Another popular material to consider for your floors is carpet. Carpet and laminate can be installed in most rooms of the home. They come in many styles, making them suitable for most homes. However, while laminate can be installed DIY, carpet requires professional installation. Like laminate, there are many types of carpeting and carpet underlayments to choose from. This affects the project's overall cost and helps determine your final costs. Choosing a natural material like wool and using a thicker carpet pad means a much more expensive installation. However, you can use a thinner synthetic carpet for less. Using a thicker laminate also increases costs, while thinner laminates can be less expensive. When choosing between materials, consider longevity and maintenance. In general, laminate is easier to maintain and longer-lasting than carpeting. However, carpet tends to be less expensive and more comfortable than laminate. Below are the average costs to install 200 sq.ft. of both materials.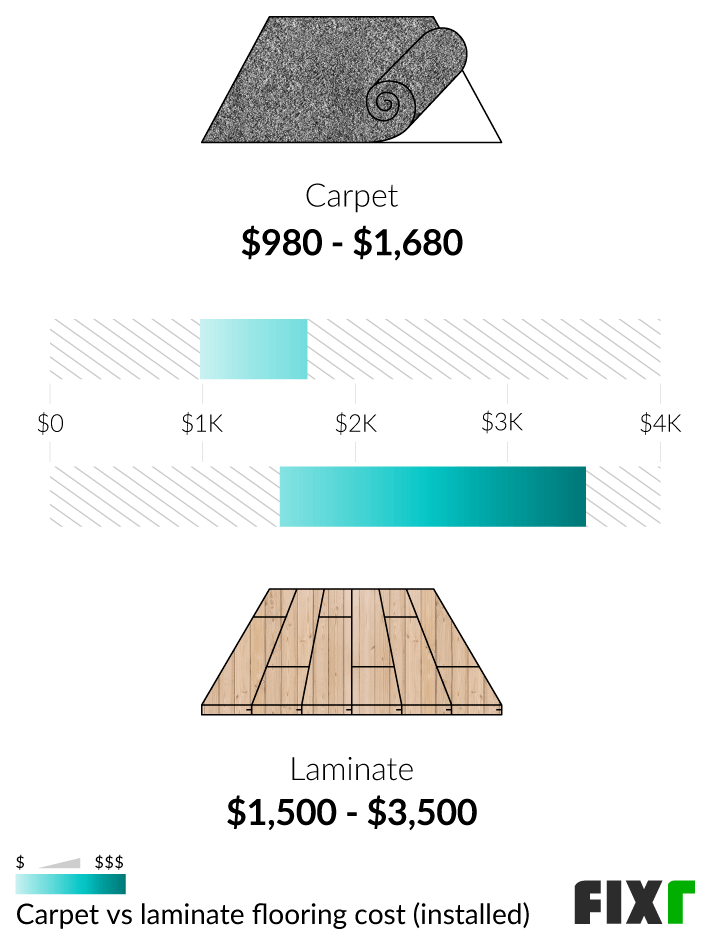 | | |
| --- | --- |
| Flooring | Average Costs (Installed) |
| Carpet | $980 - $1,680 |
| Laminate | $1,500 - $3,500 |
Bamboo Flooring vs Laminate Cost
Another popular flooring material is bamboo. Bamboo is a natural material that is frequently grouped with hardwoods. It is not a wood, however, but rather a fast-growing grass that can either be glued in layers onto a plywood backing, in a method similar to laminate flooring. Or, it can be strand woven into solid planks that more closely resemble hardwood flooring in durability and looks.
Bamboo flooring is a natural material, unlike laminate, which is made of a mixture of papers and plastics layered together. Some bamboo may have only a thin top layer, meaning it can scratch and dent like laminate. Improper installation will result in both materials humping or bowing upward if there is too much moisture in the air.
Woven strand bamboo is tougher, more durable, and less likely to have these issues. Bamboo is considered much more eco-friendly than laminate because it is made of easily renewable materials. Bamboo is nearly twice as expensive as laminate, making laminate more attractive to those on a budget. For those wanting a natural flooring material, bamboo is an attractive option. Below are the average costs to install both materials.
| | |
| --- | --- |
| Material | Average Cost (Installed) |
| Laminate | $1,500 - $3,500 |
| Bamboo | $3,000 - $5,000 |
Enhancement and Improvement Costs
Baseboards
Laminate floors cannot be installed all the way to the walls of the room. An expansion gap must be left around the room's perimeter to allow the laminate to swell if moisture is in the air. If no gap is left, the floor could warp. To cover this gap, install baseboards around the perimeter of the room. If you already have baseboards, they can be removed and reused. Otherwise, you need new ones installed. The cost of baseboard materials is reasonable, ranging from $0.70 per sq.ft. for basic styles to $1.50 per sq.ft. for premium styles. You can hire a carpenter for this job at around $70 per hour.
Molding and Trim
Molding and trim can add the finishing touches to your laminate flooring. They are not necessary for most installations. However, there may be times when you need trim or a threshold to complete the project. In these cases, use the same material for the trim or molding for a cohesive look. This can include quarter-round strips to be used in place of baseboards to cover the gap, thresholds and transitions to other rooms and other materials, and stair treads. Costs range from $0.99 to $9.99 per linear foot, depending on the material thickness and shape. Larger moldings and trim cost more than thinner materials.
Heated Laminate Flooring
When installing laminate floors, look into enhancing the floors with radiant heating. Radiant floor heating cannot be installed on existing flooring, so it is a good time to consider this improvement. Radiant floor heating system installations are typically expensive and require a professional to install. The average cost for installing radiant floor heating is $16 to $27 per sq.ft. You must choose a laminate that can be used with a floor-warming heat system because not all laminates can be installed above radiant heat. If you are unsure, speak to your installer.
Additional Considerations and Costs
Saving tip​. To keep refinishing costs down, remove the old carpeting and other coverings on your subfloors before you hire a professional to refinish your floors. Carpeting, pads, and sheet flooring can be removed easily, while tile is more labor-intensive.
Extra material. Purchase 5-15% more flooring and underlayment than needed. Be prepared in case a piece is damaged, or you need extra.
Subfloor level. Ensure that the subfloor is perfectly level because laminate is not attached to the subfloor. Read up on the manufacturer's specifications for the variation. Generally, accepted numbers are 1/4" to 3/16" range over 10".
Noise. Having a laminate floor installed over an old/poor subfloor can cause noise and flooring issues.
Resale value. You have a smaller resale value with laminate flooring than real wood one.
Humid locations. Do not install laminate flooring in areas with high humidity, such as bathrooms, laundry rooms, or a sauna. They contract and expand with fluctuating humidity and expand and push against each other, resulting in floor ridges and bulges.
Warranty. Laminate has a warranty of 30 years or more with the proper treatment and a little maintenance.
Patterns. Laminate floors come ready to install in a few different patterns. These can include herringbone and parquet floors and thin or thick planks, so you can change the style according to your home's design.
AC rating. All laminate floors are given an AC rating that ranks their durability from 1 to 5. The higher the number, the more durable the floor. For high-traffic areas, use a laminate with at least a 3 rating. Laminates with lower ratings can be used in lower-traffic areas like bedrooms.
Location. Laminate flooring can be used in most areas of the home. It should not be installed below grade or in wet areas, however. The cost to install it in one room over another does not change except for the amount of square footage involved.
FAQs
Is it easy to install a laminate floor?
Installing a laminate floor can be very easy if the directions are followed properly. Most DIY workers complete the entire floor in a day.
How do you install snap together laminate flooring?
To install the tiles, remove the tongue from the first piece. That side faces the wall. Place the tongue of the second plank into the groove of the first, starting an angle. When the tongue fits into the groove, press down until it snaps in place. Continue this in rows. *Leave a ¼" gap at the edges of the room to allow for floor expansion.
How long does it take a professional to lay laminate flooring?
It depends on the material and room size, but it usually takes a few hours to a day. It depends largely on things like how it is installed, the pattern, and the thickness. Very thin and very thick materials will take longer to install, as will nail-down or glue-down floors.
How soon can you walk on laminate flooring?
It can be walked on as soon as the floor is installed. However, before the material can be installed, it must be placed in the room for 24 to 72 hours beforehand so that it can acclimatize to the climate. This will prevent bowing.
When can you put furniture on laminate flooring?
You can place your furniture as soon as the flooring is fully installed. However, some heavy furniture will dent the laminate, so consider putting caps under the furniture legs to prevent this.
Can you put heavy furniture on laminate flooring?
You can, but the thinner the laminate, the more likely it dents. Thicker ones can handle heavier furniture better.
Can area rugs ruin laminate floors?
No, area rugs can protect your laminate from scratches, spills, and other surface damage. Use area rugs in high-traffic areas and smaller mats near doors to help get sand and salt off shoes so that the floor stays looking newer longer.
The information provided by our cost guides comes from a great variety of sources. For more information, read our Methodology and sources.