If you're looking to add some privacy to your kitchen, gain control over the amount of light coming in, or improve the room's overall aesthetic, then a window treatment could be just what you need. Whether you're adding faux wood shutters or modern roman shades, a good window treatment could significantly impact how your kitchen looks and feels.
If you have been searching for window treatment ideas, are struggling to find the right one, or are unsure where to start, we're here to help. We'll take you through some of the top kitchen window treatments and explain their functions and costs.
On this page
The five best types of kitchen window treatments
Having an endless number of kitchen window treatment options can be a good thing as it provides you with various choices, but it can also make things difficult to find the right option. Here are some of our favorite kitchen window treatments that you should consider.
Faux wood shutters
Faux wood shutters are a sturdy and stylish window treatment option that is continuing to rise in popularity among homeowners. Faux wood is made from vinyl, wood fibers, and resins, allowing it to look like real wood shutters while being cheaper, more durable, and easier to maintain. They are also available in various colors, allowing you to imitate almost any wood type.
Faux wood shutters' supreme durability them apart from many other window treatment options. Unlike natural wood shutters, faux wood does not warp or crack. They are also practically impervious to moisture, making them the ideal choice for a kitchen window.
Roller shades
Roller shades are your best option if you want a clean, simple, and minimalistic kitchen window treatment style. Roller shades can decorate your entire window with a clean and stylish fabric, and they can be neatly rolled up to be practically unnoticeable at the top of the window. With their discreet design, they are perfect for small windows.
With roller shades, you can choose how much light you want to let in. This still allows you to fill your kitchen with natural light but keep out the intense rays that can heat the room and damage surfaces.
Also, roller shades are one of the most accessible blinds to clean. A slightly damp microfibre cloth can do the job just fine.
Solar shades
Solar shades are an excellent choice for virtually any home window, whether in the living room or a modern kitchen. Solar shades can reduce the amount of sunlight entering a room while preserving the outside view. They also do an excellent job of keeping the glare out of your kitchen, making you more comfortable and productive.
Solar shades have a long list of benefits, from being easy to clean to coming in a wide range of colors and designs. One of their main attractions is that they block approximately 99% of harmful UV rays, preventing your kitchen from any damage from sunlight.
Like roller shades, solar shades are easy to use and can be neatly rolled up to the top of the window without fuss. If you don't want to operate them by hand, they can also be motorized.
Modern roman shades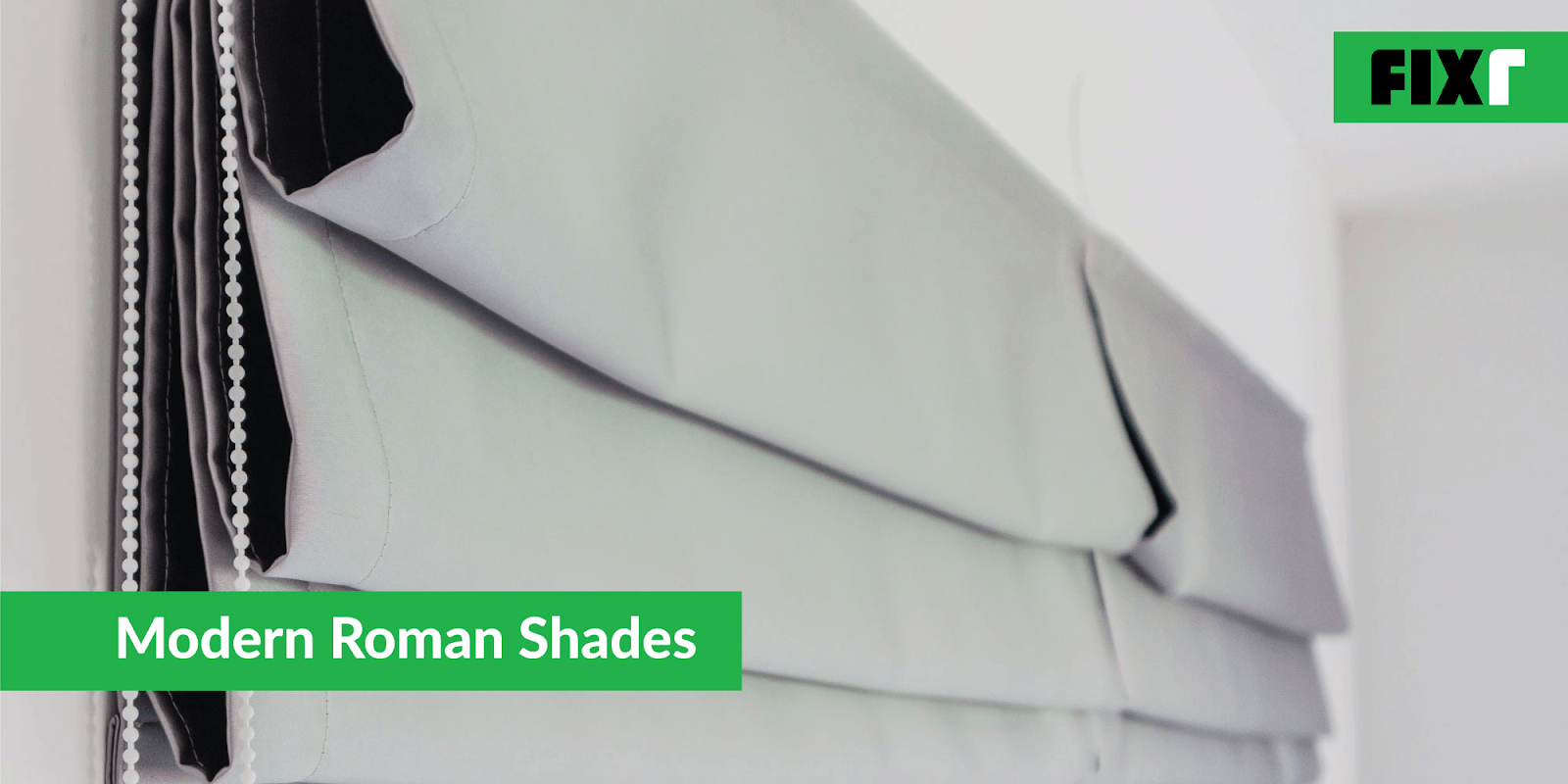 If you plan on designing an all-white, stainless steel, or farmhouse kitchen, you can't go wrong with roman shades. Fabric roman shades have been a timeless staple in home decor and are excellent for bringing a pop of color or a bold pattern to an otherwise colorless kitchen.
Roman shades mimic the look of drapery with the functionality of a blind. They come in many design options, so you can choose from plenty of options. Depending on the design and material you choose, roman blinds will also be able to either allow in sunlight or block it out entirely.
One concern with roman shades: they're made of fabric. Any food or grease stains will be tough to remove.
Cellular shades
Cellular shades, also referred to as honeycomb shades, are one of the most popular kitchen window treatments – and for a good reason. Not only do cellular shades look good in virtually every kind of décor or interior design, but they also provide perfect insulation all year round.
The honeycomb design of cellular shades allows air to be trapped inside several pleats, reducing heat transfer between your interior and the outdoors. This will help keep your kitchen cool during the summer and warm during the winter.
Cellular shades also have light-filtering capabilities, meaning that you have more control over the amount of natural light that can enter your home, which makes them popular for both the dining room and kitchen.
What does a kitchen window treatment cost?
Several factors will affect the price of kitchen window treatments. Whether it is the style of window treatment or the type and size of the window, these things can significantly impact what you are going to pay.
Window shades
The most popular kitchen window treatment is a window shade. The average cost to install quality kitchen shades is between $100 and $150 per window. Head to our window shade cost guide to learn more.
Window curtains and blinds
Another less common but affordable kitchen window treatment option is curtains or blinds. The national average cost for a curtain installation, including materials, is between $50 and $600 per window. However, this price can increase with additional features such as window valances, curtain rods, swags, and curtain panels.
Window shutters
If curtains or blinds are not the right fit, then shutters could be more your style, as long as you are willing to spend the extra buck. Interior shutters can cost anywhere from $150 to $1,000 per window (materials only). The installation costs will range from $50 to $300 per window.
Things to consider before choosing a curtain style
Appearance
As is the case with most things you put in your home, you want a window treatment to look good. This is especially important for your kitchen as it is a centerpiece of your home and where you will spend a lot of your time.
With that being considered, you should try looking for a window treatment that is going to complement your kitchen's overall aesthetic. Both modern roman shades and faux wood shutters are two of the most popular window treatments in terms of their appearance and can become eye-catching additions to any kitchen.
Performance
The level of a window treatment's performance will depend on what your metrics are. If what you are looking for is a window treatment to blackout the light then a roller or solar shade might be your best choice. However, if energy efficiency is your main concern, then a cellular shade will be the ideal option.
Before choosing a kitchen window treatment, think of what you want it to do and then find the option that does it the best, whether that's adding privacy or controlling light
Cleanability
With all the spills and splashes that go on in your kitchen, it is important that you look for a kitchen window treatment that can be easily maintained and cleaned. Options such as solar shades or faux wood shutters can be easily wiped down while others can be far more difficult and time-consuming to get clean.
What kitchen window treatment is right for you?
Unfortunately, there is no single kitchen window treatment that sits above the rest. We all have different styles, budgets, and personal preferences which is why the best kitchen window treatment will depend entirely on your tastes.
If a durable, easy-to-maintain, and versatile window treatment is what you're after then perhaps faux wood shutters are your best bet. But, if you're looking for more of a clean and simple look, then it's tough to go past roller shades.
No matter your personal preferences or budget, some excellent kitchen window treatments are available, and looking at the five we've mentioned here is a great place to start.