How much does it cost to install window shades?
Get free estimates from window treatment specialists near you
Window Shades Cost Guide
Window shades are a type of window covering that customizes the decor of your home and helps with lowering energy costs and keeping out sunlight. Window shades come in various colors and styles, allowing you to pick a look that works for you and your home's interior. Almost everyone wants window coverings for privacy and security. A home without them looks plain and is inviting for intruders.
The average cost to install quality shades is between $350 and $950. We will be comparing shades in the size 36" x 48". The average homeowner pays about $540 for six vinyl shades, including installation. On the low end, it could cost as little as $90 to install one premade vinyl shade that doesn't require trimming. On the high end, installing six custom fabric shades with the removal and disposal of existing hardware and window covering could cost as much as $3,500.
Window Shades Cost
Shades Installation Price
National average cost
$540
Average range
$350-$950
Low-end
$90
High-end
$3,500
Average Cost of Window Shades by Size
Like most anything else, the cost of window shades is determined by the size. The larger the window, the more expensive the shade. While there are many other factors, it is helpful to know how much a shade costs for common window sizes. Keep your home secure, energy-efficient, and beautiful with window shades.
| | |
| --- | --- |
| Size of Shades | Cost of Window Shades (Materials Only) |
| 24" x 36" | $65 - $90 |
| 32" x 36" | $70 - $95 |
| 36" x 48" | $80 - $110 |
| 44" x 40" | $90 - $120 |
| 48" x 44" | $105 - $130 |
| 52" x 48" | $115 - $140 |
| 60" x 44" | $125 - $150 |
| 62" x 44" | $140 - $165 |
| 72" x 48" | $150 - $175 |
Window Shades Price by Material
Window shades are a versatile option for covering your windows. They come in many materials, including wood, faux wood, metal, vinyl, PVC, plastic, fabric, and leather. Traditional homes may look great with vinyl or fabric, while a farmhouse/industrial home can be upgraded with wood or metal. With all of the styles and colors, every homeowner is sure to find something that works with their interior choices. In the table below, you'll find the cost of the shades for a 44" x 48" window, excluding labor. The cost ranges from $25 to $200.
| | |
| --- | --- |
| Material | Cost (Materials Only) |
| Vinyl | $25 - $90 |
| Plastic | $30 - $60 |
| Metal | $60 - $70 |
| Aluminum | $60 - $70 |
| Faux Wood | $60 - $90 |
| Wooden | $60 - $130 |
| Fabric | $110 - $200 |
Vinyl Shades
The pricing for vinyl window shades ranges from $40 to $90. This material is one of the least expensive of all available options. It is a durable, long-lasting, and versatile product. Lacking visual appeal, vinyl shades also aren't great at insulation. On the positive side, they are easy to maintain and are moisture resistant. The lightweight vinyl shade is easy to install and is still an attractive option. PVC is a type of vinyl as well, but it isn't as widely used. This is because there are some questions about the safety of PVC, particularly indoors. The cost for PVC shades is less expensive at $25 to $30.
Plastic Shades
You can expect to pay $30 to $60 for plastic window shades. This less expensive alternative is typically reserved for areas where function is more important than looks. Plastic shades are lightweight and easy to care for and provide coverage for spaces where the main idea is only functionality. Plastic shades are not particularly attractive but offer some advantages.
Metal Shades
Metal window shades range in cost from $60 to $70. This material is easier to clean and comes in several colors and styles. Providing a sleek, streamlined look, metal window shades are available in aluminum and steel. Although not a good insulator, a metal shade is less expensive than other materials on the market. Aluminum shades are by far the more popular version of metal. Aluminum is lightweight, durable, and highly functional. Probably the major drawback is the lack of aesthetics they lend. Simple and unpretentious, aluminum shades lack warmth and are best reserved for areas that don't require style or pizazz.
Average Cost of Faux Wood Shades
Faux wood shades cost $60 to $90. Faux wood is the perfect combination of beauty, easy maintenance, and durability. They come in a plethora of colors and styles. Made to last, faux wood shades provide insulation, privacy, and room darkening. Faux wood window shades are often made of vinyl or PVC but mimic real wood shades. The disadvantage of faux wood window shades is that they don't possess the richness of real wood. Also, they gather dust in the embossing and are heavier than real wood shades.
Wooden Shades
Wood shades cost $60 to $130. They come in various woven woods, including bamboo, grasses, jute, straw, reeds, and other wood blends and pure woods such as pine, mahogany, cedar, and teak. With a handcrafted look, these unique mixed use shades lend a contemporary look or offer a more rustic and organic appearance. The versatility of wood produces texture and incorporates color for a bold expression. For cleaning wood shades, you should never use water because this can cause warping. The shades should be completely free of dust. This can be accomplished by using a duster or vacuum. Then, use a soft, clean cloth to apply wood furniture polish and use a dry cloth to remove any excess. This should be done at least twice a year. The more common wood shades are listed in the table below.
| | |
| --- | --- |
| Type of Wood | Cost (Materials Only) |
| Pine | $60 - $100 |
| Bamboo | $80 - $150 |
| Teak | $85 - $125 |
| Mahogany | $85 - $130 |
| Cedar | $95 - $130 |
Pine Shades
A homeowner should expect to pay $60 to $100 for pine shades. Pine is most often chosen for colonial or provincial homes. It is a softwood that is lightweight and contains a straight grain. Its natural state is white or pale yellow, but it is usually stained a light brown with orange tones. Known for its strength and durability, pine is a great option for your windowing covering shades.
Bamboo Shades
The cost of bamboo shades is $80 to $150. These unique, natural looking shades create texture and style in any room. Made from organic materials such as bamboo, grass, and reeds, bamboo shades are great for the environmentally conscious homeowner. They provide adequate room darkening and insulation. For a stylish, flexible alternative, bamboo shades are ideal for almost any room in the house.
Teak Shades
For teak shades, you will pay $85 to $125. With minimal knotting, the grain is straight. The color is usually golden brown but can be as light as a creamy white. Mainly found in Asia, teak tends to darken over time. It is a strong wood that is sometimes used for outdoor furniture and even boats. The versatility of teak makes it an excellent option for contemporary homes.
Mahogany Shades
Mahogany shades run from $85 to $130. An exotic wood, mahogany is a deep red or brownish-red color that deepens over time. It has a straight grain and is durable. Its richness creates a luxurious feel that isn't mimicked in other woods. Although considered a hardwood, it is lightweight, so an excellent choice for your new shades.
Cedar Shades
The cost for cedar shades is $95 to $130. Recognizable by its lavish red hue, cedar is also an aromatic wood. Because of the natural aroma of cedar, you will see it often used for closets and hope chests. Possessing a lightweight and soft look, cedar shades are a great choice for the home. Rustic interiors will be warm and full of character with cedar shades.
Fabric Shades
One of the more expensive options at $110 to $200, fabric window shades provide beauty and customized decor. Available in a myriad of colors, textures, and shapes to fit almost any window. Lightweight fabric shades can be purchased with a light blocking liner to furnish your home with the most energy-efficient rooms. Additionally, insulating liners keep your home's temperature more even. Fabric shades are the perfect choice to make a home tailored to your particular needs and likes.
Window Shades Cost by Type
Many different types of window shades are available on the market. Below is a description of the types of window shades, and the table provides the cost of each. The prices below reflect the average costs for a 48" x 44" shade without installation or additional fees.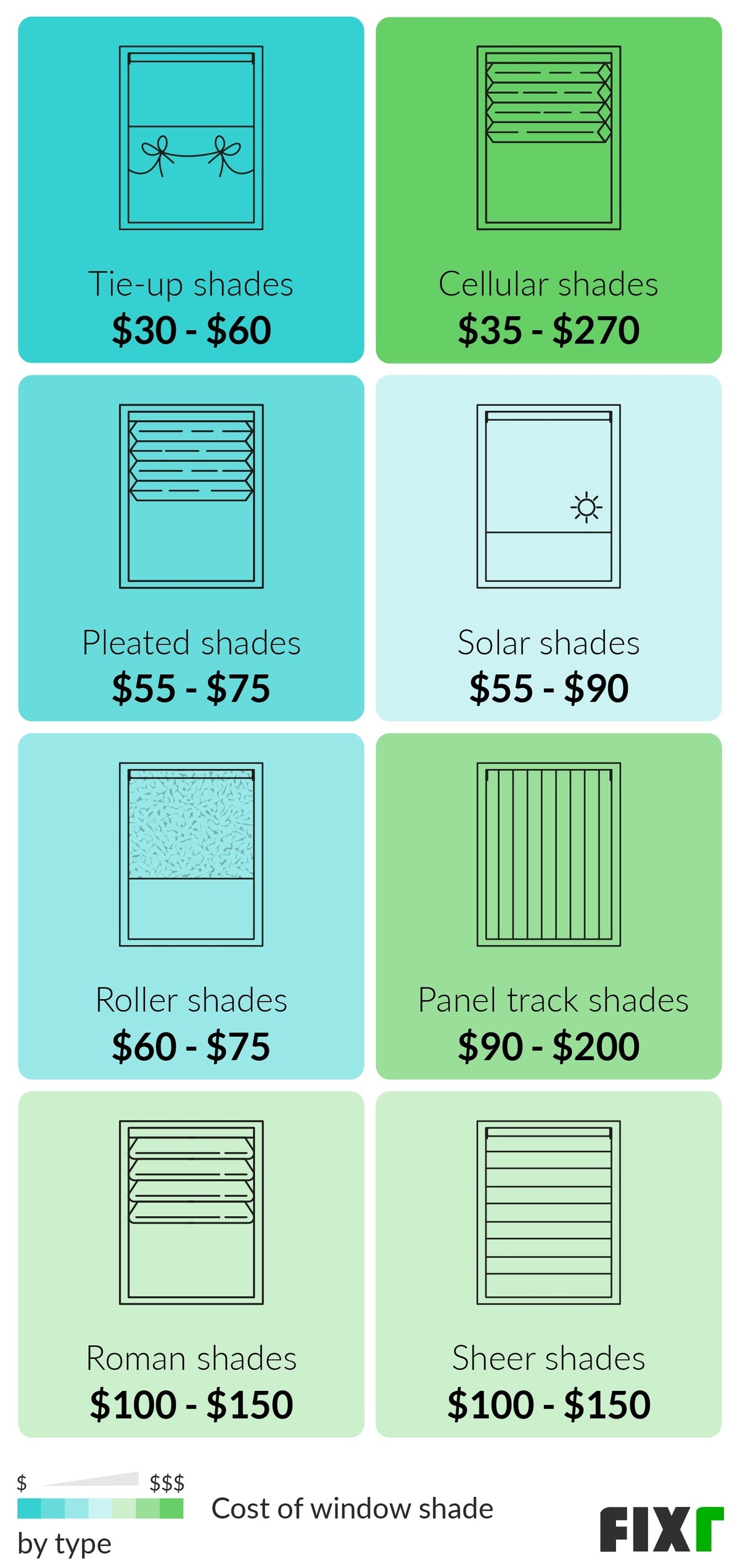 | | |
| --- | --- |
| Type of Shades | Cost per Shade (Materials Only) |
| Tie-Up | $30 - $60 |
| Cellular | $35 - $270 |
| Pleated | $55 - $75 |
| Solar | $55 - $90 |
| Roller | $60 - $75 |
| Panel Track | $90 - $200 |
| Roman | $100 - $150 |
| Sheer | $100 - $150 |
Tie-Up Shades
Pricing for tie-up shades ranges from $30 to $60. They are made with narrow straps that loop or tie at the top edge and are hung from a curtain pole. Depending on the material you choose, you may be able to wash these shades since there are no cords or lifts involved. Tie-up shades, often referred to as balloon shades, are a great way to add privacy, color, and texture to your windows. They are a more traditional or romantic style so keep that in mind when purchasing these shades.
Cellular Shades
Cellular window shades are honeycomb shaped cells that stack to form a shade. These popular products are versatile, aesthetically pleasing, and offer a variety of benefits. Cellular window shades are known for their energy efficiency and for blocking out light. Additionally, they are a great option for screening UV rays and keeping noise out. There are two types of cell window shades, single and double cell. Costs range from $35 to $270.
| | |
| --- | --- |
| Type of Cellular Shade | Cost (Materials Only) |
| Single Cell | $35 - $100 |
| Double Cell | $45 - $270 |
Single Cell Shades
A single cell shade with installation costs $35 to $100. It is equipped with just one layer of stacked cells. Because of this, the cell sizes are usually larger, generally ⅜ to 2 inches in width. To avoid a busy look, it is best to use a larger cell shade for bigger windows. That makes single cell shades the best choice for a larger window. Single cell shades are usually less expensive with less material costs than the counterpart, the double cell shade.
Double Cell Shades
To have a double cell shade installed, expect to pay $45 to $270, including materials and labor. Double cell shades are made with two layers of cells that are interconnected. This provides better insulation, light blockage, and privacy. These window coverings are available in a smaller size cell of around ½ inch or less wide. Great for smaller windows, double cell shades are also a good match for bathrooms where humidity and temperature changes can create moisture.
Pleated Shades
Expect to pay $55 to $75 for a pleated shade. Pleated shades are similar to honeycomb/cellular shades. However, they differ in that pleated shades are made from a single layer of fabric, and honeycomb/cellular are made from multiple layers. Pleated shades are great for improving your home's energy efficiency and are considered a more budget-friendly option. Pleated shades are customizable and offer several designs.
Solar Shades
Solar shades will cost $55 to $90. Solar shades are a great choice for rooms where you want to reduce light, ultraviolet rays, and heat and eliminate glare. These may include offices and home theatres to prevent glare on computer screens and televisions. Solar shades provide many benefits and are available in many colors and options. Solar shades block approximately 99% of harmful UV rays, preventing any damage from sunlight.
Roller Shades
The average cost of roller shades will run you from $60 to $75. Roller shades, also referred to as roller blinds, are a very popular choice for many. Roller shades come in several colors, patterns, and fabrics for any room in the house. They are quick and easy to install and keep clean, making it easy to keep them looking brand new. When selecting a roller shade, it is important to decide how much natural light you want coming into the room through the shade. Some options include light filtering, blackout, or room darkening.
Transitional shades are a type of roller shade that is dual layered, making them versatile in that they function like a blind when opened but a shade when closed. These shades are great for filtering light and allowing the homeowner to customize colors, styles, and textures.
Panel Track Shades
The cost for panel track shades is $90 to $200. Panel track shades are great for covering sliding glass doors and large windows. Panel track shades are large panels made of fabric that operate by sliding back and forth on a track for easy operation. You have the option of having them stack completely clear of the window or door. Panel track shades can be mounted to the wall or ceiling. They can also be used as a room divider or closet door. You can buy them made of almost any fabric, color, or style.
Roman Shades
Roman shade prices range from $100 to $150. Roman shades mimic the look of drapery with the functionality of a blind. When selecting Roman shades, you will have to select a pattern or color option, including stripes, solids, or floral. Also, you will select the texture of the material, including linen, silk, cotton, or polyester fabric. The last thing you will have to decide is the fold. Some of the different Roman shade folds include the Classic Style fold (simple fold up and down), the European Style fold (like a very wide letter "U"), Flat Style fold (fabric panels folding over one another), and the most drapery-like is the Hobbie Style Fold.
Sheer Shades
The cost for sheer shades is $100 to $150. Sheer shades are designed using horizontal fabric slats suspended between two layers of soft, translucent material. The horizontal fabric slats open and close the blinds while the layers of fabric stay in place. Sheer shades give any room a designer touch. Additionally, they provide a delicate look that gently filters light into the room. This results in a clean, elegant style that works well in traditional or contemporary settings.
Average Cost of Shades by Type of Window
Many years ago, there were only a small number of types of windows. With the influx of innovations in home building, window choices have become larger and more complicated. This equates to varying costs for the shades for these windows. Obviously, an odd shaped window requires a custom made shade versus a ready made one. The costs of shades by the type of window ranges from $50 to $300.
Transom Window Shades
The cost to add a transom window shade is $50 to $75. Many people have never heard of a transom window. It is simply the window that you see that is above doors or doorways in a home. Since it is often used as an air circulation tool, many of these windows don't have a window covering. However, to ensure that a room isn't too bright or that the sun doesn't make it too warm, you may want to add a transom window shade. The best shade for a transom window is a Roman shade. These shades provide a soft, elegant look that blends well with the concept of the transom window.
Egress Window Shades
Egress windows are generally standard sizes, so it costs $60 to $90 for a shade. These windows are a building code requirement in a basement. They open inward and do not require a key or tool to get out of the window. To determine the proper shade for an egress window, think about the humidity in this area. Basements are often damp and require moisture resistant window coverings. Faux wood is most likely the best choice. If dampness isn't an issue, you can pick almost anything you like. A roller shade is good for a casual look in the basement.
Block Window Shades
The cost for a block window shade is $85 to $150. A block window is made of giant translucent, thick blocks of glass. These are great in bathrooms because it allows for privacy but still lets the light into the room. You don't have to put a window covering over a block window, but a shade is a good choice if you do. It will be far enough away from the glass to keep moisture from getting trapped. Choose a window treatment that is moisture resistant such as faux wood or a fabric shade that has a moisture wicking coating.
Storm Window Shades
The cost for shades for this type of window runs from $90 to $175. Storm windows can be installed throughout the home to protect against hurricane force winds. These windows are typical but have special panes. Homeowners can use whatever shades they would like on the inside of the home. It depends on individual style and decor. Additionally, storm shutters are a good idea for areas where high winds and rain may wreak havoc on the home. Storm shutters are installed on the outside of the windows.
Sliding Window Shades
A sliding window covering may be more expensive because it may need to be a custom-fit shade costing $90 to $175. Sliding windows are often used in bathrooms or kitchens to allow for opening to remove steam or smoke. Shades for sliding windows should easily go up and down, so the window is easily accessible. Buyers can choose from any type of shade, including roller, Roman, solar, cellular, and more.
Awning Window Shades
To put a shade on an awning window will cost $90 to $175. These are generally used in areas where the windows are open more often, such as a beach house. The windows tilt out from the bottom, so you will want to choose a shade that works with that. Because of the damp environment of a beach area, you may want to choose something that is moisture resistant such as a faux wood or moisture wicking fabric shade.
Casement Window Shades
Depending upon the size of your casement window, you should expect to pay per shade an average of $90 to $200. Casement windows are the old-fashioned type of window that uses a crank to open and close the glass. Most likely, the homeowner will choose a shade for this window that is more quaint such as a sheer or tie-up shade to go with the casement window.
Single-Hung Window Shades
The price for a single-hung window shade depends on the size of the window. A 48" x 44" size window requires a window shade that costs $90 to $200. A single hung window has one fixed sash and one moveable sash. You can choose almost any shade for a single-hung window since they are normal, everyday windows. Cellular shades or sheer shades create a nice look on your single-hung window.
Double-Hung Shades
The cost for shades for a double-hung window is $90 to $200. A double-hung window is a window that can be opened in or out at the top and the bottom. While easy to clean, these windows may have a more narrow mounting depth. Because of this, most double-hung windows require an outside mount. It doesn't require a special type of shade, so it is really a personal preference. A solar shade helps with heat. A motorized shade makes the opening to these beautiful windows easier.
Garden Window Shades
Garden window shades may need to be custom made since they are generally smaller. This could cost $100 to $200, depending on the size. These cute windows require that the shade be mounted outside of the frame to hang correctly. The window features an extended shelf that juts outside the home to store plants or knick knacks. You usually see these above a kitchen sink.
Stained Glass Window Shades
A stained glass window shade would cost an average of $100 to $300, depending on the size. While it is a stunning addition to a foyer, hallway, or bedroom, it may not require a shade unless you feel the need to dress it up more. Stained glass is usually not transparent so that no one can see inside, and the light won't easily flow through. A simple sheer shade will be both functional and beautiful with your stained glass window.
Arched Window Shades
An arched window shade will most likely need to be custom-made and could cost as much as $150 to $300. These windows are usually large and located above a front door or large front window. The arched shape makes it difficult to find a ready to fit shade, increasing the cost. As they are usually located higher up, you could opt to leave the window uncovered. This allows more light to come, leaves your furniture exposed to too much sun and heat, and allows cold to enter the home more easily. Since they are higher up, it is helpful to choose a remote control shade to make access easier. A Roman or pleated shade would also make a nice arched shape for this window.
Picture Window Shades
To cover a picture window with a shade will be expensive at $200 to $300 or more. Picture windows are typically very large to allow for a nice view of the yard, the beach, or the lake. The best option is a sheer shade that can be pulled back to allow the picture window to serve its purpose. Another shade is a fabric shade made with lightweight material. Adding heavier shades results in an obstructed view.
Skylight Window Shades
A shade for a skylight window needs to be custom-made at the cost of $200 to $300. Many skylights don't really need a shade because they are covered with a shaded covering. However, if one is needed, it is best to go with a remote operated shade since skylights are generally located high up and hard to reach. You want to go with a material that is lightweight and moisture resistant in case of leakage or condensation.
Bay Window Shades
Bay window shades are usually going to be custom-made and cost $200 to $300. The height is part of the issue with using ready-made window coverings. With an area that extends beyond the wall of the house, the view from a bay window is perfect. A professional will be able to help you determine the best type of shades and installation for your bay window. Roman shades will lend a more tailored look than tie-ups can.
Bow Window Shades
A bow window shade will be custom-made at the cost of $200 to $300. A bow window is similar to a bay window except that the windows are more rounded while a bay window is more angled. Due to this difference, bow windows are especially difficult to find in a standard size window covering. These windows possess a more modern look. The homeowner may want something with clean lines. This could be a roller shade or a Roman shade.
Shades Cost by Brand
The brand of everything matters. Trust is established by stability, quality, and customer service. Often the length of time a company has been in business affects the type of product they produce. Additionally, if an organization is willing to back up its product with a good warranty, consumers can rely on the materials and workmanship put into the end result. This helps to identify value and increases the chances that the shades will be long-lasting. Costs for materials only on a 48" x 44" window size range from $35 to $500.
| | |
| --- | --- |
| Brand | Cost (Materials Only) |
| Achim | $35 - $85 |
| Bllinds to Go | $65 - $125 |
| Graber | $80 - $125 |
| Bali | $85 - $125 |
| Levolor | $90 - $125 |
| Crown | $100 - $500 |
| Budget Blinds | $200 - $500 |
| Somfy | $250 - $300 |
| Hunter Douglas | $275 - $325 |
| Dropshade | $300 - $400 |
Achim Window Shades
The cost for Achim window shades is $35 to $85. The founder, Marton B. Grossman, opened the company in 1962. Achim spotlights ready made window treatments and flooring. The product line is small and doesn't have many options. It includes temporary pleated, double pleated, cellular, roller, and a top down/bottom up honeycomb cellular pleated shade. The shades have a limited lifetime warranty.
Blinds to Go Shades
Expect to pay an average of $60 to $125 for Blinds to Go shades. Over 65 years of experience make this company an expert in the industry. You can shop in store, online, at home with a personal consultant, or with a virtual consultation. This company supplies many blinds with everything from wood to faux wood, cellular to pleated, Roman to roller, and everything in between! Blinds to Go follows many other window covering companies with a limited lifetime warranty. Motors are covered for five years but do not include accessories or batteries.
Graber Shades
Graber shades cost $80 to $125. Founded in 1939 by John Graber, the company originated in Middleton, Wisconsin. Today Graber sells all different shades, including pleated, roller, solar, Roman, sheer, and even sliding panels. They also have a line of motorized shades. The warranty on these shades is also a Limited Lifetime warranty but with some variations. It covers any original defects in the materials or workmanship and all internal mechanisms and brackets. The cords, pleated shades, 2" vinyl slats, and vertical blind vanes are only covered for three years. The motor, fabric, accessories, draperies, and exterior solar shades are guaranteed for five years.
Bali Shades
The average price for Bali shades is $85 to $125. The Carey Company began making designer curtains and Venetian blinds for trains in 1906. In the 1930s, the company designed the first Venetian blind. In the 1960s, the Bali brand was named. Today the company produces and manufactures quality custom window treatments, including a large variety of shades. Bali offers Roman, roller, solar, pleated, sheer, cellular, and sliding panel shades. The warranty that Bali offers is also a Limited Lifetime on all custom window treatments, while their Essentials line only offers a five year warranty.
Levolor Shades
Levolor shades run an average of $90 to $125. The company has been operating for over 100 years and offers shades, blinds, and shutters. Motorized products, cordless or lift, customized or ready made, energy-efficient, and almost any color, style, or texture. Levolor provides whatever you need for your home. The warranty features a Limited Lifetime option that covers any manufacturing defects. The motorized operating system is warranted for five years. Vertical blind vanes have a three year warranty.
Crown Window Shades
The pricing for Crown Window shades is $100 to $500. A family owned and operated company, Crown Window Shades has been manufacturing quality window treatments since 1969. Its specialty is interior and exterior roller shades, but also on the agenda are blinds. Crown Shades loves helping people find just the right window covering for specialty shaded windows. The warranty for Crown Window shades is a limited lifetime warranty.
Budget Blinds Shades
The price of Budget Blinds Shades is $200 to $500. These are custom made window coverings and can be purchased in various styles, colors, and textures. Along with the same lineup as other blind and shade companies, Budget Blinds offers woven wood, bamboo, and graphic shades. The warranty time constraint states that each individual franchise dictates the details.
Somfy Shades
The cost for Somfy shades is $250 to $300. With 50 years of experience, Somfy Shades is an innovative, forwarding-thinking company. Somfy specializes in motor driven shades and smart home features. Somfy manufactures a wide array of custom shades, including faux wood, fabric, cellular, sheer, solar, and more. The warranty for all products is straightforward covering five years on all parts, materials, and workmanship.
Hunter Douglas Shades
The average cost for Hunter Douglass shades is $275 to $325. Known for its global manufacturing of blinds and shades, Hunter Douglas has been around since 1946. Their line of shades features Roman, roller, woven wood, cellular honeycomb, and more. Hunter Douglas is home to the Pirouette shade, a revolutionary Roman fabric shade. When the cord is pulled, the folds within the shade become open vanes, allowing for a softened view of the outside world. Also, the Silhouette window shade is another Hunter Douglas invention. It uses adjustable vanes that float between sheer fabric panels to allow for the level of privacy and light you want. All Hunter Douglas products are backed by a Limited Lifetime warranty. This covers all defects, internal components, and fabric. The cord operations are covered for seven years and the motor five years.
Dropshade
Expect to pay $300 to $400 for motorized interior shades. Dropshade is a major manufacturer of interior and exterior shades, including patio and outdoor retractable shades. It was established 20 years ago and is family owned and operated. Dropshade features motorized shades and offers sun sensors, whole home automation, timers, and computer controls. It boasts of a variety of sun control items. The company offers a 15 year warranty.
Labor Cost to Install Shades
Some shade companies offer installation, and others may not. The cost for a shade company to do the installation may be as little as $50 to $75 per shade. If you hire a contractor to hang the shades, you could pay as little as $35 an hour or as much as $100 an hour. Since you don't have to use the shade company as your installer, it is important to compare the costs and benefits. It is often easier to use the shade company because this means you don't have to coordinate the install.
Installing shades can be an easy job for someone who knows what they are doing. It often only takes an hour or less to hang each one. The first thing a professional does is mark where the brackets will be mounted along with the screw locations. Then, they securely attach the mounting brackets and ensure they are level. The shade will then be clipped into the brackets. If the shades are motorized or electric, wiring may be required.
If your window frames are cracked, mildewed, or need to be painted or repaired, these tasks should be made before shade installation. Window repairs average $150 to $600, and window frame repairs cost $170 to $600. Obviously, window replacement, at the cost of $3,500 to $8,500, should be completed before shade installation. If window trim needs to be repaired or replaced, have this done before the shade installation. Expect to pay $80 to $200 for window trim repair.
If you need to have the old shades removed and disposed of, the installer can do that. The cost is generally around $60 to $200, depending on the number of windows and the type of material being removed.
Inside vs Outside Mount Shades Cost
Having new shades installed is an exciting addition to your home. Some decisions have to be made before you can move forward with the process. One of the things you have to consider when shopping for window shades is the position you want them mounted. Mounting is a matter of preference and may be related to the size or type of your window. Narrow depth windows won't allow for inside mounting. Outside mounting can make the window look larger. The type of mount installation affects the way the measurements should be taken. For inside mounts, the measurements should be taken from the edges of the window glass, where it meets the casing. For outside mounts, the measurements should be from the outer edges of the casing or from the outer top edge of the casing to the sill. For this section, we will provide pricing for the inside and outside mount of a 36" x 48" Roman shade (excluding the price of the shade).
| | |
| --- | --- |
| Type of Mount | Costs for the Mounting (Installed) |
| Outside | $45 - $75 |
| Inside | $50 - $100 |
Outside Mount Shade
The cost to install outside mount shades is slightly less expensive at $45 to $75 per shade. An outside mount shade is fixed to the area above the window or on the window trim. This mount requires a larger shade and covers more area. Although this isn't always the ideal choice, it works best for windows with a crank or lock handle or alarm sensor. More narrow windows may need this type of mount if there isn't room for the hardware to be installed inside the frame. Also, uneven windows are made to appear more uniform with an outside mount shade. Homeowners have more flexibility with an outside mount shade as any type of window covering can be used. Sliding or French doors most always require an outside mount shade.
Inside Mount Shade
Pricing for the installation of inside mount shades is $50 to $100 per shade. Inside mount is generally the most popular for shade installation. If the depth of the window allows, the shade will be positioned inside the window frame. The brackets will be mounted at the top of the frame, creating a more crisp, clean look. Inside mount isn't a practical option for windows with a crank, lock, or alarm sensor, as it will always interfere with these attachments.
Cost of Cord vs Cordless Shades
Another decision you have to make about the window shades is whether you want a cordless lift or a cord to operate the shade. While cordless shades are more expensive, they lend a certain luxury and convenience that isn't available with a corded shade. Before you decide what works for you, review the advantages and disadvantages of each. Then you can weigh the cost difference accurately. The prices below are based on a 48" x 44" size shade.
| | |
| --- | --- |
| Type of Shades | Cost (Installed) |
| Cord | $125 - $210 |
| Cordless | $145 - $315 |
Cord Shades
Shades with cords usually cost $125 to $210 for materials and installation. Of the two choices, corded shades are less expensive. These traditional shades are easy to operate because you just pull the cord to bring the shade up or down. They are long-lasting when treated with care. However, they are not as safe around children or animals since the cords hang down and are tempting. Corded window coverings don't provide as much of a clean look and may be more difficult to install.
Cordless Window Shades
Pricing for cordless shades, including labor, is $145 to $315. Homeowners should note that these shades won't last as long as a corded shade. They provide a sleeker look for your home and are available in many colors, styles, and options. Larger size shades are often not available because the weight of the shade is too much for the lift system. Hard to reach windows shouldn't have a cordless window shade since you need full access to the entire window to operate this type of shade. The technology is newer and provides a safer way to have shades when children or animals are in the home.
Window Shades Price by Location
Each room in your house contains different size windows. Some are easier to get to than others. Also, windows in kitchens, bathrooms, or basements may require special shades that do well under certain circumstances such as moisture, humidity, or heat. Custom size windows may be located in only one or two areas, while other places may need a ready-made shade. The cost depends on several factors. The homeowner should consider this when choosing shades for each room. Pricing ranges from $80 to $400, including labor and product.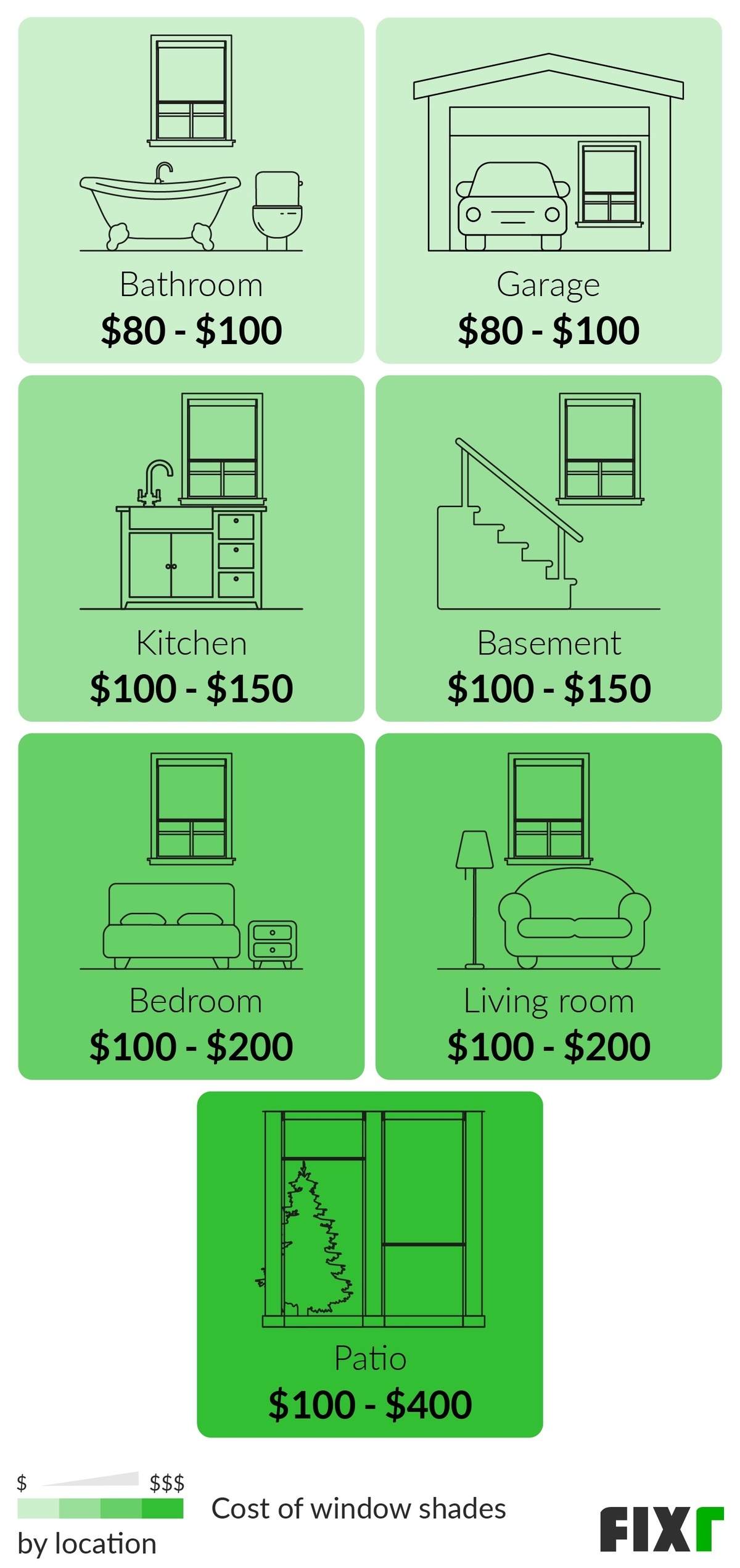 | | |
| --- | --- |
| Location | Cost (Installed) |
| Bathroom | $80 - $100 |
| Garage | $80 - $100 |
| Kitchen | $100 - $150 |
| Basement | $100 - $150 |
| Bedroom | $100 - $200 |
| Living Room | $100 - $200 |
| Patio | $100 - $400 |
Bathroom Shades
Bathroom shades should always be moisture resistant. The cost is from $80 to $100, including the shades and the installation. A bathroom window is generally above the shower or the tub and may have a frosted look to the glass. If you have privacy glass, a shade is optional. Many homeowners want to tie the shade in with the towels and other decor in the bathroom. The best window treatments are faux wood, vinyl roller shades, or aluminum to combat the humidity and temperature changes.
Garage Window Shades
To add window shades to your garage, you may pay $80 to $100 with the shade and labor cost. Usually, these shades match any other shades on the front of the house. If it doesn't matter if they match, the best choices for the more casual atmosphere would be roller or vinyl shades. Some people use their garage for storing equipment or as a gym or recreation area. Although you may only use your garage to store your car, it is best to have window coverings to keep the sunlight from fading the paint on your car and keep away intruders.
Kitchen Shades
Kitchen shades usually run about $100 to $150 each for the product and the labor. The kitchen usually has at least a window over the sink and maybe one in the eating area. Some eat-in kitchens have a bay window or sliding or French doors. This means window coverings will be more expensive. Horizontal opening windows, such as sliding or casement, are also popular. Roman or sheer shades allow the kitchen to remain light and airy while providing privacy. Slider tracks are best for a sliding door. Kitchen shades should be made of a material that is easy to clean because grease and dust can accumulate. You may want to choose a moisture resistant shade to help with steam that releases into the air while cooking.
Basement Window Shades
Basement windows shades may be a strange size and result in the need for custom made shades at the cost of $100 to $150. Homeowners should consider the humidity level and the use of the room. If your basement has humidity issues, cellular shades aren't a good idea. The better choice would be faux wood or aluminum shades. If humidity isn't a problem, fabric or real wood shades are a beautiful touch. These window treatments will make your basement a fun place to be!
Bedroom Window Shades
New bedroom window shades can run $100 to $200 with labor and material costs. Cellular shades are an excellent shade for the bedroom. These shades are available in complete blackout and energy-efficient versions. Your room should be a quiet sanctuary and a place to rest and relax. The right shades provide noise reduction and beautify and decorate your bedroom. Insulated shades assist with keeping your bedrooms at the perfect temperature all year round.
Living Room Window Shades
Living room window shades are $100 to $200 to install. Your living room was meant to be lived in, but it should also look warm and inviting. Adding your style, coordinating colors, and texture with shades of your choice make the space a place to be enjoyed by all. Roman shades are often the window treatment of choice for this room because they are versatile, come in various colors and styles, and are good insulators. Homeowners can find just what they need to match or contrast with existing furniture and flooring.
Patio Window Shades
The cost for patio window shades will run you $100 to $400 for the shades and the installation. Patio windows are often sliding or French doors. You want solar shades to deflect the sun and filter light. These shades are available in many colors, styles, and textures to add interest and elegance to your patio space. You may also consider track panel shades for ease and convenience.
Cost of Shades by Number of Bedrooms
Often when installing new shades in a home, it is necessary to do them all at once. Because many companies offer a discount when you buy in bulk, it may be wise to consider this option. Additionally, contractors may provide whole house pricing for an install which includes a discounted rate. If your home is more than one story, you should add energy-efficient shades to the upper story to combat heat rising to these areas. Also, think about how you want and need your shades to be hung as inside or outside mount. Additionally, do you need solar blinds in a certain area that is particularly sunny or needs more light-filtering? Whole house packages may include discounts on the shades and the labor. Below are some average costs for whole house shade costs based on each room needing two shades measuring 48" x 44" in size.
| | |
| --- | --- |
| Number of Bedrooms | Cost (Installed) |
| One Bedroom | $300 - $350 |
| Two Bedrooms | $600 - $650 |
| Three Bedrooms | $750 - $800 |
| Four Bedrooms | $800 - $1,000 |
| Five Bedrooms | $1,100 - $1,500 |
Shades Replacement Cost
Shades can become warped, faded, or cracked over time. If the cords begin to fray or the shade becomes difficult to put up or down, it may be time to replace your shades. Additionally, if your shades are out of style or you decide you want a new look, replacing shades is a great way to brighten up a room and improve the aesthetics. Some people may want new shades when they get new windows, either just because it seems like you should or because the old shades don't fit the new window correctly. Replacing shades can be costly since you must factor in the cost of the shades, the removal and disposal of the old shades, and the installation of the new shades. The cost runs from $150 to $290 per window.
Window Shades Privacy
Shades come in a plethora of privacy options. The first option is sheer shades at the cost of $150 to $190 installed. These shades are nearly translucent. They allow for a soft, romantic look but still provide some privacy. Another alternative is day to night cellular shades at $125 to $200. They offer blackout and light filtering at the same time. This is accomplished through an adjustment feature.
Also, solar shades come in your choice of opacity levels at the cost of $95 to $200 each with labor and materials. Another option is blackout shades that cost $130 to $200 and provide complete light filtering with the highest amount of privacy. Double roller shades are also an option in opaque and sheer materials. The cost for these shades goes from $90 to $200.
Motorized Shades Cost
Motors can be added to most models of window shades to control them using a remote. Each window requires an individual motor to be installed. The cost to have motors installed is $30 to $80 per motor.
Motorized shades are great for situations where a window is hard to reach, such as a skylight or high up window. They also work well for those who cannot stand, have mobility issues, or don't have enough strength to open heavy window coverings. A remote control allows the shades to be opened and closed with the touch of a button. Motorized window shades cost $200 to $400 for the installation and shades.
Many automated shades are controlled by your smartphone. Using an app, you can program your shades to open or close at a certain time or respond to changes in the weather or lighting. Automated shades cost $400 to $1,000 with installation.
Smart Shades Cost
Smart Wifi shades allow you to control your window shades from anywhere in the home or even the world! These are user-friendly and are set up using wifi pairing with your smartphone devices via an application. Smart Wifi shades allow you to set schedules at a specific time to open or close your shades and allow you to install multiple controllers for very large homes. The disadvantage is that there are more upfront costs, it requires electricity, and technology problems can occur. Different types of smart shades are compatible with Alexa, Google, and/or Homekit. Your professional shade specialist should be able to help you find one that works with your system. Smart Wifi shades average between $300 and $400 with installation.
Energy-Efficient Window Shades
Did you know that your home can lose as much as 50% of the heating and cooling through the windows? Window shades enhance your home's energy efficiency. The best energy-efficient shades are specifically engineered to trap air, insulate, and provide a consistent temperature throughout the year. This makes your home more comfortable. Some window coverings control UV rays in the summer and use solar heat to warm in cooler weather. This equates to direct savings on your electric bill and is better for the environment.
Three types of window shades are best known for their energy efficiency properties, including double cellular, solar shades, and blackout shades. They not only look great but act to protect your home from cold and heat. Double cellular shades energy efficiency is achieved by using two layers of cells linked to provide the maximum insulation.
Outdoor Shades Cost
In addition to indoor window shades, outdoor shades are ideal for your patio or outdoor space. These keep out harmful UV rays to protect yourself and your furniture from sun damage and fading. Outdoor shades reduce glare on your TV. Most outdoor shades are roller shades. Outdoor shades are manufactured from PVC or HDPE material, enabling the product to last longer and provide more light filtering. Outdoor shades cost from $400 to $5,000, depending on the type, size, and if they are manual or motorized.
Window Shades Cleaning
Even the best housekeepers find that window coverings get dusty and may even get soiled at some point. Regular cleaning maintains your shades and avoids ground in dirt or build-up. It's important to bear in mind that each shade has its own maintenance tips. If you use your vacuum with a soft brush attachment or a feather duster about once every two to four weeks, build-up shouldn't occur. For cellular shades, you can also use a hairdryer on the cool setting to remove dust inside the cells. Metal, aluminum, or wood shades can be cleaned with warm water and mild dish soap. Fabric shades may need to be professionally cleaned, depending on the manufacturer's directions.
Custom vs Ready-Made Shades Cost
Before making any decisions regarding the color, texture, or finish of the window shades, there is another decision that you will have to make first. Do you want to purchase custom or ready-made window shades? Before making that decision, it is very important to know the advantages and disadvantages of both.
Ready-made window shades cost $60 to $200, depending on size. They come in all colors, styles, and patterns. They are less expensive. You may be able to install them on your own. The drawback is that many windows are a custom size, and you cannot find the size in a ready-made window treatment. Some ready-made window shades are made from cheaper materials to keep the price low.
You can expect to pay more for custom shades at an average cost of $100 to $400. They will fit your window perfectly and result in a more crisp, clean look. You can choose from an even bigger selection than ready-mades. The disadvantage is that custom window coverings are more expensive, so it is an investment. Custom shades require a professional installation, so no DIY. The following costs are based on a 48" x 44" shade size.
| | |
| --- | --- |
| Type of Shade | Cost (Materials Only) |
| Ready-Made | $60 - $200 |
| Custom-Made | $100 - $400 |
Cost of Shades vs Curtains vs Blinds
While there is the option of leaving a window completely bare, most prefer to use some form of window covering for privacy or design. Three popular window covering options include shades, curtains, and blinds. All are compared below. Shades are a solid piece of material, while blinds are slats placed together on cords. For curtains, you can expect to pay $50 to $500, including installation and hardware. Curtains can be purchased with liners that make them more energy-efficient, but this may mean they must be professionally cleaned.
On average, blinds cost $400 to $1,000, including installation and materials. Blinds are typically used in areas where you would like to control how much light enters the room. They are easier to clean, but you are limited on colors and styles unless you go with a custom blind.
The average cost for a window shade is between $350 and $950. Shades are a good choice for rooms where you want more privacy. These window coverings are a better choice for children and pets because they do not damage as easily as blinds. They are easier to use but may be more expensive.
| | |
| --- | --- |
| Type of Window Covering | Cost (Labor Included) |
| Curtains | $50 - $500 |
| Shades | $350 - $950 |
| Blinds | $400 - $1,000 |
Enhancement and Improvement Costs
Waterproof Shades
The cost for waterproof shades is $120 to $140, including installation costs. Moisture and humidity can wreak havoc on your windows and window coverings. Mold and mildew develop easily and can ruin window treatments and cause a musty smell. Additionally, many people have allergic reactions to these types of growths. Waterproof shades are specially engineered to be moisture resistant to combat this issue.
Door Shades
Door shades are a great addition to any patio doors. There are many advantages of door shades, such as protecting yourself and furniture from harmful UV rays that can cause furniture to change color and fade with time and reducing glare on items such as the TV and computer. Door shades can cost anywhere from $200 to $400.
Additional Considerations and Costs
Safety issues. Window shades with pull cords pose a strangling hazard to small children and pets. For that reason, it is important to consider cordless window shades for any windows within reach of children. If you purchase shades with pull cords, add childproofing cord wraps at the cost of $9 to $16.
DIY. While installing shades can be done DIY, it is best to hire a professional. While the cost is higher, you will end up with correctly hung shades that look more professional.
Insulation. Window coverings should include insulation that keeps your energy costs down and your home more comfortable. Although shades add to the appearance of your home, they should be dual purpose and include insulation.
Leather shades. Another option for shades is leather. Leather window shades would be great in a lodge type setting or a mancave.
FAQs
How much do shades cost per window?
On average, it costs around $90 to install a pre-made shade with disposal of the existing window covering.
There are many options for shades, including sizes, colors, designs, and custom or ready-made. All of these affect the price of a shade. Ready-made shades cost $60 to $200, while custom-made shades are $100 to $400.
Are shades cheaper than blinds?
Shades are generally less expensive than blinds. However, the final cost depends on individual products and the options you select.
Why are window shades so expensive?
Window shades provide value in decor and privacy, making your home more energy-efficient. You can buy extremely inexpensive shades, but you get what you pay for.
How do I install window shades?
The installation process includes mounting brackets in place using a screwdriver, inserting the shades into the mounting brackets, and adding a valance to hide the mechanisms in the head rail.
The information provided by our cost guides comes from a great variety of sources. For more information, read our Methodology and sources.