How much does it cost to install shutters?
Get free estimates from window treatment specialists near you
Shutters Installation Cost Guide
Updated: November 24, 2022
Shutters are a long-lasting, luxurious window covering used on all sorts of homes and buildings. Shutters have been popular in the U.S. for decades, offering a sturdy, high-strength alternative to curtains and blinds. Homeowners in hurricane-prone regions often choose shutters for additional storm protection and security. However, these window furnishings are now in demand nationwide due to their heavy-duty design and stylish appearance.
Shutter installation ranges from $2,000 to $4,000. Most homeowners pay $2,400 to install ten exterior plantation shutters made of thermalite. On the low end, it costs $1,200 to install five vinyl exterior flat panel shutters. On the high end, it can cost up to $10,000 to install five exterior and five interior wood shutters. Costs vary based on the size and style of shutters and whether it is a standard or custom installation.
Shutters Cost
Cost to Install Shutters
National average cost
$2,400
Average range
$2,000-$4,000
Low-end
$1,200
High-end
$10,000
Shutters Cost by Size
One way to determine shutter cost is by size. Shutters come in several standard sizes based on common window sizes. If you need new shutters quickly, these sizes should be readily available from popular brands and suppliers. However, custom shutters projects are priced at $20 to $45 per sq.ft., including materials and labor. The larger the window, the more expensive it will be to cover it with high-quality shutters. The table below outlines the most common shutter sizes and the average costs.
| | |
| --- | --- |
| Size | Cost (Materials Only) |
| 16" x 20" | $40 - $200 |
| 24" x 36" | $140 - $250 |
| 24" x 50" | $150 - $300 |
| 36" x 48" | $200 - $350 |
| 36" x 54" | $250 - $500 |
| 36" x 60" | $300 - $600 |
| 42" x 48" | $300 - $600 |
| 48" x 44" | $300 - $650 |
| 48" x 48" | $350 - $650 |
| 60" x 72" | $400 - $800 |
| 72" x 96" | $600 - $1,200 |
Interior vs Exterior Shutters Cost
Shutters can be installed on the outside of your home or inside. Storm protection, security, and curb appeal are the main motivations for exterior shutters, which costs $50 to $1,000. Interior shutters mounted on the window frame inside your home serve as a more permanent and luxurious window covering than blinds and curtains. Interior shutters offer optimal privacy control and are safe for families with pets and young children. Interior shutters cost $150 to $1,000 because they usually have more premium finishes to match the interior design and may need a wood frame to anchor the shutter on the wall. Most inside and outside shutter installations take around two hours per window. However, experienced teams of two or three make the process go a bit faster. The table below outlines the average cost of one pair of medium-sized shutters inside and outside.
| | |
| --- | --- |
| Type | Cost (Materials Only) |
| Exterior | $50 - $1,000 |
| Interior | $150 - $1,000 |
Exterior Shutters Cost by Type
Exterior shutters are a popular investment for homeowners who want to improve their curb appeal and protect their homes against storms and security issues. The materials and designs used for exterior shutters must be durable to last when exposed to the elements, such as heat, cold, wind, and rain. The table below highlights the average costs of a pair of medium-sized exterior shutters of each type, ranging from $50 to $1,000.
| | |
| --- | --- |
| Type | Cost (Materials Only) |
| Flat Panel | $50 - $300 |
| Board and Batten | $50 - $600 |
| Raised Panel | $75 - $300 |
| Plantation | $150 - $375 |
| Louvered | $150 - $500 |
| Colonial | $250 - $550 |
| Bahama | $300 - $600 |
| Roller | $350 - $600 |
| Accordion | $350 - $1,000 |
Flat Panel Exterior Shutters
Flat panel shutters are priced around $50 and $300. Often referred to as shaker style, flat panel shutters are simple yet stylish, with a solid panel for exterior curb appeal, especially on Craftsman homes. They are known for clean lines and a tidy appearance, with wood and composite materials the most popular options available. Flat panel shutters come in operable and decorative configurations.
Board and Batten Shutters
Board and batten shutters typically cost between $50 and $600. These exterior shutters are available in square, spaced, joined, or arch-top styles, making them a popular way to add architectural flair and make a good first impression on neighbors and visitors. Board and batten shutters are made of individual boards connected by battens running across, making for a more dramatic, dynamic design.
Raised Panel Shutters
Budgeting between $75 and $300 for raised panel shutters is safe. Used on the outside of the home, raised panel shutters provide decorative designs that are often paired with coordinating window boxes in the country-garden style. Many colonial homes and cottages use raised panel shutters to enhance the architectural flair of the home and increase the curb appeal.
Exterior Plantation Shutters
Plantation shutters average around $150 to $375 per pair of shutters and remain one of the most popular styles for exterior and interior shutters. Originally used on plantation homes in the south, these shutters feature tiltable louvers that open widely to let the sun in, although they are also easy to use when it is time for shade or storm protection. Plantation shutters are one of the most enduring styles commonly used by homeowners and builders to boost curb appeal.
Louvered Shutters
Louvered shutters range from $150 to $500. As one of the most popular exterior shutter types, louvered shutters feature uniform slats that overlap for optimal light and privacy control. These slats are set into the shutter frame for an aesthetically pleasing look. Louvered shutters feature different slat sizes, so you can adjust the style and paint them to match the home's exterior.
Colonial Shutters
Colonial shutters are a traditional style averaging between $250 and $550 per pair of shutters. While plantation shutters originated in the south, colonial shutters became popular in the north. Many are made from real wood to achieve an old-aged, rustic appeal, although faux wood material is also used. Colonial shutters may be stained in different colors to achieve the desired look. When installed properly, they should add to the property value.
Bahama Shutters
The average Bahama shutters price is between $300 and $600. Also known as Bermuda shutters, the Bahama style is mounted to the top of the window, with a hinge running along the top so they can be easily pulled over windows in case of a storm. Many homes in tropical locations feature these shutters, which are often used to boost curb appeal with bright colors. They help keep the inside temperatures down in the summer.
Roller Shutter
Roller shutters average between $350 and $600. These shutters are most commonly used as security or hurricane shutters, offering protection against property damage and floodwaters. Roller shutters feature numerous horizontal slats closely connected for easy opening and closing. Some feature more high-tech solutions, such as motorized operation. Another perk of roller shutters is their energy efficiency. They block heat loss and promote temperature control.
Accordion Shutters
Accordion shutters cost between $350 and $1,000. As the most popular type of hurricane shutters, accordion shutters are installed outside windows and doors to protect against extreme wind and rain. As the name suggests, accordion shutters stack next to the opening for a stylish appearance in good weather. Then they can be quickly unfolded to open accordion style and protect the house during severe storms or hurricanes.
Cost of Interior Shutters by Type
Interior shutters are a popular investment for homeowners who want a more permanent window covering and privacy solution than blinds or curtains. There are several main types of interior shutters you can choose from to enhance your home's style. Shutter specialists may help you select the style that best suits the rest of the room and your overall interior design. Interior shutters cost range from $150 to $1,000 per pair of medium-sized shutters for each style.
| | |
| --- | --- |
| Type | Cost (Materials Only) |
| Shaker | $150 - $350 |
| Café Style | $150 - $400 |
| Plantation | $150 - $400 |
| Tracked | $200 - $800 |
| Tier-on-Tier | $300 - $1,000 |
Shaker Shutters
Shaker shutters, also known as flat panel interior shutters, cost between $150 and $350 per pair of shutters. As the name suggests, these shutters have a solid panel that effectively blocks light and increases privacy. These shutters differ from other styles because they generally do not have slats. However, sometimes you can find a flat panel combo with a solid bottom and louvers at the top. Either way, many homeowners appreciate the light blocking and insulation benefits of shaker shutters.
Café Style Shutters
Another popular option for interior shutters is café style, which average between $150 and $400. Café shutters have an open top over the covered lower portion, offering a mix of privacy and style. If you like the idea of shutters but do not want the full effect, the café style is ideal. Many homeowners use them in combination with curtains or blinds, especially with sash windows with a distinct upper and lower section.
Interior Plantation Shutters
Plantation shutters are some of the most popular and cost $150 to $400. The name comes from their prevalence in the southern United States. While plantation shutters were originally used outside the home, they have become a top choice for interior use. Plantation shutters have tiltable louvers and can be opened widely, like doors. As long as you have enough space around the shutters, you should be able to use them and boost the overall appeal of the room.
Tracked Shutters
Tracked shutters average between $200 and $800 and are popular thanks to their convenient operation. They are fitted into a track running along the top and bottom of the window, so the shutters glide open and shut easily. This option is most common for larger windows or sliding doors. The privacy and light control is attractive with tracked shutters on bi-fold doors because they can be used to separate different rooms.
Tier-on-Tier Shutters
Tier-on-tier shutters cost between $300 and $1,000. They are larger than café style but not as large as full height shutters, offering several tiers stacked on top of each other. What is good about tier-on-tier shutters is they offer flexibility because you can change the level of light and privacy with each tier. If you are used to shades and blinds but want a more permanent interior window covering, tier-on-tier shutters could work well.
Average Price for Shutters by Material
Another way to look at shutter costs is by material. As the demand for shutters has grown in recent decades, more and more material options have become available. Shutter manufacturers now offer creative alternatives to natural materials, giving homeowners many choices for the best exterior and interior shutters. Vinyl is a budget material that comes in a wide array of colors and requires little maintenance. On the other hand, MDF also is one of the most long-lasting materials but is more expensive.
Faux wood, polywood, and thermalite are good options for homeowners who want the resemblance of wood without paying the high cost of wood. Hardwood is an environmentally-friendly and low-maintenance material for shutters. Aluminum is long-lasting, which makes it the top choice for hurricane shutters. Synthetic foam is a good option in rainy regions due to its insulating properties. Below are the average prices for one pair of medium-sized shutters based on the material.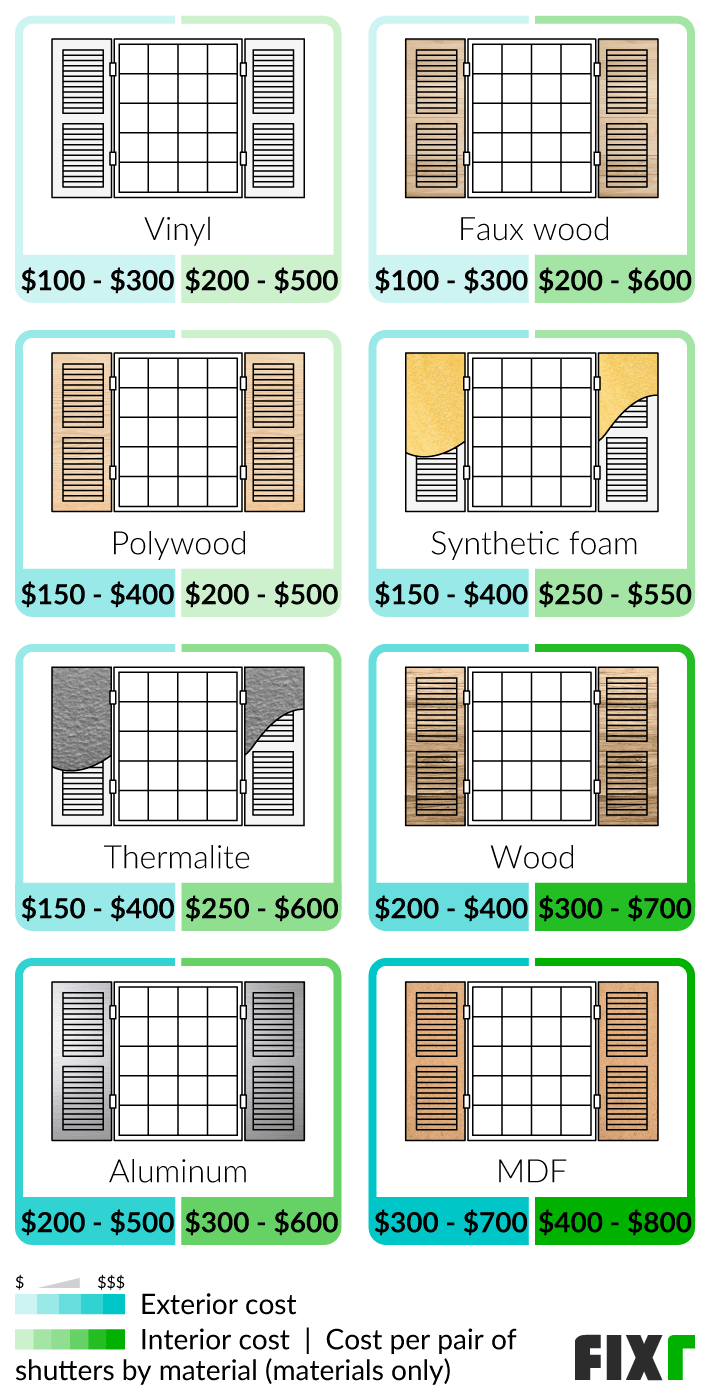 | | | |
| --- | --- | --- |
| Material | Exterior Cost (Materials Only) | Interior Cost (Materials Only) |
| Vinyl | $100 - $300 | $200 - $500 |
| Faux Wood | $100 - $300 | $200 - $600 |
| Polywood | $150 - $400 | $200 - $500 |
| Synthetic Foam | $150 - $400 | $250 - $550 |
| Thermalite | $150 - $400 | $250 - $600 |
| Wood | $200 - $400 | $300 - $700 |
| Aluminum | $200 - $500 | $300 - $600 |
| MDF | $300 - $700 | $400 - $800 |
Average Cost of Shutters by Location
Shutters can be used on both windows and doors. Pricing depends on the size of the window or door, with window shutters costing $100 to $800 and door shutters costing $800 to $1,200 due to the size difference. Shutters suit many types of windows and doors, including bay windows, sliding doors, and French doors. The actual shutter installation process is similar for both windows and doors. However, more materials are usually required to fit large doors. Plantation shutters remain the most common option for both windows and doors. Shutter manufacturers are getting creative with more styles and designs, including louvered and roller shutters.
| | |
| --- | --- |
| Location | Cost (Materials Only) |
| Window | $100 - $800 |
| Door | $800 - $1,200 |
Shutters Cost by Brand
Another way to look at shutter costs is by brand. Several manufacturers lead the way in the national shutter industry. Most brands specialize in shutters, but some may have other window coverings. When shopping for shutters, it is important to consider the brand's price point, warranty, and available styles and sizes. Some of these companies are known for their interior shutters like Hunter Douglas and Sunburst, while other brands like Norman and Timberlane specialize in custom exterior shutters. Below are the average prices for shutters from the most popular shutter brands in the U.S.
| | |
| --- | --- |
| Brand | Cost (Materials Only) |
| Vantage | $100 - $400 |
| Timberlane | $150 - $500 |
| Norman | $200 - $500 |
| Riverwood | $200 - $600 |
| Sunburst | $250 - $700 |
| O'Hair | $300 - $700 |
| Hunter Douglas | $300 - $800 |
Labor Cost to Install Shutters
General contractors or professional shutter companies install shutters and typically charge per hour or shutter, which could be from $50 to $300 depending on the shutter size, style, and design. The labor cost to install exterior and interior shutters is $60 to $100 an hour. It normally takes about one or two hours to install each shutter. This varies depending on the size/weight of the shutter and how many workers there are. The main cost difference between interior and exterior shutters comes with the materials. Aluminum is preferred for outdoor use, and wood is popular inside. The luxurious finishes requested for interior shutters make them more expensive than exterior shutters, even though the installation process is very similar. Keep in mind that professional shutter companies will inspect beforehand to confirm window measurement and proper shutter fit. They should include these measurements within the overall project cost. Shutters must be leveled and anchored for optimal performance, and a wood frame may be necessary in some cases.
Cost to Replace Shutters
Shutters typically last for 10 to 20 years, depending on the material, maintenance, and region. If your shutters go through numerous severe storms and start to wear, they will need replacing sooner than those in a relatively calm, mild climate. Look for signs of wear and tear, such as a worn appearance or difficulty opening and closing, which indicate the need for shutter replacement. Replacing a shutter costs $250 to $400. Many contractors add a removal/disposal fee, which could be from $25 to $100, depending on the location.
Average Cost of Hurricane Shutters
Hurricane shutters are required by many cities and states at high risk of hurricanes, such as Florida and Texas. These shutters are rated to withstand hurricane-force winds of up to 150 MPH and help prevent shattered windows and doors. There are several designs and materials to choose from, including plywood, clamshell, accordion, Bahama, roll-down, and storm panels. Hurricane shutters may be made of wood, anti-impact film, fabric, plastic, or metal. Hurricane shutters cost $2,500 to $8,000, depending on the type and size you choose.
Maintenance
Shutter maintenance is important to ensure these window coverings last as long as possible. Homeowners can take simple steps to keep their shutters in optimal condition, such as cleaning with a soft cloth and applying household lubricant to hinges once a month to prevent squeaking. Beyond that, shutter specialists are the best choice when it comes to fixing problems with the shutters, such as broken slats or issues with opening and closing. Painting and sanding may also be recommended as part of professional shutter maintenance. Shutter repairs cost $100 to $500 depending on what is required.
Pros and Cons
Shutter installation may be at the higher end for window coverings, but many homeowners find it well worth it because of its durability. When properly installed and maintained, shutters can last for 10, 15, or 20 years, even in a busy household with young kids and pets. Not only are shutters stronger and longer-lasting than vinyl blinds, but they are also safe to use and eliminate the choking hazard associated with blind strings. Other pros of shutters include the huge range of styles and the total privacy and thermal insulation to help save money on energy bills.
While there are many perks of shutter installation, there are a few possible downsides, starting with the higher initial investment compared to blinds or curtains. Also, exterior shutters fit many windows, but sometimes interior shutters will not work with tilt-in windows or other designs. Something else to keep in mind is that indoor shutters may not fully block the light from outside. They also must be cleaned directly on the wall. You cannot take them down to clean like with curtains and drapes.
Manual vs Motorized Shutters
Shutter motor installation has become more common in recent years. Roller shutters can be motorized on the outside and inside of the home, offering enhanced security and convenience. With the push of a button, shutters will open or close on their own, a perk preferred by many homeowners who want secure privacy and protection against storms and criminal damage. Existing shutters may be motorized or new motorized shutters can be installed altogether, with prices averaging $500 to $1,000. As the name suggests, manual shutters must be opened and closed by hand, so although they are a little more work, they are cheaper, too. More styles are available for manual shutters. If you opt for the more cost-effective manual shutters, expect to pay $300 to $700 per pair of shutters installed.
| | |
| --- | --- |
| Type | Cost (Installed) |
| Manual | $300 - $700 |
| Motorized | $500 - $1,000 |
Enhancement and Improvement Costs
Paint Shutters
Shutters come in various colors depending on the brand and style. If you like the style of your shutters but wish they were a different color, you can pay $45 to $85 for shutter painting. This enhancement is used for both new and existing shutters. PVC, louvered vinyl, and wood shutters can all be upgraded nicely with quality priming and painting. Sometimes a fresh coat of paint is all it takes to transform tired, old shutters into a style statement that helps curb appeal and lasts for many more years.
Fire Shutters Installation
Fire shutters are rated to withstand fire up to a certain temperature point. Fire shutters roller doors are common for commercial buildings in fire-prone areas. However, homeowners may also invest in these shutter solutions. Fire shutters act as structural barriers to prevent and compartmentalize flames in the event of a fire, especially in garages or sheds. They are usually made of stainless or galvanized steel. If you live in a high fire risk region, you could benefit from fire shutters, which cost slightly more than standard shutters, around $450 to $750 per pair of shutters.
Additional Considerations and Costs
Home value. The right shutters can increase your home value by offering stylish, secure, and low-maintenance window coverings. Shutters are especially attractive and beneficial if you live in an area at risk of hurricanes or other heavy storms.
DIY. Installing shutters yourself is not ideal for a few reasons. First, lifting shutters and fitting them into place is no easy task, and you could injure yourself accidentally. Also, shutter installation requires careful measurements and proper execution. It is better to have a professional do the work, whether you choose a shutter installer, siding contractor, or general contractor.
Permit. Many states require permits for hurricane shutters. Your shutter installer should be up to date on any local and state requirements. Feel free to ask them for clarification or check your local building code.
HOA. If you have a homeowners' association, you will want to check with them on any rules for shutter installation. Many HOAs want external shutters to follow a similar style and color scheme to maintain a consistent look throughout the neighborhood.
Colors. Shutters come in many different colors to match the exterior or interior of your home. Black, white, brown, gray, red, green, and blue are just a few options to consider. You can ask your shutter installer for their recommendation on which color and style will have the biggest benefit for your property. If your preferred color is not readily available, you could paint the shutters instead.
House style. Shutter selection varies based on the style of your home, with popular options including Victorian, colonial, bungalow, ranch, and contemporary, just to name a few. Speak to your shutter installer for their recommendations and how the shutter style may impact the final price.
Cost factors. The type of window and the siding or material on which shutters are installed do not have as much of an impact on the cost as the overall window size. The larger the window, the more materials are needed to make the appropriate shutter. Contractors look at the window size, shape, and installation requirements to determine the appropriate price for standard or custom shutters.
Season. You will likely get more competitive shutter prices in the fall or early winter during the down season. Shutter prices may be higher during the spring or summer.
Hardware. Most shutter installers include installation accessories in the project, but sometimes there may be additional fees, especially if you have large shutters or custom designs. Installation screws cost $1.50 to $3.00, support kits cost $10 to $15, and decorative hardware is $5 to $20 per shutter.
FAQs
How much does it cost to get a shutter replaced?
It costs around $250 and $400 to replace a shutter, depending on the style and size. Standard sizes are easier to replace than custom shutters. There may be additional disposal fees to consider depending on the contractor.
Can you install shutters by yourself?
DIY shutter installation is not recommended due to the heavy manual labor and need for precise measurements. It is easy to make a mistake without the right experience and training, which could compromise the shutters' integrity.
Are plantation shutters outdated?
No, plantation shutters are not outdated. They are one of the most popular shutter styles out there. They originated in the southern U.S. to keep heat out of large plantation homes prior to AC. Today, they are used all around the country for an elegant look and ample airflow.
Are shutters more expensive than blinds?
Shutters are more expensive than window blinds, averaging $2,400 compared to $700 for blinds. While the cost is higher, shutters last longer and are a more permanent fixture that provides excellent protection against weather damage. Blinds are easy to switch out if you change your mind.
What is the most popular style of shutters?
Louvered shutters are some of the most popular because they offer premium light and privacy control, although paneled and Bermuda shutters are very popular, too. Plantation shutters remain very popular across the U.S.
The information provided by our cost guides comes from a great variety of sources. For more information, read our Methodology and sources.