How much does it cost to install a shower?
Get free estimates from plumbers near you
Shower Installation Cost Guide

The majority of adults living in the United States today use showers rather than bathtubs to clean each day. Showers are quick and easy-to-use for those with disabilities, and they use substantially less water than a bathtub, making them a greener solution as well. They can be installed alone, alongside a tub, or as a tub/shower combination. They can be made of a single prefab unit or custom made using tile or slab materials. They can contain benches, body sprays, and steam or be simple with a single showerhead. This endless customization makes it possible to put a shower into nearly any bathroom.
Showers come in many sizes, shapes, and materials. The national average range for a fully installed shower including the plumbing, walls, and base is between $7,000 and $12,000. Most people pay around $8,000 for a 48" x 36" walk-in shower with ceramic tile walls, pressure-balancing valve, speakman showerhead, and standard door. A 36" x 36" acrylic stall shower without a door can be installed for $3,000, while a luxury 60" x 60" stone slab shower with a bench and performance shower system costs about $20,000 to install.
Cost to Install a Shower
Shower Installation Prices
National average cost
$8,000
Average range
$7,000-$12,000
Low-end
$3,000
High-end
$20,000
Bathroom Shower Price by Surround Material
A shower is made of several components, including the pan, walls, plumbing, accessories, and what you use to hold the water back from the rest of the room. Shower walls or liners come in many material types. Get a water-resistant material.
These surrounds are created in one of two ways. You can purchase a prefab stall, which includes the walls, pan, soap dishes, grab bars, and drillings for the valve and head. These are the fastest, easiest, and least expensive ways to create a shower.
Prefab Shower Materials
Prefab stalls come in many sizes, from 36-inch square to up to 60-inches long and 48-inches wide. They are priced by the unit, and costs vary based on the size and features:
| | |
| --- | --- |
| Prefab Surround Material | Average Costs (Materials Only) |
| Fiberglass | $300 - $600 |
| Acrylic | $300 - $1,000 |
| Cultured Marble | $600 - $2,000 |
Fiberglass Shower Cost
Fiberglass showers cost between $300 and $600 on average. These surrounds are a good, lightweight choice if you have a small unit. They come in one piece, so they work best in new construction or full tear outs where you have room to maneuver. Fiberglass is long-lasting and durable, and fiberglass surrounds come in several colors. Sizing is more limited with this option, with small stall and neo-angle units being the most common.
Acrylic Shower Cost
Acrylic shower stalls cost between $300 and $1,000, depending on the features and size. These stalls are the most common for prefab units. Acrylic is a type of plastic, and these stalls can be molded into many shapes, sizes, and colors. They can come in a single piece or three or four separate pieces. This means that in a retrofit, you can easily bring the separate pieces to install, rather than trying to put an entire stall in at once.
Cultured Marble Shower Cost
Cultured marble is another popular material for stall and prefab units. They cost between $600 and $2,000 on average. They have a soft gel coat, making them easy to clean. They also come with a marble-look finish with textures or swirls of color instead of solid color units. You can find cultured marble prefab units in solid-piece or multi-piece units, making them good for new construction and retrofits. They tend to be larger than other units and have more features.
Custom Shower Materials
You can also build a shower by creating a custom stall with cement backerboard and lay tile or slab material over it. This gives you more options and designs, but it is also more costly.
| | |
| --- | --- |
| Custom Surround Material | Average Costs per Sq.Ft. (Materials Only) |
| Ceramic Tile | $1.25 - $100 |
| Porcelain Tile | $3 - $30 |
| Stone Tile | $5 - 100 |
| Porcelain Slab | $8 - $30 |
| Glass Tile | $20 - $50 |
| Stone Slab | $40 - $400 |
| Solid Surface | $100 - $200 |
Ceramic Tile Shower Cost
Ceramic tile is one of the most popular materials for showers. Depending on the tile, it costs anywhere from $1.25 to $100 a square foot. Ceramic tile comes in nearly any color, shape, size, and finish, so you can create many looks. Tile is easy to care for and does not require sealing or special maintenance if the ceramic tile has a crackled or crazed finish. Ceramic tile can be used on the walls, floor, and ceiling of the shower with no issue.
Porcelain Tile Shower Cost
Porcelain tile costs between $3 and $30 a square foot on average, depending on the size and finish. It is another popular and low-maintenance material for these surrounds. Porcelain tile is made by compressing clay dust into a tile form, then firing it to extremely high temperatures. This makes it dense, durable, and easy to care for. Porcelain tile often comes in sizes much larger than ceramic, making it good for contemporary designs.
Stone Tile Shower
Stone tiles cost between $5 and $100 a square foot, depending on the stone's color and rarity. Many types of stone tiles can be used. Marble, granite, and slate are the most common to use. While there are other stones, they do not hold up as well. For example, some types of limestone disintegrate under constant water spray. All stone must be sealed properly to prevent staining and resealed frequently. Some stones, including green marbles, must be installed with an epoxy setting material, increasing costs.
Porcelain Slab Shower Cost
A relative newcomer to the custom shower field are porcelain slabs. They cost between $8 and $30 a square foot on average. These are large tiles made of the same material as a porcelain tile. These are more comparable to a tile size-wise but ⅝-inch thickness rather than the standard ⅜-inch. They have all the benefits of porcelain tiles but have fewer grout lines for a sleek and contemporary look. If you choose slabs for your shower wall, you need to select a different material for your floor because slabs cannot be installed in this area.
Glass Tile Shower
If you want a shower that is easy to care for, full of color, and reflects light, consider glass tiles. For the material, expect to pay between $20 and $50 a square foot on average. Glass tiles come in various sizes, finishes, shapes, and colors. They can be completely transparent or iridescent and formed into thin, contemporary mosaic pieces. Glass tiles can be cleaned with a glass or window cleaner, making them very easy to care for. However, they require special installation, which increases the total cost.
Solid Surface Shower
If you like the idea of a prefab shower but want to customize the shape, size, and color, these are the ideal compromise. Solid surface is a unique material made of plastics. It costs between $100 and $200 a square foot. This material is also used on countertops, with the popular brand name Corian. It can be melted and fused in the unit so that there are no seams. You can even combine different colors on one wall for a custom look without any grout lines. You need to find a specialty installer for this material because not all fabricators install them.
Stone Slab Shower
Expect costs for a stone slab shower to be between $45 and $400 for the materials. If you want a stone shower without any grout lines, it is possible to use stone slabs rather than tiles. However, this presents a few issues that you need to keep in mind. First, stone slabs are thick - 2cm to 3cm in thickness, meaning that you need extenders for your valves and showerheads. They are heavy, so they require reinforcing your walls. Costs are much higher, not just for the materials but also for the installation and transportation of the slabs. If your walls move or settle over time, your slabs are at risk of cracking. Tiles have grout, which absorbs movement and prevents cracks. Slabs have nothing to absorb the movement, so they must have perfectly level walls.
| | |
| --- | --- |
| Stone Slab Material | Average Cost per Sq.Ft. (Materials Only) |
| Marble | $40 - $300 |
| Granite | $75 - $400 |
| Quartz | $100 - $200 |
Marble Slab Shower
Marble slabs start at $40 a square foot, with most costing $100 to $300 a square foot. Marble slabs have some drawbacks and considerations. Green marble slabs should not be used in this area because they are likely to spall or become flakey and scaly with time. Bianco Carrara slabs are likely to rust because they have high iron content. Marble slabs need to be sealed regularly, and as most are 2cm thick, they are more likely to crack over time.
Granite Slab Shower
Granite slabs cost between $75 and $400 on average. Any type of granite slab can also be used. Commercial granite slabs come in many colors, textures, and styles. Lighter-colored granites are more likely to stain than dark-colored granites, and all granites should be sealed regularly as part of their upkeep. Most granite slabs are 3cm in thickness, which should be considered for the size of the stall and plumbing.
Quartz Slab Shower
Quartz slabs typically cost between $100 and $200. Quartz slabs are not technically natural stone, but they contain roughly 90% natural quartz rock. The remainder of the slab is made up of resins and pigments. These slabs are lower maintenance than granite or marble. They are always 3cm thick, which has considerations for size and plumbing. Some quartz slabs may have issues with bending when used vertically due to the amount of resin. This may impact long-term installations.
Shower Cost by Shape
Showers can be constructed in many shapes and sizes. The exact dimensions should be based on many criteria. This includes your bathroom's size and shape, how many users it has, and what needs you have for the space, including benches, performance showers, steam, or tub.
When it comes to a custom stand-up shower, the layout does not impact costs tremendously. The size drives most of the costs. However, for a prefab unit, there is a set range of costs. The shape or layout influences the cost slightly, while the size makes up the majority of the remaining costs. Each layout has positive and negative attributes that may make one a better fit in your bathroom than another. With a custom stall, you do not need to conform to a set layout and are free to create various other designs. The following layouts are for prefab units only:
| | |
| --- | --- |
| Layout | Average Prefab Cost (Material Only) |
| Rectangular / Square | $300 - $1,000 |
| Walk-In | $300 - $1,000 |
| Neo-Angle | $400 - $1,000 |
| Tub / Shower Combo | $500 - $2,000 |
| Barrier-Free | $750 - $3,000 |
| Curved | $900 - $2,000 |
Rectangular Shower Enclosure
These enclosures cost between $300 and $1,000 on average for the unit. The vast majority of units are rectangular. Square and rectangular units fit nearly anywhere. You can use them between two walls, next to a separate tub, or tucked into a cubicle. They come in many sizes, although the smallest that meets code is 30-inches square, and the smallest recommended size is 36-inches square.
Walk-In Shower
Any type that does not have a tub is considered a walk-in shower. They cost $300 to $1,000 for a prefab unit. It can be any shape, size, or have any interior layout. It may have a bench or standing-room only. It can be made for one or two users and have performance features or a single showerhead. They are common in master bathrooms but less common for guest baths or shared bathroom spaces.
Neo-Angle Shower Enclosure
Homeowners can create this type of enclosure with a neo-angle pan and custom walls or a prefab unit costing between $400 and $1,000. It is a type of corner enclosure shower. With a stall in a corner, two walls extend on either side. The front can be configured in two ways. The least expensive and most popular way is to create a neo-angle. In this, the base has three angles to the front. It makes the base look like a cut diamond shape. They need special neo-angle doors.
Tub / Shower Combo
Tub/Shower combo units cost between $500 and $2,000, depending on the material. Most family bathrooms in the U.S. have this type. Size does not vary tremendously with these units. This is important for resale because most people want at least one tub. By combining the tub and shower, you save space. It typically does not have a deep or large tub. The average tub is 14-inches deep and about 60-inches long, although you can opt to put in a deeper or longer tub with custom walls.
Barrier-Free Shower
Expect to pay between $750 and $3,000 on average for a barrier-free shower. It is a walk-in shower without a curb. Instead, the pan and the bathroom floor are flush with each other. This allows a wheelchair user to roll into it or a person with limited mobility to walk in without having to step over a curb. They tend to be larger, and they often include a bench.
Curved Shower Enclosure
The other way to create a corner enclosure shower is to use a curved front pan. Because these units include the custom curved door, they cost between $900 and $2,000 on average. In this layout, the unit is in a corner, with the two walls extending out. The front of the pan curves outward into the room. It takes more space than the neo-angle and is harder to fully enclose. For this reason, it is difficult to make a custom curved enclosure. Most people opt for a prefab unit that has its own door that completes the curve.
New Shower Cost by Type of Mixing Valve
In any shower, you need a way to turn the water on and off. You do this via a mixing valve installed in your wall, which sends the water to the showerhead or any body sprays or tub spouts. In the U.S., we have two types of mixing valves - pressure balancing and thermostatic. Both give consistent water temperature but work in two different ways.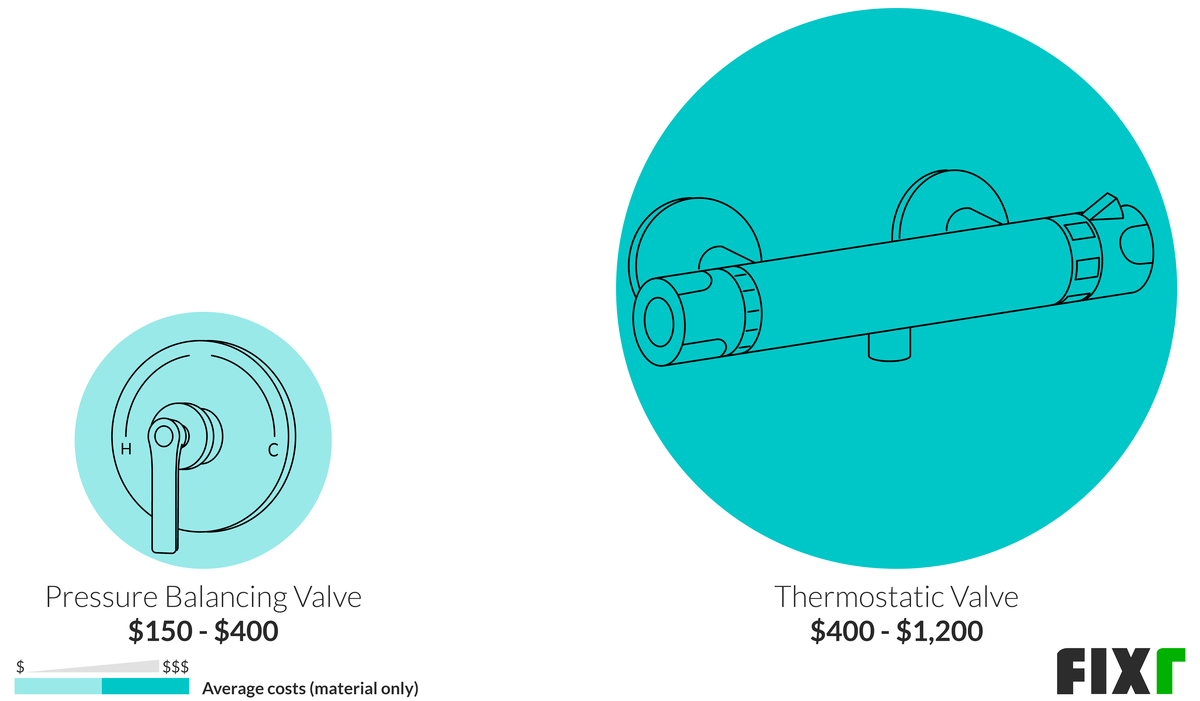 | | |
| --- | --- |
| Mixing Valve | Average Costs (Materials Only) |
| Pressure Balancing Valve | $150 - $400 |
| Thermostatic Valve | $400 - $1,200 |
Pressure Balancing Valve
A pressure balancing valve system costs around $150 and $400 for the complete set and trim. A pressure balancing valve is a concealed shower valve that uses one handle. The valve and pipes are inside the wall, so all you see is the trim kit and a handle. As you turn the handle, the water gets hotter. It senses changes in water pressure from the hot to cold lines and swings to close the line with more pressure to keep the two systems balanced. This system is less expensive both to purchase and install but gives less control over your shower.
Thermostatic Mixing Valve
Thermostatic shower valve kits with trim cost around $400 and $1,200 for a single volume control, and separate controls can be added for roughly $100 each.Thermostatic valves use separate handles for water temperature and water volume. You set the temperature to an exact degree and then use a separate valve to control the flow. In a thermostatic shower, you can have multiple water sources, each with volume control. This system is more expensive to purchase and install but gives very precise control over your shower.
Showerhead Cost by Type
A big piece of your new shower is the showerhead. Showerheads come in many shapes, sizes, styles, and finishes. They can also come in a few different functioning types. All types of showerheads have a full range of sizes, finishes, and costs. For many people, function is the most important feature.
| | |
| --- | --- |
| Showerhead Type | Average Costs (Materials Only) |
| Single-Setting | $25 - $500 |
| Multi-Setting | $50 - $100 |
Single-Setting Showerhead
A simple speakman or bell showerhead starts at $25, while extra-large rain or deluge heads go as high as $500. Single-setting showerheads spray water at a constant speed and pressure. These showerheads include speakman, sunflower, rain, deluge, tile, and waterfall. Sometimes, a single-setting showerhead includes a small lever on the side that increases or decreases the pressure, like a speakman showerhead. Otherwise, these showerheads do not pulse, rotate, or otherwise change the water delivery. They have a wide range of costs because there are so many types in this category.
Multi-Setting Showerhead
Costs range from$50 to $100 for a showerhead with multiple settings. If you want control over the water pressure and whether it is massaging, pulsing, or a gentle mist, you want a multi-setting showerhead. Many hand showers and several types of stationary showerheads have multiple settings. The settings are achieved by turning or twisting either the head or a level on its face. Your sizes, finishes, and styles are more limited with this showerhead, so they tend to have a tighter price range.
Showerhead Price by Finish
The vast majority of showerheads are made with brass. Brass is a long-lasting material that works well for faucet or showerhead bodies. The brass is then plated or finished with various other materials to give it different looks.
A few less expensive showerheads may be made of a mixture of brass and plastic. The plastic may be coated with a film to give it the look of a metal finish for a lower cost. Finishes vary by manufacturer. The only regulated material in the U.S. is chrome. All other finish materials can be proprietary and vary from one brand to another. For the best results, always purchase your showerhead, valve, bathroom faucets, and accessories from the same manufacturer to ensure they match. Otherwise, opt for chrome for consistency.
| | |
| --- | --- |
| Showerhead Finish Material | Average Costs (Materials Only) |
| Plastic | $20 - $30 |
| Stainless Steel | $25 - $50 |
| Chrome | $25 - $400 |
| Nickel | $50 - $500 |
| Oil-Rubbed Bronze | $60 - $600 |
Showerhead Price by Design
Your showerhead can come in several shapes and styles. They can give you varying amounts of water, pressure, and different looks. Most come in various finishes and sizes, meaning a range of costs for each type.
| | |
| --- | --- |
| Design | Average Costs (Materials Only) |
| Speakman | $20 - $40 |
| Sunflower | $20 - $60 |
| Hand Shower | $20 - $100 |
| Waterfall | $50 - $100 |
| Tile | $60 - $100 |
| Rain | $100 - $500 |
| Deluge | $100 - $500 |
Shower Pan Cost by Type
All-in-one shower stalls come with a built-in pan or tray, which is the shower's bottom or floor. However, if you plan on using tile, slab, or custom walls for your shower, you need to purchase a pan for the floor. All pans are designed to slope to the drain.
For pans that are tiled, the tiles must accommodate that slope without cracking. For this reason, any tiles installed on the pan must be 2 inches or smaller. Trays are available in three main types:
| | |
| --- | --- |
| Type of Pan | Average Costs |
| Ready-Made Pan | $200 - $500 |
| Ready-to-Tile Pan | $500 - $800 |
| Custom Shower Pan | $650 - $3,500 |
Ready-Made Shower Pan
A ready-made shower pan is usually acrylic but can be fiberglass or composite. They cost between $200 and $500 on average. They come in several sizes and shapes, with a drain in the center or at one end. They are usually white, but some can be custom ordered in different colors as well. Most have a small lip, but you can find some barrier-free models.
Tile-Ready Shower Pan
If you want a tile shower floor and are using a standard-size unit, such as 36-inches square or 48" x 60", you can opt for a tile-ready pan. Prices range from $500 to $800 on average for these models. They are designed to receive tile. They install very quickly, so they cost less than a custom pan. Sizes and shapes are limited, so it may be tough to find in this style if you want something specific.
Custom Shower Pan
Custom pans are built on-site by your plumber. They cost between $650 and $3,500, depending on how large the pan is and the method your plumber uses. There are different kinds, including sheet metal and hot mop, which is built with hot tar. They are labor-intensive and expensive to build, but you can have them done in any size or shape. If you want something that you cannot find in a ready-to-tile pan, this is your best option. Not every plumber builds custom pans, and those who do have a preferred method.
Shower Pan Price by Material
Shower pans can be found prefab in several materials. Or, once they are tiled, they can be finished in a few materials. Because the pan's surface is visible and walked on, consider the material your pan is either made from or finished with. Each one has characteristics of appearance and care as well.
Prefab Pan Materials
Prefab pans are mostly made of acrylic. They may also be made of fiberglass or composite materials, although these are often less common. Their costs are primarily driven by the pan's size.
| | |
| --- | --- |
| Material | Average Costs |
| Acrylic | $200 - $400 |
| Fiberglass | $200 - $400 |
| Composite | $300 - $600 |
Acrylic Shower Pan
Acrylic pans cost between $200 and $400 on average. They are generally the most common. They are made of tough and durable plastic, often with a textured, non-slip surface. They are usually white, but a few can be ordered in other colors. They may have a lip, or be barrier-free, and come in many sizes.
Fiberglass Shower Pan
Fiberglass shower pans are a lot less common than acrylic but are still a good choice. Prices range from $200 to $400 for these pans. They are very tough and durable and less likely to crack over long periods like acrylic. They are also lightweight and come in many sizes. They are mostly white but can be found in limited other colors as well.
Composite Shower Pan
Composite shower pans cost between $300 and $600 on average. They are nice if you want a pan that closely resembles the look of stone. Composite pans are made with a mixture of resins and often quartz or another stone. They may have the look of marble or granite or a solid color. They come in several sizes and colors, all with a non-slip finish.
Custom Shower Pan Surface Materials
If you opt for a tile-ready pan or a completely custom pan, it needs to be finished. This is done with tile measuring 2 inches or less. This is important because the tiles must slope to the drain. Tiles larger than 2 inches may crack rather than slope. Any floor-rated ceramic, porcelain, or glass tile can be used on a shower pan, and many types of stone can be used as well.
| | |
| --- | --- |
| Custom Pan Surface Material | Average Cost per Sq.Ft. (Surface Material Only) |
| Tile | $20 - $50 |
| Stone | $20 - $100 |
Tile Shower Pan
Tile pans can be created to match or coordinate with the tile walls or make a statement independently. Tiles used for pans typically cost between $20 and $50 a square foot on average. Many tiles come in sizes small enough for a tile pan, and tiles, such as glass, can be used to create a fun pop of color or sparkle in this area. Because mosaics are more expensive than larger tiles, the tiles you choose for this area cost more than the tiles used elsewhere.
Stone Shower Pan
Stone for a shower pan costs between $20 and $100 a square foot. There are many ways to create it. A popular method is to use pebbles or rounded beach stones, which massage your feet while you shower. You can also use a textured stone underfoot like slate or marble or granite that matches your walls. Avoid using soft stones like limestone on the shower floor because these may pit. Also, avoid green marbles because these may spall or become scaly over time. Any stone in this area should be sealed to impede staining.
Shower Doors Cost
Not all types need or use doors. Some use curtains, while others use stationary panels, and some are installed in wet rooms with no way to contain the water at all. However, the majority of showers use a door. Many prefab stalls come with a built-in door, but others need the door fitted separately. Any custom unit requires a custom-built door to match to get the exact fit.
| | |
| --- | --- |
| Door Type | Average Costs (Materials Only) |
| Spray Panel | $100 - $300 |
| Framed | $300 - $400 |
| Sliding | $400 - $1,000 |
| Frameless | $900 - $1,200 |
| French | $1,000 - $1,400 |
| Decorative Glass (Frosted, Wave, Bubble, Tinted) | $50/sq.ft. extra |
Shower Installation Cost
The fitting and labor costs to replace a shower vary depending on the type. A prefab acrylic stall is a fairly straightforward install that can be completed in about 3 - 4 hours. After the plumbing is roughed in, the unit is set in place and screwed into position on the flanges at the top and sides. Caulk is used to fill the gaps, and the drain is set. The trim for the valves, showerhead, and other accessories are installed last. The install is the same no matter the shape of the acrylic shower, so the labor portion does not vary much.
A plumber charges between $75 and $130 on average. Roughing in the new plumbing takes about 2 hours, and installing the surround and trim takes another 3 - 4 hours, for a total of 5 to 6 hours of work. This makes the cost of installing a prefab unit around $375 to $780, depending on the cost of plumbing in your area and the time needed.
A custom installation is more labor-intensive and involves different professionals. First, the shower is framed out. This includes studs so that you could eventually install grab bars. Then, water-resistant cement backerboard is installed, the shower pan is created or laid, the rough plumbing is installed, and then the walls and pan are tiled. After it is complete, the trim is put on, and any doors can be installed. This entire process takes between 2 - 4 days. Tile installers charge between $5 and $10 a square foot in addition to the plumbing costs. Framing costs are around $5 a square foot, and the cost of installing doors is usually included. The labor portion of a custom shower is usually around $3,000 to $6,000 total, depending on the size and shape. These costs include the framing, plumbing, tiling, and finish work. If you opt for slab walls, expect your costs to be closer to $8,000 in labor to account for the additional work involved.
Below are the average costs for installing a new shower based on its shape. Prices include the labor and total costs, with low-end costs assuming an acrylic shower and high-end costs assuming custom installations.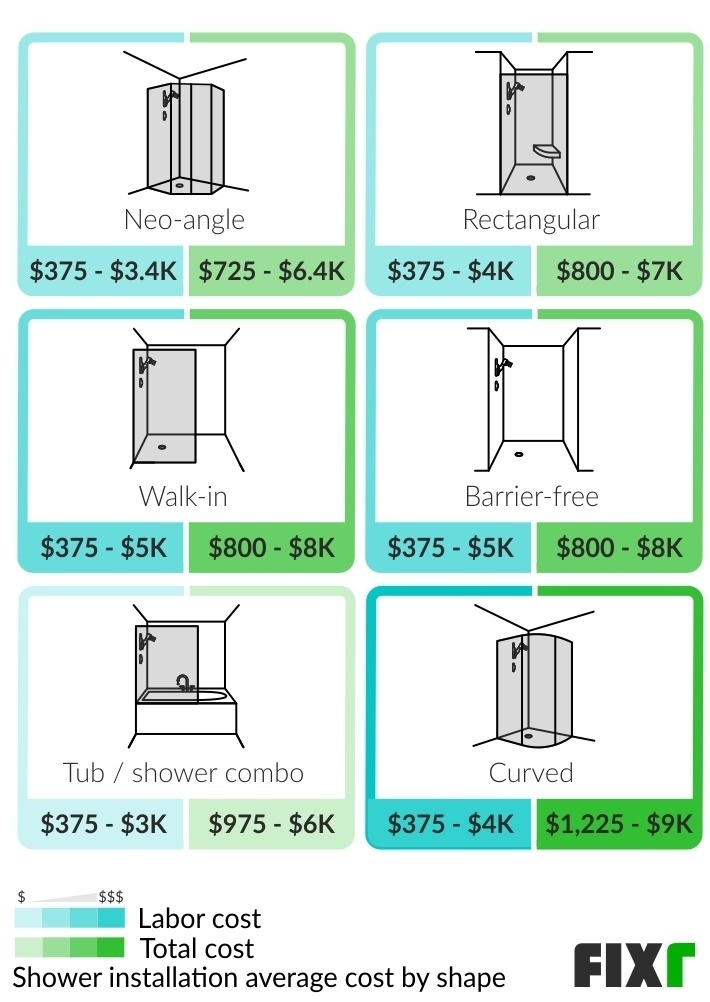 | | | |
| --- | --- | --- |
| Shape | Labor Costs | Total Costs |
| Neo-Angle | $375 - $3,400 | $725 - $6,400 |
| Rectangular | $375 - $4,000 | $800 - $7,000 |
| Walk-In | $375 - $5,000 | $800 - $8,000 |
| Barrier-Free | $375 - $5,000 | $800 - $8,000 |
| Tub / Shower Combo | $375 - $3,000 | $975 - $6,000 |
| Curved | $375 - $4,000 | $1,225 - $9,000 |
Install a Neo-Angle Shower
The average cost to install a neo-angle shower is $375 to $3,400 for labor. The total costs of the installation range from $725 to $6,400. They are a corner installation. They have two walls and a pan with three straight angles meeting the walls on either side. The neo-angle can have a door or a curtain using the same angles as the pan. This is a common type for small bathrooms because it uses less space than others. The most common neo-angle is an acrylic stall, but you can also create a custom design.
Install a Rectangular Shower
The cost to install a rectangular shower ranges from $375 to $4,000 in labor. Costs for the total install range from $800 to $7,000, depending on the type, size, and material. They are one of the most common styles. They can have a curb or be barrier-free. They can have built-in benches and shelves, extra showerheads or body sprays, or be small and simple. The smallest rectangular unit is roughly 36" by 36". Anything smaller than this does not pass code in most areas, but you can go as large as you want.
A Walk-In Shower Installation
The average cost of the labor to install a walk-in shower is $375 to $5,000. The cost of this unit fully installed ranges from $800 to $8,000. Any unit without a tub is considered a walk-in shower. The most common are rectangular, but they can be curved, neo-angle, or barrier-free. It may have doors or a curtain, and it can be any size. Some may have only one wall with three glass walls around it. Others may have three walls and a glass door or a curtain across the front. This is one of the most common installations in master bathrooms.
Barrier-Free
A barrier-free shower installation costs $375 to $5,000 in labor. The total cost of this project varies from $800 to $8,000. They are a type of walk-in or roll-in unit design. They have no threshold, so the floor is level with the bathroom floor. This allows people who use mobility aids like walkers or wheelchairs to enter the enclosure safely. They may include grab bars and benches to make them more accessible. They can be acrylic or custom. You can also use an acrylic base with custom tiled walls for a semi-custom installation.
Tub / Shower Combo Installation
The cost to install a tub/shower combo averages $375 to $3,000 in labor. The cost of the project averages $975 to $6,000. They are common in children's bathrooms, guest bathrooms, and homes with only one main bathroom. They can be built from a single piece that includes an acrylic tub and walls. Or, you can install a separate tub and tile the walls for a custom design. The most common size for this installation is 60" in length, 30" in depth, and 14" in height. However, many people use taller tubs to make them more usable. Doing this can make it more difficult to enter and exit, however.
Install a Curved Shower
The cost to install a curved shower averages $375 to $4,000 in labor. The total cost of the project averages $1,225 to $9,000. They are unique in style. Only the front is curved, while the two sides meet at an angle at the back. This is another version of the corner shower. It is so expensive because of the pan and door. Prefab units usually have the doors already, so they are more costly than other prefab models. Prefab shower pans are not very common with a curve, so a custom pan may be needed, driving the costs above other shapes.
Cost to Install a Shower Pan
You have three choices of pan for your shower. You can purchase a ready-made pan, which costs about $100 to install. You can have a ready-to-tile pan, which costs roughly $300 to install including the tile installation to cover it. Or, you can have a fully custom pan installed, costing $500 to $1,200, depending on the shower size and your plumber's rate. Truly custom pans can be made out of many materials, including copper, which can drive the overall costs.
If you install the pan when the rest of the stand-up shower is remodeled, some of these costs may be prorated or rolled into the total because most installers have a minimum charge.
​
Cost to Install Shower Plumbing
The cost to install your shower plumbing depends largely on the type. A basic model with a single pressure balancing valve and showerhead costs considerably less to plumb than one with a thermostatic valve, three-volume controls, two showerheads, and three body sprays.
The plumbing's accessibility also factors into the cost. In a complete remodel, it is easy for the plumber to get in and install the pipes and valves. When replacing the valve, your plumber may have a harder time reaching things, increasing the labor cost.
Another factor influencing costs is your shower wall material. Prefab and tile units are straightforward to install the plumbing valve and trim on because the trim and stem are designed for thickness. But a slab requires the plumber to put extenders on the valves, increasing time and costs. Slabs often require an extender of more than an inch in length and custom drilling for the valve, dramatically increasing costs.
For a straightforward pressure balancing valve shower plumbing installation, expect to pay roughly between $300 and $500 total, with labor making up $150 to $300. For a thermostatic system or performance shower, costs range from $1,500 to $2,500 altogether, with labor making up $500 to $1,500 of the cost.
Cost to Replace a Shower
Many variables go into replacing a shower. You can replace your existing unit with an identical one. You can also go from tile to prefab, prefab to tile, or these to slab walls.
In addition, the layout and size of the stand-up shower may remain the same or change. The plumbing and valve systems may remain the same types, or they may change. This makes for a wide range of costs.
If you currently have a prefab unit and replace it with another prefab, expect to have tear-out costs of around $200. There is also a new installation, which can cost $800 at the low end and $4,500 at the high end, for a total range of $1,000 to $4,700.
If you have a prefab and are moving to tile, expect tear-out costs to be the same, but the new installation will be closer to $8,000 with the framing, backerboard and tile installation, and a new pan.
If you currently have a tile shower, tear out costs start at $500. This can go higher if the tile is old. Mud jobs can still be found in many older bathrooms, and they can take a lot of work to remove, bringing the tear-out costs to $1,000. Assuming that you replace the shower with a similar size and material, your total replacement costs are between $8,500 and $9,000 on average.
Replace a Bathtub With a Shower Stall
If you have a bathtub that you want to replace with a shower stall, many variables influence the total cost. Bathtubs come in many materials, including acrylic, fiberglass, steel, and iron. Metal tubs can be heavy and difficult to remove. Tubs can also have a tile surround or be one piece with walls of the same material.
Removing the tub costs between $200 and $1,000, depending on the material, how difficult it is to remove, and how invasive the tub's flange is with the walls. For example, if you need to cut open the walls or the floor to remove the tub, costs are higher.
From there, you need to decide the size of the new shower. Most tubs are around 30" x 60", but you may want to make your shower larger or smaller. Framing, backerboard, plumbing, and the new stall material - prefab or custom - follows.
Depending on what you ultimately decide you want to install, changing the bathtub to a shower could cost between $1,000 and $9,000 on average.
Replace Fiberglass Shower With Tile
If you currently have a prefab, fiberglass shower, replacing it with tile can give your bathroom a fresh new look. Many fiberglass units are one piece, so to remove it, you need to cut it into pieces and tear it out. This costs between $400 to $500 on average.
Installing a tile shower costs around $8,000 for a 48 x 60-inch shower. Many fiberglass units are smaller, so unless you are enlarging the existing shower, your costs are likely closer to $5,000 to $6,000 to replace a fiberglass shower with tile.
Full-Body Shower
If you want to be completely immersed in water from multiple places at once, a performance or full-body shower is a great choice. In a full-body shower, you have a thermostatic valve for precise temperature control. You also have a volume control for each showerhead - most full-body showers have two - and control for your body sprays.
Body sprays are small heads installed in a row on your wall and send water directly to your body. They are installed to hit your legs, low back, and upper back while the showerheads hit your head and the other side of your body. Body sprays must be installed in one line, and they need to be installed in groups of three. For every group of three, you have a separate volume control.
For the body sprays to give you an equal amount of pressure and water at once, they must be connected in a pressure balancing loop. Your plumber will run pipes down the sides of the three valves and across to each of the valves. They cannot work unless they all get an equal amount of pressure, and the pipes ensure that they do.
This type prices are around $2,500 in valves, showerheads, and body sprays. Installation takes 5 - 6 hours. You need to support at least 24 gallons of water per minute and have at least a 100-gallon hot water tank installed in your home.
Many wells are not capable of putting out 24 gallons of water a minute. Therefore, this system may not work in homes with wells but should be reserved for homes with street water.
Shower Tower
A shower tower is a good way to give yourself a performance shower without including plumbing or extra costs. Most people investing in it do so as part of a minor remodel, rather than a brand new shower.
A shower tower fits over your existing valve and showerhead. It contains two or three body sprays and a showerhead, and an occasional hand shower as well. It has many limits for performance showers, but it is easier and less invasive to install. They cost between $1,000 and $2,000, making them more affordable than custom full-body showers, but they lack the versatility and control of the custom models.
Bathroom Shower Dimensions
Bathroom showers come in nearly any size or shape that you desire. To meet code, yours must be a minimum of 30-inches square. However, this is very small and often uncomfortable for people to bathe in, so the smallest recommended size is 36-inches square.
It can technically be any height as well, but to meet code, you need to either extend your tile or surround to 3-inches above your showerhead. Or, you need to tile or otherwise cover your ceiling if your showerhead is on the ceiling or if it extends from the wall just below the ceiling.
The most common size in the U.S. is roughly 48-inches wide by 60-inches long and 81-inches in height. If you have the space, you can certainly go larger.
How to Measure for a New Shower Stall
Your contractor will want to measure the area for your new stall. However, you can spend a few minutes doing this yourself to help understand the costs associated with the supplies required. A typical drop-in shower kit will measure 32 to 60 inches in width and 32 to 72 inches in length. Most walls are over 80 inches in height. It is best to measure where you want to locate it to determine the best type for your space. Next, you will measure from the base of the shower to the top of the wall. Thirdly, figure out the measurement between the back wall to the front of the enclosure on both sides.
Adding a Shower to a Half Bath Cost
A half bathroom contains only a toilet and sink. These are often very small spaces that do not have room for a shower. To add a shower, you likely need to knock down a wall to take space from a nearby room or closet.
Adding a shower to a half bathroom would now make this room a ¾ bath rather than a half bath. Framing and fitting costs roughly $4,000 to $8,000. This is in addition to the cost to open the wall into another space and the finishing costs to make the space cohesive. Expect these costs to add another $1,000 to $3,000 to your total, making the total cost to add a shower to a half bath between $5,000 and $11,000 on average.
Cost to Add Shower to Bathtub
The cost to add a shower to a bathtub ranges from $300 to $2,000. You very seldom see a bathtub that doesn't also have a shower. Older homes or a specialty tub can mean that there is not a shower included. Many homeowners have no interest in taking baths, or they would like the option to rotate between bathing and showering. The good news is that the existing tub plumbing can run the water through the showerhead. An expert craftsman will need to remove the drywall to access the pipes and then replace the drywall at the cost of $75 to $350. For tile removal and replacement, expect to pay $300 to $500. If the walls are made of waterproof material, it will require that tile or other appropriate product be installed at the cost of $1,000 to $5,000.
Shower Remodel Cost
Remodeling an existing shower in your home can take on many variations. It is possible to leave your existing surround but change the trim and showerhead and install a new door. You can also replace an existing prefab shower with a new one, remove tile and trim, leave the plumbing and walls the same, and install new tiles and trims.
You can also tear it down to the studs and start over completely, installing new framing, backerboard, plumbing, and surround.
Each of these scenarios has a cost. At the lowest end, you can do a minor remodel for around $1,000, or you can do a completely new shower remodel for as high as $10,000. Most people find their shower remodel is in the middle, with typical remodeling costs of $4,000 to $5,000 on average.
Shower Screen Cost
If a door is not being used and you are not using a wet room, a screen may be necessary. A shower screen is any material used to contain water. In some cases, a sliding glass door or a fixed panel can be referred to as a shower screen but so can a curtain.
In some areas, folding shower screens are also available. These are accordion-like panels that fix to the wall and pull across the shower. They are uncommon and may be difficult to find. Some of the nicer, glass versions typically cost around $400 and $700.
Smart Shower Price
The cost of a smart shower could be prohibitive as the system can cost as much as $2,500. Labor will generally require an electrician, a plumber, and someone to finish the wall area. The labor starts at $350 to $375, and wall finishing costs $75 to $125.
A smart or Wi-Fi shower connects to your smart home system, a smart app, the shower's smart display, or a voice command product. It enables the homeowner to control and change temperatures, flow, duration, water pressure, and a turn-on ahead of time feature. Your smart Alexa or Google Home works with these devices to provide a "just the right temperature" shower. They are the ultimate in convenience and energy savings and are aesthetically pleasing as there are no knobs or handles protruding from the wall. However, keep in mind that if your internet goes out, you don't have water to shower. Also, if you aren't tech-savvy, having a smart shower can become a burden. Probably the biggest concern is the high cost of installing them.
Shower vs Bath
It is generally recommended that at least one bathroom in a home contain a tub or a tub/shower combination to improve resale value and potential. Bathtubs make bathing children easier and add versatility to the home. However, many people end up putting in very shallow tubs of 14" in depth because of this recommendation. These are just usable for bathing small children and pets but are not much use as actual bathtubs for adults. This means that in a home without pets or kids, the tub could simply be getting in the way and may be an obstacle to climb over for people with mobility issues. On the other hand, installing a deeper tub to make it more usable can also make it more difficult to use as a shower because it becomes harder to access.
Many people choose to install a tub/shower combination in at least one bathroom. This helps maintain resale value and makes the bathroom more versatile. However, it is possible to either remove the tub altogether or install a tub/shower in one bathroom and a stand-alone shower in another. For households with more than one bathroom, this is a common solution that allows you to keep the tub for resale, while having a fully functional easy-to-use shower in another room.
The benefit of installing a shower vs a tub and shower is that a shower can be any size or shape. You can fit one into less room than a tub can take up or make it more spacious. You also eliminate the step of having to climb over the tub.
If you are only installing a bathtub without a shower surround, your costs are lower than installing a full shower with or without the tub. If you consider installing a bathtub in one room or one area of a room and having a shower in another, you have a different set of costs. Below are the average costs of installing a standalone tub and a standalone shower, including material and labor costs.
| | |
| --- | --- |
| Project | Average Costs (Installed) |
| Bathtub | $1,500 - $5,000 |
| Shower | $7,000 - $12,000 |
Acrylic vs Fiberglass Shower
If you install a prefab shower in your bathroom, you have a few material choices. While acrylic is the most common and popular material for stalls, many use fiberglass. Both are lightweight materials that can be molded into different shapes. They come in neo-angle, barrier-free, and walk-in varieties, and both also come as tub/shower combos. They can be found in several colors and sizes.
The biggest differences come in how they are installed. Fiberglass showers come in a single piece. This means they have no seams but are best suited for new construction because it can be harder to get them into a fully finished home.
Acrylic showers come in three or four pieces that are installed separately. This makes them a better choice for remodels because they are easier to get into place. However, they have seams that are caulked during installation. This caulk can fail and may need to be replaced, so an acrylic unit could have more ongoing maintenance than fiberglass.
Fiberglass tends to be less expensive because it is available in single units rather than several parts. Below are the average costs of each type fully installed.
| | |
| --- | --- |
| Material | Average Costs (Installed) |
| Fiberglass | $675 - $1,380 |
| Acrylic | $675 - $1,780 |
Wet Room vs Traditional Bathroom
If you have a small bathroom, making it a wet room instead of a traditional bathroom can have some benefits. Wet rooms eliminate the need for a curtain or door because the entire room is waterproofed. This makes the room seem larger because there is no separation between the tub and the rest of the room. Wet rooms are also easier to navigate for those with disabilities or mobility issues.
However, wet rooms cost more on average to install. If you add a new bathroom or wet room, the wet room has higher costs even if all other things were equal, including size, shape, and materials. On average, expect a wet room to cost about $50 more a square foot for the space than a traditional bathroom that includes a separate shower. Larger bathrooms with space can also more easily accommodate a separate shower, which means that more than one user can use the space at the same time. In a smaller wet room, this can be more difficult for two users to occupy at once because there may be nothing to contain the spray. Both layouts have their advantages and drawbacks, making this decision a personal one based on habits and space, rather than on style.
Below are the average costs to install a bathroom or wet room of 100 square feet, including materials and labor.
| | |
| --- | --- |
| Project | Average Costs (Installed) |
| Bathroom | $10,000 - $20,000 |
| Wet Room | $15,000 - $25,000 |
Enhancement and Improvement Cost
Steam Shower
The average steam shower costs around $6,000 to install, including the unit, doors, and a new porcelain surround. They can be a great addition to many bathrooms. They allow you to sit, relax, and enjoy the steam, but they can also function as a standard shower. The key is to completely seal up the room and use a non-porous material on the walls, like porcelain.
Electric Shower Installation
No one enjoys the eye-opening feel of cold shower water. It allows for an immediate warm to hot shower for a relaxing, cleansing experience. Using a cold water feed, the water is filtered over a heating element resulting in instant hot water. The advantages include never running out of hot water because someone else used it all, decreased electric bills, and an easier way to build a new bathroom. The disadvantage is the cost and the fact that the water pressure is usually lower. This job can be a little costly on its own as it requires both a plumber and an electrician. Each of these professionals will charge separately at $350 to $400 for labor, and the parts run $100 to $500.
Wet Room
The average cost to create a wet room is around $250 a square foot, including materials. Larger spaces can include dry areas if they are far enough away from the reach of the spray, but most wet rooms are small, requiring waterproofing of the entire area.
Wet rooms are a unique type of bathroom that is popular in Europe. In a wet room, instead of having a shower enclosure with a barrier to keep the water in, the entire room is designed to get wet. There is no door or curtain, so the water can spray freely, and the entire bathroom floor slopes to the drain.
To create this, you need to make sure that the walls are completely tiled over a waterproof cement backerboard. Any vanity or cabinet materials need to be water-resistant, and the entire floor must have 2-inches or smaller tiles to accommodate the slope.
Bathroom Fan
Bathroom fans cost around $350 and $400. If you are installing a new shower, it may be a good idea to upgrade the bathroom fan to accommodate the steam. Fans are required by code in most areas, and having one function properly can prevent mold growth. Make sure the fan is sized for your bathroom. Most are sized based on square footage.
Hot Water Tank
When installing a performance shower with more than one showerhead and body sprays, you will likely need a hot water tank upgrade too. The average performance shower uses 24 gallons of water a minute. The average 50-gallon water heater would only provide you with a few minutes of truly warm water. Upgrading helps you enjoy your shower longer. New hot water heaters cost around $1,000 and $3,200 for an 80-gallon heater.
Grab Bars
If you worry about falling or have mobility issues, you may wish to install grab bars in your bathroom. The average cost to install grab bars is around $243. Grab bars are screwed into the studs on your walls and can prevent falls. Towel rails are not a substitute for a grab bar because they may pull out of the wall during a fall.
LED Lighting
Good lighting is important to any bathroom design. You want lighting over your sink and overhead as well. If you have a large or dark shower area, you can install a light in this area. While LED lights can be used in any light fixture, they reduce your electricity usage and come in many tones. The average LED bulb costs between $6 and $20, while fixtures cost $100 to $300 each.
Additional Considerations and Costs
Electrician. If you are having a steam shower installed, you need an electrician at $40 to $120 per hour.
Water damage or mold. If you are replacing an existing shower, you may find water damage or mold behind the old unit if it was not properly sealed and waterproofed. Mold remediation services start around $500, while water damage restoration costs begin at $2,000 to $5,000.
Wiring replacement. If the plumbing or wiring in your bathroom is old and does not meet current regulations, it may require more extensive replacement. Check with your local government to find out what the current codes are in your area.
Spa-style. If you are looking for a spa-style shower, consider adding steam, which can increase costs by $1,000 for the unit and an additional $2,000 to fully enclose the space. Or, you can also consider a performance shower with multiple body sprays at an additional cost of $2,500 for materials. When considering steam versus performance showers, be sure to also consider whether you want something relaxing (steam) or invigorating (performance).
Permit. Many areas do not require a permit to install a shower stall. It is best to check with your local government to ensure you are following the correct protocols. Permits are not only to protect land use but to make certain your construction work is safe for you and your family.
DIY. DIY isn't recommended because it involves water. If the pipes are installed incorrectly or the connections weak, the homeowner can experience leakage or moisture in the walls.
FAQs
How much does it cost to put in a shower?
The cost to put in a shower depends on the size, material, and whether you have an existing shower or are building from scratch. The average cost of a brand new shower with framing, backerboard, plumbing, and tile costs around $8,000 on average to install. You can also install a prefab unit for closer to $800.
How much does it cost to remodel a shower?
The cost of installing a new acrylic shower is around $3,000 while installing new ceramic tiles in an existing shower is around $2,620. Tearing out the old unit costs around $500 to $1,000, depending on the existing materials. If you are completely gutting the shower and starting from scratch, costs are closer to $8,000 on average.
How much water does a 20-minute shower use?
The answer to this question relies on the type of showerhead you have, how much water it uses a minute, and whether you have a standard shower or a performance shower. A water-saving showerhead uses 2 gallons of water per minute. This means that a 20-minute shower uses 40 gallons of water. But a deluge showerhead uses 10 gallons of water a minute. This makes the 20-minute shower use 200 gallons of water. A performance shower uses roughly 24 gallons of water a minute for 480 gallons of water in 20 minutes.
Can you tile over a shower pan?
This depends on the type of pan. With a ready-to-tile or custom pan, yes you can tile this. For an acrylic or readymade pan, no you cannot tile these because they are not designed to hold tile and could cause cracks.
Are walk-in showers a good idea?
Any shower that does not have a tub is a walk-in shower. Unless you are considering getting rid of the only tub in your home to replace it with a walk-in shower, they function well.
How long do shower pans last?
This depends on what the pan is made of. They can be acrylic, fiberglass, custom made of sheet metal, or composite materials. They can last 10 to 50 years, depending on the material. How they are treated and whether or not they are tiled also impacts longevity.
Is a shower curb necessary?
No, shower curbs are not necessary. If you use a barrier-free shower, you need to slope the rest of your floor toward the drain because the curb keeps the water closer to the drain. Most barrier-free showers have mosaic floors outside of the shower area for this.
The information provided by our cost guides comes from a great variety of sources. For more information, read our Methodology and sources.