How much does it cost to remodel a bathroom?
Get free estimates from remodeling contractors near you
Bathroom Remodeling Cost Guide
The bathroom is the most frequently used room in a home. People go there to prepare for their day and unwind at night. It may be used by the entire family, guests, or one person. Bathrooms can be tiny powder rooms or ensuite master baths, with every size and configuration. They can be simple and practical or lavish luxury spaces designed to pamper. With these size, style, and material variations, bathroom remodeling has an incredibly wide range of costs. While costs for bathroom renovations increased in 2022, most predictions show these increases slowing and stopping in early 2023. Some predictions also suggest that costs may go down slightly in 2023, making this a good time for homeowners to take on a new renovation.
The national average cost range is between $4,500 and $9,000, with most homeowners spending $6,250 for a full renovation of a 50 sq.ft. bathroom that includes moving the fixtures, installing new flooring, and a new alcove tub and shower. This project's low cost is $1,600 for a rip and replace partial renovation of a powder room, replacing a pedestal sink, faucet, and toilet but leaving everything else intact. The high cost is $100,000 for a full remodel with space expansion of a 200 sq.ft. master bathroom that includes a new layout, separate tub and shower, smart features, performance shower system, and luxury materials.
Cost to Remodel a Bathroom
Bathroom Renovation Prices
National average cost
$6,250
Average range
$4,500-$9,000
Low-end
$1,600
High-end
$100,000
How Much Does a Bathroom Renovation Cost?
Average Cost of a Bathroom Remodel per Square Foot
Bathrooms come in an incredible range of sizes. The average size in the U.S. ranges from 35 to 60 sq.ft. for a full bath, while master bathrooms start at 80 sq.ft., with luxury, high-end master bathrooms reaching 200 sq.ft. The larger the room, the higher your costs. While most bathroom remodels cost between $100 and $200 a sq.ft., larger master bathroom remodels have costs starting at $275 a sq.ft., and very small powder rooms and half bathrooms can have costs as low as $80 a sq.ft. because they lack fixtures that larger bathrooms have, such as showers or bathtubs. The more fixtures a room has, the higher its costs per square foot to remodel. So, a 5' x 7' bathroom remodel costs less than the cost to remodel an 8' x 10' bathroom or a 10' x 10' bathroom. Bathroom remodels have different types. The two most common are the rip and replace partial remodel and the down to the studs full remodel. Rip and replace remodels do not change the room's layout, so they are less expensive than remodels that move fixtures. A rip and replace partial remodel may cost $100 to $125a sq.ft., while a full remodel with moving fixtures costs $150 to $200 per sq.ft. Costs vary based on materials and if the space has water damage, mold, or other issues.
| | |
| --- | --- |
| Size | Average Renovation Costs |
| 35 sq.ft. (5' x 7') | $3,500 - $7,000 |
| 40 sq.ft. (5' x 8') | $4,000 - $8,000 |
| 50 sq.ft. (5' x 10') | $5,000 - $10,000 |
| 60 sq.ft. (6' x 10') | $6,000 - $12,000 |
| 80 sq.ft. (8' x 10') | $8,000 - $22,000 |
| 100 sq.ft. (10' x 10') | $10,000 - $27,500 |
| 200 sq.ft. (10' x 20') | $20,000 - $55,000 |
Bathroom Remodel Cost by Type of Remodel
Most bathroom remodels fall into two types - full remodels, which include removing everything in the room down to the studs, changing the layout and location of fixtures, adding or replacing plumbing and lighting, and replacing all wall and floor surfaces, and partial remodels, which are better known as rip and replace remodels. Full remodels cost $150 to $275 per sq.ft., depending on how many fixtures are in the room. Partial remodels cost $100 to $150 per sq.ft., with small half baths costing around $80 per sq.ft. because they have fewer fixtures to replace.
You can remodel or renovate part or all of your bathroom in many other ways. These include subtypes of full remodels, such as expansions, accessibility remodeling, refinishing, and covering, which can give new life to a small part of the bathroom without remodeling. Below are the average costs to work on a bathroom between 50 and 100 sq.ft. for the various project types.
| | |
| --- | --- |
| Type | Cost |
| One Day | $3,000 - $10,000 |
| Partial | $5,000 - $15,000 |
| Full | $7,500 - $27,500 |
| Accessibility Remodel | $7,500 - $27,500 |
| Expansion | $13,750 - $27,500 |
One-Day Bathroom Remodel
The cost of a one-day remodel averages $3,000 to $10,000. Several companies offer a one-day bathroom remodel. This is not a complete remodel but usually a bathtub/shower surface makeover or liner. One-day "remodels" are not true remodels in the sense that you are putting in new materials, but they can give parts of the bathroom a new look. Most commonly, this is the shower or tub, which is covered in a new material, while the old one remains underneath. These liners do not last long and must be replaced about every 5 years. They can update your bathroom and hide wear, tear, and stains but are not a full remodel replacement.
Partial Bathroom Remodel
The average cost of a partial or rip and replace bathroom remodel is $5,000 to $15,000. In a partial remodel or a rip and replace remodel, some or all of the bathroom is removed but replaced where it had been before. This can mean tearing everything out to the studs and installing new flooring, fixtures, and walls or removing and replacing certain items like the toilet and sink in a powder room, while the walls and floor remain intact. The more fixtures or surface area that is removed and replaced, the higher the costs. This is a common remodel in small bathrooms where there is no room to move around, but you want all new materials. You can also do this remodel for the fixtures in small spaces like a powder room for a lower cost.
Full Bathroom Remodel With a New Layout
The cost of a full bathroom remodel that includes a new layout averages $7,500 to $27,500. In this scenario, the entire bathroom is ripped out down to the studs. Rather than replacing things where they were, you can now change the layout and move fixtures to new locations. Full remodels with a new layout are most common in larger spaces where you have room to move things around. You may want to install a double sink, so you move the plumbing to accommodate it, or a separate tub and shower, so a new water line is run. This project is more costly because you have new plumbing lines run in the walls and often new electrical lines.
Bathroom Remodel for Accessibility
The cost of an accessible bathroom remodel is $7,500 to $27,500. This is technically a subtype of a full bathroom remodel, even if you do not move things around. This is because you often replace items not with new versions but with something entirely new, such as removing a tub/shower combo for a barrier-free shower. You are also more likely to include new items like grab bars, universal height toilets and sinks, voice-activated shower controls, high contrast thresholds, or a shower lift. You can add many things to a bathroom to make it accessible. The key is to understand that what makes a bathroom accessible for one disability may not work for another.
Expand a Bathroom
The average bathroom remodel, including expansion, is $13,750 to $27,500. If you do not have enough space in your bathroom, you can do a full remodel with an expansion. In this case, walls are moved to make more space. The high costs are $275 per sq.ft. for this project because the plumbing is likely being moved in addition to the walls. Because you are increasing the square footage, you also have higher overall costs. The more space you add, the higher the total cost. If you are only expanding slightly to gain storage or a few more feet for accessibility, your costs could be much lower.
Cost to Renovate a Bathroom by Type of Bathroom
Bathrooms come in many shapes and sizes, but they also come in different types. This can be as simple as a designation for how you plan to use it, such as a half-bath versus a powder room. Or, it can be more descriptive like a master bathroom, guest, or wet room. Most types have cost ranges tied to their size first and use second. This means overlap and room for personalization between bathrooms, impacting the final costs. Because many bathroom remodel costs rise with the number of fixtures, your costs for a half-bath or powder room remodel are lower per square foot than for a master bath remodel. This is true if you do partial or full renovations. So, costs rise with the room size and what you put into it. The more fixtures and accessories, the higher the total costs. Below are the most common bathroom types and their costs for full and partial renovations based on their most common sizes.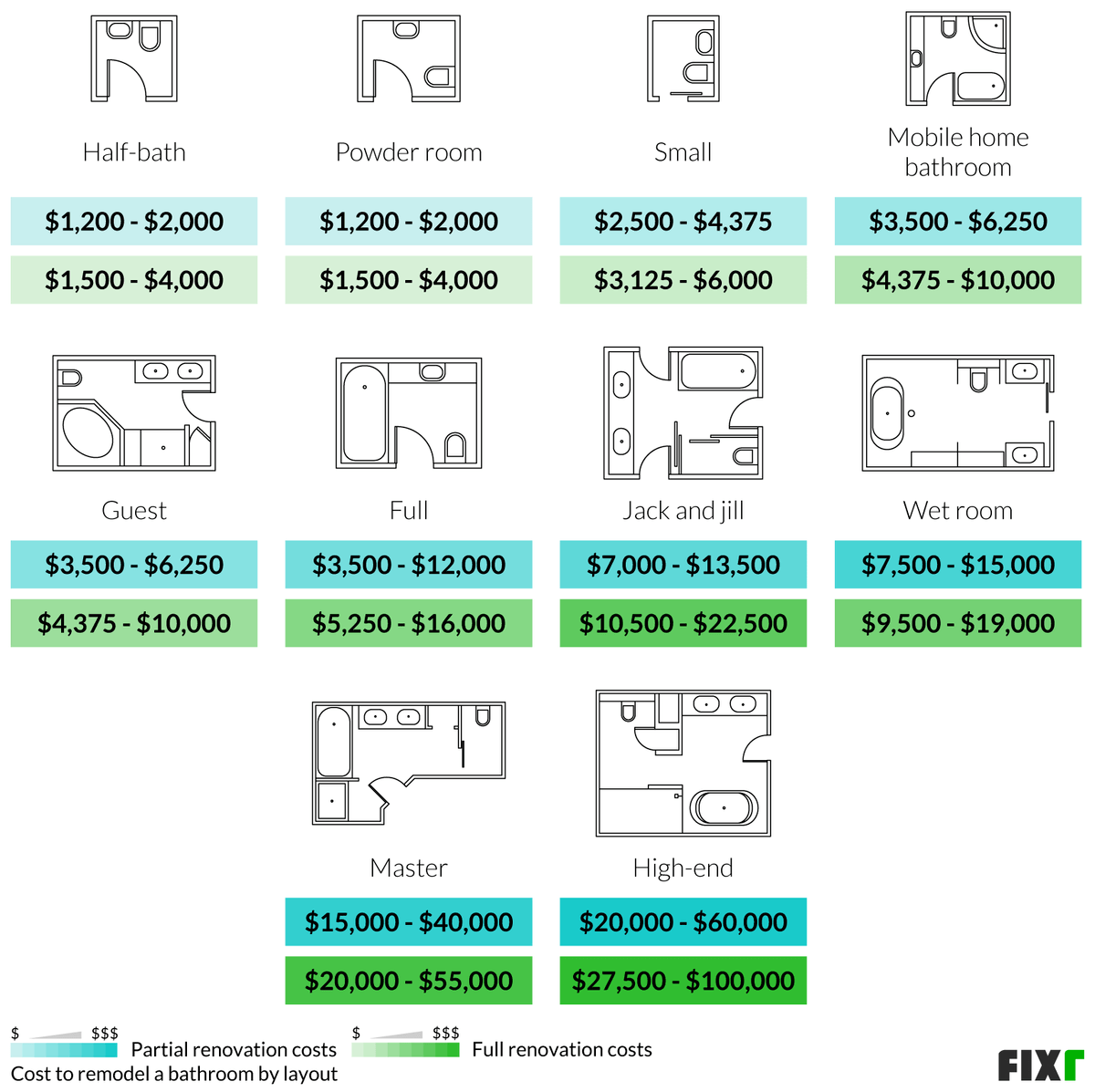 | | | |
| --- | --- | --- |
| Type | Partial Renovation Costs | Full Renovation Costs |
| Half-Bath | $1,200 - $2,000 | $1,500 - $4,000 |
| Powder Room | $1,200 - $2,000 | $1,500 - $4,000 |
| Small | $2,500 - $4,375 | $3,125 - $6,000 |
| Mobile Home Bathroom | $3,500 - $6,250 | $4,375 - $10,000 |
| Guest | $3,500 - $6,250 | $4,375 - $10,000 |
| Full | $3,500 - $12,000 | $5,250 - $16,000 |
| Jack and Jill | $7,000 - $13,500 | $10,500 - $22,500 |
| Wet Room | $7,500 - $15,000 | $9,500 - $19,000 |
| Master | $15,000 - $40,000 | $20,000 - $55,000 |
| High-End | $20,000 - $60,000 | $27,500 - $100,000 |
Half-Bath Remodel
The price of a half-bath remodel is between $1,500 and $4,000 for a full remodel. Costs are closer to $1,200 to $2,000 for a partial remodel. A half-bath contains only a toilet and sink. The sink may be in a vanity, on a pedestal, or wall-hung. They measure 15 to 20 sq.ft. and are usually laid out with the toilet and sink facing the entrance door. Some older homes may also have the toilet and sink on opposite ends of a narrow space. No matter the layout, the fixtures require a set amount of space to pass code.
Powder Room Remodel
The cost of a powder room remodel ranges from $1,500 to $4,000 for a full remodel. A partial remodel costs $1,200 to $2,000. While there is often some confusion surrounding the powder room vs half bath, powder rooms are half-baths. They are usually placed off a foyer or other entryway. They are typically used by guests and visitors rather than family. They contain only a toilet and sink. It is common for powder rooms to use the same flooring as the room that they are installed off of, so you are more likely to find hardwood and other floors not usually found in a bathroom. These are rarely updated in this case, so costs can sometimes be lower for remodels.
Small Bathroom Renovation
A small bathroom remodel averages $3,125 to $6,000 for a full remodel and between $2,500 and $4,375 for a partial remodel. They are usually ¾ baths. This means they contain a stall shower but not a tub. They measure 25 to 30 sq.ft. and contain a toilet, sink, and shower, with the sink usually installed in a small vanity. This type usually fits into spaces too small for a full bath while offering many functions.
Mobile Home Bathroom Remodel
A mobile home bathroom remodel averages $4,375 to $10,000 for a full remodel. A partial remodel costs $3,500 to $6,250. Most mobile homes have at least one full bathroom. Many larger mobile homes have two. It has a tub, shower, toilet, sink, and storage. Sizes range from 35 to 50 sq.ft., depending on the mobile home size and number of bathrooms. Some newer triple-wide mobile homes may have master bathrooms. These have similar costs to other master bathrooms.
Guest Bathroom Remodel
The average cost of a guest bathroom remodel is between $4,375 and $10,000 for a full renovation. A partial renovation costs $3,500 and $6,250. They are usually full bathrooms, ensuite to a guest bedroom. They are sometimes a full bathroom in a hallway and meant for guests staying nearby. They are usually between 35 and 50 sq.ft. and have a tub, shower, toilet, and sink. The sink is frequently installed in a vanity with a countertop to provide the guest with sufficient storage space.
Full Bathroom Remodel
A full bathroom remodel costs between $5,250 and $16,000. A partial remodel ranges from $3,500 to $12,000. It can be any size with a single door, toilet, sink, and bathtub. This tub is usually a tub/shower combination, but it can have a separate tub and shower in some larger bathrooms. There are many ways to lay out a full bathroom, and most homes have at least one. This is the most common configuration. Sizes start at 35 sq.ft., but most are around 50 sq.ft. with some being up to 80 sq.ft.
Wet Room Bathroom Remodel
The average cost of a wet room remodel ranges from $9,500 to $19,000 for a full remodel. A partial remodel costs between $7,500 and $15,000. Wet rooms come in many sizes. The difference between a wet room and a regular bathroom is that the shower is not contained. The entire room is waterproofed so that the water from the shower angles to the drain. This creates a larger showering area in smaller bathrooms. It can also create a more open appearance in larger rooms rather than restricting the shower area. Average costs are higher because of the extra waterproofing.
Jack and Jill Bathroom Remodel
The average cost to remodel a Jack and Jill bathroom is $10,500 to $22,500 for a full remodel. A partial remodel averages $7,000 to $13,500. It is located between two bedrooms and has two entrances, two sinks, and is designed for two people. It has a separate tub and shower or a tub-and-shower alcove installation. Frequently, the toilet may be housed inside a "closet." These rooms typically average 70 to 90 sq.ft. Because these spaces have at least two sinks and often two medicine cabinets and other extra items, the costs per square foot rise.
Master Bathroom Remodel
The average cost of a master bathroom remodel is between $20,000 and $55,000. A partial remodel ranges from $15,000 to $40,000. They are usually en suite to master bedrooms. They average between 100 and 160 sq.ft. and usually include a double vanity, separate tub and shower, and additional storage. They can also include separate changing areas, separate toilet rooms, and other amenities designed for two people. Because they often include additional plumbing, they cost slightly more than other types.
High-End Bathroom Remodel
The cost of a high-end bathroom remodel averages $27,500 to $100,000. A partial remodel ranges from $20,000 to $60,000. These remodels are usually reserved for master bathrooms. They include custom cabinetry, performance shower systems, and luxury tile. It is also common to find steam showers, automated fixtures, and faux finishes on the walls. They are usually personalized and customized, so they have size, appearance, and material variation. Some customers with bathrooms older than 80 years want to preserve the history and craftsmanship of their vintage home while incorporating high-end features and appliances.
In addition, top-of-the-line appliances and high-end features may increase the overall cost. Cabinets built to your specifications, spa-like shower fixtures, frameless glass shower, curbless shower, freestanding soaker/jet tub, hydronic heat flooring, natural stone or quartz countertops, double vanity, recessed shower storage, ample storage space and tile material are just some examples of attributes that will alter the overall cost and can go as high as $100K.
Bathroom Remodel Cost Breakdown
Regardless of the bathroom size or type, many components stay the same. This includes the design, demolition, utility installation, the building and finishing of the room, including the walls and floor, installing sanitary items, including fixtures and faucets, and furniture like vanities, mirrors, and linen towers.
The following visual breaks down the average master bathroom remodel, which costs ranging from $20,000 to $55,000. The visualization shows where the money goes and the various parts. The following table breaks down the total costs by percentage.
| | | |
| --- | --- | --- |
| Project Breakdown | Average Costs | Percentage of Total |
| Layout | $4,000 - $11,000 | 20% |
| Demolition | $1,200 - $3,300 | 6% |
| Utilities | $1,800 - $4,950 | 9% |
| Building and Finishing | $2,200 - $6,050 | 11% |
| Sanitary Equipment | $7,600 - $20,090 | 38% |
| Furniture | $3,200 - $8,800 | 16% |
Bathroom Layout Remodel Cost
Most remodels include some layout or planning, with a bathroom redesign cost of $4,000 to $11,000. This is split evenly between planning and drawing in most cases. A contractor can plan small bathrooms, but larger rooms should involve a bathroom designer to make the most of the space. In some cases, the costs can be recouped during the renovation because designers can save money in other areas. This phase usually includes planning, drawings, and material selection. The timeframe for this phase can last several weeks, depending on the layout and your preferences.
| | |
| --- | --- |
| Project | Costs |
| Planning | $2,000 - $5,500 |
| Drawing | $2,000 - $5,500 |
Bathroom Remodel Demolition
The average cost of the tear-out or demo of an existing bathroom is $1,200 to $3,300. In most full and partial remodels, most of the bathroom materials are removed down to the studs. This is important because it enables the remodeler to see if mold or water damage must be addressed before installing the new materials. Bathrooms are damp places, so this is a common issue. The more items that must be pulled out of the bathroom, the higher the costs. Homeowners may do this part themselves to save costs.
Utilities
The utility update in the bathroom refers mostly to what is behind the finished items you see. This includes plumbing or electrical updates and installing new lighting. If you are not moving items in the room, these costs can be very low. However, you have additional costs if the plumbing or wiring is old and needs to be updated or if you move items. As with other items of a bathroom remodel, the more things that are moved and the more water features and lights the room has, the higher the costs. The costs for the electrical and plumbing updates do not include fixtures.
| | |
| --- | --- |
| Service | Cost |
| Lighting | $500 - $1,375 |
| Electrical Update | $540 - $1,485 |
| Plumbing Update | $760 - $2,090 |
Cost to Finish a Bathroom
In addition to what is behind the walls and the fixtures, faucets, and other items, you also have the drywall, floor, and ceiling surfaces, which have a combined cost to finish of $2,200 to $6,050. These costs do not include the finishing of the wet areas of the bathroom, such as around the tub or shower. Those costs are included in the shower or tub installation rather than in the finishing costs. Finishing costs include drywall tile, paint, and flooring.
| | |
| --- | --- |
| Project | Cost (Labor Included) |
| Painting | $400 - $965 |
| Floors | $500 - $1,775 |
| Walls and Ceiling | $1,300 - $3,310 |
Paint a Bathroom
The average cost to paint a bathroom is $400 to $965. The areas in a bathroom that can be painted vary depending on how much the walls are tiled. It is common for powder rooms and half-baths to not have any tile on the walls, so the entire wall area must be painted. The tile may extend halfway up the walls in some larger bathrooms, leaving less space for paint. In a wet room, the entire room must be tiled, leaving no space for paint.
This means that even in bathrooms of the same size and shape, the cost of painting varies, depending on how much wall space is covered in tile. Painting costs during a renovation are lower than they are at other times because the painting can be done before the fixtures and accessories are installed, making the labor less intensive.
Bathroom Floor Remodel
The flooring for your bathroom remodel also has a wide range of costs, depending on the room size and material. While most use tile because it is water-resistant, there are other options. You can use vinyl flooring or wood in the bathroom. If you choose wood, ensure it is an engineered wood floor because this prevents swelling and warping in high-moisture environments or prolonged contact with water.
In most cases, half-baths can use nearly any flooring type. If you have a shower or tub in the bathroom, remember water can seep between vinyl planks or tiles, and prolonged contact with water can damage wood flooring.
Your flooring, subfloor's state, and flooring type impact your floor's costs. Below are the average costs for various flooring installations, assuming a full-sized bathroom. Smaller or larger bathrooms have different costs.
| | |
| --- | --- |
| Floor Material | Renovation Costs per Sq.Ft. (Installed) |
| Vinyl | $2 - $14 |
| Wood | $8 - $25 |
| Tile | $8 - $214 |
Bathroom Walls and Ceiling
The average cost to remodel the walls and ceilings in the bathroom is $1,300 to $3,310, including covering in drywall or waterproof backer board and readying for paint or tile. In a full renovation, everything is removed to the studs. This means the walls and ceiling must be replaced and refinished. You have higher costs if you expand the bathroom because you may need to build new stud walls. Wall costs can sometimes also include additional support to the studs for things like wall-hung sinks, toilets, or grab bars. Because many things must be installed inside the walls, the drywall or backer board is modified to allow valves, carriers, and other items to be accessible once the wall is finished.
Tile costs are often included in the wall and ceiling costs because you need to tile the walls in the shower and often the ceiling. Bathroom tile renovation costs can make up a big part of your wall costs and a small part of your floor costs. The cost of the tile varies depending on the area you tile. This can create a wider range of overall costs. Below are the most common costs associated with tile in a bathroom installation per square foot in the most commonly installed materials. Your costs can be higher or lower, depending on the exact material and where in the bathroom it is installed.
| | |
| --- | --- |
| Tile Type | Costs per Sq.Ft. (Installed) |
| Ceramic | $8 - $44 |
| Porcelain | $10 - $44 |
| Natural Stone | $10 - $214 |
| Glass Tile | $27 - $114 |
Sanitary Equipment
The cost of the sanitary equipment in the bathroom averages $7,600 to $20,090 installed. The fixtures and faucets within your bathroom make up a large part of your total costs. The more fixtures a bathroom has, the higher the project cost. This is why a full bath is more costly than a half-bath, and a master bathroom is more expensive. Adding a separate tub and shower can make a big cost increase, as can doubling your sinks or adding specialty equipment like bidets. Many of these items also have a wide range of costs, beginning with basic items and reaching high-end, custom materials like those found in many showers. Below are the costs for the various pieces of equipment in most bathrooms.
Bathroom Faucet Remodel
Expect the cost of each faucet to fall between $300 and $840. Faucets come in a range of styles, finishes, and configurations. The most common configuration is the widespread faucet, which has space between the handles and the spout. However, you may choose a single-lever or mono-block faucet for a more minimalist look or a centerset or mini-spread for smaller bathrooms. Your faucet is partly dictated by your sink. Larger sinks do better with larger faucets, and vessel sinks need vessel fillers. Some pedestal sinks and console sinks come pre-drilled for specific faucet layouts. Below are the average costs of different bathroom faucets.
| | |
| --- | --- |
| Faucet | Costs (Installed) |
| Single Hole | $225 - $850 |
| Center Set | $230 - $650 |
| Vessel Filler | $280 - $850 |
| Widespread | $280 - $1,350 |
| Mini-Spread | $330 - $1,150 |
Bathroom Sink Remodel
Most bathroom sink installations as part of the larger renovation cost $400 to $1,100. The sink is an important part of the design. In many cases, the sink area can be the focus of the room. The sink is where people spend time readying themselves for the day. It is also where they wash up throughout the day, so it tends to get a lot of use. The sink can have many styles and configurations. Materials include porcelain, plastic, glass, metal, and stone. Sinks can be nearly any shape, size, or depth and may be installed on their own or as part of a vanity or countertop. Some countertop types come with a sink, making installation easier and lowering costs. Below are the most common sinks for bathrooms and their average costs installed.
| | |
| --- | --- |
| Sink Type | Average Costs (Installed) |
| Drop-In | $200 - $700 |
| Vessel | $200 - $1,500 |
| Undermount | $250 - $1,600 |
| Pedestal | $400 - $1,200 |
| Wall-Mount | $400 - $1,600 |
| Console | $400 - $2,000 |
Toilet Remodel
The average cost of a new toilet and its installation in a bathroom renovation is $600 to $1,650. Toilets are also integral to the bathroom. They come in three standard rough-in sizes, with 12" being standard and costing the least, and 10" or 14" roughs available in fewer options. Toilets come in one or two-piece options with round or elongated bowls. Toilets also come in two heights: a standard 15" and a taller ADA-approved 17". Toilets also come with features to consider. They can be self-cleaning, have hidden trapways for easier external cleaning, and many have seats with a built-in bidet and warm air features. While most toilets are porcelain and installed on the floor, some are wall-mounted or made of stainless steel for a more modern look.
| | |
| --- | --- |
| Toilet Type | Average Remodel Costs |
| Two-Piece | $200 - $1,250 |
| One-Piece | $350 - $1,550 |
| Corner | $600 - $1,300 |
| Wall-Hung | $900 - $3,400 |
Bathtub Remodel
The average bathtub installation is $2,000 to $5,500 in a typical master bathroom remodel. The bathtub can add value to your home if it is installed alone or with a shower. Most homes need at least one bathtub to attract buyers, and many homes have a bathroom in each full-size or larger bedroom. Bathtubs come in an enormous range of materials, sizes, installation styles, and intended uses. They can be freestanding and meant for soaking or installed in an alcove and designed for general purposes and showering. Or, they can have jets, lights, dramatic surrounds, and amenities designed to give your bathroom a spa experience.
With these variations in tub design, style, and installation, installing or replacing a bathtub has a wide range of costs. Below are the average cost ranges for installing a new bathtub in the most common styles.
| | |
| --- | --- |
| Bathtub Type | Average Costs (Installed) |
| Tub / Shower Combo | $600 - $3,000 |
| Alcove | $950 - $2,450 |
| Freestanding | $1,100 - $21,100 |
| Drop-In | $1,350 - $5,700 |
| Undermount | $1,500 - $6,800 |
| Corner | $2,000 - $7,000 |
| Japanese-Style | $4,000 - $24,500 |
Shower Remodel
The average cost of the shower remodel as part of the larger bathroom remodel is $4,300 to $11,000. The shower is one of the most important parts of bathroom design. It also makes up one of the largest parts of your total cost. You can renovate a shower in many ways. You can tear out your existing shower and design a new custom shower with tile. You can also remove your existing shower and replace it with a prefab unit with the old shower's size and shape.
Each shower can include a wide range of styles, sizes, and features that change the final unit cost. Adding body sprays, a steam unit, or shower door increases the shower's cost. Prefab units are usually the least expensive remodeling method. The shape drives most of the prefab's cost, while size drives costs in a custom shower.
| | |
| --- | --- |
| Shower Type | Average Renovation Costs |
| Neo-Angle | $725 - $6,400 |
| Rectangular | $800 - $7,000 |
| Tub / Shower Combo | $975 - $6,000 |
| Curved | $1,225 - $9,000 |
| Barrier-Free | $3,500 - $15,000 |
| Walk-In Shower | $3,500 - $15,000 |
Furniture
The furniture of your bathroom remodel, including shelving, mirrors, linen towers, storage, vanity, and countertop, averages $3,200 to $8,800. Of these components, the bathroom vanity remodel cost is the highest. Each bathroom may use many furniture pieces or none at all. Most master bathroom remodels have at least a vanity and one linen tower or a full set of cabinets with two or three mini-linen towers on the countertop. Shelving and mirrors are common additions in many bathrooms, including in small spaces like powder rooms that do not need much storage. Below are the average costs associated with the various furniture components you may use in your bathroom remodel.
| | |
| --- | --- |
| Furniture | Cost |
| Shelves | $50 - $140 |
| Mirror | $110 - $240 |
| Linen Tower | $900 - $2,475 |
| Vanity and Countertop | $2,200 - $5,500 |
Labor Cost to Remodel a Bathroom
Labor makes up a significant part of the bathroom renovation. It is common to hire a contractor who subcontracts most of the work while overseeing the project. In a bathroom renovation, you may have several contractors working together. Generally, your labor is grouped into whichever piece of the room is being worked on. For example, plumbing labor is grouped into fixture installation for your total costs. For this reason, each professional has a range of costs. In some cases, a small bathroom may be remodeled by a handyman. Typically, half bathrooms or baths under 100 sq.ft. may be best handled by a handyman because these projects are often too small for larger contractors. The table below shows the average labor costs for most professionals.
| | |
| --- | --- |
| Professional | Average Costs for Labor |
| Electricians | $40 - $120/hour |
| Handyman | $50 - $100/hour |
| Designers | $50 - $200/hour |
| Carpenter | $75 - $125/hour |
| Plumbers | $75 - $150/hour |
| Tile Installers | $5 - $20/sq.ft. |
It's important to be diligent in understanding if a potential contractor has the experience needed to not only do your project, but do so exceptionally. As an example, if you are looking to remodel an 80+ year old bathroom, not just any home remodeler is equipped (or knowledgeable enough) to take on the job. Such a need requires you to find a contractor that specializes in vintage home remodels.
Add-Ons
You may want to add many things to your bathroom remodel beyond the surface materials and fixtures. These things may or may not be necessary for the bathroom to function, but they enhance your enjoyment and use of the space. Many additions like hot tubs and saunas are for those who have the space and desire for them. Bidets, heated towel rails, and radiant flooring are other luxury additions to the bathroom that improve its appeal but do not necessarily make the bathroom work better. Others, such as bathroom fans and accessories, are important to the bathroom's function. In the case of a fan, this may be necessary for your new bathroom to pass code. Fans remove exhaust and steam from the bathroom so that you do not need to worry about moisture problems and mold.
Medicine cabinets, smart and automated features, and accessories, while not mandatory, can dramatically improve your use of the space by giving you storage for things like toiletries and towels. Below are the most common additions to the bathroom remodel and their average costs.
Tub to Shower Conversion Cost
If you have an alcove tub and want to remove the tub and turn it into a shower, this is a fairly straightforward job. The tub can be removed for $200 to $1,000, depending on the material and size. Heavier tubs cost more to remove than light acrylic tubs. If the tub you want to convert is under a window, things might get complicated because having a window in your shower can let water seep through, and mold can grow.
Your costs are mostly influenced by the replacement shower type. A prefab unit is the least expensive method, while a custom shower costs the most. Your costs are higher if you change the shower's size and shape or add body sprays. These factors create an installation range of $1,000 to $9,000 on top of the tub removal costs. This results in a total range of $1,200 to $10,000 to convert a tub into a shower.
Bathroom Remodel Permit Cost
The cost of your bathroom remodel permit varies depending on your location. In some areas, a project costing less than $5,000 to $6,000 does not require a permit unless you plan to move the plumbing. In other areas, you need a permit regardless of what you plan.
The costs of the permit vary by area, so check your local codes before starting your bathroom remodel. They cost $150 to $1,000, depending on your location and project scope. Submit the plans to your local authority to find out the permit cost.
Powder Room vs Half-Bath
Powder rooms and half bathrooms are small rooms with a toilet and sink. A powder room is a type of half bathroom. Powder rooms tend to be located off the home's entryway. They are also more formal than half bathrooms, traditionally located off the kitchen, mudroom, or other family space. In some homes, the powder room is considered the guest bath, while a half-bath is for the family. Both are roughly the same size and have the same cost ranges to remodel.
DIY vs Professional Bathroom Remodeling​
If you have some experience with tile, plumbing, and electrical work, you may choose to DIY part or all of your bathroom remodel. You can save a significant amount on the labor and installation of your project by doing it yourself. The average cost to DIY a bathroom remodel is around $75 to $100 a sq.ft. rather than the $100 to $200 a sq.ft. for professional remodeling.
Professionals have the experience to handle unforeseen issues like mold, water damage, or when and where to update pipes, subflooring, and electrical wires. Professionals also have all the necessary tools to complete the job. If you do not have the tools already, factor their rental or purchase into your total budget, which can negate some of your savings.
Some homeowners try to split the difference. For example, they may do their own design and planning work or tear out and bring in the professionals to do the finish work. If you decide to DIY, ensure you understand you might have to pay more for emergency fees or fix things not done correctly if you have to call in a professional later. Remember that you are subject to permits and inspections if you DIY. Failure to comply with building codes could mean doing the job over again correctly, dramatically increasing your project costs.
Enhancement and Improvement Costs
Shower Regrouting
If your tile shower is in good condition, you can save money by regrouting it instead of replacing it. Regrouting removes the old, discolored, or cracked grout and replaces it with fresh grout. This is not considered a remodel because you are not replacing the shower. However, it could fall under refinishing or renovations because it improves the condition of what is already there. It costs $560 to $880 to regrout the average shower.
Mold Remediation
It is very common in these renovations to find mold beneath the surface. This must be fixed before installing the new fixtures and materials. This is why everything is torn out down to the studs in most remodels - even partial remodels. This enables mold to be found and dealt with rather than allowing it to continue to grow beneath the new materials. Mold remediation starts at $500 to $1,500 for the average bathroom.
Water Damage Repair
If your bathroom is old, you may find water damage beneath the shower or floor. This must be repaired before the new fixtures and materials can be installed. Damage repair costs $500 to $4,500 for the average bathroom, depending on how much damage was done, the water type, and the condition of the space. If the damage that occurred was due to a sewer line or septic tank backing up, your costs are higher than if it was clean water.
Refinish a Bathroom
The cost to refinish eligible surfaces in a bathroom averages $800 to $5,000, depending on the number of fixtures that may be refinished. A bathroom refinish or refresh deals with surface changes to give it a new look. Another option is to refinish certain aspects if you do not want to remodel. This can include a cast iron bathtub and certain sinks or countertops like cultured marble. This can be done in conjunction with a full remodel if you want to restore some areas of the bathroom while replacing others.
Additional Considerations and Costs
Pets. If you have pets, you may want to include features that make the room pet-friendly, such as a hand shower ($20 - $50) to make washing easier or porcelain tile for the most maintenance-free cleaning.
Caulking. The angles where any two planes meet in a wet area, such as the shower, tub, and countertop, must be filled with a flexible material to absorb movement and seal this section to keep it watertight. This is usually done with caulk, either latex or silicone. A tube of caulk costs around $20 if you need to touch it up yourself. It is usually installed with the tile, shower, or counter, and the cost is included in the installation.
Size. Follow bathroom size guidelines at NKBA to ensure you leave enough room at each fixture to pass bathroom codes.
Alternative bathroom. Make arrangements to use another bathroom during the renovation if necessary.
Hidden damage. Be prepared to find hidden damage from leaks or mold during tear-out. A contingency fund of around 20% can make room in your budget for these issues.
Water-efficiency. Look for water-efficient appliances like low-flow faucets to save money and water each year. Most companies include low-flow water options that are the same cost as competitors' products without low-flow restrictions.
ADA guidelines. Consider adding universal design to your layout to accommodate ADA guidelines for aging in place or future resale.
FAQs
How much does it cost to retile a bathroom?
The cost depends on the bathroom's size, how much of the bathroom is tiled, what areas are tiled, and the type of tile being removed and installed. Costs could be as low as $500 for removing and replacing a small floor to as high as $6,000 for removing and replacing the tile on the floor, walls, and shower of a full bath.
Does remodeling a bathroom increase home value?
Yes, particularly if the old bathroom was out of date, discolored, or stained. The average bathroom remodel can recoup about 58.9%.
Which adds more value, a bedroom or bathroom?
This depends on many factors, including the home's size, neighborhood, style, and existing bedrooms and bathrooms. In general, bathrooms add more value.
How long will a bathroom remodel take?
The timeline varies greatly, between 2 to 12 weeks, depending on the room size, changes being made, mold or water damage, and how long it takes for the materials to arrive. Most take between 2 and 3 weeks.
What adds more value to a bathroom?
This varies based on the bathroom type and where you live. In general, mid-range renovations tend to get the highest ROI. However, your bathroom needs to be in line with other bathrooms in your area to get the most value. Speak to a realtor about what people in your area expect to see in a bathroom for the best results.
What are 2 things to consider when designing a bathroom?
The first thing to consider is who uses the space. Different people have different needs, and you want the bathroom to suit the user whenever possible. The second thing to consider is when you plan on selling. If it is within the next five years, you may want to consider upgrades that are beneficial in your area to maximize your ROI.
References
Architecture lab. "What is a Wet Room and Why You Need One."
https://www.architecturelab.net/what-is-a-wet-room-and-why-need-it/
Better Homes and Gardens. "Bathroom Remodeling Ideas."
https://www.bhg.com/bathroom/remodeling/
Craftsman Book Company. National Construction Estimator, 69th ed., Ed. by Richard Pray (Carlsbad, CA, 2021).
Craftsman Book Company. National Electrical Estimator, Ed. by Mark C. Tyler (Carlsbad, CA, 2021).
Craftsman Book Company. National Home Improvement Estimator, Ed. by Ray F. Hicks (Carlsbad, CA, 2021).
Craftsman Book Company. National Painting Cost Estimator, Ed. by Dennis D. Gleason (Carlsbad, CA, 2021).
Craftsman Book Company. National Plumbing & HVAC Estimator, Ed. by James A. Thomson (Carlsbad, CA, 2021).
Craftsman Book Company. National Renovation & Insurance Repair Estimator, Ed. by Jonathan Russell (Carlsbad, CA, 2021).
Craftsman Book Company. National Repair & Remodeling Estimator, Ed. by Joshua Paxton (Carlsbad, CA, 2021).
FIXR Cost Guides and Cost Database.
Fixr.com. "Kitchen & Bathroom Remodeling Trends 2021."
https://www.fixr.com/blog/2021/02/17/kitchen-bathroom-trends-2021/
Fixr.com. "Visualizing ROI of Interior and Exterior Home Improvement Projects in 2021."
https://www.fixr.com/blog/2021/05/20/cost-vs-value-2021/
Forbes. "6 Tips For Hiring A Bathroom Remodeling Contractor."
https://www.forbes.com/advisor/home-improvement/hire-bathroom-remodeling-contractor/
Forbes. "10 Ways To Expand Your Bathrooms Without Remodeling."
https://www.forbes.com/sites/jamiegold/2018/09/27/10-ways-to-expand-your-bathrooms-without-remodeling/?sh=12ffdbde2ae1
Houselogic. "Convert Your Ugly Tub into a Gorgeous Shower."
https://www.houselogic.com/by-room/bathroom-laundry/tub-to-shower-conversion/
Hunker. "Do You Need Permits to Remodel a Bathroom?"
https://www.hunker.com/13725096/do-you-need-permits-to-remodel-a-bathroom
Lowes. "Bathroom Remodel Ideas."
https://www.lowes.com/n/ideas-inspiration/bathroom-remodel-ideas
Minto. "What's a "Jack and Jill" Bathroom?"
https://www.minto.com/live-better-blog/LIVE-brighter/What-s-a-Jack-and-Jill-bathroom~88.html
NAR. "2019 Remodeling Impact Report."
https://www.nar.realtor/sites/default/files/documents/2019-remodeling-impact-10-03-2019.pdf
NKBA. "2019 Design Trends Bathrooms."
https://nkba.org/uploads/2020/01/NKBA_2019_Full_Report_Design_Trends_Bathrooms-Reduced.pdf
The Spruce. "7 Ways to Save Money on a Bathroom Remodel."
https://www.thespruce.com/save-money-on-bathroom-renovation-1821369
The Spruce. "15 Practical Improvements for Your Bathroom Remodeling Project."
https://www.thespruce.com/improvements-for-next-bathroom-remodel-4008849
United States Department of Justice Civil Rights Division. "2010 ADA Standards for Accessible Design."
https://www.ada.gov/regs2010/2010ADAStandards/2010ADAstandards.htm
Zillow. "ROI for a Bathroom Remodel."
https://www.zillow.com/sellers-guide/roi-for-bathroom-remodel/
The information provided by our cost guides comes from a great variety of sources. For more information, read our Methodology and sources.