Image source: Interlock Roofing
The Interlock Group is a large metal roofing manufacturer in North America, offering a variety of slate, metal cedar shingles, tiles, and standing seam. One of Interlock Roofing's biggest advantages is its non-prorated lifetime warranties and flexible payment plans for homeowners on a tight budget. Though they have a strong reputation in Canada, the Vancouver-based company is not as popular in the US. Let's look further at some of Interlock Roofing's products and customer comments and determine if they're right for you.
On this page
Interlock Roofing products
Interlock currently offers six different styles of metal roofing systems: slate, standing seam, cedar shingles, shakes, and tiles. Each one of these options is also available in solid copper, ranging from 12 ounces to 20 ounces depending on the style.
No matter what style you choose for your new roof, all of Interlock's products are Energy Star and CRRC (Cool Roof Rating Council) rated, feature a Class A fire rating, a Class 4 impact resistance rating, and come with a lifetime limited warranty. They also come with a 50-year transferable warranty, but keep in mind that a notice of sale and transfer fee must be sent to Interlock within 60 days.
Slate
Image source: Interlock Roofing
While natural slate shingles can be expensive and incredibly heavy on your roof, leading to potential structural damage, Interlock offers slate made with aluminum roofing materials. These slate roofs feature its Alunar Coating system embedded with Teflon Surface Protector, which helps with durability and energy efficiency. You'll be able to choose between a variety of earth-toned colors like hunter green, musket grey, and deep charcoal. Although they may not have the same appearance and value as a real slate roof, Interlock's aluminum slate can still help increase curb appeal.
Standing seam
Image source: Interlock Roofing
Like other types of standing seam metal roofs, Interlock's standing seam roof features a four-way mechanical locking design and concealed fasteners with roll-formed, ribbed panels which helps with protection against bad weather. Interlock metal roofs also weigh less than most other roofing materials like steel, cedar, asphalt shingles, and tiles, while lasting nearly as long.
 Cedar metal shingles
Image source: Interlock Roofing
Nothing beats the appearance of a real wood shake or shingle roof, but with their hefty pricing and potential for wood rot and proneness to insects, wood shingle roofs can become a hassle. Interlock's aluminum cedar shingles are stamped with a wood-like texture and then coated with the Alunar Coating System embedded with Teflon. Each shingle features an interlocking system on all sides and then is nailed down, creating a tight weatherproof seal.
 Shake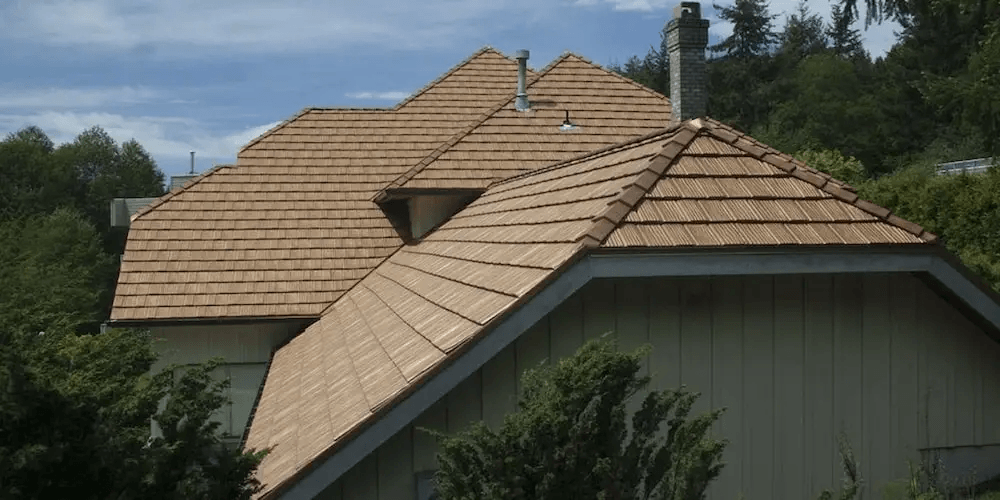 Similar to cedar shingles, wood shakes offer a rustic, pleasant appearance while being eco-friendly and energy-efficient. Unfortunately, though, wood roofs are prone to mold, mildew, and rotting, which isn't an issue with Interlock's aluminum cedar shakes. Interlock's metal shake shingles provide a solid alternative without all of the necessary maintenance.
Tile
Image source: Interlock Roofing
Interlock's tiles offer the same appearance as Mediterranean tiles without the expensive roof cost or heavy clay or concrete tiles, which weigh 90% more than Interlock's aluminum tiles. These aluminum roofing tiles also feature a hidden panel fastener connection system, which ensures protection against severe weather and panel expansion and contraction.
Interlock Roofing controversy
Image source: Connect2Local
While some customers had positive experiences with Interlock Roofing, some were not as satisfied. While no manufacturer is a stranger to lawsuits, Interlock Roofing was hit with a class-action lawsuit in 2007 and even banned from doing business in Hawaii. The state fined CEO Mark Wenzel $205,000 and revoked his license for "engaging in deceptive business practices." Wenzel eventually paid $1.2 million and an average of $16,000 a month for the next eight years to settle the suit. Let's take a look at what the customers had to say.
Customer comments
A roofer and competitor from Montreal went into detail regarding Interlock's business practices but stopped short of any negative comments regarding their materials:
"The product is decent. Their sales pitch is too high-pressure for my taste, and you usually have no control over which crew or subcontractor ends up doing your roof."
Another installer in the US was a bit more flattering :
"Interlock is a huge company, and in my opinion, they have a great product. They use aluminum shingle-based systems that can really last a long time, if they are properly installed."
But not all customers had positive things to say about Interlock's warranty and customer service:
"I purchased a home with Interlock Metal Roofing two years ago. I hired them to add snow rails after the second year. I was informed that I do not have a warranty. I asked about the warranty and was informed that warranty transfer must be completed within the first two months of title transfer. I was not informed of this during the purchase of my home. After contacting Interlock they declined to transfer the warranty."
"Just had a quote from them. The guy trash-talked the competition the entire time. The price was ridiculous. I felt pressure to decide right then. A take it or leave it deal. I wanted to use my house for promotions and I have the pleasure to pay more for it too."
"I have one of these roofs. It leaked after five years. It's been a nightmare."
Is Interlock the best roof option for you?
No roofing company is new to lawsuits and controversy. Each one has its flaws and strengths. While Interlock's lawsuit and customer complaints are concerning, many issues seem to stem from poor installation instead of the manufacturer's product. Interlock's products can also be installed as new construction or over an existing roof, so no matter whether you have dormers or skylights, installing a new metal roof is a solid choice. Our opinion is that Interlock is still a large company and is still a reasonable option, but it's important to read the fine print of your warranty and be diligent about the roofing contractor's installing your roof.