Whether it's time to remodel the kitchen, replace the gutters, or buy a new water heater, it's important to know where the money for your next home improvement project will come from. While some projects are large enough to cost six figures, homeowners don't always want to spend for relatively minor improvements. That's where a home equity line of credit (HELOC) comes in. A HELOC is a home loan that allows you to borrow money against the value of your home.
In this article, we'll dive deeper into how HELOCs work, how they differ from other types of loans, and what you can use them for.
How does a home equity line of credit work?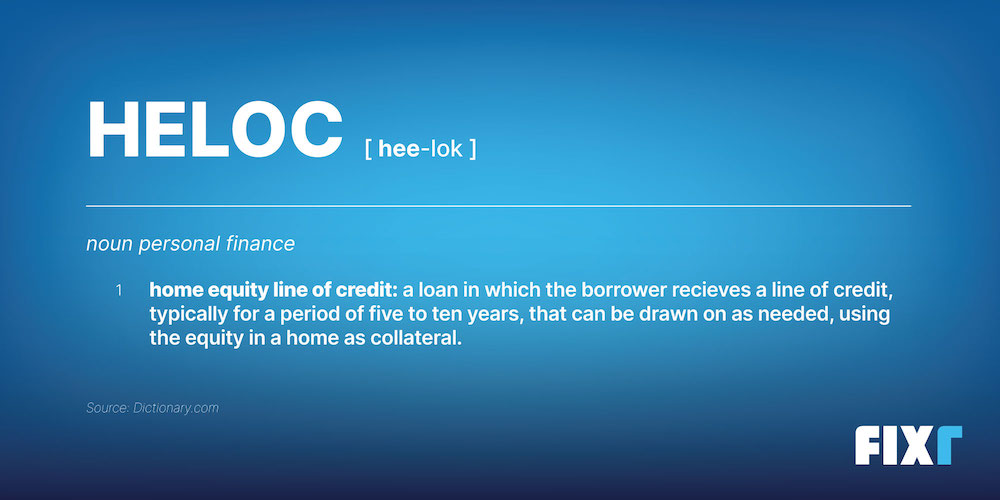 A HELOC allows you to borrow money using your home as collateral. But, unlike a home equity loan or a cash-out refinance, you don't get your money in one lump sum. Instead, you can repeatedly borrow as little or as much as you need during the draw period as long as you don't exceed the established credit limit.
HELOCs are attractive to homeowners because even with a substantial credit limit, you pay interest only on the funds you use. However, HELOC interest rates fluctuate with the prime rate, whereas other home equity products have a fixed interest rate.
"You need to understand if you're getting a teaser rate for a limited time," says Josiah Rider, business banking specialist in Harrisonburg, Virginia. "And ask about any extra fees. Some charge an annual fee. You want to know the cost of the loan outside of the interest rate."
How do I apply for a HELOC?
Much like a mortgage or home equity loan, the HELOC application process takes two to six weeks, depending on the lender. The process begins with an appraisal of your home to determine its fair market value. Typically, you'll incur closing costs that vary by lender. But there will be no points on the loan.
Requirements for a HELOC
During the application process, the lender will examine your financial situation to determine your creditworthiness. They'll ask for your income, first mortgage, and insurance information. "We try to get a picture of the borrower," says Rider. That picture includes things like:
Credit score – It should be 620 or higher.
Monthly debt-to-income ratio – They want it to be around 40 percent or less. And depending on your circumstances, some institutions will allow 50 percent, according to Rider.
Employment history – The longer you've stayed in the same occupation, the better.
Home value – It should appraise at 15-20 percent more than you owe.
How much equity you have in your home is an important point. "If you haven't lived in your home for at least a year," says Rider, "you will have had to have made a large downpayment to get to that level of equity."
How much can I borrow against my HELOC?
If the lender decides to grant you the loan, they'll set a borrowing limit based on a percentage of your home's appraised value minus your current mortgage balance. Use the following formula to see how much money you could borrow from a HELOC.
What can I use my HELOC funds for?
Like a home equity loan, you may use HELOC funds for anything you want. "If you own a home, you should have an equity line of credit," says Rider. "It's going to be the cheapest money you can borrow, so there's no need to limit it to the scope of a single project."
Common uses include paying medical bills or college tuition. Rider says it makes a great debt consolidation tool, cutting a homeowner's interest by more than half. "I've even had clients use a HELOC to start a business," he says.
But when it comes to home renovation projects, some come with substantial tax breaks that make using a HELOC attractive. For instance, the average cost to convert your HVAC system from a fossil-fuel-burning furnace to an electric heat pump starts at $18,000, with an ROI of over 100 percent. So, it makes sense to use HELOC funds for this project.
The average cost to remodel a kitchen is around $80,000, and according to the 2023 Cost vs. Value Report, the ROI of this project is as much as 85 percent, so it's wise to use HELOC funds for your kitchen, as well.
How is a HELOC paid back?
Much like a credit card, a HELOC is a revolving line of credit you pay down as you go. It has two phases, the lengths of which vary by institution. The draw period is the first phase. Here, you start borrowing money as needed and make monthly interest-only payments.
When the draw period ends, you enter the repayment period. During this phase, you can no longer withdraw funds. Instead, you'll begin making principal and interest payments until the loan is satisfied. However, though this example is pretty standard, Rider says all lenders are different. Also, because a home equity line of credit is not the same as refinancing your home, you will still need to pay your original mortgage payment in addition to the HELOC payments.
Pros and Cons of a HELOC
As with any personal loan, some factors make it more attractive, while others don't. Here are the pros and cons of using a home equity line of credit.
Pros of a HELOC
They typically come with lower interest rates.
You can use only as much credit as you need.
The repayment terms are flexible.
You pay interest only on the amount you borrow.
Cons of a HELOC
As with any home equity loan, you put your home at risk of foreclosure if you cannot repay.
Lowers your home's equity.
HELOCs include variable interest rates with the potential of a balloon payment at the end of the draw period.
Payments increase at the end of the draw period.
Requires discipline not to overspend.
How is a HELOC different from a home equity loan?
If you're still wondering if a HELOC or a home equity loan would be best for your situation, Rider recommends conversing with a lender before making a decision. Unlike accountants or other financial professionals, he says banks don't charge to answer your questions about loan options, appraisal fees, prepayment, origination fees, and more. "And don't be afraid to shop around," he says. Loan packages vary from institution to institution. For reference, here is a chart comparing the critical points of both types of loans.
HELOC compared to Home Equity Loan
| | | |
| --- | --- | --- |
| | HELOC | Home Equity Loan |
| Borrowing limit | Percentage of the appraised home value minus the amount you owe on your mortgage | Percentage of the appraised home value minus the amount you owe on your mortgage |
| Disbursement | Revolving line of credit for a set time period | Lump sum |
| Interest rate | Variable | Fixed |
| Points | No points | Upfront points to lower interest rate possible |
| Closing costs | Varies by lender but is typically smaller than a home equity loan | Typically 2-5% of the loan amount |
| Repayment | The repayment amount varies. Typically, interest-only payments during the borrowing period. Then, principal plus interest during the repayment period. | Fixed monthly payments |
| Advantages | Can continue to borrow and repay for the draw period without additional paperwork or approval. | Predictable, equal payments throughout the loan. |
| Disadvantages | Repayment amount varies | If you need to borrow more than the loan limit, you need to apply for an additional loan. |
Is HELOC interest tax-deductible?
Since the interest on a mortgage is tax-deductible, most homeowners want to know if the interest on a HELOC is, too. "That also depends," says Rider. "The homeowner really needs to talk to an accountant on that one because tax laws have changed." And, they change frequently, he says.
Let's get building
Whether planning a whole house remodel or something smaller, using a home equity line of credit is wise. First, speak with your lender to set things up. Then, find a local professional to get your home improvement projects rolling.