2020 is well underway, and the new decade is likely influencing homeowners looking for a fresh start in their homes to pursue home improvement projects. Bathroom remodels, which are one of the biggest projects homeowners undertake, will likely be near the top of the list. When it comes to bathroom trends in 2020, it's important to know not only what the latest in bathroom trends are, but what it is that's influencing them as well.
To find out what the current bathroom trends are, we turned to some of the biggest experts in the home design field, and asked them what they felt was going to shape the landscape of bathroom remodel trends for the coming decade. We've compiled the results into a simple, easy-to-read report that's ideal for designers and homeowners alike, so you can get the insights you need into what the latest bathroom remodel trends are.
Top Bathroom Trends in 2020
Bathrooms are uniquely personal spaces within the home, so homeowners and designers have big ideas for what constitutes the ideal space. Our experts shared their views on what they believe to be the hottest in bathroom design and remodel trends, and you can find their full insights in the report. We've shared some of the highlights for you below.
Remodels Due to Outdated Design
While not every homeowner wants the same things for their bathroom's style, many people tend to update or remodel for the same reasons.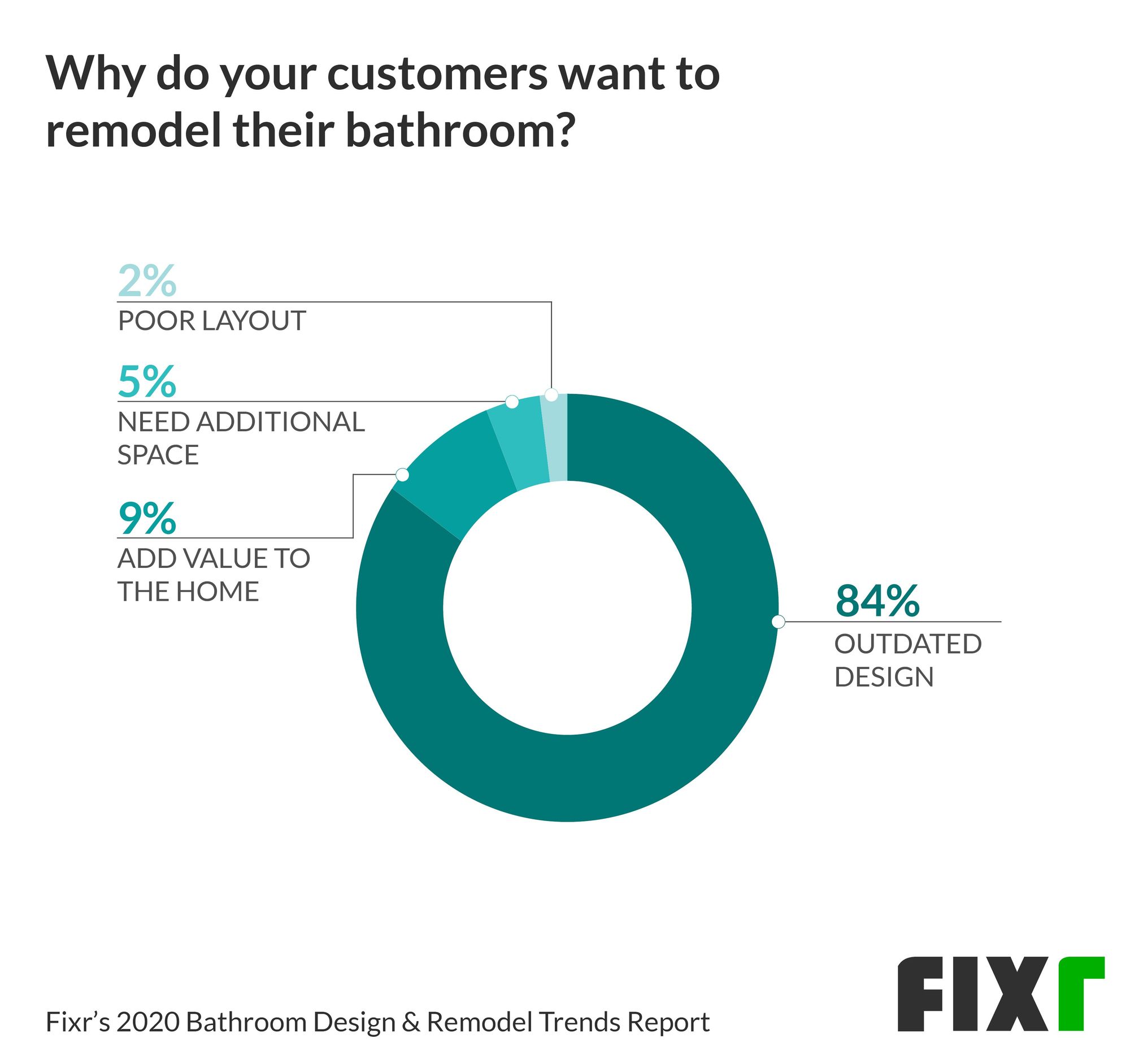 When asked what they felt was the most likely reason that a homeowner would want to remodel a bathroom, most experts responded that the reason homeowners will want to remodel their bathrooms is due to an outdated design. Since trends last roughly 10 to 15 years, it's safe to say that it's bathrooms older than this that are getting updated the most. Bathroom remodels simply to increase enjoyment have been popular for a few years now, which can also be driving the decision to update.
Bathrooms Keep Getting Bigger
Bathrooms come in all shapes and sizes, and while years ago the typical bathroom was fairly small, times are changing and so are bathroom sizes.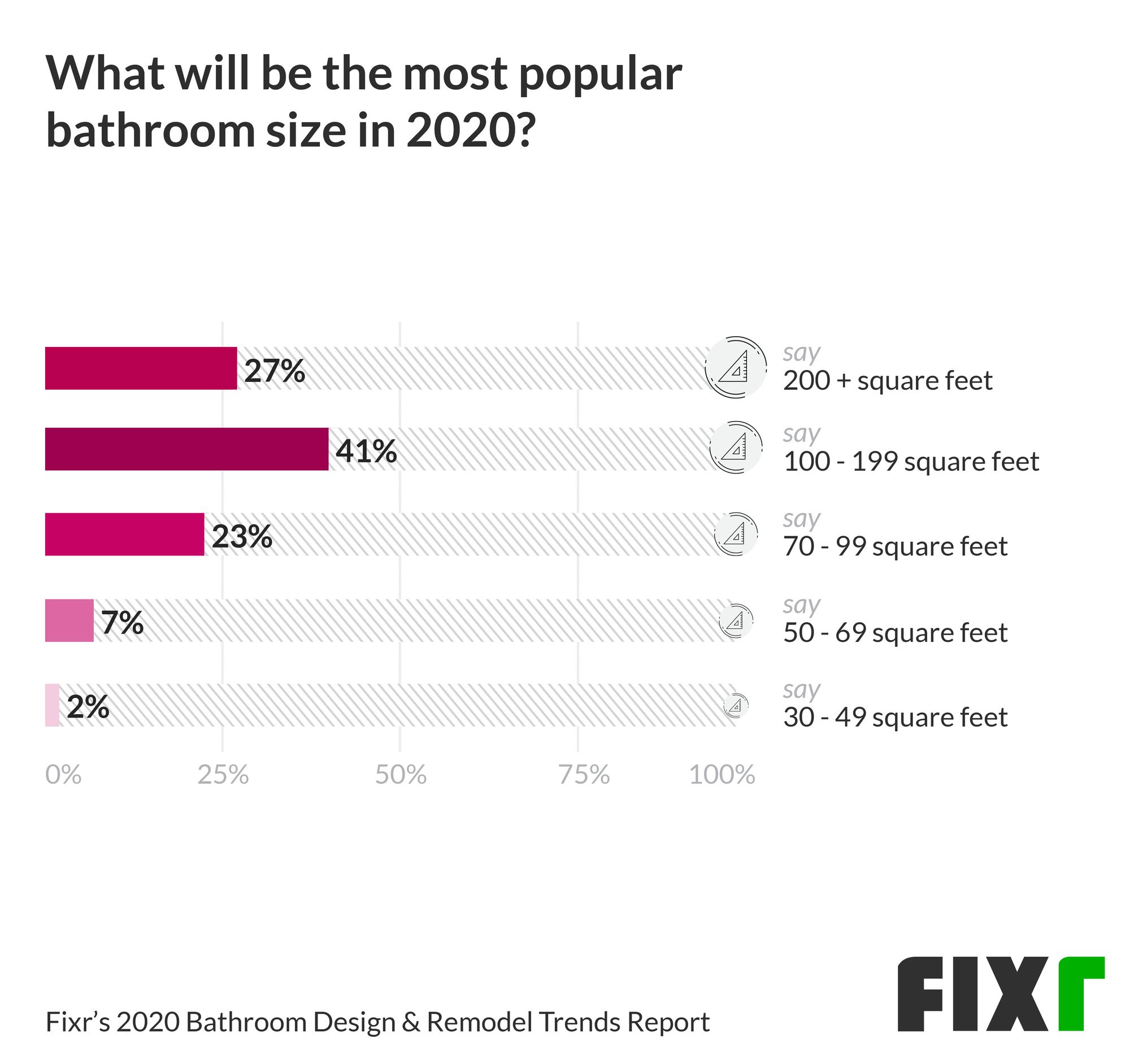 Experts feel that most homeowners want a bathroom that is larger than 100 square feet in size. This could be a master bathroom trend in particular, as many master baths are larger than the typical full size bathroom. Master bathrooms have become more common as home sizes increase, which makes sense that homeowners will expect a larger bathroom in their homes.
Master Suite, the Most Popular Bathroom Layout
Bathrooms not only come in a range of sizes, they can be arranged in a variety of ways as well. Experts were asked to weigh in on several different bathroom layouts to determine which one they thought would be the most popular.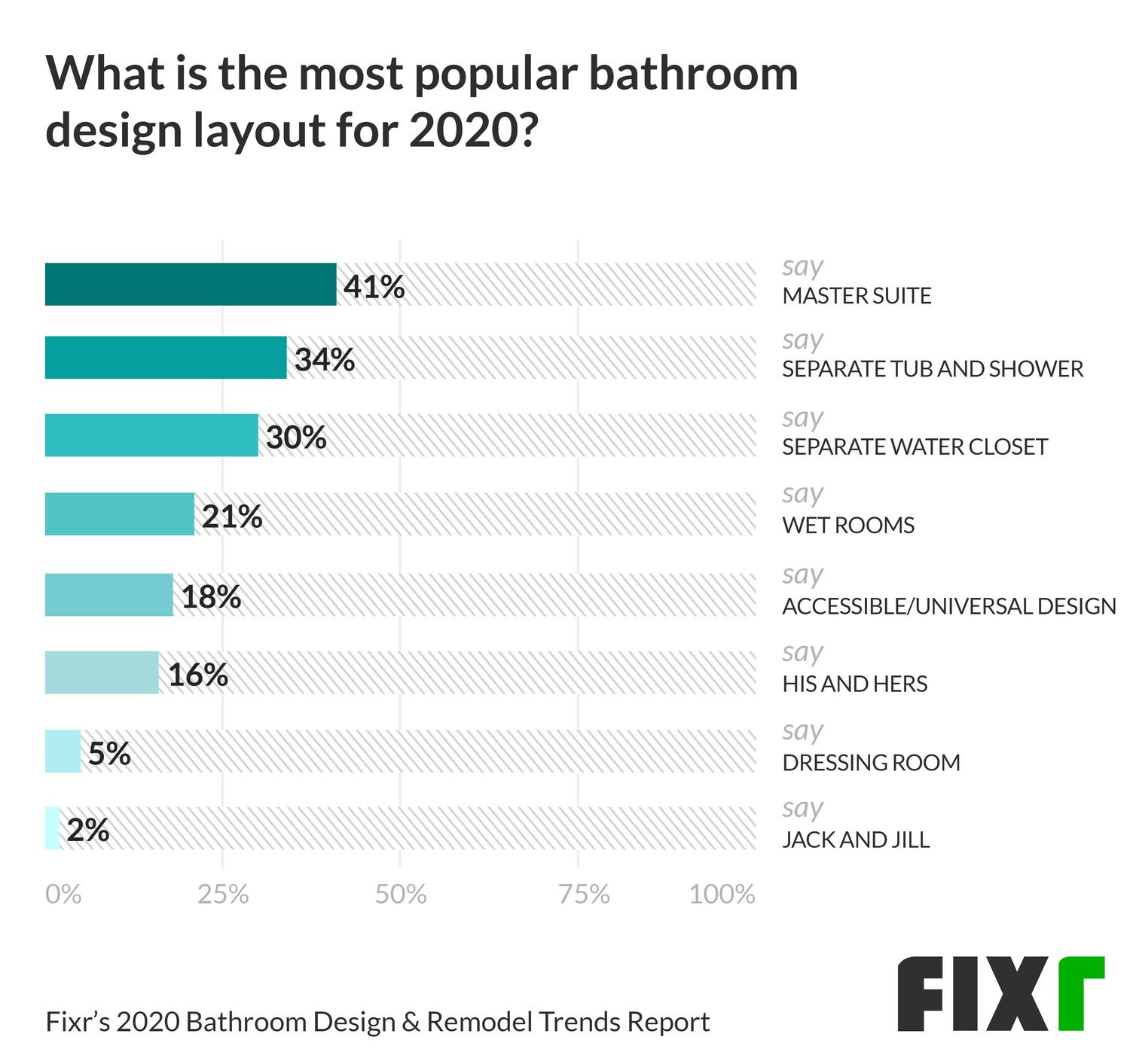 Most agreed that master suite layout was the most popular. Given the size of bathrooms that most people prefer, this makes sense as you need a larger space to accommodate this trend. The separate tub and shower has also been considered a luxury layout in recent years, and because having a tub is so important to resale, this layout means that you can have your value and your shower, too.
Floating Vanity and Medicine Cabinet are Popular Storage Solutions
Storage is a big part of every bathroom, whether you use a vanity, a medicine cabinet, linen tower, or some combination of these.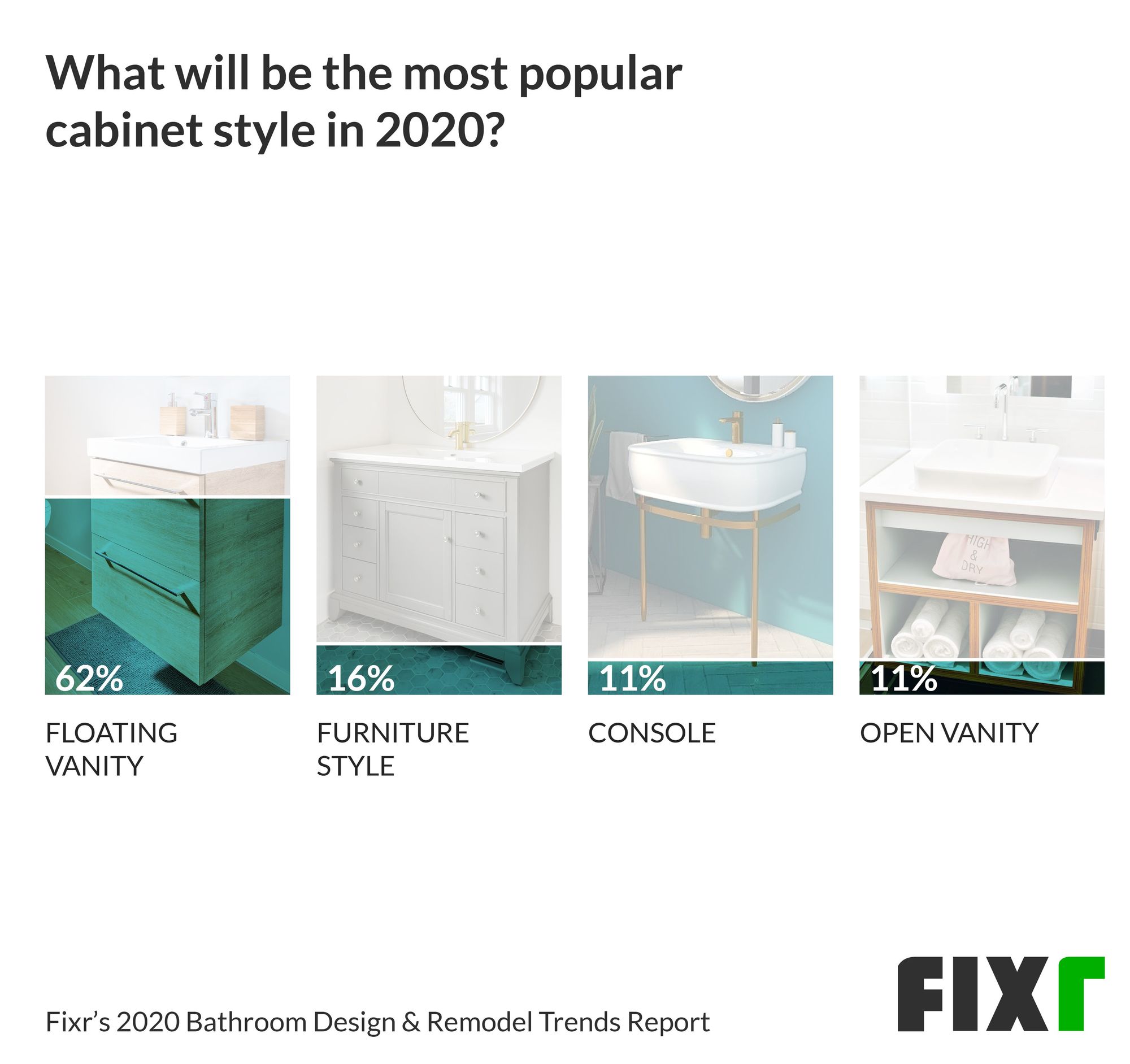 When asked, experts felt that floating vanities were the most popular method of creating a sink and vanity space in the bathroom. They also felt that the medicine cabinet was a way to add some additional storage to the bathroom, although not necessarily using it in conventional ways.
Freestanding and Soaking are the Two Most Popular Tub Styles
Bathtubs are crucial to the bathroom for resale, and most homeowners will agree that every bathroom needs one. They come in a variety of shapes and styles, as well as functions and sizes.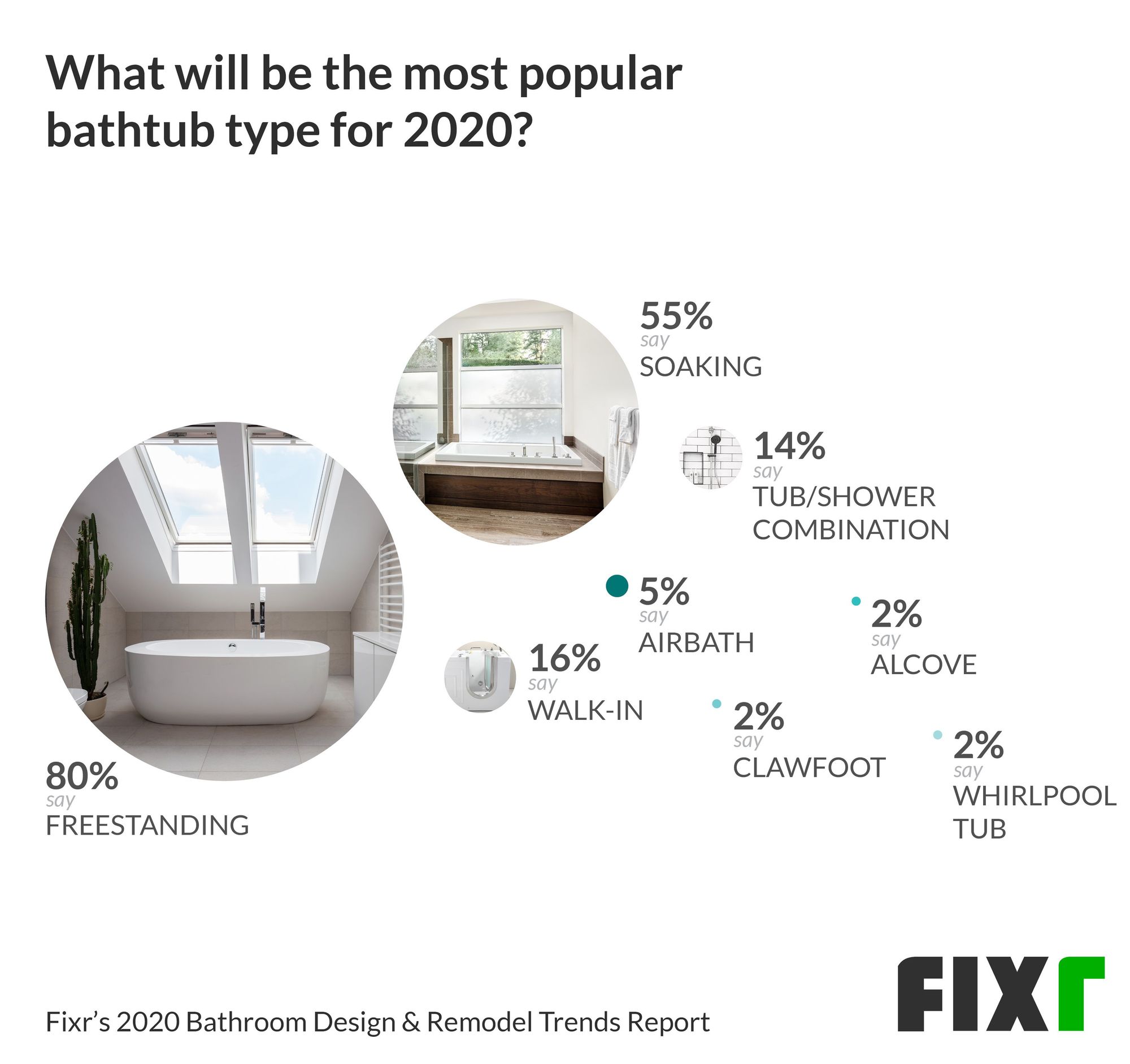 Experts felt that two different types of tubs would be among the most popular for homeowners in 2020. They include both the freestanding tub, which is a tub that sits on its own with no deck, and a soaking tub. Soaking tubs may be freestanding, built into an alcove, or given a deck; it's only important that they are deep enough for a good long soak.
Porcelain is the Most Trendy Flooring Material for Bathrooms
Tile is one of the most commonly used materials for bathroom flooring, because it's water resistant and easy to clean. When asked what they felt the most popular material for bathroom flooring would be, experts agreed that porcelain tops the list.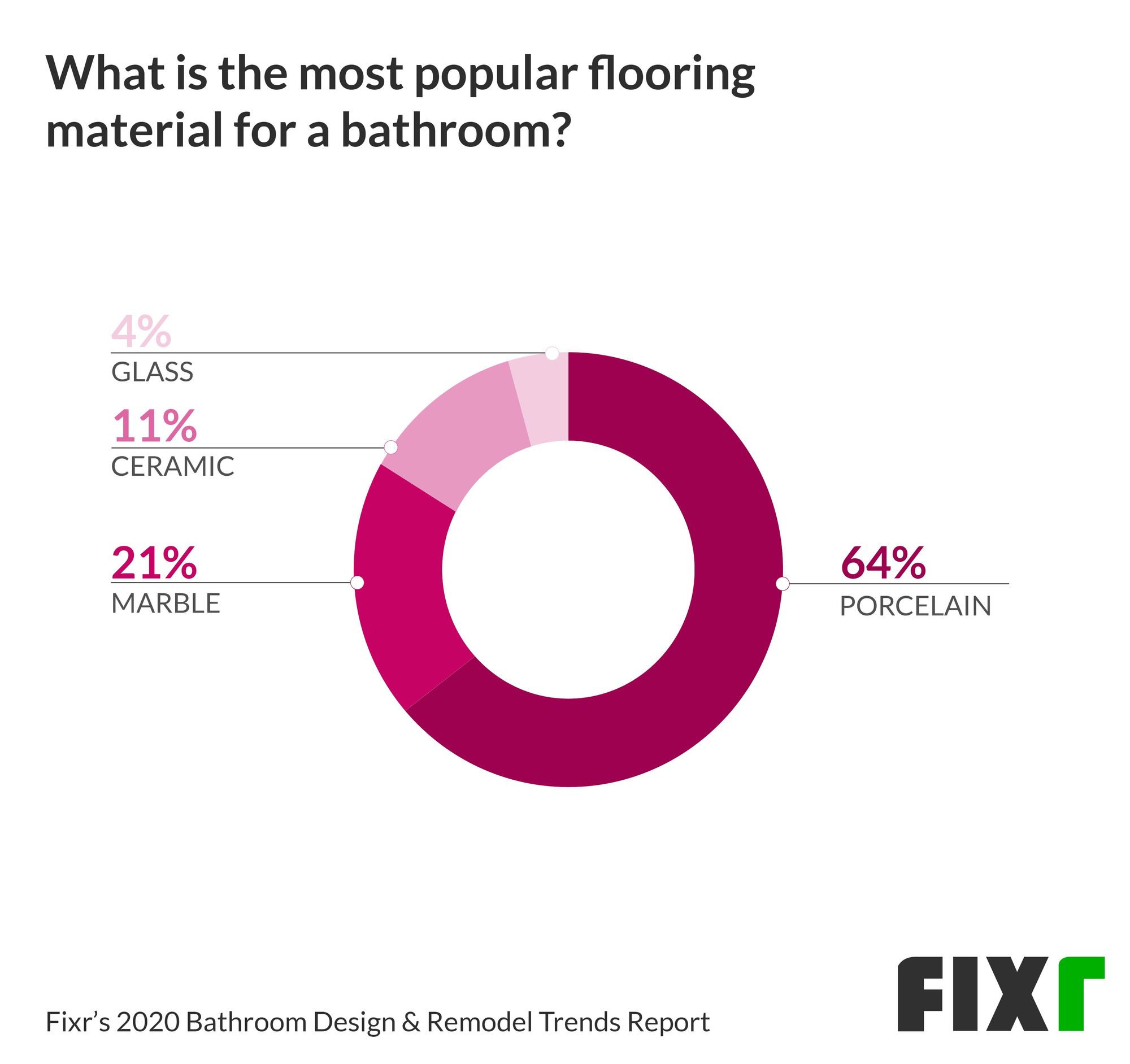 Porcelain tile comes in a wide range of sizes, colors, textures, and styles, so it makes sense that most homeowners would gravitate toward it. It can also be arranged in many patterns, so it can suit a lot of style needs. Regarding the most popular tile patterns for floors, mosaic and herringbone topped the list.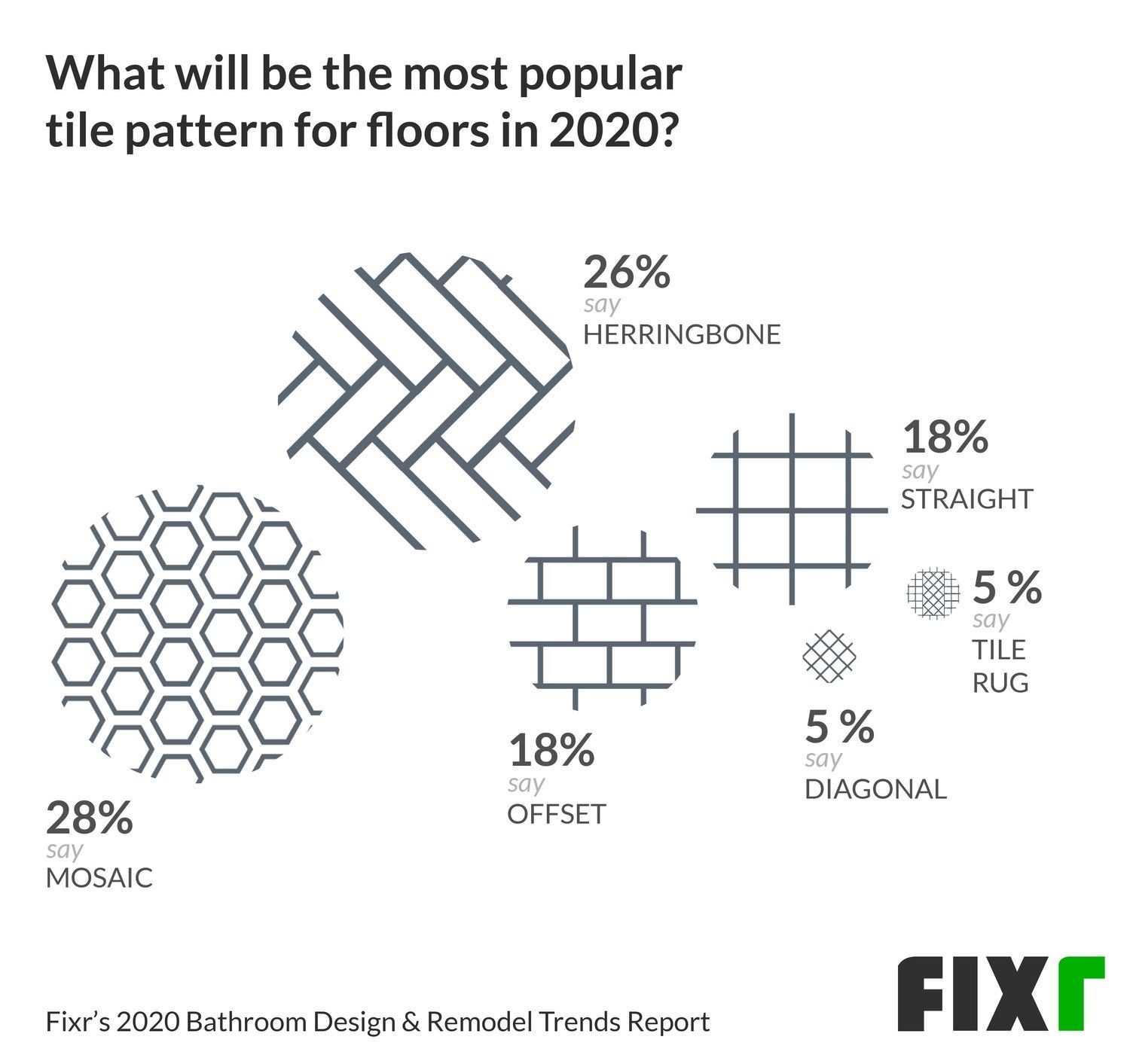 Low Maintenance, Stylish Materials
Bathroom materials can be made from nearly anything, from wood and stone to porcelain or glass. According to experts, what's most important to homeowners is that the materials they install in the bathroom are low maintenance, first and foremost.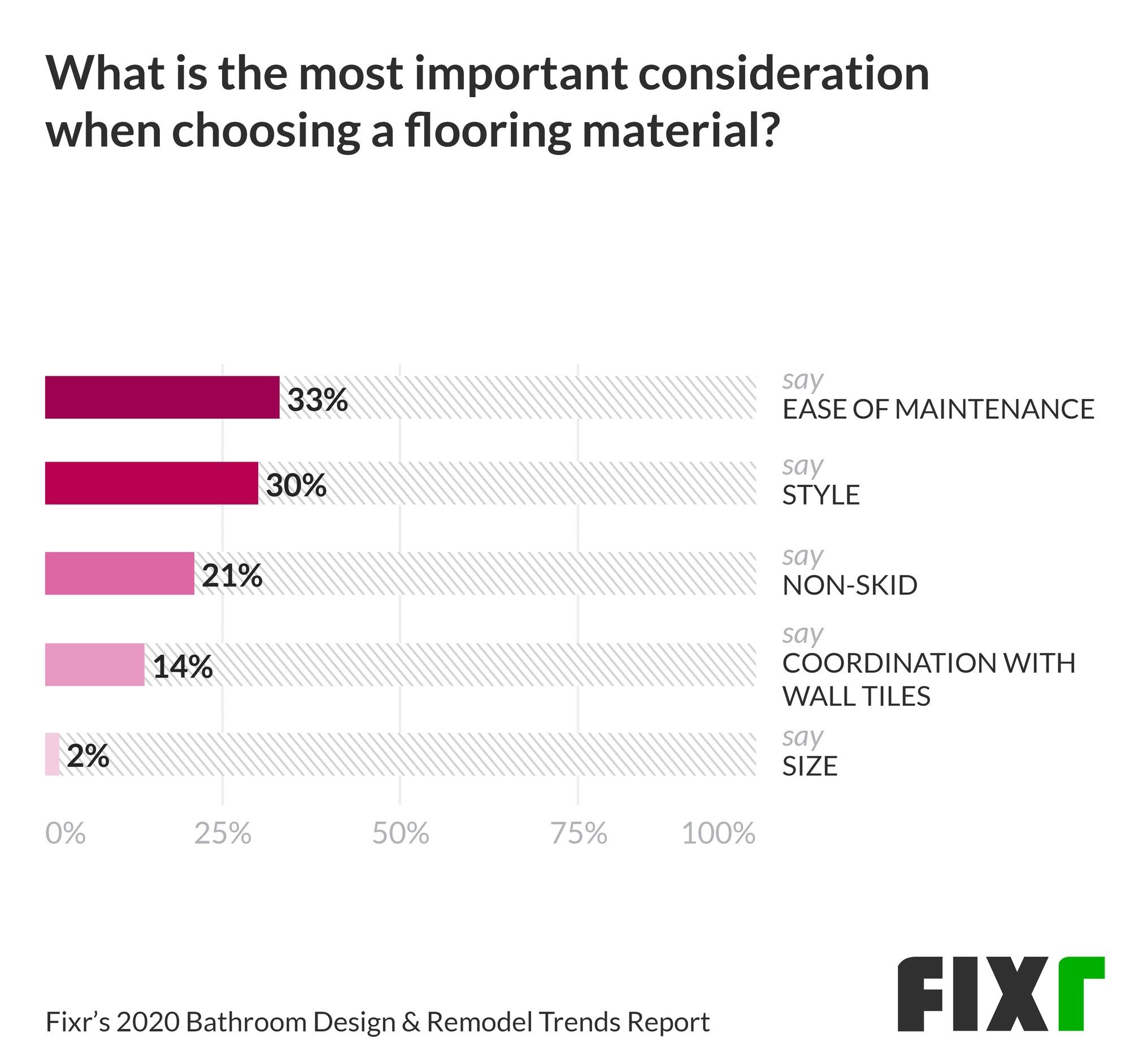 After this, the second most important attribute is the style of the materials, ensuring that they match the design of the room and help create a cohesive look. Low maintenance materials have been popular for a few years now, as more people are realizing that these materials better match their lifestyles.
Sconces are The Most Popular Way to Light a Bathroom
Good lighting is crucial to the bathroom, and there are a lot of ways that you can achieve that. In 2020, experts feel that sconces will be the most popular way to illuminate the bathroom. Sconces are most commonly installed near the mirror or medicine cabinet, so they can create both ambient and task lighting at the same time.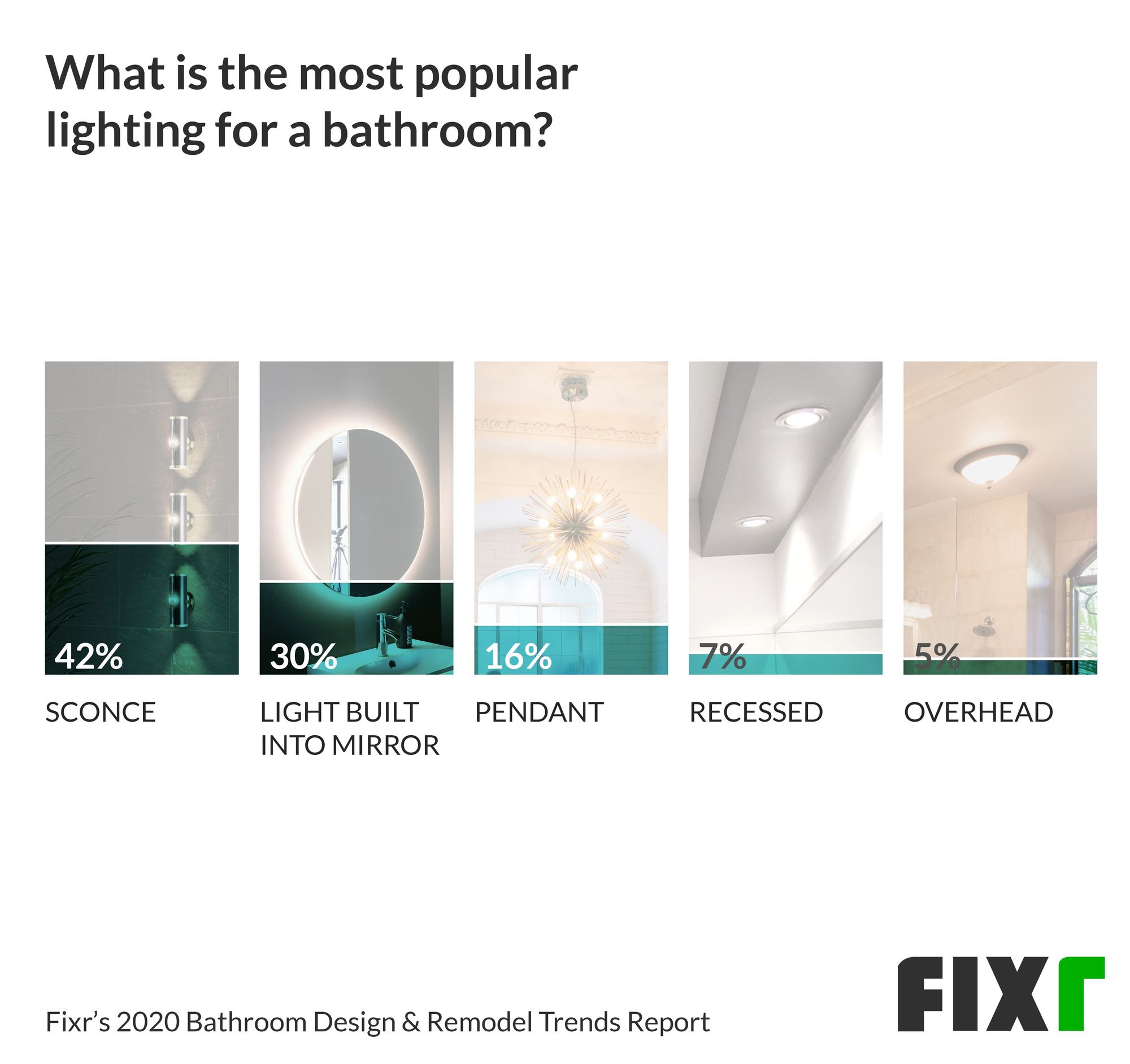 Sconces are also usually installed at the perfect height for lighting a sink or vanity, which may also explain their growing popularity.
Get the Latest Bathroom Trends for 2020
Trends are important to keep up with if you want your design to stay fresh and relevant for as long as possible. This is particularly important at the start of a new decade, when styles and trends will be looked at with a fresh eye.
For bathrooms, it looks like size will matter, with larger bathrooms playing host to separate tubs and showers, big soaking tubs, and floating vanities. Combined with low maintenance materials that will show off style, while maintaining their crisp and clean appearance for years, this makes current bathroom trends highly functional as well as aesthetically pleasing. Make sure you keep up with the trends as they unfold to ensure that your bathrooms have staying power as well.
Our Expert Contributors
Fixr's report on Bathroom Remodeling Trends has been created with the help of the following experts in the design industry. We'd like to thank each one of these experts for lending their time and expertise to the creation of this report.