The season is upon us! In just a few weeks, guests will be arriving for holiday celebrations at homes all over the states. And whether you have a few friends coming for a single holiday meal or you have the entire extended family coming for the duration, make sure you take the time to get your home ready for their arrival. The holidays are a time to celebrate and enjoy your time with family and friends - not the time you want to be dealing with a sudden home maintenance issue or a potentially disastrous safety concern.
This year, take the stress out of the holidays by going over your home prior to guests arrival. Make sure your home is ready inside and out by using the following guide as your checklist for the season.
Holiday Maintenance Projects
Get ready for your incoming guests by taking care of some home maintenance projects that may need to be done at this time of year. Having guests over has a way of forcing many issues into the light between potential safety concerns and the added stress that you may be adding to your home, systems, and appliances. By going over each area ahead of time, you have the potential to catch issues before they have a chance to put a fly in your holiday dinner plans.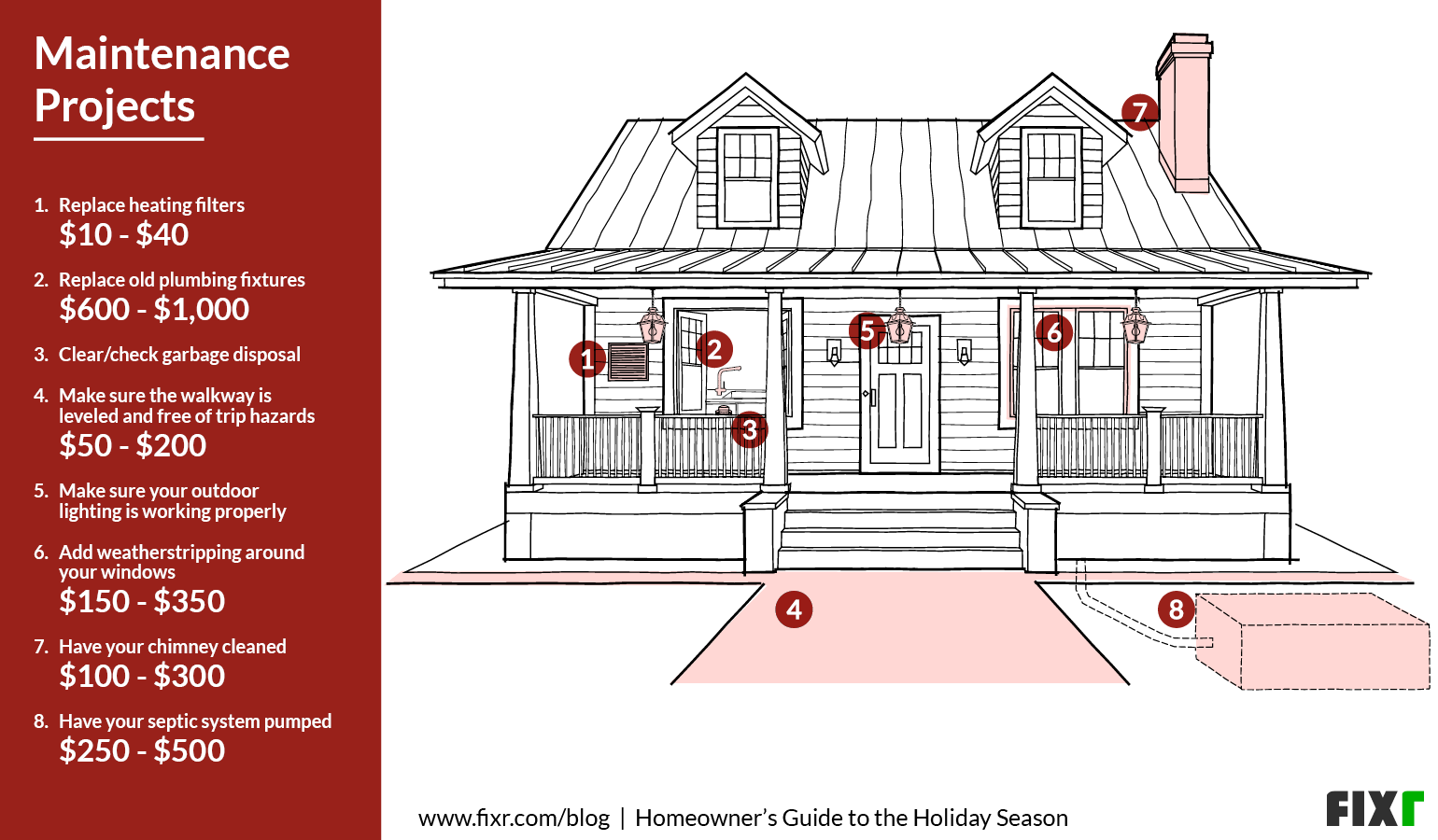 Have Your Chimney Cleaned
If you're planning on lighting a fire for the holidays, take the time to have your chimney inspected and cleaned first. This is particularly a good idea both if you haven't used it in a while and if you tend to use it a lot. Creosoot can build up in chimneys, which can potentially cause a fire. By having it inspected and cleaned, you know you'll be ready to use it safely. The cost to have your chimney inspected and cleaned averages $100 to $300.
Add or Replace Weatherstripping
Button up your home against the cold, reduce drafts, and lower your energy bills at the same time by installing or replacing weatherstripping around your windows and doors. Weatherstripping is fairly inexpensive and can help prevent air leaks, which can cause your warmed air to slip out while frigid air slips in. The cost to weathersrip a home averages $150 to $350.
Maintain Your Front Walkway
Everyone will be coming up your front walkway this year from Amazon delivery personnel to your grandparents. Make sure the walk is level, free of tripping hazards, and that any handrails and steps are in good condition. This can range from a quick once over, to a cost of $50 to $200 to take care of some minor issues that could cause a trip hazard, particularly during the darker times of day.
Test Your Outdoor Lights
While you're outside checking your front walk, make sure you test your lights as well. Turn them on once it gets dark and see how well they illuminate the door and the front walk. Replace any burned out bulbs and wipe down the sensors on solar lights to ensure your guests have plenty of illumination to enter by.
Have Your Septic System Pumped
If you're on septic and you're having guests for an extended period of time, consider having your septic system pumped before they arrive. Additional guests can overwhelm your system, particularly if it's nearly due for its regular pumping. This has a cost of approximately $250 to $500 depending on the size of your system. To save a little, consider digging up the area above the opening yourself; most companies offer a small discount for this service.
Replace Old Plumbing Fixtures
Another good idea if you're having guests to stay is to replace any worn or outdated plumbing fixtures. This includes toilets and faucets that may run, leak, drip, rattle, or generally give you a hard time. The holidays are not the time to discover that your old toilet can't handle the extra load. Replacing these fixtures can cost $600 to $1,000 in total.
Replace Your HVAC Filters
Make sure your furnace is working well and that you're reducing things like dust and allergens by replacing your HVAC filters before guests arrive. Filters help trap particles that can travel through your system. When they get clogged, your system has to work harder to heat your home. Upgrading to a better quality filter will not only keep your system working well, it can also help reduce allergens in the air. This can have a cost of $10 to $40 per filter.
Test Your Garbage Disposal
Make sure your garbage disposal is running smoothly before guests arrive and you start the main meal. Throw ice cubes into the drain to help clean the blades, or run some dish detergent into the drain while running the water and the disposal at once. If you notice that it isn't draining well or that it's excessively loud, it may be time to call a plumber in for a quick tune up or repair, which has an average cost of $100.
Ways to Enhance Your Home for the Holidays
It's natural to want your home looking its best before guests arrive. And whether you decorate for the holidays or not, there are several things you can do to help make your home look and feel cozier, as well as more welcoming for the event. The following holiday design options can help make your living areas more comfortable and attractive to your coming guests.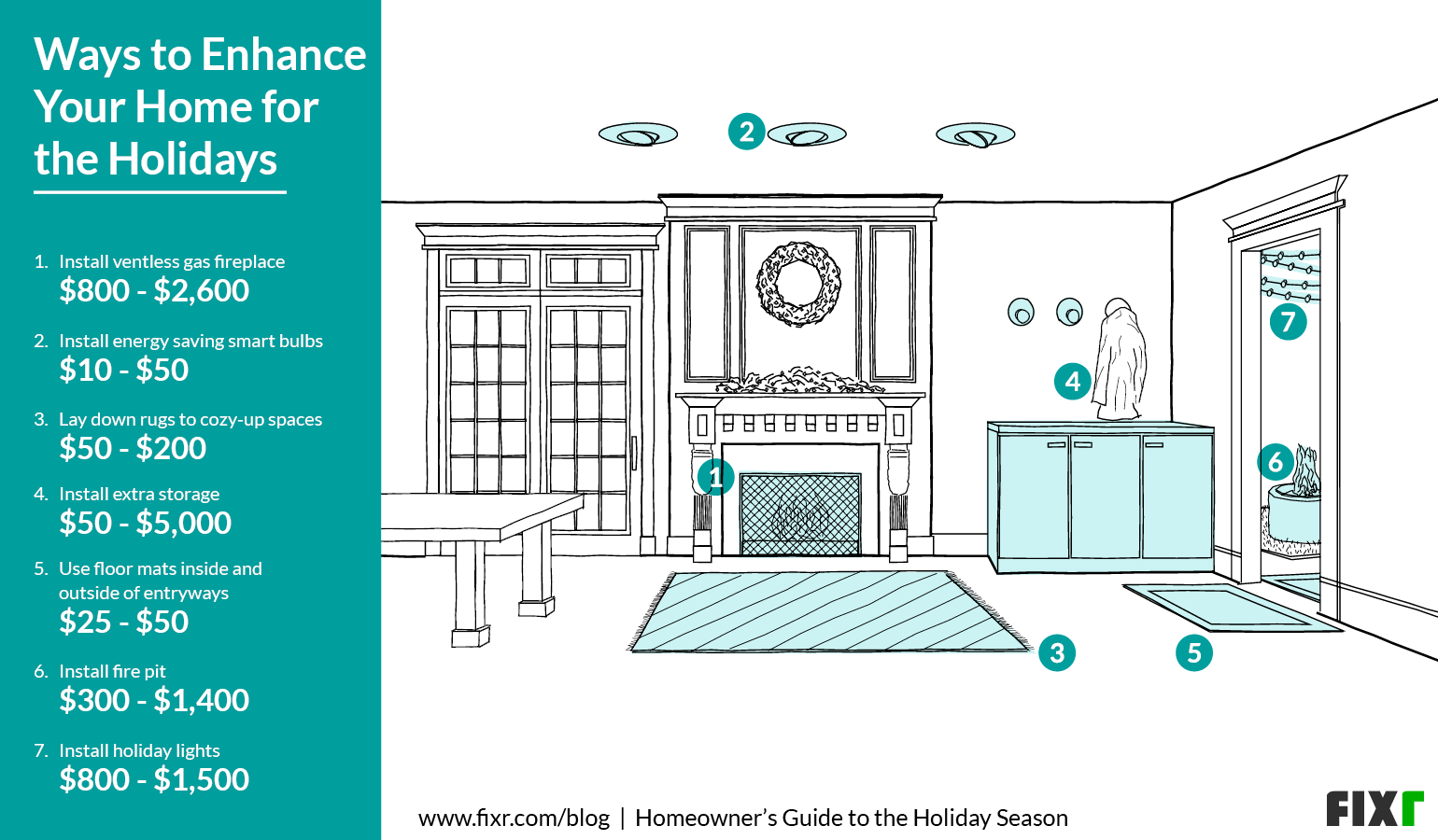 Invest in New Floor Mats
People coming up your front walk and into your home may track things like salt, mud, and snow into your home. Floor mats help prevent these things from damaging your floors. Consider choosing new ones in festive colors or patterns that can both help protect your flooring and help liven up your entryway at the same time. Most mats cost between $20 and $50.
Install a Gas Fireplace
If you don't have a fireplace already in your home, a ventless gas fireplace option can make a big difference to both the ambiance and the comfort level of your living spaces. Ventless gas fireplaces are fairly easy to install, as they don't need a chimney. They do need a gas line to run, however, and you will need a branch from your main line to power it. The average cost for a gas fireplace is $800 to $2,600, depending on the size, type and how far your gas line will need to run.
Put Up Holiday Lights
If you decorate for the season, consider having a company come to put up your exterior lights. Light hanging companies can help make the most of your property, and they free up your time while you take care of other important things for your incoming guests such as planning the menu or setting out fresh sheets for the guest bed. The average cost to have holiday lights professionally installed is $800 to $1,500.
Cozy Up Your Interiors
Even if you don't decorate for the season, you can still make your interiors look and feel cozier for your winter guests. Put down some thick throw rugs to help insulate the floor. Add some throw pillows and lots of throw blankets, afghans, and quilts on your couches and chairs. This will not only make the room look cozier, it will help your guests get comfy no matter how long they're staying. The average cost to invest in any of these items is $50 to $200.
Invest in Some Smart Bulbs
Swap out your lights for smart bulbs before your guests arrive. Smart bulbs can help you save energy by turning themselves off when no one is in the room. And many of them can also glow in different colors, so you can quickly set the mood, brighten or dim the space, or even coordinate the color of your accent lighting with your holiday decor. Smart bulbs do not require special fixtures, so you can put them into your existing light sources. They cost $10 to $50, depending on features and whether you purchase one at a time or in bulk.
Install Some Extra Storage
Shelving, cubbies, and cabinets can all help you get organized before your guests arrive. This can help reduce clutter and make your home appear neater and more cared for. Plus, it helps open up much needed closet and floor space for your guests' coats and boots. If you're short on space, consider investing in some closet organizers to help you make the most of the room you do have. Costs for this type of project start around $50 and can go as high as $5,000 for custom built-ins.
Add a Fire Pit
Many people are choosing to do more entertaining outdoors this year to help avoid COVID. If this is the case for your gathering, consider putting in a fire pit on your patio. Fire pits add ambiance as well as some much welcome warmth. You can choose a small metal ring for just $75, or build a permanent fixture for either wood or gas fires for a cost of $300 to $1,400. Just pull up your regular outdoor seating around it, and enjoy your time with friends and family.
Winter Home Safety Tips
It's easy to get caught up in the fun and excitement of the season, which means it's also easy to miss things that can cause accidents or injury as well. That's why it's important to take the time to go over a few holiday safety tips to help keep your home safe while you decorate and otherwise get ready for guests. The following tips can help you avoid potential issues in the days to come.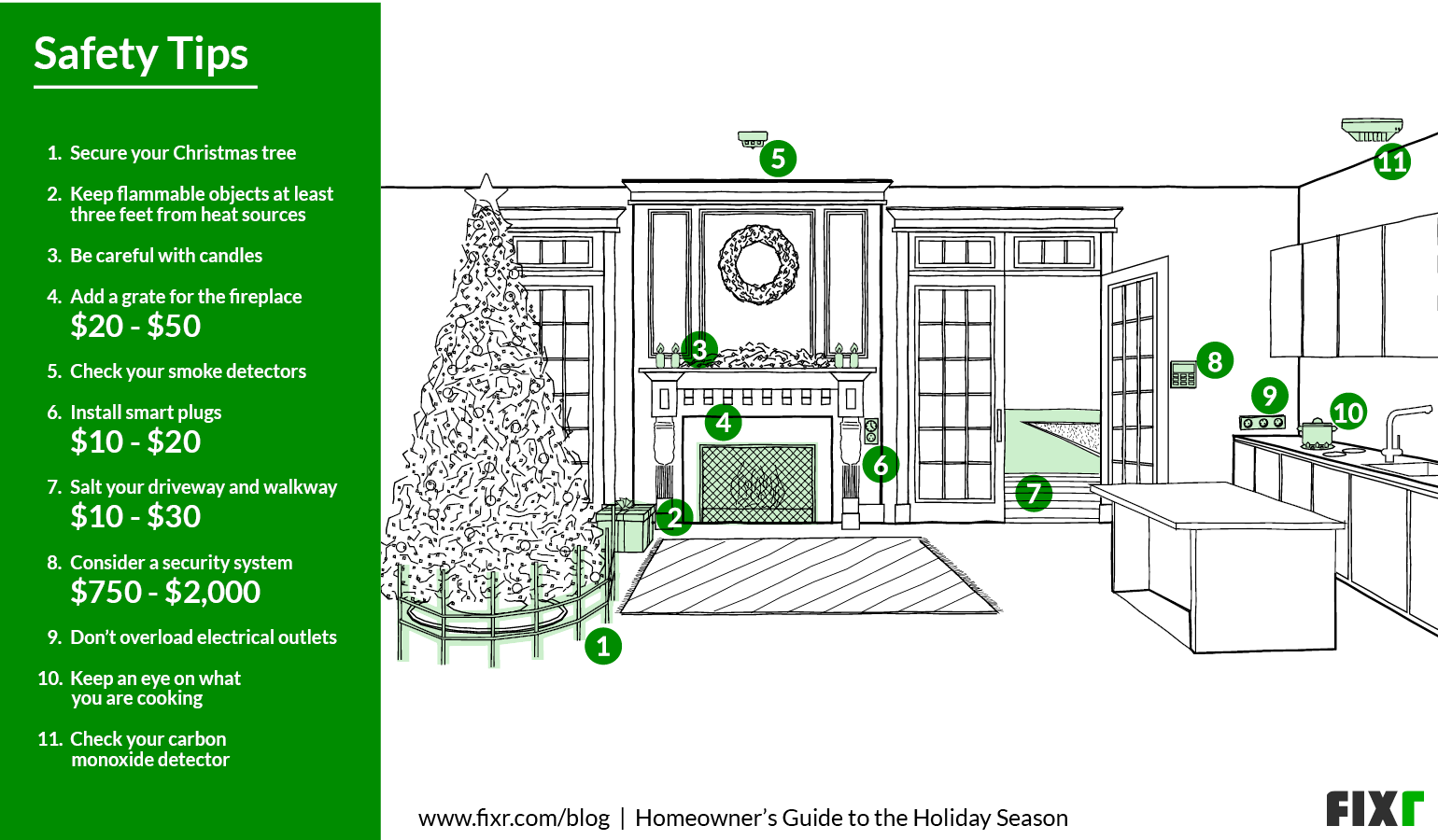 Put a Grate Over Your Fireplace
If you have a gas or wood-burning fireplace that will be used, make sure you have a safety grate in front of it. This should be done even if you have glass doors or windows, as these can become superheated too. Young children can get seriously burned on the glass as well as on the flames themselves, so put a safety grate up and make sure everyone stays burn free. The average grate costs $20 to $50, and can be easily placed and moved for access.
Be Careful with Candles
Candles can definitely add to the ambiance of a party. And they can also be easily knocked over by pets, children, or inhibited party goers. LED candles make a safe alternative that can be used in all situations. If you choose to use real candles, make sure that they are out of reach of children and pets. Don't leave them unattended, but make sure they are in a space that is currently being used at all times.
Salt Your Driveway and Walkway
Temperatures can fall fast in the winter months, even if they rise up a little during the day. Melting snow or rain can quickly freeze, leaving your walkway and driveway slick and dangerous. Stay on top of this with regular saltings. If you have pets, be sure to use a pet-safe ice salt that won't burn their feet when they walk on it. The average cost of driveway salt is $10 to $30, depending on the type and size of bag.
Secure Your Decorations
If you have any large or heavy decorations, such as Christmas trees, plastic Santas, or oversized menorahs, make sure they are secure. You can do this by using wall anchors in many cases to help prevent them from tipping and potentially harming a guest.
Consider a Security System
No one likes to think about break-ins and package thefts during the holiday season, but the fact remains that it does happen. Package thieves may steal deliveries off your deck before you get home, and they may break in to go after some of your bigger ticket items while the family is away. Security systems that include alarms as well as cameras can help you protect your belongings and keep your home safe for the season. Security systems have costs between $750 and $2,000 on average.
Check Smoke and Carbon Monoxide Detectors
If you haven't changed the batteries on your smoke and carbon monoxide detectors in the last few months, this is a good time to do so. In addition, take a second to make sure that each one is working. Press and hold the test button on each one for a few seconds. A loud blast of sound means that they are operational and connected to the circuits.
Keep Flammable Objects at Least 3 Feet from Heat Sources and Flame
If you're lighting candles, heating with a fireplace or wood stove, or you're going to have the stove top going all day, be sure to take a look around and move anything flammable at least three feet away. This will help prevent fires in the event of a stray spark or if a small flame or heat source was accidentally knocked over nearby.
Avoid Overloading Electrical Outlets
Between holiday lights, slow cookers, phone chargers, and other electronics, it's easy to overload a circuit. Consider investing in a few power strips, and capping off unused sections of the outlet, so you can more easily keep track of how many things you're plugging in at once.
Install Smart Plugs
Another alternative is to install some smart plugs. Smart plugs can help manage a circuit's load, and they can also do things like turn off your holiday lights at pre-programmed times. This will help your home stay safer, and can help you manage some of those high holiday energy bills at the same time. Smart plugs have starting costs around $10 to $20.
Keep an Eye on What You're Cooking
It's easy to get swept up in the moment when you have friends and family visiting. Be sure not to turn your back on your stove, though, no matter how much fun is happening. Not only could overcooking ruin your dinner, it could also start a kitchen fire, which would do more than put the festivities at risk.
Enjoy Your Holidays
While it can feel overwhelming to think of everything that needs to get done before the holidays arrive, by taking care of many of these ahead of time, it will help free you up to really enjoy the time spent with family and friends this year. By taking the time to get your maintenance and decorating out of the way, you'll have less to worry about when the events finally arrive. Stay safe and warm this holiday season, and enjoy everything the holidays have to offer.