How much does it cost to install a built-in entertainment center?
Get free estimates from Carpenters near you
Built-In Entertainment Center Cost Guide

Built-in entertainment centers offer dual benefits in that they are functional and decorative. Homeowners usually place entertainment centers in areas where the family congregates, like in the living room or family room. However, installing a built-in entertainment center in a place like a game room, master bedroom, playroom, finished basement, or garage is common. Virtually anywhere a family wants music, television, or entertainment is a candidate for a new built-in entertainment center.
Entertainment centers can be built in a range of styles and materials. This means that they also have a wide range of associated costs. The national average cost for a built-in entertainment center is $5,000 to $15,000. Most people pay around $9,000 for a full-wall solid wood entertainment center with shelving, storage cabinets, and a TV mount. This project's low cost is around $1,200 for a simple yet fully installed floating entertainment center. The high cost is around $30,000 for a full-wall mahogany entertainment center with a hutch and fireplace.
Cost to Install a Built-In Entertainment Center
Built-In Entertainment Center Prices
National average cost
$9,000
Average range
$5,000-$15,000
Low-end
$1,200
High-end
$30,000
What Is an Entertainment Center?
An entertainment center is any piece of furniture designed to hold home entertainment devices like televisions and sound equipment. However, entertainment centers also commonly feature room for decor, books, and media. Some even envelope major areas of the home, like fireplaces. For many homeowners, installing a built-in entertainment center represents an upgrade from the simple, store-bought television stand that holds televisions and stereos. Entertainment centers come in different sizes, shapes, and materials. They can accommodate virtually any entertainment and storage needs.
Custom Built-In Entertainment Center Cost by Type
Entertainment centers can be made in nearly any configuration. Large or small, you can design it to fit any space, from a corner to a full wall. The design chosen often depends on the space available for the entertainment center and its intended use. The home's architectural style also influences which type a homeowner may choose to install. For example, one homeowner may choose a full wall entertainment center for the significant visual impact the center offers. However, another homeowner may choose a floating entertainment center for its minimalistic appearance. Each has a range of costs, depending on the size, material, and detail:
| | |
| --- | --- |
| Type | Average Costs (Materials Only) |
| Floating | $800 - $7,000 |
| Circle | $1,200 - $9,000 |
| Standard | $2,000 - $12,000 |
| Corner | $3,000 - $15,000 |
| Full Wall | $7,000 - $22,000 |
Floating Entertainment Center
Custom floating entertainment centers cost between $800 and $7,000. A floating entertainment center is completely open. The shelves are anchored separately onto the wall rather than being built into a larger cabinet with a frame. This makes a very contemporary style for the room. It is more minimal and uses less material, so they typically cost less to produce. However, most people use a floating system to finish the wall behind it. This can include reclaimed wood wall paneling, stone, or other accent wall, which increases the project's cost.
Circle Entertainment Center
Custom circle entertainment centers range from $1,200 to $9,000 on average. A circle entertainment center has a large, circular outer frame. The circle's interior is generally filled with shelves, but some large units include drawers and cabinets. They tend to be mostly metal but can be made of wood. They are more minimal and designed as a focal point for the room. They are usually smaller than other centers, taking up less space on the wall.
Standard Entertainment Center
A custom standard entertainment center has a cost range of $2,000 to $12,000. This large piece of furniture takes many forms but does not typically cover the entire wall. It may be a low cabinet a TV sits on or a tall hutch. These entertainment centers may have shelves, cabinet doors, or both. They can be smaller and a good fit for small rooms. But they are also available in larger sizes with additional shelving for large rooms. Having one custom-built means that you can determine how much space you use.
Corner Entertainment Center
Custom corner entertainment centers cost between $3,000 and $15,000 on average. These are less common, but they are a good way to save space. Corner entertainment centers usually move outward into the room from the corner and along both walls on either side. This means they take up more space and require more material than a standard unit. For that reason, they tend to be more costly, but they offer many of the same benefits as other types, while benefiting unique seating layouts.
Full-Wall Entertainment Center
Custom full-wall entertainment centers average $7,000 to $22,000. These large pieces of furniture extend from floor to ceiling and cover the entire space. They often contain shelves, cabinets, drawers, and even fireplaces. If the center's back is left open, then the wall behind it may be covered in stone or wood for more dimension. Depending on your needs, the entire wall may have cabinet doors to conceal everything or be fully open to display things. They can be made out of nearly any material and take on many styles, so they have the largest cost range.
Cost of Built-In Entertainment Center by Material
Wood is a popular building material for custom entertainment centers, but it is not the only option. Furthermore, wood comes in many different types. It is possible to customize the appearance of an entertainment center. Some materials are more difficult to work with than others, which may increase the labor costs for custom work. Therefore, the material chosen impacts the final cost of the custom entertainment center.
For example, pine starts at just $2 to $4 per board foot, but acacia wood runs between $10 and $24 per board foot. A "board foot" is a measurement that lumber sellers use when selling wood. Board feet are a measure of volume. For reference, a board foot is a piece of lumber that measures 12" wide, 1" long, and 1" thick. Non-wood materials used in entertainment centers are generally measured in linear feet or square feet. It is common for entertainment centers to feature more than one type of material. Some projects may combine wood and metal, wood and glass, or metal and glass. Some complex entertainment centers may even feature a combination of wood, glass, and metal. In these circumstances, you might need to consider the prices of multiple types of material to estimate your overall project cost. Below is a convenient list of popular custom built-in entertainment center materials. The costs will help you estimate the price of your entertainment center.
| | |
| --- | --- |
| Material | Average Costs (Materials Only) |
| Pine | $2 - $4/board foot |
| Oak | $4 - $6/board foot |
| Cherry | $6 - $10/board foot |
| Mango Wood | $6 - $12/board foot |
| Barnwood | $6 - $13/board foot |
| Mahogany | $9 - $20/board foot |
| Reclaimed Wood | $10 - $12/board foot |
| Acacia Wood | $10 - $24/board foot |
| Teak | $16 - $28/board foot |
| Rattan | $7 - $20/linear foot |
| Metal | $6 - $40/square foot |
| Glass | $12 - $50/square foot |
| Marble | $40 - $100/square foot |
Cost to Build an Entertainment Center
The labor of any custom entertainment center makes up a large portion of the build. It is common for labor to be 2/5 the cost and sometimes up to 2/3 of the total when the homeowner adds features like lighting. This addition may require an electrician at $40 to $120 per hour or specialty carpentry work at $40 to $100 per hour for labor. Building a built-in entertainment center begins with a design plan and a price quote from the contractor. After the homeowner agrees to the price and plan, work commences on building and installing the components in the home. After the construction of all the entertainment center pieces, the labor cost to install the finished pieces may run between $50 and $80 per hour.
Remember that the difficulty of working with some materials may impact the overall cost of labor and that installation challenges may add to the total cost. The more difficult the location is to reach, the higher your labor costs. For example, having it built in a basement, attic, or other hard-to-reach area means the contractor may charge more. However, none of those costs should be a surprise. All costs should appear in the price quote or bid from the contractor you hire for the job. If some costs look too high, or you want to make changes, make sure to do so before work begins on any custom designed pieces. You will pay a lot more to change various details and add extra components after some pieces have already been built or installed.
Built-In Entertainment Center Feature Cost
Some built-in entertainment centers are quite simple and feature a basic set of shelving for various pieces of electronic equipment. However, it is possible to enhance your custom entertainment center with many features like shelves, lights, and drawers. Each of those features is also customizable. One homeowner may choose floating shelves hung around a television for decorative purposes. In contrast, another homeowner may choose limited shelving used solely to place and display vital pieces of equipment like the television and sound system.
Some entertainment centers serve dual purposes with added features like desks, cubbies, or drawers, which allow homeowners to perform multiple tasks at their entertainment center and use the area for storage. In homes with few closets and limited storage space, a built-in entertainment center is ideal for including storage cabinets and drawers. Each of these features has a different cost range. Examine the table below to get an idea of the different costs of various features your builder or contractor can include in your custom entertainment center.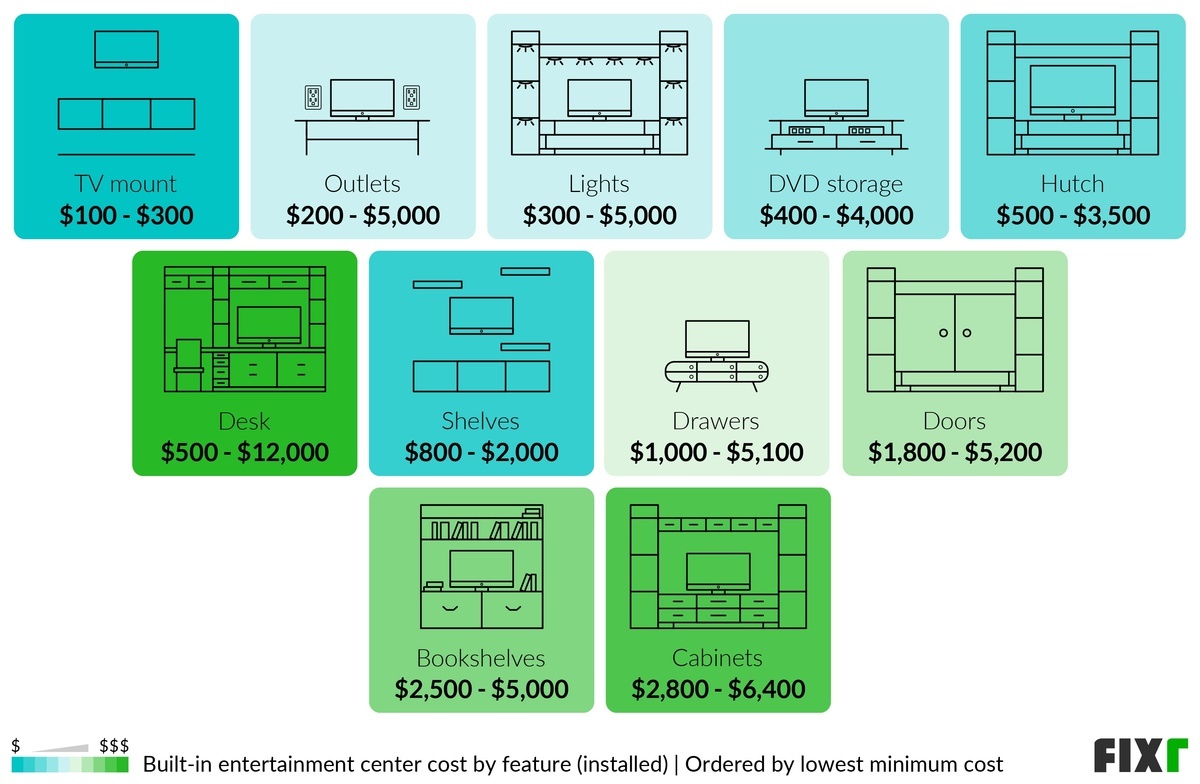 | | |
| --- | --- |
| Features | Average Cost (Installed) |
| TV Mount | $100 - $300 |
| Outlets | $200 - $5,000 |
| Lights | $300 - $5,000 |
| DVD Storage | $400 - $4,000 |
| Hutch | $500 - $3,500 |
| Desk | $500 - $12,000 |
| Shelves | $800 - $2,000 |
| Drawers | $1,000 - $5,100 |
| Doors | $1,800 - $5,200 |
| Bookshelves | $2,500 - $5,000 |
| Cabinets | $2,800 - $6,400 |
Entertainment Center With a Fireplace Cost
Adding a fireplace to a custom built-in entertainment center is a popular option and adds character and functionality to the room. Not only can the family use the fireplace for heating, but an actively burning fireplace creates a welcoming and cozy atmosphere for family gatherings, parties, or quiet evenings. It is common to include a fireplace at the base of the entertainment center and install a television above it.
Homeowners who do not want a television may use the fireplace as the focal point and install a sound system around the fireplace, with decorative objects and shelving surrounding it. In most cases, it is possible to purchase a fireplace separately and ask the contractor to integrate the fireplace into the final design plan. The table below shows how your costs may change depending on the type of fireplace you choose for your entertainment center.
| | |
| --- | --- |
| Fireplace Type | Average Cost Range (Installed) |
| Gel | $5,130 - $18,000 |
| Bioethanol | $6,500 - $18,000 |
| Infrared | $7,500 - $19,000 |
| Electric | $7,500 - $20,000 |
| Gas | $8,500 - $23,000 |
| Wood-Burning | $8,000 - $45,000 |
Gel Fireplace Entertainment Center
The cost to install a built-in entertainment center with a gel fireplace ranges from $5,130 to $18,000. Like bioethanol fireplaces, they are more affordable fireplaces. Gel fireplaces do not need any ventilation. Any company or contractor who installs entertainment centers can easily add this option to the project. There are free-standing and wall-mounted models. A can of fuel generally offers a few hours of burning time. The only drawback to gel fireplaces is that they do not produce much heat, so they are normally installed in small rooms.
Bioethanol Fireplace Entertainment Center
At the cost of $6,500 to $18,000 for the project, including a bioethanol fireplace is one of the most affordable options when you want to include a fireplace with your entertainment center. Bioethanol is an energy source that does not require a vent and may be used with or without heating activated. Therefore, you could run your bioethanol fireplace during the warmest months without worrying about creating too much heat in the home during a hot summer day. Bioethanol fireplaces also do not require an outlet, so you don't need to worry about placing it near an outlet or installing an extra outlet.
Infrared Fireplace Entertainment Center
The cost to install a built-in entertainment center with an infrared fireplace is between $7,500 and $19,000. Infrared fireplaces are fairly inexpensive to purchase and use. They come in a range of sizes, so you need to purchase it first, then have the entertainment center built around it. Like electric and gas fireplaces, it can be modern and suspended in the wall or have a more traditional appearance. Ensure that there is an electrical outlet behind the area where you want to install it. To fully build in the fireplace, this is a full-wall installation.
Electric Fireplace Entertainment Center
The cost to install a built-in entertainment center with an electric fireplace ranges from $7,500 to $20,000. Electric fireplaces are also inexpensive to purchase and install. They plug into an outlet, so ensure there is one in the area. The entertainment center is built around it, so you must have the fireplace on hand for measurements before the building can begin. These fireplaces come in a range of sizes and styles and can complement any type of furniture design. Due to the nature of the installation, this is likely a full-wall entertainment center.
Gas Fireplace Entertainment Center
The average cost to install a built-in entertainment center with a gas fireplace is between $8,500 and $23,000. Gas fireplaces require a gas line run to the area. Some may also be required to vent or need a chimney, although not all need this. Their installation is more involved than the infrared or electric fireplace. Like those, however, you need the fireplace on hand before measuring and building the entertainment center. Like the other types of fireplace installations, this is a full-wall entertainment center.
Wood-Burning Fireplace Entertainment Center
A built-in entertainment center with a new wood-burning fireplace costs $8,000 to $45,000. Wood-burning fireplaces are not as common today in new construction as they were a century ago. However, they offer a classic ambiance that homeowners may appreciate. Wood-burning fireplaces need good ventilation. The higher installation cost comes from the need to build a chimney. Homeowners with older homes may feel a wood-burning fireplace is best for the architectural style of the home. Wood-burning fireplaces are normally part of large or full-wall entertainment centers.
Built-In Entertainment Center Styles
An entertainment center is essentially a piece of furniture. This means that it can have various styles, finishes, configurations, and materials. The exact style does not enormously impact the project's cost. Materials and features, such as doors, shelves, and fireplaces, are the biggest driving factors for the cost. Some pieces of furniture may work better in specific materials than others, which may influence their costs. However, most styles can be constructed using a wide range of materials, with the final finish dictating their appearance.
Rustic Entertainment Center
Rustic entertainment centers can be created in many ways. You can use barnwood or reclaimed wood that has not been refinished for an authentic patina. You can also use a softwood, such as pine, that is available in rough-cut boards. This allows you to get a rustic look for less money. Depending on the finish you desire, you can also use any type of wood and distress it for a rustic look. Rustic entertainment centers can have shelves, doors, fireplaces, and other features that more traditional furniture may have.
Farmhouse-Style Entertainment Center
Farmhouse-style furnishings are designed for practicality. In this sense, it makes the most sense for your entertainment center to have built-in storage and possibly a fireplace. However, for some people, the farmhouse style can also run along the same lines as a rustic look. You may want to have it constructed out of barnwood or reclaimed wood for authenticity. However, you can also add a distressed finish to any other material for a similar look. Most opt for a more durable wood because farmhouse furniture is built to last, but pine can be used.
Distressed White Entertainment Center
If you like the look of distressed furniture, you can get this look on your entertainment center. A distressed finish can be applied to any wood. It is most commonly applied to a paint-grade wood rather than exotic wood, but it does not have to be. To get the look, the wood is "distressed" first by sanding and adding pinholes. Then, it is painted, and the paint is sanded off in sections, then given a wax finish. The finish can often be expensive, so most people choose an inexpensive paint-grade wood to keep costs down.
Modern Entertainment Center
Modern entertainment centers can take on many different styles. Modern is a very relative term, so many styles can fit here. Rustic modern is a popular option that could make good use of reclaimed wood. Industrial styles can also be considered a modern look. Modern technically stretches back to the 1950s in style and may also include contemporary styles, such as floating entertainment centers and sleek minimalist designs. Most modern designs have open shelving, but you can also use slab doors.
Traditional Entertainment Center
Traditional entertainment centers can be made in a wide range of ways. They are usually solid wood and may be painted or stained. They can be very plain in style, with minimal molding or decorative features, or extremely elaborate. They can also come in a range of sizes, from small half-wall or console styles to full-wall features with bookcases and hutches. They may also include marble or glass as part of their design. It is most common for the traditional furniture pieces to match your home's architecture for the best look.
Industrial Entertainment Center
Industrial entertainment centers also come in many forms. Most commonly, they may be made of a combination of wood and metal, but they do not need to be. Metal pipe frames, rustic-modern designs with wrought iron, and even deceptively simple rough-cut pine furniture can fall into this category. Industrial style takes its cues from former industrial spaces, such as lofts. They are meant to be functional rather than fashionable, so they are often more minimal. They may be floating and often include open shelves of some kind but can have simple cabinets.
Barn Door Entertainment Center
If you want to elevate your rustic design, include a set of barn-style doors to cover the TV. These can be made of reclaimed wood for the most authenticity, but they can be made out of any wood. They are usually given a distressed finish if they do not have a natural patina. Because actual barn doors would be much too large for this purpose, they are usually smaller replicas installed in this area. The rest of the entertainment center can be open shelving, full cabinets, or a mixture of features. In this instance, the barn doors are the focal point of the design.
Mid-Century Entertainment Center
If you are looking for mid-century, you are likely investing in a full-wall furniture piece built to match your home. Built-in shelves, storage, and seating were extremely popular as part of the mid-century modern design. The pieces have very clean, straight lines and a minimalist concept. You should use natural wood, either reclaimed or a new cut. The wood is stained rather than painted, so purchase furniture-grade and not paint-grade. The center may have open shelving or doors, depending on your preferences.
Outdoor Entertainment Center Cost
Outdoor entertainment centers have more considerations than indoor. They can be built in many of the same styles and using the same materials. From this standpoint, your costs are very similar to an indoor entertainment center.
However, you may have additional costs in creating a setup to withstand the elements and create a functional and beneficial outdoor living space. Outdoor entertainment centers must have a TV designed for the outdoors. This means that it must be waterproof or water-resistant, depending on its location. These can cost up to twice what an indoor model of the same size and type costs.
You also need to make sure that the unit is out of the sun and other elements for the best viewing. This may mean adding a pergola, gazebo, awning, or other structure to the area above or around the entertainment center. So, while the entertainment center's cost may not differ, you may have other costs involved in the project, depending on your location, where you plan on putting the entertainment center, and what structures you have.
Entertainment Center vs TV Stand
Entertainment centers and television stands are used for similar purposes. However, TV stands are usually much simpler and less expensive, even if they are custom built. TV stands cost between $150 and $3,500 when purchased and assembled by a handyman or similar professional. Custom entertainment centers start at a higher place and cost between $5,000 and $15,000. A TV stand may hold your television and some sound equipment. In contrast, an entertainment center may hold the television and several shelves of decorative objects, sound equipment, and features like a fireplace and lighting. A television stand is a simple choice for an apartment dweller or someone who cannot modify their home. An entertainment center, on the other hand, offers homeowners the chance to enhance the appearance and functionality of their home, albeit at a higher cost.
| | |
| --- | --- |
| Type | Cost (Installed) |
| TV Stand | $150 - $3,400 |
| Entertainment Center | $5,000 - $15,000 |
Enhancement and Improvement Costs
Paint an Entertainment Center
Some entertainment centers can be custom built and come finished in your choice of color or stain. Others will be built using paintable wood and require you to hire out the painting later. The average cost of hiring a painter is between $40 to $60 an hour. Depending on your center's size, it can take up to three or four hours to paint, plus the paint's cost and other supplies. Expect to pay at least $180 to $500 to have an entertainment center painted when you include materials and labor.
Additional Considerations and Costs
Wiring & cords. When designing your entertainment center, make sure to plan for the wires and technology installed there. In addition to having the needed outlets, you should also speak to your builder about ways to conceal cords and wires so that they are not visible.
Discounts. If you are combining your entertainment center project with a remodel or another larger project, your contractor or carpenter may offer you a discount on the project.
Preparation. It is a good idea to have your TV, fireplace, and other items that the entertainment center is built around on hand when you start the design process. Having them on hand allows your contractor to build to the correct size more easily.
TV size. When purchasing a television, remember that screen size refers to the diagonal measurement from one upper corner to the opposite lower corner. You may want to measure the actual width and height to ensure the space built for the TV is accurate.
Location. Costs are similar no matter where the entertainment center is installed. Costs may increase in the installation challenges and the amount of carpentry, electrical work, and custom design services required to complete the project.
DIY. Building your own store-bought entertainment center is possible. Still, it is best to rely on the expertise of a contractor to complete a project that may require carpentry, electrical work, custom woodcutting, and design expertise.
Permits. If the entertainment center changes the structure of the home, your contractor may need to pull a permit. Electrical work usually requires a permit, too. Always ask your contractor whether the project needs a permit.
FAQs
Are big entertainment centers outdated?
Built-in entertainment centers are not outdated. What has changed are the most popular styles. Many homeowners choose modern or minimalistic entertainment centers over traditional facades. Entertainment centers have increased in popularity with the advent of huge televisions and sound systems worthy of a movie theater.
What kind of paint is best for an entertainment center?
This depends on what your entertainment center is made of. Paint that is good for metal, MDF, or laminate may not be a good choice for wood. Likewise, if your wood is paint-grade, it must be treated differently from furniture-grade. Your best bet is to consult a professional painter on what they recommend for your unit's material type.
How do I choose an entertainment center?
Choosing an entertainment center means looking at several factors, including how you want to use it, the architectural style of your home, your personal opinions on style, and your budget. At its core, your entertainment center should offer a beautiful and helpful option for enjoying your television, sound system, or other entertainment devices.
The information provided by our cost guides comes from a great variety of sources. For more information, read our Methodology and sources.