How much does it cost to repair a ceiling?
Get free estimates from drywall contractors near you
Ceiling Repair Cost Guide
Updated: October 28, 2022

To provide you with the most accurate and up-to-date cost figures, we gather information from a variety of pricing databases, licensed contractors, and industry experts.
Just like your home's roof, the ceilings should also be in good condition to protect you and your loved ones. Ceilings are overlooked but important parts of every room, and they must be cared for. Over time, various issues can arise with ceilings, including holes, cracks, sagging, and water damage. When issues occur with your ceiling, it is important to call professional repairmen as soon as possible to resolve the problems.
The national average cost for ceiling repairs is $250 to $850. Most homeowners pay $450 to patch a small hole in a drywall or plaster ceiling. At the low end of the price range, you could spend as little as $100 to replace a damaged drop tile in a suspended ceiling. At the high end of the spectrum, some people spend up to $2,000 to repair serious ceiling damage caused by a severe leak and repair the leak, so further damage does not continue.
Ceiling Repair Price
Ceiling Repair Cost
National average cost
$450
Average range
$250-$850
Low-end
$100
High-end
$2,000
Ceiling Repair Cost per Square Foot
The cost of ceiling repair per square foot ranges from $50 to $100. Most ceiling repairmen and repair companies have set fees for certain repairs, but they may adjust prices based on the area that needs fixing. Some may have set repair rates for each square foot of ceiling that needs fixing. You may also pay a piece rate for ceiling tiles from standard or suspended ceilings instead of paying by the square foot.
Ceiling Repair Cost by Type
You can expect to spend between $50 and $100 per sq.ft. or $5 to $50 for ceiling repairs, depending on the type of ceiling needing repairs. One of the main factors influencing your ceiling repair cost is the type. Many types require repair, from classic drywall to plaster, popcorn ceilings, wood, and tile. The type impacts what repairs need to be done and the cost of the materials in the first place.
For example, the cost to repair a plaster ceiling may differ from the average popcorn ceiling repair cost. If it is water damage-related, popcorn and drywall ceilings will see more damage than plaster. Plaster cracks more often than others, so it may require more crack repair over time than other materials. Drop tiles can crumble because of water damage. They most commonly need replacing because of holes or tears in the tile. The table below shows common ceiling materials and the average costs per sq.ft. to fix each, except for drop tiles, which are priced by quantity rather than square footage.
| | |
| --- | --- |
| Ceiling Type | Repair Cost |
| Drop Tile | $5 - $50/tile |
| Concrete | $50 - $80/sq.ft. |
| Drywall | $50 - $80/sq.ft. |
| Plaster | $65 - $90/sq.ft. |
| Wood | $70 - $90/sq.ft. |
| Stucco | $75 - $100/sq.ft. |
Cost to Repair a Ceiling by Type of Repair
You will spend between $100 and $2,000 on your ceiling repairs depending on the exact type of repair needed. Many issues can arise with your ceiling that create a need for professional repair. Cracks and holes are the most common ceiling repairs, but other issues occur like seam or beam problems, leaks, water damage, or asbestos. The table below shows common types of ceiling repair and the average repair costs for each.
| | |
| --- | --- |
| Repair Type | Repair Cost |
| Crack | $100 - $500 |
| Cracked Paint | $100 - $500 |
| Hole | $100 - $600 |
| Seam | $150 - $500 |
| Joist | $150 - $700 |
| Beam | $150 - $1,000 |
| Water Damage | $200 - $1,500 |
| Fall Through | $250 - $750 |
| Sagging | $250 - $1,000 |
| Asbestos | $400 - $500 |
| Leak | $500 - $2,000 |
Ceiling Crack Repair
Repairing a crack in the ceiling averages $100 to $500. Cracks may appear for various reasons, such as changing temperatures, excess humidity, too much weight or pressure, and accidental impacts. Smaller hairline cracks are cheaper to repair than larger and deeper ones because they are typically superficial. As the name suggests, these cracks may be as thin as a strand of hair and may not even be noticeable to the naked eye. The usual repair method is to patch or fill the cracks with spackling paste.
Cracked Paint Repair
If you have cracked paint on your ceiling along with other damage, you will pay $100 to $500 to have cracks filled or otherwise repaired. In some instances, they will be sanded and painted with touch-up paint. In other instances, there may be damage that needs to be repaired along with the paint. They will fix what needs it and then repaint the ceiling after the work is complete. This increases the costs significantly.
Repair a Hole in a Ceiling
Repairing a hole in a damaged ceiling costs $100 to $600, depending on the hole's size and material. Small holes can be filled with spackling paste and patched over quickly and easily, but bigger holes require additional work. The job takes longer when dealing with ceilings like popcorn or stucco. The cost may also depend on the type of hole and its location. For example, a small hole in the middle of the ceiling could be simple, but a hole in the corner could cost more for the difficult access.
Ceiling Seam Repair
Fixing ceiling seams ranges from $150 to $500. Seam repairs are a common problem with drywall ceilings. You may notice loose sections of drywall tape or bubbling along the seams. The damaged or loose sections must be removed, and new tape is applied to fix the seam. This repair should be performed by someone who is experienced with drywall and knows how to fix this issue and prevent it from happening in the future.
Ceiling Joist Repair
Fixing ceiling joists costs between $150 and $700. Joists provide structure and stability to the ceiling, running between the beams. Cracks and weaknesses appear in joists from wear and tear or if heavy loads are placed on top of them. It is common for joists to require reinforcing with patching material. If there is severe damage to the joists, they may need more severe repairs or a total replacement.
Ceiling Beam Repair
Fixing beams in the ceiling ranges from $150 to $1,000. Beams can be decorative and functional elements of your ceiling. They can add a unique sense of style and elegance to a room and provide structure for the ceiling. But they may sag, crack, or wear down, requiring patching and reinforcement to get them back into top condition.
Ceiling Water Damage Repair
Fixing a water-damaged ceiling costs $200 to $1,500. If the damage is spotted early and only a small part of the ceiling is affected, the job might not be big or expensive. However, water damage spreads quickly, especially in materials like drywall. This can lead to very high costs because the damaged area may need to be removed, replaced, and refinished. Also, you may have to spend money to repair the cause of the water damage.
Fall Through Ceiling Repair
Fixing the ceiling after someone has fallen through it costs between $250 and $750. The damaged area must be patched and replaced, and costs can add up if there is significant beam damage or the ceiling must be refinished in stucco or popcorn. New insulation might also be needed with other replacement materials.
Sagging Ceiling Repair
Fixing a sagging ceiling averages $250 to $1,000. A sag in the ceiling is usually a serious sign of damage, so contact a professional as soon as possible. Sags might be caused by water damage, beam weaknesses, or too much weight on the ceiling from above. New beams or reinforcements may be needed to balance the ceiling. In some cases, solving the cause of the water damage stops ceilings from sagging, but water is not always the culprit. That is why you need a professional to diagnose and fix the issue.
Asbestos Ceiling Removal
Expect to pay between $400 and $500 or from $3 to $7 per sq.ft. for asbestos removal. Asbestos may be present in certain parts of the insulation behind the ceiling and is commonly found in popcorn ceilings. Many people have popcorn ceilings tested for asbestos and get the asbestos removed because it poses a serious threat to human health and safety. If you need asbestos removal, you will have to vacate your home until the process is complete for your safety.
Ceiling Leak Repair
If there is a leak in the ceiling, it costs between $500 and $2,000 to fix it. This can be one of the most serious problems for homeowners to deal with because leaks can do a lot of damage to the ceiling materials, so large sections might need to be removed and replaced. The leak source also must be identified, and pipes may need repairing or replacing, so the costs add up. Even a small leak can cause big damage to ceilings when not properly addressed, so be sure to keep an eye on things.
Cost to Repair a Ceiling by Solution
Most homeowners spend between $100 and $1,500 on ceiling repair based on the type of solution needed. A wide range of repair methods may be used to fix or treat your ceiling when something goes wrong. Ceilings with holes or cracks might need to be patched or caulked, while plaster ceilings that have suffered water damage might need to be replastered. The table below shows common ceiling repair solutions and average prices for each.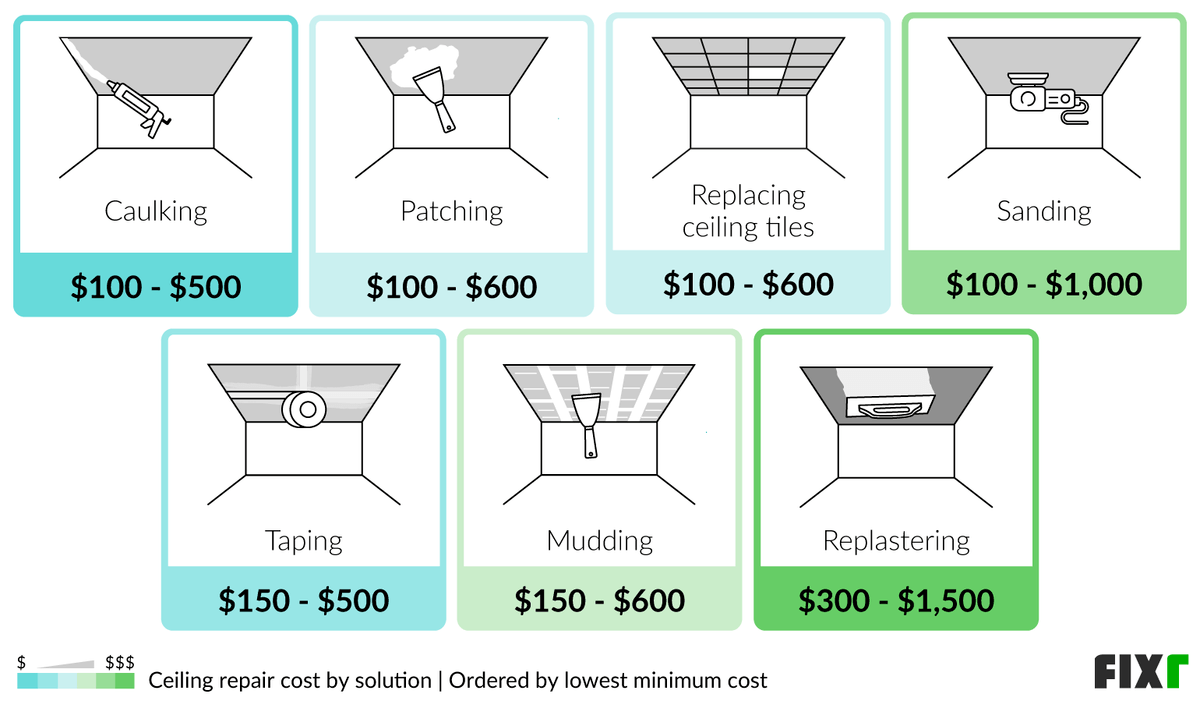 | | |
| --- | --- |
| Solution | Repair Cost |
| Caulking | $100 - $500 |
| Patching | $100 - $600 |
| Replacing Ceiling Tiles | $100 - $600 |
| Sanding | $100 - $1,000 |
| Taping | $150 - $500 |
| Mudding | $150 - $600 |
| Replastering | $300 - $1,500 |
Ceiling Caulking
Having a ceiling caulked by a professional ranges from $100 to $500. Caulking is a filler and sealant material commonly used in repairs and renovations. This is usually the correct method when cracks or fissures appear in the ceiling. Caulking can fill in cracks and prevent them from getting any bigger. It is important to choose the right caulk for ceiling repairs and consider whether you want to repaint after the cracks have been filled. The surface will be sanded to a smooth finish. However, it may not match the ceiling color exactly. Some people choose to repaint to remove any indication of damage or repair.
Patch a Drywall Ceiling
Patching damage in the ceiling costs between $100 and $600. Patching is one of the most commonly used ceiling repair methods when holes appear. The full cost to patch a hole depends on the size, local labor rates, material, and special finishing. There may also be the need to remove certain areas of drywall before patching, which could add to the cost. Your repair professional can ensure that the patch is done properly and will withstand the test of time.
Replace Ceiling Tiles
If you have a drop ceiling, also known as a suspended ceiling, you will spend between $100 and $600 to replace ceiling tiles. This depends on the type and size of the tiles, the installation process, and how many tiles need to be replaced. Suspended ceilings have a lot of similar repairs to drywall or other materials. However, replacing tiles often makes things easier and less expensive.
Ceiling Sanding
Expect to pay between $100 and $1,000 for ceiling sanding. Sanding is a good solution for people dealing with old-fashioned texture ceilings that they want to smooth down. It can also be wise to sand a ceiling before painting it, and it is recommended to sand a drywall ceiling after using joint compound or treating seam damage. Ceiling sanding as a repair of its own is less expensive, but it is usually part of a larger project.
Taping a Drywall Ceiling
Taping drywall costs between $150 and $500. Taping connects pieces of drywall into a solid structure, ready to be primed, painted, and plastered if necessary. Tape must be applied with care and sealed in place with joint compound. It can be useful for treating seam damage. It's important to hire an expert that knows how to properly tape and finish a drywall ceiling so that the tape does not come loose or create visible seams.
Ceiling Mudding
The cost for mudding a ceiling ranges from $150 to $600. Mudding is when coats of drywall compound are added to the joints and indentations in drywall sections. It is used to hide seams, so it can be very effective for dealing with loose seams or other seam damage or cracks. This process requires precision and can get messy when not done properly, so it is best left to the pros.
Replaster a Ceiling
The cost of replastering a ceiling varies from $300 to $1,500. The total price depends on how big the ceiling is, how easy it is to access, and what replastering is required. Plaster is a durable material, but it will be susceptible to damage over the years. Cracks can happen because of settling. There may even be water damage that needs to be removed and replaced. In these cases, replastering can be an effective solution for existing plaster ceilings. You may want to replaster the repaired area or choose to replaster the entire ceiling for a uniform finish.
Ceiling Repair Cost by Location
Another factor that impacts the cost of your ceiling repairs is the location. You will spend $100 to $1,000, depending on where the repair is located. A ceiling in the bathroom may suffer from different problems than a garage ceiling, leading to a different cost. The average mobile home ceiling repair cost is in line with some rooms in a standard home.
Several different problems cause ceiling damage in the various areas throughout the home. The kitchen and bathroom, for example, are prone to water damage, mold and mildew, and other moisture-related issues. In the garage or basement, simple cracks and holes from settling could cause issues. Garages may even have ceiling damage from pests and wildlife like raccoons, birds, and others. Mobile homes are usually prone to weather-related damage and water damage. Ceiling repair could be required after moving the mobile home to a new location due to settling or shifting. The table below shows common ceiling locations around the home and repair costs for each.
| | |
| --- | --- |
| Ceiling Location | Repair Cost |
| Garage | $100 - $800 |
| Living Room | $100 - $800 |
| Kitchen | $100 - $1,000 |
| Bedroom | $150 - $700 |
| Mobile Home | $150 - $900 |
| Bathroom | $200 - $1,000 |
| Basement | $200 - $1,000 |
Labor Cost to Repair a Ceiling
Of the average $450 to repair a ceiling, approximately $300 makes up the cost of labor, with the rest making up the cost of materials. Contact ceiling repair companies, experienced contractors, or handymen with ceiling experience if your ceiling needs repair. Depending on who you hire, expect to pay between $50 and $150 per hour in labor costs for ceiling repairs. Some companies and contractors have call-out fees of between $50 and $100, which may be waived if you hire them. Others charge extra if you live far away. The location and severity of the repair will be the primary factor determining cost, with more difficult to access areas costing more than simple repairs that are easy to reach.
When a contractor comes out to address a ceiling repair, they will typically take the time to diagnose the problem and see what exactly has caused the damage. If the cause has not been remediated, such as in the case of a leak, they may have you repair the leak first so that they are not repeating their work in a few months. Then, they will determine the best method of repair and the materials they need. They will complete the job in 1 to 4 hours, depending on how much work needs to be done.
Signs You Need Ceiling Repair
It is usually easy to spot signs that a ceiling requires repairs. You should be able to identify holes, leaks, cracks, and water damage in your ceilings, and it is easy to spot issues like sagging and loose seams. Some hairline cracks and little holes are not huge issues and do not always require immediate repair, but you may still want to have them patched or caulked. If you notice discoloration in the ceiling, this is usually a sign of water damage or mildew, and there could be a leak. So, not only will you need to address the ceiling repair, but you will also need to handle the leak or water damage.
Maintenance
A good way to reduce the risks of ceiling issues is to keep your ceilings in good condition. There are plenty of things homeowners can do to ensure their ceilings remain strong and problem-free. Repainting your ceiling every few years is a good idea to deal with peeling paint and fading colors, and ceilings should be cleaned with brooms or dusters. Removing dirt and dust can prevent stains and marks from appearing. You should also open windows or provide adequate ventilation in rooms prone to moisture build-up or water damage, such as the kitchen or bathroom. Remove spots or stains appearing on the ceiling as quickly as possible. You can do most ceiling maintenance tasks on your own, or you can call in a professional contractor to inspect your ceilings. Hiring an inspection professional costs between $100 and $200 per visit.
Emergency Ceiling Repair
In some situations, you might need the ceiling repaired immediately. Many contractors and companies offer emergency same-day repair services, but you must pay $100 to $200 extra. If you have a leak and water is dripping through the ceiling or a ceiling section broke away after something or someone fell through it, it is usually best to get the damage repaired soon. If you are not sure whether you have to pay emergency rates, ask when you call.
Repair vs Replace a Ceiling Price
There are situations where a homeowner hesitates between having the ceiling repaired or replacing it with a new one. A new ceiling can be a good option to revitalize a room, especially if you have had the same ceiling for a long time. This might be the right option if your existing ceiling is old, weak, or you feel the room could benefit from a full replacement.
It is also worth considering a replacement if the repair costs are close to the same price as a new ceiling. Although the average cost to repair a ceiling is $250 to $850, there are some instances where the costs can go much higher. Since replacing an entire ceiling costs $1,000 to $3,000, your contractor may suggest replacement instead of repair because you will get a new ceiling instead of just one new or repaired area. This is particularly true if you have an old-fashioned ceiling like popcorn or stucco because it costs a lot to fix. It may be cheaper to fit a new flat ceiling instead. The table below shows a comparison of the projects and their average costs.
| | |
| --- | --- |
| Type of Job | Average Cost |
| Repair | $250 - $850 |
| Replace | $1,000 - $3,000 |
Enhancement and Improvement Costs
Ceiling Inspection
You pay around $100 to $200 for ceiling inspections. During this service, a professional contractor inspects your ceilings and looks for cracks, holes, and signs of structural damage. An inspection may be performed as an additional service when you have ceiling repairs performed or even as a standalone service to check on your ceiling over time and make sure there are no repairs to be done.
Popcorn Ceiling Removal
Popcorn ceilings were a popular choice many decades ago but are seen as less fashionable today and widely associated with asbestos. Therefore, while having ceilings repaired, some people may decide to go ahead and have the popcorn finish removed. The average cost of removing a popcorn ceiling is between $900 and $2,500. You will pay more for the removal if there is asbestos in the ceiling that requires professional abatement. However, if there is no asbestos, the popcorn is usually just scraped and sanded, and then the ceiling will be repainted with a flat texture.
Paint a Ceiling
Sometimes, a fresh coat of paint is needed to freshen up your ceiling, especially if the previous paint is peeling or fading. Expect to pay between $120 and $300 to have your ceiling painted. Ceiling painting may be a part of the repair process, but it could also be a way to enhance your ceilings and breathe new life into them before any repairs arise. The size of the ceiling and the difficulty of access affects what you pay.
Texture a Ceiling
Adding texture to a ceiling can be a good way to draw attention to it, changing the look and feel of your room. This process costs $500 to $1,500, depending on the size and texturing type. Several textures are available, including popcorn and other unique ceiling finishes. You might want to use texture to hide imperfections you cannot otherwise get rid of without a lot of money or work. Discuss your options with your repairman or painter.
Additional Considerations and Costs
License. Work with licensed professionals when repairing your ceiling. License rules vary from state to state, so check the situation in your local area. Licensed pros tend to be the most reliable.
DIY. You can do simple ceiling repairs on your own if you feel you have the necessary skills and experience. You can fill in little holes with spackling paste and buy a caulk gun to deal with small cracks with detailed tutorials and repair guides online. If you have any doubts, contact a professional.
Added value. Cracks and damage in the ceiling can impact your home's value, while clean, flat, well-maintained ceilings make it more valuable. Keep this in mind when selling your home.
Insurance. Your home insurance should cover most types of ceiling damage. For example, water damage caused by plumbing issues should be covered. Check the details of your policy to see what is covered.
Electrical outlets. If electrical outlets are located around the part of the ceiling that requires repair, precautionary measures should be taken to prevent them from getting dirty or broken. They may even need to be removed and reinstalled by an electrician.
Radiant ceiling. Repairing radiant ceiling heat systems costs $150 to $700. Radiant ceiling heat is a useful and reliable heat source in a home or building and is well-suited for garages and similar spaces. A radiant ceiling heater can break down, and parts may need to be replaced.
FAQs
How do you repair a water-damaged ceiling?
This depends on the extent of the damage. The water source must be found and fixed. The damaged sections must usually be removed and replaced. A professional typically charges between $325 and $1,100.
Do I need to replace the ceiling after a leak?
You do not necessarily have to replace the entire ceiling, but damaged sections most likely need to be replaced. It depends on the leak's severity and how quickly it is identified.
How long does it take for a ceiling to dry after a leak?
This depends on how wet the ceiling was and how long the leak occurred. It usually takes between two weeks and a month.
How do I know if my ceiling is going to collapse?
Ceilings that are close to collapse should show serious signs of damage, sagging along the beams or in other areas.
Should I be concerned about cracks in my ceiling?
Not necessarily. Many ceilings have faint hairline cracks that are not anything to worry about. Big cracks, however, can be a cause for concern. Watch for cracks with sagging or cracks that run across the ceiling and down the wall.
Can you plaster over a cracked ceiling?
Technically, you could, but it is best to deal with cracks before applying plaster. Cracks should be treated with caulking to fill them, and structural weaknesses causing the cracks should also be addressed before plastering.