How much does it cost to hire a drapery cleaning service?
Get free estimates from House Cleaning Services near you
Drapery Cleaning Cost Guide

Drapery and curtains are found in many homes, providing privacy and shade when needed. They also enhance the look and feel of interior spaces, with a large range of colors, patterns, and styles. Drapery typically includes curtains and other fabric window coverings, but blinds are another popular choice in homes today. Unfortunately, window treatments are a dust trap, attracting dirt, pollutants, and more as time goes by, so it needs to be cleaned regularly.
The national average cost for professional drapery cleaning is $120 to $300, with most homeowners paying about $180 for two sets of velvet-pleated curtains to be professionally dry cleaned. At the low end, you could spend as little as $60 on a single set of curtains being cleaned, while at the high end, some people spend as much as $400 to have two sets of silk eyelet curtains cleaned by hand.
Drapery Cleaning Price
Drapery Cleaning Cost
National average cost
$180
Average range
$120-$300
Low-end
$60
High-end
$400
What are Draperies?
The term draperies describes many window coverings, including drapes covering the window to the floor. However, this also includes curtains, blinds, and other window treatments, for the sake of professional cleaning purposes. Draperies come in various materials, many of which cannot be cleaned using traditional washing methods, which is often why professional services are sought. Curtains refer to window treatments that cover the window but may not go all the way to the floor. However, the terms are sometimes used interchangeably.
Drapes Cleaning Cost
The average cost to clean drapes is usually calculated per set of drapes, running between $75 and $150 per set. Draperies are cleaned the same way as curtains, using methods like dry cleaning and hand washing. Steam is also a method that is available for drapes. Usually, these services are handled by specialized professionals, but some furniture and upholstery cleaners or floor cleaners may also offer this service.
Drapes can be cleaned by steam or dry cleaning, which are the most common methods. Some companies steam clean the drapes in place to save the removal and rehanging, as well as the cost of transporting the drapes off-site and returning them once they are cleaned. Some drapes require being hand-washed if they are made of a more delicate material. The more complex and in-depth the method, typically, the more you will spend.
The total cost of drapery cleaning varies based on a range of factors. The size of your drapes or curtains is often one of the most important factors, as well as how many sets you have. More sets lead to higher prices, but many companies offer discounts if you request to clean multiple sets. The curtain material impacts the cost because certain delicate materials may require more detailed washing efforts.
Dry Clean Drapes
You can expect to spend $75 to $200 per set to dry clean drapes. This varies based on the size of the drapes, the material, and how much dirt needs to be removed. Depending on the type of material, some drapes may be dry clean only or best-suited to dry clean them in general, such as satin or taffeta, crushed velvet, and drapes with linings, complicated pleats, or beading and other embellishments. If you need to clean multiple sets, you may be able to get a discount on the service by having them all done at the same time.
Off-Site vs On-Site Drapery Cleaning
Expect to pay an extra $25 to $60 per set for on-site cleaning, making the total cost $145 to $360, instead of the $120 to $300 it costs to clean drapes off-site. Most companies offer to clean your drapes on-site at your home or off-site at their facilities. Often, you pay extra to have them cleaned on-site, but it is much faster and more convenient, with the average job being done in just a few hours. Off-site cleaning takes a few days because the drapes are removed, transported, cleaned, brought back, and rehung. In the table below, you'll see the cost of each type of service compared.
| | |
| --- | --- |
| Method | Cost per Set (Labor Included) |
| Off-Site | $120 - $300 |
| On-Site | $145 - $360 |
Curtain Cleaning Prices by Method
The average cost to clean curtains ranges from $60 to $200 per set, depending on the method used. Several different methods are used to clean drapery, including dry, on-site cleaning, hand washing, and machine washing, usually done using industrial laundry machines specially designed for draperies and larger items. In the table and sections below, you will see the most common methods, their costs, and other factors.
| | |
| --- | --- |
| Method | Cost per Set (Labor Included) |
| Dry Cleaning | $60 - $150 |
| Machine Washing | $75 - $150 |
| By Hand | $150 - $200 |
Dry Cleaning Curtains
In general, the cost to dry clean curtains ranges from $60 to $150 per set, depending mostly on the curtain type, material, and level of cleaning. Certain curtain types or particularly dirty curtains need to be dry cleaned for longer or may require lower temperatures and pressing to reduce the risks of shrinkage and wrinkles, which adds to the cost.​
Machine Washing Curtains
Like dry cleaning, machine washing requires specialty equipment for curtains. Usually, it costs between $75 and $150 per set, with specialty washing requirements or additional curtains adding to the total project cost. You may be able to machine wash curtains at home on your own, but be sure to follow the instructions carefully if you do so. Often, professionals offer a better result because they have the right equipment for the job.
Hand Washing Curtains
If your curtains need to be hand washed, you will spend about $150 to $200 per set, depending on the material, the type of washing required, and how much dirt needs to be removed. Hand washing is preferred for certain styles of fabrics or draperies and may be the only way that you can clean some products. Be sure to consult with a professional before DIY hand washing curtains so that you do not damage the materials.
Curtain Cleaning Cost by Type
You will spend between $60 and $200to clean curtains, depending on the type of curtains or drapes that you have in your home. There are several curtain types out there today, including everything from standard tab top to eyelet styles. The cost varies based on which type of curtains you have. This is because some curtain styles are better suited to certain methods. In the table below, you will see a list of the common curtain types, their average cleaning costs, and the best method.
| | | |
| --- | --- | --- |
| Curtain Type | Best Method | Cost per Set (Labor Included) |
| Rod-Pocket | Dry cleaning | $60 - $150 |
| Tab Top | Dry cleaning | $60 - $150 |
| Pleated | Dry cleaning | $60 - $150 |
| Eyelet (Grommet) | By hand | $150 - $200 |
Cost to Clean Curtains by Material
The cost to clean curtains ranges from $60 to $200 per set, depending on the material. The curtain material also impacts the cost because different methods work better for different materials. Some materials like silk are more delicate and require specialized care, which is why the cost to dry clean silk curtains could be significantly higher. Likewise, you will spend more to dry clean velvet curtains than you would on cotton. The table below shows common curtain materials, complete with the best cleaning methods and average costs per set:
| | | |
| --- | --- | --- |
| Curtain Material | Best Method | Cost per Set |
| Chenille | Dry cleaning | $60 - $150 |
| Velvet | Dry cleaning | $60 - $150 |
| Wool and Cashmere | Dry cleaning | $60 - $150 |
| Line | Machine washing | $75 - $150 |
| Cotton | Machine washing | $75 - $150 |
| Polyester | Machine washing | $75 - $150 |
| Chiffon | By hand | $150 - $200 |
| Voile | By hand | $150 - $200 |
| Lace | By hand | $150 - $200 |
| Silk | By hand | $150 - $200 |
How Often Should I Wash My Curtains?
In general, experts recommend washing curtains two times per year. So, you might want to clean them every six months, although some prefer cleaning on an annual basis. However, the regularity of your curtain washing should increase if you have a smoker in the home or live in an area that leads to your curtains getting dirty more often. For example, if you live near the sea, the salty air may lead to your curtains requiring more frequent washing. It is also recommended to clean them more often if you have allergy sufferers in the home because pollen and dander build up on curtains over time.
How to Remove Paint From Curtains
If you paint near your curtains and a few drops or splashes of paint accidentally fall onto the fabric, act fast and clean off the stains as quickly as possible. The longer you wait, the more time the paint has to dry, leading to a trickier job when you remove it. If the paint is still wet, scrape some of it off with a knife or other tool, and rinse off the affected area with warm water. Soapy warm water may be used to gently rub away settled stains, and adding a little acetone helps too. If the stains have set or dried and do not come off or you are worried about damaging the curtains, call in a professional.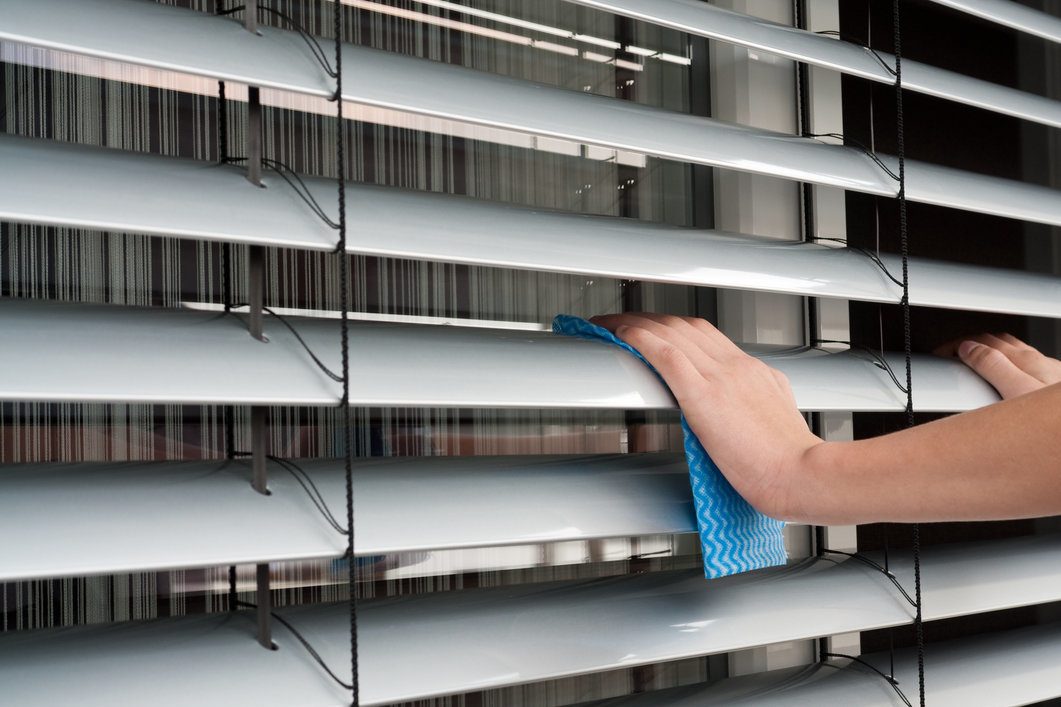 Cost to Clean Blinds by Method
The cost to clean blinds ranges from $100 to $200, depending on the method. There are different methods to clean blinds, depending on their style and the materials. Some blinds can be dry cleaned, while others use ultrasonic cleaning or other methods. In the table and subsections below, you will see what it costs to clean blinds based on the different methods that are available.
| | |
| --- | --- |
| Method | Cost per Set (Labor Included) |
| Dry Cleaning | $100 - $150 |
| Ultrasonic Cleaning | $120 - $200 |
Blinds Dry Cleaning
The cost to dry clean blinds is $100 to $200 per set, depending on the type of blinds and how much washing needs to be done. It is an effective method for roller blinds, blackout blinds, and standard Roman blinds but may also be used for other types. It involves using a simple cleaner or solvent with little to no water. Be sure to discuss the blinds themselves and the washing they need to determine if this method is effective or if there is a better way.
Ultrasonic Blind Cleaning
Ultrasonic blind cleaning costs between $120 and $200 for a standard-sized set. This method is becoming more popular these days, involving high-frequency sound waves to break down tough stains, kill pathogens, and remove dirt and dust. It is more expensive than standard methods but offers great results and a very thorough clean, so many people prefer it. This method is also popular for delicate blinds like wood, vertical blinds, and even Venetian blinds.
Blind Cleaning Cost by Type
It costs $100 to $200 per set to clean blinds, depending on the type and size in question. Like curtains, blinds are found in a wide variety of types, from classic Venetian blinds to Roman blinds and more. They can collect dust and dirt over time and may need to be cleaned occasionally. The type of blind you have affects the recommended method and total cleaning cost, as shown in the table below.
| | | |
| --- | --- | --- |
| Blind Type | Best Method | Cost per Set (Labor Included) |
| Roller | Dry cleaning | $100 - $150 |
| Roman | Dry cleaning | $100 - $150 |
| Blackout | Dry cleaning | $100 - $150 |
| Wooden | Either | $100 - $200 |
| Venetian | Ultrasonic cleaning | $120 - $200 |
| Vertical | Ultrasonic cleaning | $120 - $200 |
| Day/Night | Ultrasonic cleaning | $120 - $200 |
Roller Blinds Cleaning
The cost to clean roller blinds is between $100 and $150 per set. Roller blinds, also known as shades, are typically among the easiest to clean. They are more like a solid panel and do not have as many individual blind slats as vertical or traditional window blinds. Dry cleaning is usually the preferred method for this type of window treatment, and it is usually done off-site.
Dry Cleaning Roman Blinds
A typical set of Roman blinds costs between $100 and $150 per set. Roman blinds are often well-suited to dry cleaning because they are usually made from one simple piece of fabric that is easily removed and carefully cleaned with effective chemicals. These blinds will typically be removed and cleaned off-site for the best results at the lowest price. However, some people prefer to have them cleaned on-site and pay a higher price.
Blackout Blinds Cleaning
Blackout blinds cost about $100 to $150 per set to clean and are well-suited for dry cleaning, depending on how much dirt is present. The material of the blackout blinds impacts the cost that you pay for this project. A premium material costs more than aluminum or vinyl. These blinds are preferred for their room darkening features but need to be cleaned like any window treatment.
Wooden Blind Cleaning
It costs $100 to $200 per set to clean wooden window blinds, depending on the exact material and the method preferred. Wooden blinds are usually best cleaned with dry or ultrasonic cleaning, which ensures that the wood is not damaged while still getting rid of all dirt, debris, and other contaminants. Ultrasonic costs more, but either could be effective.
Venetian Blind Cleaning
Usually, the best option for Venetian blinds is ultrasonic cleaning, which costs between $120 and $200 for a standard-sized set. You may also opt to clean these blinds with hot water and bleach or other products, depending on the material. Venetian blinds are fairly simple to keep clean at home but require a little extra TLC when you have them professionally cleaned.
Clean Vertical Blinds
Vertical blinds tend to be well-suited for ultrasonic cleaning, which costs between $120 and $200 for a typical set. This is relatively expensive, but it provides a deep and thorough clean to remove dust, dirt, allergens, and stains. These blinds cost more because the individual slats all have to be cleaned carefully. The ultrasonic process does that the best without risking damage.
Day/Night Blinds Cleaning
Day/night blinds cost $120 to $200 to clean and are best cleaned using ultrasonic cleaning methods. These blinds provide more natural light during the day and keep the room dark at night. They are made of specialty materials that have different considerations. Be sure to specify the type of blinds you need to be cleaned when getting estimates to get accurate pricing.
Enhancement and Improvement Costs
Rehanging
If you have to pay a fee to rehang window draperies or blinds after being cleaned, it will typically cost $20 to $35 per set. Many companies offer to remove and rehang your drapes or curtains as part of the total cost, so this may not be an issue. Others, however, charge an additional fee for rehanging after cleaning. Be sure to ask when getting your estimate to avoid surprises.
Additional Considerations and Costs
Experienced professionals. Before giving your fine draperies or delicate curtains to a commercial dry cleaner, check to see if they are qualified and experienced in handling such materials. Some general dry cleaning companies may not have much experience with fine drapes, which is why it is often safer to opt for a specialist company.
Lifespan. Keeping your drapes and curtains clean extends their lifespan and prevents the colors from fading over time.
Regular vacuuming. A good way to take care of your drapes is to use a vacuum cleaner to regularly remove dust and dirt. This is done quickly and easily on a weekly basis, using a simple upholstery attachment on the vacuum. Concentrate on the main areas that are likely to accumulate dust and dirt, such as folds and pleats.
Hardware considerations. Drapes or curtains containing hardware need to be cleaned with care and should usually be hand washed.
Smoke and moisture. Most drapes can be cleaned once a year, but if you have smokers in the house or dampness, more regular cleaning is recommended.
FAQs
Can you wash dry clean only curtains?
No, this is not recommended. Any curtains labeled 'dry clean only' should be dry cleaned, rather than placed in the washing machine. Washing these items may cause the colors to fade, the materials to degrade, and lead to shrinkage.
Can you wash blackout curtains?
It is possible to clean some blackout curtains, but due to their material and lining, they may be at risk from standard washing machine settings. Each set of curtains should come with precise instructions, indicating whether they are suitable for washing.
How often should drapes be cleaned?
In general, experts recommend to have the drapes cleaned once or twice per year. The frequency increases, however, if you live in a home with smokers, pets, or an excessive amount of dust, dander, or allergens.
How are drapes dry cleaned?
Usually, drapery cleaners take your drapes back to their facility and use special machines and drapery cleaning methods to remove the dirt and debris without using traditional wet washing methods.
Can curtains be cleaned while hanging?
There is some light dusting and/or cleaning that you may be able to do while curtains are hanging, but for a full, thorough clean, it is best to remove them from the window and clean them fully and professionally.
The information provided by our cost guides comes from a great variety of sources. For more information, read our Methodology and sources.