Refrigerator Installation Cost Guide
Refrigerator Installation
Refrigerators, ovens, and washing machines are among the must-have essential appliances in modern homes. They are vital for storing food and drinks at cool temperatures and helping to preserve meats, fruits, veggies, and dairy products. They come in a range of sizes and styles. Some fridges are small enough to sit on a desk, while others are huge double-door units with built-in freezer compartments and advanced features like ice dispensers.
The cost of a refrigerator varies depending on the size and type. There may also be installation costs if you need a professional to position the refrigerator and set it up. The national average to install a new refrigerator is between $1,000 and $3,000. Most homeowners pay $1,500 for an installed 25-cubic-foot top-freezer refrigerator. You can find a simple mini fridge and set it up yourself for just $250 or have a high-end counter-depth fridge built into your kitchen with new custom cabinetry for up to $15,000.
Refrigerator Installation Costs
Refrigerator Installation Prices
National average cost
$1,500
Average range
$1,000-$3,000
Low-end
$250
High-end
$15,000
Refrigerator Cost by Type
Refrigerators come in a wide range of types, from simple mini fridges to high-capacity French door or side-by-side fridges with ice dispensers, freezer compartments, smudge-proof surfaces, and various drawers and partitions. The refrigerator type impacts the cost because some are more expensive than others. The table below shows common refrigerator types, complete with average costs.
| | |
| --- | --- |
| Type | Average Cost (Unit Only) |
| Mini Fridge | $50 - $500 |
| Undercount Fridge | $200 - $600 |
| Wine Cooler | $200 - $2,000 |
| Top-Freezer | $300 - $3,000 |
| Freezerless | $600 - $3,000 |
| Bottom-Freezer | $750 - $5,000 |
| Side-by-Side | $1,000 - $10,000 |
| French Door | $1,250 - $12,000 |
| Counter-Depth | $1,500 - $12,000 |
Mini Fridge
Mini fridges usually cost between $50 and $500, making them the cheapest and simplest refrigerator. They have a small internal capacity of between two and five cubic feet and are designed for individual use in bedrooms and offices to keep drinks and snacks cool. A very small household can use one as the primary fridge.
Undercounter Fridge
An undercounter fridge costs between $200 and $600 and is similar to a mini fridge. They also come in small two to five cubic feet sizes but are designed to fit into very specific spaces. The back sits flush against a wall and allows the undercounter refrigerator to sit underneath a cabinet or counter. This saves space and makes the area more appealing. A mini-fridge can also fit into small spaces but may take up more space due to its design.
Wine Cooler
Prices for wine coolers range from $200 to $2,000. They vary in size and style, from simple coolers capable of holding just half a dozen bottles to much larger models with dual temperature zones for whites and reds. Some are as small as 4 cubic feet, while others might be 15 cubic feet or more. Wine coolers are specifically designed for the storage of wine at precise temperatures. They may be used to store other items, but typical kitchen supplies require a proper refrigerator.
Top-Freezer Refrigerator
Top-freezer refrigerators cost between $300 and $3,000 and range in size from 7 to 32 cubic feet. They are one of the most traditional refrigerators, with the freezer compartment at the top and the refrigerator section underneath. They are among the most affordable kinds of fridges, making them a good option for shoppers on a budget.
Freezerless Refrigerator
Freezerless fridges range from $600 to $3,000, depending on the size and brand. These can be as small as 5 cubic feet or reach up to 30 cubic feet. These models do not have any freezer compartment, so all the space inside them is for refrigeration only. They are a good choice if you already have a separate freezer in the home and need to maximize your fridge space.
Bottom-Freezer Refrigerator
Bottom-freezer refrigerators typically cost from $750 to $5,000, depending on the size, brand, and features. They are the exact opposite of top-freezers in terms of layout, with the fridge compartment on top and the freezer section at the bottom. Many people find this more convenient because the fridge section is accessed without bending down. The size is similar to other refrigerators and measures between 7 and 32 cubic feet.
Side-by-Side Refrigerator
Side-by-side refrigerators range from $1,000 to $10,000, with most models on the cheaper end of the range. These often have a capacity of around 10 to 32 cubic feet. This fridge features the freezer and refrigerator compartments positioned side-by-side with a separate door for each. Typically, the freezer side is slimmer than the fridge side to allow more refrigeration capacity. On the downside, these models tend to be less energy-efficient and can be tricky to install due to their width.
French Door Refrigerator
French door refrigerators cost between $1,500 and $12,000 and are some of the most popular options due to their aesthetic qualities and clever layouts. They feature a freezer compartment at the bottom and two double doors at the top, opening up into a large fridge area. They are energy-efficient and usually very large, often with extra features like ice makers and water dispensers. Many of them have extra capacity with about 16 to 32 cubic feet of space inside.
Counter-Depth Refrigerator
Counter-depth refrigerators cost around $1,250 to $12,000 and are designed to fit flush with your kitchen counters, usually 27" or 30" deep. This allows them to fit in with your existing kitchen layout rather than awkwardly jutting out from your counters. They usually come in French door, side-by-side, and counter-depth bottom-freezer refrigerators. In most cases, they have a capacity of 15 to 32 cubic feet.
Compare prices from refrigerator installation companies near me
Refrigerator Price by Capacity
In addition to varying in type, refrigerators also come in a wide range of sizes. There are small fridges that store a relatively small amount of food and drinks. On the other end, extra-large fridges are designed with big families in mind, ready to store a week's worth of food for a family of five or six. There are also medium and large-sized fridges that work for most typical households. Before choosing a fridge, it is really important to think carefully about how much food and drinks your household consumes each week, so the appliance is large enough but not overly roomy. The table below shows how prices vary for different sizes of refrigerators.
| | |
| --- | --- |
| Capacity | Average Cost (Unit Only) |
| Extra-Small (2 - 9 cu.ft.) | $50 - $2,000 |
| Small (10 - 15 cu.ft.) | $300 - $3,000 |
| Medium (16 - 20 cu.ft.) | $300 - $10,000 |
| Large (21 - 25 cu.ft.) | $1,000 - $12,000 |
| Extra-Large (26 - 32 cu.ft.) | $1,250 - $12,000 |
Extra-Small Fridge
An extra-small refrigerator ranges in price from $50 to $2,000. The main types of extra-small refrigerators are mini fridges, undercounter fridges, and wine coolers. These are an inexpensive way to store a small amount of food and beverages. They are often used in bedrooms, garages, dorm rooms, and similar spaces. Wine coolers are specifically designed to house bottles of wine or other beverages and are more expensive than other extra-small refrigerators.
Small Fridge
A small fridge ranges from 10 to 15 cubic feet and costs between $300 and $3,000. This refrigerator is designed for one or two people and has limited space. Since the refrigerator is small, it is easier to move it from one location to another. A small refrigerator can be useful as a dorm fridge or an extra fridge in a bedroom or shared space like a living room or media room. These are often top-freezer or freezerless versions that require less capacity.
Average Size Refrigerator
Medium-sized refrigerators cost about $300 to $10,000 and have 16 to 20 cubic feet of space. This type of refrigerator is ideal for a small family of up to four people. Since the refrigerator is larger, more can be stored inside. In addition, these refrigerators often come with extra features like water dispensers, smart functions, and various finishes. Most households operate well with an average-sized refrigerator. These can be bottom freezer, top-freezer, or side-by-side in style.
Big Fridge
A large fridge is 21 to 25 cubic feet and costs between $1,000 and $12,000. This type of fridge has plenty of space for larger families with two adults and several children. There is room for food and beverages to meet everyone's unique tastes. Many of these refrigerators incorporate modern technology, so they might be Wi-Fi capable or include sliding shelves or other features that contribute to convenience. Side-by-side and French door fridges are most often available in this size.
Extra Large Refrigerator
The largest residential refrigerators have 26 to 32 cubic feet of space and range from $1,250 to $12,000. This is the right fridge for a large family, several roommates living together, or a house where entertaining is common. These refrigerators have the most options available and come in a huge variety of finishes to be aesthetically appealing in a kitchen, garage, or other space. It has room for bulk food purchases and often has the latest technology available. These are most often French door or counter-depth refrigerators in style.
New Fridge Cost by Finish
In the past, most refrigerators came in just one or two colors, but today, it is possible to find fridges in enough colors and styles to suit any home. The least expensive and most common finishes are white and black, which work well for homeowners who are watching their budget. Chrome is another option that looks good at a reasonable price.
Another popular finish for refrigerators is stainless steel, which has a shiny look to make a kitchen look trendy and sleek. This finish resists heat, fire, and rust. Stainless steel is durable and can handle a lot of use. Black stainless steel is also available. Glass finishes are another option and are typically used over stainless steel or another material to make it even less likely to show fingerprints.
There are several higher-end finishes like bronze, slate, Tuscan, and bisque. Bronze and Tuscan fridges both have an earthy look. Slate is a modern finish that does not show fingerprints like stainless steel. Bisque is a neutral off-white color that adds a vintage feel to a kitchen or other space. The final option is panel-ready refrigerators. These fridges are designed to have a custom panel or cover installed onto their front. The table below shows some common finishes and average costs based on a mid-size top-freezer.
| | |
| --- | --- |
| Finish | Average Cost (Unit Only) |
| White | $400 - $8,000 |
| Black | $400 - $10,000 |
| Chrome | $600 - $12,000 |
| Stainless Steel | $600 - $12,000 |
| Black Stainless Steel | $700 - $12,000 |
| Bronze | $1,000 - $12,000 |
| Bisque | $1,250 - $12,000 |
| Slate | $1,250 - $12,000 |
| Tuscan | $1,500 - $12,000 |
| Glass | $2,000 - $12,000 |
| Panel-Ready | $3,500 - $12,000 |
Fridge Price by Brand
There are many different fridge brands and manufacturers, each offering a range of models. Some brands focus on smaller units, appealing to budget-conscious shoppers, while others primarily offer high-end large-capacity fridges with higher price tags and many modern features.
The lower-end models include brands like Frigidaire, GE, Whirlpool, and Kenmore. These have reasonable full-size fridges at budget prices. Most offer both side-by-side and top-freezer options as well as mini-fridges. These refrigerators typically feature a short warranty of one to three years. The mid-range includes brands like Amana, LG, Maytag, Smeg, and Samsung. Many of these brands offer starter refrigerators for a more convenient kitchen. Most of these brands have a warranty that lasts up to 10 years.
Finally, there are a few high-end brands with extras. These include Electrolux, KitchenAid, and Sub-Zero. KitchenAid offers a one- to two-year warranty. Electrolux has a 10-year warranty, and Sub-Zero has a two-year warranty. However, these appliances are made to last for decades. They include designer-grade doors, wine coolers, and other amenities. The table below shows different refrigerator brands with average costs for their models.
| | |
| --- | --- |
| Brand | Average Cost (Unit Only) |
| Frigidaire | $200 - $2,500 |
| GE | $400 - $4,000 |
| Whirlpool | $550 - $3,500 |
| Kenmore | $600 - $3,000 |
| Amana | $700 - $1,500 |
| LG | $700 - $4,500 |
| Maytag | $800 - $2,750 |
| Smeg | $1,000 - $10,000 |
| Samsung | $1,200 - $4,500 |
| Electrolux | $2,000 - $6,000 |
| Kitchenaid | $2,500 - $11,000 |
| Sub-Zero | $3,000 - $12,000 |
Talk to local pros to get quotes for your refrigerator installation project
​
Refrigerator Installation Labor Costs
Refrigerators can be installed by any experienced contractor, but if you need to connect your fridge to the water line, you'll need to hire a plumber at $75 to $150 an hour. The installation process is typically easy and often takes no more than one to two hours. When purchasing a refrigerator, the store may also offer this as an extra service. After buying the fridge, delivery and installation typically cost about $100 to $200.
For example, the average installation price for a 25 cu.ft. freestanding top-freezer refrigerator ranges from $200 to $300. If the doors need to be removed to install the appliance, this adds $100 to $250 to the price. If the refrigerator is going to be on a higher floor or the area where it is installed is difficult to access, the price can be slightly higher. For a second floor or higher, the cost rises about $40 to $50 per floor if no elevator is available.
Refrigerator Water Line Installation
Refrigerators that make ice or water, often side-by-side models or those with French doors, require a water line to be connected for filtered water and ice. A typical water line averages $65 to $130. The entire cost to have a basic refrigerator installed in a first-floor kitchen with a water line run to the refrigerator averages between $200 and $550. Professional plumbers are the best option for fridge installation because they understand the components and how to work with water lines and other accessories.
Cost to Move a Refrigerator
Moving a refrigerator ranges from $250 to $4,000 depending on where the appliance will be moved and whether new electrical outlets and water lines are needed. For example, if you are simply moving the refrigerator to another part of the kitchen, the cost can be as little as $250.
Moving a refrigerator to an upstairs area or garage requires additional labor and equipment, increasing the cost. For instance, moving up stairs takes more effort than pushing a refrigerator across a floor. Additional straps and other materials may be needed to ensure safety when moving the refrigerator. However, moving a refrigerator to a new home as part of a larger moving process could be as much as $4,000 if the new home is a great distance away. Below, you can see some of the most common places to move fridges and the costs.
| | |
| --- | --- |
| Relocation | Average Cost (Installed) |
| Same Room | $250 - $500 |
| Upstairs | $550 - $1,500 |
| Garage | $750 - $1,750 |
| New Home | $1,000 - $4,000 |
Built-In Fridge Cost
Some people opt to have a built-in refrigerator added to their kitchen, which requires cabinets or a wall to be installed around the refrigerator. Most carpenters charge $65 to $85 per hour. This kitchen update costs around $75 to $125 per sq.ft. to build cabinets around the refrigerator. For a built-in high-end refrigerator, the installation into a cabinet ranges from $500 to $750 to remove the old refrigerator and install the new one. If custom panels need to be added, this adds about $150 to $300 per panel. This makes it more expensive than installing a typical 25 cubic foot top freezer refrigerator for about $200 to $300.
If you require a new electrical outlet for the appliance installed by an electrician, you will pay $100 to $200 per outlet. Built-in refrigerators are designed to sit flush against a counter or cabinet and come in side-by-side and bottom-freezer options. Separate freezer and refrigerator units can also be used. The main disadvantage is that built-ins can be expensive and are not always space efficient. You can use any refrigerator in a built-in area, but it will likely take up more space.
Cost to Run a Refrigerator
The cost to run a fridge depends on many factors, including the size, make, age, and type of fridge. In terms of size, smaller fridges use less energy because they have less space to cool down on the inside. Age plays a large part because older fridges are usually far less efficient than modern Energy Star certified models, specially designed to save energy.
For example, an old fridge from the 1980s might use around 2,000 to 3,000 kWh of electricity each year for monthly costs of about $14 to $20 and yearly costs of $170 to $240. A modern Energy Star certified fridge of the same size might use just 300 to 500 kWh of energy. This means you pay about $2 to $8 a month on energy costs, which adds up to $24 to $95 annually. A modern fridge that is not Energy Star certified could run as much as $4 to $16 each month. Because of this, continuing to run an outdated fridge could cost you more money in utility bills than simply buying a new one.
Smart Fridge Cost
A Smart refrigerator can be as low as $750 and as high as $10,000, depending on the size and brand. The average price for a smart fridge is usually closer to $2,500 to $5,000. These fridges typically feature Wi-Fi connectivity and digital touchscreen displays and let you use your phone to see inside the fridge and change its internal temperature. They also allow you to use the screen to make notes, look up recipes, and track your calendar. Homeowners choose smart fridges because they help you stay up to date on maintenance, save you money by avoiding buying food you already have, and help you stay organized through the calendar functionality. However, these fridges often cost more than a traditional model and may have a higher chance of needing repairs due to the extra electronic components.
Energy Star Refrigerator Cost
Energy Star fridges cost around $500 to $12,000. The Energy Star program is run by the Environmental Protection Agency (EPA) to encourage energy efficiency in new appliances. A fridge with Energy Star certification uses less energy, saving you money on utility bills while being kinder to the environment. Homeowners appreciate that costs to run a fridge are lower when it is Energy Star certified. In addition, many homeowners like that Energy Star appliances are less damaging to the planet.
Refrigerator Cleaning Cost
If a professional cleans your refrigerator, the cost ranges from $100 to $250 each visit. This includes the maintenance tasks mentioned below. It is important to keep the refrigerator clean to ensure it is in the best condition and lasts as long as possible.
Fridges should usually be cleaned, both inside and out, weekly to get rid of smudges and stains on the doors or discoloration on the interior shelves and bins. The coils of the fridge should also be frequently cleaned to prevent dust, debris, or other matter from interfering with their operation. Also, check the temperature of your fridge now and then to make sure it is working correctly, and change any water and air filters as needed.
Refrigerators suffer from various faults, failures, and other issues as time goes on, but regular maintenance keeps these to a minimum. Many homeowners plug their fridge in and then let it run without taking time or care to maintain it. However, if you want your fridge to last a long time, certain maintenance is required.
Find the best refrigerator installers near me
Cost of a Refrigerator With Special Features
Many modern fridges come with an impressive range of optional features and add-ons. For example, some come with water filters, while others feature Quick Access to easily reach the most commonly used items in the fridge or Wi-Fi technology to pair with your phone to access unique functions. Inexpensive options like in-fridge cameras exist, and more upscale items like automatic temperature control.
Some optional features are aesthetic, such as a refrigerator trim kit that conceals gaps between the fridge and cabinets and counters. A smudge-proof coating prevents fingerprints and other marks from building up on the appliance's surface.
An internal water dispenser provides water inside the fridge without taking up a lot of space. Or you can get a fridge with an external dispenser if you prefer. Sliding shelves are also available to accommodate items of various sizes. Automatic temperature control can set the temperature to a certain level on its own, or you can choose an access door to get essentials out easily.
In-fridge cameras allow you to use a mobile device to see inside the appliance when you are shopping or away from home. For even more versatility, convertible refrigerators switch between freezer and fridge modes. Another high-tech option is an air filtration system to prevent bad smells in the appliance. The table below shows some special fridge features and the average costs for a fridge with each one.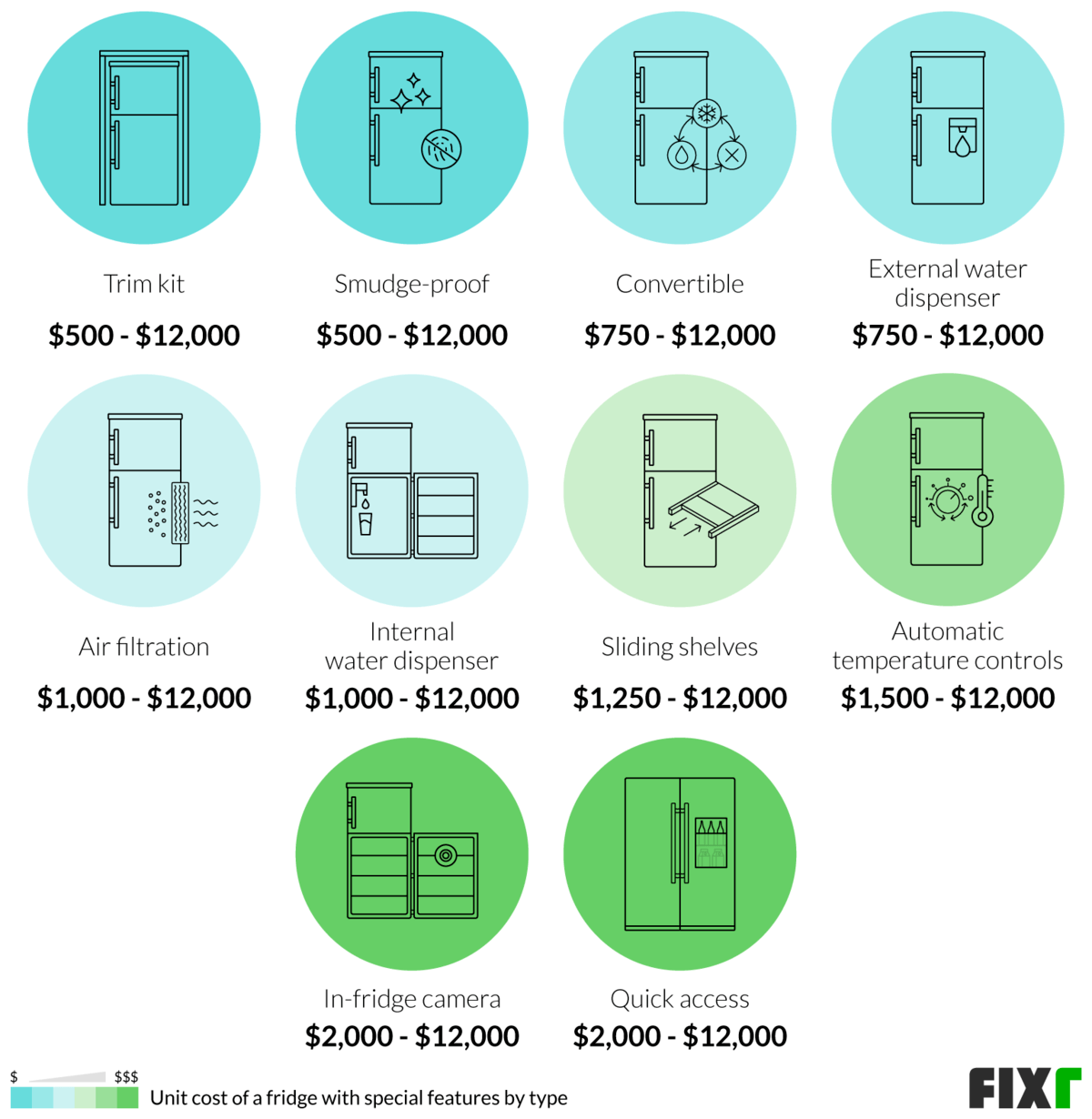 | | |
| --- | --- |
| Special Feature | Average Cost (Unit Only) |
| Trim Kit | $500 - $12,000 |
| Smudge-Proof | $500 - $12,000 |
| Convertible | $750 - $12,000 |
| External Water Dispenser | $750 - $12,000 |
| Air Filtration | $1,000 - $12,000 |
| Internal Water Dispenser | $1,000 - $12,000 |
| Sliding Shelves | $1,250 - $12,000 |
| Automatic Temperature Control | $1,500 - $12,000 |
| In-Fridge Camera | $2,000 - $12,000 |
| Quick Access | $2,000 - $12,000 |
Side-by-Side vs French Door Refrigerator
Most people hesitate between side-by-side and French door models when choosing an expensive refrigerator model. These two types are more expensive but also more advanced. They are both well-suited for families, with lots of interior space and modern features, but key differences set them apart.
French door fridges are usually slightly more expensive but have more width and space. They look attractive and are more energy-efficient than side-by-side models. However, with a French door model, you have to bend down or lean over to get to the freezer, and it can be trickier to store items in the freezer without stacking.
With a side-by-side model, storing items in the freezer is easier. It is simpler to access the freezer section because it is at eye level. You have more storage options and shelves in the freezer section. However, the freezer and fridge sections are usually narrower, limiting their usefulness.
| | |
| --- | --- |
| Type of Refrigerator | Cost (Installed) |
| Side-by-Side | $1,200 - $10,300 |
| French Door | $1,450 - $12,300 |
Side-by-Side vs Bottom-Freezer Refrigerator
Many find it hard to choose between a side-by-side and bottom-freezer refrigerator. Both models have advantages and disadvantages. With a side-by-side model, you benefit from eye-level views of both the fridge and freezer sections. You also get more storage space and options in the freezer section, which is valuable for those who buy a lot of frozen food. It is easier to store taller items in a side-by-side model, but it can be tricky to insert larger, wider items. Side-by-side models are also a little less energy-efficient.
The prices between side-by-side and bottom-freezer models are mostly comparable. You can find cheap and expensive varieties of both. One of the benefits of a bottom-freezer fridge is that you get more energy efficiency and wider storage spaces. Bottom-freezer fridges are also available in a wider range of sizes, but you have to bend down to access the freezer section, which can be an issue for some.
| | |
| --- | --- |
| Type of Refrigerator | Cost (Installed) |
| Bottom-Freezer | $950 - $5,300 |
| Side-by-Side | $1,200 - $10,300 |
Counter-Depth vs Standard-Depth Fridge
One other decision you may have to make when buying a new fridge is whether you want a standard-depth model or a counter-depth model. A standard depth fridge is larger and deeper, ranging from 30" to 36". This is deeper than most counters and worktops, so the fridge will not be flush, making it harder to navigate the kitchen. It may also look awkward.
A counter-depth fridge has a depth of under 30" and works seamlessly alongside your counters, providing a flush fit and a more aesthetically pleasing appearance. To compensate for their lack of depth, these fridges are usually taller than standard depth models and cost a little more.
| | |
| --- | --- |
| Type of Refrigerator | Cost (Installed) |
| Standard-Depth | $350 - $10,250 |
| Counter-Depth | $1,500 - $12,250 |
Get free estimates from refrigerator installation experts near me
Enhancement and Improvement Costs
Old Refrigerator Disposal
If you decide to have your old refrigerator removed, it is usually around $50 to $100 for removal and disposal. However, the cost varies based on your location and the business that removes the refrigerator. This cost includes the price the professional has to pay to leave the appliance at a disposal facility.
Additional Considerations and Costs
Extended warranties. Extended warranties are often available for purchase. They average $100 to $200 for a 5-year warranty.
Month to buy. In May, manufacturers release their newest models. Just before that time, the older models often go on sale.
Leveling. If the floor is not level, you will need to level the floor before placing the refrigerator. You can use an ⅛" thick piece of plywood placed on the floor beneath the refrigerator to create a level surface. Many refrigerators have built-in levels to let you gauge how the unit is sitting. The cost of a ⅛" sheet of plywood is about $30 to $40.
Home warranties. In many cases, a home warranty covers your refrigerator and attached freezer. The cost of repairing or replacing the refrigerator falls under the warranty. However, if any food has spoiled due to a damaged fridge, this is not covered.
DIY. Homeowners can choose to install their own refrigerators, but it may require tools and some know-how. Placing a refrigerator into cabinetry or another enclosure makes the process more challenging.
FAQs
How much does it cost to hook up water to a refrigerator?
First, you will need to hire a plumber for $75 to $130 per hour. The water line itself ranges in price from $65 to $130. When you combine the costs of materials and labor, the cost to hook up a refrigerator to water ranges from $200 to $550.
How much electricity does a refrigerator use per month?
It depends on the specific refrigerator. For instance, an older fridge from the 80s with a capacity of 20 cubic feet costs about $14 to $20 a month to run. On the other hand, a brand-new Energy Star refrigerator of the same size might cost only $2 to $8 a month to run. Most new refrigerators come with a label that gives you an estimated cost to operate them for over a year.
How long does it take to install a fridge?
Installing a fridge should not take much longer than an hour or two. Simple models can be unboxed, moved into place, and plugged in within 30 minutes. More advanced models with filters and dispensers might need more work.
How much does a small refrigerator cost?
Small fridges can be found for as low as $300 and rarely cost more than $1,500.
Does an old fridge use more electricity?
In most cases, yes. Older models were not made to the same energy-efficient standards as newer ones, so they generally use more energy.
Is it ok to turn off the refrigerator every night?
A fridge needs to be left on to keep food at safe temperatures for health and hygiene concerns.
Is it bad to run an empty fridge?
It is not necessarily bad, but an empty fridge is less efficient and uses more energy. A full refrigerator or freezer maintains a consistent temperature more easily because the mass of cold foods and drinks inside helps hold the temperature steady.
Find remodeling contractors near you
Get free estimates on Fixr.com from trusted remodeling contractors in your area
Find Contractors