How much does it cost to replace the subfloor?
Get free estimates from remodeling contractors near you
Replace Subfloor Cost Guide
A subfloor is a support structure for the floor that is installed across the floor joists. Subfloors are flat and usually made of plywood, oriented strand board (OSB), high-performance panels, or concrete. The subfloor helps support heavy items like furniture and appliances that you might place throughout your home. Subfloors also help to keep your floor even, improve your energy efficiency, and reduce the noise in your home. Over time subfloors can become damaged from age, water, or other significant events. When this occurs, you need to replace your subfloor to prevent further damage.
The national cost range for replacing a subfloor is between $600 and $2,500. Most homeowners pay around $1,600 for a 200 sq.ft. area in a kitchen or living room using OSB board. Prices run as low as $250 to replace a 50 sq.ft. section in a bedroom with plywood to as high as $36,000 to replace the subfloor in the entire basement using high-performance subfloor panels.
Price to Replace Subfloor
Subfloor Replacement Cost
National average cost
$1,600
Average range
$600-$2,500
Low-end
$250
High-end
$36,000
Subfloor Cost per Square Foot
Your subfloor replacement cost depends on the amount of material required for the project. The average cost to replace a subfloor runs between $3.50 and $12 per sq.ft. Some areas of the home are less expensive to replace than others. It is not just the amount of materials required but the location, too, which impacts cost. The cost may increase if the floor installer must remove existing flooring and replace it. However, it is often possible to keep costs down by replacing just a portion of the subfloor rather than the entire room.
| | |
| --- | --- |
| Subfloor Size | Replacement Cost |
| 50 sq.ft. | $175 - $600 |
| 100 sq.ft. | $350 - $1,200 |
| 200 sq.ft. | $700 - $2,400 |
| 500 sq.ft. | $1,750 - $6,000 |
| 1,000 sq.ft. | $3,500 - $12,000 |
| 2,000 sq.ft. | $7,000 - $24,000 |
| 3,000 sq.ft. | $10,500 - $36,000 |
Compare prices from subfloor replacement companies near me
Subfloor Replacement Cost by Material
When determining the cost to redo the subfloor, another important factor that affects the cost is the material used. While the prices for each type of material differ, so do the properties. When deciding which one to choose, it is important to consider the characteristics and the price. Below are the most common types of subfloor material and the average cost you can expect to pay per square foot for each.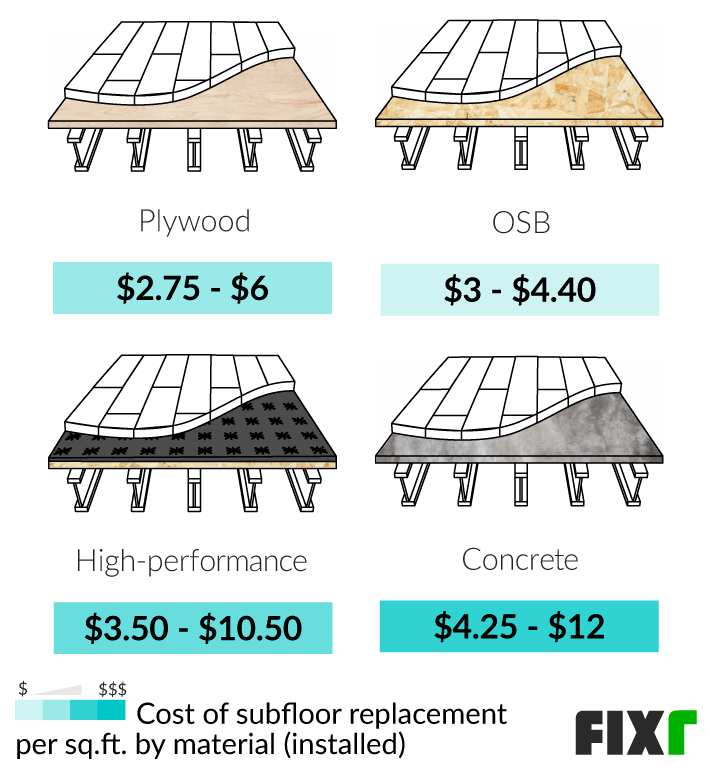 | | |
| --- | --- |
| Subfloor Material | Cost per Sq.Ft. (Installed) |
| Plywood | $2.75 - $6 |
| OSB | $3 - $4.40 |
| High-Performance | $3.50 - $10.50 |
| Concrete | $4.25 - $12 |
Replace Plywood Subfloor
The cost to install plywood subfloor runs between $3.75 and $6 per sq.ft. Plywood has been the most commonly used subfloor material since the 50s. Most builders choose a ¾" tongue-and-groove wood that interlocks and creates a more solid, stiffer floor. Plywood can be glued, nailed, or screwed in to secure it, making it versatile for any installation. On the plus side, plywood usually lasts longer than OSB subflooring. Unfortunately, plywood is not waterproof, but the installation process can include applying a moisture barrier to create an appreciable level of water resistance. Fire-resistant plywood is also an option for subflooring.
Replace OSB Subfloor
The cost to replace your subfloor using OSB runs between $3.75 and $8 per sq.ft. Oriented strand-board is the cheapest option for subfloor and functions similarly to plywood. You can purchase it in heavy, thick panels that can be just as strong as plywood. The main drawback to OSB is that it swells with water, making it warp if your flooring has water damage.
Replace High-Performance Subfloor Panels
Replacing your subfloor with high performance subfloor panels costs $3.50 to $10.50 per sq.ft. High-performance subfloor panels are a durable option homeowners may choose when other types of flooring are not strong enough. The manufacturing process offers excellent precision through special resin technology, which provides added protection, a better balance of stiffness, and greater stability. This option creates more stable floors with high water resistance but does not cost dramatically more than other types of flooring like plywood. Various options are available when picking high-performance subfloor panels. Below you will see some of the most common options and the average price per sq.ft.
| | |
| --- | --- |
| High-Performance Subfloor Type | Cost per Sq.Ft. (Installed) |
| Delta-FL | $3.50 - $8 |
| Dricore | $4.65 - $8.85 |
| Advantech | $4.75 - $9.25 |
| Barricade | $5 - $9.75 |
| Tyroc | $5.50 - $10 |
| Amdry | $6 - $10.50 |
Delta-FL Subfloor Cost
Delta-Fl subfloor is an inexpensive option that runs between $3.50 and $8 per sq.ft. Unlike other subfloor options, the Delta-FL is a flexible plastic gray membrane that provides a moisture barrier and is mold-resistant. It is ideal for concrete slab 1 floors and basement floors, especially when there is a risk of water buildup. The product works by helping to dry out the floor below so that the moisture will not affect the floor above.
Dricore Subfloor Price
Dricore is one of the least expensive high-performance subfloor panel options. For Dricore, you can expect to pay from $4.65 to $8.85. Dricore utilizes an air gap technology that protects your floors from mold, mildew, moisture, and small amounts of water damage. It softens hard concrete floors, makes them feel warmer, and provides for better insulation. The product is strong and works with any floor. It uses a tongue-and-groove installation and is strong enough to support over 6,000 lbs.
AdvanTech Subfloor Price
AdvanTech subfloors are a mid-range subfloor option. They cost between $4.75 and $9.25 per sq.ft. AdvanTech uses a tongue-and-groove design which provides greater support and stability. It installs quickly and solidly and holds nails securely for the long term. Its moisture resistance makes it a great option for those worried about possible water damage. AdvanTech can be installed over cold-formed metal floor framing or wood.
Barricade Subfloor Cost
When choosing a Barricade subfloor tile system for your subfloors, you can expect to pay between $5 and $9.75 per sq.ft. Many homeowners choose Barricade for its versatility. It works well with all types of flooring, including engineered wood, vinyl 8, hardwood, and carpeting. It provides a strong, solid structure and keeps slab floors warmer while protecting against water.
Tyroc Subfloor Cost
Tyroc subfloor paneling systems are among the newer types of subfloors on the market and cost from $5.50 to $10 per sq.ft. Tyroc is considered a green subfloor system that is more environmentally friendly than other subfloor options. It uses a natural organic material combined with a layer of recycled tires to allow moisture to move through and freely toward the floor drains. It also prevents air underneath, reducing the risk of moisture buildup and mildew. Tyroc is installed over concrete floor coverings and is popular in basements.
Amdry Subfloor Price
Amdry subfloors are one of the costliest and run from $6 to $10.50 per sq.ft. They are known to have one of the highest insulating values of all subfloor options sold on the market today. They also come in panel sizes that are larger than other options, making them faster to install. They use a multi-layer system that consists of expanded polystyrene foam and oriented strand board. The design allows for greater airflow to dry up any moisture before traveling to the flow beneath. Amdry subfloors are installed over concrete.
Replace Concrete Slab Subfloor
If you want to replace your subfloor with a concrete slab, you can expect to pay between $4.25 and $12 per sq.ft. A concrete subfloor is a popular option when you are looking for a hard and extremely durable subfloor. With a concrete subfloor, you can directly install tile and stone flooring but will always need underlayment 4 for other types such as hardwood, carpet, or laminate. Since concrete floors are more susceptible to water, a moisture barrier is also recommended. Concrete has some other drawbacks, such as the fact it is cold and has little give. It also is virtually impossible to nail anything into it and requires more complicated installation with certain types of flooring.
Average Cost to Replace Subfloor by Location
One factor that plays a role in the cost you pay to replace your subfloor is the room where replacement is needed. For example, certain rooms require more prep work, such as removing furniture. Other rooms are more likely to suffer water damage, leading to additional labor costs when preparing the area. Below you will see the average cost to replace a subfloor, based on the area where the damage has occurred.
| | |
| --- | --- |
| Subfloor Location | Replacement Cost |
| Bedroom (100 - 150 sq.ft.) | $400 - $700 |
| Bathroom (35 - 75 sq.ft.) | $500 - $750 |
| Living Room (200 - 350 sq.ft.) | $600 - $1,200 |
| Kitchen (100 - 175 sq.ft.) | $800 - $2,500 |
| Mobile House (600 - 1,300 sq.ft.) | $1,200 - $3,575 |
| Basement (800 - 1500 sq.ft.) | $3,200 - $16,000 |
| Whole-House (1,500 - 1,800 sq. ft.) | $9,000 - $21,000 |
Replace Subfloor in the Bedroom
Replacing a subfloor in the bedroom is usually one of the least expensive locations, costing $400 to $700. Typically, bedrooms don't see much water damage, and replacing the subfloor is a straightforward process. Another factor that makes installation less costly is the fact that most bedrooms are simply shaped. Many bedrooms are also carpeted, which gives you more options for choosing the right subfloor.
Bathroom Subfloor Replacement
The cost to replace a bathroom subfloor is between $500 and $750. Even though bathrooms are typically smaller than most other rooms, they can cost more than a bedroom for several reasons. The job is more difficult because many plumbing fixtures involved need to be worked around. Replacing a bathroom subfloor around the toilet area costs between $150 and $200 since the replacement is for a small section of the room. Also, these rooms tend to need subfloor replacement mostly due to water damage, requiring additional labor.
Replace Subfloor in the Living Room
Living rooms cost from $600 to $1,200 to replace a subfloor, with the cost mainly depending on the type of subfloor you choose. Living rooms come in many flooring types, including hardwood, laminate, and carpeting. This plays a role in the type of subfloor you choose. They are often cheaper per sq.ft. to replace than a bathroom since they are less likely to have water damage, and there are no set fixtures to work around. The total costs will usually be higher since living rooms tend to be the largest rooms in the home.
Replace Subfloor in Kitchen
You can expect to pay from $800 to $2,500 to replace the subfloor in your kitchen. You will pay more if your subfloor replacement is needed because of water damage. The professionals will have to inspect the rotted area and determine if further repairs or inspections are needed. Another reason that the cost to replace a kitchen subfloor can be higher is that the installer will have to deal with and work around the appliance connections.
Replace Subfloor in a Mobile Home
If you are replacing the subfloor in your mobile home, you can expect to pay from $1,200 to $3,575 for a home ranging between 600 to 1,300 sq.ft. The most common type of subfloor found in mobile homes is OSB. Replacing the subfloor in a mobile home can be difficult due to the confined space. The process may also require the replacement of insulation if the cause of the problem is a damaged floor.
Replace Subfloor in the Basement
The most expensive subfloor in a home to replace is the basement subfloor, which costs $3,200 to $16,000. Basement floors are expensive because they cover a significant amount of square footage. Additionally, there are areas where water damage and moisture are more common problems, which means you will likely not only pay more in labor but also may have to choose a higher-end subfloor option with greater moisture resistance.
Replace Subfloor in a House
Replacing the subfloor in an entire house costs between $9,000 and $21,000 for a home ranging from 1,500 to 1,800 sq.ft. A home may require subfloor replacement because of natural aging, water damage, or a natural disaster. A home with several bathrooms, a basement, and a big kitchen might cost more than a home with a small kitchen, no basement, and just a single bathroom.
Labor Cost to Replace Subfloor
When you figure labor costs for your subfloor replacement, you can expect to pay from $25 to $45 per hour. Many factors determine your labor costs. While you may not pay a higher labor cost for moving the furniture out of the room, the total costs will be higher because it takes more time to complete. The same is true if you want your flooring installer to remove your old floor before installing the new subfloor. Sometimes, flooring contractors charge extra to dispose of the old subfloor, which may add $50 to $100 to the project total. Note that the cost for materials is separate from the labor costs. The quote your flooring contractor gives you will itemize your labor costs and materials costs.
Your overall labor is likely to be less with a new install since you will not have the extra time that comes with removing the old subfloor. On average, you can expect the project to take between 4 and 24 hours, depending on the size of the area and how much prep will be done. Flooring installers typically work between six and seven hours a day, which means the project can take up to four days.
Some DIY enthusiasts claim that it is possible to handle subfloors without professional expertise. However, allowing a contractor or installer to handle the work is best since some municipalities require an inspection or permit for flooring projects that require work on the subfloor. Often, small adjustments and fine tuning of the subfloor panels are required. It is much easier for a professional to figure out how to make these small changes and build a smooth, flush subfloor surface. Professional installers are also a great help when you need to ensure the floor is moisture-resistant.
Get free estimates on subfloor replacement near me
Cost to Replace Floor Joists and Subfloor
Replacing the subfloor in a 200 sq.ft. living room averages $700 to $2,400. Floor joist replacement costs between $125 and $315 per joist. A 200 sq.ft. living room with a length of 20 feet would require 16 joists under most conditions. This would add $2,000 to $5,000 to the project. The total cost to replace floor joists in a crawl space of 200 sq.ft. and the subfloor is $2,700 to $7,400. The joists are the strong boards that run along the walls and provide the bulk of the support for the floor. Experts recommend repairing damaged floor joists as soon as possible, because damaged ones affect the structural integrity of your home.
Replacing floor joists range widely in cost, mostly due to how accessible the joists are. In some cases, you can opt for sistering the joists instead of replacing them, which involves placing a new joist next to the already damaged one and then bottling the two together to provide the needed support. Whether or not to replace joists when a subfloor is replaced is a concern for many homeowners who want to ensure their home is structurally sound. Joist replacement is not a necessity when replacing a subfloor, but it may be needed if you have sustained major water damage, such as a flood, or had a pest infestation from insects such as termites. Below you can see the basic costs when determining what you might spend if you need to replace joists along with your subfloor.
| | |
| --- | --- |
| Part | Cost to Replace 200 Sq.Ft. |
| Subfloor | $700 - $2,400 |
| Joists | $2,000 - $5,000 |
| Subfloor and Joists | $2,700 - $7,400 |
Cost to Replace Floor and Subfloor
Replacing your floor runs from $700 to $7,400, depending on the chosen type of flooring. When done together, you can expect to pay $1,500 to $10,000. If there has been heavy water damage, replacing the flooring when you replace the subfloor will be a necessity. When you are replacing the subfloor because it is uneven, or you want a subfloor that is better for its soundproofing and insulating properties, you may choose to replace the floor for aesthetic reasons at that time since removal will be necessary.
With some flooring such as tongue-and-groove laminate and tile, replacing flooring may be necessary because you may not be able to salvage the original flooring during the removal process. Regarding costs, other considerations include whether you will replace the padding and moisture-proof underlayment. Additional materials like tack strips and quarter round may also increase costs. Below you will see the average costs for replacement based on your chosen flooring and the project type.
| | |
| --- | --- |
| Material | Cost to Replace 200 Sq.Ft. |
| Subfloor and Vinyl | $1,500 - $4,400 |
| Subfloor and Carpet | $1,880 - $4,080 |
| Subfloor and Tile | $1,900 - $7,400 |
| Subfloor and Laminate | $2,400 - $5,900 |
| Subfloor and Cork | $2,700 - $5,400 |
| Subfloor and Marble | $2,900 - $7,400 |
| Subfloor and Hardwood | $3,700 - $8,800 |
| Subfloor and Bamboo | $3,900 - $7,400 |
| Subfloor and Stone | $5,100 - $10,000 |
How to Tell if Your Subfloor Needs to Be Replaced
While you may want to consider replacing your subfloor when replacing your flooring if the subfloor is older, some other issues indicate a need to replace your subfloor. One tell-tale sign that there may be an issue with your subfloor is areas that are uneven, sink, or squeak when you walk.
Another thing to watch out for is a musty smell in the room. This could be an indication that moisture is in your subfloor. This situation should be addressed immediately to reduce rot and lower your risk of mold and mildew. You may also consider replacing your subfloor if you notice issues with the flooring covering it, such as cracked tile, cupped hardwood, or bubbled-up linoleum. Rocking toilets and bouncy flooring could also indicate that your subfloor has become uneven.
Maintenance
You might assume you cannot do anything to maintain the subfloor because it is under another layer of flooring. However, there are some things you can do to maintain the subfloor for as long as you own your home. The most important task is keeping the home well-ventilated to avoid moisture rot of the subfloor and the materials surrounding it.
A well-maintained subfloor is important because it impacts the structural integrity of the home. This is particularly important during severe weather events or earthquakes. Keeping destructive bugs out of the home, such as termites, is important for maintaining the health of the subfloor. A homeowner can normally maintain the subfloor without professional assistance. Sometimes, it might help to call a pest control service to make sure invasive pests are not damaging the subfloors.
Comparison of Subfloor Types
Since there are so many options when it comes to choosing the right type of subfloor for your home, several things must be considered before making your decision. You will likely want to know how long each subfloor lasts, how well it insulates, and how durable it is. You also may be concerned about its environmental impact and soundproofing capabilities. Below you can see how each option compares.
Warranty
The length of the warranty on your subfloor is important to consider when making a decision. Since replacing a subfloor can be a lengthy and expensive process, you will want to make sure that the materials are backed by a warranty that covers yours for as long as you expect your subfloor to last. Below you can see how the different subfloor material warranties stack up against each other.
| | |
| --- | --- |
| Subfloor Material | Warranty |
| Concrete | 10 - 20 years |
| OSB | 20 - 30 years |
| Plywood | 20 - 35 years |
| High-Performance | 20 - Limited lifetime |
R-Value
Another important factor to consider when choosing the right subfloor for your home is the R-value. R-values indicate the energy efficiency of each subfloor option with higher numbers meaning greater insulation properties and higher overall energy efficiency. High R-values also help with soundproofing since they naturally absorb more sound when you walk across the floor. As you can see from the table below, while most options run around the same R-value, a few boast a much more significant energy efficiency.
| | |
| --- | --- |
| Subfloor Material | R-Value |
| Concrete | 0.2 - 1.2 |
| OSB | 0.5 – 0.62 |
| Plywood | 0.74 - 0.94 |
| High-Performance | 1 - 5 |
Environmental Impact
Another concern of yours might be how eco-friendly each subfloor option is. Many factors go into determining whether or not a type of subfloor is eco-friendly. First, you will need to consider what it is made of. Are the materials sustainable? Do they emit high levels of VOCs during the production process? Do they use up natural resources? Is there any recycled content? Is the material biodegradable? On top of these concerns, you should consider how long each option lasts. The longer the flooring lasts, the less often it will need to be replaced, reducing material use and waste. Below you can see the most common types of subfloor and how greatly they may or may not impact the environment.
| | |
| --- | --- |
| Subfloor Material | Environmental Impact |
| High-Performance | Low - Medium |
| OSB | Low - Medium |
| Concrete | Medium - High |
| Plywood | Medium - High |
Strength and Durability
Finding a durable subfloor option is important because your subfloor acts as part of the supporting structure of your home. Determining durability considers several factors, including how well it resists moisture, how strong it is, how well it holds up to traffic, and how long it lasts. Below you can see how durable each of the following types of subfloor are by understanding how long you can expect them to last before replacement is necessary.
When it comes to subfloors, strength also plays a critical role. You need a strong subfloor to support your floors and the furniture on top of it. Stronger subfloors support greater weight, lowering the risk of damage if you have heavy objects on your floor. Stronger subfloors typically wear down at a slower rate, allowing them to have greater longevity. Below you can see how strong each type of subfloor is by understanding how much weight it supports.
| | | |
| --- | --- | --- |
| Subfloor Material | PSF (Pounds per Sq.Ft.) | Lifespan |
| Plywood | 50 - 60 | 20 - 30 years |
| OSB | 60 - 100 | 20 - 25 years |
| High-Performance | 65 - 116 | 15 - 35 years |
| Concrete Slab | 125 - 150 | 40 - 50 years |
Water and Moisture Resistance
Depending on where you are having your subfloor installed, a serious consideration could be the moisture resistance each subfloor option offers. Subfloors in basements and bathrooms run a much higher risk of water damage and moisture accumulation, leading to rotting, mold, and mildew. If you plan to install a subfloor in one of these rooms or your area is prone to flooding or heavy rains, consider one of the higher moisture resistance options.
| | |
| --- | --- |
| Subfloor Material | Moisture Resistance |
| Plywood | Low - Medium |
| Concrete Slab | Low - Medium |
| High-Performance | Medium - High |
| OSB | Medium - High |
Finished Floor Options
Your finished floor material may affect the subfloor material you choose because certain materials are better suited for certain finish options. If you want tile or stone for your finished floor, they can easily be installed directly over a concrete subfloor. If you have hardwood floors or laminate, you need to include an underlayment when using a concrete subfloor.
When choosing hardwood floors and laminate, high-performance subflooring is a good option to provide better insulation, soundproofing, and efficiency. For homeowners looking for the most versatile options, plywood and standard OSB work well with any finished flooring and work with gluing and nailing installations. Below you will see which types of flooring work best with the most common subfloor types.
| | |
| --- | --- |
| Subfloor Type | Best Options for Finished Floors |
| Plywood | Carpet, laminate, tile, hardwood |
| OSB | Carpet, laminate, tile, hardwood |
| High-Performance | Hardwood, laminate, tile |
| Concrete | Tile, stone |
Subfloor Installation vs Replacement Cost
The cost to remove and replace a subfloor is slightly higher than a new subfloor cost. While the subfloor installation cost includes the materials and labor for installing your chosen subfloor, the replacement cost includes more to cover the labor for removing and disposing of the previous subfloor. Subfloor replacement is more common. Typically, new subfloors will only be installed on new builds, new additions, or when adding a crawl space or basement. Below you will see the basic cost difference between installation and replacement.
| | |
| --- | --- |
| Project | Cost per Sq.Ft. (Installed) |
| Installation | $3 - $10 |
| Replacement | $3.50 - $12 |
Find the best subfloor replacement specialists near me
Enhancement and Improvement Costs
Mold Remediation
In some cases, the damage to your subfloor can occur as a result of water damage. When water seeps through your flooring into your subfloor, it can lead 5 to rotting, making the floor unstable and unsafe to walk on. When you have water damage, you could also have mold. This leads to health issues if not properly remediated for an additional cost of $1,500 to $4,000 on top of your subfloor replacement or repair. If you suspect mold, it is best to have the area inspected before being replaced.
Flooring Underlayment
You can expect to pay from $4 to $5.80 per sq.ft. to have floor underlayment installed. You need to use underlayment when installing a floor that does not directly adhere to the subfloor. Underlayment compensates for any roughness or imperfections in the subfloor beneath, cushions the area, and provides mild soundproofing. Floors, such as laminate floors, are floating floors that require underlayment, so you may need to add an underlayment cost to the total cost of your subflooring replacement.
Average Cost of Replacing Vapor Barriers
Including labor and materials, you can expect to pay from $1,200 to $4,000 to have a vapor barrier 2 installed. Flooding can be a serious issue with basements and can lead to mold and moisture buildup. A vapor barrier is plastic or foil sheeting designed to prevent water vapor from passing through the floors or walls, depending on where it is installed.
Additional Considerations and Costs
Permits. Some municipalities require permits to replace the subfloor in your home. Your flooring contractor can assist in getting the permit. Replacing the subfloor may require updating the thickness of the panels to match the latest building codes. If you are part of an HOA, you may also be subject to regulations that need to be followed.
DIY. You can replace subflooring yourself, which homeowners often do when replacing a small area. If you are replacing a larger area or your subfloor has significant rotting, it may be best to have a professional replace it to ensure the new floor is safe.
Added value. If your subfloors are lumber, damaged, or make noise when you walk, replacing them adds value to your home. The cost to replace the subflooring is rarely less than the amount of the increase in your home's value. However, it is often close enough to make it worth the cost.
Lumber subfloors. Subfloors used to traditionally be made from soft woods such as fir or pine. In most homes, these floors have been replaced with plywood. If the flooring has not been replaced, the lumber subfloor may still be present. Lumber is no longer used because it involved nailing it into the joists, which would loosen over time and cause the floor to squeak.
Wet flooring. Wet lumber such as panels and joists needs time to dry before being sealed with underlayment and top floor. If there has been water damage, the joists need to dry before the new subfloor can be laid.
Acclimating. New flooring materials need time to acclimate to the environment. Let them sit in the home for a couple of days to get used to the surrounding air, which helps prevent warping or settling after it's installed.
Leveling. It is crucial to level a new subfloor with your current subfloor to prevent damage. Your professional may need to plane down the thickness of the subfloor to make it thinner or add shims to make it thicker if the thickness of the two materials doesn't match, which can be quite common in older homes.
Other subfloor options. There are other high-performance subfloor options that offer extra features. For example, Warmboard sells subfloor panels that also function as radiant floor and that are installed directly over joists. This usually works best for new constructions, but they also offer options that can be installed over your existing subfloor if you are remodeling.
Repair. Repairing a subfloor in a 150 sq.ft. area costs $250 to $750. Replacement costs $600 to $1,800. Small areas of damage are generally best repaired, while large areas are best for replacement. However, serious water damage is a candidate for replacement even when it affects a small area.
FAQs
How long does it take to replace the subfloor?
Replacing a subfloor can take anywhere from 4 to 24 hours, depending on the size of that section needing to be replaced.
Can you lay a new subfloor over the old subfloor?
While it is most common to repair or replace subflooring, if you notice damage when installing new flooring, you can choose to cover the existing subfloor with a completely new one.
How to know if you should replace the subfloor?
Many signs indicate the need to replace your subfloors. If your floors squeak, shift, or bounce when you walk on them, they may need to be replaced. Other signs include sunken or uneven areas, damage such as cracking of your floor, and a musty smell in the room.
What is the best material to use for a subfloor?
The most popular material used for subfloors and the best material in most situations is plywood. While standard plywood is sufficient, ¾" tongue-and-groove plywood tends to work the best.
Find remodeling contractors near you
Get free estimates on Fixr.com from trusted remodeling contractors in your area
Find Contractors