How much does it cost to refinish hardwood floors?
Get free estimates from resurfacing, refinishing and glazing contractors near you
Hardwood Floor Refinishing Cost Guide
Hardwood floors give a sophisticated look to a room and increase the overall value of the home. However, as time passes, hardwood flooring starts showing signs of age by fading and developing scratches and dings. To bring them back to their original shape and shine, you need to refinish the hardwood material. Refinishing means sanding down the surface beyond the current finishing or blemishes and reapplying a new color treatment and a top-coat finish. This revitalizes the floor and gives it a new, fresh look.
The national average cost for refinishing a 200 sq.ft. hardwood floor is between $800 and $1,600, with most people paying around $1,200 to clean and sand a 200 sq.ft. oak floor, stain it, and apply a wax finish to it. At the low end of the spectrum, you can refinish a 200 sq.ft. cherry hardwood floor and add an oil-based finish for $600. At the high end, you can pay up to $3,100 to refinish a 200 sq.ft. mahogany hardwood floor with a set of 15 stairs using a dustless method, finish it with a non-volatile organic compound finish, and stain it.
Cost to Refinish Hardwood Floor
Hardwood Flooring Refinishing Cost
National average cost
$1,200
Average range
$800-$1,600
Low-end
$600
High-end
$3,100
Hardwood Refinishing Cost per Square Foot
The average cost homeowners typically pay to refinish hardwood flooring is between $3 and $8 per sq.ft. This cost includes both the materials and labor needed to complete the project. Around 80% of the cost is attributed to labor. The exact cost depends on the time needed to complete the refinishing process and the size of the surface that requires refinishing.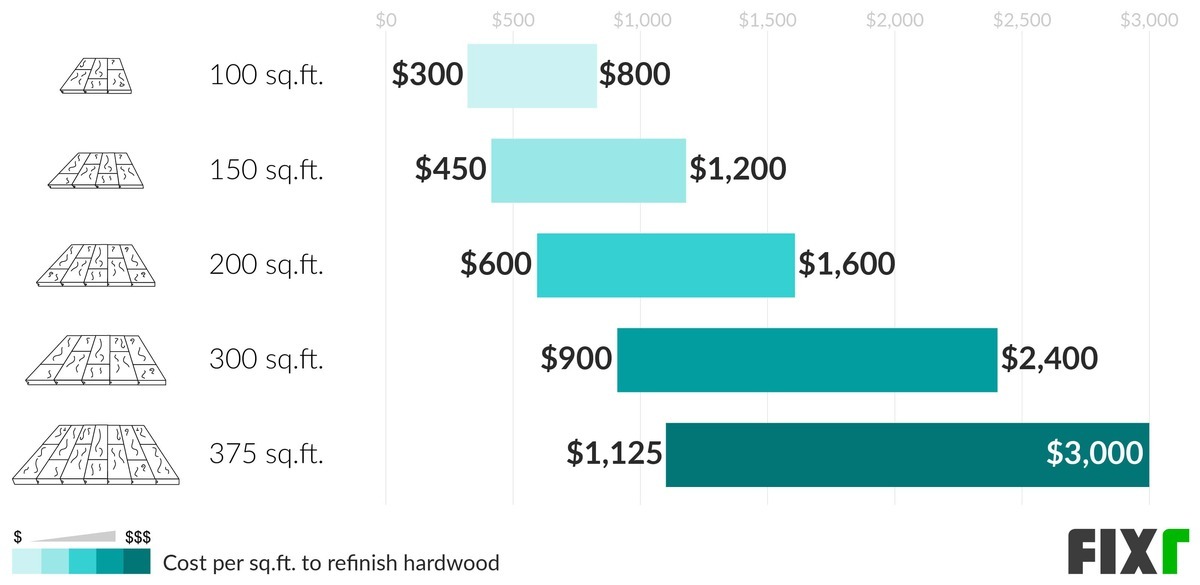 | | |
| --- | --- |
| Square Footage | Average Cost |
| 100 sq.ft. | $300 - $800 |
| 150 sq.ft. | $450 - $1,200 |
| 200 sq.ft. | $600 - $1,600 |
| 300 sq.ft. | $900 - $2,400 |
| 375 sq.ft. | $1,125 - $3,000 |
Cost to Refinish Hardwood Floor by Floor Type
Depending on the floor type you currently have installed, you can expect to pay between $3 and $8 per sq.ft. to refinish the flooring in your home. The price to refinish each flooring doesn't differ much as the materials used are similar in structure and installation. Below is a table with the most common floor types and their cost.

| | |
| --- | --- |
| Hardwood Type | Cost per Sq.Ft. |
| Cherry | $3 - $5 |
| Oak | $3 - $5 |
| Engineered | $3 - $5 |
| Bamboo | $3 - $6 |
| Parquet | $3.50 - $6 |
| Pine | $4 - $7 |
| Maple | $5 - $8 |
| Mahogany | $6 - $8 |
Refinishing Cherry Wood Floors
Cherry hardwood floors are very common in households, so refinishing them costs around $3 to $5 per sq.ft. The process is relatively similar to refinishing oak floors, with the contractors sanding down the surface several times before the raw wood is perfectly smooth. Once this is done, the wood is cleaned, stained, and sealed with a specific finish.
Refinish Oak Floors
Refinishing oak floors costs homeowners between $3 and $5 per square foot. They are one of the most common hardwood flooring types in households, so most contractors are experienced in refinishing them. If they aren't very damaged, sanding may not be required. However, this step of the process doesn't take much time, which is why refinishing is cheaper.
Refinish Engineered Hardwood
If you want to refinish engineered hardwood, expect to pay between $3 and $5 per sq.ft. The process typically involves using only light sanding to remove around 2 millimeters or less from the floor surface. However, thicker, higher-quality engineered floors may need deeper sanding to remove damage from them.
Refinish Bamboo Floor
Depending on the type of bamboo floor you have, you can expect to pay between $3 to $6 per sq.ft. to refinish it. While vertical and horizontal bamboo floors are easier to sand down and refinish, woven bamboo floors are among the most durable wood floorings, making it more difficult to sand and refinish them. However, as woven bamboo floors are made from bamboo fibers bonded with adhesives, they are not very prone to scratches and dents. They will require far less refinishing than other flooring types.
Refinish Parquet Floors
Refinishing parquet floors costs $3.50 to $6 per sq.ft., which is around the same as most other flooring types. It's always advisable to hire a professional to refinish the hardwood flooring as the parquet grains all run in different directions. They damage easily, something you want to avoid.
Refinishing Pine Floors
Pine flooring can be refinished for a cost of $4 to $7 per sq.ft. Similar to most other flooring types, most pine hardwood floors can be refinished if the pine is thick enough and stable. Refinishing pine flooring is more expensive than some other floors because the wood itself is softer, so the contractor needs to be extra careful while sanding it.
Refinishing Maple Hardwood Floors
As maple wood is one of the sturdiest and most durable flooring materials out there, refinishing it costs $5 to $8 per sq.ft. The professional uses sandpaper with a larger grit to penetrate the hardness of the maple floor and moves to a smoother paper that smooths the surface. Then, staining will take longer as the wood is harder and more time-consuming to stain than some other flooring.
Refinishing Mahogany
Mahogany floors can be refinished for a cost of $6 to $8 per square foot. The higher cost is because the refinishing process takes more time as mahogany floors are darker in color, requiring more care and patience when sanding to avoid damaging them. Because mahogany is gentle, it's always advisable to hire an experienced professional to do the sanding to avoid causing damage to the expensive wood.
Floor Refinishing Cost by Method
Refinishing a hardwood floor costs between $3 and $8 per sq.ft. The method used to refinish your hardwood floor impacts the overall hardwood refinishing costs as the two methods vary widely in price. Below is a table with the two most common refinishing methods, along with their cost per square foot and a brief explanation of the process.
| | |
| --- | --- |
| Method | Cost per Sq.Ft. |
| Sand and Refinish | $3 - $5.50 |
| Dustless Refinishing | $6 - $8 |
Sand and Refinish Hardwood Floors
The hardwood sanding cost goes between $3 and $5.50 per sq.ft., depending on the depth of sanding required. It's the traditional method of refinishing hardwood floors through which the upper layer of the current finish is removed, as well as a layer of the hardwood itself if it's damaged. If the floor is in good shape and not heavily damaged, sanding may not be necessary. Make sure to consult your contractor about this before deciding to do it.
Dustless Hardwood Refinishing
Dustless hardwood refinishing is a more expensive option, costing $6 to $8 per sq.ft. As its name suggests, this process creates less (not none) dust. A vacuum is attached that collects most of the dust. The vacuum won't eliminate all the dust particles but significantly reduces the amount of dust produced. Dustless refinishing is a safer method for the workers doing the process and is highly advisable for homes with people having allergies and breathing difficulties.
Cost of Refinishing Hardwood Floors by Finish Type
Most finish types are sold in one-gallon buckets for $20 to $550 per gallon. Each product covers a different surface size, meaning the finish can be used several times before you have to purchase another package. The type of finish you select determines the look your hardwood floors will have. They may be satin, matte, glossy, or another shade that gives the floor a smooth, shiny, or textured look.
| | |
| --- | --- |
| Finish Type | Cost per Gallon (Materials Only) |
| Oil-Based Polyurethane | $20 - $50 |
| Water-Based Polyurethane | $30 - $55 |
| Wax | $35 - $55 |
| Penetrating Oil Finish | $40 - $100 |
| Swedish Finish | $50 - $80 |
| Hard Wax Oil | $70 - $550 |
Oil-Based Polyurethane
Oil-based polyurethane costs around $20 to $50 per gallon. It's the most commonly used finish type used because of its durability and the traditional look it gives to the hardwood floors. It's one of the most durable finishes that can take heavy traffic and is extremely easy to work with as any mistake can be fixed along the way. When you apply oil-based polyurethane, it will dry within 24 hours and turn into an amber color over time.
Water-Based Polyurethane
Water-based polyurethane costs $30 to $55 per gallon. It's the second most common finish type after oil-based polyurethane because of its affordability and fast application. It is easy to apply and gives the flooring a high-gloss finish, making it a popular choice. Most water-based finishes dry within two to four days, so the project will take less time to complete than with some other finishes.
Wax Hardwood Floors
Liquid wax is also known as paste wax and can be found for $35 to $55 per gallon. It's buffed into the hardwood material and then spread throughout the floor. Once it hardens, it's buffed once again. Using wax finishes gives the floors a more natural look, so they are very popular with historical renovations. A big advantage of wax finishes is the ability to buff in more wax on high traffic areas to maintain the updated look across the whole floor.
Penetrating Oil Finish for Wood
Penetrating oil finish for wood costs $40 to $100 per gallon. It's called penetrating because it enters the wood, oxidizes, and hardens from within. This protects the flooring on the inside rather than adding a protective layer on the surface, which is the case with other finishes. This reinforces the wood as well, increasing its durability and sturdiness. Penetrating oils are expensive because they have little or no volatile components in them that may harm the flooring or people's health during its use.
Swedish Finish Hardwood Floor Care
Also known as acid-cured, Swedish finishes cost $50 to $80 per gallon. They typically come as a one-component or two-component finish with an acid catalyst and alcohol solvent. Once applied, the first coat dries within two to four hours so that the next coat can be applied after 24 to 48 hours. As the molecules of the finish bond with the wood cells, Swedish finishes are very durable. They are also very flammable because of the alcohol and have a very strong smell at the beginning.
Hard Wax Oil for Wood Floors
Hard wax oil is typically used on more exotic floors as the components are lighter and gentler on the wood, so the cost is a lot higher than other finishes. They are one of the most expensive ones on the market, at the cost of $70 to $550 per gallon. A quarter of a gallon covers around 800 sq.ft. of surface, so it lasts you longer than some other, cheaper finishes. Hard wax oils are rubbed into the floor. Once applied, the oil enters the floor and hardens in it. This process leaves the wax on top and gives the floor a shiny look. It comes in various finishes, from flat to matte and shiny, allowing homeowners to choose a shade that best fits their taste.
Average Cost to Refinish Hardwood Floor
The labor cost is around $2 to $5 per square foot, or $700 out of the $1,200 national average project cost. The exact labor costs depend on how much work the hardwood floor requires. This may include the work needed to remove previous staining and wax residue, the condition of the floor, and the quality of the old finish that determines how much sanding will be needed.
Before starting the hardwood floor refinishing process, you need to remove the furniture, carpets, and anything else that may be sitting on the floor. After this, the professional will inspect the flooring to see if any necessary repairs are needed, such as loose boards or damaged areas. Then, the floor must be sanded down to remove the existing finish and the top layer that may be damaged, scratched, or have imperfections.
Once the floor is smooth, it will be cleaned so there is nothing left on it before starting the staining process. The professional uses a staining pad or a soft, lint-free cloth to rub the stain into the wood until the preferred color is reached. The final step in the refinishing project is sealing the floor. A final topcoat will be applied to keep the floors protected from outside damage and maintain their refreshed look for longer.
Cost to Refinish Wood Stairs
If you have hardwood installed on your stairs, refinishing it would cost a bit extra, or around $25 to $45 per step. The higher cost can be attributed to the more complex process involved with refinishing hardwood on stairs. The professional would have to work around extra corners and in tighter spots, so it takes more time to do the sanding, staining, and refinishing the flooring with a topcoat.
Cost to Stain Hardwood Floors
Staining is often done before applying the final topcoat, but it's not required in all hardwood refinishing projects. If you opt to stain your hardwood floors, it will add $1 to $3 per sq.ft. to the project cost. Staining is typically done if you want to achieve a different color from the original wood color. It needs to dry completely before applying the finish, which takes about a day.
How Often Should You Refinish Hardwood Floors?
The biggest factor that contributes to how often you should refinish your floors is the frequency of use. The more traffic on the floor, the faster it will start to wear off, and the color will start fading. There isn't a specific rule about how often you should refinish your hardwood floors, as it also depends on the finish you will use. Some finishes last for three to five years and require reapplying afterward, while others can last for longer.
To know when the floor will need refinishing, keep an eye on a few warning signs. If you notice that the flooring is not as shiny as before, you can start planning for the refinishing. After a few years of using it, the floor will have scratches, dents, and holes from items that may have fallen or things that were moved across the floor surface. One or two scratches are no big deal, but after a while, if the floor starts losing its look because of them, it's time to refinish it and bring it back to its old shine.
Alternatives to Refinishing Hardwood Floors
Sometimes, refinishing or replacing the hardwood flooring isn't the only option available. A few popular alternatives to refinishing hardwood floors in a home are available. These options cost less and take less time to do. Currently, the most popular alternatives are recoating the hardwood floor or buffing (screening). Each method and its cost are explained below.
Recoat Hardwood Floors
If the floor is in good shape, you can only recoat it for a cost of $1 to $2 per sq.ft. When you opt for this alternative, you skip the sanding step, which shortens the time required to bring your flooring into a new, updated shape. The professional will only remove the upper finish of the floor and apply a new layer of topcoat. Recoating is a great option when your hardwood floors start losing their shine but haven't suffered much damage.
Buffing Hardwood Floors
Buffing or hardwood floor screening cost is between $1 and $2.50 per sq.ft. It's an alternative to refinishing that involves using clog-resistant sanding disks to remove the floor finishing without cutting into the wood. Keep in mind that buffing can be used only on hardwood floors with a non-waxed polyurethane finish and only if the floor underneath the finish is not damaged or stained.
Cost to Replace Hardwood Floors
Replacing a hardwood floor costs homeowners $14 to $32 per sq.ft. on average. This is two or three times more expensive than refinishing it. Thus, most homeowners opt to refinish the flooring a few times before replacing it. However, sometimes the only option is to replace the floor. If the floor suffers extreme water or structural damage, you will have to replace it to ensure you can use it safely. Another case where it would be better to replace the hardwood flooring in your home rather than refinish it is when the floor has become too thin due to previous refinishing, and it's impossible to do it again.
Hardwood Floor Restoration Cost
The cost of restoration depends on the type and extent of floor damage. For instance, if the damage is minimal on a ten sq.ft. surface, the floor may be restored with sanding for $3 to $5.50 per sq.ft., or $30 to $55 in total. However, when the floor has suffered deeper damage or the wood underneath the finish has suffered damage, the cost would be higher. If, for instance, the floor has suffered severe water damage, the whole area and the subfloor would likely need to be replaced. Replacing a floor board comes at the cost of $14 to $32, while repairing it will cost $8 to $32 per sq.ft. Some examples of damage that require hardwood restoration are deeper scratches and gouges, worn off areas on the floor, gray or black areas, or uneven floor boards. Refinishing is mostly used for lighter damage or wear. Restoration is used for deeper damage beyond the current floor finish.
Hardwood Floor Maintenance
You can take some steps to ensure your hardwood floors will last for longer and require less refinishing. One of the main things is using only professional wood floor cleaning products that are gentle to the material and won't eat away the topcoat. Use a soft brush attachment for the vacuum cleaner that won't scratch the surface of the floor. If something spills on the floor, make sure to wipe it away before it penetrates the floor and damages it or the subfloor. You can place protector legs on your furniture to avoid scratching the surface of the floor and minimize the direct exposure to sunlight that may fade away the wood color.
Enhancement and Improvement Costs
Resurfacing Hardwood Floors
Resurfacing hardwood floors is a time-consuming and expensive process that costs $5 to $12 per sq.ft. It may include removing old floor boards that may be damaged, grinding down any uneven areas of the floor, and reinforcing wood boards with new nails. The contractor has to use more equipment to do the job, so it costs more.
Hardwood Floor Repair
Repairing a hardwood floor is more expensive than refinishing it, costing most homeowners between $8 and $32 per sq.ft. The cost depends on whether the floor would only need repairing, or replacing would be required. Some of the boards would need replacement, which costs $14 to $32 per sq.ft.
Hardwood Floor Polishing
Hardwood floor polisher costs $20 to $50 per gallon or around $0.50 to $1 per square foot. Most people polish floors on their own with a mop, although you can ask your contractor if they include this as part of their services. Polishing the floors gives them a shiny, new look, so you can do it when the floors are in good shape and haven't suffered much damage.
Hardwood Floor Cleaning Service
To have your hardwood floors cleaned, you will pay between $0.60 and $1 per sq.ft. In most cases, floor cleaning will be included as part of the overall refinishing project quote, but make sure to ask your contractor for a list of services included. Sometimes, cleaning the floor aggressively will do a good enough job so that sanding is not required.
Remove Baseboard
Before refinishing the floor, you may remove the baseboard if its color is different from the new floor or to make the refinishing process easier. You could remove the baseboard yourself, or a carpenter would cost about $70 an hour to do the work. It's not necessary, but it makes the refinishing process a little bit easier. Plan for one hour for removal and one hour for reinstallation for a total of $140.
Remove Carpet and Refinish Hardwood Floors
The average cost to remove a carpet that may be over the hardwood floor is $0.50 and $0.75 per sq.ft., including both the removal and disposal of the carpet. So, if you want to remove a carpet from a 200 sq.ft. room and then refinish the hardwood flooring underneath, you can plan to spend $3.50 to $8.75 per sq.ft., or $700 to $1,750 in total, not including staining. You may do it yourself or decide to hire a pro to remove the old carpet. If you discover hardwood flooring under the old carpet and want to give it its old look back, you can opt to refinish it.
Additional Considerations and Costs
Some homeowners choose to refinish the hardwood floor on their own. This reduces the cost significantly. However, we recommend hiring a professional to do it. Hardwood floors are gentle, so you risk damaging them heavily and having to replace them, which costs a lot more than refinishing them. You can, however, do a few things to minimize the cost, such as removing the furniture in the room and any decor, paintings, or other elements on the walls.
Before settling for one contractor, try to get at least three estimates. This will give you a better idea of the refinishing cost and give you a better selection of services and features.
Once the contractor starts working on the refinishing, be prepared for a lot of dust, mess, and a strong odor. You won't be able to walk on the floor for up to 24 hours after applying the finish. If you're refinishing the floors in most or all rooms, consider settling in an alternate location.
If you live in a humid climate, keep in mind that the floors will take longer to dry.
Some older floors have a heavy wax finish that takes longer to remove, which will add to the overall cost of refinishing. Consider the added cost of wax removal if your floors have a heavier wax finish.
Check if the contractor you pick has a contractor's license and insurance that will protect your home in case of any damage.
Before hiring a contractor, ask if they have experience with the specific hardwood and type of finish you have in your home or if they have worked on similar projects.
Never pay the full price upfront. Instead, pay 30% as an advance payment, 30% when the contractor brings the materials to your home, and the rest after the refinishing is done. Make sure you're satisfied with the results.
If you have furniture in the room, it will need to be removed before starting the refinishing process. You may do it yourself or hire a separate service to do it.
You can rent a floor sander for a cost between $50 to $70 per day or $250 to $300 per week.
Keep in mind that some exotic woods react in different moisture levels, while others can burnish during sanding.
FAQs
How much does it cost to refinish 1,000 sq.ft. of hardwood floors?
Refinishing 1,000 sq.ft. of hardwood floors can cost anywhere between $3,000 and $8,000 depending on the extent of work needed and the method you will use.
Is it cheaper to refinish or replace hardwood floors?
Refinishing a hardwood floor is $3 to $8 per sq.ft. This cost is two to three times cheaper than replacing it.
How much does it cost to sand and refinish a hardwood floor?
Sanding and refinishing a hardwood floor cost between $3 and $8 per sq.ft.
What is the average price per square foot to refinish hardwood floors?
The average cost to refinish hardwood floors is around $5 per sq.ft.
The information provided by our cost guides comes from a great variety of sources. For more information, read our Methodology and sources.