How much does it cost to demolish a house?
Get free estimates from remodeling contractors near you
House Demolition Cost Guide
If you have an unsafe house, a house that is too expensive to repair, or want to remove it to build a custom home, demolition can be the answer. Demolition is the destruction and removal of a property. Mechanical demolition is the most common type, but deconstruction is also possible for some homes.
The cost of demolition varies depending on the property size, whether it has a full basement, and the building materials. The national average range is between $7,500 and $15,000, with the average homeowner paying around $10,000 for the mechanical demolition of a 1,500 sq.ft. home with a slab foundation. This project's lowest price is approximately $3,000 for the mechanical demolition of a 500 sq.ft. mobile home. The high price is around $45,000 for deconstruction of a 1,500 sq.ft. home with a full basement demolition.
Cost to Demolish a House
House Demolition Prices
National average cost
$10,000
Average range
$7,500 - $15,000
Low-end
$3,000
High-end
$45,000
Home Demolition Cost by Type
If you need to tear down a house or structure, you can choose how it is done. Demolition means different things, depending on the property. It can also be carried out in various ways, depending on your desires and needs.
| | |
| --- | --- |
| Demolition Type | Average Price Range |
| Partial | $1,000 - $20,000 |
| Total | $7,500 - $15,000 |
| Deconstruction | $10,000 - $50,000 |
Partial House Demolition
Partial house demolition costs between $1,000 and $20,000, depending on the project type. There are two types of partial demolitions. The first is removing a small part of your property, such as an outbuilding, patio, or chimney. Partial demolitions also encompass some types of interior demo. The second type of partial demolition keeps part of the structure and removes the rest, which is more costly than a total demolition but can save things like an original chimney and mantel. This is why partial demolitions have such a wide range of prices.
Total House Demolition
Total house demolitions cost between $7,500 and $15,000 on average for a 1,500 sq.ft. home. Demoing a smaller home can be cheaper, while demoing a larger home is typically more expensive. You can also have a range of prices, depending on whether the home has a basement or foundation and what it is made of. Demolition is the process of mechanically tearing down a house or building with a wrecking ball, high reach, or excavator. It is fast, and the debris can be quickly hauled away. Homes without foundations and older homes can be demolished quickly with this method.
House Deconstruction
House deconstruction costs between $10,000 and $50,000 on average for a 1,500 sq.ft. home. This is the process of tearing down a house by hand and with hand tools. This is also known as "green demolition." This method can recycle and reuse some of the home's materials. Some high-quality homes that are in good shape can have materials removed and used again somewhere else. Sometimes, this salvage can even offset the demo's price because you can sell the pieces or write them off as a tax break.
Get free estimates from house demolition experts near you
House Demolition Cost per Square Foot
House demolition costs between $5 and $10 a square foot on average. Some older homes without foundations run as low as $3 a square foot, while some newer homes with full basements average as much as $12 a square foot. On average, most fall between $5 and $10 a foot.
| | |
| --- | --- |
| Home Size | Average Price Range |
| 500 sq.ft. | $2,500 - $5,000 |
| 1,000 sq.ft. | $5,000 - $10,000 |
| 1,500 sq.ft. | $7,500 - $15,000 |
| 2,000 sq.ft. | $10,000 - $20,000 |
| 2,500 sq.ft. | $12,500 - $25,000 |
House Demolition Prices by Area
Every partial demolition has a set of prices. Different materials, locations, and buildings influence the exact price. Remember that partial demolitions can mean the partial removal of a surrounding structure or the total removal of one part. Prices vary depending on where the property section is located.
| | |
| --- | --- |
| Area to Be Demolished | Average Prices |
| Deck | $300 - $3,000 |
| Chimney | $300 - $6,000 |
| Wall | $400 - $3,000 |
| Patio | $450 - $2,500 |
| Shed | $500 - $3,500 |
| Bathroom | $550 - $1,500 |
| Extension | $550 - $3,000 |
| Driveway | $600 - $4,000 |
| Garage | $800 - $10,000 |
| Foundation | $1,000 - $25,000 |
| Barn | $1,200 - $25,000 |
| Pool | $1,500 - $9,000 |
| Roof | $3,400 - $8,500 |
| Basement | $5,000 - $25,000 |
Deck Removal
The average costs to remove a deck range from $300 to $3,000. The price range considers what the deck is made from, where it is located, how old it is, and the size. Small, old wooden decks can be demolished for much less than a large metal deck. Likewise, decks attached to homes may need to be deconstructed to avoid damaging the house, while freestanding decks go down more easily. Platform decks also cost less to demo than two-story decks. Some types of decking material may also have higher disposal fees than others, which accounts for the price range.
Chimney Demolition
The cost to demo a chimney is between $300 and $6,000. Chimneys can run up the house's side or center. They can be made of brick or concrete blocks and, in some cases, partially fieldstone. They can also have one flue or up to 5 or 6, depending on the size. So, there are a range of prices associated with the demolition. A small exterior chimney costs much less to demo than a 5-flue interior chimney.
Wall Demolition
The costs to demo a wall average $400 to $3,000. Walls are load-bearing or non-load bearing, which impacts their removal price. Some walls also contain plumbing or wiring. If this is the case, removing a wall means rerouting these utilities, which increases the price. The length, width, and thickness of the wall also influence the final costs.
Patio Demolition
The cost to demo a patio is between $450 and $2,500. Patios can be made of many materials, from brick to concrete. Some materials are naturally easier to remove and dispose of than others: loose old bricks are easier to remove than thick, reinforced concrete slabs. The patio's size and how easy it is to reach for any equipment plays a role in the price. It is also more expensive if the patio must be broken up by hand.
Demolish Shed
The cost to demolish a shed averages $500 to $3,500. Sheds range in size from tiny to the size of a small guest house. They can be made of many materials, including plastic, wood, and metal. They can also be fully framed, roofed, and sided, or be merely a shell or temporary structure. This means that when it comes to tearing one down, there can be a wide range of prices. Prices are higher if the shed has any flooring or foundation, such as a concrete slab.
Bathroom Demolition
The cost to demo a bathroom is between $550 and $1,500 on average. Bathrooms can be small, half-bath powder rooms or 200 sq.ft. master bathroom suites. For that reason, they can have a wide range of prices to demo. The more space and fixtures the bathroom has, the more expensive it is to demolish. Prices can go higher for heavy items that are hard to remove and bathrooms on the second floor. Stainless steel tubs that cannot be cut and must be lowered through a window raise prices.
Demolish an Extension
The cost to demo a house extension averages $550 to $3,000. An extension can be a small bump-out to hold shelves or a full-room addition to the home. Because extensions are generally put on after the rest, removal tends to be easier than some partial demoing. Prices range depending on the extension's size and placement. They also vary depending on whether it has a foundation or how well it is integrated with the home. Extensions that can be removed without disturbing the rest of the home cost less than those that need to be hand dismantled.
Driveway Removal
The cost to remove a driveway is between $600 and $4,000 on average. Prices range depending on the driveway's length and material. Some materials can be removed more easily. For example, asphalt can be recycled, which may help keep prices down. The more equipment that is required for this job, the higher the costs. Likewise, the more loads required to remove the old material, the higher the total price.
Garage Demolition
The cost to demo a garage averages $800 to $10,000. Garages come in many sizes and styles. They can be detached from or attached to the main house. A small detached garage that is older and in poor condition averages significantly less to remove than a larger garage attached to the house. The age and type of foundation and how much room there is to get to the garage with equipment also plays a role. Garages that are much farther back or have small driveways may be more expensive to remove than those that are easily accessible.
Foundation Removal
The cost to remove a foundation ranges from $1,000 to $25,000. Foundations can be made in different ways. They can have crawl spaces, be slabs, or have full basements. Sometimes when a house has a foundation, the costs to remove the house and foundation are separate line items. If the foundation is large, deep, or difficult to deal with, its removal may be higher than the price of the removal of the home. Slab foundations averages significantly less to remove than basement foundations. If you need to fill in the area where the basement foundation was, your costs can be even higher.
Barn Demolition
The cost of barn demolition is between $1,200 and $25,000. Many factors influence the price. An old small barn is among the least expensive to remove. A large barn that is attached to the main house via an el costs much more to remove. Barns are traditionally made of wood but can be made of other materials. Metal and concrete cost more to remove than wood.
Pool Removal
The cost to remove a pool is between $1,500 and $9,000. Pools can be inground, above ground, or even indoors. This leads to a wide range of removal price. An above-ground pool is the least expensive to remove. An inground or indoor pool can be much more costly. Prices go higher if you want to fill in the area. Your costs can also be higher if you also want to remove the pool deck and surrounding area.
Roof Demolition
The cost to demolish a roof averages $3,400 to $8,500. Roof demolition is different than a roof tear-off. A tear-off removes the old shingles before replacement. Full demolition of the roof removes the entire structure. This is done before adding a second-floor addition or making changes to the roofline. In some cases, it is also necessary if there is significant damage to the decking and roof structure. Prices vary depending on the roof type and whether it was trussed or built with rafters.
Basement Demolition
The cost to demolish a basement is between $5,000 and $25,000. A full basement demolition can be very invasive and expensive. It requires significant excavation of the surrounding area. It also includes removing the full walls and slab at the bottom, which can be difficult, time-consuming, and expensive. The larger the basement, the higher the costs can be. If you intend to fill in the basement after demolition, this increases prices more.
Find trusted house demolition contractors near me
Cost to Tear Down and Rebuild House
If you choose to demolish an existing home to build a new one, expect your project to be roughly $10,000 for a full demo, with $423,800 for building a new 2,600 sq.ft. home. The price for the demo and new building varies, depending on several factors. The size of both homes, their location, and materials play a big role in the final costs. You have slightly lower prices for running utilities to the new home because they should already be in place.
Cost to Tear Down a House with Asbestos
If you have a home with a significant amount of asbestos in the siding, roofing, flooring, or insulation, your costs to tear it down are two to three times higher than regular home demolition. This means a total price range per square foot of $10 to $30.
There can be many factors that make up your final costs. If you suspect asbestos, start with inspection and testing ($500). If the asbestos is confined to a small area of the home and can be removed safely, this may lower your demolition costs. If the asbestos is present throughout much of the home, you may need to pay the higher costs for demolition to remove it safely.
Mobile Home Demolition Cost
The average price range to demo a mobile home is between $2,000 and $6,000. Some mobile homes are smaller than standard homes, but many are just as large. The biggest price difference is that mobile homes do not have the same kind of permanent foundations as standard homes. These foundations raise the price of a house demolition to be much higher than that of a mobile home. Otherwise, a mobile home is demoed in much the same way as a standard home, with mechanical demolition being the most common.
Demolition Clean Up Cost
The removal of demolished materials is another important consideration when demolishing a house. Once all the rooms are torn down, the leftover materials need to go somewhere. The removal charges are included in the overall project price and listed in the contract for around $300 to $2,000 depending on the size of the demolition and how much needs to be removed.
If you use a smaller demolition company that does not include removal services, they may charge a fee to partner with a local removal company. Debris removal service costs about $400 to $800 for each truckload of waste, whether the final destination is a landfill or a recycling center. Drywall, tile, concrete, linoleum, and hardwood are some of the most commonly demolished materials. Most contractors and cities try to reuse or recycle as much of these materials as possible. Materials with mold or asbestos may be recycled but require special processing, such as with high temperatures to transform asbestos fibers into ceramic or glass fibers that can be reused.
Should You Demolish and Rebuild or Renovate Your House?
Demolishing, rebuilding, and remodeling your home has pros and cons. From a financial standpoint, it is less expensive to remodel than to demo and rebuild. However, when you build new, you often have warranties and guarantees on things that you do not necessarily have with a remodel, making building new more attractive long term.
Building new also gives you a chance to completely change your home's structure and layout much more easily than renovating. This is a good choice for those who need a different floor plan.
However, if your home is historic or built during a period where building materials were stronger and made to last, renovating is the right choice.
Many people continue living in their home during a remodel. This can have significant savings in living expenses during the project. You must find another place to stay in a demo and rebuild, which can add big costs.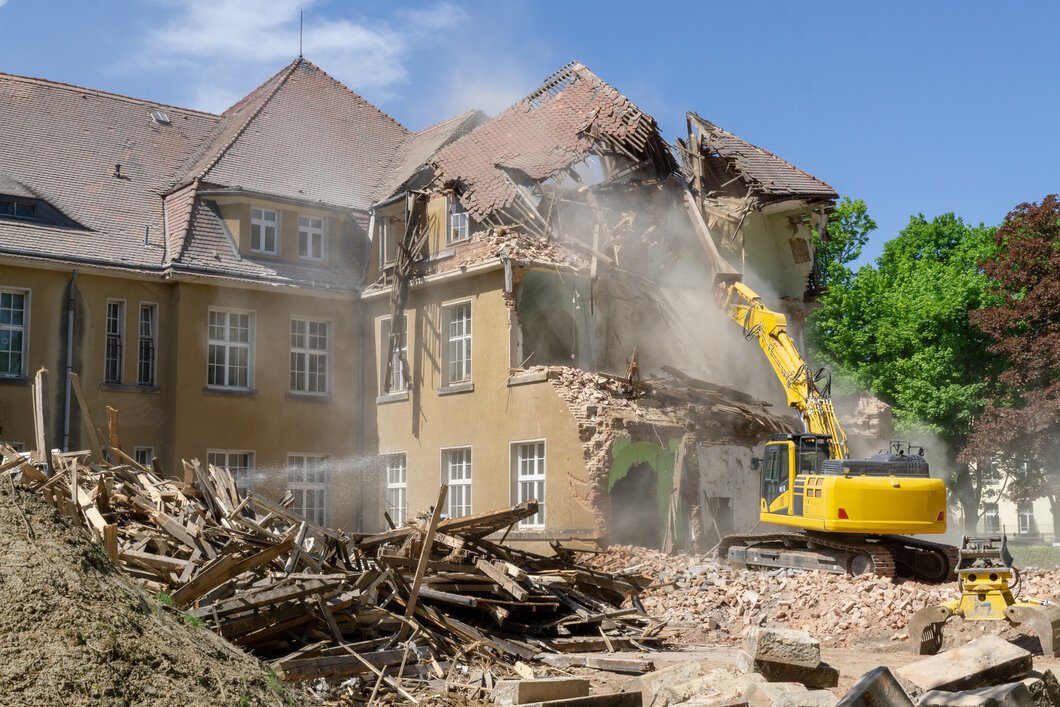 Cost to Demolish a Building
The cost to demolish a commercial building ranges from $12,000 to $150,000, depending on the building's type, size, location, and materials. Older buildings have greater chances of containing asbestos, which increases the demolition price. Buildings made of concrete, brick, and other hard materials may cost more to demolish than buildings made of wood. A building in a heavily built-up area with other buildings nearby can also have a higher price tag than if the building is isolated.
All demolition projects will feature at least 3 main components: demolition, transportation, and disposal. Most demolition contractors will offer all 3 services as a packaged service. The cost of these services will be directly related to the time it takes to complete the job, the distance from the job to the disposal site, and based on the material being disposed of. It is important to consult with a local demolition expert to ensure your demolition project is completed in a safe and legal manner.
Get quotes from house demolition companies near me
Enhancement and Improvement Costs
Rent a Dumpster
Most demolition companies include the dumpster rental in their estimate. However, you need to rent your own if you plan on doing some of the work yourself. The average price of renting a roll-off dumpster is around $360.
Additional Considerations and Costs
Shut off utilities. Before any demolition, make sure all utilities are shut off. Ensure that all gas, water, and electrical lines are disconnected before demolition of an entire property.
Architect. Start working with your architect for your new build before the old house is demolished. This saves time and makes sure any utilities can be rerouted as needed.
Accessibility. If your property is hard to access with the necessary machinery, it can make the process more complicated and expensive. Traffic rerouting or deconstruction are good options for this scenario.
Inspection and permit. You need an inspection and permit before demolition. Permits begin at around $100. The inspection is included in your demolition's price.
Septic tank demolition. If the home has a septic tank, this must be dealt with. Tank demolition can cost from $200 to $1,000, while capping an old septic tank can cost up to $5,000, depending on the number of vents.​
FAQs
How long does it take to tear down a house?
This depends on the home's size, materials, and demolition type. It could take several hours to several weeks, depending on these factors.
How much does it cost to demolish and rebuild a house?
The average cost to demolish a house is around $10,000, while the average cost to build is around $423,800. Your prices could be higher or lower, depending on the size and location.
How many dumpsters does it take to demolish a house?
This depends on numerous factors, including the home's size and whether it is a demo or deconstruction. It also can vary depending on the dumpster's size. It is not unusual for a demo to take up to 60 loads.
Can I tear down a house with a mortgage?
This varies by area and bank. In some cases, you can, but you still need to pay the mortgage. However, removing a home can lower the property's value, which means that you may now be "underwater" or owe more than the property is worth, which can make it difficult to sell later.
Is it cheaper to demolish and rebuild?
It is less expensive to remodel than to demo and rebuild. However, there are benefits to rebuilding, such as gaining new warranties and a better layout.
Do you need planning permission to demolish and rebuild?
This depends on where you live. You need a permit, and you must meet your city or town's planning board rules and codes. Beyond that, it varies by neighborhood and whether you have an HOA.
Find remodeling contractors near you
Get free estimates on Fixr.com from trusted remodeling contractors in your area
Find Contractors