How much does it cost to hire an exterminator?
Get free estimates from remodeling contractors near you
Pest Control Cost Guide

Pests in your home range from annoying to dangerous, depending on the situation and pest. That is why pest control services are available - to help remove the pest or pests in your home. Many costs are associated with pest control, which are influenced by the pest type, location, and method to resolve the situation.
The average one-time pest control visit to assess the situation and remove the pest or apply pesticide ranges from $350 to $1,000, with most homeowners paying around $550 for manual animal removal and relocation. This project's low cost is $100 for spraying chemicals to remove a pest in a 2,000 sq.ft. home. The high cost is $7,000 to fumigate or heat treat a 2,000 sq.ft. house, including repairing damages.
Pest Control Cost
Pest Control Prices
National average cost
$550
Average range
$350-$1,000
Low-end
$100
High-end
$7,000
Pest Control Fees
Labor for each pest depends on certain variables. This may include where the pest is located, infestation size, and the method the pest control company uses to treat the issue.
Pests in easy-to-reach areas or that do not require invasive techniques are less expensive to deal with than pests in walls or crawl spaces where the worker may need to cut or damage the property to remove the pest. The latter project means there are added repair costs.
Most pest companies charge by the visit or project, with flat fees for each service. For example, there may be a fee for spraying a room and a separate fee for spraying the home's perimeter. Fees start at around $100, with serious infestations having higher fees, reaching $6,000 when more costly treatments are needed, such as fumigation or heat treatment. These costs usually include the initial visit.
Contracted repairs or prevention services are done after the issue has been resolved. The additional services are usually done later.
Compare prices from pest control professionals near you
Pest Control Prices by Frequency of Service
One-time pest control visits have different costs than recurring contractual visits. The one-time pest control costs more, depending on the infestation severity and size. They usually cost $200 to $550 per visit, compared to a contractual visit, costing $100 to $350. Subsequent visits could be slightly discounted, depending on the professional's pricing plans. Pest control companies offer different packages with monthly payments. Monthly service contracts can help with recurring infestations like ants, but seasonal bugs might require extra visits during the busy season. For example, mosquitoes become most active in the summer, so monthly summer visits with a winter break might make sense. The cost of pest control service by frequency varies from $100 to $1,300. The below table shows the average prices for the most common pest control service schedules.
| | |
| --- | --- |
| Frequency of Service | Annual Contract Cost (2,000 Sq.Ft. House) |
| Once | $100 - $350 |
| Quarterly | $400 - $800 |
| Monthly | $600 - $1,300 |
Pest Control and Wildlife Removal Cost by Method
Your pest control or wildlife removal company may use several methods, depending on the pest type, location, and severity. Each has different costs and levels of effectiveness.
| | |
| --- | --- |
| Treatment | Cost for a 2,000 Sq.Ft. House |
| Insect Traps | $100 - $400 |
| Chemical | $100 - $500 |
| Manual Removal and Relocation | $150 - $700 |
| Heat Treatment | $2,000 - $6,000 |
| Fumigation | $2,000 - $6,000 |
Setting Traps for Insects
If you have a small insect problem, you might have some luck setting traps ranging from $100 to $400 for a 2,000 sq.ft. house. The most common traps are sticky, often long pieces of yellow tape containing a pheromone that lures and catches bugs. Bait traps for insects like roaches are helpful in dark, hard-to-reach areas. Avoid the electrified bug catchers that zap bugs because they lure in the good bugs with the bad, harming the ecosystem.
Chemical Pest Control
Chemical pest control costs $100 to $500 and is one of the most common methods of eradicating pests. It involves using chemicals or poison to kill the pests and deter them from returning. Chemicals may be organic, depending on your preferences and the company's options. They may be sprayed or distributed in powder form. They may require you to leave your home during application. Some chemical treatments are not safe for children and pets, while others pose no harm. If you choose chemical methods, carefully question the pest control company to determine the best method for your home. Depending on the issue, the company schedules further visits to apply more chemicals.
Animal Removal and Relocation
Physical pest control costs $150 to $700 and is usually for animals or removing large nests, such as bee or wasp nests. This may include traps or the pest control worker needing to get close to the animals or nest to grab and physically trap them. Sometimes, the traps are set, and the worker returns to check and retrieve the animal. Other times, the worker may trap the animal or animals during the visit and relocate them immediately. In the case of large infestations or families, there may be multiple visits to ensure they have all been removed. This method works well for animals but is not always an answer for insects. It may be impossible to trap and remove very small pests.
Pest Control Heat Treatment
Heat treatment costs $2,000 to $6,000 and may sometimes be used in place of fumigation for dealing with tough infestations, such as bedbugs. Your home is sealed and superheated, but you can re-enter immediately once it is done. It is good for bed bugs and similar pests in all stages of development, but it can be expensive.
Fumigate a House
Fumigation pest control costs $2,000 to $6,000. Fumigation may be the right choice if you have a house-wide issue that is difficult to control, such as termites or bed bugs. This process is generally more expensive and often considered a last resort after other methods have failed or for very serious infestations. The home is sealed during fumigation, and a chemical mist or spray is deployed to the property. The home is left to sit and then aired out before you can return. Because this is so invasive and difficult on the homeowner, who must vacate the home until the process is over, it is generally not considered the first choice unless absolutely necessary.
Pest Control Cost by Company
Pest control is a big industry in the U.S., worth approximately $20B, and it is expected to grow significantly within the next decade. Several key pest control companies have franchises across the country. These big names in pest control are regarded for trustworthy service, cutting-edge equipment, and pest management solutions. Here are some of the most popular pest control companies and the average price of their services.
| | |
| --- | --- |
| Pest Control Company | Average Cost per Visit (2,000 Sq.Ft. House) |
| Viking Pest Control | $75 - $350 |
| Bulwark Exterminating | $75 - $455 |
| Mosquito Joe | $80 - $100 |
| Mosquito Squad | $95 - $125 |
| Abell | $95 - $400 |
| Dewey | $100 - $400 |
| Rottler | $125 - $350 |
| Western Exterminator | $125 - $400 |
| Ehrlich | $125 - $550 |
| Arrow Exterminators | $130 - $600 |
| Orkin | $170 - $500 |
| Terminix | $175 - $450 |
| Truly Nolen | $175 - $500 |
| Aptive | $560 - $620 |
Viking Pest Control
Viking Pest Control prices range from $75 to $350. The company offers traditional pest control solutions and sustainable options to remove pests in an ecologically responsible manner. The company operates along the Atlantic Coast in states like New Jersey, Pennsylvania, Maryland, and Delaware. The company began operating in 1980 and treats many pests, from ants and centipedes to wasps and fleas. They also treat small animals like mice, bats, and rats.
Bulwark Exterminating
Prices for pest eradication from Bulwark Exterminating range from $75 for the initial treatment to $455 per visit for larger treatments on pests like ants, scorpions, cockroaches, and spiders. They offer services in 25 areas in states like Missouri, New Mexico, Tennessee, Washington, and Nevada. When you sign up for a treatment plan with the company, they return between scheduled visits to remove pests. Their website features more than 19,000 customers giving them 5-star reviews.
Mosquito Joe
A visit from a professional from Mosquito Joe costs $80 to $100. The company focuses on treating mosquitoes, ticks, and fleas, and its branches are independently owned franchises. They train technicians to meet all state guidelines and certifications for pest removal. Their main focus is on fighting these pests outside the home so that families can enjoy their yards. They offer a satisfaction guarantee stating they will come back to treat the yard if you find bugs within 14 days of treatment.
Mosquito Squad
Services from Mosquito Squad run from $95 to $125. The company offers several treatment options like mosquito barrier treatments, automatic misting systems, tick control packages, and natural mosquito treatment solutions. The company invented a barrier treatment in 2005 to help lighting installers keep mosquitoes from their worksites, and the company expanded that technology into its residential offerings shortly after. They focus on treating outdoor spaces for mosquitoes.
Abell Pest Control
Homeowners pay $95 to $400 for Abell Pest Control services. The company has certified pest technicians available 24/7 to assist with safe, fast pest elimination, including ants, earwigs, bees, spiders, centipedes, mice, and rats. They have customized protection plans for homeowners who want to safeguard their homes against the most common pests in their areas. Their tick prevention and bed bug, termite, and wildlife management services are some of their most popular. They use a combination of monitoring, pre-construction treatment, bait stations, and regular inspections to control termites and similar pest populations.
Dewey Pest Control
Dewey's pest control solutions are usually priced between $100 and $400. Since 1929, the California-based company has provided extermination and fumigation services to eliminate ants, bed bugs, bees, and carpet beetles. Its integrated pest management technicians use green products for spraying and baiting to achieve a natural, healthy response in residential settings. They are known for their termite control program that monitors homes for returning infestations and effectively mitigates risk without harming the environment.
Rottler Pest Control
Homeowners pay between $125 and $350 for general pest control service with Rottler, a family-owned pest control business in St Louis, MO. Since 1956, the company has provided same-day services to address pest infestations, including spiders, termites, ants, and crickets. Its pest control technicians inspect the property for signs of insect/rodent activity before removing visible spider webs and eggs. They treat the home perimeter with a barrier treatment to stop pests from entering and use rodent bait as required.
Western Exterminator
Costs for Western Exterminator services average $125 to $400. The company's extermination team provides integrated pest management, fumigation, and structural repair following significant termite infestations and other pest problems. They address infestation issues with ants, bats, bed bugs, cockroaches, bees, birds, scorpions, rats, chipmunks, and more. They use local spot treatments and fumigation for larger infestations of termites, cockroaches, and fleas.
Ehrlich Pest Control
The average price for initial pest control services with Ehrlich is between $125 and $550. Founded in 1928, the residential pest control company serves the Eastern U.S. with a range of solutions to help with ants, bed bugs, termites, bees, cockroaches, mosquitoes, moths, and more. Its pest specialists use environmentally sensitive treatments that are safe for children and pets. Their services include residential disinfection, fumigation, and entry point sealing. Their perimeter treatments minimize major infestations.
Arrow Exterminators'
Expect to pay between $130 and $600 for initial pest control service with Arrow Exterminators. The company offers the STEPS Total Protection System as a commitment to environmentally friendly pest management practices. They identify pests and infestation sources to stop them from happening again. They focus on termite treatment that averages $800 to $1,800, depending on the infestation severity and damage. The Sentricon System is a trusted form of termite control. It is used to bait termite colonies, but they also offer house cricket, fire ant, spider, cockroach, and scorpion control services.
Orkin Pest Control
Average Orkin Man prices are $170 to $500 for an initial visit and spray treatment. Costs vary slightly based on the region and problem. Orkin is one of the most trusted names in pest control, offering customized services since 1901. Its pest control experts treat termites, bed bugs, mosquitoes, cockroaches, ants, spiders, ticks, beetles, and more. Their pest treatment process includes investigating the infestation, removing accessible nests, and sealing/caulking cracks to prevent pests from returning. They also install pest monitors and provide follow-up services.
Terminix Pest Control
Most homeowners pay $175 to $450 for their first Terminix pest control service. As one of the world's largest pest control companies serving the U.S. and over 20 countries, Terminix specializes in cutting-edge termite treatment, including its Bait Defend, Liquid Defend, and Tent Defend Systems. Its pest control technicians target subterranean termite populations and offer home fumigation services for bed bugs, cockroaches, spiders, and wildlife and rodent removal.
Truly Nolen
Truly Nolen services cost between $175 and $500. They offer over 80 years of experience in treating bug infestations, one-time treatment options, and a four-season pest control plan. The company started during the Great Depression as a family-owned business. Today, they operate in several states, including Arizona, New Mexico, Nevada, and Texas. They also offer pest control services in more than 30 countries. They treat lawns, deal with rodents, and offer commercial services.
Aptive Pest Control
Aptive has a single plan for its customers, which costs an average of $560 to $620 for a 2,000 sq.ft. house. Their Four Season plan treats common household pests like rodents, spiders, fleas, aphids, earwigs, and millipedes. The plan features 4 visits each year. However, they do not treat termites, bed bugs, mosquitoes, or ticks. They send a technician between quarterly visits if you find bugs and need immediate treatment. The company is based in Utah and operates branches in 24 states.
Hire a pest control specialist near me
Insect Control Cost by Type
Pests are unwanted insects and bugs in your home or property, and pest control companies use various methods to eliminate them. In some cases, treatment may include fogging, and other treatments may require bait traps. Some insects like bees are removed by bee removal companies who relocate colonies to safe areas. Other insects like ants are eradicated with an initial treatment and kept away by barrier treatments. Pest removal service companies have many methods for removing virtually every insect from the home and yard.
Wildlife Removal Cost by Animal
Wild animals often live near humans. While the array of wildlife varies based on the region you live in, the possibility of animals getting into your home remains very real. Sometimes these animals make a noticeable entrance inside your house, and you have to call a pest removal company right away. In other cases, they may be sneakily living in your attic or basement without your knowledge. The animal control cost depends on the number of animals and how difficult they are to relocate. The table below explains the most common wild animals found in homes and the wildlife removal cost for each one.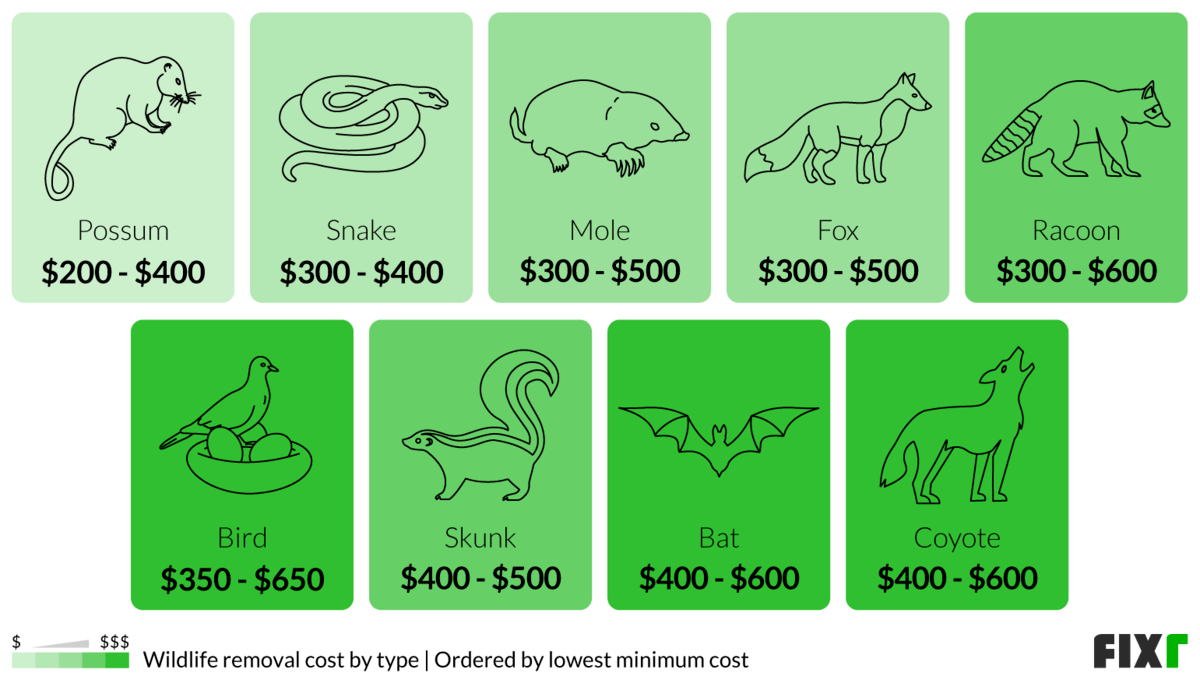 Rodent Control Cost by Type
In addition to insects, rodents are common in many homes, regardless of where your home is located. Rodents often thrive in the tight, dark spaces beneath cabinets and behind walls. They are attracted to food scraps and garbage. The average rodent exterminator cost depends on the type of the pest and the size and location of the infestation. This table shows the average costs for rodent control based on the species.
Dead Animal Removal Cost
Depending on your pest problems, you may deal with dead animal removal, costing $150 to $350. In some cases, you may find a dead animal in your garage, basement, attic, or kitchen. This may be the first time you notice the pest. You can call a professional to remove the dead animal and check for signs of more.
You also have to consider the dead animal with lethal bait or chemical treatment. Before starting the pest control treatment, your provider should let you know what to expect and how often dead animals may be in the traps. This is especially common for mice and rats. The more dead animals there are to remove and the frequency of required removals, the higher the project price is.
Compare quotes to get the best price on wildlife removal
Animal in Attic Removal Cost
One common area where animals hide is in the attic. It costs around $200 to $650 to remove them. Pest control companies may charge slightly more for removing animals from hard-to-reach attics that require ladders and crawling in tight spaces. Mice, rats, squirrels, rodents, and raccoons are some of the common inhabitants of attics. Signs of an attic infestation include urine, droppings, damaged insulation, ripped ducts, and nests. You may also hear scurrying or squeaking noises.
Eco-Friendly Pest Control Cost
Some pest control companies offer eco-friendly treatments, such as diatomaceous earth and other harmless products. These are priced 20% to 100% more than conventional treatments, costing $420 to $2,000.
Check with your local pest company on their green practices and products because many pest control businesses are switching to environmentally friendly techniques and materials to serve their customers and natural surroundings. Depending on the pest control provider, you may request they only use certain products for pest removal and prevention. Some businesses include this in their pricing. Others charge $20 to $200 more, depending on the products and amount needed.
Pet Safe Pest Control Cost
Many people worry about pesticides, repellants, and traps, fearing their beloved pets may be injured or fall seriously ill if they contact these materials. That is why many pest control specialists offer pet and child-safe options for peace of mind. They may use chemicals that are not harmful to dogs and cats or on-site trapping to ensure a pet cannot wander into the trap.
Each company may have slightly different recommendations on the best pet-safe practices for pest management. You need a balance between protecting your pet and eliminating the pests. Some companies may charge slightly more for pet-safe products, but it depends on each business and their pest control practices. Expect to pay $25 to $250 or more for pet-safe pest control solutions.
Pest Inspection Cost
The company begins with an inspection for nearly all pests. They help identify the pest you have and offer various treatment plans. Once you decide on the plan, one of several things happens.
If the problem is severe and the pest control company needs assistance locating the pests, you may need a canine inspection. During this inspection, a dog is brought in to help locate the problem areas. This process costs $200 to $500.
Baiting is another option for discovering where pests are hiding. This method is usually slightly less expensive, costing around $50 to $150. Pest control specialists set the bait, non-lethal or lethal, and check for animal signs. If the infestation is obvious from the inspection, the pest control technician may begin the removal process immediately through chemical treatment, fumigation, manual labor/removal, trapping, or a combination.
Many pest control businesses offer free inspections to uncover undetected insects, rodents, and animals. Special deals and coupons for inspections and subsequent services are also common. Each company has different pricing policies, but expect to have the inspection cost included with removal. Annual pest inspections are another option. If you go with one of the pest control companies that charge for inspections separately, expect to pay $75 to $125.
Pest and Wildlife Damage Repair Cost
Pest-related repairs range from $50 to $5,000. Sometimes repairs are needed after the pest is gone. If walls need to be opened to reach the pest or the pest damages your property, you may need repairs. These repairs have a range of costs, depending on the pest.
Textile Repairs
Fleas and moths are pests that may be problematic to the textiles throughout your home and may result in $50 to $600 worth of damage to your curtains. They may also damage other fabrics like window upholstery and furniture. Repairing your couch's upholstery costs $150 to $300. Cleaning your home regularly between exterminator visits reduces the chance these pests can live in your home and cause damage.
Gutters
Gutter repairs after pest damage costs from $100 to $250. Birds, squirrels, and other nesting animals clog and damage gutters, affecting water drainage. The average cost to clean clogged gutters is $150 to $225. Repairs to leaking, dented, sagging, cracked, and rotting gutters cost $100 to $250. Clogged gutters may lead to a rainwater backup that could soften exterior wood and attract termite infestations.
Wall Repairs
Wall repairs after pests cost $200 to $550. Walls could need to be opened to remove the pest, most common with bees, mice, squirrels, birds, and wasps, but any pest that made its home in the walls can cause damage that needs repair. Wall repairs start at $200 for the drywall and reach $550 if you must repair wiring or studs. You may need new insulation for the walls if the pests have gone undetected for a long time, costing $1.75 to $7.50 per sq.ft.
Roofing Repairs
The average cost for repairing roofs ranges from $300 to $1,500. Termites, carpenter ants, mice, rats, bees, squirrels, and bats may damage residential roofing. They may chew through siding and water-damaged shingles to affect the roof's structural integrity, requiring expensive repairs. Repairs after a pest infestation may include replacing shingles, repairing soffit and fascia, or filling cracks.
Attic Repairs
Repairs in the attic due to pest damage usually start at around $400 to $800, depending on the level of damage. Because many people do not pay much attention to their attics and only go upstairs to check every once in a while, animals can live undetected, meaning more damage. Squirrels and bats are the two most common problems in attics. They may disturb insulation or wires and damage the woodwork.
Wiring and Plumbing
Most homeowners pay $450 to $600 to fix wires and pipes damaged by pests. Mice and squirrels may chew through wiring or plumbing, which can require expensive repairs. In this case, you need to hire an electrician for $40 to $120 per hour and a plumber for $75 to $150 per hour.
Carpet Repairs
Replacing damaged carpet costs $980 to $1,680. Many tiny insects do a great job hiding beneath carpet and other fabrics, chewing away and causing considerable damage without you knowing. Replacing carpet is on the higher end when replacing items damaged by infestations. Regularly vacuuming can help keep your carpet fibers in good condition and remove harmful bugs like carpet beetles that may hide in the carpet during exterminator visits.
Hardwood Floor Repair
Hardwood floor repairs cost between $1,000 and $5,000. Termites, beetles, and ants are known for damaging hardwood floors. A stubborn pest infestation can turn beautiful hardwood floors into spotted, dull floors with signs of aging. Loose floorboards, buckling wood, and small holes on the floor surface are signs of a pest infestation that needs to be taken seriously.
Compare quotes from local pest control specialists
Most Dangerous Pests and Animals
Homeowners are responsible for their family's health and safety and home's integrity, so they must consider both angles when dealing with a pest problem. It is essential to know if the pest is dangerous and can damage the home. While it is easy to focus on the destructive capacity of pests like termites, some pests are incredibly dangerous to people and pets. It is essential to understand which pests and animals may pose a danger to your family and home so that you take quick action when one of these threats appears.
Most Destructive Pests and Animals for Your House
Termites earn the crown as the world's most destructive pest. Termites cause billions of dollars of damage to homes every year, and their numbers are growing with dangerous, invasive species like the Formosan termite quickly spreading across the American South and Southwest. Another incredibly destructive pest is the unassuming squirrel. These cute but destructive pests can annihilate a home by chewing on and destroying everything, from wires and insulation to ducts and walls. Do not risk a huge repair bill from these cute rodents. Call a pest control company the moment you see squirrels eyeing your attic.
Most Harmful Pests and Animals for Your Health
The most dangerous pest for your health is the mosquito. Mosquitoes are incredibly annoying, and they can cause serious discomfort with their bites. However, these small bugs also kill more people worldwide every year than any other creature. Mosquitoes are tiny but some of the most dangerous pests because they transmit disease. For animals, mice are one of the most virulent because they carry viruses and diseases and can also cause serious damage. If your home is vulnerable to a dangerous pest, seek help quickly from a professional to neutralize the threat.
IPM Pest Control Cost
Integrated pest management (IPM) is a modern approach to an economical, effective pest control that focuses on suppression and prevention before pest infestations grow and lead to costly damage. This covers indoors and outdoors, with certain strategies like weather stripping doors and sealing wall openings to stop pests from entering in the first place.
IPM is used in agriculture and residential pest control, with four key areas: biological control, habitat changes, cultural practices, and resistant varieties. For example, replacing certain flowers and plants with more pest-resistant varieties can help, and put a fence around the garden to keep animals out. There are many aspects of a comprehensive IPM plan, explaining why it is more expensive than conventional pest control. IPM prices are reasonable when companies offer a package deal for continued management, especially for a recurring infestation. IPM costs $25 to $250 more during the first treatment, with quarterly follow-up visits costing about the same as traditional treatments at $400 to $800 per year. Evidence and studies suggest that pet-safe products and IPM programs are not tremendously expensive in the long run, so the initial higher cost may be worth it.
Indoor vs Outdoor Pest Control
Indoor pest control differs slightly from outdoor pest treatments, so it is best to have a professional with extensive knowledge of both.
Insect infestations, such as termites, bed bugs, fleas, centipedes, beetles, and roaches, are more common inside, but spiders, snakes, and squirrels can also come inside. Outdoor pest control more commonly addresses wild animals, such as beavers, coyotes, foxes, gophers, groundhogs, moles, possums, and skunks. Chemical treatment is more common with insect pests, while live trapping and relocation work well for larger animals.
Pest Control DIY vs Professional
Some homeowners start with DIY pest control by using a few cans of repellant from the store or making pesticides like soap or oil spray. While swatting one lone fly or using a generic mouse trap for one rodent may work at first, pest control is always better handled by professionals. That is because there is often more than one pest, especially with insects or young animal mothers. To properly address the pest population and stop unwanted visitors from returning in the future, it is important to have a pest professional on hand to inspect your home and provide targeted treatments. This is the safest option for pest control, especially compared to DIY dealings with murder hornets, scorpions, and snakes that may sting or bite.
Pest Control vs Exterminator
While every pest scenario is unique, some main similarities may be noted that pest experts encounter during their years on the job. Their extensive training and experience allow them to identify a range of pests and provide recommendations on the best treatment method. A pest control specialist should walk you through your extermination choices and the removal/relocation options.
While some cases require extermination, especially with insects, there are humane ways of dealing with larger rodent and animal infestations. Catch-and-release services may be less expensive than extermination. It depends greatly on the risks involved, including the number of animals, location, and distance to a safe and natural habitat for relocation.
Preventive Pest Control Cost
Pest prevention measures generally cost $25 to $10,000 for the most expensive measures. Prevention is often a multi-step process similar to several pests. Good hygiene and removing food sources are the best places to start in most cases. Pests do not go where they cannot find food, so identifying and removing the food source is always the correct first step.
| | |
| --- | --- |
| Pest Prevention | Average Prevention Cost |
| Rodent | $25 - $1,100 |
| Insect | $600 - $10,000 |
| Wildlife | $3,500 - $6,500 |
How to Prevent Rodents
Rodent prevention costs $25 to $1,100. It can be difficult because they are often small enough to slip into overlooked holes or cracks. Good hygiene and removing food sources deter them from entering. You should also clear brush or tall trees away from your home. Professional tree removal costs between $400 and $1,100. Try to locate and seal small cracks or holes that allow them to enter. It may be necessary to spray the perimeter to discourage them from entering. Electronic pest deterrents priced between $25 and $300 can create a sound or vibration that discourages them from entering.
How to Prevent Insects
Insect prevention costs $600 to $10,000, depending on the method. The average cost for sealing doors and windows is $600 to $2,300. It costs $5,000 to$10,000 to fix foundation cracks. This helps prevent insects from entering the home. Preventing insects always starts with good hygiene and ensuring there are no open food containers or other food sources. Clean standing water or damp areas because this attracts insects. Spraying chemicals around the foundation may prevent some insects from entering. Caulking or sealing cracks around the foundation makes a difference.
Mosquito misting systems cost $1,800 to $3,000, and like lawn treatments, they keep insect populations down and prevent insect infestations from growing.
How to Prevent Wildlife
Installing a new fence for wildlife prevention costs $3,500 to $6,500 for wood or vinyl fencing. Putting up a quality fence around your property is one of the first steps in keeping wildlife away.
In most cases, sealing the entryways for wildlife is the best way to prevent them from entering. This may mean locating vents and other uncovered areas and keeping things like tree branches away from the roof and leaves where they could be entering.
Window nets and snake fences around crawl spaces prevent wildlife from entering your home. Electronic pest deterrents can be used to discourage wildlife from entering.
Hire a local pro to exterminate pests
Enhancement and Improvement Costs
Structural Fumigation
Sometimes fumigation of the interior isn't enough to deal with the problem. Structural fumigation goes deeper and gets into more of your home's crawl spaces, attics, and other hard-to-reach areas to eliminate the problem. Costs start at around $5,000 for most homes.
House Cleaning
You may also want to opt for whole-house cleaning after the issue is resolved to remove chemicals, droppings, and other potential problems. House cleaning can help prevent the pests from returning. House cleaning costs between $25 and $40 per hour on average.
Additional Considerations and Costs
Guarantee. Depending on the pest and treatment, some companies may offer a guarantee, where they eradicate the pests or provide free continued treatments. Each company is different, and not all pests can be guaranteed, so always speak to the company.
Insurance. Insurance companies view pests as preventable damage in most cases, meaning the homeowner could have taken reasonable action to avoid the damage. In rare cases, pest damage may be classified as unexpected. For example, if your house was damaged in a storm and left vulnerable and open to pest infestations, some damage may be covered.
Periodical pests. Other pests tend to be seasonal, meaning they only appear every x years, such as cicadas. These are not dangerous to humans or pets. However, it may be unsettling for many people to have so many cicadas. Their natural predators are cicada killer wasps, which are not as dangerous as they seem but have a sting.
Certification. All professional pest control companies must be certified. Ask to see their certification to ensure it is current.
Travel fees. If you have an animal that needs relocating, there may be additional fees for travel if it needs to be moved a far distance. This varies by company, so ask.
Climate. Some pests can only be found in specific climates, while others may come indoors when it becomes very hot or cold. If you are unsure of what pest you have, pay attention to the area and weather preceding the infestation for clues.
Biological pest control. The average price of biological pest control is $50 to $200. This is not something you typically need done in your home, but it is good for gardens and outdoor spaces. Biological pest control introduces a predator to remove your pest rather than using chemicals or traps. For example, if you have pests in your garden eating your plants, an insect who eats those pests but not your plants may be introduced. This is a good method for outdoor pests but does not work for interior issues.
FAQs
What is the average cost for pest control service?
Pest control service costs vary depending on the pest and treatment level. Most people pay between $350 and $1,000, with an average of $550 for manual removal and relocation of an animal.
Is quarterly pest control necessary?
Quarterly pest control is recommended for homeowners who have regular pest issues and want to stay on top of infestations. It is a personal decision on how often you want pest inspections and services, but a quarterly schedule can help catch pests before they cause big problems.
Should I get pest control?
Professional pest control is highly recommended for homeowners experiencing issues with bugs or wild animals. Even if you are unsure, it is good to get a pest inspection to ensure no pests are damaging your home without your knowledge.
Can I mop after pest control?
Check with your pest control provider because some chemical treatments need time to dry. Others can be mopped and cleaned shortly after. If your pest control is live trap and release, you can mop right away.
What does pest control do?
An exterminator eliminates pests from homes following a thorough pest inspection. Exterminators use various treatment options, including chemical, manual labor, baiting, repellant, trapping, and relocation.​​
What are the three methods of pest control?
Pest control can be done through chemicals, biologics, and physical removal.
What is the difference between pest control and exterminator?
Extermination always kills the pests, while pest control sometimes involves removing the pest from your property so it can be relocated.
How much is pest control per month?
The price varies depending on the pest type, severity, protection level, and service the pest control company offers. It will also depend on the type of contract you choose. The cost per month in a monthly-visit contract will be around $50 to $110.
Is monthly pest control necessary?
This depends on the pest. Some pests, climates, and homes may require it, while others do not. Monthly service is beneficial for homeowners with recurring problems to ensure more infestations are caught and treated quickly.
Find remodeling contractors near you
Get free estimates on Fixr.com from trusted remodeling contractors in your area
Find Contractors