Dreamstyle Remodeling is a home improvement specialist best known for its shower/ bathtub remodels. Image source: Dreamstyle Remodeling
Investing in a shower remodel is a great way for homeowners to update the look of their bathroom, increase the resale value of their home, and make their bathroom safer with universally accessible additions. Unfortunately, it can often be difficult to find a company or professional that won't break the bank.
One home improvement specialist that offers custom shower remodels is Dreamstyle Remodeling. We're going to take a look at what a shower remodel from Dreamstyle will cost and whether it's worth your money.
On this page
Who is Dreamstyle Remodeling?
Dreamstyle Remodeling has garnered a positive reputation over its 33 years of operation. Since 1989, Dreamstyle has completed over 125,000 home renovations and continues to offer custom projects. Dreamstyle has experienced rapid expansion over the years, allowing them to open several locations across the country, including offices in Albuquerque, New Mexico.
Dreamstyle Remodeling is most well-known for improvements such as replacing windows and doors, fireplace inserts, carports, and of course, bathroom remodels.
Perhaps what they're best known for is their walk-in shower and bathtub enclosures, which are made entirely from acrylic. Due to their simple installation process and low maintenance upkeep, Dreamstyle's acrylic showers have become increasingly popular.
What does a Dreamstyle shower remodel cost?
The exact cost of a Dreamstyle shower remodel will vary depending on several factors. The price can be impacted depending on the condition of the old shower, the size of the new shower, and the extent of the remodel. The price will also be reliant on the particular customizations you choose for your shower system. These customizations can include the shower door, shower head, and type of shower.
With all this considered, you should expect to pay between $6,500 and $8,000 for a bathtub and shower combo from Dreamstyle Remodeling. Whereas just shower remodels have an average cost of between $8,000 and $10,000 for both materials and an expert installation.
The average price range for a shower installation is between $7,000 and $12,000. This puts Dreamstyl'es prices right within that range.
One of the great things about Dreamstyle is that they often negotiate, which means there is often some wiggle room in their pricing.
How long will you have to wait for a Dreamstyle shower?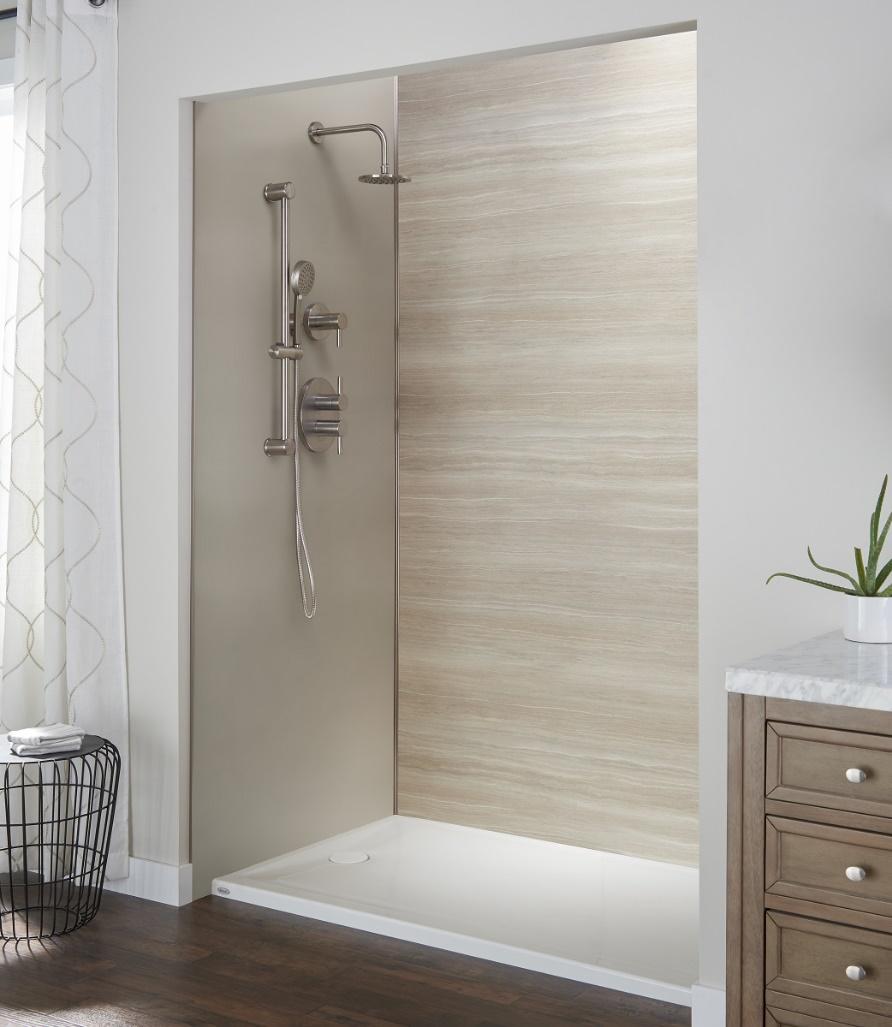 Remodeling an outdated bathtub or shower can not only improve the overall look of your bathroom but can also make it a safer space. Image source: Dreamstyle Remodeling
The first step in the process is to contact Dreamstyle Remodeling and organize an in-home consultation. Within 48 hours of making a call to Dreamstyle, you can have a professional come to your home and take measurements and provide your options.
Once you have selected your desired shower, Dreamstyle's home improvement consultant will then provide a quote for the project. When you have both agreed upon a price, that is when the waiting begins.
After you have accepted the quote and signed the contract, you should expect to wait between 5 and 12 weeks for your shower installation. While this seems like an extensive wait time, it is relatively common in the industry due to ongoing supply shortages.
Should you go with Dreamstyle Remodeling?
If you're looking at upgrading your current shower or want a bathtub-to-shower conversion, then Dreamstyle Remodeling is an excellent option.
Their in-home design consultation allows you to have a face-to-face conversation with a professional and understand exactly what your options are and what is feasible. With this consultation, you're also able to discuss any personal preferences or non-negotiables.
The finished product is also of very high quality. This includes both the materials used and the workmanship. The addition of a lifetime warranty will also provide you with peace of mind through the process.
Unlike other shower walls which are made from ceramic or stone tile, Dreamstyle's showers are made entirely from acrylic. While some people don't find this as visually appealing, it does provide the added benefit of less maintenance and reduces the risk of mold or mildew.
The only real downside to a Dreamstyle shower remodel is the long wait time. However, if you're willing to wait that bit extra, then a Dreamstyle shower is still a great choice.