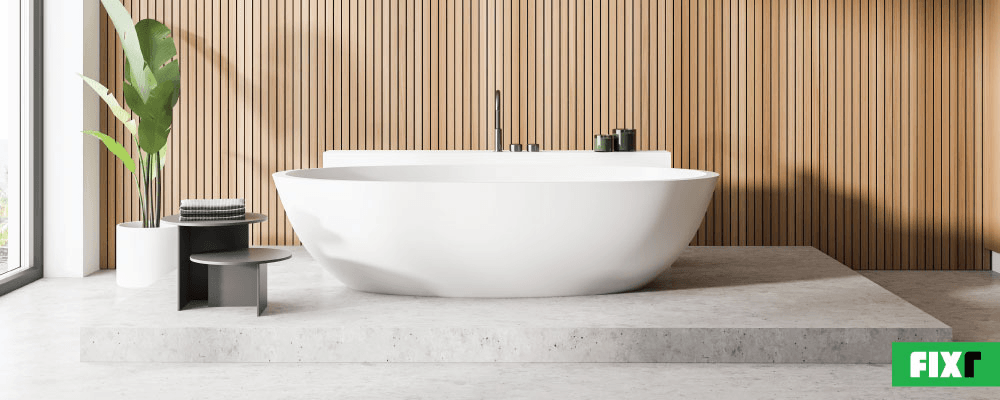 Several bathtub styles are worth considering, but one that is becoming increasingly popular among homeowners is the soaking tub. This style of tub has the potential to step up your bathing experience by offering a more relaxing and therapeutic soak.
If you're considering adding a soaking tub to your bathroom, here's what you should know before buying.
On this page
Understanding the basics of soaking tubs
What is a soaking tub?
A soaking tub is designed to allow you to completely submerge your body underwater, making them perfect for a long and relaxing soak. Similar to a regular bathtub, a soaking tub can come in all different shapes, sizes, and materials. However, where a traditional bathtub may be a foot deep, a soaking tub usually has a depth of up to 3 feet. This means you won't have to worry about your knees or arms hitting the cold air.
To provide what is almost a therapeutic bathing experience, a soaking bathtub will often come with a few extra features compared to a regular bathtub. This can include ergonomic contours allowing you to sit comfortably or built-in water heaters that keep the water warm for extended periods.
Soaking tub cost
A soaking tub is one of the more expensive options, with budget-friendly choices often few and far between.
While the price for a soaking tub will depend heavily on its style, brand, and size, you can expect to pay anywhere between $1,000 and $12,000. The costs can also increase dramatically if you choose a more luxurious option.
Size and dimensions
As we have mentioned, the main difference between a soaking tub and regular bathtubs is the depth. While standard bathtubs can be only 12 inches deep, a soaking tub can range between 24 and 36 inches, with some styles being even deeper.
The length and width of a soaking tub will vary depending on the type you are looking for. For example, certain deep soaking tubs are designed for you to sit upright; these tubs can be as small as 40-50 inches in diameter. In contrast, the oversized soaking tubs that allow you to lounge can range from 54" to 90" in length and 19" to a massive 76" wide.
Popular types of soaking tubs
Japanese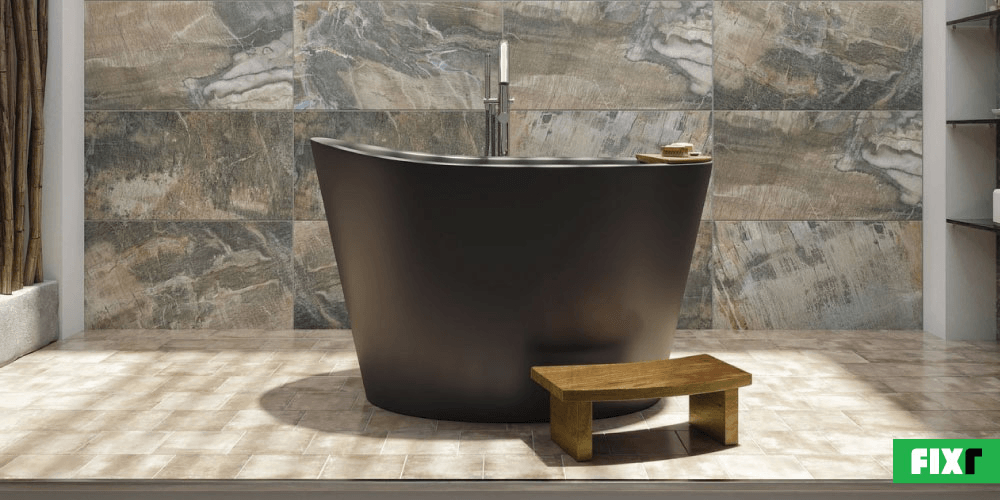 While the Japanese soaking tub has soared in popularity recently, they have been a cultural mainstay for decades due to their functionality and aesthetics. A Japanese soaking tub, otherwise known as an Ofuro, is a deep bathtub with a central drain. The purpose of this tub is not to bathe but to soak away the stress of the day.
A Japanese soaking tub is one of the smaller styles as it is designed for a bather to sit upright and with their legs bent. This tub style often has a built-in bench and lumbar support, allowing you to sit comfortably and relax.
Drop-in
A drop-in tub is a soaking tub that drops into a custom-made frame or deck. The structure will encase the sides of the tub and any plumbing work to leave just the rim of the bathtub visible.
One of the reasons this style of soaker tub has become increasingly popular is its flexibility in design. A drop-in tub can come in various materials, including fiberglass or acrylic bathtubs. You will also be able to decorate and display the deck with a wide variety of different materials, such as tile or wood.
Freestanding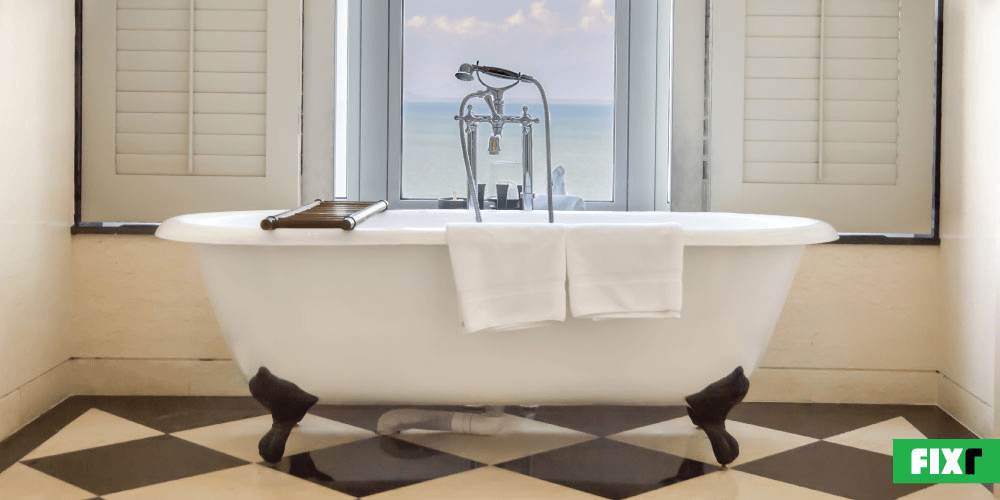 A freestanding soaking tub can be approached from all sides and does not need a deck or surrounding structure. Freestanding soaking tubs can come in various shapes, sizes, materials, and styles. Popular styles of freestanding soaking tubs include clawfoot tubs and Japanese tubs.
While freestanding soaking bathtubs can come in several different shapes and sizes, it is common for them to be either round or oval in shape due to their comfort and visual appeal. As for material, cast iron, stainless steel, solid surface stone, and acrylic tubs are some of the most sought-after freestanding soaking tubs.
Slipper
A slipper tub is a freestanding tub that slopes, with one end being noticeably higher than the other. Initially, people thought this tub looked vaguely like a high-heeled shoe, which is how it gained its name.
With this tub style, the higher sloped end acts as a backrest and allows you to lounge back and relax. The faucet will also usually be positioned in the middle of the bath to allow you to lay back. A slipper tub comes in several styles, but the most common are single and double. The single slipper is traditional, while the double is a two-person tub that slopes at both ends.
Outdoor
While outdoor soaking tubs were once only seen at spas or resorts, they are becoming increasingly popular with homeowners. They are quickly becoming a luxurious jacuzzi-like addition to backyards across the country.
An outdoor soaking tub can be made from various materials that stand up to the elements. Some of the most popular materials include cast stone and cedar, primarily due to their durability and natural textures.
Why do you need a soaking tub?
While a soaking tub can be an eye-catching addition and go a long way to making any bathroom feel more luxurious, the main reason you need one is its physical and mental benefits.
A total-immersion soak in a tub benefits both your mind and your body. A soaking tub's known benefits include muscle relaxation, pain relief, and stress relief. When you look at those benefits, it's easy to see why they're becoming so popular.
It's important to note a soaking tub is built for exactly what its names suggest: to provide you with a place to have a long and deep soak. If you're looking for a place to bathe, then a soaking tub may not be your best option.