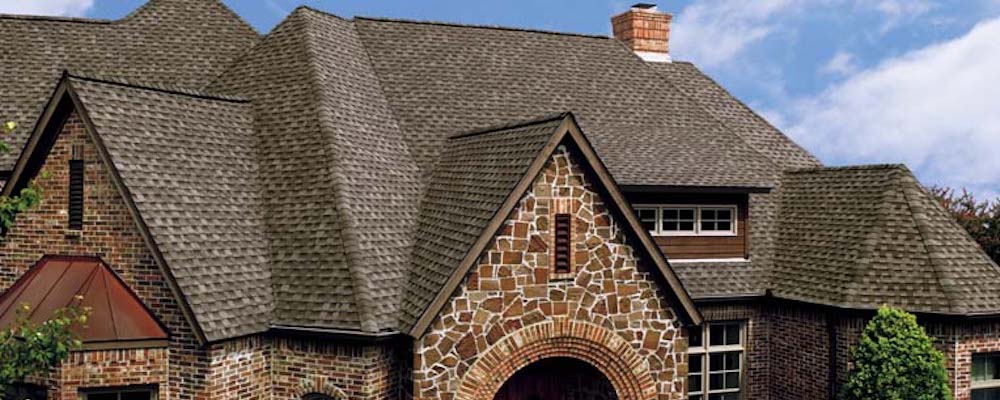 Image source: A.B Edward
When it comes to roofing shingles, GAF and CertainTeed are two of the biggest names in the business.
If you're considering a new roof for your house, it pays to know what's out there in terms of options, because it's likely the roofer you choose will have their own opinion, and it pays to be informed before you begin looking.
In order to compare the two brands, we'll look at their current offerings, judging them using the following criteria:
At the end of our comparison, we'll discuss how you can determine which option is right for you.
Let's be clear upfront that GAF and CertainTeed are both quality companies that each offer roof shingles that people all over the world stand behind. The one that's right for you will depend on your preferences for the factors listed above.
On This Page:
A Note on Asphalt Shingle Types
Asphalt shingles for homes generally fall into two categories:
"3-tab" shingles
Architectural shingles
Each of these kinds is made by adding asphalt to a fiberglass base sheet and then embedding ceramic-coated mineral granules in the asphalt.
3-Tab Shingles
Also called "strip shingles," 3-tab shingles are a basic type of shingle that is very popular for budget roofing jobs. They get their name because they are made from a fiberglass strip that has a contiguous top half and a bottom half divided into three tabs that are each 12 inches wide.
3-tab shingles are the least expensive model offered by the two companies we're comparing here, and as such, come in relatively few color variations (mainly grey and brown). GAF offers a 3-tab shingle called Royal Sovereign, while Certainteed offers the XT 25 line.
Architectural Shingles
Also called "dimensional shingles," architectural shingles differ from strip shingles in that they're composed of two or more strips that are bonded together, and have tabs of varying widths.
This construction gives architectural shingles a nicer, more refined three-dimensional look. In fact, architectural shingles were first developed to match the naturally-variegated colors and 3-D look of high-quality wood shake shingles, but with greater durability.
These laminate shingles are generally of much higher quality than 3-tab shingles, and because of that, they offer better wind resistance, durability, and warrantied lifetime than their less-expensive 3-tab cousins.
They also come in more colors and offer other features, like impact resistance and solar reflectivity.
GAF and CertainTeed are two of the most widely-trusted brands of architectural shingles, offering the Timberline and Landmark product lines, respectively. The comparisons below focus on each manufacturer's line of architectural shingles.
GAF Timberline Shingles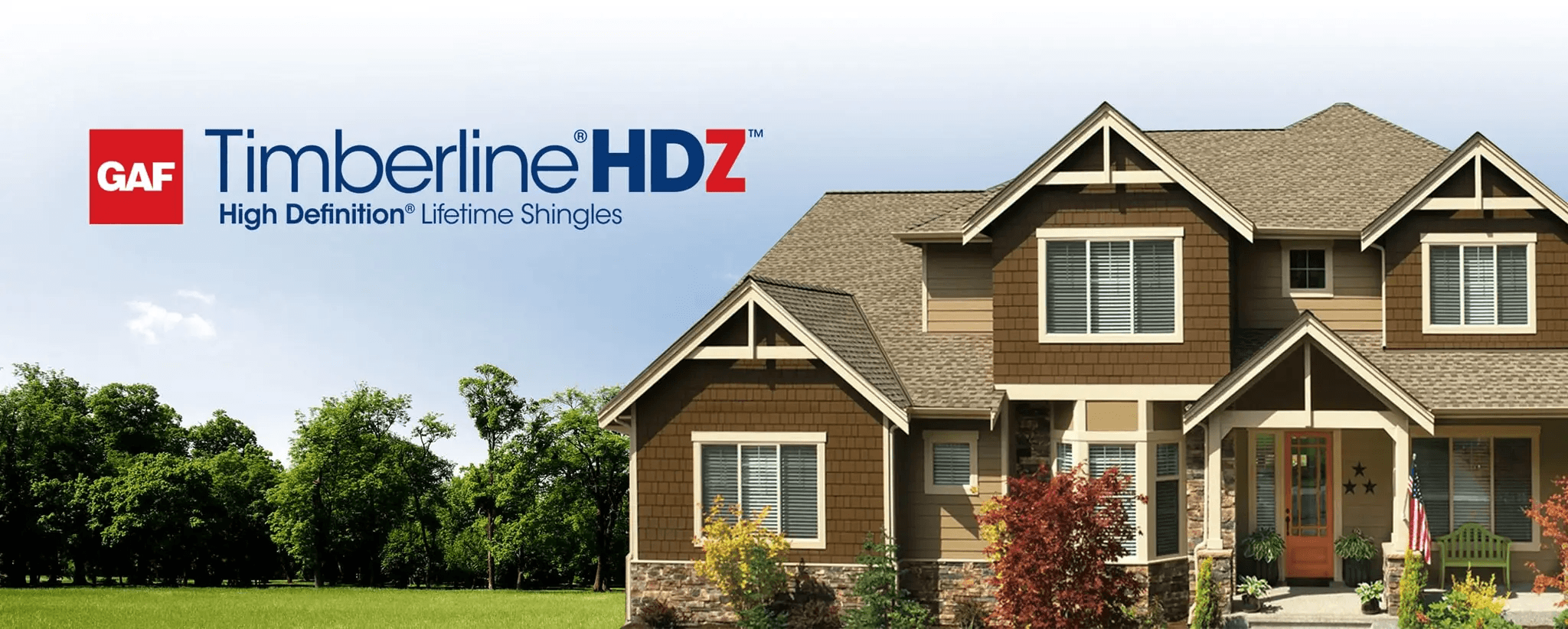 Image source: GAF
For many years, GAF Timberline HD shingles have been the best-selling shingles on the home roofing market.
GAF shingles are generally less costly than comparable CertainTeed products but have traditionally come with some drawbacks, like fewer available colors and a smaller nail strip that made it harder for roofers to nail the shingles to the roof deck with a high level of accuracy.
In early 2020, GAF introduced the Timberline HDZ line, which addressed both of the drawbacks listed above, expanding the colors offered to 16 and increasing the size of the nail strip to over 1.8 inches, making it easier for roofers using automatic nail guns to work accurately.
Timberline HDZ shingles also add a new shingle-to-shingle sealant called Dura Grip which maintains compatibility with the older Timberline HD shingles for repairs.
The Timberline series begins with its base level called "Natural Shadow", or Timberline NS shingles, and also includes sub-divisions that offer additional options, including the American Harvest (Timberline AH) custom color group and Cool Series (Timberline CS) Energy Star-certified shingles.
For those who want to go ultra-premium, GAF offers "designer" shingles in its Camelot, Glenwood, Grand Canyon, Grand Sequoia, and Woodland shingle lines.
CertainTeed Landmark Shingles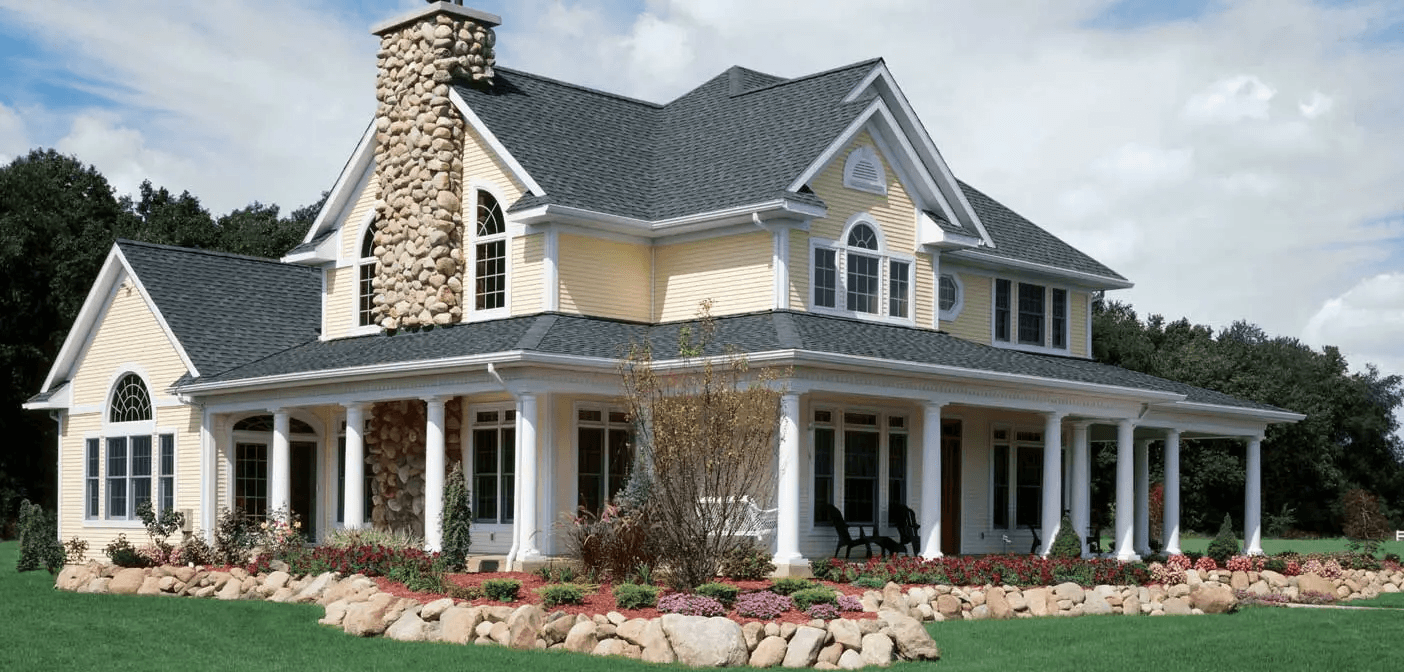 Image source: CertainTeed
CertainTeed joins GAF right at the top of the residential shingle market, bringing a reputation for premium quality and price.
The company's Landmark line of shingles, as well as its Landmark TL, Landmark Pro, and Landmark Premium lines set the standard for high-quality residential rooftops. Certainteed roofing products are well-known for both their high-end quality and high-end price.
The company has a long history of awards for its products, including winning a Product Innovation Award from Architectural Products magazine for its Northgate shingles line, and having its Landmark Solaris reflective shingles named as one of the top 100 most technologically significant products in 2011.
The Landmark line also includes the impact-resistant Landmark IR impact-resistant and Solaris Gold solar reflective shingles. CertainTeed's highest-quality offerings include the Belmont, Grand Manor, and Carriage House luxury shingle brands.
Comparing Cost of GAF vs. CertainTeed Shingles
Below is a table that shows the cost of the most popular choices among the two shingle brands in question.
You may notice that the lower-end architectural shingles here are almost identical in price, but the differences between the two companies become more apparent as the quality level of the shingles increases.
GAF vs. CertainTeed Shingles cost
| | | |
| --- | --- | --- |
| Quality level | Shingle type | Cost per square* |
| Good | GAF Timberline NS | $75 |
| Good | CertainTeed Landmark | $78 |
| Better | GAF Timberline HDZ | $93 |
| Better | CertainTeed Landmark Pro | $120 |
| Best | GAF Timberline UHD | $135 |
| Best | CertainTeed Landmark Premium | $150 |
*100 square feet of roof coverage
Remember that cost is only part of the equation when it comes to choosing the right roofing system for your home.
Data on home values shows that the average roof replacement using asphalt shingles can result in a home value increase of around 66%. Considering that information, the differences between costs of GAF vs CertainTeed shingles seem less noticeable.
Comparing Color Options of GAF vs. CertainTeed Shingles
Shingle colors usually don't stray too far from the standard dark grey, charcoal black, and weathered wood look, but if you're in the market for a special color, you can usually find something to fit the bill.
Looking at the images below, you can see that CertainTeed is known for offering a larger number of color options.
Its standard Landmark series shingles come in 29 colors, exceeding the number available in GAF's first two quality tiers. But in general, CertainTeed's colors are more neutral, and if you're looking for vivid color, options like GAF's Hunter Green and Patriot Red really stand out.
At the highest quality tier, the two companies offer a similar number of color options. There are 11 colors in GAF's Timberline Ultra HD line and 9 in CertainTeed's Landmark Premium.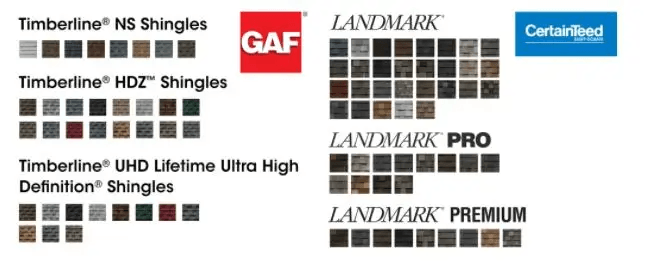 One thing to note is that available colors will vary by region, as roofing contractors may not have certain styles or colors in stock. If you're looking for a particular color that isn't popular in your area, you may have to place a special order and wait for it to be shipped to you.
Comparing Durability of GAF vs. CertainTeed Shingles
Both of these shingle brands are top-flight in the roofing industry, and you won't find a lot of people with legitimate claims that either one isn't up to snuff when it comes to durability. As with everything in life, though, there are subtle differences, and knowledgeable folks will happily compare and nitpick amongst themselves.
Each brand produces fiberglass asphalt shingles with dimensions of about 13" x 39", with 5.625" of exposed surface on each shingle. The differences lie in four key areas:
Weight per square
Nailing area
Impact resistance
Granule loss
Weight per Square
Despite having very similar dimensions, CertainTeed shingles weigh anywhere from 10% to 25% more than GAF shingles per square, though CertainTeed shingles are actually about ¾ of an inch shorter in width.
In general, heavier shingles are thought to be more robust and therefore, more durable. To be clear, GAF is actually proud of its lower-weight shingles, claiming they're every bit as durable as CertainTeed's, and in fact - offer roofers the benefit of carrying less weight up to the roof with each bundle of shingles.
GAF vs. CertainTeed weight per square
| | | |
| --- | --- | --- |
| Quality level | Shingle type | Weight per square* |
| Good | GAF Timberline NS | ~210 lbs |
| Good | CertainTeed Landmark | ~230 lbs |
| Better | GAF Timberline HDZ | ~220 lbs |
| Better | CertainTeed Landmark Pro | ~254 lbs |
| Best | GAF Timberline UHD | ~240 lbs |
| Best | CertainTeed Landmark Premium | 300 lbs |
Nailing Area
When it comes to having shingles stay put on your roof for decades, where the nails go matters more than many other factors.
CertainTeed has offered its NailTrack system for years, which offers a 1.5-inch wide strip where roofers can apply nails. They rightly pointed out that their system was superior to traditional architectural shingles with only .5-inch nail areas.
In 2020, GAF answered CertainTeed's call and introduced its very own "StrikeZone" nail strip. At 1.81 inches wide, it's now the industry's widest nail zone, according to the company.
Wide nail areas are nice to have, but more importantly, may be how many nails are driven into each shingle. In order to prevent shingle blow-off under the highest wind conditions, both GAF and CertainTeed recommend using 6 nails to secure each shingle (standard installations use 4 nails).
With 6 nails per shingle, both companies say their shingles can withstand winds of up to 130 miles per hour.
Impact Resistance
The shingle impact resistance test, defined by Underwriter's Laboratory (UL) classification 2218, checks whether a shingle will crack after being hit twice in the same spot by a steel ball dropped from a certain height.
The minimum passing grade, Class 1, requires a shingle to not crack after being hit twice in the same spot by a 1.25-inch diameter steel ball dropped from 12 feet. To achieve Class 4 certification, the shingle needs to withstand a 2-inch diameter steel ball dropped from 20 feet.
None of the standard shingles in the Timberline or Landmark series meets the requirements of impact resistance rating.
If you live in an area that is prone to big hail storms, you may wish to choose either CertainTeed Landmark IR or the GAF Timberline AS (Armor Shield) shingles. CertainTeed also offers an impact-resistant 3-tab shingle, the XT 30 IR. All three of these shingles have achieved Class 4 certification.
Granule Loss
The final question of durability has to do with the granules that make up the topmost layer of the shingles. Granules give shingles their distinctive colors, and also provide protection against damage to the shingle from UV rays.
As your roof ages, and especially right after installation, it's normal for the shingles to lose some granules. The manufacturing process generally results in some excess granules stuck very loosely to some very minute areas of exposed asphalt. In the weeks immediately following installation, you'll likely notice some granules gathering in your gutters.
Many roofers claim that GAF shingles suffer from a large loss of granules before the plastic comes off its bundles. However, this doesn't necessarily mean that GAF shingles suffer from premature granule loss, and there isn't any data that shows a long-term problem arising from this issue.
Comparing Warranties of GAF vs. CertainTeed Shingles
The final comparison between these two top-tier shingle brands is their roofing warranties. As you might expect from the rest of this article, the companies are fairly evenly matched here.
Which one offers the best warranty?
CertainTeed's Roofing Warranty
In 2020, CertainTeed offers a limited lifetime warranty for all of its products above the level of strip shingles. That includes all the Landmark-series shingles, as well as CertainTeed's more expensive lines.
CertainTeed's SureStart Coverage
Unique to CertainTeed is its special SureStart protection, which provides special coverage for the first 10 years for all products at Landmark level or higher.
If a defect arises in the first 10 years after installation, CertainTeed will cover 100% of the costs of materials, labor - and even disposal costs and additional roofing materials like flashing.
CertainTeed's Lifetime Warranty
Following the initial 10-year term of the SureStart Warranty, CertainTeed offers a limited warranty until your roof is 50 years old.
If CertainTeed determines that its shingles have a manufacturing defect during the warranty period, it will reimburse its Landmark-owning customers the reasonable cost of comparable shingles (materials only), multiplied by the remainder of its prorated liability.
The way CertainTeed calculates this prorating is by reducing the cost of the replacement shingles by 1/600th of the total value per month. For example, if you suffer a material defect after 20 years, you'll get the reasonable value of the replacement shingles, multiplied by 360/600 (0.6, the amount left after 240/600 reductions in liability). If the replacement cost of your loss is $1,000, you'll get $600 from CertainTeed.
CertainTeed also includes separate warranties for wind resistance up to 110 miles per hour (130 if special requirements are met) and 15 years of algae resistance.
All warranties are transferable to a new owner of the house, though the transfer must take place within the SureStart period in order for the new owner to keep protection for the full 50-year timeframe.
Finally, if the contractor you choose to complete the work is a CertainTeed SELECT ShingleMaster™ contractor, CertainTeed will cover their workmanship for 25 years.
As with all warranties, there are many paragraphs of stipulations and fine print. Check out more of CertainTeed's residential roofing warranty information here.
GAF's Roofing Warranty
GAF does things a little differently here, basing its level of protection on how many GAF products your roofing system uses and the certification level of the contractor you choose.
The base GAF warranty covers shingle defects and winds up to 130 mph (with stipulations), but doesn't include coverage for tear-off, disposal, or workmanship. Upgraded levels of coverage are available if your installation uses at least 3, 4, or 5 "qualifying accessory products" like leak barriers, roof deck protection, ridge cap shingles, etc.
For 2020, GAF offers the following warranties:
Shingle limited warranty
Roofing system limited warranty
System Plus limited warranty (for installations completed by GAF Certified or Master Elite contractors)
Silver Pledge (Master Elite contractor and at least 4 qualifying accessory products)
Golden Pledge (Master Elite contractor and at least 5 qualifying accessory products)
Similar to CertainTeed's workmanship warranty coverage, GAF offers 10 and 25-year warranties for workmanship under its Silver and Gold Pledges, respectively.
GAF's Smart Choice Protection Period
Similar to CertainTeed's SureStart coverage period, Smart Choice is a period of time during which GAF will cover the full replacement cost, including labor, of shingles found to be defective.
Unlike CertainTeed, GAF extends this protection to 50 years for all levels above "System Plus." but disposal isn't covered until the Silver Pledge Level.
At levels below "System Plus," GAF applies the same kind of prorated reimbursement that CertainTeed does if its materials are found defective after the Smart Choice period.
GAF's WindProven Coverage
One feature unique to GAF's warranty is wind damage coverage with no maximum wind speed limitation.
If your installation uses what's called a "Special Installation" with LayerLock shingles (like Timberline HDZ) attached using at least 4 nails, and at least 4 qualifying accessory products, your warranty covers wind damage at any wind speed.
GAF vs. CertainTeed: Which Brand of Shingles Is Right for You?
This is what it all comes down to: which brand of shingles should you choose for your home? The answer isn't just a simple "one is better and one is worse." It depends on what's important to you.
Choose GAF shingles if you:
Are under a tight budget
Like bolder colors
Believe GAF's claims that shingle weight doesn't matter, and can choose a GAF-certified contractor to get a higher level of warranty protection
Choose CertainTeed's shingles if you:
Want the most premium product
Prefer the looks of a more muted color palette
Want the most straightforward warranty coverage
Of course, these aren't the only two shingle brands on the market, but they are the top two.
If you're set on asphalt shingles and not interested in a metal roof (or other material), shingle manufacturers like Owens Corning and Tamko make compelling, high-quality products. The right answer for you might be one of those.
The only way to know the best shingle for you and your home is to get multiple quotes from roofing companies and use the knowledge you've learned here to compare their offerings vs what the top companies are currently putting out there.