The kitchen countertop is one of the most frequently used parts of the kitchen, used every day whether passively holding appliances or being used as a cutting surface. It's also integral to both a kitchen's function and its design.
To help determine which countertop trends will be the most popular in 2023, Fixr.com conducted in-depth research into the topic, including interviewing experts in the kitchen design field. In this article, the results are broken down so homeowners can see the most up-to-date countertop trends for 2023.
1. Quartz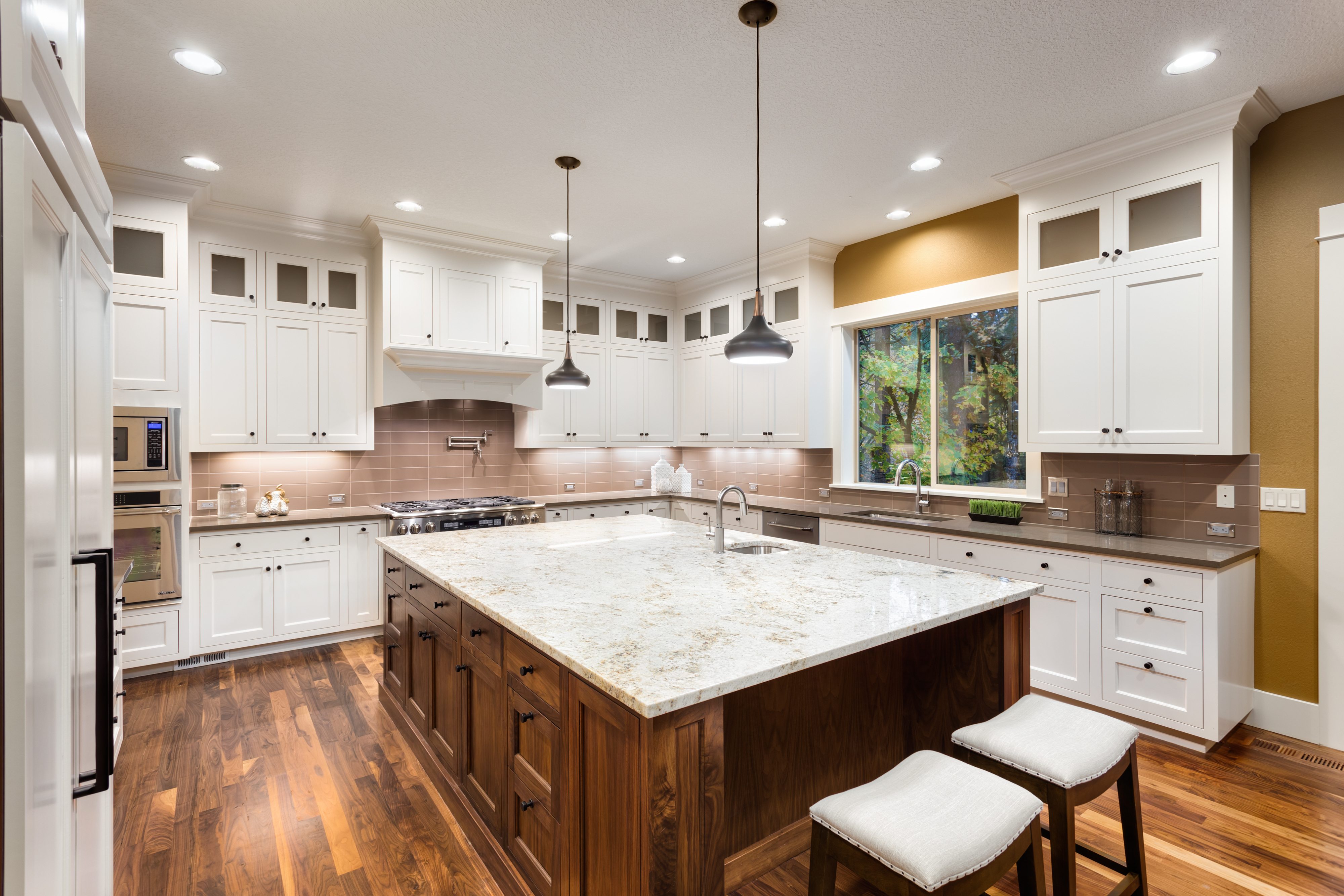 Quartz countertops have been one of the biggest trends in kitchen design for the last few years, topping lists of popular materials in both 2021 and 2022. Quartz countertops are man-made materials that contain up to 93% natural quartz, along with resins and pigments. They can resemble materials like granite or marble, but require less maintenance, and are more durable. This is one of the reasons why quartz continues to dominate the countertop trends each year; busy families want countertops that look great without needing to be maintained.
Liz Toombs, certified Interior Decorator and owner of PDR Interiors concurs, "Quartz is going to remain one of the front-runners for kitchen countertops in 2023. Homeowners love using quartz that looks like marble because it doesn't have the maintenance issues marble does." Quartz also has staying power, as the last few years have shown, which can make it a good investment for homeowners. It can be used anywhere in the kitchen, and complements a wide range of backsplashes and cabinets. A quartz countertop costs around $40 to $100 a square foot installed.
2. Quartzite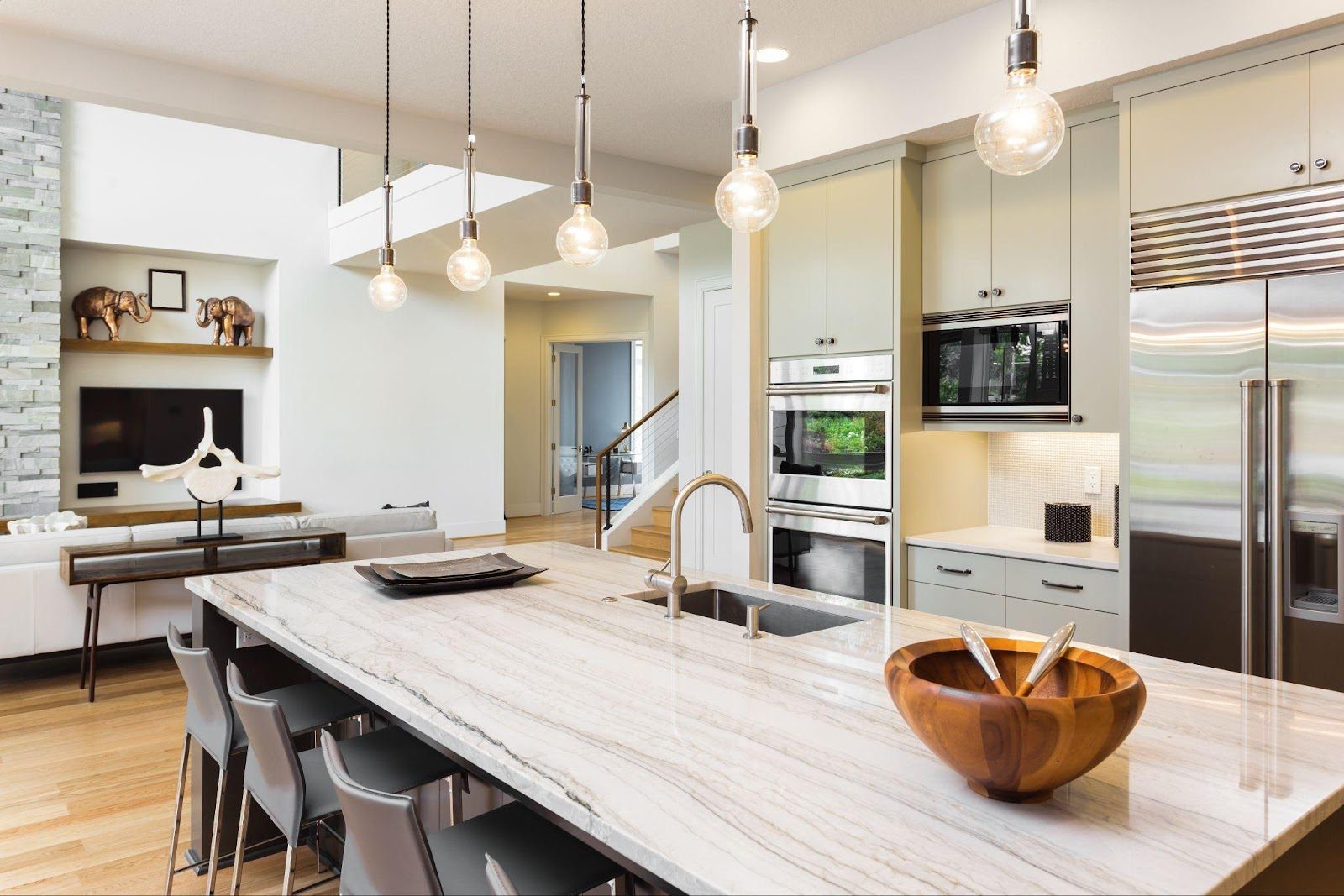 Quartzite has also been a popular material for the last several years, coming in second place just behind quartz. Quartzite is a natural stone material. It's made from quartz that underwent enormous heat and pressure to metamorphosize into a more durable stone. Quartzite is very durable and naturally more stain resistant than marble and some other types of granite, and therefore lower maintenance. It also features beautiful colors and veins that can be reminiscent of marble. Many quartzites also have a sparkling, sugar-like surface finish that is beautiful to see.
In fact, quartzite is so stunning that many people will make it an island countertop to show it off, but it can be used on the perimeter of the kitchen as well. Just keep in mind that to avoid making the space look too busy, cabinets and backsplash should be simpler in design. A quartzite countertop typically runs around $80 to $210 a square foot installed.
3. Marble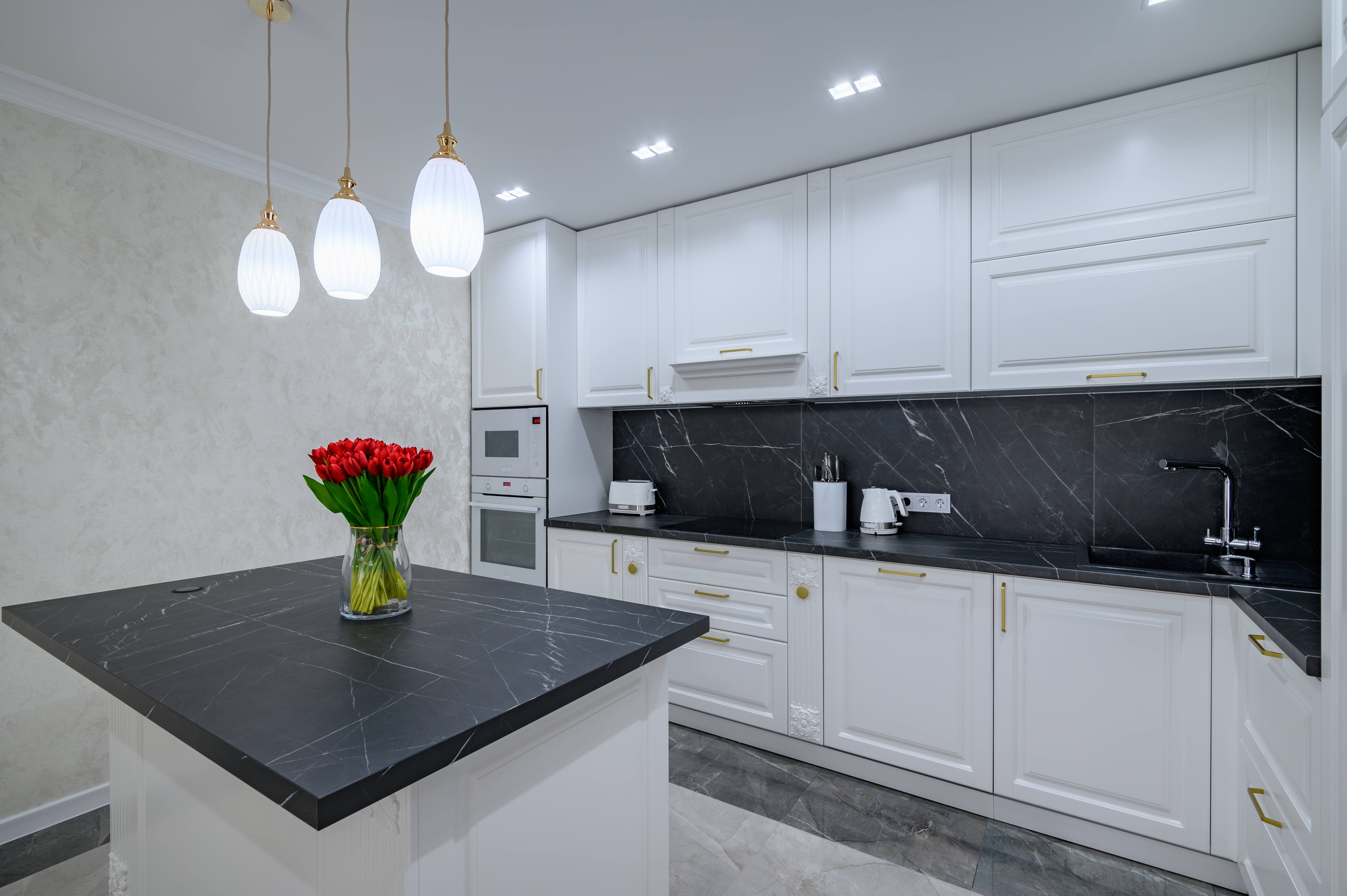 Marble is another metamorphic natural stone with a lot of appeal. It's been on the list of top trends for the last few years, although not trending quite as high as quartz or quartzite. Marble is a beautiful natural stone that is particularly trendy this year in shades of black with white veining like, for example, Nero Marquina. Stones like Bianco Carrara and Calacatta have long been popular in many homes. Marble has natural variation in color and veining that make it one of a kind, but it is more likely to stain and dull than other materials. For some people, though, the resulting higher maintenance isn't an issue compared to its beauty and elegance. As interior designer Joe Human from Design by Human explains, "Marble is always on trend in more luxury homes, so that is common use for my projects in NYC and high-end residential throughout the country."
Marble is frequently used on island countertops - particularly for those that enjoy baking, as its surface is ideal for pastries. It can be used on perimeter countertops as well, and works beautifully with marble backsplashes. A marble countertop costs $40 to $200 per square foot installed.
4. Butcher Block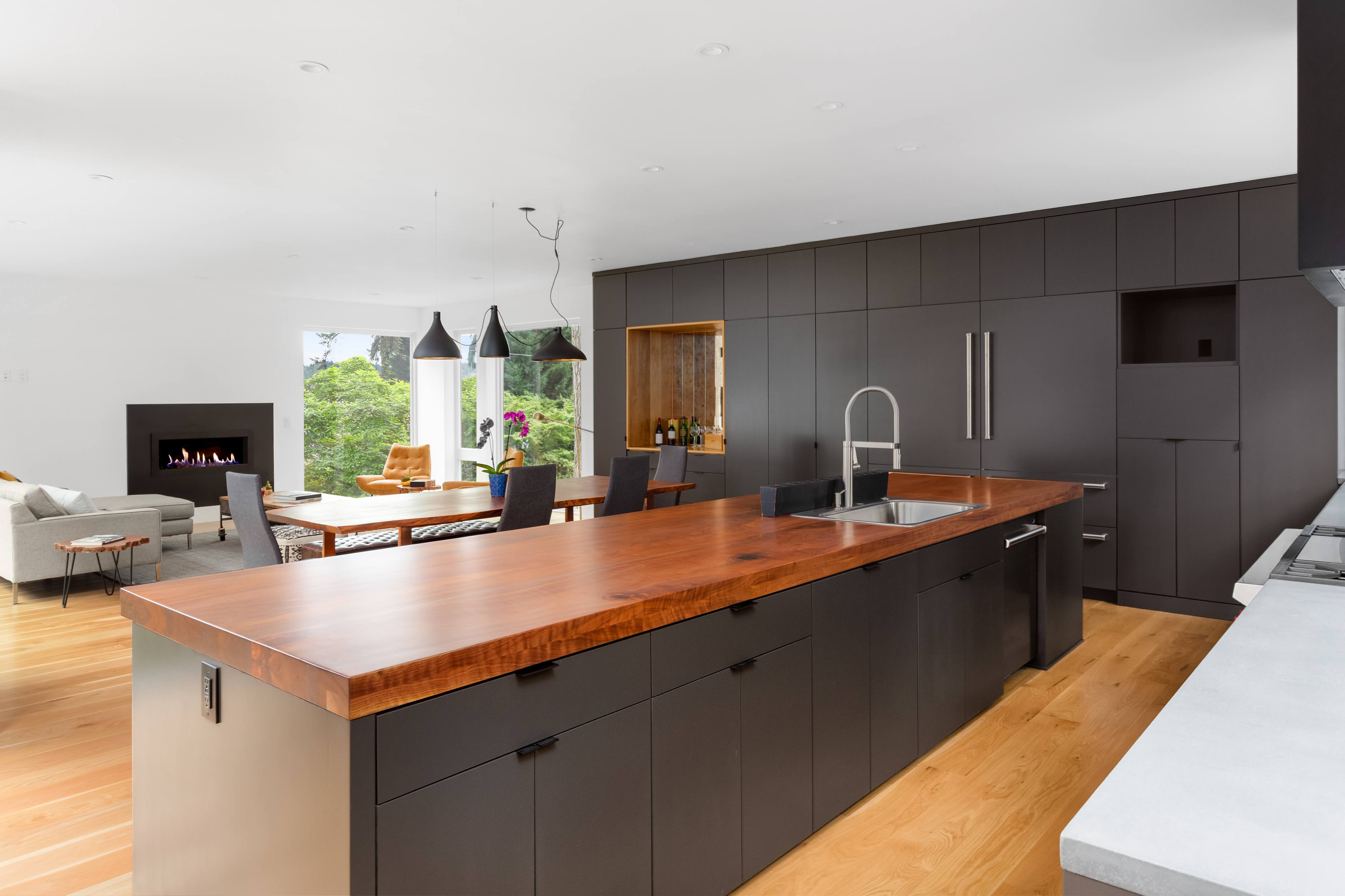 Butcher block countertops started their climb in popularity just last year. These are wood countertops that can be made of several different species of wood, and combined in distinct ways to get different looks and styles. They tend to be very durable, and are easily refinished so that they continue looking like new for years. They work best in a select range of home styles. As Toombs explains, "Butcher block will continue to be popular for countertop use in certain styles of homes - like modern farmhouse or rustic. It's popular to use butcher blocks on islands or bar tops as an accent material." The butcher block countertop runs for around $30 to $280 a square foot depending on species and style of construction.
5. Terrazzo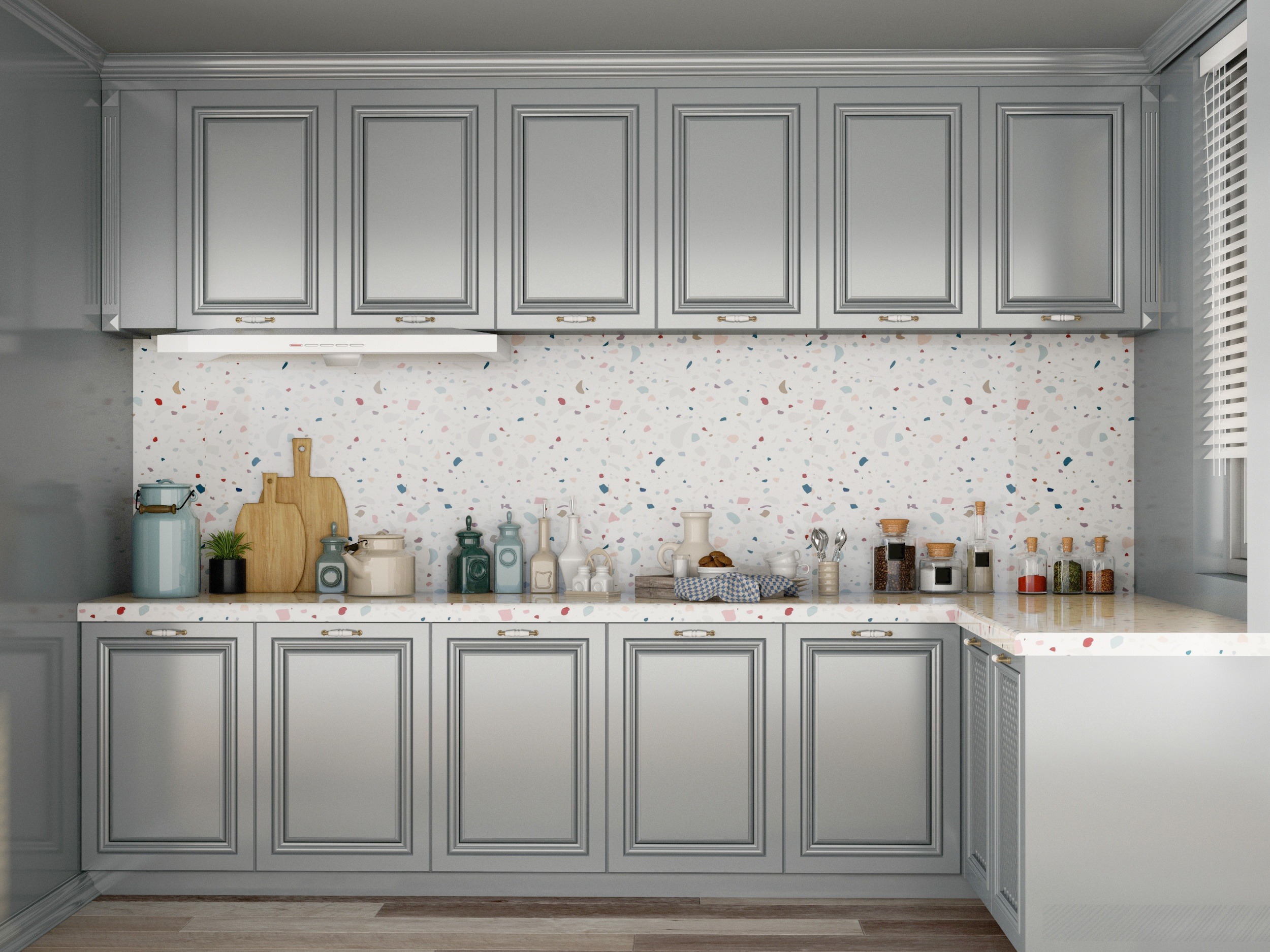 A very new trend that has just come on the scene is the terrazzo countertop. Terrazzo is a unique material made of chips of natural stone like granite or marble that are set in concrete, then polished to a high sheen. It's been used as a flooring material for decades, but has only just begun to see regular use on countertops. Concrete countertops have been popular on and off for several years, and terrazzo simply takes that trend to a new level, adding color and dimension to the kitchen, while still allowing the durability of the concrete to take center stage.
Terrazzo countertops could be fun to combine with some other trends of colored countertops or backsplashes, as colors could be pulled from within the countertop to match. It's still so new, it may not be seen everywhere just yet, but it is making its way through to certain areas. As Human explains, "I see a lot of terrazzo coming into the tropical and warmer markets such as California, Florida and even in the Northeast, particularly Brooklyn." Terrazzo countertops generally run between $50 and $100 a square foot, depending on color, thickness, and style.
6. Soapstone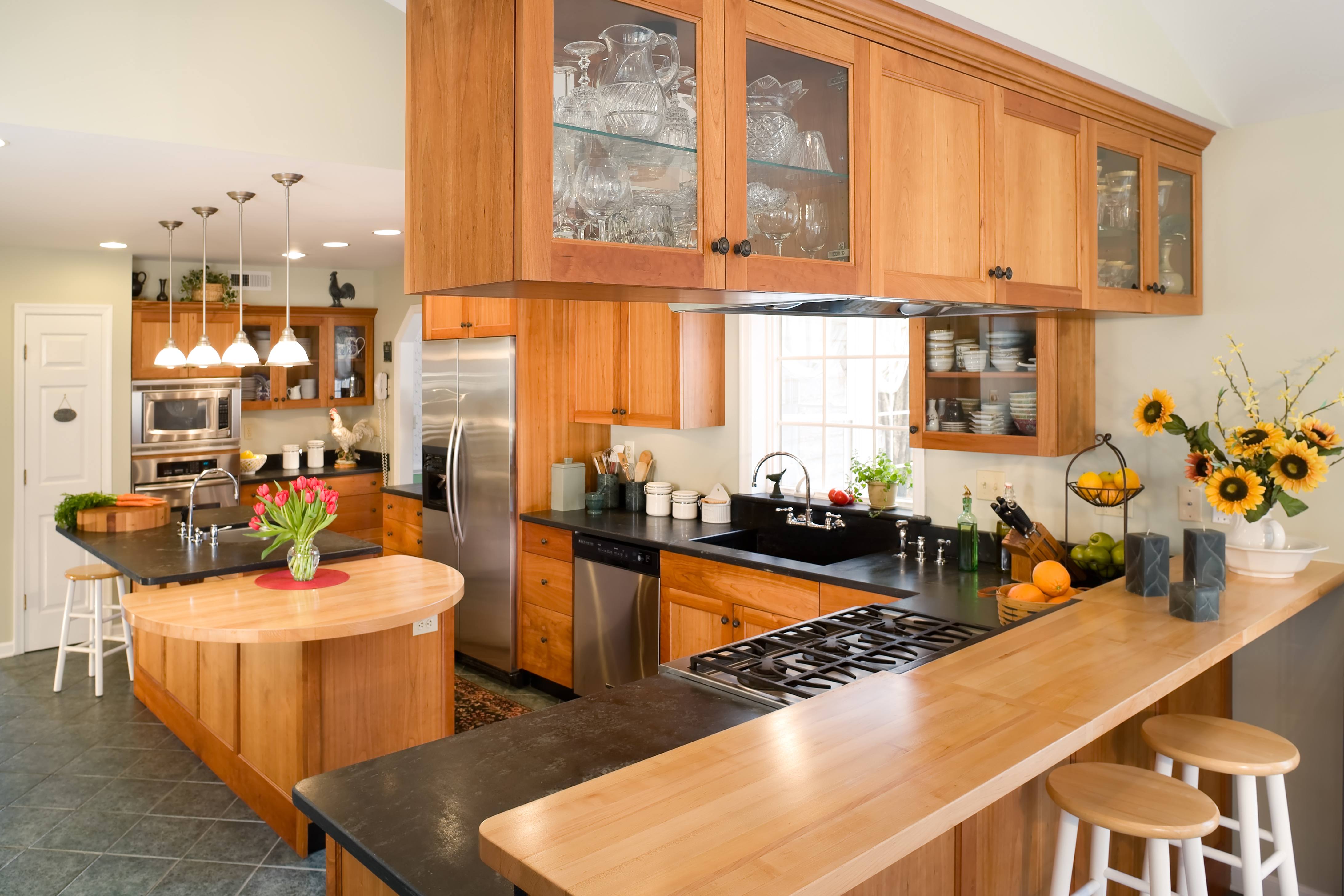 Soapstone is another newcomer to the popular countertop material group. This is another natural stone and it is made entirely of talc. It has a slippery, smooth feel to the surface, reminiscent of soap, which is how it got its name. It's very low-maintenance, as it doesn't stain like other materials. It can be oiled to help bring out its true beauty and depth.
Given the popularity of dark colors this year, along with the rise in popularity of dark marbles with white veining, it makes sense that soapstone, a dark stone that can have thick, marshmallow-like veins running through it, is now trending as well. Moreover, it's lower in maintenance than marble, which adds to its popularity. Soapstone works best in softer-styled kitchens - like country cottages and farmhouse kitchens - but can be included in more modern designs as well, if the other elements of the room are minimalist to support it. Soapstone costs around $70 to $120 a square foot installed.
7. Stainless Steel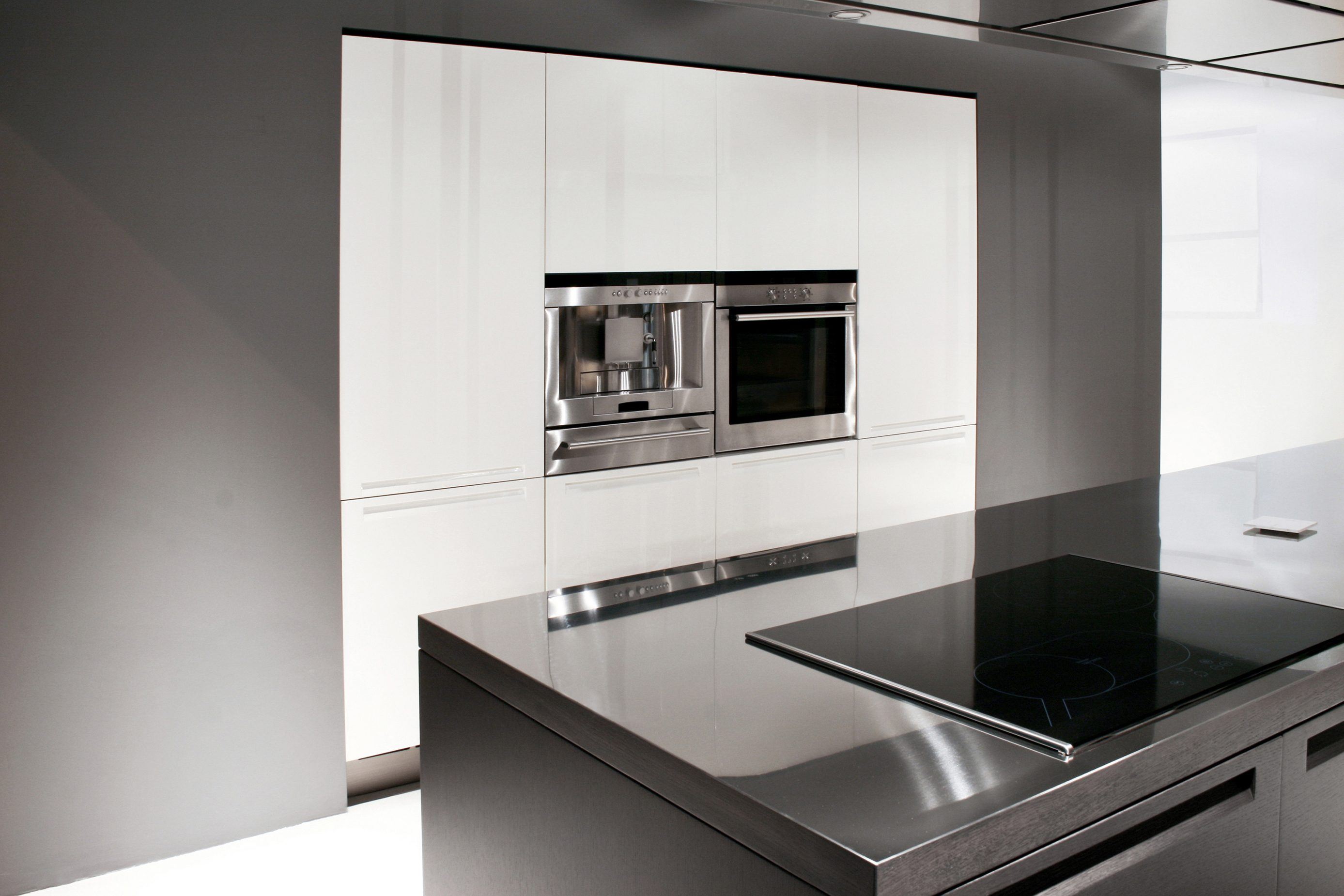 For the truly modern kitchen, stainless steel countertops are also beginning to trend. Stainless steel countertops are very durable, low-maintenance, stain resistant, and incredibly attractive at the same time. They've been used in commercial kitchens for years on account of their durability, and have now found their way to residential kitchens for the same reason. They can be matte or polished, and can have integral sinks for clean, sleek lines. Pair them with stainless cabinets for the ultimate modern kitchen look, or go for something more transitional by pairing them with a dark wood cabinet. These countertops are most popular with homeowners who do a lot of cooking and entertaining, and also work well in contemporary kitchens. They cost $50 to $150 a square foot installed.
8. Veined Granite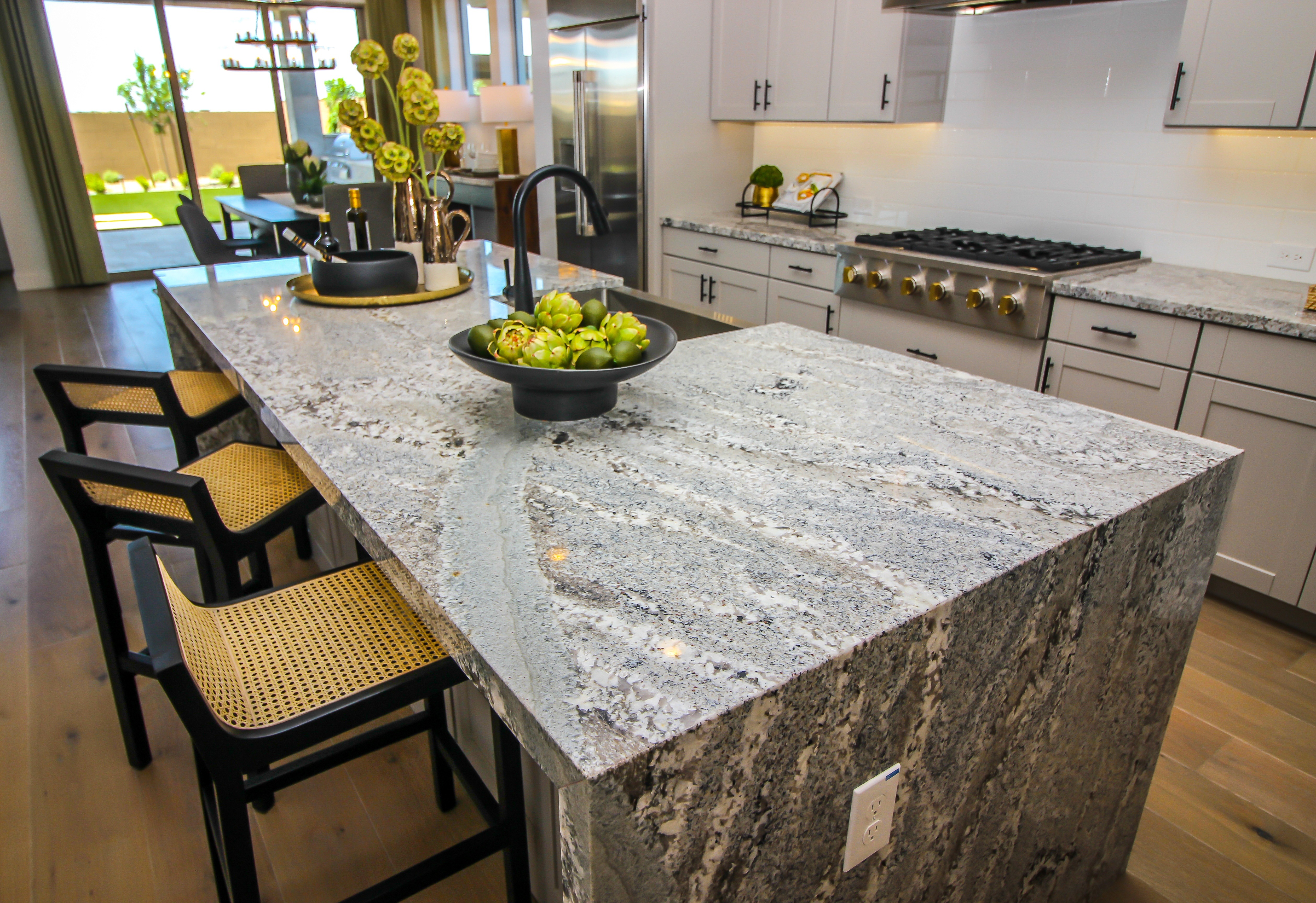 Granite in general has been falling in popularity for the last few years. But specifically veined granite has had a resurgence of popularity for 2023. Granite is an igneous rock made of quartz, feldspar, and silica. What's sold on the market as granite, however, is best described as "Commercial Granite" - a mixture of stones that may also contain these elements. So, while most granite is highly flecked in pattern, there are a few stones that are veined as well. Some of these, like Costa Esmerelda, are a type of Serpentine, while others like Rainforest Brown are highly durable marbles. Fixr.com Interior Design Expert Sarabeth Asaff South explains, "Veined granite is expressive and beautiful, with varying colors and movement. They can be used to make a statement in the kitchen and are best displayed on a kitchen island where they can be appreciated."
Keep in mind that not all veined granites are created equally; some may be more durable than others, so proceed with caution when choosing one. They tend to run on the pricier end of the granite range, with installed costs running from $75 to $400 a square foot.
Be Inspired by the Kitchen Countertop Trends in 2023
Some of the best trends to follow are those with staying power, while others may be best to capitalize on when new and modern. This group of kitchen countertop trends for 2023 not only offers the best of both worlds, but also a wide range of costs and styles. For kitchens in need of a facelift, updating the countertop using one of these trends is a great choice to transform their ambience tremendously, and let anyone capture their benefits.