If you're looking to install new siding for your home, you're probably familiar with vinyl siding. But Hardiplank, or fiber cement siding, is becoming increasingly popular with homeowners. Not only does Hardiplank offer incredible durability, but it also mimics the appearance of wood siding without the worries of rot, termites, or pests like woodpeckers. In this article, we'll discuss everything you need to know about Hardiplank, the pros and cons, and if it's right for you.
On this page
What is Hardiplank?
Image source: Infinity Exteriors
Hardiplank is a type of fiber-cement siding made up of wood pulp, cellulose fibers, and cement components. The term Hardiplank or Hardieplank was coined by manufacturer James Hardie, one of the world's largest building material companies. Thanks to its heavy-duty materials, Hardiplank does not rot, warp, and can last up to 50 years. James Hardie has also earned the prestigious Good Housekeeping Seal, which was granted to the company after extensive testing for moisture, fade, weather, and fire resistance. James Hardie also manufactures other siding options like shingles, soffit panels, vertical siding, and cement boards, but their Hardieplank lap siding is their best-selling siding product.
Pros and cons of Hardiplank siding
Image source: James Hardie
Pros of Hardiplank siding
Long-lasting - Not only is Hardiplank made up of heavy-duty cement, but it's also strengthened by cellulose and sand. Fiber cement siding can last anywhere from 30-50 years with little to no repairs.
Aesthetically pleasing - Nothing beats the appearance of real wood grain, but Hardiplank bears a striking resemblance to wood at a fraction of the cost.
Fire-resistant - Although Hardiplank may not be fireproof or as fire-resistant as stucco, it won't melt like vinyl and isn't combustible like wood.
Durable - In addition to a long lifespan, Hardiplank siding is incredibly durable and able to withstand most severe weather conditions.
Cons of Hardiplank siding
Expensive - Hardiplank siding installation can be expensive, usually costing up to $13 per square foot. Because it's also incredibly heavy, labor charges can be expensive, too.
Requires some maintenance - Though Hardiplank is relatively low maintenance, it does require some occasional re-painting and power washing.
Installation - Whether you're buying a new or old house with James Hardie siding, it's important to check on the work of the installers or siding contractor. Any kind of imperfections such as improper nailing may not be covered by the warranty.
Hardiplank siding vs. vinyl siding
Image source: The CHE Companies
While vinyl siding may be one of the most popular house siding materials available, Hardiplank siding is becoming increasingly popular due to its durability and longer lifespan. Let's take a look at some of their strengths and weaknesses and see which is right for your new home.
Style
Hardiplank - Hardiplank closely resembles real wood, even showing similar textures and grooves of cedarwood. Thanks to James Hardie's ColorPlus technology, you can also easily paint the exterior siding to match whatever color tone you're looking for.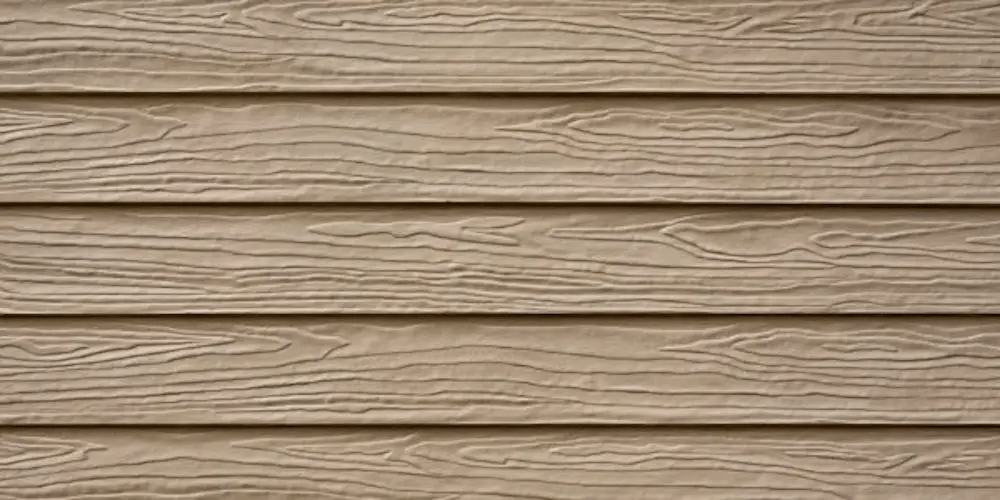 Image source: Blue Nail
Vinyl siding - Some high-quality vinyl siding may feature similar textures as real wood but doesn't have the same kind of variety as Hardiplank. While vinyl siding can be painted, it's not the best long-term solution and may struggle to adhere to the siding because of sunlight and excess moisture. This requires more coats of paint, increasing the cost.
Image source: Speaks Custom Windows
Maintenance
Hardiplank - Although you won't have to worry about nuisances like wood rot or termites, Hardiplank is prone to absorbing moisture. We recommend an occasional wash, fresh coat of paint, and caulk to prevent damage or moisture and lengthen its lifespan.
Image source: Robert Gordon Services
Vinyl siding - Because vinyl siding is not made from organic materials, it will not absorb and is more resistant to moisture. Vinyl siding does not need to be painted and is way easier to maintain, only requiring an occasional wash.
Image source: Feldco
Durability
Hardiplank - Though Hardiplank does require some occasional maintenance, if properly installed and maintained, it could last up to 50 years. Thanks to its cement properties, it will not crack or melt in hot temperatures and is able to withstand most severe weather conditions.
Vinyl siding - Vinyl siding is also durable and mostly weather resistant, but because it's made up of PVC plastic, it is prone to cracking and melting in extreme temperatures and from high-efficiency windows which reflect solar heat onto the siding. Moisture can also build up in the structural frame behind the siding if not installed properly.
Image source: WECT
Energy Efficiency
Hardiplank - Because Hardiplank is made up of all organic materials, it is eco-friendly and retains heat well. Fiber cement siding is relatively energy-efficient with an R-value of 0.5, which is better than stone, brick, and stucco. However, it is significantly lower than vinyl.
Vinyl siding - Vinyl siding may not be the most eco-friendly of materials, but it does retain heat and prevent heat exchange very well, lowering your monthly energy costs. Another benefit to vinyl is that it can also be insulated which makes it even more energy efficient.
Image source: Feldco
Hardiplank - The biggest disadvantage to Hardie board siding is its steep cost. For materials alone, you can expect to pay an average of $4 to $10 per sq.ft., which can run up to $25,000 depending on the size of your home exterior. Labor charges can also be significantly more expensive than vinyl.
Image source: Ohio Home Doctor
Vinyl siding - One of the biggest advantages of vinyl siding is its relatively low cost. You can expect to pay on average $2 to $10 per square foot for materials only and because it's easier to install than Hardi boards, labor charges are cheaper too.
Is Hardiplank Siding Worth the Cost?
We'll just state the obvious. Hardiplank's materials are expensive and they're expensive to install. If you're on a tight budget and looking for a home improvement project that's more DIY, vinyl siding is still a solid choice. But if you want something that's going to last longer, is more eco-friendly, and with fewer variables to worry about, we recommend Hardiplank siding. James Hardie is one of the largest manufacturers of fiber cement siding, and no matter if you decide on their Hardie shingles, Hardie panels, or Hardie plank materials, you should expect a high-quality product.