How much does it cost to clean siding?
Get free estimates from pressure cleaning experts near you
Siding Cleaning Cost Guide
To provide you with the most accurate and up-to-date cost figures, we gather information from a variety of pricing databases, licensed contractors, and industry experts.
The siding is one of the first things people notice about your house. When it gets dirty, it starts to look uninviting. Ignoring your cleaning duties can leads to permanent stains. Mold and mildew deposits on your siding can lead to health problems. Plus, a clean house can equate to a higher home value, especially if you're selling.
The national average to clean the siding of a home is $300 to $600, with most people paying around $380 to clean the vinyl siding of a 1,500 square foot home using pressure washing. At the low end of the spectrum, most people will pay $250 to soft wash the stone siding of a 1,000 square foot home. At the high end, you'll pay $990 to power wash aluminum siding on a 2,200 square foot home.
Siding Cleaning Prices
Siding Cleaning Cost
National average cost
$380
Average range
$300-$600
Low-end
$250
High-end
$990
Cost to Clean Siding per Square Foot
Most contractors charge between $0.30 to $0.40 per square foot to pressure wash siding. Before a contractor agrees to clean your home's siding, the company will want to know the total area size. Square footage calculations are used to determine how many labor hours will be needed and how much cleaning agent will be needed for the job. You'll need the total height and width in feet outside of your home to start. Then, multiply the two figures to get the total square footage for siding cleaning estimates. The following are the average costs per square foot to clean homes with vinyl siding.
| | | |
| --- | --- | --- |
| Home Size | Siding Size | Cost To Clean Siding |
| 500 sq.ft. | 1,000 sq.ft. | $300-$400 |
| 1,000 sq.ft. | 1,500 sq.ft. | $450-$600 |
| 1,500 sq.ft. | 2,500 sq.ft. | $750-$1,000 |
| 2,200 sq.ft. | 3,000 sq.ft. | $900-$1,200 |
| 2,500 sq.ft. | 3,500 sq.ft. | $1,050-$1,400 |
Siding Cleaning Cost by Method
Depending on the method, you'll spend anywhere from $0.25 to $0.55 per square foot to clean siding. The contractor evaluates the exterior of the home to determine the best method to remove dirt and mold. Pressure wash companies specialize in cleaning mold, dirt, and other debris from siding. However, if a deep cleaning is needed, the contractor may consider other methods like power washing. The following costs reflect the average you'll pay per method based on square footage and hourly charges.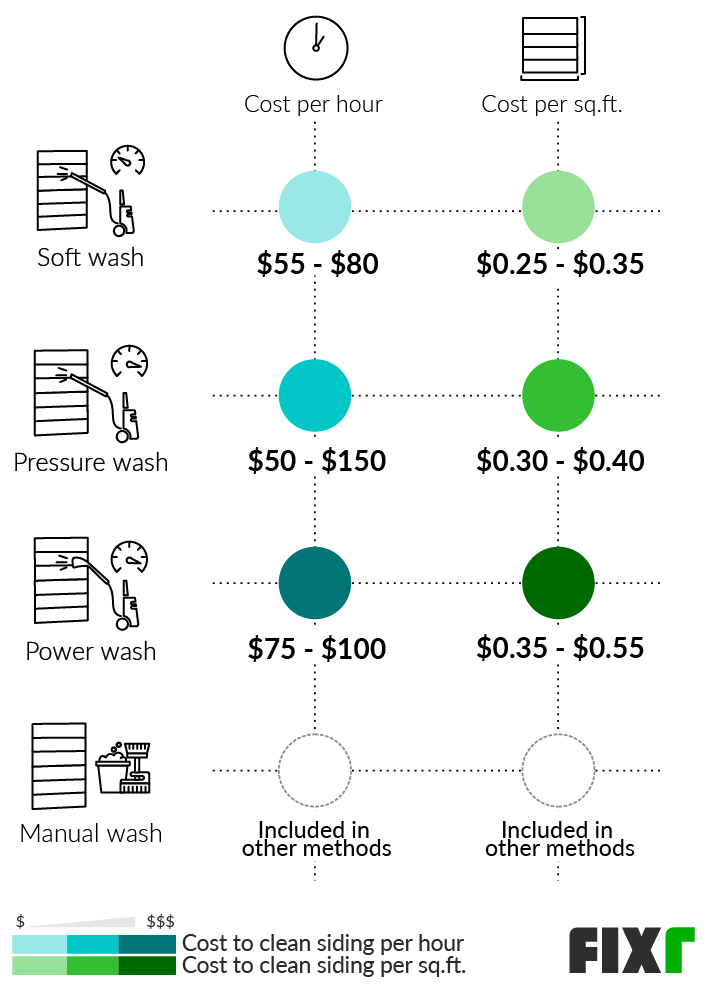 | | | | |
| --- | --- | --- | --- |
| Method | Cost Per Hour | Cost Per Sq.ft. | Cost per 1,500 Sq.ft. |
| Soft Wash | $55-$80 | $0.25-$0.35 | $275-$400 |
| Pressure Wash | $50-$150 | $0.30-$0.40 | $300-$450 |
| Power Wash | $75-$100 | $0.35-$0.55 | $400-$700 |
| Manual Wash | Included in other methods | Included in other methods | Included in other methods |
Soft Wash Siding
Soft washing costs $275 to $400 for a 1,500 square foot home with labor costs at $55 to $80 per hour. The project takes two to three hours to complete. The cost per square foot ranges from $0.25 to $0.35. Soft washing is similar to power washing but operates at a much lower pressure. This method combines low-pressure water mixed with a cleaning solution that works safely on brick, stucco, and vinyl. Soft washing usually costs less than pressure washing but may not remove everything. Soft washing can be done with a pressure washer as long as the pressure is set for less than 1,000 psi. Pressure washing and power washing will typically use pressure above 1,000 psi.
Pressure Wash Siding
Professional pressure washers charge from $50 to $150 per hour, depending on the siding material and level of dirt. Pressure washing is the most conventional method for cleaning siding. A 1,500 square foot house takes approximately two to three hours, costing $300 to $450. Pressure washing the siding of a house will be around $0.30 to $0.40 per square foot. Manual washing may be done in conjunction with pressure washing and may cost on the higher end of the spectrum.
Power Wash Siding
Expect to pay around $450 to $700 to power wash a 1,500 square foot home with vinyl siding. The labor cost would be around $75 to $175 per hour, with the project taking a maximum of four hours. By square footage, the cost to power wash will be around $0.35 to $0.55. Contractors start out testing the siding with the heat before making a large-scale application. The professional will confirm that the power washer won't damage the siding. Since power washing requires different equipment and potentially extra hours of labor, the cost is slightly more than pressure washing. The main difference between power washing and pressure washing is the water temperature. Pressure washing uses water directly from the hose, while power washing heats the water first before being applied with a high-powered nozzle.
Manual Siding Cleaning
Manual cleaning involves going in by hand with a brush and cleaners to get rid of dirt. This is appropriate for certain kinds of siding, like wood, as it avoids paint and caulk damage. It's very unusual to find a professional service that washes siding entirely by hand. Siding should be cleaned at least once a year but possibly more frequently if your siding is susceptible to mold and mildew buildup or if you put your house up for sale. That being said, hand washing certain sections is usually included in the hourly cost of pressure washing.
Siding Cleaning Cost by Material
The cost to clean siding on a 1,500 square foot house ranges from $275 to $500 depending on the type of material. Different types of siding are popular in homes today. Not all can handle the same cleaning method. Review manufacturer recommendations before hiring a contractor to clean your siding. If you use a method that isn't recommended, you could end up voiding warranty coverage.
| | | | |
| --- | --- | --- | --- |
| Material | Soft Wash | Pressure Wash | Power Wash |
| Stone | $275 | $350 | $400 |
| Brick Veneer | $275 | $350 | $400 |
| Vinyl | $300 | $380 | $450 |
| Wood | $300 | $450 | N/A |
| Stucco | $325 | $400 | $475 |
| Aluminum | $325 | $425 | $500 |
| Steel | $325 | $425 | $500 |
| Cedar | $350 | $500 | N/A |
| Engineered Wood | $380 | N/A | N/A |
| Fiber Cement | $400 | N/A | N/A |
| Stone Veneer | $400 | N/A | N/A |
Stone Siding Cleaning
For synthetic types, the contractor may choose soft wash. Soft wash costs around $275, pressure wash averages $350, and power washing is about $400 for stone siding on a 1,500 square foot home. Stone siding is hearty and can usually handle medium to high amounts of pressure while cleaning. Contractors will likely use a mild cleaning agent and a psi over 1,500 to clean stone siding. Power washing is also safe on most types of stone siding.
Brick Veneer Siding Cleaning
The cost to clean brick veneer siding on a 1,500 square foot home will be $275 for soft wash, $350 for pressure wash, and $400 for power wash. Brick and brick veneer siding withstands power washing and pressure washing. In fact, dull brick facades can brighten up considerably after a contractor pressure washes the area. Brick commercial cleaners are usually mixed in before power washing to remove any dirt, mold, and pollen.
Vinyl Siding Cleaning
To pressure wash vinyl siding on a 1,500 square foot exterior, the homeowner will pay around $380. Power washing will average $450, while soft wash costs about $300. Vinyl siding is the most commonly used material on the exterior of homes. Vinyl siding power wash methods are possible since the material is very durable. Power washing is usually done if the siding hasn't been cleaned in some time and needs a deep wash. When a contractor chooses to power wash or pressure wash vinyl siding, they will choose a psi around 1,500. Soft wash is used on vinyl siding when the home is older or doesn't require a deep cleaning. In these instances, the contractor uses psi under 1,000.
Wood Siding Cleaning
Pressure washing wood siding of a 1,500 square foot home will be around $450, while soft wash will cost about $300. Wood siding tends to attract significant amounts of mold and mildew over time. Since wood siding is fragile and can become damaged, you have to be careful during cleaning, especially in older homes. When a contractor goes ahead to pressure wash wood siding, the professional will likely use a psi lower than 1,000. Soft wash wood siding is preferred since it won't dislodge pieces of the siding. Most contractors won't power wash wood siding since heat could discolor or damage the wood.
Clean Stucco Siding
To clean a 1,500 square foot stucco exterior, you'll pay around $325 for soft wash, $400 for pressure wash, and $475 for power wash. Stucco siding is notoriously difficult to clean. Since the material is porous, the siding tends to easily build up mold, dirt, and pollen stains. Stucco can be damaged if too much pressure is used, so most contractors won't spray over 2,500 psi. Since stucco does get dirty easier than other types of siding, you will likely have to clean your home professionally at least once a year.
Clean Aluminum Siding
Costs for a 1,500 square foot home is approximately $325 for soft wash, $425 for power wash, and $500 for pressure wash. Aluminum siding has many advantages to homeowners, including resistance to mold buildup. Most homeowners can keep their aluminum siding clean using manual techniques. However, if you do need to clean, contractors may recommend that you soft wash aluminum siding. Moreover, if large amounts of dirt are visible, you could pressure wash aluminum siding. Use minimal amounts of pressure for aluminum siding power wash, too—ideally less than 1,500 psi.
Steel Siding Cleaning
The cost of cleaning a 1,500 square foot exterior is $325 for soft wash, $425 for pressure wash, and $500 for power wash. With steel siding, you won't see large buildups of mold over time. Steel siding is easy to clean using a pressure washer on a medium setting. If the area is very dirty, the professional may consider a power washer since the heat could remove any caked on dirt. Harsh chemicals, especially acidic types, are avoided when cleaning steel siding.
Cedar Siding Cleaning
Expect to pay around $500 to pressure wash cedar siding and $350 to soft wash cedar siding on a 1,500 square foot home. Cedar siding will be managed in the same manner as wood siding. Like a wood deck, a siding with cedar shake will discolor over time due to mold and dirt buildup. When you pressure wash cedar siding, there's a chance of wood fibers falling off. Preferably, contractors would consider a soft wash for cedar siding with a psi under 1,000. Like wood siding, you won't typically power wash cedar siding since the heat may be too harsh on the material.
Engineered Wood Siding Cleaning
Since the work is on a specialized material, expect to pay around $380 to soft wash a 1,500 square foot home. According to some engineered wood siding manufacturers, homeowners should not use pressure washers on the material. A pressure washer may damage the finish. Instead, use manual and soft wash methods.
Fiber Cement Siding Cleaning
Expect to pay around $400 to soft wash fiber cement siding on a 1,500 square foot home. The cost is slightly elevated due to the specialized material. According to the manufacturer of fiber cement siding, James Hardie, you can only use non-abrasive cleaning methods. Don't power wash Hardie siding. You can only use soft wash to clean fiber cement or manual methods such as cleaning with a soft-bristle brush and garden hose.
Stone Veneer Siding Cleaning
An estimated cost to soft wash stone veneer on a 1,500 square foot home is $400 or more. Stone veneer is another type of siding that can't be cleaned with a pressure washer or power washer. The material is too delicate to handle the high amounts of pressure applied during a cleaning session. Instead, only mild cleaners and a polishing tool can be used to get rid of any grime on stone veneer. Ask a contractor about their experience with soft washing stone veneer before hiring the company.
Siding Inspection
Before you clean your siding, you'll want to make an initial inspection. What you're trying to do is identify the main source of dirt on your siding. The most common surface buildup problems on siding are pollen, dirt, mildew, or bird droppings. Different cleaners and cleaning methods are more appropriate for different dirt sources. The contractor needs as much information as possible to determine the right cleaning method for your house. Remember to take square footage measurements. Most contractors want an approximate size of the cleaning area.
Remove any decor items attached to your home's exterior before your contractor appointment. Examples include wreaths, plant hangers, holiday lights, and metal signs. Many homeowners seal windows and doors with caulk before power washing to prevent any water damage. Doors and windows are usually locked before a pressure washing appointment. Contractors may ask you to turn off the power of any outlets and lights located on the exterior of the home. Outdoor light fixtures don't need removal, but you should cover them with plastic wrap to prevent shortages.
Enhancement and Improvement Costs
Siding Painting
The average cost to repaint the house exterior is $2,500 to $7,000 for a 2,000 sq. ft. house. Before painting the siding, you'll want to clean away any dirt, mold, or mildew buildup. After cleaning the siding of the house with a soft clean, pressure wash, or power wash, the siding is ready to paint. You may decide that it is a good idea to repaint the entire structure. Remember, the cost of cleaning the siding before painting is in addition to the cost of repainting the home.
Siding Repair
Siding requires regular repairs. Repair costs range from $100 to $1,700 to repair 100 sq.ft. of siding, with most people spending $500 to repair 100 sq.ft. of wood siding. Stucco repairs, for example, cost $8 to $50 per square foot. Stucco repairs are priced at a much higher price than other types of materials. Material costs for siding repairs vary too. Vinyl siding repairs, for example, costs about $1 to $2 per sq.ft. On the other hand, wood siding may cost $2 to $34 per sq.ft. Depending on the type of siding, you may have to deal with cracks or peeling paint.
Pressure Washing Windows
Pressure washing windows to clean the glass is $185 to $400 per project to pressure wash windows, depending on the location of the window and size. Cleaning the windows is a great way to enhance your home's appearance, especially after cleaning the siding on the house. Also, removing the dirt and debris buildup on the glass's surface allows natural sunlight to enter the home. When pressure washing a window, be sure to stand at least three to five feet away from the window to avoid breaking the glass. Pressure washing windows requires low pressure to prevent damage or breakage. A wide-angle nozzle of 25 to 40 degrees is used with a psi of 1,200 to 2,000.
Pressure Wash a Deck
The average cost to pressure wash a deck is $100 to $200, depending on the deck's size and its material. Use low pressure when cleaning soft woods. Also, when cleaning near plants or areas where children and pets play, you should refrain from using chemicals. Always consider the decking material when choosing chemicals to clean the surface. You want to pick chemicals that are safe to use and will not damage the deck's surface.
Fence Pressure Washing
The cost to pressure wash a fence ranges from $125 to $235, with the national average being $180. The cost includes the labor and all the chemicals needed to clean the surface of the fence. Fence pressure washing removes dirt, mold, grime, and debris buildup to renew the fence's appearance. Also, it can help prolong the fence's lifespan.
Pressure Wash Roof
The average cost to pressure wash a roof ranges from $0.20 to $0.75 per square foot. Pressure washing effectively cleans the roof using a high-pressure blast of water to remove dirt, debris, stains, moss, and algae buildup from the surface of the roofing material. High-pressure washing should be used with caution because it can damage loose roof tiles or shingles. If using pressure washing to remove moss from the roofing, remember that you also have to use a herbicide to kill the moss, or it will just grow back.
Pressure Wash Patio
The cost to pressure wash a concrete or similar durable material patio that measures 50 square feet averages $50 to $75. If the patio has grout lines or fine details, then the cost might be on the high end of the spectrum. Discuss the complete cost for effectively cleaning the surface of your patio with the pressure washing professional. Cleaning the patio at the same time you clean the siding of your home gives it an instant new facelift.
Additional Considerations and Costs
Cleaning products. Several cleaning products are appropriate for siding, but you should take some precautions. Avoid using abrasive brushes, which can damage the siding. Also, you should avoid using cleaners with organic solvents, undiluted chlorine bleach, or solvents like furniture polish or nail polish remover. All of these types of substances can damage your siding.
Mold and mildew. The buildup of mold and mildew on siding is unsightly, which is a great reason to clean your siding. However, it could also be detrimental to your health. If your children are playing outside, they could develop health problems from exposure to mold. In addition, mold and mildew, though it starts on the outside, can potentially make its way into the house. Attics are particularly vulnerable to mold and mildew that start outside.
Debris damage. Any buildup of mildew, mold, or dirt can cause staining and damage to siding if left uncleaned for an extended period.
Cleaning the home's exterior. When cleaning your home's siding, you may want to consider a complete top to bottom refresh. Consider hiring a contractor to tackle other types of exterior cleaning, such as cleaning the fascia and soffits. You may also want to schedule your gutter cleaning before having the siding pressure washed.
DIY. Yes, you can tackle cleaning your home's siding as a DIY project, especially if you are carrying out a soft clean. However, if you want to have the home's siding cleaned with a pressure washer or power washer, you should consider hiring a professional. The high burst of water can damage the surface of the siding if not handled correctly. A power washer uses heat to clean the surface of the siding, and some siding material cannot be safely exposed to the high heat of a power washer.
Permits. Typically, you do not need a permit to have your home pressure washed, power washed, or soft cleaned. However, you should always check with your local municipality to confirm. Often HOAs, small neighborhoods, and private communities have their own set of rules that pertain to pressure washing. In some cases, a permit might be required due to the amount of water being used. Whenever you work with a reputable company, they will typically check on required permits.
Estimates. There is a lot of competition for siding cleaning services. Do not hesitate to get estimates to determine how much the professional company will charge you to clean the siding. Ideally, you should get at least three estimates. Pick the modestly priced estimate and forego the high and low priced estimates.
Sandblasting vs pressure washing siding. Pressure washing uses a heavy jet of water to clean the surface of siding. However, sandblasting combines water with an abrasive material mixed with water to lift away dirt, debris, old paint, or scratches on metal. Typically, pressure washing does not harm the surface of the siding, but sandblasting can cause damage and leave behind marks. Sandblasting is normally used to clean metal or other tough materials that can stand up to the abrasive nature of the process. Sandblasting is often used before painting to remove the old paint from the siding.
FAQs
How much does it cost to clean the exterior of a house?
To pressure wash the exterior of a house, you will pay $0.30 to $0.40 per square foot to pressure wash siding
Can you pressure wash siding?
Yes, you can pressure wash most types of siding. However, you should avoid pressure washing engineered wood, fiber cement, or stone veneer because the strong burst of water can damage the siding. However, you can soft wash such delicate surfaces without causing harm.
How much does pressure washing cost per hour?
Pressure washing costs $50 to $150 per hour.
How much does it cost to pressure wash per square foot?
It depends on the level of dirt and the size of the project. It could be as low as $0.30 per square foot to as high as $0.40 per square foot. There is usually a minimum area to charge by the square foot. Some contractors charge by the hour, not the size.
How often should I clean the vinyl siding on my house?
To avoid long-term buildup of mold, mildew, and dirt, your vinyl siding should be pressure washed once a year, preferably in the warmer months.
What is the best cleaner for vinyl siding?
There is no one right answer because it depends on the level of dirt and grime on your siding. Cleaners like oxygen bleach and vinegar are useful, but you should avoid abrasive brushes, undiluted bleach, and organic solvents to protect your siding.
Should you pressure wash vinyl siding?
Pressure washing is an effective tool for cleaning vinyl siding and can get some of the hard-to-remove grime like mildew and mold.
How do you clean vinyl siding on a house?
Vinyl can be cleaned in several ways. One is to do it yourself using a soft brush and appropriate cleaners. The other way is to pressure wash the siding by renting a pressure washer or hiring a professional.
Does Simple Green clean vinyl siding?
Simple Green makes a specific cleaning product that is designed for cleaning vinyl.
How often should you power wash vinyl siding?
In most cases, you should power wash vinyl siding every two years. However, you may have to increase the timeframe in certain circumstances. For example, some homeowners choose to power wash before putting their houses up for sale. Also, most painters recommend power washing before any exterior painting.
How much pressure for power washing stucco?
Power washing stucco requires a medium amount of pressure. Contractors will use between 1,500 and 2,500 psi to clean stucco siding.