Source: Sunshine Contracting
Fiber cement siding is more popular than ever.
According to the U.S. Census, 21% of newly constructed single-family homes in 2019 used fiber cement siding – the most of any year since they started publishing fiber cement siding data.
This figure may come as no surprise to those familiar with the touted benefits of fiber cement siding like visual appeal, strength, and long-term value.
Despite this all-time high, however, fiber cement comes third popularity-wise behind vinyl and stucco, respectively.
If fiber cement siding is so great, why do so many opt for these alternatives?
After reading this guide, you should have enough background to make an informed decision on whether to go with fiber cement or not regarding your upcoming siding project.
On This Page
What Is Fiber Cement Siding?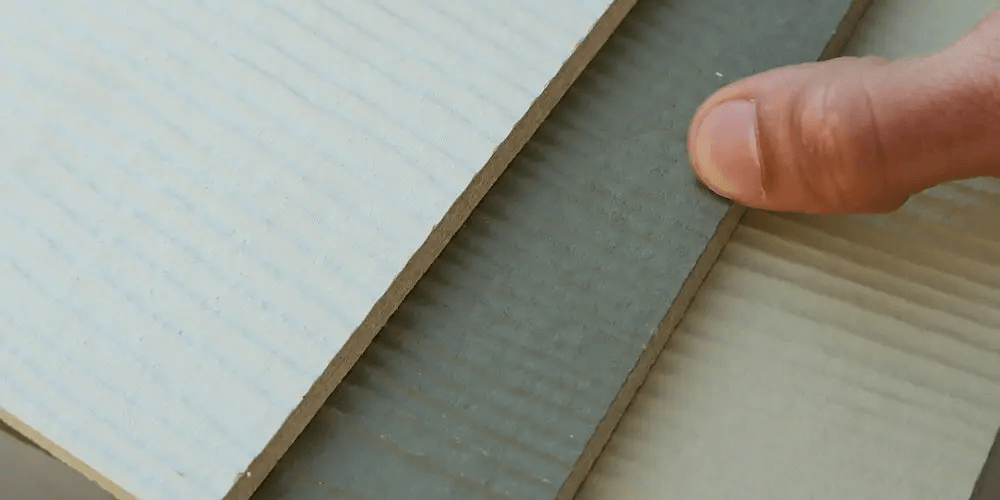 Image source: Probably This
Fiber cement siding is made of water, Portland cement, sand, and fibers.
Unlike the brittle, fiberless cement used to make concrete, fiber cement can bend without cracking – a must-have trait for manufacturing, transporting, and installing thin siding boards.
Until the 1970s, those fibers were comprised of asbestos – a cheap, insulative, and fire-resistant mineral widely used in construction. We now know asbestos exposure increases the chance of certain cancers, which led manufacturers to transition to harmless wood pulp fibers, called cellulose.
Image source: Midwest Construction
Today, fiber cement siding comes in many forms and just about any color.
Typical styles take on a wood grain to mimic rustic wood siding.
For modern homes that emphasize clean lines, they even make flat, dimensionless fiber cement panels.
Want the classic look of brick or stone? They make that too. When it comes to fiber cement siding, you'll find plenty of options to suit your tastes.
How Much Does Fiber Cement Siding Cost?
Fiber cement siding costs range between $6 and $13 per square foot, including materials and labor.
For a home with 2,000 square feet of siding, a fiber cement installation could cost anywhere from $12,000 to $26,000.
The unit price varies among product quality and installers. Beyond these particulars, the design of your home can influence new house siding costs.
A two-story home with many corners and windows, for instance, will warrant greater installation costs than a basic one-story home of the same square footage due to the increased time and effort required.
Fiber Cement Siding Pros and Cons
Pros of Fiber Cement Siding
Style Selection
From classic wood boards to elegant stone, fiber cement comes in nearly every established style and color. At least one combination should suit your home's distinct character.
Overall Durability
Fiber cement boasts a comparable combination of toughness and flexibility to wood siding without the natural fire and termite risk.
Long-Lasting
A new fiber cement siding installation could be your last as fiber cement siding lasts for the home's lifetime, according to a 2007 study from the National Association of Homebuilders.
Resale Value
Although you may end up spending a hefty sum on a fiber cement siding installation, a 2020 report found that homeowners recoup 77.6% of job costs at resale on average.
Cons of Fiber Cement Siding
Expensive
While it's not the most exorbitantly priced of siding materials, fiber cement averages around $9,5 per square foot to install. You will likely spend less on materials like vinyl and stucco.
Sustainability
According to a 2018 life cycle assessment, fiber cement siding poses the most harmful environmental impact from resource extraction to end of life among siding alternatives vinyl, aluminum, cedar, and stucco. Only brick scored worse than fiber cement among the siding options included in the study.
Not a DIY Material
Fiber cement poses a few distinctive challenges that make it especially precarious to install.
For starters, fiber cement siding is prone to chipping or breaking if mishandled. It isn't hard to lose your grip on a siding panel, given fiber cement weighs two to three pounds per square foot.
A circular saw equipped with a blade specifically designed to cut fiber cement boards and a vacuum hose to collect dust. Image source: Tool Parts Store
Second, fiber cement releases cancerous crystalline silica dust into the air when cut – an often necessary part of the process of custom-fitting siding. Installers should wear masks and minimize dust using dust-collecting circular saws or fiber cement shears.
Lastly, and this goes for most renovations, hiring an experienced, vetted contractor will ensure a quality installation that lives up to the prescribed lifespan.
Maintenance
Fiber cement siding is relatively low maintenance, though you will need to perform some upkeep.
At a minimum, washing off any mold and mildew every year will help keep the paint intact.
Fiber cement paint will chip and fade eventually. At some point, you will need to repaint to restore your siding to its original glory.
Best Fiber Cement Siding Brands
James Hardie
Image source: James Hardie
You can't talk about fiber cement siding without mentioning James Hardie, who essentially reinvented the industry after the asbestos revelation way back when.
In fact, many contractors prefer the term "Hardieplank", which refers to James Hardie's core product, to talk about fiber cement siding.
James Hardie runs the gamut when it comes to fiber cement construction, from their trademark Hardiepanel to their Hardieshingle to their Hardietrim lineups.
To shop a wide variety of quality fiber cement products, you can start and finish with James Hardie siding.
Allura
Image source: Allura
Allura makes large-scale exterior home improvement a cinch by offering just about any fiber cement component you could need.
We're not just talking about their diverse selection of fiber cement lap siding, shakes, and panels, but also their matching trim and soffits.
If you seek a one-stop fiber cement shop to completely renew your home's exterior, Allura is a good shout.
Nichiha
Image source: Nichiha
Founded in 1956, Nichiha primarily focuses on serving the commercial market, though they still offer residential siding styles like panels, boards, and shakes you see from most fiber cement companies.
However, they surpass their contemporaries with even more style options.
Nichiha offers kiln-fired brick and stone veneer fiber cement profiles to truly help you set yourself apart.
Fiber Cement vs. Vinyl Siding
Vinyl siding costs between $4,15 and $15,25 per square foot installed. Compared to the fiber cement price range of $6 to $13, you will likely spend less on vinyl siding than fiber cement.
Style
Vinyl siding and fiber cement go toe-to-toe in style options.
You can find both vinyl siding and fiber cement boards and shingles to rival the look of traditional wood siding. At the same time, you can also find styles that mimic brick and stone siding.
Durability
Both fiber cement and vinyl siding will resist fire and pests thanks to their inorganic composition.
Nevertheless, fiber cement will prove more durable than vinyl siding in most cases.
Unless you choose a costlier, insulated product, hollow vinyl siding can crack upon impact. Rugged, cellulose-fiber-enhanced cement will better withstand the likes of hail or stray baseballs.
Warping is another frequently cited issue for vinyl that fiber cement defies.
Warranty
Warranty length will vary by product and brand, but a typical vinyl siding product will come with a 30-year warranty.
Fiber cement, on the other hand, has warranties that last anywhere from 30 to 50 years.
Is Fiber Cement Siding Right for You?
Image source: Home Stratosphere
Fiber cement isn't the most affordable, sustainable, or user-friendly siding material, yet more and more homeowners look to capitalize on its distinct blend of beauty, longevity, and return on investment with every passing year.
Fiber cement eclipses vinyl in several metrics, except the weightiest one – pricing. For significantly less money, you can clad your home with the same styles as fiber cement with vinyl.
If you can stomach the higher asking price of fiber cement, we contend that the superior durability, long-term ROI, and warranty-backed peace of mind will deliver more value than vinyl, if not any other siding material on your radar.